Greetings and salutations everyone and welcome to another blog here on BlueCollarBlueShirts.com. As Gerard Gallant always says – "one game at a time."
Following the Blueshirts' 3-2 Game Three loss to the Bolts; on Monday, an off-day, both the Lightning and the Rangers held optional practices. Once the practices concluded, both coaches then spoke to the media.
Since I always bring up my "glass half-full" mentality with you guys and gals on this site; let's start off tonight's blog with some positivity.
The good news? According to "The Turk," both Ryan Strome and Barclay Goodrow seem good to go for Game Four.
Somewhat as good (I know, I know – you can't root for injuries and it's poor form to do so), is the fact that Brayden Point remains out with his injury, and won't be playing for the Lightning on Tuesday night.
Here's Monday's edition of "Turk Talk":
---
Obviously, the top story on Monday were the health statuses of both Strome and Goodrow.
While Gallant wouldn't give out specific information on the injuries; "The Turk" did say that he expected both players to play on Tuesday.
Of the two players, Goodrow's injury was easier to figure out.
As we all saw during Game Three, during a Rangers' penalty kill, Goodrow blocked a shot with his left ankle – the same ankle that he fractured during Game One of the first round against the Pittsburgh Penguins.
When it comes to Strome's injury, we still don't know what it is/was.
However, with Gallant saying that he expects Strome to play during Game Four, we can deduce it's a minor injury.
Again, I don't like to speculate on injuries, but as talked about last night, maybe it was just a spasm or something.
Should Strome play tomorrow, maybe he'll tell us what his injury was after Tuesday's night game – especially if the Rangers win.
If not, we'll probably have to wait until the end of the season.
---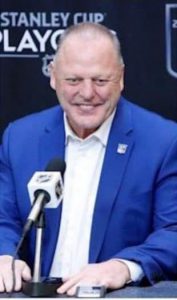 When speaking about both players, Gallant said stuff we've heard before – and not just by him, but by every NHL head coach during the playoffs – no team is 100% healthy and every team is playing with injuries on their roster.
The Rangers, and the Lightning too, are no different.
Gallant brought up the compete levels of both Strome and Goodrow, and then said that players always find a way.
Gallant would know this first hand, as unlike his peer & pal, Jon Cooper, "The Turk" is a former player himself.
Gallant, as he did yesterday, also talked about the cheap shots that CZAR IGOR has been hit with, where the head coach called out Nikita Kucherov by name.
Gallant, as he's said many times before this season, stressed that he wasn't a fan of the dirty stuff. Heck, Gallant recently said this following Game One, when Patrick Maroon tried to get cute.
As far as anything else out of Gallant, it's what you would expect – the Game Three loss was tough, the Rangers must rebound, Tampa's a good team, you have to win four games and etc.
And oh yeah, and as he always does – Gallant defended his players too, including Jacob Trouba.
---
I really don't want to get too deep into this, especially since I addressed a bulk of it last night; but yeah – the stuff I've read about Jacob Trouba, stuff written by Ranger fans nonetheless, has been disgusting.
I won't share these writings and/or screenshots here, because I don't want to give these people attention; but no joke – people were making death threats against Trouba.
Death threats over three penalties. Hell – death threats over a hockey game!
Seriously, some of the stuff that I read would make you think that Trouba was the second coming of Osama Bin Laden.
---
As talked about last night, it's one thing to be a complete moron, and in your moment of anger, state, "TROUBA MUST BE SCRATCHED FOR GAME FOUR!" It's another thing to wish death upon a player. I think you know this.
While I don't think that any of these death threats were serious, as in my opinion, all of it comes from an irate state; but in this world, you're really asking for trouble whenever you post such crap.
After all, we've seen an example of this already during this postseason, when fans of the St. Louis Blues were making death threats towards Nazem Kadri, of the Colorado Avalanche, following Kadri's incident with Jordan Binnington – an incident that knocked the Blues' starting goaltender out of the playoffs.
Again, while it's highly unlikely that anything was ever going to come out of these threats; at the same time – everyone is on edge these days – especially after all of these psychopath mass shootings that we've read about during these past few weeks.
Furthermore, and I can tell you this from first-hand experience – while not every player wastes time on social media searching their name – their families do.
A mother, a father, a sister, a brother, or whoever, it doesn't matter; none of these people should have to read about death threats being cast upon a loved one. And again – all because of a hockey game!
You want to criticize a player – that's fine. That's part of their job description.
Thankfully, I don't have people covering me at my job – and then writing 10,000 word blogs about my day at work!
("Sean McCaffrey spent nearly ninety minutes in the bathroom during an eight-hour shift! BENCH HIS ASS!")
You'd think all of this would be common sense. Sadly, that isn't always the case.
(And don't even get me started on the people that say all this nasty stuff about Tony DeAngelo, but in their very next tweet, talk about how bullying is bad, especially whenever it's #BellLetsTalk time. In other words – there is a lot of "do what I say, and not what I do" out there.)
In any event, on Monday, Gallant defended Trouba.
While Gallant wouldn't call out the referees (that high stick on Chytil that wasn't called, ugh); like most rational people, "The Turk" alluded to the fact that two of the three penalties assessed to "THE GREAT EIGHT" were soft.
(Gallant didn't say this verbatim, as head coaches can be fined whenever they criticize officials, but you knew what he meant.)
---
To wrap up on Trouba here, I just found it crazy, that fans, otherwise sane away from their stuff whenever the Rangers lose a game, were so quick to bury #8.
All Trouba has done is play nearly 25 minutes per game, and is one of the leaders in both the hits and blocked shot statistics.
And I think what's often lost, and in something that I always say on this site, is this – "the other team is paid to play hockey too" – including the reigning and defending Stanley Cup champions, where need I remind you – currently trail the Rangers in this Eastern Conference Final, two games to one.
Furthermore, even if the Rangers should drop Game Four (perish the thought) – while of course, you'd be concerned – at the same time, the Rangers would still have an edge, as what would become a "Best of Three" series would still feature the Blueshirts with a home-ice advantage.
But let's not think like that.
Let's think about the Rangers winning Game Four, and then having an opportunity to close out the series on Thursday night, at M$G, where yep – the Rangers have won their last eight consecutive home games.
---
By now, you have probably noticed the silly photoshop header pic at the top of this blog.
Let me explain it.
As noted last night, when both Chris Kreider and Mika Zibanejad were at the podium during their post-game press conference; the newly minted "CK34," a man who has now tied Rod Gilbert for most playoff goals in all of franchise history (34), and the defacto captain of this team too – Kreider wouldn't allow Zibanejad to be blamed for Tampa's game winning goal.
Instead, Kreider put his right arm out, Mika complied, and then "CK34" assumed all of the responsibility and/or blame.
That's what a captain does.
It's easy to be rah rah after a win, where really, Kreider never takes credit after wins anyway. Instead, he raves about his teammates.
It's hard after a loss, especially seconds after it, to step up and allow all of the negativity to be pointed at you. That's what Kreider has done for the Rangers all season.
And as you have noticed by now, and especially if you read last night's blog too – I don't solely blame Trouba for the loss.
However, Trouba wasn't there for media interviews on Monday night, nor was he available today.
Kreider was.
What am I getting at? This:
In the debate of Kreider vs Trouba for the captaincy next season, I stand firm on what I've been saying all along – it should be Kreider.
As you can see, I have Kreider cutting off Jon Cooper in the picture depicted above.
Why? Because of what Jon Cooper said on Monday:
Jon Cooper: "We had to stop the Rangers' roll. Hopefully that goal with 48 seconds left put a little pin in their bubble."

— Joe Smith (@JoeSmithTB) June 6, 2022
---
Listen, I don't blame Jon Cooper for saying what he said. In fact, I expect it, as more times than not, I find "Coop" to be a bit smug and cocky. (I'm not wishing death on him though!)
In this day and age, the word "TRIGGERED" has entered the American lexicon – prominently at that.
Cooper didn't say "put a pin in their bubble." Instead he used the word "little" before pin.
I don't know if it's me, but that word "little" was very condescending – and yes I know I may be making a mountain out of a molehill right now – but I'm just trying to find "little" things that can be used as motivation!
This Cooper quote should be on the Rangers' bulletin board tomorrow and every player should be aware of it.
Not only was Cooper "belittling" the Rangers – he seemed very proud (as he should be) about derailing the Ranger train.
While no team should need any quotes and/or bulletin board material at this stage of the game, as everyone should be motivated, especially when you're two wins away from the Stanley Cup Final; this much is true too – in a sport where the mental part of it is just as important as the physical part – this quote should amp up the Rangers' psyche.
---
When it comes to the Rangers' optional practice from Monday, not much took place.
However, I think K'Andre Miller deserves some praise.
After all, let this sink in:
Miller was the only Ranger to play in all 82 regular season games. He's now played in 17 postseason games. In other words, Tuesday's night game will be his 100th game played this season.
Despite logging more games and combined minutes than anyone else on the team – he was out there during the optional practice.
This tells me a few things:
One – he's healthy.
Two – he wants to win.
Three – he wants to better his individual game.
Kudos to K'Andre, who had some rough patches/growing pain moments during the past two seasons.
As he's said himself – Trouba has been a good influence on him.
Along with Fox and Lindgren, it's also why the Rangers arguably have the best starting quartet of defensemen in the NHL today.
---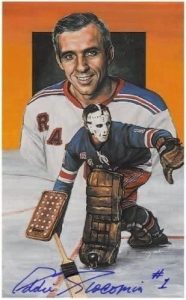 The bulk of this site's readership are older fans, as that's who I cater to.
For those people, how old do you feel today, now knowing that Giacomin turned 83 years old on Monday?
Happy birthday to #1, where to many, despite Mike Richter, Henrik Lundqvist and now CZAR IGOR – Giacomin is not only #1 forever – but the best goaltender in all of franchise history too.
(And while that's not my opinion – I understand why people from that generation feel that way!)
---
As I go home here, while Gallant said that both Strome and Goodrow should be ready and able for Game Four; we won't really know for sure until 7:30PM Tuesday, when the Rangers take their pregame warm-ups.
This is my way of saying that sometimes coaches don't exactly tell the truth, and by the NHL's design – withhold information.
That said, I'm taking Gallant at his word here.
If he wasn't being truthful, then I think we would've saw more of an emphasis on guys like Kevin Rooney and Dryden Hunt during the Rangers' optional practice.
Game Four Prediction? Rangers 4 – Bolts 0!
LGR!
PLUGS TIME.
---
On Monday night, our pals from "The Blueshirt Underground Show" returned with a new episode.
(In fact, if you're reading this blog early, you can watch it live at 7PM.)
To watch/listen to it, click the play button below:
---
On Monday morning, Ron Duguay and company returned with a new episode of "Up in the Blue Seats."
To listen to it, click the link below:
— Ron Duguay (@RonDuguay10) June 6, 2022
---
My first plug of tonight's blog – the mandatory plug for my book, "The New York Rangers Rink of Honor and the Rafters of Madison Square Garden".
As mentioned previously, the book is now available in hardcover, in paperback and in Kindle formats. To purchase a copy of the book, visit this link:
https://www.amazon.com/Rangers-Rafters-Madison-Square-Garden-ebook/dp/B09CM5N2WD
For those still looking for signed paperback versions of the book, I have re-ordered more copies. I now have a few signed copies for sale at $25 a pop (includes shipping price) through me directly. Here is all the information on that:
---
Here are my last few blogs, in case you missed them:
---
---
---
If you haven't already, subscribe to this blog for the next update:
---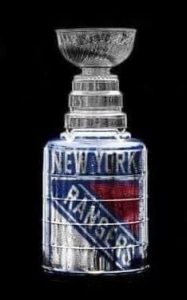 Up next: Game Four of the ECF, Tuesday night, at 8PM, at the Amalie Arena in Tampa, Florida.
LET'S GO RANGERS!
Sean McCaffrey
BULLSMC@aol.com
@NYCTHEMIC on Tweeter