Greetings and salutations everyone and welcome to another blog here on BlueCollarBlueShirts.com. See ya "Captain Happy". And see ya the feeling in my ass, as I've been sitting in this computer chair for way too long this week. The news never ends!
On Friday July 23rd, and with the NHL hosting the first round of their 2021 Entry Draft; fans across the league were jacked up with anticipation, as many trades were to be expected. And that's exactly what happened, as many teams throughout the league made big trades on Friday – including the New York Rangers.
Following up a slow and disappointing Thursday of trades; on Friday, many bombshell trades, bombshell trades which I predicted last night in this very same space, went down. Whether it was Seth Jones going to Chicago, Oliver Ekman-Larsson going to Vancouver or Rasmus Ristolainen going to Philadelphia – numerous big trades were made. Another big trade made? The Rangers trade of Pavel Buchnevich to St. Louis for Sammy Blais and a 2022 second round draft pick. As you'd imagine, a majority of the Rangers fan base didn't take this news well.
While the Buchnevich trade will be our main event topic for tonight's manifesto, the Rangers also made other moves on Friday. In addition, the Rangers also made a "non-move" too; or at the very least, a non-move for right now. And yes, I'm talking about Jack Eichel here, as contrary to popular belief and opinion, the Rangers DID NOT trade for Jack Eichel on Friday. Instead, the Rangers used their #16 overall pick of the NHL draft and selected left-winger Brennan Othmann, an Othmann who has played at both the OHL and Swiss league levels. Just like anything else in Rangerstown, USA, a large section of the fan base handled this news extremely well too. (Cue the old "NOT" line from the movie "Borat" here!)
But wait "The New York Rangers Rink of Honor and the Rafters of Madison Square Garden" book shoppers – there's more! (And what a shameless plug for my upcoming book, where I will have more information on that book for you at the end of this blog. Screw Leonardo DiCaprio – I just pulled off a plug "Inception" here!)
The long awaited and expected buy-out process of Tony DeAngelo started on Friday, where DeAngelo was officially waived and will most likely have his contract bought out over the weekend. It's nice to see Chris Drury keep up the legacy of his predecessor and add more dead-cap space to the Rangers salary cap. No one enjoys paying players not to play more than the Rangers.
And real quick on the DeAngelo buy-out here, isn't it amazing Suzyn how the same people who wanted the Rangers to eat DeAngelo's contract are the same people who wanted the Rangers to over-pay Pavel Buchnevich?
Again, and as stated all week – I just don't get the nuclear over-reactions to every move the Rangers make this off-season. Let all the smoke clear and dust settle first, then assess. Maybe I'm wrong, and I'll tell you if I am if you don't tell me first – but I think all of these moves are just parts of an overall greater good. As they say, "we'll see!"
At this time, and as usual before getting into the meat and potatoes of tonight's affair – the PLUGS segment.
Say it with me, here are my last few blogs in case you missed them:
---
---
---
By now, you've probably heard the news. Pavel Buchnevich is no longer a Blueshirt. He's now a Blue note.
It's funny, my immediate reaction to this news was unique, as I didn't see anyone else say what I'm about to say next – the Jimmy Vesey and Pavel Buchnevich era is now over!
Okay, okay, okay – there was no such thing as a "Vesey & Buchnevich Era". Far from it. However, do you remember all the excitement at the time, prior to the 2016-2017 season, when it was announced that the Rangers had signed both Pavel Buchnevich and Jimmy Vesey? These two men joined the Rangers with much ballyhoo and fanfare, where yes, Vesey got the lion's share of the attention. After all, Susan Sarandon and the various bars around NYC weren't promising Buchnevich free drinks for life – they were guaranteeing the world to Jimmy Vesey instead.
During the last twenty some-odd years of Rangers history, I can think of three separate times where two players, and at the same time, were joining the Rangers with insanely high expectations. And when I say "high expectations", I'm talking about fans and the media alike using the two words of "Stanley Cup" when talking about these players.
The first instance of this is somewhat similar to Vesey and Buchnevich. Back in 1999, and as you may have heard, the Rangers had the #4 and #9 overall picks of the 1999 NHL Draft. In turn, the Rangers drafted Pavel Brendl and Jamie Lundmark respectively. These two young guns were heralded as future pillars of the franchise. It was thought that these two would help lift the Rangers for the next dozen years. Instead, Brendl flamed out and never played one game for the Rangers. Lundmark would be more successful than Brendl, but like Brendl, Lundmark never panned out either.
By 2005, both Brendl and Lundmark would be removed from the organization. Fast-forward two years later and the Rangers once again heralded two players as future stars of the franchise, in former Stanley Cup champions Chris Drury (COL) and Scott Gomez (NJD).
On July 1st, 2007, Senile Sather handed out over $86M in guaranteed money to both Gomez ($51.5M/seven-years) and Drury ($35.25M/five-years.) Both men were alleged to be the missing pieces of the next Rangers Stanley Cup run. Not even two years later, Gomez was off to Montreal, where at least the Rangers got Ryan McDonagh out of the deal. At the end of the 2010-2011 season, and with injuries being a factor, Chris Drury was bought out of the final year of his contract.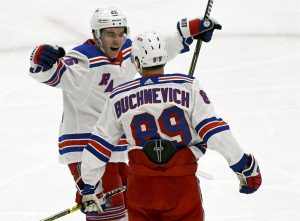 During their early years with the Rangers, it was thought that Vesey would become a big star while Buchnevich would become a "good hand", for a lack of a better term. Instead, at the end of the 2018-2019 season, Vesey was sent off to Buffalo, where careers go to die and for a third round pick. Today, Vesey is now with his fourth team in three years.
While Jimmy Vesey never performed to the lofty expectations once bestowed upon him, Buchnevich shattered his. As mentioned numerous times this season, it really felt like Buchnevich was just hitting his stride and entering the prime of his career. However, unlike Vesey, the dirty "B-word", as in business, has now ended Buchnevich's time with the Rangers.
In a non-salary cap world, Buchnevich would still be a New York Ranger. And yes, I'll spare you from another one of my 9786786786897689 rants on my hatred of the salary cap here. That said, the Rangers of today do play in a salary cap world and that's the only reason why Buchnevich is now with the Blues.
If anything is learnt by any of this, it is that whenever the Rangers are hyping up two stars at the same time – watch out. History doesn't favor the Rangers during these times.
Before getting into my thoughts on the trade, as I usually do whenever big news like this is broken, I want to share with you what the Rangers said. Afterwards, since this is a pretty big deal, I'll give you the other side and share with you what the Blues said too.
Up first, the Rangers end of things.
At 4:15PM, the Rangers tweeted out the following: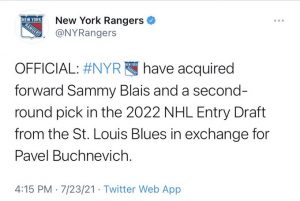 A little bit later, the Rangers also tweeted out the following:
Here's the Rangers official press release on the trade, courtesy of: https://www.nhl.com/rangers/news/rangers-acquire-sammy-blais-and-second-round-pick-in-2022-nhl-entry-draft/c-325753422
New York Rangers President and General Manager Chris Drury announced today that the team has acquired forward Sammy Blais and a second-round pick in the 2022 NHL Entry Draft from the St. Louis Blues in exchange for Pavel Buchnevich.

Blais, 25, skated in 36 games with St. Louis this past season, registering eight goals and seven assists for 15 points, along with 12 penalty minutes. The 6-2, 205-pounder has skated in 119 career NHL games over parts of four seasons (2017-18 – 2020-21), all with the Blues, registering 17 goals and 18 assists for 35 points, along with 44 penalty minutes. Blais helped St. Louis win the Stanley Cup in 2018-19. The Montmagny, Quebec native was originally selected by the Blues in the sixth round, 176th overall, of the 2014 NHL Entry Draft.

The Rangers currently have eight picks in the 2022 NHL Entry Draft, including three picks in the first two rounds and six picks in the first four rounds.

Buchnevich skated in 301 games over five seasons with the Rangers, registering 79 goals and 116 assists for 195 points, along with 112 penalty minutes.

---
On the flip side of the coin, here's how the Blues covered the trade, courtesy of: https://www.nhl.com/blues/news/blues-acquire-buchnevich-in-trade-with-rangers/c-325753414
Pavel Buchnevich is headed to St. Louis.

The 26-year-old forward, who was drafted in 2013 and has played 301 games in five seasons with the New York Rangers, was acquired by Blues General Manager Doug Armstrong on Friday afternoon in a deal that sent Sammy Blais and a second-round pick in the 2022 NHL Draft to New York.
"He's got good size at 6-foot-3, he's a left shot, can play the right side," Armstrong said of Buchnevich. "He's scored in the League recently, he's 26 years old, a player obviously we control for a year and would like to sign long term. He's the right age group for us with what we're trying to accomplish. A very good penalty killer, too."

Buchnevich scored 20 goals and 48 assists (68 points) in 48 games last season. He set a career high in goals (21) during the 2018-19 season.

Since making his debut in 2016-17, Buchnevich has posted 79 goals and 116 assists (195 points).

"He's going to touch all aspects of our game. He's a good age," Armstrong added. "As we continue to retool this roster, I think he's a good piece for us."

Blais played in four seasons with the Blues, helping the team capture their first Stanley Cup in 2019. In 119 regular-season games, Blais posted 35 points (17 goals, 18 assists).

---
It's being reported that several members of the Rangers weren't happy about this news. Rarely are players giddy about news about a teammate's departure, especially over a departure that's rooted in the salary cap. Even Ryan Strome, whose name has been linked in some trade rumors himself, expressed his sadness on Twitter regarding losing Buchnevich as a teammate.
If there was anything "cruel" about this trade, just 24 hours prior to the trade, the Rangers tweeted out the following picture: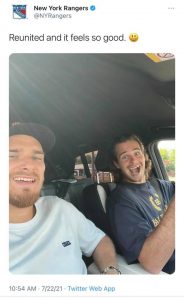 As talked about on this site and on social media, it's been rumored for weeks that the Rangers were going to trade Buchnevich. That's why it was so strange that the Rangers were promoting Buchnevich and all of his exploits on social media during these last few weeks. You'd think they'd promote someone who is a lock to be on the team for the 2021-2022 season instead.
I know that everyone has to find the nearest bridge to jump off of whenever the Rangers make a move that they don't like; but even if you don't like this move, you should at least be able to understand why this trade happened.
Again, and not to repeat myself too much, Buchnevich became expendable and is now a salary cap casualty.
Very often on this site, I always roll my eyes and laugh about these morons who make "PROPOZED LINEZ", whether they be fans or reporters. At least when fans do this, I can understand it. After all, as fans, we're not held to any sort of standards and anyone can root for the team in the way they want. That being said, for me personally, I don't see the value in making up lines at this point in time, especially since we don't even know what the roster will look like come opening night.
When I see the NYR beat reporters making up "PROPOZED LINEZ" in the middle of July, it just tells me that these people have ran out of things to write about. There are only so many times these writers can beg fans to send them questions for a "mailbag". Even sadder? There is actual news to talk about!
I bring this up, because whenever I read these "PROPOZED LINEZ" click-bait articles and people debating the Rangers roster, I always see people fighting over who slots in where. Combine all of this with fans wanting the Rangers to sign everyone – according to these people, they'd have a roster where you'd have 7856796969 different players, where all of these players are playing top six minutes.
At the end of the day, there are only so many top six minutes to go around and not everyone can get ice time. And in a point that I've made all season, where I can type this sentence out from just muscle memory – you need to have a diverse roster. You need many ingredients in your roster stew. You just can't have a line-up of skill-set players who all do the same thing. Need an example? Just check out the Tampa Bay Lightning, a franchise that had an amazing collection of players but only won the Stanley Cup AFTER they got tough and brought in different pieces/role players.
Before getting into what the Rangers got in return for Buchnevich, let's look at the three reasons, and in order, on why this trade had to be made:
— Buchnevich is currently a restricted free agent and is due for a raise. He may also want a No Move Clause too, especially since NYR hands out NMC's to players like Oprah Winfrey giving out free shit to a rabid studio audience. With the salary cap being tight, especially when you look at the years to come with all of the young players' entry level contracts expiring; you have to free up money somehow. Again, Buchnevich is a casualty of the salary cap more than anything else here.
While you can most certainly blame former NYR GM Jeff Gorton for giving out all of these NMC's and monster contracts, including to guys who are not currently playing up to their contracts in Chris Kreider and Jacob Trouba; what's done is done. You can't go back in time and change this. Moving forward, the Rangers will need money for guys like Lafreniere, Fox, Miller, Kravtsov, Kakko and others. This is exactly why the Rangers traded for Sammy Blais anyway, as the contract of Blais expires at the end of the 2021-2022 season. Looking ahead, the Rangers can easily walk away from Blais if he doesn't work out.
— Too much of the same. While you can argue that Buchnevich is entering his prime, (at least that's what I think) at the same time, you also have guys like Kravtsov, Gauthier and Kakko fighting for minutes. You can't play everyone and if you want to roll out four lines, you can't have four wingers on the same side who all do the same thing on each shift. By acquiring Blais, you can toss him on a third or fourth checking line, where I'd imagine he'll be paired up with another new Ranger in Barclay Goodrow. (I almost gave you a PROPOZED LINE of Rooney/Goodrow/Blais here! How hypocritical!)
— Trying to deal from a point of strength rather than from a point of weakness. If the Rangers aren't going to be able to pay for Buchnevich, you're better off dealing him now rather than waiting. Of course, perhaps Buchnevich would've fetched more of a return during the trade deadline, but if the Rangers were to deal Buchnevich at the trade deadline, what kind of message would've that sent? Plus, with the monster known as James Dolan awakening from his slumber, there's no way Drury can be selling off parts next season.
Between the salary cap, young players on the rise and the need to create a diverse roster that can compete in the playoffs; Drury made the tough decision on Buchnevich.
And really, while Buchnevich was heating up during the last two seasons, he also could be inconsistent. Did anyone really consider Buchnevich to be an "untouchable"? Of course, Buchnevich did have a handful of games where he took over, but it's not like Buchnevich could carry the Rangers either.
More on Buchnevich shortly, as I now want to get into what the Rangers received in return.
---
As I always say on this site, if I'm right I'll tell ya and if I'm wrong I'll tell ya too. Of course, it's more fulfilling to write when I'm correct rather than write when I am wrong!
What did I say during the entire Stanley Cup Playoffs? I'll tell you. I said that every NHL GM, GM's who are all part of a copycat league, will learn from the run that Montreal just had. By that I meant that GM's will now start to load up on players with Stanley Cup winning experience. Fast-forward to today, look at the two most recent moves out of Chris Drury.
After acquiring two-time Stanley Cup champion Barclay Goodrow, a Goodrow who won the Stanley Cup in both 2020 and 2021; Drury went to the last champion prior to the back-to-back Lightning wins and made a trade with St. Louis. While Blais wasn't the catalyst of the Blues Stanley Cup victory in 2019; Blais was there. Blais was there for the biggest battles of that run, which were the Western Conference Final and the Stanley Cup Final, even picking up a goal during the Blues WCF Game 6 victory over the Avalanche.
Another point that I've hammered home to death on this site, and a point that many others have said until going blue in the face; was that the Rangers needed to get tougher and more physical. The Rangers needed to shake things up. However you feel about Buchnevich, what is known is that the Rangers took a step back last season, where admittedly, some of what happened was out of their own hands.
Just like Goodrow, Blais is a very physical player. And to go back to this league being a copy-cat league, who is the Rangers biggest arch-rival? What's one major reason why the Islanders have been so successful as of late? By acquiring Goodrow and Blais, the Rangers and Drury are now trying to put their own "Identity Line" together. Why some fans can't see this is beyond me; but I guess some people rather rattle off "expected stats", pie-chart data and hieroglyphics, where all of this analytical junk has nothing to do with winning playoff games.
I'm fine with this trade, but I will admit perhaps the Rangers could've done better than Blais and a second round pick. That said, I'm sure Drury shopped Buchnevich all over the place and this was the best deal Drury could get in this stringent and tight-walleted hard salary cap world.
Depending on what contract Buchnevich receives from the Blues, Drury may have saved himself $4M+ in salary cap space here and even better, got a player who brings something different to the table. As I said after the Goodrow trade, Goodrow can't be the lone physical and gritty guy on the team. By adding Blais, the Rangers are bringing in role players, role players which the team hasn't seen since the mid-2010's.
After this trade was made, both Buchnevich (through his agent) and Drury expressed their thoughts. Todd Diamond, who is Buchnevich's agent, told the media that while Buchnevich was aware that a trade was possible, that Buchnevich was shocked after the trade became official. In addition, Diamond sold his client, praising Blues GM Doug Armstrong for targeting Buchnevich. Diamond also hinted that Buchnevich is looking for a long-term deal which is the reason why the Rangers decided to move on from him in the first place.
Following the 2021 NHL Draft, (I'll get into that in our next segment) Chris Drury talked about the trade.
Drury basically said what I said above, saying "there's only so much cap space to go around and there's only so much ice time to go around." Drury also added that he felt good about the Rangers depth at the wing.
In addition, Drury talked about Blais, saying: "I think he [Blais] brings a lot of size, a good physical edge and an offensive upside. The minutes he's played in the past, he's had good production."
To watch Drury's complete interview, click the play button below:
To conclude on all of this, as stated, I'm fine with this trade. I understand why it was done. I also understand that Buchnevich had a big fan base, where some of these people would call Buchnevich "intoxicating". I don't know why the word "intoxicating" was ever used, but it was a word that these fans used. If anyone was ever "intoxicating" with the Rangers, it was Don Murdoch!
What should also be said here, is that with the Rangers finding their role players and tough guys, the skill-set guys on the team are really going to have to step it up next season. They are going to have to earn their money and deliver. When someone goes down, or in this case is traded; someone else must step up and grab the brass ring. I'm looking at you Kaapo Kakko!
You'd think that trading Buchnevich would be enough news for you. Of course, there was a draft that also went down on Friday too. Let's breeze through that.
---
The first round of the 2021 NHL Entry Draft is now complete, with rounds two through seven scheduled for Saturday.
The top story of the draft from a Rangers perspective is actually a "non-story". As talked about at the top of this blog, Jack Eichel is still a Buffalo Sabre. For all the talk about the Rangers packaging their sixteenth overall pick of the draft in a package for Eichel – well that never came to be. (Praise the hockey gods!)
According to reports, with Elliotte Friedman being the first to discuss this, the Sabres just want too much in return for Eichel. Rather than forcing a trade, Drury decided to stay put and used his draft pick. Whether or not all of this takes the Rangers out of the running for Eichel – well that's to be determined.
I've talked enough about Eichel during the last few weeks on this site, so I won't go down that road again. All I'll say here is that I'm happy that the Rangers didn't force a trade for Eichel for the sake of doing a trade and I kind of hope the Rangers bow out of this arms race for Eichel.
When it comes to other Rangers news, former Rangers general manager Jeff Gorton was one of the talking heads during the ESPN broadcast of this event. As a Rangers fan, I thought this was a waste, as the other talking heads, including Kevin Weekes, didn't ask Gorton once about the Buchnevich trade, despite talking about all of the other trades that were made throughout the league on Friday.
As far as anything else that one may have taken out of Gorton's appearance, was that right after Gorton's mug appeared on the broadcast, ESPN cut to John Davidson, a JD who talked about the Seth Jones trade to Chicago. In other words, you had the Rangers brain-trust from just under three months ago on this broadcast, where JD talked about his trade and Gorton wasn't even asked about the Rangers trade of Buchnevich. In addition, during the five minutes of talk on the Rangers draft selection, Gorton kind of chuckled and said something akin to "they want to get tougher there." That was as "controversial" as Gorton got.
And oh, another thing missing in all of this? David Quinn joining the show and talking about what players have "SWAGGER" in the "NATIONAL HOCKEY LEAGUE".
With Drury being wise enough to not mortgage the Rangers future on Jack Eichel, the Rangers went ahead and selected Brennan Othmann in the first round of the draft. Of course, some Ranger fans weren't happy about this either. I mean this was predictable. No matter who the Rangers drafted here, you'd have 50% of the fan base crying about it, where 100% of these people having never seen these kids play before.
No joke, after the Rangers made this pick, you saw tweets that all felt like this:
"BRENNAN OTHMANN, WHAT ARE THEY DOING, THEY SHOULD'VE TAKEN SOME KID I'VE NEVER SEEN PLAY BEFORE!"
When it comes to the complete results of the draft, check out NHL.com's official report over at: https://www.nhl.com/news/nhl-draft-round-1-picks-analysis-coverage/c-325756734?tid=277764372
Here's what NHL.com is reporting about Othmann:
NHL Central Scouting: No. 8 (North American skaters)

With the Ontario Hockey League not playing this season due to concerns surrounding the coronavirus, Othmann (6-0, 175) played on loan with Olten in the Swiss League, the second-highest professional league in Switzerland. The 18-year-old scored 16 points (seven goals, nine assists) in 34 games playing with and against experienced professionals, showing a willingness to block shots and make the game tough on opponents. He scored six points (three goals, three assists) in seven games to help Canada win the 2021 IIHF Under-18 World Championship. Othmann scored one goal and had seven shots on goal in a 5-3 win against Russia in the championship game.

NHL.com analysis: Othmann's skill and skating impressed during his play in Switzerland, and he carried that into strong play at the U-18 World Championship. The Rangers have a number of talented young forwards, topped by Alexis Lafreniere, the No. 1 pick of the 2020 NHL Draft, and Othmann's hard-nosed play and strong forechecking would give them more open ice to work with.

---
You guys know that history is my forte and not prospects. I also don't bullshit you either, so I'm not going to pretend that I have a clue on who Brennan Othmann is. Follow guys like Danny Mack and Steve Kournianos for honest and informed assessments on these draft selections.
If there's anything I can tell you, it is what Othmann said after being drafted. Othmann said he models his game after Matt Tkachuk. In addition, Othmann expressed a true desire to one day play on the same line with Kaapo Kakko and Alexis Lafreniere. How that works, I don't know, since Othmann is a left winger. Maybe Othmann can be converted to a center or perhaps Lafreniere can start taking some draws.
Othmann also said that he's an offensive player and that he likes to get under the skin of his opponents. My type of guy!
Again, I'm far from being a prospects expert and I really only know a little about these guys; but based on what Othmann said, I liked this pick. Give me a kick-ass Canadian over some pimply faced soft European any day of the week.
What I really loved about Friday, is that I've always been an "eye-test" and OLD TIME HOCKEY type of fan. These analytical weasels are having all of their crap debunked right now, as the Rangers under Drury are trying to get all "Broadstreet Bullies" up in here. Hey, if the Rangers are going to lose, they may as well beat up some people along the way! That said, I like this new direction and I think it will be a successful direction. Changes had to be made. If you don't like a physical brand of hockey, I heard the Swedish league is doing amazing things these days.
Speaking of players who can kick a hiney or two, a quick update on Barclay Goodrow.
---
On Thursday night, Barclay Goodrow met with the messenger pigeons aka the NYR beat reporters whose names aren't Larry Brooks. To watch the interview, click the play button below:
As far as what was said, it was pretty much everything I wanted to hear. Goodrow talked about his Stanley Cup winning experience, being a leader and wanting to be there for his teammates. Goodrow also hinted at a future tilt with Tom Wilson.
When it comes to Goodrow's first test as a Ranger, Goodrow aced this interview.
---
Fun trivia question. Contractually, who of these following names lasted with the Rangers past July 23rd, 2021:
John Davidson
Jeff Gorton
David Quinn
Brett Howden
Colin Blackwell
Pavel Buchnevich
Tony DeAngelo
If you answered Tony DeAngelo, give yourself a round of applause!
On Friday, prior to the NHL Draft and prior to the trade of Buchnevich, it was reported that the Rangers had waived DeAngelo. Once DeAngelo clears waivers, the Rangers can then buy him out. We all know how I feel on this, but I just wanted to mention this story now that it's official.
Moving on during this magic carpet ride, some news on the Hartford Wolfpack.
---
On Friday afternoon, the Hartford Wolfpack issued the following press release:
Today, the Hartford Wolf Pack and the American Hockey League officially released the 2021-22 schedule. The Wolf Pack begin their season at home on Friday, October 15th, 2021 against the Bridgeport Islanders. The regular season finale will take place as a Sunday matinee on April 24th, 2022 against the Wilkes-Barre/Scranton Penguins.

The Wolf Pack will see 13 different teams this season, including: Belleville, Bridgeport, Charlotte, Hershey, Laval, Lehigh Valley, Providence, Rochester, Springfield, Syracuse, Toronto, Utica, and Wilkes-Barre/Scranton. The Wolf Pack will faceoff against I-91 rival Springfield a total of 12 times this season while only seeing Laval, Syracuse, Toronto, and Utica twice.

To view the Wolf Pack's full schedule, please click here. Season Tickets and Mini Plans are on sale now! Single game tickets will be available for purchase after Labor Day. In the meantime, if you have any questions regarding tickets or ticket packages, please contact a Wolf Pack sales representative by calling 860-722-9425 OR emailing wolfpack-service@spectraxp.com.

Stay tuned for more information regarding the upcoming season by following the Wolf Pack on social media. We're excited to host you all once again at the XL Center!
One last update before going home here – an update on my upcoming "The New York Rangers Rink of Honor and the Rafters of Madison Square Garden" book.
---
In one of my never-ending book updates, as this project is now near its finish line, I think this book will be released on September 1st, if not earlier. As it stands right now, my editor is on her second proof-read and the cover art should be completed this weekend. Once the proof-read/editing is done, I can then print out "proof copies" and after my "Fabulous Five" of proof-readers get through them, the book will go off to the presses and be available for sale. (I know some of you have offered to pay for the book now, but I don't want to accept any money until I have physical copies of the book in my hands.)
Previously on this site, I gave you a sample chapter of the book, the Bill Cook chapter. Once the book goes on sale, I will give you another free chapter on this site – the Introduction chapter. By giving you the introduction for free, you'll get a feel for what the book is.
With everything going full-steam ahead, I had to write-up a description of the book for Amazon. Here's what you'll see on Amazon.com by September 1st:
The New York Rangers Rink of Honor and the Rafters of Madison Square Garden is dedicated to honoring the biggest fan favorites and most influential figures in all of franchise history. Not only are players such as Wayne Gretzky, Jaromir Jagr, Martin St. Louis, and others profiled, but men such as John Amirante, Steven McDonald, Christopher Reeve, and others are also mentioned.

The New York Rangers Rink of Honor and the Rafters of Madison Square Garden features 92 names for a proposed "Rink of Honor" inside Madison Square Garden. Names such as Ron Duguay, Nick Fotiu, Alex Shibicky, Mats Zuccarello, and others are all nominated for this distinction.

The second half of the book argues for eight men, including Bun Cook, Emile Francis, and Lester Patrick, to have their names adorned from the rafters of Madison Square Garden.

The New York Rangers Rink of Honor and the Rafters of Madison Square Garden takes you on a journey throughout every era of New York Rangers' hockey, including eras such as "The Original Rangers," "The 1940 Stanley Cup Champions," "The World War II," "Post World War II," "The Emile Francis," "The Dark Ages," "The Henrik Lundqvist," and other key eras of New York Rangers' history.

The New York Rangers Rink of Honor and the Rafters of Madison Square Garden is full of historical facts, ironies, testimonies from players, and anecdotes. The book also profiles 101 legends of the New York Rangers.

The New York Rangers Rink of Honor and the Rafters of Madison Square Garden is your one-stop book for everything regarding the great (and sometimes not-so-great) history of the New York Rangers.
Between the book, these blogs, social media and emails; I think I've written and read about 24762746789263478963 zillion words on the Rangers this week. I'm hoping for a slow weekend but I doubt that will happen! Rangerstown, USA – the city that never sleeps!
---
If you haven't already, subscribe to this blog for the next update:
---
The rest of the NHL Entry Draft will be completed on Saturday. After that, it's all about July 28th, when the free agency period begins. Expect the Rangers to remain busy.
UPDATE: While I don't like to jump into the rumor mill, there are now rumblings about Mika Zibanejad's future. Of course, it should be mentioned that Zibanejad presently has a NMC with NYR. I told you it's never a slow news day!
Stay FABULOUS my friends.
As always here, thanks for reading and…
LET'S GO RANGERS!
Sean McCaffrey
BULLSMC@aol.com
@NYCTHEMIC on Tweeter