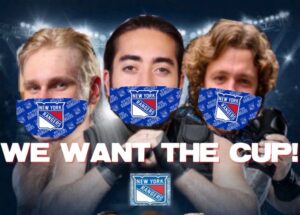 Greetings and salutations everyone and welcome to another blog here on BlueCollarBlueShirts.com. I hope everyone had a good July 4th holiday weekend, except for that ingrate Colin Kaepernick!
As I write these words, here on the evening of Monday July 6th, the NHL & the NHLPA are rapidly doing everything they can to get all proposals ratified and everything else okayed. In fact, everything seems to be a pretty much done deal, as announced by the NHL on Monday night.
On Monday, we found out everything regarding the NHL's resume to play plans, which with no hiccups, games will start up again on August 1st. And as I'll get into in this blog, despite whatever may come the league's way, I do see a Stanley Cup Champion crowned here in 2020.
In tonight's blog, we'll take a look at all the massive news that occurred on late Sunday/early Monday morning, in regards to the NHL's return. Then, as just announced this Monday evening, I'll look into the league's official return plans. Elsewhere on this blog, we'll have a look at the current Rangers back in New York right now. I'll also have a podcast recap of the Matt Barnaby "interview", which took place on "The Blueshirt Underground Show", on 7/6.
Oh and before getting into the regular rigmarole of this blog, meaning kicking off tonight's blog with the "PLUGS" segment, a happy belated birthday to both the legendary Cam Talbot & the great Ron Duguay!
Plugs time! As usual, in case you need a refresher or missed them, here are my most recent blogs: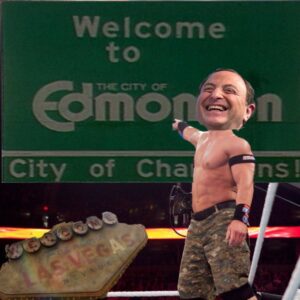 ---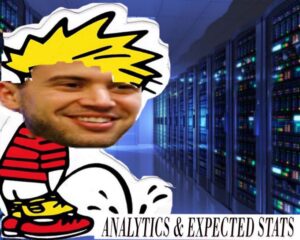 ---
---
---
---
---
There is a ton of NHL news to get into tonight. Some of it can be confusing, some of it is pretty basic. If you're looking for just the skinny here, the NHL & the NHLPA, as they've been doing throughout this pandemic, are continuing to work together & address the concerns of each party. While not every "i" is dotted yet, nor is every "t" crossed, for all intents and purposes, the NHL & the NHLPA pretty much have a deal done, in regards to the NHL resuming play. This news was pretty much confirmed and made official on Monday evening, by the NHL themselves.
Over the July 4th weekend, it was announced that both the LA Kings & the St. Louis Blues had people testing positive for COVID-19. In turn, both teams temporarily halted their open ice practices/skating sessions for players. Of course, since everyone has a "SKY IS FALLING" mentality these days, and who can blame those people with everything going on in 2020, people immediately rushed to the conclusion that the NHL should just cancel the season.
As outlined on past blogs on this site, there is just no way the NHL will cancel this season if they don't have to. Refer to my past blogs for more on this. In short here, Bettman sure as hell doesn't want to be known as the only commissioner, in the history of sports, to have two lost seasons on his watch. And perhaps more importantly, there's just too much money to be lost, should the NHL shutdown & cancel the remainder of the season. As you all know, while these athletes play a kid's game, the money involved here is at a Wall Street level.
On Monday morning, July 6th, the NHL released their latest COVID-19 testing results, through their Twitter account. You can find the graphic of that tweet here: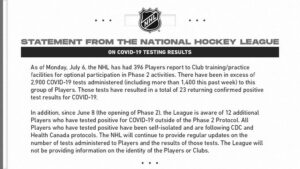 Of course, the NHL released the same statement over on NHL.com. You can find the statement from its original source here: https://www.nhl.com/news/nhl-statement-on-phase-2-testing/c-317330350
For those with bad eyes or those too lazy to click the link above, here's the full statement:
NEW YORK – The National Hockey League today released the following statement on COVID-19 testing results:
"As of Monday, July 6, the NHL has had 396 Players report to Club training/practice facilities for optional participation in Phase 2 activities. There have been in excess of 2,900 COVID-19 tests administered (including more than 1,400 this past week) to this group of Players. Those tests have resulted in a total of 23 returning confirmed positive test results for COVID-19.

"In addition, since June 8 (the opening of Phase 2), the League is aware of 12 additional Players who have tested positive for COVID-19 outside of the Phase 2 Protocol. All Players who have tested positive have been self-isolated and are following CDC and Health Canada protocols. The NHL will continue to provide regular updates on the number of tests administered to Players and the results of those tests. The League will not be providing information on the identity of the Players or Clubs."

---
I know I've said this a lot on this site, but I feel like I have to reiterate this point every time I talk about the corona virus – not one active athlete, in all of the major sports in America today, have died after testing positive for the corona virus. So in the grand scheme of things, while testing positive for COVID-19 isn't great, at the end of the day, it's something all of these athletes have been able to overcome, as they get back to 100% health.
When you look at the numbers above, of the 2900 tests the NHL has officially administered, only 23 players have tested positive. That's less than 1% of all players tested.
When the St. Louis Blues shut down their practices, that's when all the gloom and doom stuff restarted. However, and feel free to shout out if I'm wrong here – isn't this the whole point of these phases and tests? What the NHL is doing here, is testing, testing and doing more testing, BEFORE mini-training camps & games resume. As the players who test positive are sent home to quarantine, the NHL is doing their best to weed out all the players who have COVID-19.
By quarantining these players now and doing all the testing, the NHL is trying to make sure each returning franchise will be whole, come the start of mini-camp. As mentioned on prior blogs, there is no way to think that every team will be 100% whole by 8/1. You have to be ready for some players testing positive during training camp & during game time too. That said, the NHL is doing their best to eradicate the corona virus from their league. That's all you can ask for. No one can say the NHL is cutting corners here.
I'll also say again here, look at what the UFC is doing. They've had fighters and coaches test positive. The UFC even pulled a main event fighter from their upcoming PPV event, in Gilbert Burns, who was scheduled to fight for the UFC Welterweight Championship on July 11th. (Of course, this kind of worked out for the UFC here, as replacing Burns is Jorge Masvidal, who is a much bigger $$$ draw than Burns. And for the kicker, Masvidal has a huge feud with the person he's now fighting, in Welterweight champ, Kamaru Usman.)
This upcoming UFC PPV aside, as we've seen during the UFC's return, whenever a fighter or coach tests positive, the UFC sends these guys home. In turn, the UFC is putting on great show after great show. There is no reason to think that the NHL won't do the same, once their games return to the ice.
While I know some detractors of my opinion here will say, "UFC is an individual sport, hockey is a team sport", the fact of the matter is the UFC has 150+ people at every event, whether it be fighters, coaches, trainers, commentators, cameramen, ring card girls, etc. The NHL will have similar numbers, per game, if not less. Of course, the bigger issue here is the fact that the NHL will also have 12 full teams at each hotel, come the start of returning to play; but as I'll get into below, the NHL has addressed how they will handle this situation.
In any event, and again, "as mentioned on past blogs", the NHL has to expect people to test positive. That's how they are operating. As long as the NHL does the right thing whenever someone tests positive, as we've seen with the UFC, everything should be fine. Maybe I'm being an optimist here, but with so much money on the line, in addition to the prestige of the Stanley Cup, I see the NHL handling all of this with appropriate measures and precautions.
At around 10PM or so on Sunday, July 5th, the top Canadian reporters went hog-wild on social media, breaking down all the talks between the league and the NHLPA. I thought Sportsnet.ca had the best report on Monday morning, recapping all the news. You can find their story here: https://www.sportsnet.ca/hockey/nhl/nhl-nhlpa-agree-protocols-resume-season-continue-cba-talks/
The first paragraph of that Sportsnet.ca story tells you all you need to know, as according to the article: "The NHL and NHLPA have tentatively agreed on protocols to resume play, Sportsnet can confirm. The two sides continue to negotiate an extension to the collective bargaining agreement.
It gets better – on Monday, July 6th, around 6PM, the NHL announced the following over on NHL.com:
The NHL and the NHL Players' Association have agreed in principle on a memorandum of understanding for a four-year extension of the NHL/NHLPA Collective Bargaining Agreement, through the 2025-26 season, and protocols for Phases 3 and 4 of the NHL Return to Play Plan with the intention of resuming games Aug. 1, the League and union announced Monday.
The opening of training camps in the teams' local markets, which is the start of Phase 3, is scheduled for July 13. Teams will then travel July 26 to two centralized hub cities where they will begin Phase 4, the resumption of play, with the Stanley Cup Qualifiers starting Aug. 1. The hub cities have not been announced.

The CBA extension and agreement on protocols for Phases 3 and 4 are subject to ratification by the NHL Board of Governors and NHLPA membership. The NHLPA is expected to conduct a vote among the players over the next 3-5 days.

The current CBA, ratified in January 2013, was scheduled to expire Sept. 15, 2022. With this extension, it would expire Sept. 15, 2026.

The extended agreement will enable planning for an international calendar and events including the NHL All-Star Game, NHL Winter Classic and NHL Stadium Series.

The NHL and NHLPA each declined its option to reopen this agreement in Sept. 2019, which would have triggered its expiration Sept. 15, 2020. The sides instead decided to continue discussions about an extension that began during the 2019 offseason.

Negotiations continued after the NHL paused the 2019-20 season March 12 due to concerns surrounding coronavirus and have been a part of the process of determining the NHL Return to Play Plan, which was announced May 26 with 24 teams competing for the Stanley Cup.

Play will resume with the qualifiers, 16 teams playing eight best-of-5 series and a round-robin among the top four teams in points percentage in each conference to determine seeding for the Stanley Cup Playoffs.

Team facilities were permitted to reopen June 8 for Phase 2 of the Return to Play Plan: small-group voluntary on-ice and off-ice workouts. Workout groups were initially restricted to six players and limited staff and later expanded to a maximum of 12 players per group.

For Phase 3, players will be permitted to participate in full team activities on and off the ice. In addition, coaches, general managers and hockey operations personnel will be allowed to have direct interactions with players and conduct typical training camp activities while following preventative measures, including enhanced testing for COVID-19 and diligent hygiene practices designed to prevent the spread of the virus.

For Phase 4, the 24 teams will travel to the two hub cities, one for the 12 Eastern Conference teams and the other for the 12 Western Conference teams.

The teams will be housed in "Phase 4 Secure Zones," which will include hotels, restaurants, practice facilities and the arena where exhibition, qualifier and playoff games will be held. Each person inside the secure zone, including players, coaches, team and League personnel, arena and practice facility staff, and vendors and service providers will be tested daily for COVID-19 and have symptom screening and temperature checks.

In the Eastern Conference Qualifiers, the Boston Bruins (44-14-12, .714 points percentage), Tampa Bay Lightning (43-21-6, .657), Washington Capitals (41-20-8, .652) and Philadelphia Flyers (41-21-7, .645) will play in the round-robin.

The four best-of-5 series in the East are the Pittsburgh Penguins (40-23-6, .623) vs. the Montreal Canadiens (31-31-9, .500); the Carolina Hurricanes (38-25-5, .596) vs. the New York Rangers (37-28-5, .564); the New York Islanders (35-23-10, .588) vs. the Florida Panthers (35-26-8, .565); and the Toronto Maple Leafs (36-25-9, .579) vs. the Columbus Blue Jackets (33-22-15, .579).

In the Western Conference Qualifiers, the defending Stanley Cup champion St. Louis Blues (42-19-10, .662), Colorado Avalanche (42-20-8, .657), Vegas Golden Knights (39-24-8, .606) and Dallas Stars (37-24-8, .594) will play in the round-robin.

The four best-of-5 series in the West are the Edmonton Oilers (37-25-9, .585) vs. the Chicago Blackhawks (32-30-8, .514); the Nashville Predators (35-26-8, .565) vs. the Arizona Coyotes (33-29-8, .529); the Vancouver Canucks (36-27-6, .565) vs. the Minnesota Wild (35-27-7, .558); and the Calgary Flames (36-27-7, .564) vs. the Winnipeg Jets (37-28-6, .563).

The losing teams from the qualifiers will have a chance at the No. 1 pick in the 2020 NHL Draft in the Second Phase of the NHL Draft Lottery.

The teams that advance from the qualifiers will remain in the two hub cities for the first two rounds of the playoffs. The four teams that advance past the second round will convene at one hub city to be identified for the conference finals and Stanley Cup Final.
In addition, the NHL tweeted out the following:
Obviously – this is all good news. And as mentioned up top, while nothing is 100% yet, for all intents and purposes, it is. There should be no snags in this contract signing.
While I don't want to break down all of the legal mumbo-jumbo, I wanted to showcase a few agreements here. Here is what stood out the most to me:
— The CBA has been extended for four more years, thus as fans, we won't have to worry about another lockout anytime soon.
---
— The NHL has given us set dates about their return. By this time next Monday, every team playing this summer will start their mini-camp. On July 26th, the teams will fly to their respective hub cities, with the Rangers now expected to be in Toronto. (Not confirmed yet, but highly likely.) The qualifying round tournament will begin on August 1st. This is all good stuff here, as we now know what to expect and when to expect it.
---
— With this CBA being extended for four more years, the league and the NHLPA will now talk about the Olympics, All-Star Games, the Winter Classic and other events. While not mentioned in the press release, this could also mean the return of the World Cup of Hockey. (And really, with the NHL needing extra revenue, I think the WCOH is all but a given.)
---
— From the press release: "The teams will be housed in "Phase 4 Secure Zones," which will include hotels, restaurants, practice facilities and the arena where exhibition, qualifier and playoff games will be held. Each person inside the secure zone, including players, coaches, team and League personnel, arena and practice facility staff, and vendors and service providers will be tested daily for COVID-19 and have symptom screening and temperature checks." In other words, as previously mentioned tonight, the NHL will do everything in their power to ensure safety, as expected.
---
However, there are some things that were mentioned in the Sportsnet article, which weren't mentioned in the NHL's press release. Those major issues are:
— "NHL coaches won't be required to wear face coverings on the bench." That makes sense to me, because if everyone tested negative, why make these coaches wear a mask? Then again, it might be a good thing for David Quinn to wear a mask, especially whenever he's talking about "rabbit ears":
https://thumbs.gfycat.com/EssentialTenseKusimanse-mobile.mp4
— "NHL teams will have no dress code in effect during Phase 4." That means that players won't have to deal with the suit and tie game, if they choose not to.
---
— "Return to Play Stage 4 states, "Individuals leaving…without permission may be subject to consequences up to and including removal." In addition, "violations…will result in, for clubs, significant penalties, potentially including fines and/or loss of draft choices."" This is a big one, but really, I don't see any player breaking the rules here. In the event someone needs to go home for something, I think that player would go through the proper protocol and channels. Why risk it?
---
— "Every NHL team is required to bring at least one content creator/social media employee with them inside the bubble during Phase 4." This is silly to me. This is what these guys are worried about? Social media? You can do that stuff from home. I'm surprised the league is covering testing costs for someone to jack off on Twitter.
---
— And here's the big one – "The deadline for NHL players to inform teams they're opting-out of Phase 3 and 4 will be three days after the RTP package is ratified." This deadline could be sometime later this week, and probably this upcoming weekend at the latest. I'll have more on this in a minute, in regards to the Rangers.
---
To conclude on the NHL's resume to play plans, everything looks hunky-dory here. Everything is moving in the right direction.
If there is any topic that wasn't addressed, it's this one – the topic of amnesty clauses. While previously rumored, it looks like we may not have them for the 2020-2021 season, at least not at the time of this writing. When it comes to the Rangers, you know my opinions on this already – amnesty or no amnesty, the Rangers will have to part ways with Henrik Lundqvist this season. You just can't pay a third string goalie $8.5M, no matter what Steve Valiquette's fugazi math says. Hell, the Rangers couldn't even win when Lundqvist was an $8.5M starting goalie either.
From a Rangers front-office perspective, while an amnesty clause of Lundqvist's contract for the 2020-2021 season would be the perfect scenario, if the Rangers can't get out of his contract scot-free, the Rangers must buy him out regardless and free up some money for their restricted and unrestricted free agents. Furthermore, this could also signal the end of Jesper Fast, especially with Tony DeAngelo & Ryan Strome deserving of big contracts. And to spit-ball here even more, this could also be the end of Brendan Lemieux too, depending on the contract he's seeking.
Of note, since I've talked about it in the past, the TV contract wasn't brought up in the NHL's press release. It's expected the salary cap number will rise, once the NHL gets a new TV contract in America. Again, I'm speculating here.
And to close out on this, the Chris Kreider contract, one that was already heavily debated, will be put further under the microscope, with the salary cap staying flat.
Speaking of Kreider, let's get into the Rangers.
---
As talked about above, once the CBA is ratified, players will have three days to inform their teams of their plans. When it comes to the Rangers, they are sitting pretty right now, as everyone but one player is back with the club.
For the Rangers, not only do they have everyone from their roster back, sans Tony DeAngelo (more on him soon), the Rangers also have several Wolfpack players back too.
Here's a quick list of everyone that's back:
Few things to talk about here, so let's get into it.
Prior to today, the NY Post and other news outlets, reported the names I listed above as back. Originally omitted from that list was Ryan Strome. When I brought up Strome's status on Monday afternoon, Strome replied to me on Twitter with the following:
It's nice to see that Vinni Lettieri and Libor Hajek are skating with the team. You don't know who will pop positive for the Kung Flu come August, so it's good to have more weapons in your arsenal. It also allows these Ranger prospects some ice time. Every player wants that, especially with all these other leagues shut down right now. Even if Hajek and Lettieri don't play, they are staying fresh and getting work. It only helps these Wolfpack players to practice during these times, rather than staying at home.
When you look at the people not there, the Rangers do have their three-headed dragon of goalies back in tact. However, Adam Huska or any other goalie in the pipeline, is not there, for whatever reason. While Huska or whoever else wouldn't sniff the ice in a playoff game, it wouldn't hurt for them to practice either.
Micheal Haley, who we all expect to have played his last game as a Ranger, is also not back with the team, at least not yet. And as mentioned on prior blogs, we won't see Crybaby Lias Andersson back either.
Of course, the biggest name, and really, the only name not back yet? Tony DeAngelo.
With really everyone of importance back with the team, it's shocking that Tony DeAngelo isn't back yet. After all, on his social media accounts and on his podcast, TDA has made it clear that he's eagerly anticipating coming back. When asked about his whereabouts, TDA said the following, via his @WATCHYOURTONE_4 podcast Twitter account:
The Blueshirt Underground Show returned on Monday night, promoting a special interview with former Ranger Matt Barnaby. You can listen/watch the show by clicking the video below:
I have always plugged the BSU show on these blogs. Hands down, they have the best fan podcast/live video show going today. With that said, knowing how BSU operates, I was looking forward to seeing them interview Matt Barnaby. Needless to say, the interview didn't go as planned.
Barnaby was expected to show up 30 minutes into the show. In an attempt to promote the upcoming interview, BSU hosts, Jim & Eddie, ran down some Barnaby facts and trivia. Jim mentioned that here in 2020, Barnaby has his own podcast. Of note, on Barnaby's podcast, according to Jim, Barnaby said that Glen Sather once told Barnaby directly, that trading Zdeno Ciger for Matt Barnaby was one of the best moves that Sather ever made. If Sather thinks that is a career highlight, of his near 20 year run at the helm of the Rangers, that tells you all you need to know about Glen Sather and his work in NY.
In another interesting note from Barnaby's podcast, which I have not listened to, Barnaby interviewed Brian Leetch. In Jim's summary of Barnaby's interview with Leetch, Leetch mentioned, that in his early years with the Rangers, the club, Phil Esposito and other high profile figures in the Rangers front office, did not want players on the team living in NYC. Leetch said he lived in NYC anyway, saying he wasn't going to pass up that opportunity. Leetch also mentioned that this edict was then tossed out, once Mark Messier came to town. Just a nice little factoid here.
Like anything with BSU, they know how to turn a bad situation into a good situation and always with comedy. So as I continue on here, don't take this as me handing out pot-shots here, I'm just using humor to laugh at a bad situation too. After all, what attracts me to BSU the most, is their humor, which is pretty much aligned with my sense of humor. And just like this blog, they don't take themselves seriously – they are just having fun conversing with other Ranger fans.
Barnaby called into the show, about 10 minutes after he said he would. Upon entering the feed, Barnaby was speeding around, presumably half in the bag, on a golf cart, at some random golf course. (Of note, while I didn't see a windmill, who knows – he could've been on the back 9 of a mini-golf course!)
Let's face it here – even if Barnaby had a perfect internet connection for this BSU appearance, what kind of interview are you going to get from a guest, a guest who is doing wheelies on a golf course, with one hand on the steering wheel, and the other on a bottle?
It's not my show or my forum, but as someone who watches and listens to a lot of interviews, you're not going to get a good interview when your guest seems to have 99 other things going on, while on the phone with you. This interview was the equivalent of trying to talk to Sean Avery, as he curses out people while riding his bike in Times Square.
Making matters worse for this particular interview, Barnaby's internet connection was as solid as booting up your computer with an AOL 2.5 CD-ROM.
At this time, let me give you the highlights of Barnaby's interview with BSU:
— Barnaby says he has a -5 golf handicap. I think his internet connection has a -5 handicap too.
— When asked more about his golf game, Barnaby said something akin to "it all matters how much I've been drinking". This was pretty much inaudible, due to the bad connection. It was like Barnaby was golfing at "The Blair Witch" golf course.
— Barnaby then incoherently rambled about Gretzky playing golf while drunk. That concluded this exclusive interview!
After rambling about Gretzky, as if he was using a two-way walkie talkie in the bowels of some tunnel, Barnaby's connection finally crapped out. Barnaby never called back, as he was presumably playing with his club and balls. In fact, I just checked Barnaby's social media, to see if he even mentioned this interview. Here's Barnaby's first tweet, an hour after his failed appearance:
My best day on golf course… Won 9 and 7 giving 6 strokes shooting 69.. But tomorrow is Bigger

— Matthew Barnaby (@MattBarnaby3636) July 7, 2020
So yeah – Barnaby didn't seem as broken up, as his internet connection, over his BSU appearance. Truth be told, I felt bad for Jim, Eddie and Jen. They deserved better, but BSU, as always, made the best of a bad situation. In fact, perhaps it made for a better show, moving forward, as I'll get into.
Listen, none of this was BSU's fault. Barnaby went into the interview with no respect. I mean, even if he wanted to golf, all Barnaby had to do was pull over at the 19th hole or something, carve out 15 minutes of time, answer a few questions and then put a bow on it. You're not going to get much of an interview when your guest is driving around over hills and bunkers.
To their credit, as usual, BSU made the best of a bad situation. It's worth watching their show to see how they handled it.
As mentioned on past blogs, BSU is the only live and interactive Rangers podcast out there. They don't record/film interviews in the can and then air them at a later time. They do everything live and if there is any negative to doing everything live, it's stuff like this. However, because of the way this interview went down, BSU now has comedy bits for the future.
Think about it, if this interview went according to plan, it would've been entertaining for one night and that would've been that. Instead, BSU now has funny bits to play with here.
Truth be told, this episode of BSU reminded me of my days when I promoted independent wrestling. While I've been out of that game for 8 years now, most promoters would book a "big" name, recently off of TV, as their main draw. However, the mission was to get the big name to draw the house, and then have the homegrown talent bring the audience back for the next show. With the bit long-time BSU whackpacker Costa did with the BSU hosts, I think anyone tuning in just for Barnaby, would come back to BSU for the next show, just based on the way BSU handled this and Costa's bit!
Away from Barnaby telling us that Gretzky enjoys drinking while golfing (what a major news item!) BSU continued their "64 Worst Moments in Rangers History" tournament.
As far as Barnaby goes, who knows if he'll try to redeem himself on The BSU Show in the future. I would say he owes it to them, but at the end of the day, no one really owes anyone anything here.
In any event, check out The BSU Show by clicking the video above. If you like these blogs, you'll like their show.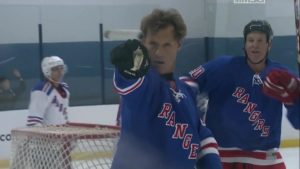 One more tidbit here and I'm out. I received the following from BCBS reader Leslie Murray:
"Sean, I'm the guy from a few blogs ago whose dad saw the Rangers play with my grandfather as early as 1933, when my father was 7, and you asked if he had any memories of the Cook brothers and Boucher.

Well he may have but he didn't tell me about them. What I will never forget is him describing Bryan Hextall as the lone forward penalty-killer in a full two minute 5-on-3 against during the Cup season in the spring of 1940. He said that Hextall ragged the puck by himself for more than a minute, dodging every guy on the other team, passing the puck off the boards to himself, circling, whirling escaping every check. All of which brought the crowd at the Old Garden to its feet in a huge ovation. I've never forgotten that, and I know my father never did either."
What a great story about Bryan Hextall, another man who the Rangers ignore from their history and in their rafters. These are the stories that need to be passed on. As an old generation dies out, quite often, so do the personal stories. It's important to spread these stories, if only for the historical aspect.
Hopefully one day, someone involved with the Rangers will kick up enough dust and the Rangers will start to honor real HOF heroes from their past, you know, heroes who also won Stanley Cups for the club. Everyone knows me as the President of the Frank Boucher fan club, but even with that said, it's amazing in regards to Bryan Hextall, with his family still involved with the NHL today, that the Rangers just snub their nose at this once former Rangers icon.
If you haven't already, subscribe to this blog for the next update:
As far as the next blog, if you subscribe by clicking the form above, you'll get that bad boy delivered to your email box.
For our next update, as has been the case during these months of the 'Rona, I'll have recaps of the Ron Duguay & Tony DeAngelo podcasts. With the NHL and NHLPA agreeing to terms today, I'm sure we'll also have some more news coming out of that, once everything is signed, sealed and delivered.
Unlike other fans, bloggers, podcasters, reporters or whoever; I want to hold off on doing a Stanley Cup Playoff or Rangers roster preview. After all, we don't know who will test positive in the upcoming weeks. There are too many balls still in the air. I would like to wait until we get closer to game time.
As always, thanks for reading and…
"WHY NOT THE RANGERS?!?!"
LET'S GO RANGERS!
Sean McCaffrey
BULLSMC@aol.com
@NYCTHEMIC on Tweeter and the new Parler app.