Greetings and salutations everyone and welcome to another blog here on BlueCollarBlueShirts.com.
A few things off of puck drop here:
Number 1: I'm starting this blog at 3AM Thursday morning, so if there are grammar mistakes, well shit happens. I can't ask my normal editors (@Whalepack and @Fixxser aka the Comma Queen) to stay up at these ungodly hours. For me personally, I'm off today. That said, not only am I still wired after attending Wednesday night's Ranger game, I'm also wired after watching the encore broadcast of the game on the MSG Networks!
Number 2: This blog won't be the normal 10,000 word manifesto. I'm also not going to review this game as I normally review games during the season, because after all, while you want to see the Rangers win every game, wins & losses really don't matter in the preseason. It's about developing talent, trying out new things, seeing what players have chemistry and getting ready for the regular season.
Number 3: Instead of inundating you with a bunch of plugs, all I'll plug here is my blog from yesterday. In that blog, I did my NYR 2019-2020 season preview. If you missed it, here it is:
---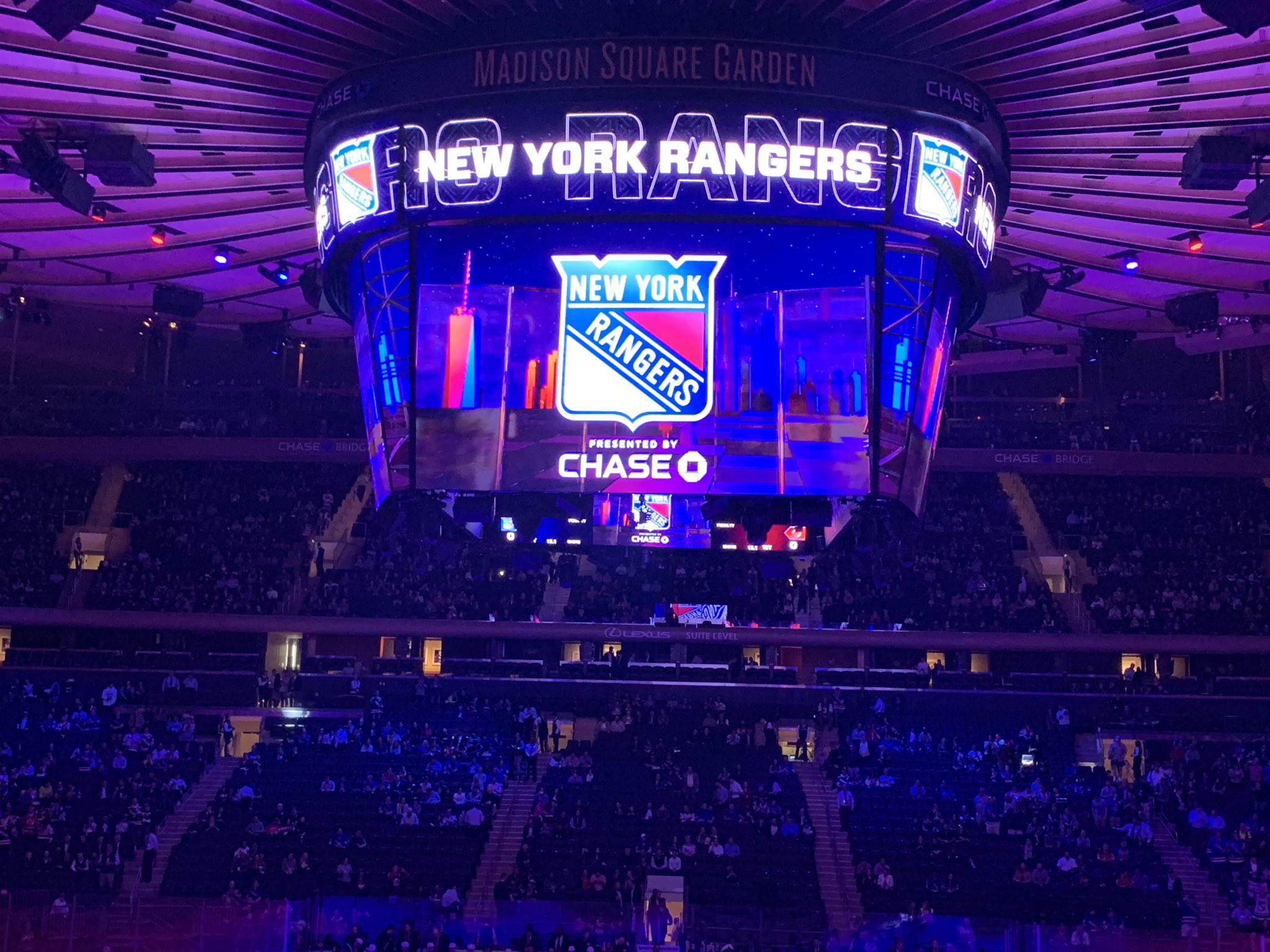 If there is anything that I took out of tonight's game, it is that Ranger fans (and hockey fans) are just the best. Think about it. Of the four major sports, does anyone give a crap about a Spring Training baseball game? Does anyone care about a preseason basketball game? Does anyone care about an NFL preseason game? Then again, if you want to see the Giants or Jets win a game, then NFL preseason games are for you.
When it comes to the Rangers and this preseason game on Wednesday night, I was just impressed. The fans didn't miss a beat. While the building wasn't filled to capacity, if you checked the secondary ticket markets, there were only 43 tickets left to purchase at puck drop. The upper-bowl was completely full, while the lower-bowl was half empty. Of course, the lower-bowl is where all the corporate seats are, so the people in possession of those tickets don't mind eating these preseason games.
On a weekday night, when it comes to ticket sales, the Rangers pretty much sold the joint out. You don't see this in the three other sports.
What also amazed me is how Ranger fans took to this game. After a five month break, MSG re-opened their doors for hockey and Ranger fans picked up right where they left off. There were new faces and new gimmicks around MSG too. For the first time in a while, MSG had some sort of pulse.
Oh and to be fair here, while preseason tickets cost season ticket holders the same amount of money as their regular season tickets; for people like me, who snipe tickets on the secondary market, tickets are much cheaper in the preseason. In other words, there were less suits in the good seats and you had a much louder crowd tonight than most regular season games from the last few years. (And again to be fair, it's been five months between games, so there is some great energy from the fans who missed the Rangers.)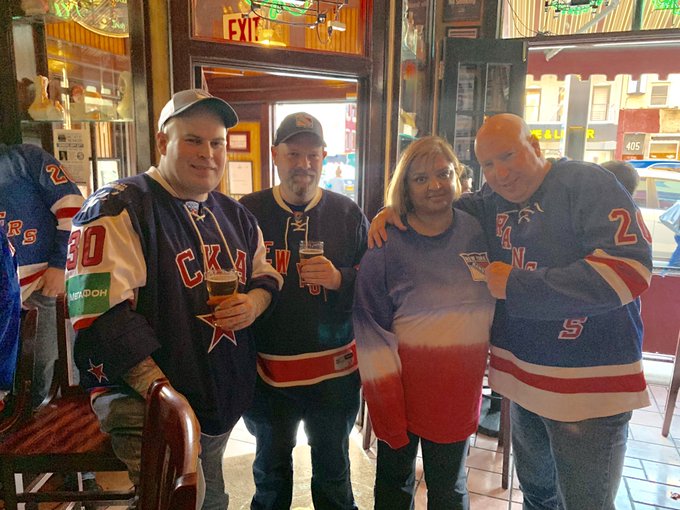 Like any story, you start at the beginning.
As I do with any game I attend, I pre-gamed at The Molly Wee. I've been going here for a few years now. Before going here, I used to bar-hop around. I also spent a few seasons at Cafe 31 too. I just like the Molly Wee the best, because it's an Irish ran joint with cold beer and good whisky. While it can get crowded before big Ranger games, for the most part, you can relax without being stepped on 77867897896 times like you would be at the old Flying Puck.
Speaking of the Flying Puck, as mentioned in past blogs, the Flying Puck is no longer with us. Just like Cafe 31, the Blarney Rock, Harrington's, Mustang Sally, Tracks & now Brother Jimmy's, the Flying Puck is out of business. All of these bars have closed for different reasons. Tracks was forced out of Penn Station due to construction. They have taken over the previously vacated Cafe 31, which shut down to an increasing lease and costs. Blarney Rock and the 33rd street bars are all gone for lease related reasons. I can't wait for the new Starbucks that will probably wind up there.
In the case of Brother Jimmy's, I was told that there was some shady stuff going on down there financially. I don't know the full story. All I know is their issue isn't the same as the others.
While there are other bars a stones throw from the Molly Wee (Tempest & Walter's for example) I've just been going there. There are two reasons why I started going there, one reason subconscious, the other one being obvious. The obvious reason is that the Chase entrance of MSG is right by the bar and that's an entrance that the majority of fans don't know about. There's no wait. You walk right in. The subconscious reason is that I don't have to cross the street, thus meaning that it's faster for me to get a beer there, rather than waiting for a red light to turn green!
As mentioned, Ranger fans didn't miss a beat and were already in their old routines. I went to the bar and saw familiar faces. When you scan social media, you hear similar stories about everyone enjoying whatever establishment they like best. By the time the National Anthem started, you could feel a little buzz at MSG – Rangers hockey was back. Even stuff that annoys me (people screaming during the National Athem & the "Potvin Sucks" chant) well that stuff was there in full-force too. I can't lie, while I find screaming over the National Anthem a bit disrespectful and I wish the "Potvin Sucks" chant was updated, I did smile hearing both of these things on Wednesday. There's no place like home.
I mentioned this in last night's blog. Despite my opinions on fans being in the Lundqvist bubble, for the most part, Ranger fans are smart. They are hardcore. If you're reading this, you are especially hardcore, because these are the longest Ranger blogs on the internet. It means you just want to consume more content than what you get from the newspapers. I had the feeling that everyone inside of MSG on Wednesday night knew every Ranger storyline. They knew every young player. They were aware of what happened at Traverse City. They were aware of what the top line was going to be.
And to do a double-whammy of points right here – when is the last time that you went to or watched a preseason game, no matter what the sport is and the building was chanting for the back-up rookie (who most likely will start his season in the minors) repeatedly? Everyone inside of MSG knew who CZAR IGOR SHESTYORKIN was.
Before closing on this subject of hardcore Ranger fans and new players, I was shocked with the amount of Kakko, Kravtsov and Panarin jerseys I saw tonight. More on Kakko in a bit.
It goes without saying, but I'll say it anyway, Ranger fans (and hockey fans) are the best.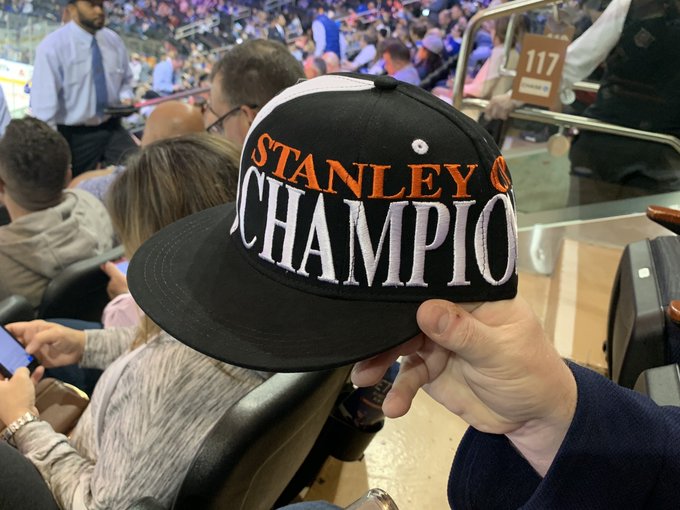 Unlike other blogs, I like to give you the whole experience and what to expect if you haven't been to the Garden yet. For fans looking for swag, obviously there are no programs or yearbooks yet, as that stuff usually comes out in November or December. The gimmick of the day were $18 hats, hats that kind of looked bush-league. However, the Rangers were also selling the iconic 1994 Stanley Cup Champion replica Starter hats. For people like me, who own the original hat but don't want to wear it out of fear of messing it up, owning this replica hat is a nice piece of business. Unfortunately, that business will set you back $40, or $32 for season ticket holders. It's ridiculous, but we've all spent $40 in worse ways.
For the people who enjoy their beers like me, a tall-boy 24 ounce Miller Lite will set you back $14, which was the same price from last year. I was surprised. I was expecting Dolan to jack the beer prices up this season, since he couldn't raise the season ticket prices. For the sober or designated driver people, I was told that a 20 ounce bottle of water costs $6. To this day, I'm surprised some left-wing liberal group hasn't sued these major arenas when it comes to the topic of water. Water is a necessity. Alcohol is not. Charging $6 for a water is a crime.
And as it's always been, there are no beer, hot dog or pretzel vendors in the aisles. The only vendor in the aisles of MSG are the cotton candy goofs. WHO THE FUCK EATS COTTON CANDY? I mean, I guess kids do, but I would imagine the Garden would sell more beer, more dogs and more pretzels if they had those vendors around, than that sugary pile of shit. Maybe a collection of dentists pay off Dolan here, because who benefits from eating cotton candy? Your D.D.S's, that's who.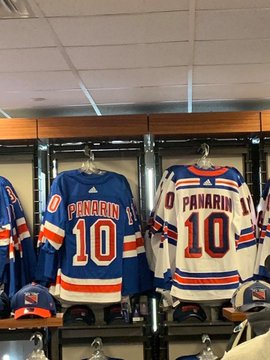 In the hot news and saga of Kaapo Kakko and the number 45, the Rangers weren't selling any Kakko merchandise at the Garden. However, there were plenty of Panarin jerseys for sale. Obviously, Kakko may take the number 24 that Nieves vacated. Why this isn't a done deal yet, well no one knows.
So as we approach the home opener, Panarin has a leg-up on Kakko, when it comes to jersey sales. Of course, none of this crap matters, but it is interesting to monitor. I still hope Kakko takes #45 just so the crybaby liberals continue their self-pity of pure butthurtedness. (Did I just invent a word?) The way people go nuts about politics and sports amazes me. I've even seen Yankee fans turn on Mariano Rivera, just because he is friends with Trump. I don't get it. Panarin and Kakko could wear pink pussy hats & do tomahawk chops for Elizabeth Warren and I wouldn't care. As long as you're not a violent criminal or a terrorist, if you can help my team, I want you on my team.
Oh and just an observation as I was making my rounds and seeing people (Great to see Padma, Larry, Mike, Pete and the others) there's a place called "FUKU Chicken" by section 117. With the prices they charge, it's appropriately named.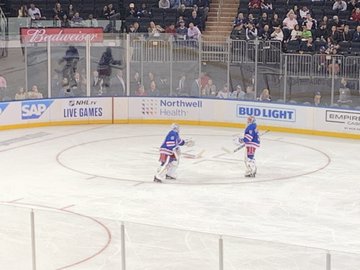 When it comes to the 4-3 loss to the Devils on Wednesday night, forget about the score. This was the Rangers first preseason game. There's no chemistry yet. David Quinn is still tinkering around. If you're for the gloom & doom, I guess I should mention that the Rangers had many of their heavy guns out in this game. The Devils did not, as Jack Hughes, PK Subban, Taylor Hall and Wayne Simmonds did not play in this contest.
I know I'm going to sound like I'm jumping around a bit, but I didn't take notes and there's still some excitement running through my veins. It's also 3:20am!
In what was great for the Devils, but bad for the Rangers, was the performance of Corey Schneider. This was a hell of a game for him. After struggling so much last season, this outing was the complete opposite of what were being accustomed to with him. Therefore, when you see the final score of 4-3 and see the loss next to the Rangers, don't go nuts. Schneider stole a preseason game. Big whoop.
What you had to love, and trust me, I loved it, was the Rangers power-play. The Rangers power-play finished 1-4 on the night, but at any given moment, it felt like they could score. In fact, the Rangers power-play registered 12 shots, which is something like 11 more than we're used to with this team!
Schneider, for as good as he was in this game (he deserved the first star of the game that he got) also had a horseshoe the size of Henrik Lundqvist's contract up his ass. On the Rangers second power-play of the game, the iron saved Schneider twice. On a different Rangers power-play of the game, the net went off the moorings and there was a questionable penalty (I think it was Wood) as a Devils player covered the puck. No call. Again, this is one preseason game and all that other blah blah blah horseshit, but I really loved what I saw from the Rangers power-play tonight.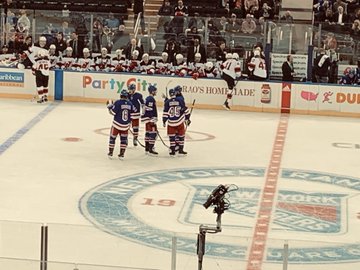 In my Rangers season preview blog from yesterday, I mentioned that I thought some people may have forgotten about Jacob Trouba. After all, he was the first one to come here and then the Rangers just keep making big move after big move all summer.
A lot of what I saw tonight impressed me, but because I was able to sit close (and I hate to come off snobby by saying something like that, but it's true, you see & hear the game much better up close than when you're sitting in the 400's) I was just awed by Jacob Trouba.
This Trouba has some shot. Even better, unlike previous players in his position, he is not afraid to shoot the puck. I don't know this for a fact or anything, but I would imagine he has the hardest and heaviest shot on the whole team. While Trouba didn't find twine, every time he found a post or part of Corey Schneider all you heard respectively was a monstrous metallic noise or the sickening thud of a boxer being dropped after a huge overhand right.
While I may be exaggerating by saying this here, when I was watching how vicious the puck came off Trouba's stick, it reminded me of all the stories I've read and heard about Bobby Hull. You just didn't want to deal with that puck coming at you. I can't imagine any NHL goalies of today wanting to deal with a Trouba blast from the point either.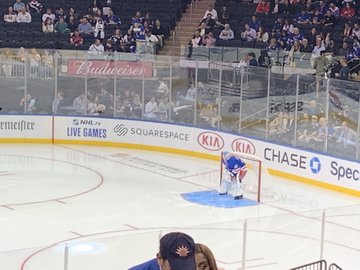 Let's talk my favorite subject now, and that's the topic of Ranger goaltenders.
Good news first. Igor Shestyorkin (I refuse to call him Shesterkin, Turducken, or whatever the English translation is) was amazing. He entered this game and made a few tough saves right away. That's no easy task when you come into a game cold. CZAR IGOR finished with 12 saves on 13 shots, four of those saves coming while short-handed. I knew I should've patented the term "CZAR IGOR!"
On Igor's second save, which was just amazing, while with my buddy @FIXXSER, I started the "IGOR!" chant. I was fucking around and being an idiot of course. However, next thing I know, the Garden is chanting "IGOR!" In fact, the chant was so loud, that it was acknowledged by the MSG broadcasters.
I gotta mention here, what was also mentioned by the MSG broadcasters were the enormous amount of "SHUTOUTS" that CZAR IGOR had in the KHL. The number 1 Henrik Lundqvist cheerleader, in Joe Micheletti, hasn't been able to use the word "SHUTOUT" and "Henrik Lundqvist" in the same sentence during the last two years. Just sayin'!
And in a total relatable note, did you see that Daniel Jones jersey sales are up 500% in the last 24 hours? I wonder what would happen if Shestyorkin was made the starter in game 3 of this season? Hank don't draw folks! Not anymore!
For all the talk about new angles, different rinks, the American game and all that jazz, I thought Igor was superb in his first game at MSG. The one goal he allowed was a 50/50 thing and you can't kill him for it. And again, it's his first game inside of an NHL arena.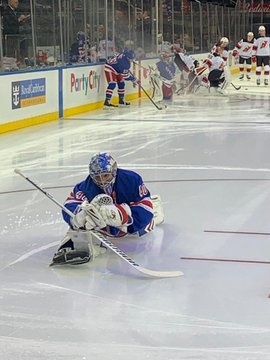 When it comes to Georgiev, his stat-line comes off crappy, as he gave up three goals off of eleven shots. Of course, if Hank gave these goals up I would trolling it up, but in reality, it's tough to really bury Georgiev here. The first goal he allowed, seconds into the game, occurred after a Joe Micheletti trademark "I THINK THAT WAS DEFLECTED SAM!" Could have Georgiev made the save? Sure, we've seen him do it in the past. It just didn't happen here.
The second goal came after MR. CRAWWWWWWLLLLEEEEEEY (Yes, that's an Ozzy Mr. Crowley reference, go with it) turnover and Brendan Smith looking lost like a tourist with an upside-down map in Times Square. Again, we've seen Georgiev make these saves before, but it was a one-on-one deal after the turnover and Smith being burnt and that was that.
The third goal allowed, well Georgiev probably should've made the save.
As talked about in my Rangers 2019-2020 preview blog that is linked up top, Georgiev is under an extreme amount of pressure this season. Not only is he in the unenviable position of taking starts from Henrik Lundqvist, he also has Shestyorkin breathing down his neck. The Rangers won't cut the cord on Lundqvist, so Georgiev has to be damn near perfect every game. If he's not, Lundqvist will get more starts or even worse, Georgiev could be bumped down to the AHL for Shestyorkin. Then again, even if Georgiev has a Vezina type of season, the Rangers may trade him anyway. That's a lot of shit for one goalie to worry about during every start.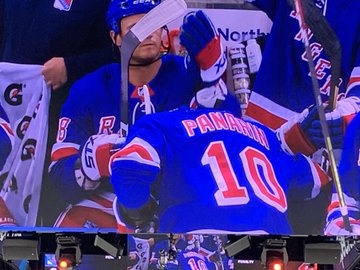 When it comes to the Rangers new offensive toys, Panarin was as good as advertised. He really made a difference on the power-play and scored the lone PPG of the match. Who had the assists? Trouba and Kakko. You couldn't have drawn it up any better.
Two funny things on the Panarin goal. In any other world, if it weren't for Kakko, Panarin would've got the biggest reaction in the building. When the PA announcer said Panarin scored the goal, Panarin got a major POP. However it was a Macho Man Randy Savage pop. When the PA announcer said "assisted by Kaapo Kakko", MSG roared and popped like it was 1984 after Hulk Hogan dropped the leg on the Iron Sheik and won the WWF title. For you non-wrestling fans, what I'm saying here is that Kakko got a much bigger reaction for the assist than Panarin got for the goal! Go figure!
I thought both Kakko and Panarin played well. Both did a lot of good things offensively. Both were also injured in this game, as Panarin had groin issues and Kakko went to the locker room. However, David Quinn said after the game that both players were held out for precautionary reasons and neither injury was serious. The last thing you need are NHL preseason games turning into NFL preseason games, with guys getting hurt. Panrin's injury seemed more serious than the wincing Kakko was doing. I just hope this doesn't become an on-going or lingering issue. All I can think about here is Kevin Shattenkirk and how he tried to hide his injury. Please hockey gods, let this be nothing.
Oh, and the other funny thing about this goal? When watching the game back on MSG networks, Sam Rosen shrieked, as if someone stuck a finger in his ass. However, he shrieked the name "MIKA", before doing the "OH NO JOE, IT WAS PANARIN!"
This isn't going to be a popular opinion, but when have I ever cared about that? We all love Sam, we know his history and all that stuff. Furthermore, the best announcers in sports, whether it's today or in history, are the old-timers. Whether it's Vin Scully, John Madden, Al Michaels, Phil Rizzuto, Marv Albert, Foster Hewitt or whoever you want to use here, the best announcers are the guys with the most experience. That said, Sam has lost a lot on his fastball, so much so, that he is starting to be a parody of himself.
In a way, Sam Rosen kind of reminds me of Mike Francesa. Legends in their field, but both come off a bit more goofy than respected in the present day. You could really make a @BACKAFTERTHIS type of twitter account with Sam Rosen's follies. Let's just hope Rosen doesn't start a Papa John's app.
What truly hurts Sam is that hockey is a fast sport. There's a lot of stuff to keep up with. If you listen to Sam call an NFL game on FOX, he's fine, since the game is so slow and there's a 40 second break in-between plays. In hockey, it's a non-stop continuous flow of action. Even worse, Sam is paired up with a braying jackass in Joe Micheletti. Like Lundqvist, it's tough to cut the cord on Sam. However, if I saw Dave Maloney & Kenny Albert, who are just light years better on the radio, show up on my TV one day – well I wouldn't be adverse to that.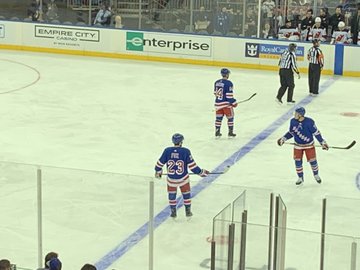 Couple of quick thoughts on the rest of the roster:
— I thought Adam Fox had a great game. He's a cinch to me, in regards to making this roster.
— Lias Andersson had a great game. This may have been his best game ever as a Ranger. I'm happy for him. I hope he keeps it up and starts to get away from the Jessiman bust comparisons.
— Kravtsov was very impressive. Schneider robbed him of a goal here tonight. For a young and baby-faced kid, Kravtsov held his own. He wound up logging an assist tonight. I still think he's going to be a silent assassin type on this team, where all the focus is on Panarin and Kakko, but it will be Kravtsov right in the thick of things, when it comes to the team leader in overall points.
— Micheal Haley, while I don't know where he fits in on this roster unless there is an injury, played well. He won a fight over Baddock and would score a goal after a beautiful pass. One assist shy from a Gordie Howe hat trick ain't shabby!
— How fun is it saying the name Greg McKegg? He sounds like a character out of one of those Stifler "GOON" films. (How funny is it referring to the "GOON" movies as films?)  He had an assist on Haley's goal. He probably goes to Hartford, but it was to see him do well.
— I am still waiting to see Brady Skjei justify the contract he has. I just don't see it with him.
All in all on the game itself, forget the final score. There are bigger fish to fry and this game was just another stepping-stone.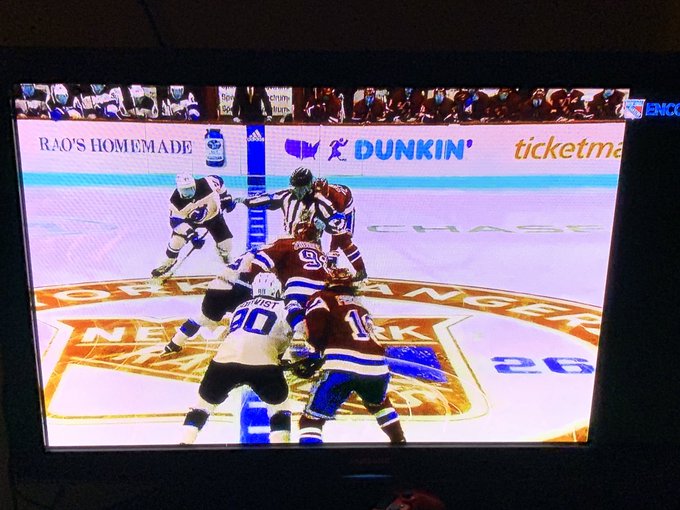 I have to comment on the TV broadcast.
Admittedly, I wanted to watch the game to hear Sam Rosen mangle the name of "Kaapo Kakko" all game. I think Rosen called him "Cuck-o", "Cock-o", "Coo-Coo" and "Manny Maholtra" at various points of the broadcast. However, before Sam took us down his rabbit hole of pronouncing names, we had to deal with Micheletti. Just seeing and hearing the guy gives me those chills you get when someone scratches a chalkboard. He's such a creep.
Speaking of creeps, what is going on with Al Trautwig? I mean, Trautwig will never be on the cover of GQ magazine or anything like that, but tonight he seemed sickly. I don't know if Trautwig is sick or not, because with those teeth that look like he brushes them with rocks and concrete, he usually looks like a person from "The Walking Dead" who got bit and is in the process of converting into a zombie/walker. What I'm trying to say here is that he looked in rough shape and sounded even worse than what his teeth look like. Seriously, doesn't MSG Networks have a dental plan or has that money gone to Steve Valiquette's spreadsheets and hair highlights?
There was a short interview with JD on the broadcast. As I've said all summer, he's done more interviews and more positive press with this team during his short tenure as Team President than Sather did in 19 years.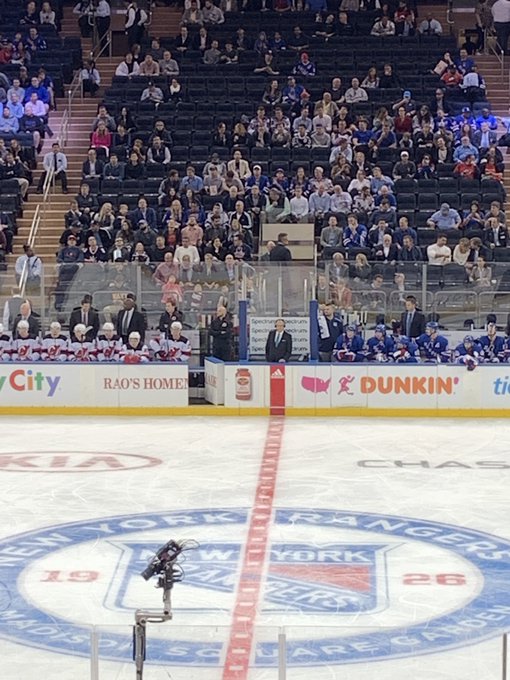 The Rangers have back-to-back road games coming up, as they will play the Devils on Friday and the Flyers on Saturday. Both games start at 7PM, so that's great for the 9-5 M-F working people. Depending on my schedule, unless something catastrophic or life-changing happens during the game on Friday, I'll be back late Saturday night with thoughts on both games.
In closing here, I want to give a shout-out to my buddy Greg, who I finally had a chance to see a game with. It was great hanging out and I don't envy your train trek back to Guam, NJ. (See Travis, everyone comes from Guam in my demented mind!) It was also nice seeing everyone that I saw at MSG. I think everyone, no matter what your opinion is/are on the players or the team had that feeling tonight.
Listen, I'm not going to be a 30+ year old guy dressing up like a pope & worshiping a teenager (the Catholic Church/pedo joke is too easy to make here, so I'll leave that alone), but I saw he had a gaggle of people around him and they were all smiling too. Good for him and I don't knock it. Do you. It's great to see everyone happy about this team and good things are ahead. (Especially if Lundqvist is deported! You knew I had to get one more shot in!)
See ya Saturday, hopefully.
As always, thanks for reading and…
"LET'S GO RANGERS!"
Sean McCaffrey
BULLSMC@aol.com
@NYCTHEMIC on the tweeter