Greetings and salutations everyone and welcome to another blog here on BlueCollarBlueShirts.com.
Buckle up folks – because this is going to be a long one – but well worth your time – as you won't find anything like this anywhere else.
And just like the slogan of the Men's Wearhouse, and Mark Messier too – "I guarantee it!"
There's a lot to be said tonight, as the Rangers now enter the second-half of their 2022-23 season, so let's get right into it – and with no delays and/or tangents!
---
Back on November 25th, 2022 (you know – last year – har-har-har), when I posted my "New York Rangers Quarter-Pole Report Card," which you can read by clicking here; things weren't looking so bright for the Blueshirts.
At the time, Gallant's Gang were coming off of an embarrassing 3-2 loss to the worst team in the league, the Anaheim Ducks.
While one single loss to one bad team isn't the end of the world; this wasn't just one loss to one bad team.
This disgrace on ice was another horrifying loss to another league cellar-dweller, as prior to being quacked out of the pond in Disneyland; the Rangers had suffered gut-wrenching losses to other woeful NHL clubs, including the Sharks, the Blue Jackets and the Predators.
To make matters worse, just hours prior to that defeat to the last-place Ducks – the Rangers had traded Ryan Reaves away to the Wild.
---
While you can check the archives of this site for every piece of minutiae and detail of every game played thus far; needless to say, the Rangers, then with a losing record of 10-7-4 (ten wins, eleven losses), weren't looking so hot.
The Blueshirts were also nearly two fistfuls of points out of a playoff spot – something no one could have ever imagined going into the season – especially following the team's run to the 2022 Eastern Conference Final.
Between the "FAT CATS" struggling, a lack of production out of the players known as "THE KIDS," and a 2022 Vezina Trophy winner, CZAR IGOR, not playing his best on M$G ice – the Rangers were in a world of hurt.
Put it this way: while my grading system does take salary cap hits into account; when players like Jimmy Vesey and Julien Gauthier had better grades than most – while that's good for them – that's not good for the Rangers themselves.
Once I posted my "Quarter-Pole Report Card," the season continued with a devastating home loss to the Oilers, a game that the Rangers once led 3-0 – but found a way to lose instead – after surrendering four straight goals.
Later on, this game that would become known as the Mollie "I Don't Give a Shit" Walker game; as she, along with the rest of the media, "didn't give a shit" about Leon Draisaitl embarrassing Rangers' captain, Jacob Trouba, in front of both a national and international audience.
The pain continued.
With Thanksgiving come-and-gone, the Rangers, in their next game following their crushing loss to "McDavid's Men;" took a quick two-goal lead over one of their biggest arch-rivals, the New Jersey Devils. However, the team from the other side of the Hudson soon scored four unanswered goals, en route to their eventual 5-3 victory.
It was around this time where many around the fan base, in both their infinite ignorance and impatience, did their usual spiel – "FIRE [INSERT HEAD COACH HERE!]" – where during this latest rendition of this tired old song – Gerard Gallant, you know, the man who finished second runner-up in the Jack Adams' race just five months prior – had become their target.
While who knows if the temperature of Gallant's seat ever truly increased (I never thought it did, and for many reasons at that, where the biggest reason in my opinion was that a firing of Gallant would have been an indictment/a strike against Rangers' g.m., Chris Drury); that didn't stop the increasing wrath, ire and intensity levels from "The Turk's" detractors – especially following two flat-out inexcusable losses to two other NHL bottom feeders, the Senators and the Blackhawks.
And wouldn't you know it – Trouba, following the Draisaitl incident and during those two games against Ottawa and Chicago – fought three times – but as you know – Mollie Walker don't give a shit!
To compound matters, a report from ESPN's Emily Kaplan surfaced around this time, a report which stated that Rangers' owner, James Dolan, was extremely concerned with both Gallant and the team's record.
However, and as said at the time on this site – nobody, except for Larry Brooks, has access to Drury, much less to Dolan himself – which is why I thought her report was inaccurately sourced – and pure click-bait too.
Then Jordan Binnington happened.
---
At the time, December 5th, 2022, the Rangers were four games under .500 and with an appalling record of 11-10-5.
Despite a down-and-out struggling Blues team in the house; by the time the second period of that game had ended, the Rangers were down 4-3 – and weren't looking good at all.
In a period that would change the fortunes of the Blueshirts, the Rangers pumped Binnington with three unanswered goals during the final frame – where admittedly – against a better goalie – these goals allowed to K'Andre Miller, Alexis Lafreniere and Chris Kreider may have never been scored.
However, that was a problem for the Blues (and Binnington too) – and not for the Blueshirts.
The Rangers never looked back.
After knocking off St. Louis, the Rangers then enjoyed their longest winning streak of the season, winning seven games in all, over the likes of the Golden Knights, Avalanche, Devils, Leafs, Flyers and Blackhawks – where truth be told – outside of the Leafs – the Rangers caught all of these teams at the right time. (Check out my GAME REVIEWS of these contests for the full 411.)
Prior to the Christmas break, and while still riding this seven-game winning-streak; the Rangers then split a pair of games against two of their most-hated foes, a 3-2 official-driven loss to the Penguins and a 5-3 statement game victory over the Islanders.
By the time Santa Claus was working his way down chimneys; the Rangers were no longer under .500. Instead, they were now 19-11-5 – and more important than that – back in the playoff race – following their eight wins in their last nine games played.
Since returning from the annual holiday league break; the Rangers have gone 3-2-1, where sans a no-show of a loss against the Capitals – which took place during their first game back after stuffing their faces with Christmas ham and chocolate – the Rangers have played well in each contest.
Come Game 41, the half-way mark of the season, the Rangers had a chance to move into second place in the division, but a 4-3 overtime loss to the Devils dashed those hopes.
Instead, for a team that wasn't even in a playoff position during the <cue the eerie DUH-DUH-DUH music here> THANKSGIVING BREAK; not only were the Rangers ahead of the teams jockeying around for a wild card berth – they were also in third-place in the ultra-hot Metropolitan Division – the best division in the league.
Despite their poor start, where if it weren't for all of the bad losses to horrible teams, then they'd most likely be in first-place today (but you can't play the "coulda, shoulda, woulda" game here; nor cry over spilled milk either); the Rangers still control their own fate and can very well finish on top of the division – especially since they currently trail the first-place Carolina Hurricanes by only six points – and with three head-to-head contests remaining during the second half of this 2022-23 campaign.
And while who knows what will happen next week, when the Rangers play their first games of the second-half of the season – the Blueshirts only trail the second-place Devils by two points – and with another game to be played between the two warring franchises.
---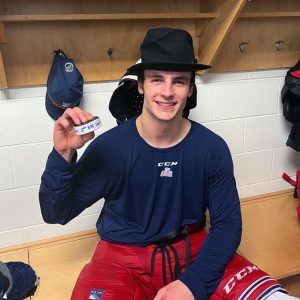 Just a few general thoughts before giving you my grading system, and then the "Mid-Season Report Card" itself:
— Both prior to and during the Rangers' recent turnaround, head coach Gerard Gallant has yet to find a consistent line-up. In an effort to find the right assortment, not only has "The Turk" made numerous line-changes this season; the Rangers have traded, waived and/or assigned players to Hartford, in an attempt to find their mojo.
— What's extremely stunning about the Rangers, is for as good as their penalty kill is; conversely, the power-play, a strength from last season, has been more powerless than powerful during most games.
— As you'd expect, the grades have improved this time around. After all, the Rangers, who were 11-10-5 on December 3rd, are now 22-13-6. In other words, the Blueshirts, who once were four games under .500, are now three-games over the .500 mark – a seven game swing – and a 23-point improvement to boot.
— I think a lot of the problems that plagued the Rangers during the first 25% of the season didn't go away during their next 25% of games played.
In my eyes, the three biggest differences since the quarter-mark of the season to now, are the following: CZAR IGOR reverting to Vezina form, "puck-luck" – where you're not hearing all of those <DINGS> as often as you used to, and the fact that the Rangers have caught teams, both good-and-bad, under fortunate circumstances.
While the Rangers have been putting forth more sixty-minute efforts (even during losses) than ever before, and despite their individual point totals (I explained this in-detail a few blogs back as well) – Artemi Panarin and Mika Zibanejad have yet to get truly going.
In other words, there are more games than not when these two are a non-factor – and it has has cost the team both wins and points in the standings.
And of course, as everybody knows, as this isn't only a top story in Rangerstown, USA, but in all of the league too – the all-out regression from Alexis Lafreniere hasn't done anyone good.
The "he's only 21-years old" excuse can only go so far – even if his situation during his nearly 200 games played NHL career has been more unorthodox than any other first-overall pick in league history – but yep – I've explained all of this countless times before.
---
Before doling out the grades, let me give you the usual criteria that I use whenever I do one of these report cards:
— Grades are given out based on production, playing to their role on the team and to the contract of a player.
For example, I expect less from a fourth line player, such as a Julien Gauthier. On the other hand, I expect a lot out of a first line player and/or high-priced player like an Artemi Panarin.
After all, we are playing in a salary cap world, where teams are constantly giving up quality players, even players they drafted, to compete.
— To ignore the salary cap hit of a player would be foolish, which is why they are considered in these grades.
Keep in mind, to me, the salary cap hit is a stat that belongs on the back of a hockey card.
When it comes to building NHL rosters, general managers look at cap hits first. They aren't worried about Corsi's or whatever nerd stat Valiquette has pulled out of his five-hole this week.
In addition, more times than not during this current era, you don't see as many pure "hockey trades" when compared to bygone eras. Instead, you see more "salary-cap dump trades" than anything else.
— Players who have played less than ten games with the team, players who have been traded, players who have been injured, and players who were sent down to Hartford, are all listed in the "Incomplete" section.
Lastly, and perhaps most important – these grades are just my opinions only.
In other words – don't get bent out of shape about them!
This is just my way of assessing the current roster at this moment in the season. And if any grade is egregious, I'm sure you will let me know!
---
Finally, and most important, the following:
— These grades take into account every game played thus far this season – and not just what happened since the 25% mark of the season.
— Just to compare, I have listed my quarter-pole report card grades with every player applicable.
— To read the full explanations of my quarter-pole report card grades, make sure to check out: https://bluecollarblueshirts.com/22qprc/
At this time, here are my grades at the 50% mark of the season!
---
FORWARDS:
SAMMY BLAIS
QUARTER-POLE REPORT CARD GRADE: D
MID-SEASON REPORT CARD GRADE: D-

Currently, #91, "BLAIS DAY," leads all Ranger forwards in hits, with 107 in total – good for 23rd overall in the league.
Then again, Alex Ovechkin, who may have scored a few more goals than Blais (0) has scored, has 114 hits – good for 13th overall in the NHL.
There's only so many times you can say it – yes, the P.K. Slewban incident, through no fault of Blais on his own, has derailed his career.
At the time, and even more so now, with the benefit of hindsight; perhaps it should've been Blais ($1,525,000 cap hit), and not Ryan Reaves ($1,750,000 cap hit), jettisoned off to Minnesota.
While Blais finds himself in the middle of the pack with his plus/minus stat of +2; he just doesn't bring the same impact to the team as Reaves once did – both on-and-off of the ice.
There have been many times where Blais has forechecked well, but not enough. His recent bad penalties incurred also led to several games in the press box, as he was made a healthy scratch by Gallant.
At the end of the day, I feel bad for Blais – I just don't think he'll ever get back to where he was prior to the Slewban incident – and if he isn't traded before the deadline – then there is no way I can see Drury bringing back Blais next season.
In a league where you need all four lines to score; Blais has fell to the wayside.
---
JONNY BRODZINSKI:
QUARTER-POLE REPORT CARD: N/A

MID-SEASON REPORT CARD GRADE: C+

If it weren't for the fact that the current captain of the Hartford Wolfpack, "JONNY HOCKEY" himself, comes at a cap hit of $762,500 – then yes – this grade would have been lower.
Once being recalled on December 5th, in favor of Ryan Carpenter who was then sent down; Brodzinski has picked up one goal and one assist in his eleven games played.
A hard-nosed fourth-line grinder; Brodzinski, prior to the recent birth of his daughter Olivia, was made a healthy scratch. Part of the reason for that was his non-stop offensive-zone penalties. Another reason? Gallant wanted to get Vitali Kravtsov back into his line-up.
#76 is currently the team's spare forward, a role which he'll probably remain in for a while, especially since everyone above him has exceeded his production – including players such as Jimmy Vesey, Julien Gauthier, and yep – Vitali Kravtsov himself.
However, if Gallant and/or Drury believe that Lafreniere can use a few games in the AHL (where he could only go there on a "conditioning assignment); then perhaps JONNY HOCKEY will then resume his NHL career.
---
FILIP CHYTIL
QUARTER-POLE REPORT CARD GRADE: B-
MID-SEASON REPORT CARD GRADE: B

The two things that have me most concerned about the Czech center remain – his ability to stay healthy and his inability to win face-offs (a team-low 38.1% among all starting centers).
While many other fans, pundits and reporters consider #72 as a "KID" – I'm not one of them.
After all, Chytil is now playing in his sixth season and will soon hit the 300 games played mark (he's currently at 284).
We're currently witnessing a career season from Chytil, as he's fifth-best on the team in goals (11) and sixth-best team on the team in points (21) – and where only the big-money players are ahead of him.
Prior to this season, Chytil's career-highs were 14 goals, 14 assists and 23 points – three statistical categories he should easily smash soon enough – providing he remains healthy.
It may have taken a while, and the "is he a winger or center?" debate still remains; but he's having a career-year under Gallant – you know – the head coach who many allege can't develop young players!
---
RYAN CARPENTER
QUARTER-POLE REPORT CARD GRADE: D+
MID-SEASON REPORT CARD GRADE: F

In twenty-one games played as a Ranger this season, Carpenter has a stat line of one goal, two assists and three points. Obviously, and despite his ability to win face-offs (54%) – that's not good enough – especially with the Rangers wanting to get Kravtsov going – which in turn, pushes Goodrow down the line-up – and Carpenter out of it.
As previously mentioned, once Brodzinski was recalled, that was the end of Carpenter.
And barring multiple injuries or something crazy happening – it's tough to see Carpenter ever playing for the Rangers again – even if he's considered to be a "Gallant Guy."
Kevin Rooney, who Carpenter replaced this season, was much better in this role.
---
JULIEN GAUTHIER
QUARTER-POLE REPORT CARD GRADE: A-
MID-SEASON REPORT CARD GRADE: A

Fair or unfair, and I know I do this a lot – I tend to use Gauthier as a "comparison player," rather than focusing on what #12 does himself.
For instance, going into this season, the Rangers were hoping for an epic and rite-of-passage season from one of their French-Canadiens, Alexis Lafreniere.
Currently, the 2020 first-overall pick has a stat line of 5 goals, 12 assists and 17 points in 40 games played, where he's also averaging 14:51 TOI per-game.
Conversely, the "other" French-Canadian, Gauthier himself, has a stat line of 6 goals, 3 assists and 9 points in 30 games played (10 less games played than Lafreniere), and where he's only averaging 8:53 TOI per-game.
Furthermore, and as opposed to #13 – #12 hasn't spent a minute in Gallant's top-six.
Heck, Gauthier was never supposed to play for the Rangers this season either – as he began this campaign with the Wolfpack.
And have I mentioned yet that Gauthier's goals and points totals are his career-highs? (And he's only three assists away from setting a new-career high in this department too!)
Not only has Gauthier played himself into this line-up – he's having a career-season too.
While he still has issues with scoring whenever he gets to the net – you definitely notice his improvement too.
Every NHL team needs cheap veterans (Gauthier, despite his 126 NHL career games played, is 25-years old), and as a $800,00 cap-hit player – Gauthier has more than served his role for the Rangers.
---
BARCLAY GOODROW
QUARTER-POLE REPORT CARD GRADE: B+
MID-SEASON REPORT CARD GRADE: A

This may sound redundant, as I've said it many times before, but what's one more time?
Goodrow remains as the Rangers' best jack-of-all-trades/Swiss Army Knife player, as #21 can play on any one of Gallant's four lines – and excel on all them. The only other player that can stake the same claim? Jimmy Vesey.
Whether he's part of the top-six group, or the bottom-six group, where admittedly, in a perfect world, Goodrow best serves the team with the latter – GOODY GOT IT.
Last season, Goodrow set career-highs in goals (13), assists (20) and points (33). Currently, one of the most consistent Rangers all-season has 8 goals, 11 assists and 19 points. He's also one of the team's most reliable penalty killers too.
Put it this way: aside from his turnover during his last game played – can you think of one negative play that Goodrow has made all season?
That answer, which is a resounding NO, speaks volumes.
---
KAAPO KAKKO
QUARTER-POLE REPORT CARD GRADE: C+
MID-SEASON REPORT CARD GRADE: B+

As I write these words – I can't think of any other Ranger who has improved more during these last twenty games played than the second-overall pick of the 2019 NHL Entry Draft himself – the Finn, Kaapo Kakko.
At the 25% mark of the season, Kakko was sitting on a quad-pack of four goals and four assists. Since that time, he's added a five-pack to these numbers – five goals and five assists.
While yes, you'd like to see more scoring out of #24 (no one drafts a forward with their second-overall pick for solely defensive purposes); what can't be denied is Kakko's overall progression everywhere else on the ice.
Once shy of contact, the man who continues to battle Celiac Disease is now winning battles at the boards – and picking up assists after winning them too.
And just like the other Rangers profiled here, Kakko, whose career-highs are 10 goals, 13 assists and 23 points (set during his 2019-20 rookie season – when he never missed a game – and where he also finished with a horrid plus/minus stat of -26); is now on pace to shatter all of these numbers this season.
Better than that, and as alluded to – the once "fragile" Kakko has played in every single game yet. (Let's hope I don't "Sam Rosen Reverse Curse" him with that comment!)
Kakko, the team's best-right winger, and now returned to the first-line where he belongs – should be the first player swapped onto Gallant's first power-play unit – a PP1 unit desperately in need of a left-handed shot.
---
VITALI KRAVTSOV
QUARTER-POLE REPORT CARD GRADE: F-
MID-SEASON REPORT CARD GRADE: C-

Kravtsov, and not Kakko, receives the biggest jump in grades among all Rangers.
Then again – I did give him a F- two months ago!
At the 25% mark of the season, Kravtov was an all-out mess, with no goals, a "TOOTHGATE" scandal, a diarrhea debacle and always prone to being crushed by opposing defensemen.
While the latter still remains true, both the former healthy and unhealthy scratch has improved ever since being re-inserted into the line-up – whether that be deserved or undeserved (I don't think the former applies here – as I still think it's forced – and not earned) – and now as part of Gallant's top-six.
Admittedly, while it didn't take much – Kravtsov has already set career-highs this season in goals (2), assists (3), points (5) and games played (21).
Ever since making his most recent return to the line-up, and where he can thank players like Brodzinksi and Carpenter for that; Kravtsov's improvement has been noticeable – including learning from his mistakes – as he's recently done during what now seems like his never-ending puck-between-the-legs dekes.
As mentioned a lot recently – who would've thought that it would be Kravtsov, and not Lafreniere, as the better Ranger at not only this point of their careers – but of this season too?
This all said – if it takes Kravtsov going the other way to land Patrick Kane – then I wouldn't blink an eye. Sell when he's at his peak I say!
Then again, if Kravtsov continues to improve prior to the NHL's March 3rd Trade Deadline – that proposed trade may be a tougher decision than it would have been as opposed to two months ago.
However, keep in mind of the these two following facts:
One, Kravtsov is currently a salary cap hit charge of $875,000 – a RFA contract that expires after this season.
Two, with the Rangers in "WIN NOW MODE;" Patrick Kane, who the Rangers will forever be linked to until something happens, is a much better option not only for Panarin on the second line – but for the Rangers' quest of winning their fifth Stanley Cup of franchise history too. (I care about #88's career-numbers – not what he's doing now with a bunch of AHLers.)
However, and let me remind you of this one more time – if Kravtsov continues to improve, then Drury may be pleading with Chicago to take Zac Jones, a first-round pick and maybe Sammy Blais too, off of his hands – rather than #74, come 3/3/23.
---
CHRIS KREIDER
QUARTER-POLE REPORT CARD GRADE: B+
MID-SEASON REPORT CARD GRADE: A

Yes, Chris Kreider will turn 32-years old on April 30th; but even so – the man now in his eleventh regular season with the Rangers – he is enjoying the prime years of his career – and all under Gallant.
Going into this season, I thought it would be nearly impossible for "CK52" to match his career-highs set from last season – 52 goals, 25 assists and 77 points.
Currently, "CK20" has 19 goals, 11 assists and 30 points – and in the event that Kreider matches the numbers he posted during the first half of this 2022-23 season during the second half of the season – then he'll have the second-best season of his career – and we haven't even mentioned his "InKREIDible" work during Ranger penalty kills either!
Kreider's nineteen goals are tops on the team, only shared with his BFF, Mika Zibanejad.
More impressive than all of that? The native of Boxford, Massachusetts two short-handed goals – a team-high – following the three SHG he picked up, the first three of his career, which were scored last season.
But hey – "GALLANT DOESN'T KNOW WHAT HE'S DOING!" – am I right?
As Mollie Walker would say  – "HAHAHAHAHAHAHAHAHAHAHAHAHAHAHA!"
In addition, of all Ranger forwards, Kreider is second-best in the plus-minus stat, with a +12 rating. Only his Swedish Jesus BFF, Zibanejad (+14), has a better rating.
While Kreider spent some time on the third line this season during the doldrums of this campaign; Kreider has returned to the first line – and where he belongs.
And don't lose sight of this fact either – Kreider's twelve even-strength goals scored this season leads the team.
As the third-highest paid forward on the team – Kreider ($6.5M), and not the two forwards who earn more than him, Panarin ($11.6M) and Zibanejad ($8.5M) – has been better – and more consistent at that.
And one day, Kreider, whose contract runs through the 2026-27 season – with 248 career goals –  and assuming that he should he remain a Ranger too – will eventually surpass Rod Gilbert's franchise-record of 406 goals.
---
ALEXIS LAFRENIERE
QUARTER-POLE REPORT CARD GRADE: C-
MID-SEASON REPORT CARD GRADE: D-

I take no joy in writing this, especially since I've been so against using this word throughout Lafreniere's career, but I can't ignore the obvious – the 2020 first-overall pick, unorthodox beginnings or not – is now flirting with the worst word any player of his status can align themselves with – "bust."
That said, and unlike others – I won't defiantly, nor loudly, proclaim that Lafreniere is a "bust" – at least not yet.
However, it's hard to ignore what we've seen with our own two eyes – when compared to every first-round draft pick of this century – Lafreniere is on path to be the worst yet – and that also includes players right before that cut-line too, such as Nail Yakopuv (2012), Rick Dipietro (2000), Patrik Stefan (1999) and Alexandre Diagle (1993).
Want more pain? Here you go:
While it's still early, this remains true either way; even if Lafreniere was the consensus best player of his draft at the time (aka, I don't blame former g.m., Jeff Gorton, for drafting him) – players such as Tim Stutzle (3rd), Lucas Raymond (4th), Anton Lundell (12th), Seth Jarvis (13th) and Dawson Mercer (18th) have all been better than Lafreniere thus far.
In other words, you can only go so far when talking about his unorthodox beginnings (the pandemic) – especially with Braden Schneider (19th) also selected by the Rangers during that same 2020 NHL Entry Draft.
Here's what I said during my "Quarter-Pole Report Card," and as first written two months ago:
"When it comes to the youngest forwards on the team, the first-round draft picks of Kravtsov, Kakko and Lafreniere – they've all been disappointing.
"The Rangers, their fans, and yours truly are all hoping to see better grades for this trio come my "Mid-Season Report Card."
Sicker than that? Going into this season, I predicted a 30+ goals and 50+ points season from Lafreniere.
Not only has the first-overall pick been scratched this season, and subjected to league-wide trade speculation too following it (a night spent in Tampa's press box) – #13's five goals and eighteen points scored thus far – is a big-time disappointment. There's no sugar-coating that.
While Kravtsov and Kakko have impressed and progressed – Lafreniere has depressed and regressed. It's tough to watch.
I wish I knew "the fix," and if I did, I'd have a job with the Rangers right now – but similar to me – no one, Gallant, nor Drury, knows how to get Lafreniere going.
And unlike others, I can't blame the Rangers' brain-trust for this – after all, look at the other younger players that have been flourishing under this regime.
Silver lining? Lafreniere is on the final year of his entry-level contract, a deal that pays him $925,000 per season.
At this rate – he'll be lucky to get a raise – a good thing for the Rangers' salary cap situation.
And let me say this too, in an effort to be clear with you – there's no way the Rangers/Drury trade #13 – that would be career suicide.
It's better to retain him, even if he has to play in Hartford a bit this season (which may be impossible – as it's tough to imagine that he'd clear waivers), rather than to give up on him.
Last, but not least, and my final moment of misery shared with you here – Lafreniere hasn't potted a puck in over a month, with his last goal scored taking place on 12/7 – against a beat-up and depleted Vegas squad.
---
ARTEMI PANARIN
QUARTER-POLE REPORT CARD GRADE: D+
MID-SEASON REPORT CARD GRADE: C-

I once again refer to you this link, https://bluecollarblueshirts.com/22qprc/; as what I wrote two months ago still applies.
In a word, and despite leading the team in assists (34) and points (45) – watching Panarin has been "frustrating."
Simply stated – Panarin has the second-worst plus/minus stat on the team (-6), and where his bouts with turnovers has hurt the Rangers all-season.
At $11.6M per-season, the biggest contract on the team – Panarin seems to be a "compiler" – as he usually racks points in bunches during blow-outs.
When it comes to the one-goal games, games that the Rangers have often found themselves on the wrong end of? Panarin is largely a non-factor, where a goal or an assist here and there – then the Rangers would be in first-place right now.
Between all of the stale turnovers, not shooting the puck, frequently missing the net and everything else – this much is true – Panarin, despite leading the team in scoring – isn't the same player that he was during his first season in New York – the 2019-20 campaign – and where he finished as second runner-up to the Hart Trophy.
I know that everyone and their mother would like to see what Panarin would do with Kane – but even so – with what Panarin earns – he should be improving all of his linemates (and the terrible Rangers' power-play too) – rather than needing a dynamic winger to lift him.
And even with the best scoring center on the team – Panarin didn't do much during his recent stretch of games when teamed-up with Zibanejad.
What I said two months ago once again rings true here – "yep – the salary cap hit of "The Breadman" negatively impacts this grade."
---
VINCENT TROCHECK
QUARTER-POLE REPORT CARD GRADE: B
MID-SEASON REPORT CARD GRADE: B+

As advertised, the new #16 in town leads the team at the circles, with a 56.1% face-off percentage.
While the chemistry between Trocheck and Panarin has yet to come; when the center was down-shifted to the third line for a handful of games, with Kreider and Vesey as his new flanks – Trocheck had some of his best games of the season.
Better than that, and when opposed to playing with "The Breadman?" The league-leader in <DINGS> didn't hit one post or crossbar!
Conversely, Panarin continued to struggle, now with the team's most prolific center by his side, Zibanejad.
Perhaps an upgrade over Ryan Strome, the player he's naturally compared to the most; Trocheck ranks top five on the team in goals (13 – 3rd overall), assists (17 – 4th overall) and points (30 -5th overall).
However, Trocheck also has the worst plus/minus stat on the team (-7).
Of course, playing with the turnover-happy Panarin is part of that too.
While stats can only tell you so much, including the fact that Trocheck, among all Ranger forwards, has the second-most hits on the team (95); a lot of what he does can't be described by using black-and-white numbers.
Trocheck continues to bring a physical presence on the ice, never shies away from contact, and more often than not – is usually involved in the post-whistle theatrics – where he's always defending his teammates.
Yes, the chemistry with Panarin isn't there yet, but Trocheck's chemistry with his new teammates, and in the locker room too, is heavily apparent.
---
JIMMY VESEY
QUARTER-POLE REPORT CARD GRADE: A
MID-SEASON REPORT CARD GRADE: A

I won't lie to you – I was tempted to go with an A+ here, where Vesey's minuscule cap hit of $750,00 was a huge reason for that. Instead, the Harvard alum will have to settle for "just" an A – which is not too shabby if I say so myself!
We've talked a lot about Vesey lately, especially a few days back, when Rangers' general manager, Chris Drury, re-signed the now two-time Ranger to a two-year contract extension. (For more, check out: https://bluecollarblueshirts.com/1423/ )
For #26, he's currently experiencing a redemption season – and was then rewarded for it prior to the half-way mark of this 2022-23 campaign.
Perhaps Vesey is a "poor man's Goodrow" – but make no bones about it – that's a compliment of the highest order.
Similar to the two-time Cup champ; Vesey can play on any line, and better than that – have success too. He's also become valuable on the Rangers' penalty kill, where the people once clamoring for a return of Tyler Motte are now saying, "Apple Sauce Who?"
The now defensively-sound forward, who once was thought to have the potential as a high-end goal scorer, is also producing offensively.
After all, Vesey, who has spent some time as part of Gallant's top-six; has as many goals as both Lafreniere and Kravtsov combined (7).
Vesey, who will turn 30-years old on May 26th – and hopefully the Rangers will be playing in another Eastern Conference Final at the time – has now become a reliable veteran presence for the Blueshirts.
And it hasn't cost the Rangers, nor Drury, anything – outside of the loose change found between the cushions at the palatial James Dolan estate.
---
MIKA ZIBANEJAD
QUARTER-POLE REPORT CARD GRADE: A-
MID-SEASON REPORT CARD GRADE: B-

At the 25% mark of the season, Zibanejad had only two even strength goals to his name, tallies which took place during a Rangers' 8-2 blow-out against the Red Wings.
Since that time, DJ Mika has spun four more 5 x 5 goals. He also one of the team's co-leaders (Kreider) in goals (19) and ranks one point shy in total points (44) than team-leader, Artie Panarin (45).
So why a full letter drop in grade?
Easy, and with these three reasons being the most important:
— Six even-strength goals at the half-way mark of the season isn't going to cut it. Nor will twelve 5 x 5 goals by the season's end.
— His losing face-off percentage of 46.2% – where that number is only as "high" as it is following five strong games where Mika absolutely crushed it at the circles, thus boosting this statistic. Throw those five games out, which equates to over 1/8th of the season, then Mika is flirting with a subpar 35% face-off percentage.
— The lack of success on the power-play.
While the Rangers rank 13th overall in the league, which means that they are better than half of the league with their 23.7% success rate during man-advantages; there have been far too many games where the power-play is power-less, including a recent streak where the team was one of their last eighteen – where ironically enough, a fluke goal scored by Mika, against Tampa, "boosted" this stretch to two of their last nineteen.
Whether or not Mika's power-play one-timer is predictable can be debated. What can't be debated is how often he misses the net whenever blasting these shots from "Ovi's Office." Need evidence? Look no further to Game 41.
Similar to the issues on the power-play, where yes, I'm aware that #93 leads the team in PPGs (12) – for an $8.5M center – it's just not enough.
Just like Panarin, if Mika is cold, and he's been cold a lot, the Rangers sink – where as a result, and more times than not – the Rangers then find themselves on the wrong end of one-goal games.
For the Rangers, while they do have other stars around the team; come the playoffs, the Blueshirts may only go as far as their two top forwards go.
A grade of a B- is not bad or anything, and nor has Mika truly been bad either – but like most Rangers this season – there are major inconsistency issues.
If there's any area where Mika has been consistent 100% of the time, then it's his work on the Rangers' penalty kill, where the team ranks 12th overall in the league – and 2nd overall on the road. However, that also tells you there have been some issues on home ice too – issues that have nothing to do with the team's first line center himself.
In fact, it may be Zibanejad who is the best penalty killer on the team – and he could become even better – if he could win some more d-zone faceoffs!
---
DEFENSEMEN
ADAM FOX
QUARTER-POLE REPORT CARD GRADE: A+
MID-SEASON REPORT CARD GRADE: A+

What more can I say about Adam Fox, the 2021 Norris Trophy winner, and perhaps the winner of the 2023 award too?
Ever since the January 2021 departure of Tony DeAngelo, which as a result, led to #23 quarterbacking the Rangers' power-play; Fox hasn't only been the best defenseman on the Rangers – he's one of the best d-men in all of the league too.
With 7 goals, 33 assists, and 40 points, Fox leads all Blueshirt blue-liners in these three pertinent scoring categories.
Furthermore, his assist total has him one short of the team leader, "The Breadman" (34).
Fox, who spearheads both the PP1 and PK1 units, is currently the team leader in TOI (24:58). Second-best? K'Andre Miller (22:09) – which means that Fox nearly plays three minutes more per night than any other Ranger.
Even with all of that ice time, Fox's plus/minus stat of +14 only trails one player on the club – his partner – Ryan Lindgren (+17).
As frequently mentioned on this site – praise the hockey gods that Fox only wanted to play for one NHL team.
---
LIBOR HAJEK
QUARTER-POLE REPORT CARD GRADE: B-
MID-SEASON REPORT CARD GRADE: B-

Don't put much into this grade.
Ben Harpur made his Rangers' debut during Game 30, and since that time – Hajek has been a regular guest in the press box – where you have to assume that he's a on a first-name basis with everyone – and probably has ass indents in his own chair too.
As Gallant said a few days back – he wanted either Hajek, or Zac Jones, to grab the sixth defenseman/3LD spot all to themselves.
What once was a battle between the two is now as ferocious as a pillow fight, as Jones is in Hartford while Hajek is back in his familiar seat – a seat that unlike the Rangers' bench – at least has a back to it!
Unlike the law firm of Jones & Hajek – it's Ben Harpur ESQ. that now has the legal right to call Braden Schneider his partner.
Hajek has played in sixteen games this season – one shy of his total from last season, when he played in seventeen games.
Will he match and/or surpass his total from last season? Barring injury, that seems unlikely.
Since he's only played in three games since the 25% mark of thee season, where he wasn't good or bad but just indifferent; his grade remains the same – and he'll probably be moved to the Departed/Inactive section whenever I do my "Final Report Card."
---
BEN HARPUR
QUARTER-POLE REPORT CARD GRADE: N/A

MID-SEASON REPORT CARD GRADE: A-

Sans a Barclay Goodrow turnover during Game 41, against the Devils – ever since Harpur's arrival from Hartford – #5 hasn't been on the ice for one even-strength goal allowed – and where you can't blame him for the Goodrow play either!
Very quickly, Harpur has enamored himself to Gallant, where the head coach has repeatedly used these adjectives to describe his new d-man: "reliable, sturdy, physical, strong, and smart."
I've brought this up before on this site, but what impresses me the most about Harpur, is the fact that since being recalled – he's created an instant chemistry with his partner, Braden Schneider.
For comparison – look at the lack of chemistry between the two long-time NHL veterans, Trocheck and Panarin.
Since Harpur hasn't even hit the dozen-games played mark yet with the Rangers; it's tough to judge some of his stats, including his two assists and plus/minus rating of +1.
However, due to the facts that he fits like a glove, doesn't turnover the puck and doesn't give up goals either (and he only runs the Rangers $750,000 too) – I have to go with a high grade here.
His Final Report Card grade will be more telling than this one.
---
RYAN LINDGREN
QUARTER-POLE REPORT CARD GRADE: A
MID-SEASON REPORT CARD GRADE: A

I know I say this a lot – but if it wasn't for Adam Fox – then I'd give #55 an A+ grade.
Lindgren, and as it has been the case ever since coming to New York – is one of the warriors on this team – if the not the "ULTIMATE WARRIOR."
And in a new wrinkle? The golden goose of the 2018 Rick Nash trade now leads the team in the plus/minus stat (+17).
Even crazier than that? While Lindgren does have thirteen assists to his name this season – he's still seeking his first goal of this 2022-23 campaign!
I think the dirty dozen of assists is very telling, because this isn't Lindgren "compiling apples," as the bulk of his helpers are of the primary variety – and where he's made some pretty sweet set-up passes too.
As part of the Rangers' top shut-down pair – Lindgren has already embodied the mantra of, "Once a Ranger, Always a Ranger" – and I bring this up because #55 has only one more year left on his deal – a contract that pays him $3,000,000 annually – a steal for Chris Drury – and where Lindgren has more than earned a raise.
---
K'ANDRE MILLER
QUARTER-POLE REPORT CARD GRADE: C
MID-SEASON REPORT CARD GRADE: B-

I really can't say with a 100% certainty, that Miller's partner, his mentor, Jacob Trouba, is holding him down.
However, this much is true – when Miller & Trouba were split up, and this only happens once in a blue moon – Miller improved.
Need the evidence? Miller is currently a -1, Trouba is a -5.
This duo of #8 and #79 have the worst plus/minus stats of all Rangers' defensemen – and are one of the most torched pairs in the league today.
That all said – most of this negativity took place during the first 25% of the season – and not during the 25% of games that followed.
Miller, who will need a new contract this summer (and who would have thought at the start of the season that Miller would command more salary than Lafreniere, who is also on the final year of his entry-level contract), is already enjoying a career season.
His 17 assists are already a career-high (his previous high was 13) and his 20 points matches the career-high he set last season. His three goals are four goals away from his career-high in this department too (7).
I know I've said this in the past, but when Miller first debuted with the Rangers, then head coach, David Quinn, often called him a "PRAYING MANTIS," for Miller's ability to use his long reach and knock players off of the puck.
While Miller got away from that bit – we're seeing a lot more of this today. Better than that, for a guy who doesn't use his towering frame as often as he should – he's starting to play with a more physical edge too.
What kind of time "MILLER TIME" has during the playoffs may determine his future – a bridge contract or a six, seven or eight-year extension.
---
BRADEN SCHNEIDER
QUARTER-POLE REPORT CARD GRADE: B+
MID-SEASON REPORT CARD GRADE: A+

That's right, Braden Schneider joins Adam Fox as the only Rangers to receive A pluses out of me!
While I do believe that Fox is more offensively-gifted than Schneider (duh); the two are a lot a like, including that both players were in the position of making 1/8th the money of Trouba – only to play eight times better than #8!
Fox, after "squeaking by" on a contract that "only" paid him $925,000 per season; now earns over ten times that amount, with his new $9.5M per season deal.
The 21-year old Schneider is currently earning $925,000, in Year Two of his three-year ELC deal and where he's now forcing Drury's hand too – lock him up now on a cheaper deal – or wait until this contract expires and then run the risk of Schneider's price tag reaching astronomical levels?
If it wasn't for Trouba's salary, and status as team captain too, then very likely – Schneider would be Miller's partner on the second pair – and the quarterback of the second power-play unit too. But Trouba won't be here forever, and more likely than not – these two things will happen for the homegrown product.
Just like the exciting ascension of Fox, it's been a thrill-ride watching Schneider, now in his second season.
Sophomore jinx? Yeah right, as the man of only 84 NHL games continues to improve game-by-game.
As brought up earlier, Schneider was saddled with two projects for most of this season, Jones and Hajek, yet had no issues performing. The call-up of Harpur has only continued his rise, where as mentioned, sans that one Goodrow turnover – this pair hasn't given up one 5 x 5 goal yet.
More impressive, where again, yes that Goodrow turnover – prior to that flub – Schneider had a 22-game streak of never finishing with a minus. Currently, he ranks fifth-overall on the team with his +10 plus/minus stat.
While defense has always been his focus, #4 has chipped in five goals and five assists too – and another bullet in the chamber whenever discussing the value of Trouba's contract.
In a word, Schneider has been "sizzling" all season, and just like Fox before him – the best is yet to come – where who knows – maybe B-Schneids will steal a Norris vote or three away from Fox!
And this too – "Nils Who?"
---
JACOB TROUBA
QUARTER-POLE REPORT CARD GRADE: C+
MID-SEASON REPORT CARD GRADE: C-

I've written so many words about Trouba, his nagging (and undisclosed) injuries and his bloated contract this season, that there's no need to play my "GREATEST HITS" again.
But yes, you can't avoid this fact either – Trouba is one-half of one of the worst defensive pairs of not only the Rangers – but of the league too.
And yes this is true too – the injury excuse can only go so far.
While I understand why he wants to play, and not take off – if you're hurting the team, no one is going to fault you for taking a powder for a few games.
His three goals, which were first scored at around the 45% mark of the season, haven't really been that impressive. One was an empty netter and the other two came against questionable goaltending.
However, and to his credit, the captain does lead the team in hits (127) and blocked shots (101).
When the TROO TROO TRAIN is motoring, nothing can be more exhilarating. However, that train hasn't made that many stops this season – both literally and figuratively.
The "TROUBA BOMB," his 100 MPH slappers from the point, do more damage to the boards than they do on NHL goaltenders themselves.
Seriously, I can't think of a recent Ranger who takes more of these slapshots, blasts that never reach the net – and whether through it's his own fault or defenders getting a piece of them – as often as Trouba does.
While I do believe that Trouba takes his captain role serious; and I also think he was the guy for the job too (the team wanted it, the coach wanted it and the general manager wanted it – and all of these people know this club better than us); the Trouba from last season hasn't been spotted that often during this 2022-23 campaign.
In fact, it feels like Trouba has reverted to the player that he was from his first two seasons in New York (where he earned $16M in salary) – and which #8 himself previously described as "disappointing."
---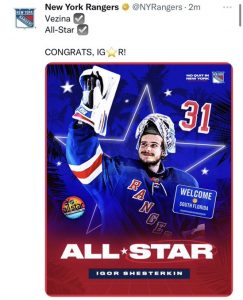 GOALIES
JAROSLAV HALAK
QUARTER-POLE REPORT CARD GRADE: C+
MID-SEASON REPORT CARD GRADE: B-

"THE HALAKNESS MONSTER" is finally getting goal support from his team.
At the 25% mark of the season, Halak's stat line read as such:
0-5-1, a .881 save percentage and a GAA of 3.20.
While reading those numbers is like watching a horror flick; truth be told, Halak's poor stats were more of an indictment on the team themselves – and not the goaltender – as outside of one shaky game – he had been fine.
The team just never scored for him, as at one point, in his first five games played, the team had only scored four goals.
As the team has improved, so have Halak's numbers, stats that now read as:
4-6-1, a .896 save percentage and a GAA of 2.85.
While all of Halak's numbers have been boosted; for #41 himself, getting his first win out of the way as a Ranger, and also going 4-1 since the 25% mark of the season, has to be a relief.
And just as he did during his first six starts of the season, in his next five games played, Halak has been sturdy. Heck, he should've had a shut-out too, but you know – the Blueshirts are prone to brain-farting whenever with a big lead.
---
IGOR SHESTYORKIN
QUARTER-POLE REPORT CARD GRADE: B+
MID-SEASON REPORT CARD GRADE: A-

A lot of what I said during the "Quarter-Pole Report Card" remains true; but there has been some improvement.
After all, I'm not telling you how a new sire at CZAR IGOR's humble abode may be keeping him up at night anymore!
That said, if CZAR IGOR's home numbers were akin to his road numbers, then this would be true too – Igor would be the runaway winner for the 2023 Vezina Trophy – and a two-time winner too.
But hey, there's plenty of season left – and CZAR IGOR can very easily work his way back into the mix.
For your consideration, here are CZAR IGOR's stats:
18-6-6, a .916 save percentage and a goals allowed average of 2.48.
On the road, #31's stats are: 9-1-2, a .931 save percentage and a GAA of 2.12.
On M$G ice, #31's stats are: 9-5-2, a .904 save percentage and a GAA of 2.75.
If there's anything truly concerning about CZAR IGOR, then it's the following:
While goalies around the league are posting shutouts on a routine basis – the 2022 Vezina Trophy winner only has one. Of course, a porous defense is the reason for this – and also why ever since his NHL debut from three years ago – the Russian leads the league in most one-goal allowed games.
Whether the new son at home was an issue or not we'll never know, especially since the beat reporters never asked him about this.
However, after an eyebrow-raising start; CZAR IGOR is right back to the level that he was at last season. And if the Trouba/Miller pairing could cool it with all of the breakaways and odd-man rushes allowed – then #31 will add another Vezina Trophy to his mantle this season – a nice trinket to go along with his 2023 NHL All-Star distinction!
---
THE DEPARTED
Zac Jones and Ryan Carpenter joined the previously departed Ryan Reaves and Dryden Hunt from the club; but unlike the latter, the former are in Hartford.

For Jones, who has had a great attitude all along; he just didn't do much to stand out. However, at only 22-years old, he still has time to figure it out.
For Carpenter, many believed that he'd have a one-and-done season with the Rangers. Instead, it's now looking like a half-and-done season on Broadway.
When it comes to their replacements; Harpur has easily been better than Jones. Brodzinski, who replaced Carpenter, hasn't made much of a difference; but by demoting the center, it opened up a roster spot for the previously scratched Kravtsov.
---
COACHING
GERARD GALLANT
QUARTER-POLE REPORT CARD GRADE: B
MID-SEASON REPORT CARD GRADE: A-
I feel like I spend every night writing 5,000 words on Gallant and his daily "TURK TALKS." In other words, I'd ask you to refer to my GAME REVIEW blogs for all of my "TURK THOUGHTS."
By now, you are also aware that I'm a fan of the head coach. I support him. I agree with him. I even get a kick out of his non-stop sniffling!
While many people cry their eye sockets out, and repeatedly use the now tired buzzword, "DEVELOPING," on a 24/7/365 basis; I'm not one of them.
I'm with Gallant – the NHL is not a developmental league – especially not for a WIN NOW team – which the Rangers are – and as explained 87678678687968976 times before on this site.
While sure, rebuilding teams nurture and bring along their draft picks; the Rangers are here to win the Stanley Cup – your "kids" be damned. (And the people who go on-and-on about how "the kids" need to play all the time really don't know their history either.)
Let's face the facts, the only facts that matter – Gallant was hired with the sole mission of winning the Stanley Cup – not creating a line of Lafreniere/Kravtsov/Kakko – a line that according to some people, should play sixty minutes a game.
Furthermore, "The Turk" is no "spring turkey" either. In other words – he wants to win the chalice that has evaded him his entire professional career.
If there's anything I truly question Gallant about, it's what I've said numerous times in the past – for a coach that has no problem tinkering around with his line-up on a daily basis; why doesn't that same philosophy apply to his first power-play unit?
It should also be mentioned that for all of these "TURK DETRACTORS" that are out there, you know, the same people who want every coach fired ten seconds after the Rangers hire them, as ever since the inception of the social media era, I feel like I've heard "FIRE TORTS," "FIRE AV," "FIRE DQ" and "FIRE GALLANT" every day, as if I was experiencing one of Dante's seven stages of hell – I'd reckon to guess that at least 95% of Gallant's in-game decisions have successfully worked out.
Whether it's in-game line shuffling, challenges, or whatever else – more times than not, Gallant's gut instincts pay off for him.
As far as anything else, I think his calm demeanor also speaks volumes; as rarely (where this only happens whenever he's asked a stupid and silly question from one of the birdbrain beat reporters), do you ever see him blow his top.
Simply stated: even during rough waters, Gallant maintains his smooth hand over the wheel.
---
FINAL CONCLUSIONS & PREDICTIONS
The Rangers, after a terrible start, are playing much better now. They just have to keep it up.
As long as the Rangers continue their status as a playoff contender; then the date of March 3rd, the NHL Trade Deadline, will be firmly circled on everyone's calendar.
I think everyone has had enough Patrick Kane talk, where most of us are at the "just do it or don't do it already" stage; but outside of #88, I can see the Rangers looking for an insurance policy depth-defenseman – and maybe a spare forward too.
If Glen Sather was still running the show, and who knows, maybe "The Puppet Master" still is; then the Rangers would 100% be linked to the top d-man prize of this year's deadline, Jakob Chychrun – who much like Kane – is another name where you have those "do it or don't do it already" vibes.
I could see a Justin Braun return, only because he knows both Gallant's system and most of this locker room. But once acquired, I can't see him playing much – that is, unless Harpur really falls off of a cliff.
As far as anyone else the Rangers may have their eyes on – who knows?
As I've been saying on this site for nearly nine years now – there's always some player(s) that's on nobody's radar, that is, except for the general manager's radar.
Case in point? How many Ranger fans ever heard of Frank Vatrano prior to the 2022 NHL Trade Deadline?
Call me a homer, call me delusional, call me what you want – but as I close out this monstrosity of a blog tonight (and look everyone – no ads, no spyware, no pop-up video players – just 10,000 words on the New York Rangers), I go back to what I said during the summer, during the preseason, and what I said at the start of this season:
"Your 2023 Stanley Cup Champion New York Rangers!"
PLUGS TIME!
---
My first plug of tonight's blog – the mandatory plug for my book, "The New York Rangers Rink of Honor and the Rafters of Madison Square Garden."
As mentioned previously, the book is now available in hardcover, in paperback and in Kindle formats. To purchase a copy of the book, visit this link:
https://www.amazon.com/Rangers-Rafters-Madison-Square-Garden-ebook/dp/B09CM5N2WD
For those still looking for signed paperback versions of the book, I have re-ordered more copies. I now have a few signed copies for sale at $25 a pop (includes shipping price) through me directly. Here is all the information on that:
---
My four-volume set of books, "One Game at a Time – A Season to Remember," is a game-by-game recount of the Rangers 2021-22 campaign.
My second title as an author, "One Game at a Time – A Season to Remember," is now available in eBook, paperback and hardcover formats.
To obtain signed copies, visit: https://bluecollarblueshirts.com/onegamebook/
To purchase all four volumes on Amazon, visit: Amazon.com – "One Game at a Time."
---
The greatest volume-set of books on Rangers' history today!
"Tricks of the Trade – A Century-Long Journey Through Every Trade Made In New York Rangers' History," a four-volume set of books that meticulously covers every trade made in franchise history, is now on sale.
All four volumes of the title can be purchased on Amazon.com and are presented in three different formats – eBook, paperback and hardcover.
To purchase Volume I: Conn Smythe (1926) – Craig Patrick (1986), visit Amazon.com
To purchase Volume II: Phil Esposito (1986) – Neil Smith (2000), visit Amazon.com
To purchase Volume III: Glen Sather (2000-2015), visit Amazon.com
To purchase Volume IV: Jeff Gorton (2015) – Chris Drury (2022), visit Amazon.com
To purchase signed copies of all four volumes, visit https://bluecollarblueshirts.com/tricksofthetrade/
---
Here are my last few blogs, in case you missed them:
---
---
---
If you haven't already, subscribe to this blog for the next update:
---
Don't forget to order my new four-volume set of books, "Tricks of the Trade!"
If you don't order through me, all four volumes are now available on Amazon.com
For more details, check out: https://bluecollarblueshirts.com/tricksofthetrade/
Thanks for reading.
LET'S GO RANGERS!
Sean McCaffrey
BULLSMC@aol.com
@NYCTHEMIC on the Tweeter machine