What's up everyone and welcome to another blog here on BlueCollarBlueShirts.com. In case you missed my Rangers/Devils blog, which was more about "The Rock" experience & the gestapo who work there, check out my blog from Saturday by clicking:
The Rangers, who beat the Devils 4-3, just 24 hours ago, lost at home to the Columbus Blue Jackets on Sunday evening with a final of 5-2. For Columbus, who previously beat the Islanders on Saturday night 7-0, the Blue Jackets had no problem with either New York City team this weekend.
As I've been saying for most of this time, during the final 25% of the season, for the Rangers, it's all about being healthy for the playoffs. Yes, you want the number 1 spot in the division or the first wild card spot. You don't want to finish as the second or third seed. We saw what happened last year, when the Rangers decided to go all out against Detroit and the Islanders tanked their last game of the season.
During Game 82 of last season, which the Rangers won and the Islanders lost, the Rangers got the honor of being spanked in the first round by the Penguins, while the wild card Islanders would defeat the Panthers in the first round. Who knows what happens last year if the Rangers gave Detroit the win in Game 82? The Rangers were probably good enough to beat the Panthers in the first round and perhaps improve & play better as the playoffs continued. You just couldn't make mistakes against the Penguins.
As a result of tonight's loss, the Rangers go back to being the first wild card, with Columbus now the third seed. As I've been saying all along, while we have 20 games left in the season, it is too early to think playoff seeding now. However, we just all know what the deal is.
Bottom line is this – for the Rangers to make the Stanley Cup Finals, they are going to have to beat a Metropolitan team. It's how they finish. Their finish determines if they have to play one or two of the MeTRIO teams, of Washington, Pittsburgh and Columbus, to reach the SCF. For me, I really think the best case scenario is as the first Wild Card team, play the two Atlantic teams and hope Washington is the last man standing in the three team tournament between the Caps/Pens/Columbus. No offense to whoever finishes as the second wild card, but I just don't see the Islanders, Flyers, Boston or whoever, beating the Caps or Pens in the first round.
While winning the division would be nice, it's a potentially tougher path than being the first wild card.
It's funny too – despite Washington being in first place, the Rangers actually match-up better & have a better history against the Caps than the two other MeTRIO teams. I still wouldn't take Washington lightly, but if I had to play only one MeTRIO team to reach the SCF, I would rather see Ovechkin, than the black & gold or John Tortorella's mug.
So while tonight's loss was good for the Ranger's Wild Card hopes, this loss does concern me. In a perfect world, the Rangers avoid the Pens & CBJ in the playoffs, but this isn't a perfect world. As Ranger fans, four cups in 90 years tells us that this isn't a perfect world!
Check out these stats of the Rangers vs Penguins and the Rangers vs Columbus. These stats are all from the most recent games played. Keep track of the 7 games Lundqvist started:
Penguins vs Rangers
April 21, 2016. Pittsburgh 5 – Rangers 0. Lundqvist 14 saves on 18 shots. Lundqvist pulled from game.
April 23, 2016. Pittsburgh 6 – Rangers 3. Lundqvist 17 saves on 23 shots. Lundqvist pulled from game.
November 21, 2016. Rangers 5 – Pittsburgh 2. Raanta starts & wins.
November 23, 2016. Pittsburgh 6 – Rangers 1. Lundqvist 13 saves on 17 shots. Lundqvist pulled from game.
December 20, 2016. Pittsburgh 7- Rangers 2. Raanta 40 saves on 47 shots. Lundqvist does not play.
Rangers will play Pittsburgh on 3/31 & 4/9, the last game at the season. Both games are at home.
Blue Jackets vs Rangers
November 18, 2016. Columbus 4 – Rangers 2. Lundqvist 20 saves on 23 shots. Bobrovsky plays & wins.
January 7, 2017. Rangers 5 – Columbus 4. Lundqvist 33 saves on 37 shots. Back-up McElhinney plays and gives up 3 horrible goals in the third period. He is waived from Columbus the next day.
January 31, 2017. Columbus 6 – Rangers 4. Lundqvist 13 saves on 16 shots. Lundqvist pulled from game. Back-up Korpisalo plays. Rangers score 4 goals in the third period, with the score already 6-0.
February 13, 2017. Rangers 3 – Columbus 2. Raanta starts & wins in his first start back from injury. Bobrovsky plays and loses to Raanta.
February 26th, 2017. Columbus 5 – Rangers 2. Lundqvist 21 saves on 26 shots. Bobrovsky plays and wins.
In other words, in his last 7 games against CBJ & Pitt, Lundqvist is 1-6. He was also pulled 4 times. He gave up 29 goals. How regal for the league's highest paid goalie.
If you've been reading me, you know my thoughts. We should've never traded Talbot and sold on Lundqvist when his stock was high. Raanta has been outplaying Hank this year too. Not one top 5 paid goalie has ever won a Cup in the new cap era. Lundqvist is overpaid and overrated. Even when he has great games, I see the bigger picture. (And how funny was that after every creature crawled out of their mother's basement to go nuts on me, after Hank's win against Toronto, how quiet they were tonight!)
I have no problem saying when Lundqvist is playing well, and he has rebounded since his annual shit-show funk, but he is not better than half the goalies in the league right now.
The Rangers Cup dreams will most likely go through Pittsburgh or Columbus. These numbers above remind me of Lundqvist in 2015, where he was 0-3, with 15 goals allowed against Tampa in the regular season. Everyone ignored that. What happened? Rangers lost to Tampa, in 7 games, in the ECF. Lundqvist gave up two touchdowns that series, even giving up 6 goals in a game where the Rangers scored 5. If Hank could've held that game to 4 goals, the Rangers could've went to the Cup Finals in back-to-back years.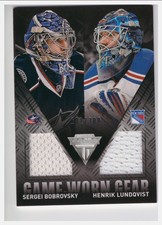 The Rangers were 9-1-1 going into this game. So is tonight's loss an indication of anything? The sky isn't falling. The only alarms going off is Hank's record against CBJ and Pittsburgh. The team is a good team, but for as good as it is, a first round match-up against Pittsburgh or Columbus gives you the same feeling as expecting hot water to flow out of your shower head, only to get blasted with some arctic freeze.
This was a terrible game for Lundqvist, more so than the Rangers. While the scoreboard says 5-2 Columbus, the Rangers actually out-shot the CBJ 30-26. The difference in this game was Vezina candidate Sergei Bobrovsky. He was the better goalie on the ice tonight.
The Rangers had a bunch of scoring chances in this game, but the Blue Jacket netminder denied and denied. While Lundqvist would make a bunch of big saves too, he just couldn't keep pace with a Vezina candidate.
Let's get to the box score from ESPN.com, and take a look at this fiasco:
1st Period Summary

Time
Team
Scoring Detail
CBJ
NYR
1:02

Alexander Wennberg (11)
Assists: David Savard, Oliver Bjorkstrand
1
0
4:07

Rick Nash (18)
Assists: Jimmy Vesey, Derek Stepan
1
1
6:47

Cam Atkinson (28) (Power Play)
Assists: Sam Gagner, Zach Werenski
2
1
Time
Team
Penalty Detail
6:05

Adam Clendening: 2 Minutes for Roughing
17:13

Nick Foligno: 2 Minutes for Holding
19:07

Mats Zuccarello: Penalty Shot Awarded for Holding on Breakaway

2nd Period Summary

Time
Team
Scoring Detail
CBJ
NYR
9:47

Alexander Wennberg (12)
Assist: Oliver Bjorkstrand
3
1
Time
Team
Penalty Detail
No penalties this period

3rd Period Summary

Time
Team
Scoring Detail
CBJ
NYR
4:12

Cam Atkinson (29)
Assist: Brandon Dubinsky
4
1
19:36

Josh Anderson (14)
Assists: William Karlsson, Scott Hartnell
5
1
19:59

Jesper Fast (5)
Assists: Marc Staal, Oscar Lindberg
5
2
Time
Team
Penalty Detail
7:28

Mats Zuccarello: 2 Minutes for Tripping
15:02

Sergei Bobrovsky: 2 Minutes for Tripping (Served by Scott Hartnell)
Goaltending Summary
Columbus Blue Jackets Goaltending

Player
SA
GA
Saves
SV%
TOI
PIM
S. Bobrovsky
30
2
28
.933
60:00
2

New York Rangers Goaltending

Player
SA
GA
Saves
SV%
TOI
PIM
H. Lundqvist
26
5
21
.808
60:00
0
This game started off like most games whenever Hank gets excited like a new puppy. He wet himself on the first shot of the game. It was funny, before the game, Glenn Healy was talking about how Hank has given up 12 early goals this season and how he has to be on top of his game against the Blue Jackets. What happens? Savard bombs a shot, a minute into the game, and Wennberg easily deflected it by Hank. Those long goals have killed Hank all season. 1-0 CBJ, before the people could even settle into their seats.
Not to be outdone, Rick Nash, the other most polarizing Ranger, had to one-up Lundqvist. Nash was on a breakaway and akin to the game two games ago, was stopped with ease. It's really comical at this point. However, just like the game two games ago, after Nash was stopped on a breakaway, he came back to score. Three minutes after CBJ's goal, Vesey tossed Nash a perfect cross ice pass and Nash delivered. 1-1 and back to an even slate.
Seriously, are there two more players in the NHL, nevermind the Rangers, that are more Jekyll and Hyde than Rick Nash & Henrik Lundqvist? There is always a "BUT" with them. Nash scored tonight, BUT missed an easy breakaway. Lundqvist made a bunch of big saves in this game BUT looked lost & gave up easy goals. Every time you think either one of them is gonna turn the corner and be consistent for a while, they have a game like this and instantly remind you to not get your hopes up.
Nash's goal would be challenged for being offside by John Tortorella. I understand his call, because it was close. However, these offside challenges is going to cost a team a playoff series. You can just smell that coming, just like how I smelt that Lundqvist was gonna have a stinker tonight.
The line-up, which has remained the same for three games now, sans Lundqvist playing for Raanta tonight, saw Pirri get some offensive chances. He decided to Scott Norwood shit up. For a guy who started off hot, he sure as hell cooled down. Despite the game winner last night, the same can be said about Zibanejad, who missed some chances. While he did score two goals in his first game back, Zibanejad is missing the consistency he had prior to his injury. Let's hope he finds it.
Later on in the first period, Cam Atkinson was near the top of the circle, while on a powerplay. In a one on one situation from that far out, Hank was beat again. 2-1 CBJ.
The Rangers would have their PP's too. They would go 0-2 on the evening. Does that shock anyone? I've said it a million times, so instead of the long profane rant, I'll just say one word and you will know my feelings on this – GRABNER.
After another LOL PP, the Rangers got hit for a penalty shot when Zucc got called for holding Saad. Really? This was the same play from two or three games ago, I forget if it was Montreal or Toronto and really it doesn't matter, but this time CBJ got a penalty shot, where when it happened to Zucc, the Rangers got the finger and a worthless PP.
Anyway, Lundqvist made the stop on the penalty shot. He makes a stop like that and you're happy, but come the next period, he's flopping in and out of water in front of his own net!
The second period was a disaster. Despite only one goal being scored in the period, a goal for Columbus, the Rangers were a mess.
In typical panicky Lundqvist fashion, he was doing "The Worm" in front of the net and was stickless. Seriously, does any other goalie lose their stick more than Lundqvist? In Hank's case, I'm sure he would rather lose his stick than his hair.
With Lundqvist doing sloppy b-boy moves in front of his own net, Columbus had a wide open net to play with. Clendening, playing his third straight game for Kevin Klein, stopped a goal single-handedly. I mean, I know it's Oscar night, but Hank looked like he was in La La Land during this.
Then immediately after this, Hank came halfway out to the center line for some reason. Who knows what the fuck he's thinking at this point? This time, Nick Holden prevented a Columbus goal at an empty net. With Hank doing the Macarena and flailing around like a bitch, Columbus recovered as Hank got back to the net and Wennberg got his second easy goal of the game. 3-1 bad guys.
The Rangers offense kept trying and trying, but couldn't crack Bobrovsky. There were so many opportunities and big saves made by the Columbus goalie. Sometimes you just get beat by a better goalie, but for the most money in the league, it's supposed to be Lundqvist. He's human I get it, but he's been an average human this season.
Cam Atkinson would score 4 minutes into the third period, giving the CBJ a 4-1 cushion and essentially sealing the deal. Despite my hatred for Hank's contract, I still thought the Rangers had a chance. While they didn't come back and win, they didn't give up either. Bobrovsky was just that good. The Rangers fought. I thought McDonagh kicked ass out there. Zucc had a good look. Even down 4-1 with 15 minutes left in the game, the Rangers didn't lolly gag, for what it's worth.
Josh Anderson would poke one by Lundqvist with 30 seconds left in the game. With a second left in the game, Jesper Fast got a weird goal, pushing the score and the final to 5-2. Hey, give it up for that fourth line and Fast, they kept playing the full 60 minutes.
As usual, Lundqvist pissed me off after the game. From the Rangers official website, at https://www.nhl.com/rangers/news/rangers-fall-to-blue-jackets-5-2/c-287161928:
Lundqvist, who finished with 21 saves in his first regulation loss at The Garden since Jan. 25, said the game was won and lost in front of the net. Those struggles have been uncharacteristic of the Rangers as of late, who have held opponents to three goals or fewer in 10 of their last 11 games.

"The key is really in front in both ends," Lundqvist said. "That's where you win and lose this battle against this team. That's how they score their goals. They just win their battles in front of our net and they are pretty good in front of their own net. I think that's the difference. That's where you score a lot of goals."
Of course, the Rangers were 9-1-1 before this game. Of course, in a loss to a team that has owned this Swedish punk, it's everyone else's fault except his. These are his own words. Just like "I want a cup at all costs in NY" or "give me two goals and I got this." Of course, Hank followed up those statements by teasing FA & getting his coach fired before getting the most money in the NHL as a goalie. Of course Hank amended his silly goals allowed statement to "We gotta win the 3-2" games. He's just full of shit, but I guess some athletes are.
I really think that when Hank's career is over, and about a decade or so passes, you will hear ex-teammates of Hank call him an egotistical asshole. To this day, you never see him hanging out with anyone off ice, like you do with the other players. I do must mention, I did recently see one pic of Zucc & Hank somewhere & it wasn't a team mandated thing like "Casino Night". I really hope they bond, because the Rangers have a great history of dealing all of Zucc's best friends off this team!
In closing on this game, this loss isn't the end of the world, you  can't go too nuts, but Hank's performances against top Metro teams should alarm you.
The NHL trade deadline is March 1st. We're only several days away. Don't be fooled on social media, as you will see many fake accounts popping up left and right & reporting fake trades. Bob McKenzie is usually my go to source, because he's always accurate and has the best sources in the league.
Two big deals were announced during the Rangers game.
They were:
The Arizona Coyotes have traded Martin Hanzal and Ryan White to the Minnesota Wild for a 2017 first round pick, a 2018 second round pick, and a 2019 conditional pick.
The Lightning picked up Los Angeles goaltender Peter Budaj, 19-year-old defensive prospect Erik Cernak, a seventh-round pick in the 2017 draft and a conditional pick for 2017 that could turn into a second-rounder depending on how far LA goes in the playoffs. The Kings receive Ben Bishop and a fifth-round pick in the 2017 NHL Draft.
Obviously, two major things come out of this. The smaller of the two is that now Shane Doan is pissed off in Arizona, and has said so. Maybe he will end his 20 year run with the team, to get a shot to play in the playoffs.
The big story is Bishop going to LA, to start the "Bisquick" connection with the recently returned Jonathan Quick. While this trade doesn't make sense, and it looks like the Lightning stole this one, keep in mind that LA is in the playoff hunt, have 7 back-to-back's coming up and Bishop is a UFA after this season. LA gets an experienced starter, just in case anything happens with Quick and now have 2/3 of last year's Vezina candidates.  Goaltending should not be an issue for LA down the stretch.
The Rangers may make a move by the time I do my next blog. Who knows. Shattenkirk's name is out there, as we all know, and he is rejecting trades to other teams (EDM & TBL reportedly) but the price must be right for the Rangers to do the deal. Brian Boyle is another name you hear out there, but who knows what Gorton has up his sleeve?
The next few days in the NHL should be crazy with movement, especially with an expansion draft on schedule. Make sure to follow legit sources, or you will be like half the Ranger reporters, notably, Rick Carpiniello, who was reporting Hanzal/Duclair to the Penguins, after being fooled by a fake @PERGUINS twitter account.
The Rangers return Tuesday night with a mighty test against the first place Washington Capitals. If the Rangers won tonight, you really could've been talking about first place in the division. In either event, this should test the Rangers mettle and as a potential playoff opponent, the Rangers better bring their "A" game.
Only 3300 words. Sorry for not going too deep tonight, but I got "Walking Dead", "Homeland", "Crashing" and "Bar Rescue" to watch! At least it's still early. I love these 5PM games!
Oh – and I almost forgot, the Micheletti line of the game, "This PP has been getting better." Rangers are 0-21, in their last 21 tries, I believe now on the PP. That's our Joe!
See ya Tuesday.
As always,
LET'S GO RANGERS
Sean McCaffrey
BULLSMC@aol.com
@NYCTHEMIC on the tweeter machine