Note: This was originally written on 2/26/15. More bars will be added as they are built around M$G. Any bar suggestions? Shoot them this way!
---
Most NYR fans do not live near MSG. Most Ranger fans are commuting from somewhere. In my case, I commute from Long Island. I'm only a 40 minute train ride away from the "World's Most Famous Arena". If you're like me, you like to get to the game a little early, have some pregame drinks/eats and then walk into MSG.
I've been going to MSG my whole life. Whether it was my dad taking me as a kid to Ranger games, concerts or WWE events, or going as an adult to games/events today, going to MSG has always been a thrill. (I never was much for the Knicks, although I had the opportunity to see Michael Jordan play live three times. My fondest NBA at MSG memory was being there when Michael Jordan returned, dropped 55 on the Knicks and hit Bill Wennington for the game winning assist.)
I've seen it all at MSG, whether it be the Rangers in the preseason, the Rangers sucking, the Rangers blowing someone out (RARE), a random weeknight game in the winter or even a Stanley Cup playoff game, I have tons of MSG memories with the Blueshirts. I also can remember being there for tons of WWE PPV events, from Hogan to Austin to Cena, to even seeing REM at Garden.
However, before attending any of these events, in my adult years, I've always stopped somewhere before heading into the hallowed halls of the Garden. This blog will deal with some of the best and worst bars around MSG and hopefully gives you an insight on where to pregame before an event or game. I'm not here to give you stat-by-stat reviews like a restaurant reviewer or bar blogger, but these are just my thoughts and opinions on these watering holes.
I should note, I have been to more bars than I care to admit to and probably have forgotten a few along the way. For the purpose of this blog, I will be dealing with the top bars around MSG. So please don't contact me when I don't have any downtown or Times Square bars listed here. I'm keeping this within a 2-3 block walking radius from MSG.
(NOTE: 2/1/18: I'm sure new bars have opened in the three years since this was originally written. Feel free to give me suggestions!)
With that said, here's my list, in alphabetical order: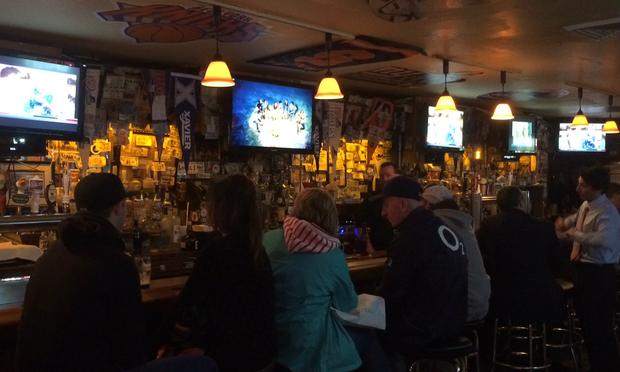 THE BLARNEY ROCK
BLARNEY ROCK
137 W. 33rd St. (between Broadway & 7th Ave.)
(212) 947-0825
The Blarney Rock has quickly become my favorite pregame spot. While it is pricier than a normal dive bar, it has that dive bar blue collar feel that you want. Maybe it's me, but I rather be drinking with guys in Ranger jerseys and hoodies than guys talking stocks, bonds and sushi in suits.
The TV situation are small screens plastered around the bar. You won't get the big TV's you get at other places, but this place suffices. It has that dorm room feel, with sports decals on the ceiling and jerseys on the walls. You also get a buy back, depending on how early you start there, which is a bonus in a NYC bar where you're not a regular.
For people like me, who have to break the seal, I enjoy the bathroom situation here, as the bathroom is on the same floor you're drinking on. Very often with these NYC bars, the bathrooms are downstairs, so you gotta stumble your ass back up after taking a leak. I guess that's cardio, but it's something I'm not interested in!
The food is good and affordable. You won't go broke at the Blarney Rock. There is also a nice awning outside, for the smokers, so you won't get soaked when it rains. With only a short walk from Penn Station, cold beers for good prices, you will always have a good time at the Blarney Rock.
Put Some South In Yo' Mouth
BROTHER JIMMY'S
416 Eighth Ave. (W. 31st St.)
(212) 967-7603
Brother Jimmy's is located right on the 31st & 8th ave corner of MSG. Brother Jimmy's is a chain restaurant, but they have some great deals. A few times that I've been in there, they were doing $1 Bud cans. Can't beat that for the money.
Brother Jimmy has a nice bar with all kind of specialty mixed drinks, which is great if you're bring your girlfriend/wife or if you don't drink like a man. If you want to eat, there is plenty of spacious seating. They have nice big TV's there by the bar, so that's a plus. What's not a plus, is walking up a spiral staircase to take a piss. If I'm in the zone, I don't want to be twisting and turning my kidneys to the bathroom!
The food is good, if you like the BBQ style, although they do have non-BBQ options.  The patrons are mixed from hardcore fans to tourists. This is not a true Ranger bar, as much as it is a place that is just close. If you choose to eat/drink here, you're literally across the street from MSG, so you can pound your last beer at 6:55 and still be in your seat before puck drops at 7. (Depending on how long those airport checkers at MSG take.)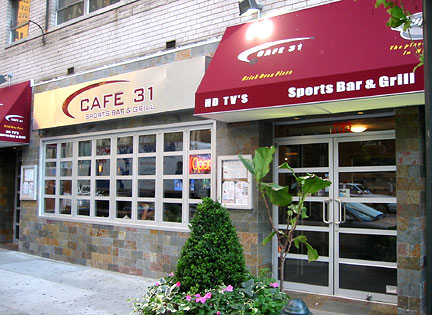 Tell Dino that Sean sent ya!
CAFE 31
220 W. 31st St. (between 7th & 8th Ave.)
(212) 695-5966
Cafe 31 was my go to spot for two seasons. It is the closest bar to MSG. If you enter MSG from the main entrance, go down the staircase and make a left, Cafe 31 is right there. That is a huge plus in the cold weather.
I used to go to Cafe 31 all the time because I had a good friend that bartended there. Even when she left, I still hit the place from time to time because it is a great spot. The manager Dino does a great job and makes the most of the space. While this place is smaller than some of the places on this list, they have great beer/drink specials (A bucket of domestics goes for $15) and the food is always good.
The place has an L shaped bar at the back of the house, with restaurant seating everywhere else. It can get hectic and crammed in here, because the place is small, for a NYC bar/restaurant, but people deal with it because it's moderately priced and everything is good. If there is a negative, due to the space, you don't have the giant screens you will find in other places.
Two huge pluses for me is that the bathroom is right next to the bar on the floor level and there is an awning outside, if you should choose to meddle with tobacco products. The guests is a mix, as you will have some hardcore fans, just as you will have some suit motherfuckers. However, at the end of the day, Cafe 31 is a homerun and is my old reliable.
You feile me?
FEILE
131 W. 33rd St. (bet. Sixth & Seventh Ave.)
(212) 695-1122
Gotta be honest with you. This is a place I need to visit again. I've been here twice and have had two horrible stories. The first time I was in here, some guy wearing one of those knock off Walmart Ranger jerseys, where one side is home and the other side is away, threw up right next to me, within 5 minutes of me walking in. Since the place was swamped, I still didn't get my beer. I immediately left and went to the Blarney Rock, which is two doors down.
The second time I was in there, there must've been something foo-foo on TV, as the place was full of suits. If you want to accuse me of stereotyping or being a "class-ist", that's fine, I've been called worse, but before a Ranger game, I want to drink with Ranger fans. I don't want to walk into a place where people are on laptops, talking about how the price of silver dropped or how Moishe Jr. is doing well with a Torah. I want that happy mellowness & excitement from people looking forward to the game like me.
I've had a beer at this joint, on my second go of this joint. I think it was $7 for a Coors Light, I could be wrong, it was so long ago. To be fair, I should hit this place up again. I can't even give you a bathroom review!
The Puck Stops Here
The Flying Puck
364 Seventh Ave. (30th St.)
(212) 736-5353
The Flying Puck is a bar dedicated to hockey and is a place you should visit at least once. Put the Puck on your "Pucket List." (Har, har, har.)
The Flying Puck is one of the more expensive bars on the list, because you're paying for the ambiance. I've hit the Puck before playoff games and let me tell you, it gets fucking swamped. Last year, the Rangers had the Flyers in the playoffs for a 12PM game and the Puck was packed with raging alcoholics (I say that in a good way, I'm one of them!) at 10am, slamming shots of Jameson & Labatt Blue.
There is limited table seating at the Puck, so this isn't really a good place to eat. The food, while ok, isn't as good as the other places on this list. It doesn't have to be. This is a pure hockey bar. They have the best TVs, just like Stout, and the place is always mobbed, wall-to-wall with Ranger fans. The bathroom is on the floor level, which is great, if you can deal with the lines that sometime rival the lines at MSG in between periods.
During the day of the game, you won't get chair seating at the bar because the place is too mobbed for it. Be prepared to stand at the Puck. However, if you want to be around a ton of hockey fanatics, this is the place for you.
Ready For Three Similar Bars?
HARRINGTON'S
370 Seventh Ave. (between 30th & 31st St.)
(212) 736-3636
MUSTANG HARRY'S
352 Seventh Ave. (bet. 29th & 30th St.)
(212) 268-8930
MUSTANG SALLY'S
324 Seventh Ave. (28th St.)
(212) 695-3806
I am grouping these three bars together because for some reason, I feel that all three of these bars are the same. They all have similar set-ups, all have first floor bathrooms, all priced the same, all have a similar menu and all have the same crowd. You will always get a mix of a few Ranger fans, locals and people popping in & out for a quick fix. There is nothing really that differentiates these three bars, which are all on the same block and a minute away from each other.
This is not to say that any of these bars are bad, because they are not. I've had good times in all three. However, there is nothing that makes these bars, "MUST VISIT", like the Flying Puck. It is not a pure Rangers pregame place, like Hudson Station.
You will always get a good meal and a drink at these three joints, but if you're looking to really pregame with other diehard fanatics, these aren't the bars. You will have Ranger fans in there, but the feel is low-key and quiet. It never gets crazy in these three places and it's a good place to take your family if you're looking for a bite. I hope the briefness and grouping of these three bars doesn't make you dismiss them, but you're not missing out either if you don't go to these places either.
The sky view of Hudson Station
HUDSON STATION
440 9th Ave. (W. 35th St.)
(212) 244-4406
This is a Rangers bar but you have to walk a bit to get there. This is where the Rangers clothing line, WEBLEEDBLUE.com usually hosts their shindigs. It is a spacious bar with tons of huge TVs. They also give you a free beer if you have a ticket for that night's game, so that's a reason to go alone.
I've never tried the food there, but my friend JEFFREY & my girlfriend have both eaten there and said the food was good. The beers are reasonably priced as well. As far as taking leak, you have to go downstairs which is what it is. However, for you technological mofos, there is a cell phone charging station next to the beer taps, if you need some juice on your Apple products.
I plan on checking out Hudson Station out again on Saturday, for the Rangers/Flyers game, as part of the WBB party. Hudson Station promotes the Rangers, has a great environment, is clean and is a fun place to grab a drink before a game. This is a bar you should definitely hit if you want to be around other Ranger fanatics. It won't get as loud and crazy as Blarney Rock, due to the gi-normous about of space, but you will have a good time.
The foods are fine!
JACK DOYLE'S
230 W. 35th St. (between 7th & 8th Ave.)
(212) 268-1255
Jack, like Hudson's, is another Rangers bar, designed for huge Ranger get together's. They host several Ranger events and have had ex-players host pre-game parties and away games. I believe they have Kevin Klein coming there to do an autograph session on a non-Ranger game day. They always have raffles and other contests going on. Jack's does a great job promoting the club.
The food at Jack's is pretty good, although you really go for the environment more than the eats. They have a ton of beers on tap, and that's all I care about. Plus, they have a bathroom on the floor level and an awning for the smokers. What more can you want?
Jack's is a great place to hit up before a game, although it can get swamped quick and get hot in there. In the dead of the winter, I was sweating my balls off in there. Maybe that's how they get you to purchase more cold beer!
In either event, Jack's is a place any Ranger fan should hit up.
A great playoff season bar
You hope to be here in June, with a Rangers jersey on!
LOCAL WEST
1 Penn Plaza (33rd St. on corner of 8th Ave.)
(212) 760-2700
LUCY's CANTINA ROYALE
1 Penn Plaza
(212) 643-1270
I'm grouping Local West & Lucy's together, because both these bars are right next door to each other. They both have the same set up and menu. Both are mini-rooftop bars and are great during those playoff months. The drinks & food are also moderately priced, which is great, based on the location.
These bars aren't pure Ranger bars, but a good place to go with your girlfriend or family. The bathroom situation, however, sucks, as you have to go all the way to the basement. That is not a fun trip when you're four levels up.
I wouldn't hit these bars up in the winter time, unless you were really craving Mexican food/the shits before a game. It's a great time when it's sunny outside and you're pounding Corona's roof-side. You wouldn't know the Rangers had a game during the winter months at these places, as most Ranger fans venture elsewhere.
The Molly Wee before opening for action
MOLLY WEE
402 Eighth Ave. (30th St.)
(212) 967-2627
For this generation of Ranger fans, the Molly Wee is probably most associated with Dancin' Larry as this is where he holds court. The Molly Wee is smaller than most of the bars on this list and will get crammed very fast. This is not a place you would want to eat at before a game, because you will be cross checking people like Jeff Beuekeboom, while people hover and spill their drinks by accident on your table.
This is a shoulder to shoulder, clanging elbows while hoisting 12 ouncers bar. However, if you want that pure Ranger fan environment, look no further. This bar supports the team, is all Ranger'd out and is a fun place to pregame. The beers are moderately priced, you get buy backs once in a while and the bathroom situation is peachy. The Molly Wee is a great dive and a great time.
Many Ranger fans call this place their favorite
STOUT NYC
133 W. 33rd St. (bet. Sixth & Seventh Ave.)
(212) 629-6191
Stout is one of the bigger bars on this list, with huge TVs, tons of beers (They probably have the biggest beer list around MSG) and great food. The bathroom is on the first floor, so that's a plus too!
Stout is in-between the Blarney Rock & Feile, but don't consider this bar the middle child. If anything, it's the feature. Stout is jammed before every Rangers game, but it is spacious enough to accommodate all the traffic.
I like going to Stout when other things are on. If the NFL is going on before a Rangers game, or say the Islanders are on early, Stout is the place to go with their giant ass TV's. You are only a block away from MSG, so you don't miss a thing. The food is always on-point and the beers are always ice-cold.
If you like the intimacy & closed quarters environment, Molly Wee or Blarney Rock does the job. If you want the big building feel with tons of action, even if it is priced higher than the other bars, Stout is for you. I would compare  Stout more to the Flying Puck, but Stout accommodates everyone and everything, where The Puck is really just drink like an animal with the rest of the young crowd.
I think you get the idea about this place
THIRSTY FAN
254 W. 31st St. (between Seventh & Eighth Ave.)
(212) 216-9355
The Thirsty fan is one of the newer Ranger bars in NYC and sits in the middle of Cafe 31 & Brother Jimmy's. I've only been here once. It is loud and spacious, and as the name suggests, is tailor-made for pregaming.
The food here is not great, as I once had an undercooked burger here and if you look at their Yelp reviews (Where I have been copying and pasting these addresses & phone numbers from) it seems I'm not the only one, as there are a lot of complaints about their food. However, if you want to be with other Ranger lunatics, this is the place for you.
I feel people don't talk about the Thirsty Fan as much as the other bars because it is not established. For the feel the Thirsty Fan has, it's more authentic and better at the Puck. If you want the food aspect, Stout has it on lock. It's not say that the Thirsty Fan is bad, it's just not on the level of the other bars it competes against.
The old reliable
TRACKS BAR & GRILLE
Penn Station Space #11, New York, NY 10001
I close this Rangers pregame bar blog with one of my favorites, good old Tracks.If you don't know, Tracks is in the corner of Penn Station, right next to the big board and adjacent to McDonald's.
I don't even know where to start. It is the longest bar in all of New York City and is usually manned by four bartenders at any given time. You never wait long. There is a dining area, separate from the bar, so you won't have the bar patrons spilling over into your meal, if you choose to dine.
You wouldn't think that a bar in Penn Station has good food, but to me, Tracks has the best food out of any bar on this list. The seafood, specifically the Oysters, are beyond amazing. Tracks also gives out buybacks on their beers, with special train tokens, that can be used for another time.
For a commuter like me, Tracks is perfect. Sure, I've missed several trains, as the 3:58 train, turned into the 4:42 train and that train turned into the 6:13 train and when I finally got home, it was 11PM. You can lose time in Tracks because the environment is great, the bartenders are always friendly, the place is reasonably priced and the beers are always cold.
While the place is indoors, which means if you want to smoke, you will have to go up the escalators out of Penn, it is a sacrifice worth making. Tracks is always there for you. While people may like to venture out and try new things, and I get that, at the end of the day, you always make it back to Tracks somehow.
For me, Tracks, which draws everyone from everywhere, is one of my favorite bars to ever go to. There's always something going on and I've never had a bad time in the hundreds of times I've been there. (Keep in mind, when I say 100's of times, I work a lot in NYC & live in LI, so I usually go there to kill time when waiting for a train. If you're a Long Islander, you are probably nodding your head right now.)
LGR
Where ever you choose to visit, please drink responsibly, tip your bartender and don't act like an asshole. No one wants to see two drunk assholes fighting over teams. Trust me, Rick Nash & John Tavares aren't fighting over your job, so there's no reason for a brawl before a Rangers/Islanders game. Chances are, you guys both like the Giants, the Jets, the Yankees, the Mets or whoever, and would be slapping hands during a different time of the year.
I may have left out some bars, some on purpose, some unintentional, but to me, these are the best bars to check out before a game. If you think I snubbed someone, feel free to write in and I will have no problem doing some BlueCollarBlueShirts.com bar recon!
LETS GO RANGERS!
IN CAM WE TRUST!
Sean McCaffrey
BULLSMC@aol.com
@NYCTHEMIC on the twitter gimmick