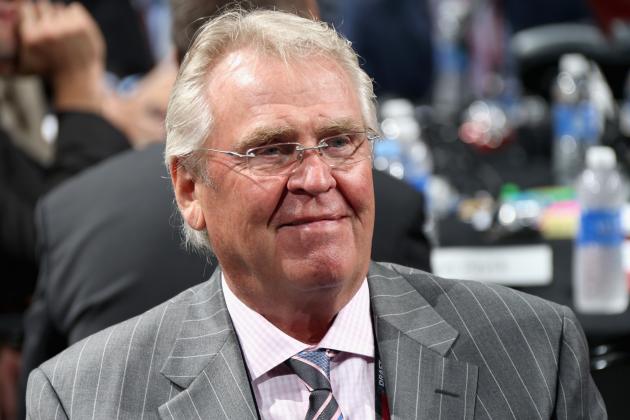 The man who will have a job for life because Dolan does not care about the Rangers
Welcome everyone to another blog here on DOINOW.com. As the 2014-2015 season still lingers in our minds, there is nothing we can do about it, but just think, "What if?"
If you haven't already, check out my 2014-2015 postseason blogs here:
New York Rangers 2015 Post-Season Report Card
I will have other blogs coming, as we wrap up this season and look forward to the future.
With the season over for the Rangers, the beginning of the 2015-2016 season begins for the club. Who will still be here? Who's a goner? Who's questionable?
Before getting into the meat and potatoes of this blog, here is the 2014-2015 NY Rangers squad and their contracts. Keep in mind, the salary cap was $69 million for this season. The cap is expected to raise a bit for the 2015-2016 season, but early reports are saying it won't increase much, due to the strength of the Canadian dollar.
This contract/player breakdown is courtesy of http://www.spotrac.com/nhl/new-york-rangers/
Check their site out, it's really useful for breaking down the worth of a player. It sucks that we have to do this, as I feel we talk alot about contracts, sometimes even more so than productivity on the ice, but that's what happens when you have a strict financial salary cap.
(For those reading this on a phone, now would be the time to flip the phone horizontal, for this chart.)
PLAYER/POSITION/AGE/SERVICE TIME/CONTRACT/AVG. SALARY/EXPIRATION
Rick Nash
LW
30
11

8 yr

$62,400,000

$7,800,000

2018
Henrik Lundqvist
G
33
9

7 yr

$59,500,000

$8,500,000

2021
Marc Staal
D
28
7

6 yr

$34,200,000

$5,700,000

2021
Dan Girardi
D
31
8

6 yr

$33,000,000

$5,500,000

2020
Ryan McDonagh
D
25
4

6 yr

$28,200,000

$4,700,000

2019
Keith Yandle
D
28
8

5 yr

$26,500,000

$5,300,000

2016
Derick Brassard
C
27
7

5 yr

$25,000,000

$5,000,000

2019
Martin St. Louis
RW
39
15

4 yr

$22,500,000

$5,625,000

2015
Marc Staal
D
28
7

5 yr

$19,875,000

$3,975,000

2015
Mats Zuccarello-Aasen
RW
27
4

4 yr

$18,000,000

$4,500,000

2019
Kevin Klein
D
30
9

5 yr

$14,500,000

$2,900,000

2018
Dan Boyle
D
38
15

2 yr

$9,000,000

$4,500,000

2016
Kevin Hayes
C
23

2 yr

$7,680,000

$3,840,000

2016
Derek Stepan
C
24
4

2 yr

$6,150,000

$3,075,000

2015
Chris Kreider
LW
24
2

2 yr

$4,950,000

$2,475,000

2016
Carl Hagelin
LW
26
3

2 yr

$4,500,000

$2,250,000

2015
Tanner Glass
LW
31
7

3 yr

$4,350,000

$1,450,000

2017
Mats Zuccarello-Aasen
RW
27
4

1 yr

$3,500,000

$3,500,000

–
Dominic Moore
C
34
9

2 yr

$3,000,000

$1,500,000

2016
J.T. Miller
RW
22
2

3 yr

$2,775,000

$925,000

2015
Jesper Fast
RW
23
1

3 yr

$2,415,000

$805,000

2015
Cameron Talbot
G
27
1

1 yr

$1,450,000

$1,450,000

2016
James Sheppard
C
27
5

1 yr

$1,300,000

$1,300,000

2015
Chris Summers
D
27

2 yr

$1,200,000

$600,000

2016
Cameron Talbot
G
27
1

2 yr

$1,125,000

$562,500

–
Matt Hunwick
D
30
7

1 yr

$600,000

$600,000

2015
NOTES: Keep in mind Zuccarrello re-signed with the Rangers for four more years at the trade deadline. Cam Talbot also re-signed with the team before the Lundqvist injury. Staal also re-upped with the team.  Both this year's and next year's contracts are listed above.  Arizona also covers half of Keith Yandle's contract, due to terms of the trade.
We will break down the potential 2015-2016 roster one-by-one in three categories. AUTOMATICS, MAYBE'S AND GONERS. After those categories, we will look at potential call-ups & free agency.
The Captain isn't going anywhere
AUTOMATIC 2015-2016 ROSTER MEMBERS:
Dan Boyle- with $4.5 million for another season on the books, Boyle is going to be hard to trade. Who will take his contract after the regular season he had? In his defense, he was one of the more productive Rangers offensively, during the playoffs. Still, he is grossly overpaid and every time you see Stralman in these next two weeks, you will want to go nuts. Boyle won't be here because he's the best fit for the team, but because no one else would deal for that contract.
Derick Brassard- Brass is locked up til 2019 and was arguably the best Ranger skater of the playoffs. He isn't going anywhere. It's great to have a guy like this locked up in his prime.
Jesper Fast- Fast's deal has now expired. With the way he finished the regular season and the way he handled himself in the playoffs, Sather would be an idiot to let him go. He's due for a raise though and money is an issue for these cap-hell Rangers.
Dan Girardi- DG is locked up til 2020. Some will argue that he's a tad overpaid. Again, when you compare his numbers and what he does on the ice with other defensemen, maybe he is getting too much. Fuck the salary cap, ugh! Still, DG has been a warrior for this team and one of the better defensemen in the league.
Kevin Hayes – he's here for one more year under his rookie deal. There should be some consideration to re-sign him before he can become a free agent next summer.
Chris Kreider- Can you believe that he's still only 24 years old? Like Hayes, his deal expires next summer. Lock him up now.
Henrik Lundqvist – only in my wildest dreams will he be out of here. The worst contract in the NHL, by far. Put it this way, how many top 5 salaried goalies have ever won a cup? 0! Would any other team trade for an aging goalie's contract? NO. Look at people making the same money as him. Would Chicago give up Kane or Toews for Hank? NO. Would Washington give up Ovi for Hank? NO. THE WORST CONTRACT IN THE SALARY CAP NHL, BY FAR!
This always comes to mind when I see the Lundqvist deal, trading draft picks, Boyle/Stralman, etc
Ryan McDonagh- the captain will at least remain captain until 2019, barring any injury or significant drop-off in play.
JT Miller- his contract is now expired. No way the Rangers let him test the waters. The Rangers rookies (Miller/Hayes/Fast) should all be productive players for this team for some time.
Dominic Moore – a very team-friendly deal for what you get out of Moore. 2016 could be his last season here, if the Rangers don't win the cup. He's not getting any younger.
Rick Nash- he's here until 2018. I'm reading all these wild rumors now. Nash for Oshie. Nash for Malkin. Bottom line, no one is trading for Rick Nash's contract. If Lundqvist's deal is the worst in hockey, Nash's is a close second. The Rangers can't even trade Nash and eat some of his salary in a trade because there is no money to do that.
Marc Staal – the lockdown defender is locked down here for 6 more years. He will bleed blue forever.
Derek Stepan – his deal just expired. He is the #1 priority of the off-season. I don't think he wants to go anywhere else. He's been a Ranger his whole life and has produced his entire career. He is due for a big raise, but the money is there to give it to him. If Sather lets him walk, then Isiah Thomas needs to be the new GM.
Chris Summers- he won't be on the Rangers to start, but at $600,000 the Rangers will keep him in Hartford, just in case.
Keith Yandle – his deal expires next season. He is definitely staying here, because he's a bargain with Arizona taking on half his salary. He is going to be a major question mark, this time next season. All depends on how he produces with a full year under AV. I thought he got much better offensively as he got comfortable but his defense was atrocious at times.
Mats Zuccarello- just re-signed at the deadline. Let's hope he is healthy come puck drop in October.
The biggest Rangers trade-bait of the season
MAYBE 2015-2016 ROSTER MEMBERS:
Tanner Glass- Glass is here for two more years, but could be packaged and traded elsewhere. He didn't do much of anything in the regular season and was basically horrible all year. He was better in the playoffs, defensively. I don't know what you can get for him, but if you can get his contract off the books, it would be a huge plus.
Carl Hagelin- to me, Hagelin is an automatic no-brainer to re-sign. However Hagelin is due for a huge pay raise. He should be getting Zuccarello money. Can Sather find that money in the budget? I don't see why Hagelin should cut the Rangers a hometown deal, when his hypocrite country-man, Henrik Lundqvist, wouldn't. Hagelin might be too expensive just because of how much cap Lundqvist is eating. I'll tell you this, Hagelin does not want to leave. His best friends are here, he loves NY and loves this team. I see Hagelin back, but it won't be as slam dunk as the Stepan negotiations.
Kevin Klein- the broken arm injury Klein suffered changed his season. He was having a career year, point wise, before it. The Del Zaster for Klein swap was one of the best trades Sather ever made, not the best, (McDonagh/MTL deal was first), but it's up there.
Klein gets $3 million a year for 3 more years. I just don't know if he will be a cap victim, with cheaper defensemen on the Wolfpack. For this season, Yandle is cheaper than Klein, due to Arizona covering the money.  I hope Klein is a Ranger next season, but it isn't guaranteed.
Martin St. Louis- this is a tough one. I don't think Marty wants to retire, nor leave the league after that horrible playoff performance. However, everyone knows he's not getting $5.6M a season again, including himself.
Here's the deal – he lives in Connecticut and raises his family here. He loves the organization and living here. He's a free agent. He's not going to a west coast team. Could the Devils or Islanders be an option? I suppose, but the Devils just cut bait on a similar and better player in Jagr and the Islanders have cap issues of their own. If Marty would take the veteran minimum, I can see him staying.
Marty is a great influence on this team. You hear guys like Zucc, Hayes and Miller talk about how MSL has helped their game. His future is definitely in coaching, I mean he groomed Stamkos as well. He knows how to be a positive influence on young players.
I think Marty could retire and take a job with the Wolfpack tomorrow. However, I think as a premiere athlete, he's not going to want to leave like this. I think he will work with the Rangers on a deal. I think a veteran minimum or anywhere up to $1M a season, with a NTC (Since he wants to live here) is fair.
Cam Talbot- Oh man, where to begin? We all know I'm the biggest Talbot fan in the world. Here's my realistic take. You don't deal him. After all, Hank has shown you he can't win a cup. No team would deal for Hank anyway, so we're stuck with him, because everyone refuses to ignore the fact that he is overpaid and overrated.
Aside from the Tampa series, where Hank was giving up touchdowns left and right and was outdueled in a Game 7 by the almighty Ben Bishop, Hank played strong in the playoffs. He was their best player on the ice. Could part of that reason be because Hank missed 25+ games with the neck injury?
The window on Hank is closing. He's getting older. His skills are regressing. Shots that he usually saved are softly going by him. It's time to rest him a bit more often, during the season, for the playoff run. You will need a back-up goalie that doesn't scare you to do that. Cam Talbot is that guy.
There is no question – the Rangers MUST and SHOULD be a playoff team next year. Why put in a weaker back-up goalie if Hank is your guy?
Talbot is most likely gone in 2016 because everyone thinks the Cupless King Nothing is so great, despite never winning a cup and no long-term contract over the age of 30 ever working out for a team. However, I'd hold on to him for this year. He must've thought he needed another year under Allaire too, or else he would've waited to become a free agent. Unfortunately for him, his timing was wrong, as he would've commanded big bucks this year, if he didn't sign his contract before the unpredictable Lundqvist injury.
Stephen Valliquette, Hank's ex-teammate/back-up goalie/current MSG analyst told me this, when I asked him about Talbot. Basically Vally said that it's an unwritten gentleman's agreement, between player & GM, that if a goalie can start somewhere else, you deal him. If Vally is right, then Talbot is gone. I don't know what you can get for Talbot though. You're not getting a great draft pick. Plus, even if you got a draft pick, Sather would trade it for the second coming of Bobby Holik, as a Ranger, anyway. There is no money to really make a big trade either.
Talbot is a steal for next season. Will he become pissed off that he's not starting? Who knows?
I generally think Talbot is better for this team as a whole than Hank. Just imagine getting Hank's horrible contract off the books. That's $8.5M to spend on the offense. Talbot can do the job. Plus, even the weaker goalies in the playoffs, or the ones grossly underpaid, compared to Lundqvist, are winning. Was Fleury or Holtby that bad? No. Bishop outplayed Hank. I mean is Crawford that great? He's in the Stanley Cup for the third freaking time.
I also think the team plays better in front of Talbot for whatever reason. Hank supporters will say because the team needs to protect the net more and they rely on Hank too much. Well if the goalie is the highest paid in the world, then shouldn't we rely on the goalie, if he's burying the team in press conferences for not scoring?
I think there is a better synergy with Talbot. It's no secret he hangs out with Captain Ryan McDonagh all the time. You see Talbot hanging with the guys. You don't see Lundqvist hanging out with his teammates socially. I just think Talbot really is the better solution for this team, for the cap, thus giving us the best chance at the cup. Hank has been great, he's a Hall of Famer, but he's also a Patrick Ewing. We gave it 10 years. Time to move on.
That being said, I'm not the GM and I can see Talbot winding up in Arizona, Buffalo, Dallas or Edmonton. Please, anywhere but the Islanders. My head would explode like pouring water on a cartoon robot if Talbot was wearing a fish stick jersey. If Talbot has to be dealt, and really, it's up to him, as he's going to talk to Sather and let him know if he's happy being on the bench for another year, I hope it's to Arizona. I would laugh so hard in Hank's overpaid face and into the cigar face of Glen Sather, if Talbot & Duclair win a Cup before Hank.
Add caption
GONERS, with no chance of being a 2015-2016 ROSTER MEMBER:
Matt Hunwick- His deal is up. At $600,000 a year, he was a bargain this season. He will get more elsewhere. The Rangers have a logjam and guys who will be here for years at defense. He would be 7th at best, on the depth chart next season. With Skjei in the wings and Summers under contract, Hunwick has no future with this team.
James Sheppard- only dealt for salary cap reasons, Sheppard will be elsewhere and perhaps making a bit more money. The Rangers have some decisions to make at the center position and Sheppard won't be one of them.
The Wolfpack has produced some great players for the Rangers
CALL-UPS/FREE AGENCY
There are two players that look like they should get ice-time with the Rangers next year. Those players are Brady Skjei (D) and Oscar Lindberg (C). Both are cheap and could be NHL ready, come the playoff push next year.
I don't think McIlrath will ever be a significant NHL player, despite his few games with the Rangers the last two years. He can fight and be the enforcer the Rangers need, but he is also a huge liability on the ice.
If Talbot is dealt, Skapski or Halverson are the likely heirs to the back-up goalie position. Skapski may never play for the Rangers again, as the smart money is on Halverson.
Bourque, Allen and Haggerty are all options for the Rangers next year, but really would have no role on this veteran team and with an established core.
As far as free agents, the most interesting player could be Brad Richards. He never wanted to leave, but was a salary cap/amnesty victim. The Rangers really did miss him in the playoffs. He has always been a big playoff player, has size and the Rangers really missed him at the center position this year. I always thought he would come back, after signing a one year deal with Chicago, but if the Blackhawks win the Cup, why wouldn't he take the veterans minimum to stay there and win again? He does love the Rangers, the fans love him and he left on great terms, but at his age, it's about winning Cups. If the Hawks do it, that's probably his best option.
Carl Soderberg, a center from the Bruins will also be available. He got $1M this season, but due for a raise. I don't know if he fits into the Rangers cap, but the Rangers need a true center, more than anything this season.
Mike Ribeiro at 35 years old, could be an interesting fit, but it doesn't seem like he wants to leave Nashville. He would be a veteran center the Rangers could use, especially if Lindberg doesn't work out.
Anders Lee, a RFA, would be an interesting player to add to the fold, but I can't see the Islanders letting him go.
What it's all about
As the Rangers approach their 90th year in existence, one thing is for sure, a Cup needs to be won sooner than later. The Rangers have been one of the most successful teams, as far as making the playoffs, but one of the least in winning the Stanley Cup. These last four years have been tough. From watching them lose an ECF to the rival NJ Devils, to the crushing and whooping they took in Boston, to the Cup loss last year and to me, the most brutal loss of them all, losing to Tampa in 7 of the ECF, the Rangers have been knocking, but haven't been able storm right in and hoist the Cup.
Glen Sather will have a job until he dies, since Dolan doesn't care about the Rangers like he does with his Knicks and ripping off people with Cablevision. I think Sather has been better in recent years, because for every bad move we can rattle off (Giving up picks in MSL deal, Yandle, D. Boyle, Not keeping Stralman), we can also name some great ones (McD, Klein, Brassard, Zucc, Coach AV). You could argue he's been a better GM since the cap era, than he was before it.
These next four months of no Ranger hockey will be brutal for all of us. I'm still trying to accept the Game 7 loss and it won't really hit me and make me upset even more, until I see either Brad Richards or Ryan Callahan hoisting the Stanley Cup.
Once again, thanks for keeping it here on DOINOW.com during the season and the off-season.
A few more big off-season blogs are coming up:
– The Henrik Lundqvist Saga
– Death of MSG
– The Frank Boucher Rafter Petition
and much more.
Thanks for reading, and always…
LET'S GO RANGERS
Sean McCaffrey
BULLSMC@aol.com
@NYCTHEMIC on twitter