What's up everyone and welcome to another blog here on BlueCollarBlueShirts.com. Based on the emails, tweets and even that one Pony Express I've received (Relax, I made up the Pony Express thing!) this blog is reaching new readers. To all – thanks for reading.
For the new readers – make sure to check out the archives located on the right hand of the site, where you can go back and read past blogs. When doing these manifestos (I'm not aware of any other Rangers blogger that averages 5000+ words after a game, for better or for worse!) I hate to reiterate myself and say the same stuff I've already said.  There are plenty of "one-subject" blogs that I've done too, to really paint a picture on a topic. To the old readers who have stuck with me, thanks for your patronage, and let's get rolling.
The Rangers lost to the Philadelphia Flyers, 2-0, on Wednesday night at MSG. The starting goalie for the Rangers was Henrik Lundqvist. In a rarity for this blog, I can't blame the Swedish meatball for the loss. If you're looking for a bottom line on this game, the Rangers just lost one of those types of games that are inevitable. The NHL season is a long 82 game grind with many peaks and valleys. You can't win them all and once in a while, you'll just lose a game like this. Fortunately for the Rangers, this hasn't happened often.
The story of tonight's game was Flyers goaltender Steve Mason. Mason, when healthy, is really a dark horse goalie in the NHL. He's been great when healthy, it's just that he hasn't had many long stretches of being 100% in recent times. Tonight, Mason was as healthy as a Triple Crown horse, and had one of those ESPN SportsCenter type of games, if ESPN SportsCenter would actually cover hockey.
Mason's more expensive counterpart, Henrik Lundqvist, was Henrik Lundqvist tonight. While Henrik Lundqvist vs Henrik Lundswiss has been quite the battle this year, (Think Steve Urkel vs Stefan Urquelle. Yes, this is a 1990's "Family Matters" reference, so enjoy it!) the good Lundqvist showed up. I've talked aplenty about the Jekyll and Hyde play of Lundqvist this season, but tonight he looked well.
As I've been saying during the Rangers three game win streak, right after Lundswiss stunk the joint out against Dallas & Montreal, the Rangers have emphasized their defensive play. They are blocking shots. They are getting back. They are preventing high quality shots. They are laying bodies. The Rangers defense really deserves credit for these three recent wins.
Tonight, the Rangers defense showed up again and played well. However, unlike the other three games, the Rangers offense also played well. Now I know what you're saying. How did the Rangers offense play well when they got shut-out? Quite simply, Steve Mason was just the best player on the ice tonight. The second best player on the ice was his goal post, which made 3 saves. (Good enough for 50% off Papa John's, the official sponsor of Sam Rosen's dignity!)
In my opinion, the only aspect of the Rangers game that you could really trash tonight, was their anemic power play. The power play has been terrible recently.
I've talked about how the Rangers are playing like they are the Rangers from the Tortorella era, ever since they have focused on their defense, the result of Lundswiss having his lunch handed to him in 2017. The trade off for low scoring games under Tortorella was a horrible power play. Seriously, I was having flashbacks to 2013, when the Rangers had that series with Boston, where they went something like 2-39 on the power play during the series.
While the Rangers may have played their best complete game of the season, as both the offense, defense and goalie were good, the power play cost them a chance at two points and it is something that needs work. Again, the NHL season is pretty much worthless as the games and tone of the game really changes in the playoffs. The NHL season is just practice for when the games really start to get fire. The Rangers need to master this PP for the playoffs. A power play goal could be all the difference in getting a win or a loss in a playoff game.
Couple of notes before getting into the meat of this blog:
As mentioned in my last blog, Staal, Fast & Hayes remain scratches. Of the three, I think the Rangers have missed Kevin Hayes the most. He's done a good job on his line and getting to the net this season. Does he get to the net tonight and create offense? Who knows.
Raanta is still skating and should be back after the All-Star break. It should be interesting how AV chooses who starts when. As I've always said, Lundqvist needs to play the tougher teams, especially now, with a ton of Metropolitan division games coming up. Having Raanta play all the top teams while Hank beasts on bad teams doesn't do anything to help Hank come playoff time. He needs the practice against playoff teams now.
Hank has been good these last four games. Worth mentioning – none of these four teams he's beaten are a playoff team. (Toronto is now, but wasn't when he beat them.) Also, he beat two rookie back-up goalies. When faced against a solid goalie, he took the loss. That said, I don't blame him for the L tonight.
NHL on NBC got rid of that stupid shift clock thing they had on Sunday. Let that go the way of the Fox glow puck. I hate to sound like Phil Mushnick here, but less is more. Hockey is a fast enough sport where you can miss things even when focused intently on the TV. I don't need a million graphics to clutter shit up.
Being an NBC game, the game started an hour later than usual. Tough for the working crowd. On the bright side, I needed a break from Sam & Joe after that terrible broadcast they had on Monday night. I do wish we could get a MSG post game show with Vally, Duguay & crew, but I guess it's not cost effective.
While I like to slam Pierre McGuire as much as the next guy, he wasn't as unbearable as he usually is. I blame Joe Micheletti for that.
I still will never get why NBC promotes Wednesday as something to hate. Doesn't seem like the best marketing strategy. As I said many moons ago, imagine if NBC treated their NHL TV contract the way networks treat their NFL deals? Imagine if Wednesday night was really hockey night in the USA? That means NBC, not NBCSN on channel 7482874387734783. I'm talking about Channel 4 (or at least it's Channel 4 here in NY.) For the money NBC invests, wouldn't a live sporting event garner more ad money & ratings than a "Law & Order SVU" repeat? I really think NBC dropped the ball with their contract. If I was running the network, I would've tried to build Wednesday night as Hockey Night in America, the way the NFL owns Sunday.
Here's the official box score from tonight, courtesy of ESPN.com:
1st Period Summary

Time
Team
Scoring Detail
PHI
NYR
No scoring this period
0
0
Time
Team
Penalty Detail
No penalties this period

2nd Period Summary

Time
Team
Scoring Detail
PHI
NYR
No scoring this period
0
0
Time
Team
Penalty Detail
1:49

Michael Raffl: 2 Minutes for Interference
9:59

Andrew MacDonald: 2 Minutes for Tripping

3rd Period Summary

Time
Team
Scoring Detail
PHI
NYR
6:09

Wayne Simmonds (20) (Power Play)
Assists: Brayden Schenn, Jakub Voracek
1
0
9:45

Jakub Voracek (14)
Assists: Sean Couturier, Claude Giroux
2
0
Time
Team
Penalty Detail
5:35

Matt Puempel: 2 Minutes for Tripping
7:14

Claude Giroux: 2 Minutes for Tripping
13:59

Mats Zuccarello: 2 Minutes for Interference
19:19

Ryan McDonagh: 2 Minutes for Tripping
Goaltending Summary
Philadelphia Flyers Goaltending

Player
SA
GA
Saves
SV%
TOI
PIM
S. Mason
34
0
34
1.000
59:51
0

New York Rangers Goaltending

Player
SA
GA
Saves
SV%
TOI
PIM
H. Lundqvist
26
2
24
.923
57:51
0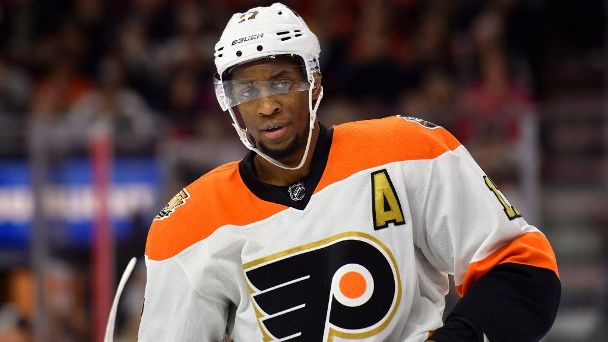 Even with my Ranger fandom, this was a great hockey game to watch, despite the final score. During this recent stretch of games, we saw an ugly 1-0 OT win in Detroit. That game sucked and was a snoozer. I talked about some of my favorite 1-0 OT games I've seen in person, one being the 1-0 win in Chicago this season and a 1-0 OT win where Dan Girardi beat Nabby & the Islanders seasons ago.
After 40 minutes, this game was deadlocked at 0-0. It was a great and exciting 0-0 game. I thought the Rangers defense played amazing. The Flyers defense wasn't as good, but they played much better in the third period. While they gave up 16 shots in the first and 11 shots in the second, the Flyers defense gave up only 7 shots in the third period. Conversely, the Rangers held the Flyers to 8 shots a piece in the first and second periods. The Flyers would fire 10 shots in the third period.
The Rangers, after blocking a ton of shots the last two games, blocked 8 tonight. The Rangers were blocking nearly 50% of shots that Lundqvist faced over the last two games, where they only blocked a little under 25% of the shots Lundqvist faced tonight. Just a stat to keep an eye on, as the season progresses.
The Rangers absolutely dominated the first period, but just couldn't find twine. Story of the game really. As I said at the top, for the first time during these last four games, the Rangers offense matched the hard work of their defense. A very blue collar game for the Blueshirts.
Unfortunately for Ranger fans, Steve Mason had a highlight reel of a game, with a little help from his post friend. Mason got help from the post/crossbar on three occasions, with the biggest help coming from a Michael Grabner breakaway that hit a crossbar in the first period.
However, you have to give credit where credit is due, and Mason was phenomenal. Lundqvist was good too, but Mason faced more shots and more high quality shots at that too. How ironic is it that Donald Trump isn't even President for a week and Lundqvist & Mason have both turned into walls?
During one odd man rush, Pavel Buchnevich fed Rick Nash with a perfect pass. Nash went to slam it home, but Mason was there. Eddie O. had a funny line saying, "Mason just stopped a great regular season scorer." BURRRRRRRRRN!
Mason would stop two other Nash attempts, that looked like it could've went either way. Oh and while on Buchnevich, you can see he's starting to find his groove too. He made some great passes tonight, but Mason was the difference.
JT Miller & Zuccarello, who have brought you the last two game winning goals, had an exchange where they almost had another. This play was the best opportunity the Rangers had at scoring an easy one, as Mason dove too far to the right, Miller tried to feed Zucc, but Shayne Gostisbehere helped his goalie out. In fact, Mason was a thorn in Zucc's side all night, even from the opening seconds. Zucc made a picture perfect pass to Ryan McDonagh for an easy tip in, but the puck didn't find the back of the net.
The Rangers had multiple scoring opportunities and good looks at that, but every time, Steve Mason was able to deny the Rangers. I thought the Rangers showed effort on both sides of the puck, but just ran into a hot goalie.
After 40 action-packed minutes, where I'm sure Steve Mason had some brown in his shorts after some of those saves, the Flyers puck-lucked themselves into a win. The worst part about this was that Mike Milbury predicted this could happen during the second intermission. If the Rangers stole the game against LA, their fortunes were reversed tonight.
Also, while on the intermission breaks, the great Bob McKenzie had a segment talking about what the Rangers want to do before the trade deadline. As Ranger fans, we've all heard the Shattenkirk stuff. In my fantasy world, the Rangers trade Lundqvist (St. Louis is having goalie issues) for Shattenkirk. The contracts are comparable and both teams win. McKenzie basically said what I've been saying all along – the Rangers don't want to break up their offense and don't want to sacrifice their future for a rental. Plus, a long-term Shattenkirk deal may not be the wisest decision. See Exhibit A & Exhibit B, also known as Girardi & Staal. If you weren't going to keep Yandle and before him, Anton Stralman, are you really going to overpay Shattenkirk until he's 35?
As McKenzie pointed out, and as we all know, Senile Sather has mortgaged the future time and time again by trading every draft pick known to man. What McKenzie didn't mention is the horseshoe in the Rangers ass. Kevin Hayes came from Chicago and was NHL ready. That replaces a first round pick. Jimmy Vesey was hand-delivered, essentially with help from Kevin Hayes. That replaces a first round pick. The commie decided to come to America and leave Putin. That replaces a first round pick.  Moving forward, you can't expect to have these types of players fall into your lap. It's hard to trade all your draft picks to get what could be a rental in Shattenkirk. With the horrible salary cap in the NHL, cheap productive first round picks are a luxury to have. It's what the Rangers have with Brady Skjei right now.
Really just think about it – if Hank was to waive his NMC, Shattenkirk for Lundqvist is a trade that helps both teams. I know it won't happen, but a boy could dream!
Back to the game at hand.
The Flyers broke the scoreless affair, six minutes into the third period, a power play goal from Rangers Killer Wayne Simmonds. As I said on social media, when you think of athletes that have been NY sport team killers, Simmonds is up there. While I think David Ortiz is the biggest NY sports killer ever (If you don't count Michael Jordan, who just killed everyone), Wayne Simmonds joins such "luminaries" as Reggie Miller, Chuck Finley and Henrik Lundqvist! (Couldn't resist!)
The Simmonds goal was just one of those hard working goals. Everyone was crowded around the net. A puck went off Grabner. Simmonds got it and easily shoveled it past Lundqvist. For me to say this isn't Hank's fault should mean something! An effective PP will get goals like this when they work. It happens.
The Flyers would get the insurance goal four minutes later, as Jakub Voracek got credit for a goal. Grabner was involved again. In an another fracas in front of Lundqvist, Voracek got the puck and slowly put it towards net. Kevin Klein was right there, but seemed stuck in a freeze-frame moment. In reality, he should've prevented it. We've seen him do it before. It sucks for Klein too, because he was having a good game, even breaking up a Philly odd-man rush earlier in the game. I hate seeing the Rangers social media fans dumping on Klein, so I hated seeing this play. That said, he should've prevented this goal.
Lundqvist was dealing with traffic to his left and the puck, in one of those slow motion moments, just crossed the goal line. It's funny, Ranger fans were blaming Grabner for giving the Flyers a goal and an assist tonight. I was kinda hoping he would smack Lundqvist around and get the Gordie Howe Hat Trick!
Down 2-0, the Rangers had their chances, but Mason was there. Even with Lundqvist pulled, the Rangers couldn't do much 6 vs 5 and the 6 vs 5 was eventually negated after Ryan McDonagh was nabbed for tripping. The only good thing about the 6 vs 5 was Doc Emrick calling the action like he was calling a Triple Crown horse race. I'm sure long time horse racing fan Eddie O. appreciated it.
2-0 Flyers was the final score. Another rough one at MSG. The home ice hasn't been that great for the Rangers this season. Listen, we all know win or lose, we all want the Rangers to win. However, for a night out at M$G, I rather save my money to see the team on the road for several reasons. I love traveling. I love seeing how other people live. I love seeing historic landmarks. I love trying out new types of beers. I love seeing new dive bars. And most of all – I love seeing the Rangers win!
After every loss, fans will look for a scapegoat. If you're looking for something to blame tonight, look no further than the Rangers power play. It's 0-13 in their last 13 attempts in 4 games. Some of the PP's are just dreadful. Sometimes you play well, execute but the goalie is just on point. While Mason was on point tonight, the Rangers PP just didn't test him. The Rangers played better 5 vs 5 than they did 5 vs 4. During these last four games, it seems the other team is averaging a short handed breakaway during every NYR PP.
Special teams always have their droughts. I don't have the answer how to fix it. I mean, the last time the Rangers PP was effective all season was during the days of Brian Leetch. The Rangers have to get out of this slump. The Rangers had two PP's before the Flyers first goal of the game and another PP when it was 1-0. A goal during any of those PP's changes this game.
What I did not like, was as usual, Lundqvist doing the "We, we, we" shit after a loss, as he blamed the team for coming up short. He never credits the team when he wins. The whole Hank gets all the credit after a win, but no blame after a loss, is a tired tune from King Contract. Granted, you can't blame Lundqvist for this loss, you gotta blame the Rangers PP. That said, Steve Mason was the best goalie on ice tonight.
For the Rangers, they now have another 5 days off for the All-Star break. They have more time off this season than a college kid. All these breaks are ill-timed, as to make up for all the time off, the NHL schedule makers jam all these back-to-backs into the schedule. So much for NHL player safety!
The Rangers schedule after the break will feature a lot of Metropolitan teams. However, their immediate schedule isn't that bad. They will have a tough game when they return, as they host the Columbus Blue Jackets. After that, it's a bunch of non-playoff teams like the Flames, the Sabres and the Avalanche. The toughest stretch starts on 2/13, (Can you believe it's February already?) when they draw the Blue Jackets, Islanders, Capitals and Canadiens in a 9 day period. Let's see how Hank does if he takes those four games consecutively. He's gotta play these tough teams because that's what he will see in the playoffs.
Just want to mention that Cam Talbot had another shutout for the Oilers tonight and has the most saves in the NHL. If it wasn't for the stupid, "Every team needs representation at the ASG" rule, Talbot would've been an All-Star this season. Mike Smith from Arizona, C'MON MAN!
I often wonder how the Rangers would've fared if they tried moving Hank and keeping Cam after 2015 ended. He would've made $7.5M less than Hank last season. Imagine what you could do with that money? I still think Sather sweet-hearted that deal to his beloved Edmonton Oilers.  I know Ranger fans don't watch every Talbot start like I do, but he's been excellent in his role in Edmonton. Even the Edmonton press has called Cam the best goalie in Edmonton since Fuhr. In a hockey town, Talbot is thriving. As someone who has always supported his career, I'm glad to see his success. I just wish he was still wearing Rangers blue.
Up next for Ranger fans is the All Star Game. It's gonna suck. There is no way you can top the John Scott story of last year. It's a shame the NHL, rather than capitalizing and seeing ratings go up last season because of the Scott story, just go back to their same old ways. The marketing department should be fired. At the very least, bring the guy in a commentator, since there will be no one to play the John Scott role in this game. Oh well.
While on John Scott, I plan on having a blog up, reviewing his book, during AS weekend.
Since the Rangers have five days off, my next blog entry here will be "MAKE THE RANGERS GREAT AGAIN: What I Would Do In My First 100 Days as the Owner of the New York Rangers." If you guessed retiring Frank Boucher's #7 is my first move, then you know me too well! Stay tuned for that blog!
Until then, you can't overreact to this loss. Shit happens and this game wasn't lost because of a lack of effort. It was lost because NYR ran into a hot goalie and the PP was worse than a tweet from Chelsea Handler.
"MAKE THE RANGERS GREAT AGAIN", coming soon!
As always, LGR!
Sean McCaffrey
BULLSMC@aol.com
@NYCTHEMIC on tweeter