What's up everyone and welcome to a different type of blog here on BlueCollarBlueShirts.com. If you missed the NYR/WSH game review & how the NHL hosed me out of cash, check out:
While the Rangers are always the main focus of this blog, I have shared different hockey book reviews with you on this site. Today, I will be looking at a new book that I read, that isn't hockey related. At the end of this blog, I will close with some NHL Trade Deadline, or in the case of the Rangers "dud-line" thoughts.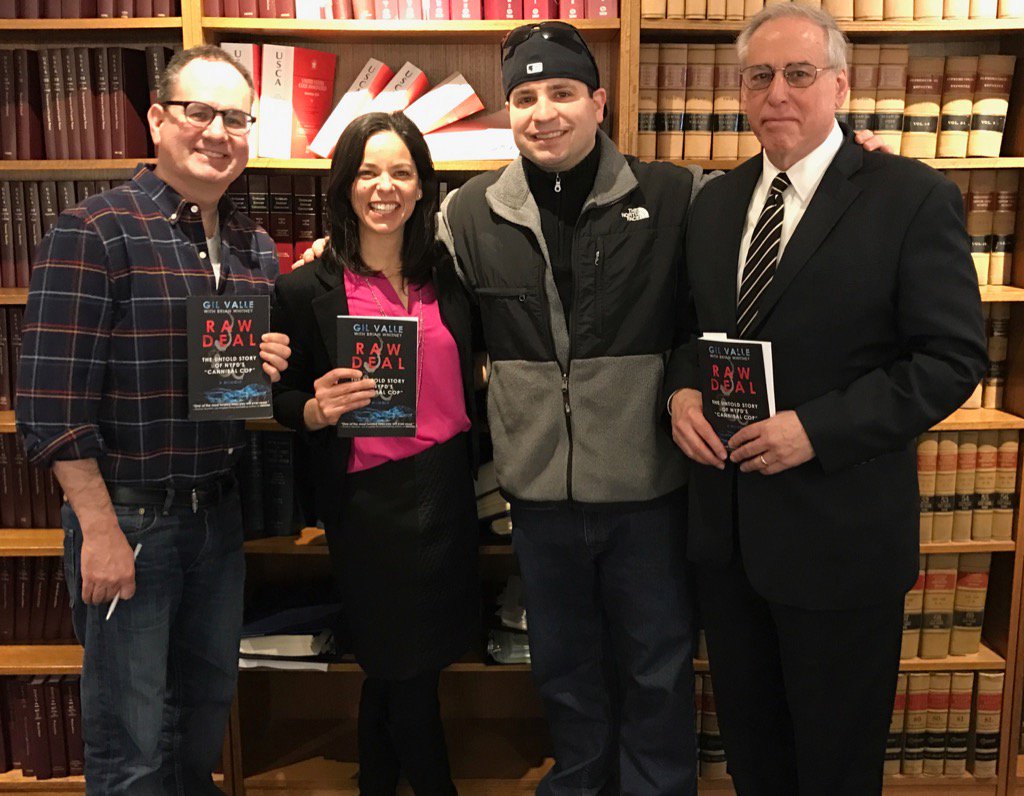 If you're not familiar with the name Gil Valle, Google it. When you're done reading the horror and shock about him, continue on.
In short, Gil Valle was an ex-NYPD officer, who was living the American dream. He had the wife, the kid, the dog, the apartment and family that lived close by. What he also had was a perverse mind. His unhealthy obsession with masturbation would be his downfall. After being arrested for a litany of charges, concerning kidnapping, murder and conspiracy, Valle would battle the next 21 months of his life.
Now how is masturbation hurting anyone? In the case of Gil Valle, what turned him on was some pretty sick shit, such as cannibalism, rape, torture and other violent events. However, whether you share Valle's desires or not, did he deserve to be arrested and lose everything because of it? While this book is a personal memoir, the theme of "can you be arrested for your thoughts?" dominates the pages.
While Valle did a great job explaining his entire ordeal in the book, I thought he left out something pretty major in his conclusion.  How many times in our lives have we thought of "killing someone" or even saying something like "I'll strangle ya". Of course, we don't actually go through with these thoughts. It's human nature, that if our enemy one-ups us, you want to harm them. However, for civilized people, we don't go through it. It's a momentary thought and we forget about it.  In the case of Gil Valle, he was jailed and lost everything for his thoughts. Where do you draw the line between a thought that is just a fantasy or a thought that will lead to a real crime? That is the case of the US Attorney's office vs Gil Valle.
Going into this book, I was fascinated with his story for several reasons. Being a New Yorker and a regular reader of the NY Post, I remember all the stories and updates in the newspaper. From the newspaper, you would think that the FBI broke up the work of a serial killer. Most mainstream media painted out Valle to be guilty, dead to rights. Another reason why I was interested in his story was because of the legal system. This is an unprecedented case. Can we be jailed for our own thoughts? There are plenty of times I wouldn't mind slapping Henrik Lundqvist around with his stacks of cash, but I'm not gonna do it! Can I be arrested for assault for thinking that? While Valle's case is a little more extreme than a silly example I outlined, you get the point.
Lastly, in my little twitter world, I interact with tons of people. Many of them are from "Mongo Nation", a group of Mike Francesa fans. Obviously, I also converse with Yankee, Giant and Ranger fans. One day, I realized I was interacting with a "Gil Valle" account. I figured it was just someone pretending to be him, like a parody account. Turns out it was really him, and some of my twitter people knew him. While I appreciate Valle's devotion to the Yankees, I was kinda baffled that he was even on the internet. After all, from a HBO documentary I saw & from the newspapers I read, he was a sick individual. How was using the internet allowed in his probation? I would come to find out these answers in his book.
Being around the same age as Valle (I'm two years older) and having many friends in the NYPD (Valle shares stories of his NYPD career), I had to read his book. Here is someone my age, from my area, that went through something that I can't even imagine.
When I asked Valle why did he write a book, considering that HBO just released a documentary on him, Valle basically told me read the book. If you're someone who is familiar with the story and documentary, you will want to read this to get the other point of view.
There are three sides to every story. One person's side, the other person's side and the truth. Valle talks about his entire story and tells you everything you want to know. For example, when you read a story like Valle's, you figure he had some fucked up childhood. However, he did not. He left no stone left unturned.
What shocked me about the book was that if Valle wasn't telling the truth, he is opening himself up to some serious lawsuits. In the book, Valle claims a member of the FBI perjured himself. Valle would also talk about the shady and under-handed tactics by the prosecutors office and suggests without saying, that he didn't get a fair trial from his judge. For example, certain things weren't allowed to be brought up by the prosecutor, such as that Valle was a cop. Of course, it was brought up right away and in the final summary of the trial. The judge allowed it after saying that wouldn't be allowed to be discussed.
Valle would attack the HBO filmmaker for using clips of him and selling him a false bill of goods. Valle filled in a lot of information that the documentary left out on purpose, for the sake of the tone they were going for.  If you watched the HBO documentary, you wouldn't even know Valle was offered bail.  Valle goes through his entire troubles with his bail. The key evidence from the prosecutor, concerning cell phone pings/tower records, which denied Valle bail, wound up being bullshit & not even used in his trial!
The whole time I'm reading Valle's book, while thinking of "how could you be arrested for your thoughts?", I was wondering why the hell did Valle stick with a public defender for the entire process? Valle would say on his twitter account that it was because he didn't have the money. However, I'm shocked there wasn't some high profile defense attorney, looking to make a name, willing to offer pro-bono services. Furthermore, the case against Valle was weak at best, so a defense attorney had to know Valle would be due for a major settlement after all this. Valle talks about his defense team in detail in the book and how much he liked them, but fuck, with a case like this, I think I would want a defense attorney that scared a prosecutor. I think for all the bail troubles & slow process Valle had to deal with, a better attorney would've helped him. Perhaps he doesn't lose his trial too.
Valle goes over what led him to this sad point in his life. The stuff he was into is not normal, but he knows that. That's why he hid it. However, to have pictures of naked actresses posing as dinner for a cannibal, is not illegal. It's not like Valle had thoughts of sex with children and possessed those images. Valle was just into some sick shit.
The part Valle doesn't bring up in his book is that he talks about needing to look at these images and TALK TO MEN about it. A MAN and Valle would co-author bondage and cannibal erotica. I'm not suggesting Valle is gay (not that there is anything wrong with that) but I found it odd that he needed to write short stories with men to get off. Valle would be a perfect subject for Sigmund Freud, because Valle seems to have a very hyper active sex drive. However, that is his own personal dealings and as Valle brought up in the book, it never played into his real life, outside of missing a few hours of sleep.
Unlike the documentary or the newspapers covering Valle, Valle doesn't provide a whole bunch of transcripts about his fantasy chats. From what I've seen elsewhere, Valle does have a calling as a fiction writer. He can go the erotica route or come up with some horror shows/movies.
As Valle pinpointed everything in his case and his defense for everything, the major thing about his case is that he was arrested, prisoned and later acquitted, for THOUGHTS. There wasn't a shred of evidence of Valle following through of any his late night sex chats with men. If Valle was guilty of anything, it was that he couldn't get extreme sex acts off his head. He wasn't at the computer for five minutes to rub one out. He would spend hours doing this stuff. To each their own though. We all waste time in our different ways. Look at me, I waste my time getting angry & writing about my favorite hockey team 3-4 nights a week! While Valle's free time activities may not be normal, they certainly aren't illegal.
When you read this story, there are so many different things you can take away from this book. Valle is very nice to his ex-wife in this book. I don't know if he has to be or if he's trying to stay strong for his daughter, but I can't imagine how Valle wouldn't want to see his wife jailed and be put through the same stuff he had to go through.
As I mentioned, Valle has a daughter, a daughter he hasn't seen in 3+ years now. There were no victims by the hand of Valle. There never were. However, the biggest victim in this story is Valle's daughter. She is without a father and her father's case will always be a mouse click away. While Valle would eventually be acquitted, "Gil Valle Sexual Deviant/Cannibal Cop" will always pop up. That's tough. However, you hope Valle has the chance to have an awkward conversation, with his daughter one day. As of the book's release, he has no visitation rights and his ex-wife has a restraining order out against him for her own protection.
Just imagine you lost 21 months of your life for a crime you didn't commit. That is where Valle is today. Valle talks about what he's up to now. He's very open about himself and talks about the sexual fantasies he still has to this day. If anything, maybe Valle needs a hobby, because his mind seems to always be focused about tying up women. Maybe a stamp collection could help center him!
I'm not a psychologist, as you may have heard, but it seems Valle just has the sexual mentality of a teenager going through puberty. From the book, it seems to always be on his mind. Again, while Valle may not appear to have normal urges, his urges in the privacy of his own home aren't illegal either. Is Valle wrong, when he defends himself in his book, (And I'm paraphrasing here) "What's the difference between a foot fetish and a cannibal fetish?" Unfortunately, Valle does not opine on preggo porn!
I had this book sitting on my shelf for nearly a week. This morning, I went to take my daily dump at 5AM. As I was drip-drying away (beer shits will loosen ya up every time), I was reading this book. Next thing I know it's 7AM and I'm still perched like a gargoyle as I'm reading Valle's final words.
This was a great book. You don't have to agree with Valle's desires, but you have to agree that no one should be jailed for their thoughts, especially in the medium that Valle shared them in. People might say, "Oh well, he shouldn't be talking about that shit anyway." Maybe you're right, Valle's time could've been used better, but still, jail? Sure, Valle may get a nice payout one day (He currently is suing the DA & others involved in his wrongful imprisonment) for this story, but at what price? He lost a great job/pension. He lost his wife. He lost two years with his dog. He lost his home. He can't see his daughter at the moment. Any time he goes on a job interview or a date this will come up. It's like he's Ray Liotta at the end of "Goodfellas".
I do give Valle credit though. After taking in this book, take a look at his public twitter account. He is not hiding. He wants a normal life. He will not hide. Would a guilty man be so public and open about themselves this way?
Raw Deal: The Untold Story Of NYPD's "Cannibal Cop" by Gil Valle is available for purchase at Amazon.com. While the alleged crimes will draw a curious reader, stay for the provoking argument about fantasy vs reality.
---
How do I follow up a book review about Gil Valle's ordeal? Why of course, with the New York Rangers. Ironically, the Rangers sometimes make me feel like I'm roasting on an open spit. The way I'm getting fucked out of money for this Rangers/Detroit game (Check my last blog) makes me feel like a defenseless tortured woman too!
The NHL trade deadline has come and gone. The Rangers did nothing, outside of a few minor AHL moves, to improve the team. This is alarming, because it was announced today that Jesper Fast will be missing time with a separated shoulder. I talked about all the injuries last night, so I was alarmed when the Rangers didn't make a move to add some depth to the team.
The biggest name I thought the Rangers could've got was Jarome Iginla. However, this was reported today:
Jarome Iginla has been traded from the Avalanche to the Kings in exchange for a 2018 conditional draft pick, the teams announced. The draft pick, a fourth-rounder, is conditional on the Kings making the playoffs or Iginla re-signing with the Kings, according to TSN's Darren Dreger.
Are you telling me for the same price, it wasn't in the Rangers best interest to pick up Iginla? The other big name that could've helped the Rangers for a cheap price was Thomas Vanek. Here's his update:
The Detroit Red Wings have traded winger Thomas Vanek to the Florida Panthers. The Red Wings will receive defenceman Dylan McIlrath and a conditional 2017 third-round pick in return. TSN Hockey Insdier Bob McKenzie reports the Red Wings will also retain 50 per cent of Vanek's $2.6 million cap hit.
Makes you wonder if the Rangers held on to McIlrath, if they could've made the same deal.
What you got out of the Rangers moves, or lack thereof, is that they are happy with this team. Either Gorton feels that his team is good enough to go all the way or he feels that overpaying for a key talent wouldn't make a difference this year. As I have been saying, I really think if the standings stay the way they are right now, the Rangers, if they can avoid Pittsburgh, have a good of a shot as any team in the East to get to the Stanley Cup Finals. None of the Atlantic teams scare me. If the Rangers can draw Washington (And all this talk is barring injuries), I think NYR could beat them in the ECF. I know it's so rare for me to be optimistic, but I truly believe things could go their way. We'll find out soon enough.
For the first time in a few seasons, the other MeTRIO teams ahead of them, all made moves to improve their teams. That is what alarms me the most. The teams that are better than the Rangers felt they needed to improve with some deals, none bigger than the Washington/Shatty deal.
While the current playoff system will most likely benefit the Rangers this season, it will still be a shame to see a strong MeTRIO team bounced out in the first round, while a team with 10-20 points less will make it to the second round. However, the NHL tries to market their game to casuals through rivalries. You can only work with what you're given with.
Rangers draw Boston in an Original 6 match up Thursday night. Keep it here tomorrow night for my review.
As always,
LET'S GO RANGERS
Sean McCaffrey
BULLSMC@aol.com
@NYCTHEMIC on twitter