Note: This special guest blog was written by Canadian author & SLAM! Wrestling reporter, Greg Oliver. Greg & I have some mutual friends from my days in the wrestling business and offered to write this blog on a topic I'm very passionate about myself – Frank Boucher. I've been writing about Boucher for three plus years on this site and I'm glad to see a non-Ranger fan share the same opinion as me. If you missed it, you can read my revised Boucher column here: http://doinow.com/boucher2k16/. I'm still in contact with a member of Boucher's family and I'm hoping columns like mine, columns like Greg's and a fan driven effort can get the Rangers to finally correct a long overdue mistake and hang Frank Boucher's #7 in MSG. Without further ado, here is Greg Oliver's piece on Frank Boucher:

I call it going down the rabbit hole, where you start to research someone or something, and you look up hours later, having spent all that time fascinated and enthralled by what you found. That was certainly the case for me with Frank Boucher.
The context was working on my book, "Blue Lines, Goal Lines & Bottom Lines: Hockey Contracts and Historical Documents from the Collection of Allan Stitt." It was the second in a series, where the first one, "Written in Blue & White," was all about the Toronto Maple Leafs.
By reproducing classic documents, and writing a bit about both the document and the person, it gives some really unique into the business side of hockey.
Allan Stitt is a Toronto-based lawyer/mediator who has amassed quite the collection of vintage paperwork, from contracts to personal letters, to league memos. While he tends to try to invest in better known players, since ultimately those will increase the most in value, there's plenty of lesser names too.
I was fortunate enough to get to rifle through them, deciding, for the most part, what I wanted to write about. 
With "Blue Lines, Goal Lines & Bottom Lines," we set out to make sure to try to have all of the Original Six teams represented (minus the Leafs, though a lot of the paperwork came from their files).
There were four Frank Boucher contracts to consider:
– Rangers contract 1934-35, $5,800
– Rangers contract 1935-36, $6,000
– Rangers contract 1936-37, $6,000
– Rangers contract 1937-38, $3,500   (The second page is neat because there's a stamp, and a signature from Lester Patrick, that says "Transferred to Madison Square Garden Corporation")
– Rangers contract 1943-44  $1,000  (came in as an emergency war player)
– Rangers contract 1944-45  $1000 (didn't play)
In the end, we used the 1937-38 contract, as well as a letter dated September 10, 1937, sent to Boucher at his home in Ottawa:
Dear Frank:
This letter will serve to confirm verbal agreement with you whereby you are to receive in addition to your contract as a player, the Sum of Fifteen Hundred ($1500.00) Dollars, said sum to be compensation for your services as my assistant during the playing season of 1937-38.
Yours sincerely,
Lester Patrick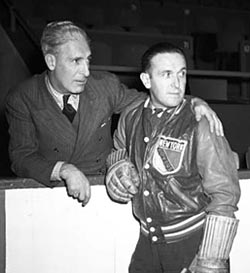 And the second entry was the war-time emergency fill-in, coming off the bench as the coach. I found a great quote from Patrick about bringing him back. "Naturally we don't expect Frank to backcheck," Patrick said. "His job will be to make the offensive plays, laying the puck on the sticks of his wingmen in attacks."
But what I really enjoyed was the many webs that Boucher weaved through the Rangers organization through the years, meaning that I was able to use quotes from his essential book, "When the Rangers Were Young," which he wrote in 1973 with Canadian sportswriting legend Trent Frayne, in other entries.
I mean, here's a guy that was tied to the Rangers for 30 years, as a star player, coach and assistant general manager—while still playing! They retired the original Lady Byng trophy for gentlemanly play to give to him, since he was always winning it anyway. He went into the Hockey Hall of Fame in 1958, deservedly so.
Throughout most of his time with the Rangers, Boucher wore the #7 jersey. While the number has been retired by the Blueshirts, it is in honor of Rod Gilbert, and not Boucher.  
I remember finding odd when I was working on the project that Boucher is not among the elite names honored by the Rangers, and now find it even more puzzling having learned that many people have been campaigning for the recognition for him. 
Here's one more voice to add to the growing chorus. Give Boucher his due.
Greg Oliver is the author of eight books on hockey, including "Blue Lines, Goal Lines & Bottom Lines: Hockey Contracts and Historical Documents from the Collection of Allan Stitt." He also co-wrote the autobiography of Gilles Gratton (Rangers 1976-77), coming out in the fall: "Gratoony the Loony: The Wild, Unpredictable Life of Gilles Gratton." For more, visit www.oliverbooks.ca
You can reach Greg via email at goliver845@gmail.com