Miss me?
Welcome everyone to another blog here on DOINOW.com. It's been nearly two weeks since I've posted one of these diatribes, so let's get into it.
First some site news. As mentioned in previous blogs, we will be changing the name of this site shortly. DOINOW.com will still redirect here, but we are going to change the name here to a more Ranger-themed name.
As I also mentioned, with the off-season now official, I'll try to tackle one big subject a week. Future columns will include "Death of MSG", "Get Frank Boucher in The Rafters" and other Ranger related blogs.
If you are new to the blog or need a refresher, here are my last few blogs, full of tons of information, covered with opinions and thoughts:
– The Decade Long Saga of Henrik Lundqvist: My Final Words On King Contract, Why Lundqvist is Overpaid, When Lundqvist Soured Me, Will the Rangers Ever Win With Hank and His Cap Hit, Examining the NHL & Goalie Position & Much More
– NYR/TBL Game 7 Recap: The Worst Loss of My Adult Life
– NYR Post Season Report Card: Grading Every Player
– NYR Off Season Blog: Who Stays & Who Goes and Assessing Every Contract
– NYR Media Day: Opinions On All The News & Player Interviews
– NYR 2014-2015 Pictorial Year In Review
Safe to say, with all that material churned out above, I needed a two-week break.
I would like to thank everyone for taking the time out to read the King Contract article. It was the most viewed article ever on this blog and I got tons of feedback. I know it's blasphemous to talk about an aging & regressing player, who's never won a Stanley Cup, with some of you people, so I was surprised when the feedback was 50-50. I was expecting more of a negative reaction. If you just read the headline, it seemed you hated it, but if you actually read the whole article, people tended to agree.
Brad Richards got his second cup on Monday night
For today's blog, I am going to comment on the recent Rangers gossip, as well as major league happenings.
A big congratulations goes out to Brad Richards and the Chicago Blackhawks, who won the Stanley Cup, in 6 games, over the Tampa Bay Lightning. For Richards, it was the second cup of his career. For the Hawks, it was their third in 5 years. I guess the Rangers should've amnestied Henrik Lundqvist, and not Brad Richards!!!!
Jokes aside, I'm glad to see Richards get the Cup. He left the Rangers for one reason, and one reason only- business. The Rangers had to get his deal off the books. He knew it too. He left here on great terms, in fact, he bent over backwards for the team and opened the door for both he & management to leave. That fucking salary cap.
I talked about it during the season and in my Rangers year-end blog, but I thought Richards might return to the Rangers on the cheap. He has a home here. He loved it here. For a million a year, he's worth it. However, the script has flipped. Why come back to NY? His buddy MSL looks gone. The Hawks can use him to help defend the Cup. He has a great situation playing with guys who perform to their contracts, in the playoffs, like Toews & Kane, as opposed to say, someone like a Rick Nash.
If Richards gets his 19 jersey back from Jesper Fast next season, I'll be shocked. I don't see a good reason for him to leave a great situation in Chicago. The Hawks will be good for some time, Kane & Toews are in their prime. As I've always said, you don't need to give a goalie 12% of your salary cap to win a Cup. The top 5 highest paid goalies in hockey have never won a Cup under the new cap. Chicago is doing everything right, from front office, to drafting, to coaching, to personnel. Richards would have to really love NY to leave Chicago.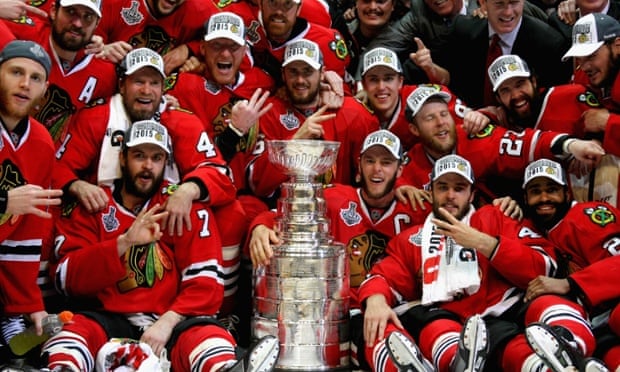 An image Lundqvist will never be part of
For the Blackhawks, I truly feel like they are a dynasty. The Cup is the hardest championship to win in sports. Just ask Henrik Lundqvist. For the Blackhawks to win 3 of them, lose one and lose a WCF series in 7, all in the last 5 years, I mean just wow.
As a Rangers fan, watching the Blackhawks success, you just have to stare at  your feet and just give the Hawks their due. It's depressing, seeing another Original 6 franchise get so hot. I've said it a million times, I just don't see the Rangers winning one when a goalie gets 12% of payroll. You need offense in today's NHL. The NHL is not like baseball, where you can win a championship with just pitching. It's not like the NFL, where you can win a championship with defense. In the NHL, you need offense first, defense second. King Crawford has reaped the rewards of his offense plenty.
Even more impressive, the Hawks were in Cap hell too. They had to give Leddy away to the Islanders. They had to give Hayes to the Rangers. Who knows? With those two, maybe the Hawks sweep the Bolts. Of course, I got the blueshirt perspective, but for all the Rangers cap problems (because of an overpaid hypocritical Swede), the Hawks found a way to get it done. There is really no excuses to complain about the cap, when it comes to winning, when you look at the Chicago Blackhawks.
With Kane & Toews in their prime, and you can argue, even with the 3 Cups, they haven't peaked yet, Chicago will be a popular destination for veterans looking to win a Cup, ala Ray Bourque. I wonder how many people chasing a Cup will go there for less money? Maybe a 90 year old Jarome Iginla will wind up there next season.  Don't worry Ranger fans – Lundqvist won't. He's about the money.
The Coyotes might be the next species extinct in the NHL
Have you been following the drama in Arizona? If you haven't, check out these articles:
http://www.abc15.com/news/region-west-valley/glendale/coyotes-fan-shoots-glendale-mayor-with-stun-gun-as-part-of-charity-event
http://www.azcentral.com/story/news/local/glendale/2015/06/16/glendale-coyotes-arena-deal-executive-session/28820491/
The second link explains the story the best, but to summarize, the city of Glendale, Arizona, wants to break their lease with the Coyotes. They want the Coyotes to get packing out of town. The city is using a loophole to break a lease, which has been a money loser for the city, saying that the Coyotes employed an official they weren't allowed to employ.
The 5 Coyotes fans out there have been rallying, stun-gunning mayors for fun, and obviously, are quite upset.
A simple google search of the Arizona Coyotes will bring up 3843883483483 articles on this subject. What makes this story interesting, aside from the NHL may lose a team, are the rumors of where the Coyotes could go.
It's no secret the NHL wants to expand into markets that could support an NHL club. While the NHL is making record-breaking profits, made the games more accessible and for some reason, still employs Mike Milbury, the NHL does have some current markets that don't do well, such as Sunrise, Florida. Whether that means relocation or a simple contraction, we don't know yet.
What we do know right now, are the rumored markets on where the Coyotes could wind up. Here's the list: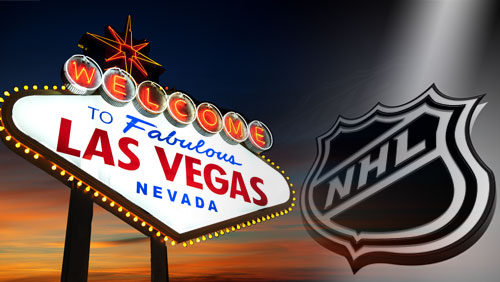 If the NHL ever went to Vegas, I'd be at the first NYR/LVN game!
Las Vegas- Vegas seems to be the front runner. However, I've heard that Vegas would want a new team, not a team kicked out of another city. Vegas has a new building and already has sold 10,000 season tickets. They just need the team there. There are problems with Vegas. The negatives are the gambling and would players be influenced? It's a great town to get in trouble too. However, the NHL are not like the heathens that play in the NFL. You'd never EVER, see an NFL team in Vegas, with all the gambling and low-lives that play football. Hockey players are more morally sound than the criminals/felons in the NFL. It's still an experiment though.
For me, the biggest negative would be the fanbase. Yes, 10,000 season tickets are just waiting to be bought, but by who? I'm sure there are private residents interested, but how many of those tickets will be bought up by casinos, who will just give them to their gamblers? Will you have a real hardcore fanbase there, or will it be a bunch of tourists at the games, treating the game like they are seeing Cirque Du Soleil on ice?
Toronto- Rumors are that Toronto wants a second team. The city can support it, ala New York or like how Quebec wants to do. Again, it would be tough to throw someone's garbage in Toronto. They'd prefer a new team. If Toronto is going to try to have two teams again (Before the NHL and in the Conn Smythe days, Toronto had two teams in the NHA), there's no better time than now.
Why is it a good time? Easy. The Leafs haven't won since 1967. Ticket prices are astronomical for a crappy product. Fans and players alike, are sick of the team. Fans would be willing to try something new. Especially younger fans, who've never seen the Leafs win and can't afford to go to games. Still, putting the Coyotes there seems like a stretch.
Quebec- Those poor Nordique fans. Soon after they moved to Colorado, the Avalanche won 2 Stanley Cups. I just went to Montreal this season to watch the Rangers. I talked to many people personally. They want the Nordiques back. It's great for the economy there too. Even Habs fans want the Nordiques back. You can't have Batman without the Joker!
Quebec is so desperate for another franchise, that I can see the Coyote franchise moving there. I think Quebec will take anything at this time.
Seattle- Due to the Seahawks, suddenly, Seattle is a sports town once again. After being burnt by the Supersonics, right after they got Kevin Durant, Seattle has been lobbying for an NBA and NHL team. I think Seattle would pick up Arizona's trash. You don't necessarily need a new team there. They will just be happy for one. A natural rivalry with the California teams and the Canucks would be appealing too. However, if Seattle revives the Supersonics, the hockey team could be put on the back-burner.
Atlanta- the experiment failed twice. No way is another NHL team going there in my lifetime.
I just feel bad for the Coyotes fans. Obviously, I will never have to worry about the Rangers relocating. It just sucks to have a team ripped from you like that.
For the Coyotes, they also have no leverage with anyone. Everyone knows Arizona wants them out. They will have to accept a low bid to move. For the players, they are in limbo. They don't know where they will be living next season. Do you think any big name free agent will sign with Arizona? Poor Anthony Duclair.
How I feel about Lundqvist's contract negotiations
Going back to what we kicked off with, if you watched the Stanley Cup last night, every Blackhawk was talking about what a great series it was and how they expect to see the Bolts back in the Cup Finals again. How heart-warming. However, how concerning, if you're the NY Rangers.
One of the reasons I get on Lundqvist so much, is because I see the window closing. He was great forever, and he's still a great player, but bottom line, he's overpaid and overrated. You read the last blog. The money is too much for a guy who said "I want to win at all costs."
While the Hawks make it look easy, Stanley Cups are hard to win. The Rangers really blew it this year. They choked. Blame the injuries if you'd like, but every team is hurting at this time of year. Ben Bishop played the Cup Finals with a torn groin. It's part of the game.
The Rangers have been a consistent playoff team for some time now, but have nothing to show for it, unless you enjoy Conference Finals and President Trophy banners. It's really not even a given they make the playoffs next year. I mean, you heard AV in every press conference, talking about how tough the playoffs are. Last year's champs, the Kings, didn't even qualify. Neither did last year's President Trophy winners, the Boston Bruins.
I'm not saying the Rangers are due for a letdown year, but so many bottom feeders will be better in the east this year, in addition to the teams on the brink of greatness.
There's no question in my mind that both the ISLANDERS and CAPITALS will be better next season. I expect all three teams jockeying for the 1,2,3 Metropolitan seeds next season. I don't think the PENGUINS will be in the top 3. They seem to be falling off, and even Mario Lemieux is looking to get out of dodge.
I expect the BLUEJACKETS and FLYERS to have better campaigns than they did in 2014-2015. They aren't doormats for anyone.
In the other division, in the East, the Atlantic division, you will see a lot of interesting stories play out. The three worst teams in the division, the PANTHERS, the MAPLE LEAFS and the SABRES will all be significantly better next season. Jagr, with all those young guns In Florida, will make that team better. Should be interesting to see what they do in free agency.
The Maple Leafs will automatically be better next season with the addition of head coach Mike Babcock. He won't be dicking around there.
The Sabres have the #2 pick in the draft, in Jack Eichel, who should be NHL ready next season. They also have a ton of cap room to make some moves too.
It's going to be tough to see who finishes as the low man in the Atlantic. The Bolts are putting it together. The Habs are right there. Ottawa had a great year. Boston might have another rebuild year, but you can never count them out either.
When you look at it, the Rangers really have blown some opportunities this past year. The window may have already been closed.
The man who should've been starting goalie in the playoffs
What's a DOINOW.com blog without a little Cam Talbot? If you haven't heard, idiot Ranger fans and several dead-beat writers already have traded Talbot, Klein, Boyle & Nash. The biggest Talbot rumor thus far, is Talbot to the Oilers for the #16th pick.
You know my take already. I want Hank out, Talbot in and the money saved going to the offense. However, we know that's not going to happen.
To me, the only way you trade Talbot is if he wants out of here/wants to start elsewhere. When he signed his deal, before the run he made, he obviously felt another year under Allaire would be beneficial, before moving on. He can't cash in on what he did this season. However, being a back-up again, could be out of sight, out of mind. Maybe now is the time to start somewhere, have a good season, then make the money.
If Talbot doesn't mind playing second fiddle to a Cupless wonder, I wouldn't trade him. The Rangers should, on paper, be a contending team next year. Why deal him? We know he can hold the fort down and it allows a fresh Lundqvist in the playoffs. Plus with Skapski recovering from surgery and Halverson not ready yet, what else are you going to do? Lace up Vally from the MSG booth?
For those seriously asking and for those who like to break balls, yes, I'M A RANGER FAN, you dingbats. I've been rooting for this team for 33 years (Ironically, the same number as Talbot! And thanks for the 6/13 birthday wishes on twitter. Unfortunately, Talbot couldn't make the party! Maybe I'll see him next year for it, when he's playing in the Stanley Cup somewhere else!)
The Rangers are my team, but yes, this blog has gotten the reputation, and no shit, deservingly so, as being the Talbot Train blog. If Talbot goes, Rangers will always be number 1, but I will follow Cam's career. Hopefully, if he does want to start elsewhere, it's on a Western Conference team, so I have something to watch after Ranger games during the season.
The only thing I don't want to see happen, is Cam being dealt for the sake of helping Hank. Hank has had enough help and money.
It's up in the air with MSL
Aside from Talbot trade talk, and I really hope ICWT doesn't wind up standing for In Cam We Traded, the other talk is Martin St. Louis. Some reports have him out of here. Some say he wants to stay here. I covered a lot of this in the postseason blog, linked at the top of this blog.
Bottom line, there is no true update on MSL. In a perfect world, he stays here for the veteran's minimum and takes a coaching job in the organization once his career is over.
Goodbye to another NHL season
That about does it. The NHL 2014-2015 season is officially over. As of this writing, we are 84 days away from training camps opening up, 3 months from NHL '16 dropping on PS4 and 10 weeks away from the NYR's first preseason game with the Flyers.
I don't know about you, but I'm still hurt and really, this ECF loss has not escaped me yet. Even if the Rangers win the Cup in a miracle next year (I will always root for them, but don't see Lundqvist ever getting a Cup), it still doesn't excuse blowing this year. Will the Rangers ever win a Cup in my adult lifetime? I better plan on not dying anytime soon.
Maybe the off-season will do me good. It's just tough to fathom we have to wait a little under a year to get that Cup. The monotonous task of the regular season, where all you have to do is qualify.
At least I got the Yankees to occupy my time during the regular season, and sooner than later, the Giants will revisit my life. However, it's not the same. Don't get me wrong, I love my Yankees and Giants, but I've seen those teams win, many times. All my greedy ass wants now, is a motherfucking Stanley Cup!
Unless something major breaks, like a roster move, I'll be back over the weekend or early next week, looking at "The Death of MSG."
Thanks for reading!
LET'S GO RANGERS
Sean McCaffrey
BULLSMC@aol.com
@NYCTHEMIC on twitter