What's up everyone and welcome to a blog that I'm starting at nearly 1AM. It's worth it though, as the Rangers defeated the Edmonton Oilers in Rogers Place on Sunday night, with a final of 3-1. For the Rangers, the Rangers have now beat the two Alberta teams on consecutive nights and look to sweep Western Canada for the the second time in three years on Tuesday, when they skate in Vancouver.
I didn't do a blog of the Calgary game on Saturday night, as I was out watching UFC. My DVR screwed up and didn't record the Rangers/Calgary game, so I had to settle for clips and the MSG in 60 version. From what I saw, the Rangers rebounded after an ugly and quite frankly, unacceptable, loss to the Canucks on Tuesday.
I'll you what, it's been a hell of a week since I last posted an entry here. We saw the McIlrath trade go down, Skapski get bumped down and oh yeah, we have a new President-elect, in Donald Trump. I'll save the political crap for twitter and not here, (Although I know I'm bound to talk about it, because some things are bigger than sports) but love him or hate him, at least Donald Trump is a Rangers fan!
Since this is my blog and I'll blog if I want to, I always have to push my Lundswiss is overpaid and overrated narrative. I'm glad many of you have hopped aboard this train, but there are many delusional people out there that ignore the black and white of it. Let's start with the UFC first, and I'll make my way to the Edmonton game!
(Note: if you're not a fan of UFC, you can skip to the next section!)
I don't know how many hockey and UFC crossover fans there are, but I reckon there be a few. The UFC debuted in MSG on Saturday night, after fighting a huge political battle to get the sport in NY. As a union man myself, I understand the Culinary union of Vegas and their battle to fight the UFC and the Fertitta's. However, I would be pissed if I was paying union dues in Las Vegas, to fight the UFC in New York. It just seems like money wasted. Leave it to the exile of a corrupt politician (No, not Hillary, shit, I promised not to get political on this blog!) in Sheldon Silver to bring the UFC to NY.
After a bloodier battle than some of the fights in the cage, Mixed-Martial Arts is finally legalized in NY, opening the doors for UFC to run events. At the end of the day, it was the Fertitta's selling the UFC to WME (meaning the Las Vegas culinary union had nothing to fight the UFC about anymore) and a disgraced politician to bring the sport here.
Last night, the UFC set every company record and a MSG record. UFC broke all PPV and gate records, including drawing over $17 million dollars. With that number, the UFC 205 event has drawn more money in MSG than any other event. That includes playoff games, boxing events, wrestling events, concerts, etc. Keep in mind, it is 2016, so numbers are bigger because of inflation. That said, I've never seen anything like this.
I've been a fan of UFC ever since I found it on my old rabbit/illegal cable box. Remember those? Do people even remember trying to watch the scrambled porn channels, in the hopes of finding a random nipple? I was into UFC in the 90's, although it had a tough period before the Fertitta's bought it. It was tough to find and events weren't well promoted as they are today.
Eventually, "The Ultimate Fighter" show debuted on Spike TV in January of 2005. After the finale of Forrest Griffin vs Stephan Bonnar, considered one of the best fights in UFC history (and at very least, the one that brought advertisers to UFC) UFC was entering the mainstream.
It's tough to consider what the golden age of UFC is. Is it now? Was it when The Ultimate Fighter took off? Was it the UFC 100 time period? You could argue for different time periods, and you wouldn't be wrong. However, the fact is right now, the UFC is more known and profitable than any other point in its history. In fact, they just sold the company for over $4 BILLION (yes BILLION) dollars. Even Lundqvist doesn't make that much!
The biggest problem for UFC and MMA in general, for me right now, and I think for others, is that they run so many damn shows. It's tough to keep track of everything. There's no off season and there seems to be a fight every week. It's tough to watch it all. I try to watch every PPV and big night event, but it's tough, sometimes you just don't got the time. That's why when someone like a Conor McGregor comes around, it's extremely special. He's become the Ali of a new generation – a can't miss fighter that backs up his talk.
Maybe it's me, but I take the "King" moniker seriously. A King has a crown. Being 34 and living in NY my whole life, the first King I can remember was Jim Leyritz. Of course, as time moved on, there is no way that Leyritz will ever be remembered as an all-time great like King Lebron James.
It drives me up a wall that an overpaid overrated egomaniac goalie that has physically struck a woman, in Henrik Lundqvist, calls himself a King. He even profits off the nickname. KINGS HAVE CROWNS. You can't call yourself a king when you don't have a crown and I don't see the Rangers ever winning a Cup with this guy. Hopefully the Rangers can continue to put up 4,5,6 goals a game to get to a Cup, but I don't see Lundqvist carrying the team to a Cup. Those days are long gone.
Conor McGregor will make something near $10 million dollars (After PPV cut & bonuses) after last night's fight, where he beat Eddie Alvarez to become the first ever champion in two weight divisions. In one night in MSG, Conor did something Lundqvist couldn't do in 11 years – win a championship. However, deep down, I think the only thing Hank is jealous about is that Conor made more money in one night than Lundqvist will make in a season!
I used to enjoy watching "Tuesday Night Fights" or whatever that show was called on the USA Network in the 1990's. However, ever since Lennox Lewis retired, boxing has sucked. I don't like Mayweather's personality and while he's a great scientist & a skilled boxer, he's boring. Arturo Gatti, he is not. The great heavyweight era in boxing is extinct.
Just like with pro wrestling, the boxing business is doing a fraction of what it used to do, because talented athletes are going into MMA. That's where the money is. Conor is one of those rare athletes that would've had a great boxing career and perhaps one day, will have a great pro wrestling career. MMA does pro wrestling better than pro wrestling and has destroyed boxing PPV numbers on a monthly basis.
It's not every day you get to see someone like a Conor McGregor, who also calls himself a "King". Unlike Lundqvist, Conor McGregor is a true King. From this day on, when it comes to sports in New York, there's only one King and it's not the swiss cheese goalie for the New York Rangers!
Move over Hank. Stop with your silly nickname. There is only one King in the Garden now, and he splits time in Ireland. All bow down to the notorious one, King Conor McGregor!
If Hank can win a Cup or get the Rangers to give him a percentage of the franchise (The last time this idea was ever brought up in hockey was when Eagleson screwed over Orr in Boston when this deal was mentioned) then Hank can revisit this subject. It's only a matter of time before McGregor gets a piece of the company, as he's been angling for. Long live King McGregor!
Oh, and tix for UFC 205 in MSG was just ridiculous. I wanted to go, but couldn't justify spending a monthly mortgage payment and my condo maintenance fees, combined, for a ticket. Even UFC president Dana White said he priced out the fans, but it's supply and demand. I thought his comparison to an airline ticket was spot-on. People pay more for flights during peak hours. This UFC show was a Christmas Eve flight.
Back to hockey.
The Rangers beat a slumping Oilers 3-1 on Sunday night. If you're looking for a bottom line story of the game, you can say it with two names – Michael Grabner and Antti Raanta. Being a goalie guy, I'll save the best for last! (I'm joking, relax!)
Patrik Laine of Winnipeg leads the NHL in goals with 11 goals. Sharing the lead for second place with 10 goals are Sidney Crosby (PIT), David Pastrnak (BOS), Mark Scheifele (WPG) and Michael fucking Grabner of your New York Rangers!
If you saw Michael Grabner producing the way Rick Nash gets paid, then you're a prodigy and should be making money reading palms. In 16 games played, Grabner leads the Rangers with goals. Can he keep this up? There's really nothing to suggest he can't.
When the Rangers dealt Carl Hagelin for FUCKING EMERSON ETEM, they were looking for a cheap, poor man's Hagelin. When Etem bombed, the Rangers never got the speed they lost. When Grabner became a free agent, and with AV knowing the guy in Vancouver, the Rangers hoped to get that speed back. The Rangers have gotten that, and with the new blood on the team, have turned their speed into one of the best teams in the NHL today.
Every night, the Rangers are using their speed to beat teams up and down the NHL. With Grabner one of the fastest, if not the fastest guys on the team, Grabner is collecting a bunch of goals. From scoring the first goal of the season against the Islanders, to recording the first hat trick of the NYR season, Grabner has been a valuable asset for the team.
I can't lie. I was skeptical of having the Islanders sloppy seconds, but 16 games in, 1/5 of the season down, Grabner is having a career year. Grabner added two goals tonight, to bring his production to 10 goals, thus far this season. One of the goals was on a breakaway too. How many times have we seen an overpaid player (cough Rick Nash cough) fail on these opportunities, time and time again? Grabner beat one of the best goalies in the NHL and kept the Rangers in a game that perhaps they had no business winning.
Why do I say the Rangers had no business winning this game? Easy. If it wasn't for Antti Raanta, I don't think the Rangers get the two points at Rogers Place.
While Michael Grabner with two goals got the first star, I thought Raanta deserved not only the first star but this:
In a game of Lundqvist's last two back-ups, Raanta out-dueled Cam Talbot to win the game.
Let me get this out there first, because people say I make this shit up but I bring this up EVERY TIME IT HAPPENS.
Once again, Raanta plays the better team on a back-to-back. Lundqvist plays the worse of two teams, YET AGAIN. This has been going on for 3+ seasons now. I don't know if AV does this to boost Hank's confidence against crappier teams, but this is a trend. LUNDQVIST ALWAYS PLAYS THE WORSE OF TWO TEAMS ON A BACK-TO-BACK! OVERPAID!
Even better, Raanta moves to 4-0-0 on the season and possibly  could've been 5-0-0 if Hank doesn't shit the bed against the worst team in hockey, the Canucks, on Tuesday, while Raanta was going through concussion protocol.
The topper? Hank gave up 3 goals to the Oilers, while at home in MSG. Raanta gave up 1 goal  and made more saves, while on the road.
WHAT MORE DO YOU MINDLESS LUNDQVIST FANS NEED TO ADMIT THAT HANK IS OVERPAID AND OVERRATED?
An overlooked fact that I keep bringing up because people ignore it, is that Benoit Allaire is a genius and very good at what he does. Is Lundqvist that great, or the recipient of playing under a coach for so many years (Torts) that embraced defense and shot blocking? How much has Allaire helped his career? We've seen what Allaire has done with Talbot (Career back-up now a starting goalie making $4.5M a season.) We've seen what Allaire has done with Raanta (Didn't even play in the Cup finals, to making $1M a year and a future potential starting goalie somewhere.) Allaire even took 20 year old Mackenzie Skapski and got him to pitch a shutout!
Again, Lundqvist is overpaid and overrated. I think the Rangers could dump Hank and his horrible contract, let Allaire work with Raanta full-time and bring up whoever from the Wolfpack to lighten the load. You could then use Hank's money for a blueliner, something the Rangers will need against better offenses in the playoffs. Scoring wins cups in this new cap era NHL, not goaltending!
In fact, did you see Kevin Weekes, a former Hank teammate, on the NHL Network last night?
I'm not going to lie, I think this list is flawed a bit. Holtby, the current Vezina winner, should be much higher. Rask is way overrated on this list, but with 10 wins, I see why Weekes ranked him high. Anderson seems to be getting some sympathy love here. Where's Fleury? Where's Murray?  Where's Schneider?
I think if Murray and Raanta played full-time they would easily be on this top ten list. Notice how Rinne, the second highest paid goalie in the NHL isn't ranked. Another example of why you don't pay your goalie insane money!
People are going to whine about Crawford, but you can't hate on what he's been doing or his career. He's better than what  he gets credit for. Dubnyk just seems way out of place at three here.
You can argue this list all you want, but the biggest argument for me is Lundqvist at 9. He shouldn't be in the top 10 at all. Put it this way, in the last 3 seasons, Lundqvist has the worst WIN ABOVE REPLACEMENT stat in the NHL! In other words, the Rangers don't miss him when he doesn't play. The best regular season in Hank's career, he was out for 3 months and Talbot carried them to the President's Trophy. Raanta has been a stud ever since Talbot became the Oiler starter.
Plus with this Rangers offense, you can put any goalie in the league in there and win. Lundqvist is just not able to steal games anymore, just paychecks.
Back to Raanta.
Raanta had a phenomenal game. While the Rangers peppered the hell out of Talbot in the first period and Talbot gave up two goals to an incredibly potent Rangers offense, Raanta's heavy lifting came in the latter 40 minutes of the game. I thought both goalies played extremely well. The Rangers got a bunch of good looks and Talbot made 10 saves on 12 great shots. Raanta one-upped the person he replaced, stopping 26 shots in the final 40.
Before getting more into the game, here's the official box score, courtesy of ESPN.com:
1st Period Summary

Time
Team
Scoring Detail
NYR
EDM
1:20

Michael Grabner (9)
Assists: Kevin Klein, Rick Nash
1
0
13:18

Dan Girardi (3)
Assists: Kevin Hayes, J.T. Miller
2
0
18:45

Andrej Sekera (1)
Assists: Connor McDavid, Patrick Maroon
2
1
Time
Team
Penalty Detail
2:26

Kevin Hayes: 2 Minutes for Slashing

2nd Period Summary

Time
Team
Scoring Detail
NYR
EDM
14:35

Michael Grabner (10)
Unassisted
3
1
Time
Team
Penalty Detail
0:21

Derek Stepan: 2 Minutes for Hooking

3rd Period Summary

Time
Team
Scoring Detail
NYR
EDM
No scoring this period
3
1
Time
Team
Penalty Detail
No penalties this period
I'm 3000 words into this blog and haven't gone on one of my Talbot lovefests yet. In fact, let's celebrate Talbot a little bit as he won an award tonight: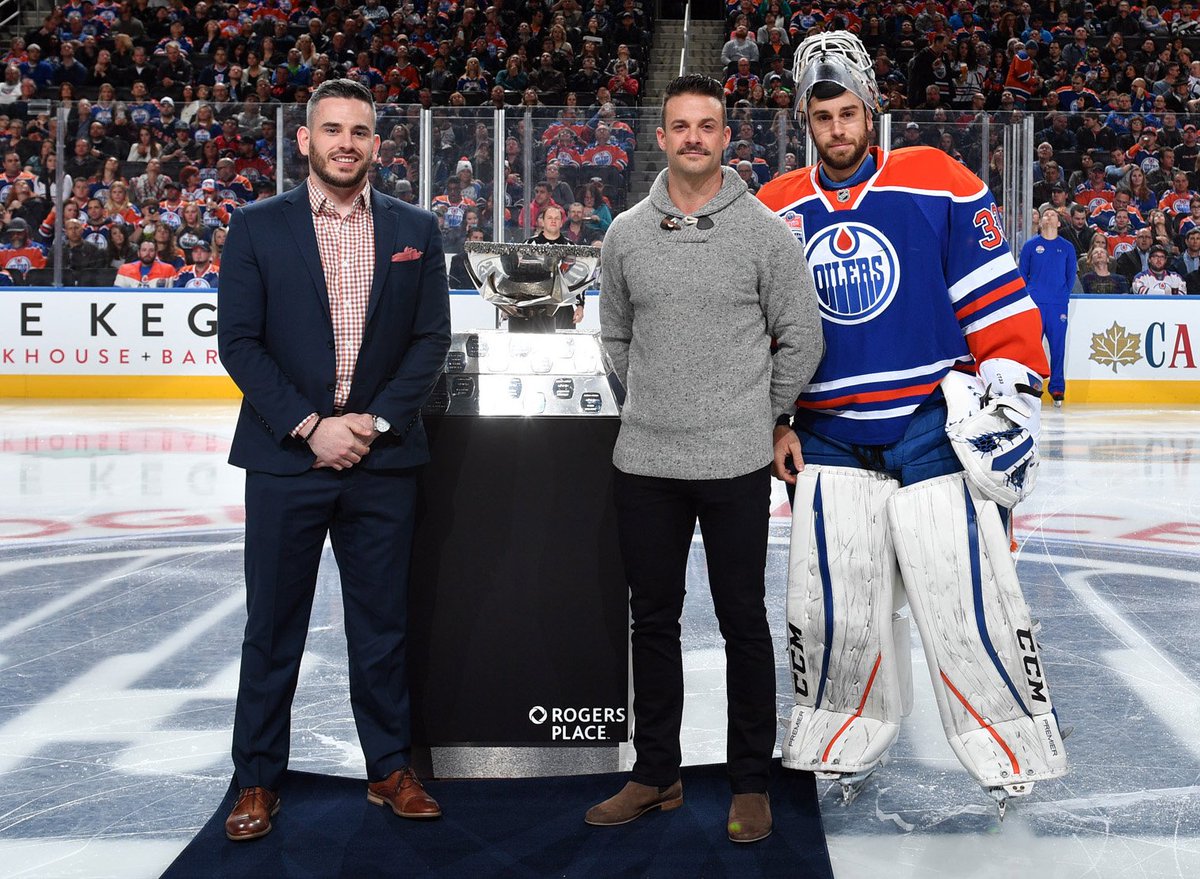 Cam Talbot won the Molson Cup for October 2016. In other words, Molson beer decided that the Cam Talbot was the best player in October out of every player that plays for a Canadian team. October of 2016 will be a month Talbot will soon not forget, between his twins being born, being one of a handful of goalies to pitch a shutout in an outdoor game, making 195 saves on 199 shots and just having a great month of play in general.
The Oilers going into this game, have had an Oil spill of late into the loss column. (Yes that was corny.)
Connor McDavid (I always fuck up spelling his name with  CoNor McGregor!) has been cold and snake-bitten. While he's logging a ton of assists, he's not scoring goals. None of the Oilers are, as there has been a huge goal drought in Edmonton. In fact, for the second time in two straight games, the Oilers lost a home game to a team that played Calgary the night before.
Maybe the Oil could use a player like Taylor Hall right now? Hmmmmmm.
Fortunately for Talbot and me as a diehard Talbot fan, it's not his doing. His defense hasn't been as good as the first month of the season and his offense isn't pulling him out of games where he gives up 2 goals. The powerplay has been anemic despite numerous chances. Basically, Talbot in November of 2016, is going through what Lundqvist went through during the first 7 years of his career!
Connor won't be cold forever, and will eventually start ripping twine again. Until then, the Oilers are suffering a bit.
For the Rangers, their offense has been ruining goalie's GAA's all over the league. While Talbot was able to keep it at three (and all three goals were because of the horrible Oilers D, with a deflection and breakaway in there), Raanta was able to make 38 saves.
The Oilers fired a ton of shots and many good ones at that, at Raanta. The one goal Raanta gave up would've been tough to save. In fact, with the way the Oilers were shooting in the first period, if Hank was starting, I wouldn't be surprised to see the Rangers trailing 3-2, rather than being up 2-1 going into the second period.
It's funny, I was talking to my buddy Tommy. All the road-trips we've been on together, from US to Canada, in the 3 years since he moved into my building, Talbot and Raanta have never lost. Lundqvist has lost all the road games we've been to. Maybe that's a deep seeded root for my disdain for King Contract!
Raanta was just amazing tonight. Since the Rangers are idiots and will never trade the overpaid one, despite trading/letting go of Messier, Graves, Leetch (Guys who won cups) and legends like Bathgate, Howell and Giacomin, I really think Raanta will be a starter somewhere else next season. He's really flourished and made the most of his minutes. I'm the biggest Talbot fan around, we all know that. However, the Rangers haven't missed a beat since Raanta took his job. Like Talbot, Raanta will be making money starting somewhere down the line.
Again, it goes back to Benoit Allaire. If Raanta does become a starter somewhere else, I have no doubt that he will mold the next back-up goalie for King Overpaid and the Rangers won't miss a beat.
For the Rangers, they win a hard-fought 3-1 game. One play that deserves credit, is Girardi's tip in goal. Zuccarello was flying all over the place and had another good game. He grabbed the puck, made a spinning crazy pass to JT Miller. Miller brought it in the zone. The puck got loose, Zucc got it, made another pass (preventing an offside) and drew a penalty. The Rangers went 6 on 5 with Raanta pulled but no PP was to be had, as they converted and Girardi got the goal.
Steve Valiquette of MSG Networks said it best and he's right. Anytime Zucc touches the puck, take notice and watch what happens 20 seconds later. Good things usually happen.
The story before the game was that Kreider and Buchnevich were injured. For Buchnevich he warmed up and it was thought to be back/neck spasms. He was pulled right before the game. Kreider was pulled a bit earlier than that and was reported to be on his way home to NY for a doctor's evaluation. The Rangers need a healthy Chris Kreider. The only good thing I'll say about this, is that you want these injuries now, not during the playoffs.
Kreider and his fellow Russian speaking comrade, Buchnevich have been dealing with spasms all season. Never being a pro athlete, I can't relate. If they were reported to have a "bad hangover" or "chronic flatulence" or "explosive wet diarrhea" I could understand. However, these spasms are shelving these guys and the Rangers have to figure out what the hell is causing this every other game.
In place of these two, Oscar Lindberg got the start and really didn't do much to maximize his minutes. Adam Clendening rode the pine as the 7th defenseman. What a vote of confidence from AV. As I'm writing this, I just saw a tweet that said AV was only going to use Clendening on the PP, since he was cold.
If Kreider & Buchnevich continue to miss time, we might be mere days away from TANNER FUCKING GLASS coming back and kicking ass while taking names! GLASS 3:16 will rise again!
Random Closing Thoughts:
Congratulations to Donald Trump on becoming President-Elect. I follow politics very intently and I don't want to politicize this blog because half of people always think different than you, but I want to say this: he won, let's accept it and embrace him. Personally, I voted for Obama twice and for Trump as I believe both at the time of their elections are what's best for our country. I think HRC's loss is more of a statement of how she's just not likable. You need charisma to be president in the TV age. Whether it be JFK, Reagan, Clinton, Bush Jr., Obama and now Trump, all these men took advantage of television. It's a shot in the heart for HRC, because let's face it, Obama and Trump are two entirely different people with views on the opposing ends of the spectrum and she got crushed by both.
These riots and protests need to end. Part of democracy and what makes America great is a successful peaceful transition of power. We all need to unite and root for America to do well, no matter who the President is. I do think the media, who is in the business of selling ads, newspapers and ratings, have made such a villain out of Trump where people believe Trump is this out of control sexist racist. Like all elections – have you heard any of these things about Trump before he ran for President? I understand if you don't agree with him, but let's not make America the victim because of it. If he turns out to be horrible, we must trust that our systems will get rid of him anyway, via impeachment.
I love America and American history. This election was definitely historic and we've never seen anything like it. I get all that. However, we shouldn't be rooting against our President and let's hope the dividedness in this country decreases sooner than later, no matter who is President. Everyone who is not a criminal and abides by the law of the land should be entitled to a great life. There is no reason to root for the opposite.
Plus, if the Cubs can win the World Series and if Trump can win the Presidency, maybe there is hope for Lundqvist winning a Cup. Since Lundqvist is a Ranger, contrary to popular belief, I'm rooting for it!
I love the NHL network but they do a horrible job promoting themselves. I was trying to find a clip of the Kevin Weekes segment. Even as an NHLTV/Rogers subscriber with the NHL package, I couldn't find it archived anywhere. In this day and age, all footage needs to be archived and streamed, in the hopes of going viral.
The Bill Simmons show is kaput. One of the reasons, among many, of why it ended after a short run was because of lack of material going viral. The NHL should want their clips to go viral to promote interest and to create subscribers.
While on the NHL network, as both a paying member of the NHL Network, the MSG network and as Optimum customer, it is bullshit that in this day and age, I can't watch a Rangers game on a streaming service, while in NY. I pay alot of money for these services, so I shouldn't have to look for an "illegal" stream of the game if I'm not around a TV. No NHL game should be blacked out if I already pay for the service.
I'm glad to see the MSG Network launch a new weekly hockey show on the MSG networks. The show is supposed to be light-hearted and features former wrestling copy & paste "journalist" Arda Ocal, Anson Carter and Will Reeve. Seeing Will Reeve in the promos brings back memories. I remember his father at Ranger games all the time when I was a kid. I remember thinking as a teenager, one of these days, he was going to walk on the ice. Sadly, it wasn't meant to be. I hope this show is successful. It should at least get a longer run than the Simmons show.
Great job all around by every NHL team during Veteran's and Remembrance Day. Some things are bigger than hockey. The NHL did a bang up job in every arena.
Also, big props to players around the league, especially Av's back-up goalie Calvin Pickard. More and more during NHL broadcasts, you are finding players giving pucks and sticks to little kids. It's just how you create a fan for life. How do I know this? I was one of those kids!
The Rangers return Tuesday night to get revenge on the Canucks. If they pull it off, the Rangers will sweep Western Canada for the second time in three seasons – no easy feat, especially with the body clock/time change.
On a personal note, I will be heading to Chicago for the 12/9 game! If anyone knows any good bars or things to do there, drop a line. After Chicago, I only got one more arena (The Gordie Howe Little Caeser's Palace in Detroit) left out of the Original 6 teams to hit up! If anyone is interested, I found flights for $130 round trip from NYC to Chi-Town.
I'll be back Tuesday night, hopefully with a blog much shorter than this one. I got to catch up on Walking Dead, Shameless, Bar Rescue, Westworld and Last Man on Earth. Boy do I love America!
LET'S GO RANGERS
LONG LIVE KING CONOR
IN CAM WE TRUST
IN RAANTA WE TRUST, IN HANK WE BUST
MAKE THE RANGERS GREAT AGAIN!
Sean McCaffrey
BULLSMC@aol.com
@NYCTHEMIC on the twitter gimmick