What's up everyone and welcome to another blog here on BlueCollarBlueShirts.com. I know the weekends are busy for most, so if you missed it, here's my blog from last night's 2-1 win over Nashville:
For many of you reading this, it's now Monday morning and we're less than a week out from Christmas. The Rangers delivered a pair of consecutive shoot out victories this past weekend, defeating Nashville 2-1 on Saturday and the Devils 3-2 on Sunday. The last time the Rangers won two shoot out games in row, it was nearly 6 years ago, when the Rangers won on 1/22/11 and 1/24/11.
Here's my take on the shoot-out – I really don't mind it. The three vs three stuff is exciting, especially if your team is not involved. As a paying customer, who wants to invest all the time and money into a game, just to see a tie? I can understand the change, even if it isn't traditional. I think many opposed to the shoot-out, which is basically just a skills (and sometimes a luck) competition, are upset because it has nothing to do with the game. It would be like deciding an NBA game with a slam dunk contest or a MLB game with a Home Run Derby. I get all that.
Hockey is the most physical sport out there, much more than football. I know I'm really not qualified to talk about this, because I have never played a full NHL or NFL season, unless you count my Playstation career, but I have this opinion anyway! Hockey is an 82 game season, with games spread on average, every other day. It's a 60 minute non-stop sport. The average player may log 25+ minutes a game at that. Football is also a 60 minute game, but each play is about 3-5 seconds long, then a 40 second break. The average ACTION/play time in a football game is 10 minutes long, where hockey is the full 60. Football players then get a week off to rest.
In no way am I discounting what NFL players have to go through, as it is a tough game, I just think the hockey player has a more grueling schedule and more wear and tear during the season. I'm glad ties are out of the game, even if it inflates stats a bit. Right now, Henrik Lundqvist has now surpassed the Dominator, a one Mr. Hasek for most wins as a European goalie. Nice fun stat, right? It sure is, but at the same time, how many more wins would Hasek have in this no-tie era?
Anytime you alter the game, whether it be by adding more games, changing rules, etc; the weight & veracity of stats takes a hit. Happens in every major sport. I mean even in baseball, when you talk Ruth vs any of these other HR hitters, Ruth didn't have to play against black or Latin players. He also didn't have the advantage of steroids, film review and expert scouting. That's why it's just so hard to compare players from different eras, because there are always factors and variables that change.
For hockey though, even as someone who tends to lean on the side of tradition, I'm glad the ties are out of it. I really think one of the reasons soccer hasn't caught on in America, ever, is because who wants to pay and sit down for 90+ minutes to not see a winner?
The 3 vs 3 OT, while perhaps gimmicky, is exciting to watch. I'd rather watch a 3 vs 3 tournament during the ASG than the actual ASG! (And speaking of the ASG, Rick Nash may be going back to represent the Rangers after the way he's been playing.) Watching 3 vs 3 OT hockey is  like watching NBA JAM on ice. However, after 60 minutes and then 5 minutes of the 3 vs 3, NHL games go to a shootout to decide a winner. It's no longer a game anymore, it's a skills show.
I'm fine with the shoot-out because, and while it took me a few paragraphs to get here, I'm finally spitting it out – these players have a long grind. The game simply has to end. This isn't the playoffs. Again, if you're a fan of the tie being removed from the game, you don't want these games going into double and triple OT on a regular basis. Really, when it comes to the four major sports, the NHL regular season means the least of the four. Before you go nuts about that, think about this:
NFL games mean the most, because there are only 16 of them, with top seeds receiving a bye. Finishing first means something.
MLB games, all 162 of them, is a long task to get through in the regular season. However, home field advantage is huge for the 1 game wild card and the top teams get a rest before the playoffs. Most of the time, the better seed usually beats the team with the harder path.
The NBA seeding matters, because if you're a 7 or an 8 seed, you're screwed. There is no parity in the NBA. Only 4 teams have a chance to win an NBA title in any given year. It's why you see more NBA dynasties in pro sports than any other league. Are you telling me that you would put money on anyone not named Cleveland, San Antonio or Golden State to win the NBA title this year?
In hockey, any team can get hot, especially if you got a hot goalie. We've seen bottom seeds knock out top seeds on a more frequent basis. The NHL playoffs are unlike anything else – every game is a battle. It really is a whole new season. You have more NHL playoff games than any other major sport. For good teams that make the playoffs, they are more concerned with resting their guys and being healthy for the spring, than anything else. While all playoff games are intense, the Stanley Cup Playoffs is just a whole different animal. You don't get the blowouts you see in the NBA on a regular basis. You don't have 6 hours to win a game like baseball. You play for the championship in your own arena unlike football. The Cup playoffs, for my money, are usually the most exciting in sports.
This all said, while the shoot-out may not be liked, I find it a necessary evil for the good of the game. No point in risking injuries, health or beating these guys up any more than they need to be.
And yes, I would believe all this if the Rangers just didn't win two shootout games in a row!
And would you look at that, another 1000+ word tangent! This ADD world is contagious!
The Rangers and Devils both played on the road on Saturday night and flew back to NYC early Sunday morning. The Rangers got in town a little bit after 1AM from Nashville. The Devils didn't get home until a little bit after 2AM from Ottawa, due to customs. It was a one hour time difference, and ironically enough, a 1 goal game too.
The Devils are a cellar dwellar team, just 3 points ahead of a woeful last place Islanders. Seriously, as Ranger/Giant fan, this was a great weekend for me!
Going into this game, I told you last night I didn't care if Lundqvist started. I know everyone is doing their "KING IS BACK" shit, but I'm here to tell you to pump the brakes. Hank is playing his best hockey of the season, no doubt. However, he's beaten two non-playoff teams and beat a second-to-last place NJ Devils, 3-2, the same team that Raanta shut-out just a week ago. I'm not here to piss on your parade, but please, at the very least, save "THE KING IS BACK" shit if he shuts out Pittsburgh on Tuesday. If you really have patience, try waiting until he wins a Stanley Cup, because after all, you can't be a King without a crown!
That said, Hank is playing well and like Stella, seems to have found his groove again. He shouldn't need to play horrible, need time off and have his back-up outperform him to find his groove though. He's paid far too much money to go through these terrible spurts on a regular basis. You could also argue that he's paid to win in the playoffs. I have no problem with that argument. I have a problem with the no Cups though!
After returning with the win in Dallas, Hank won a back-to-back, both shootout victories, this weekend. It's good to see him winning the one goal games again. Some fans, who are already at their knees and bowing in front of Hank, may overlook the fact that Benn nearly had a hat-trick in Dallas, the Rangers defense has been much better and the Devils were completely atrocious on every odd-man rush they had tonight, Hank has been at his best & you can't argue with the results.
Tonight's game against NJD was a snoozer until the final 6 minutes of game time, and that includes the 5 minute OT. The Rangers were playing their 5th game in 8 nights, but hey, Gary Bettman got to have his silly World Cup of Hockey tournament that no one gave a shit about nor remembers. Both teams got into town late. While the Rangers didn't look very fatigued early, they seemed to gas a bit in the second. AV noticed it too, and called for a rare timeout.
I talked about this in last night's blog – this was another Glen Sather Blueshirt Blueprint game. The key guys played well. Hank did look like one of the best goalies in the league. Rick Nash was dominant, even if he didn't score tonight. The defense played well, except for one major gaffe tonight, but at this level, it happens. The Rangers got enough from the supporting cast to eke out the win.
Don't be fooled – those Rangers that were scoring 4,5,6 goals a game isn't what Sather and later on, Gorton, drew up. We all know the contracts. This team was built to win low scoring one goal games. And they did just that this weekend. Of course, they gotta do it in the playoffs & there won't be any shootouts in the playoffs either.
Not that anyone is eating Papa Johns in NY, but since the return of Lundqvist, the Rangers offense has struggled to score. However, it's not like because they are falling apart either. The Rangers had many opportunities to beat Schneider early in this game, but Schneider decided to have one of his best games of the season on Sunday night. The biggest NYR play of the first period was Rick Nash skating through the entire Devils team, and flicking a shot that was almost a goal past the right skate of Schneider.
The Devils did themselves no favors either, especially in the 3 vs 3, as they blew every odd man rush they had. In regulation, they blew three separate 2 on 1's. Staal and Nash broke up two of them and on the other, the Devils shot wide. While Schneider and Lundqvist haven't been themselves this season, they were great tonight when challenged, and both were challenged frequently.
Here's the official box score from ESPN, with more game analysis to follow:
1st Period Summary

Time
Team
Scoring Detail
NJ
NYR
No scoring this period
0
0
Time
Team
Penalty Detail
5:31

Matt Puempel: 2 Minutes for Cross checking
9:02

Miles Wood: 2 Minutes for Tripping
11:50

Marc Staal: 2 Minutes for Tripping

2nd Period Summary

Time
Team
Scoring Detail
NJ
NYR
4:37

P.A. Parenteau (7) (Power Play)
Assists: Kyle Palmieri, Damon Severson
1
0
Time
Team
Penalty Detail
3:13

Marc Staal: 2 Minutes for Delaying the game
8:32

Damon Severson: 2 Minutes for Interference
18:14

Oscar Lindberg: 2 Minutes for Hooking

3rd Period Summary

Time
Team
Scoring Detail
NJ
NYR
8:10

Chris Kreider (9)
Assists: Mats Zuccarello, Brady Skjei
1
1
10:32

Miles Wood (3)
Assists: Adam Henrique, Kyle Palmieri
2
1
18:47

Derek Stepan (6)
Assists: Ryan McDonagh, Kevin Klein
2
2
Time
Team
Penalty Detail
No penalties this period

OT Summary

Time
Team
Scoring Detail
NJ
NYR
No scoring this period
2
2
Time
Team
Penalty Detail
No penalties this period

Shootout Summary

Team
Detail
NJD
NYR

Shootout GOAL scored by Mats Zuccarello on Cory Schneider
0
1

Shootout attempt by P.A. Parenteau saved by Henrik Lundqvist
0
1

Shootout attempt by Jimmy Vesey saved by Cory Schneider
0
1

Shootout attempt by Taylor Hall saved by Henrik Lundqvist
0
1

Shootout attempt by Derek Stepan MISSES
0
1

Shootout GOAL scored by Michael Cammalleri on Henrik Lundqvist
1
1

Shootout GOAL scored by Kevin Hayes on Cory Schneider
1
2

Shootout attempt by Damon Severson MISSES
1
2
Goaltending Summary
New Jersey Devils Goaltending

Player
SA
GA
Saves
SV%
TOI
PIM
C. Schneider
27
2
25
.926
64:58
0

New York Rangers Goaltending

Player
SA
GA
Saves
SV%
TOI
PIM
H. Lundqvist
31
2
29
.935
64:46
0
For as great as the Rangers Penalty Kill has been these last few games, the PP has been horrid. There was a period of time in this game, where the Rangers PK had more shots, COMBINED, than both the NYR & NJD PP units. Even the first goal of the game, where PA Parenteau (A former Ranger of course) scored on the PP, was kind of fluky. There was action in front of the net and Parenteau sent the puck Hank's way. Hank knocked it into his own net while trying to fight off the frantic scrum. Those type of goals suck, but I rather see that than a softie.
The Rangers, who have taken a lot of penalties as of late, especially dumb ones, looked good in killing them. Matt Puempel took a stupid penalty, with a cross check to the back. I didn't see NYR fans calling for Puempel to be suspended though!
Marc Staal took two dumb penalties too. He retaliated after feeling he was hit unnecessarily. He then took a delay of game as well. When he did get out of the box, and had a 3 on 1, he shot right at Schneider. Parenteau's PPG came with Staal in the box.
The Rangers trailed 1-0 heading into the final 20 minutes. Chris Kreider would tie the game up, 8 minutes into the third period after a perfect pass from Zuccarello from behind the net. Zuccarello has that Martin St. Louis tendency of making great passes in key moments. I still wish MSL came back last season so Zucc could've got one more year of playing with him. I wonder how much Zucc credits playing with MSL for elevating his game?
However, in something we've seen far too often, Lundqvist immediately surrendered a goal after the Rangers goal. I had flashbacks to last season where that seemed to happen on a daily basis. Girardi turned the puck over behind the net of Lundqvist and Miles Wood made the Rangers pay. 2-1 the red team, with under 10 minutes to play.
It's funny how the kids on twitter will bury Girardi non-stop after a bad play, but hush up on a bad Lundqvist goal. If you call out Lundqvist for a bad goal, these kids say "YOU R A FAYKE PHAN. YOU DONT NO WHAT HANK DID FOUR THIS TEAM!" When you bring up all the great stuff Girardi has done and all the shot blocking he did under the Torts years, that is all ignored! I guess I shouldn't expect anything else!
The Rangers have been a good team this season and are in first place. Very rarely are they on the 6 vs 5, looking to tie up a game with a minute left in regulation. For the first time this season, the Rangers executed on the rare 6 vs 5, as Derek Stepan deflected a puck of Ryan McDonagh's stick. It took a nice bounce and the Rangers tied the game 2-2, with under 90 seconds remaining. Lundqvist looked the most elated, as he celebrated the goal from the bench.
With the score tied 2-2, both teams had opportunities to win in regulation, but both Schneider and Lundqvist were on top of their games. The game went to the 3 vs 3 OT, which is fun to watch if you don't have a rooting interest! The Devils had plenty of chances to win and I'm still surprised with the blown opportunities they had. The Rangers had less chances, but Schneider did his job too.
For the second night in the row, two points were decided in a shootout. Zucc kept up his strong play in the shootout, scoring his second shootout goal in as many nights. Hank made a picture-perfect glove save on Parenteau. Vesey, the hero of last night, came up short, as did the steal of the NHL off-season, Taylor Hall. It still pisses me off that the NJD of all teams, were the one to fleece Edmonton for Hall.
With the Rangers only needing Lundqvist to make a save to win the game, Mike Cammalleri beat Hank. I groaned, as I've seen this story before. However, Kevin Hayes came right back to beat Schneider, as the Rangers won the shootout 2-1, and the game 3-2.
Of note, after not getting a star in last night's game, where I thought he played better than tonight, Lundqvist was given the top star in the game. Despite being held off the scoreboard, Rick Nash also got a star, and I'm glad to see him get it. I'm surprised he wasn't called in the shootout. He had a fantastic game, and while he didn't score, he was a huge reason why the Rangers won this game, with his play on both ends of the ice.
Again, I want to make this clear – I'm glad Nash & Hank are playing well, but THEY HAVE TO DO THIS IN THE PLAYOFFS! The whole winning a Cup thing would be great!
And hey – how about Coach AV? He's surely pressed all the right buttons and has gotten the best out of his goaltenders.
Just wanted to share the official Post-Game notes from the game, as I found them interesting. From BlueShirtsUnited.com:
Team Notes

WINNING WAYS – The Rangers' 23 wins in 2016-17 are tied for the most the team has earned through the first 34 games of one season in franchise history. The Blueshirts have now earned 23 wins in their first 34 games of a season five times in franchise history (1941-42, 1970-71, 1971-72, 1993-94, 2016-17). New York leads the NHL in wins this season and is the only NHL team that has earned at least 11 wins both at home and on the road thus far in 2016-17. The Blueshirts have won seven of their last nine games (7-2-0), including six of the last seven contests (6-1-0) and each of the last three games.

BACK-TO-BACK – In their last 88 back-to-back sets (since the start of the 2010-11 season), the Rangers have posted a 59-23-6 record in the second game of the set. New York has posted a 6-0-0 record in the second game of a back-to-back set in 2016-17.
SHOOTOUT SENSATION – The Rangers played two consecutive games which were decided in a shootout for the first time since Nov. 13 – Nov. 15, 2014. In addition, New York recorded a win in two consecutive team games which were both decided in a shootout for the first time since Jan. 22 – Jan. 24, 2011.
SHUTTING THE DOOR – The Rangers have not allowed a goal in either the first period over the last seven contests.
TWO GOOD – The Rangers have allowed two goals or fewer in regulation/overtime in 24 of 34 games this season, including 11 of the last 13 games and each of the last seven contests. The Rangers have posted a 20-3-1 record in the 24 games which they have allowed two goals or fewer in 2016-17. The Blueshirts have allowed six goals in over the last seven games (0.86 goals against per game over the span).
SAVING THE DAY – Over the last seven games, Henrik Lundqvist and Antti Raanta have posted a combined .966 SV% (173 saves on 179 shots over the span).
COMEBACK KIDS – The Rangers rallied to win a game in which they trailed entering the third period for the second time in 2016-17.
CLOSE CALL – Seven of the Rangers' last 11 games, including five of the team's last seven contests, have been decided by one goal.
RUNNING WITH THE DEVIL – The Blueshirts have recorded at least one point in each of their last seven home games against the Devils (5-0-2) and in 11 of their last 12 home games against New Jersey (9-1-2).
FULL HOUSE – Tonight's game was the Rangers' 203rd consecutive regular season sellout and the Blueshirts' 244th consecutive sellout (regular season and playoffs combined). The Rangers' sellout streak dates back to Nov. 3, 2011.

Three Stars on Broadway

Henrik Lundqvist made 29 saves in regulation and overtime, and stopped three of four shooters he faced in the shootout, to earn his 15th win of the season. Lundqvist earned his 389th career NHL win in tonight's contest, tying Dominik Hasek for the most wins by a European-born goaltender in league history. In addition, Lundqvist tied Hasek for 12th place on the NHL's all-time wins list. In his last three starts, Lundqvist has posted a 3-0-0 record, along with a 0.98 GAA and a .967 SV% (87 saves on 90 shots). Lundqvist has posted a 14-5-1 record, along with a 2.19 GAA, a .927 SV%, and 1 SO in his last 20 starts, and he has allowed two goals or fewer in 14 of the 20 games. Lundqvist has now played both games of a back-to-back 76 times in the regular season in his NHL career. In the second game of the back-to-back set, Lundqvist has posted a 48-21-7 record, along with a 2.05 GAA, a .929 SV%, and 8 SO.
Rick Nash tied for the team-high with five shots on goal and posted a plus-one rating in the contest. He leads the Rangers in shots on goal this season (88).
Derek Stepan registered a goal to tie the game with 1:13 remaining in regulation and recorded three shots on goal in the contest. He has tallied 25 points (12 goals, 13 assists) in 30 career games against the Devils. In addition, Stepan has notched 11 points (four goals, seven assists) in the last 16 games, including eight points (two goals, six assists) in the last 10 games. The Rangers have posted a 34-1-6 record in the last 41 games in which Stepan has tallied a goal, dating back to Mar. 18, 2014.

Blueshirt Breakdown

Chris Kreider tallied a goal and posted a plus-one rating. This season, Kreider has tallied all of his eight goals and 17 of his 21 points in game situations when the Rangers have either led by one goal, trailed by one goal, or were tied in the contest.
Kevin Hayes recorded the game-deciding goal in the shootout, tied for the game-high with five shots on goal, and won 12 of 19 faceoffs (63.2%).
Mats Zuccarello registered an assist, tallied a goal in the shootout, led all skaters with four takeaways, and posted a plus-one rating. Since the start of the 2013-14 season, 151 of his 190 points since have either been a goal or the primary assist on a goal (79.5% of his points have been primary points). Zuccarello has recorded a shootout goal in each of the last two games, and he is the Rangers' all-time leader in shootout goals (17).
Ryan McDonagh tallied an assist while skating in a game-high 25:27 of ice time. McDonagh leads the Rangers in assists this season (17), and he leads team defensemen in assists and points (18) in 2016-17. The Rangers have posted a 25-4-3 record in the last 32 games in which McDonagh has logged at least 25:00 of ice time, dating back to Oct. 16, 2014. He has led the Blueshirts in ice time in 31 of 33 games he has played this season.
Brady Skjei notched an assist, recorded three shots on goal, and posted a plus-one rating in 19:47 of ice time. He has registered a point in each of the Rangers' two games against New Jersey this season (one goal, one assist). Skjei has tallied 13 points (one goal, 12 assists) in the last 26 contests.
Kevin Klein registered an assist, tied for the game-high (and led the Rangers) with four hits, was credited with three shots on goal, and posted a plus-two rating. He has tallied nine assists/points in his last 22 games (since Nov. 5), and he leads Rangers defensemen in assists over the span. Klein has posted a plus-two rating in three of the last five games and in four of the last nine contests.
Alain Vigneault coached his 280th career game with the Rangers tonight, tying Roger Neilson for eighth place on the franchise's all-time games coached list.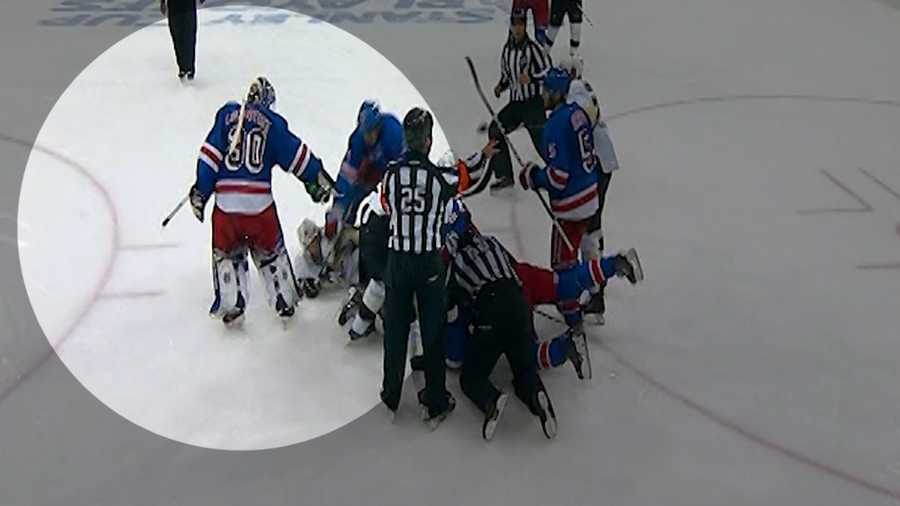 I've talked about it all week. The biggest test thus far on the Rangers calendar is Tuesday night in Pittsburgh. Since many Ranger fans can't talk about hockey objectively and without bias, let me be the first to say, as a Ranger fan, Sidney Crosby is still the best player in the NHL. We all know I watch a ton of Oiler games and people are raving about McDavid, but McDavid hasn't unseated Crosby yet.
I mean, in the past calendar year, Crosby has just won everything. Is he a crybaby bitch? Sure is. He's still the best in the league and for the Rangers to win the Cup, there is a good chance they will have to see Crosby & co. in the playoffs. I know the Pens could be upset in the first round, but I don't see that happening.
The Penguins have dominated the Rangers & Lundqvist in the last several meetings. The Rangers need to run up some wins against these guys and get their confidence against the Cup Champs back. The Rangers don't have to blow out the Pens the way the Pens have blown out and ran Lundqvist off the ice the last few games they've played, but the Rangers do have to win.
No game is "MUST WIN", especially with not even 1/2 the games completed and when you're in first place, but a huge confidence booster would be for the Rangers to make a statement, smack the Pens around and enjoy the two full days off until returning in MSG against the Wild on Friday.
I had people try to bait me into arguments over who started tonight against the Devils & had a nice twitter exchange with Steve Valiquette about this – but I did not care who started this Devils game. You could make a great case for either Raanta or Lundqvist. However, on Tuesday night, Lundqvist MUST start and he has to play well. These wins against non-playoff teams and back-up goalies are nice & should occur, but these aren't the teams you'll see in the Spring.
I don't mean to over-exaggerate this game or feed you a ton of hype, but the Rangers have to prove that they aren't the Penguins doormat either. It wasn't long ago when NYR was bouncing the Pens out of the playoffs. Let's get back to those days and forget last season ever happened.
See you Tuesday!
LGR
Sean McCaffrey
BULLSMC@aol.com
@NYCTHEMIC on the TWITTAH!