Welcome Ranger fans to another blog here on BlueCollarBlueShirts.com, the only blog that brings you the crazy fanaticism and realistic opinions about our beloved New York Rangers.
The New York Rangers defeated the Washington Capitals (And Toronto) via a score of 3-2. For the Rangers, you could argue this was the biggest win of the regular season. Then again, any win against a division rival at this point in the season, moving forward, can be considered the biggest win of the regular season.
I don't even know where to start tonight's blog, because there are so many different angles and things to talk about  with this game. Thankfully, I don't have the real job tomorrow, so I got time to expand on a few points.
Not every game has one play that decides the swing of the entire game. Sometime you just have routs. Sometimes a better team just wins. Sometimes you go to OT. Sometimes you get the skill competition shootout to decide a winner. However, for the Rangers, these last few games have had a play that swung the entire game.
Last night against Pittsburgh, we had Henrik Lundqvist acting like the Incredible Hank, when he flipped the net over and had his drama king hissy fit. In tonight's nailbiter, the NHL officials in Toronto tried to deny the Rangers two points.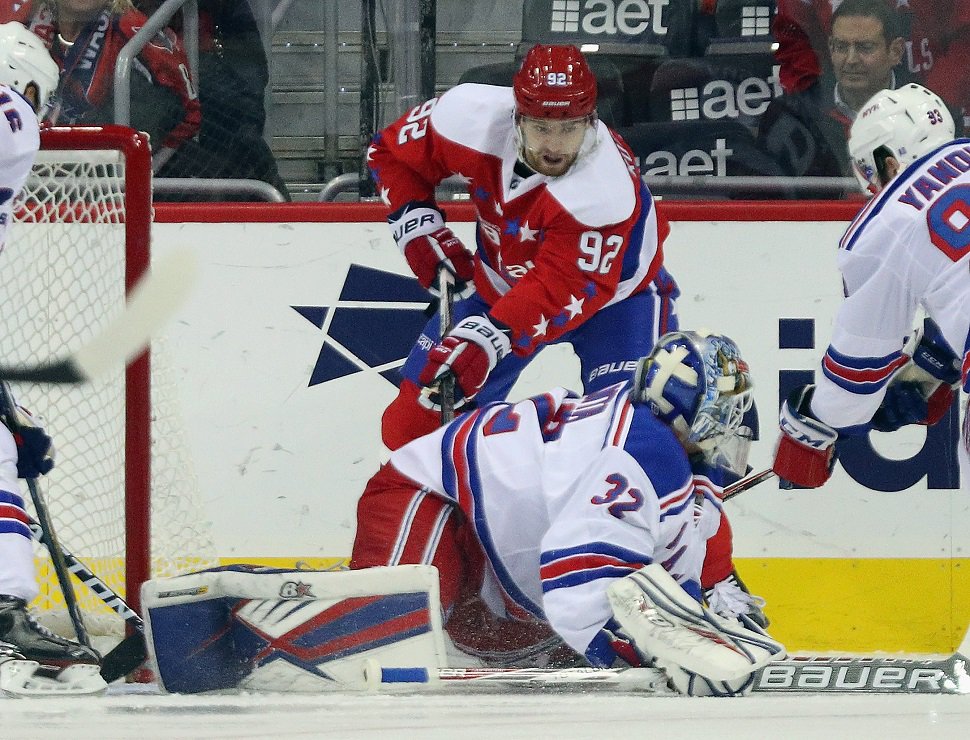 After Lundqvist had his meltdown last night, which you can read about by clicking here, the Rangers opted to start Antti Raanta in net. The Rangers claim Lundqvist has "neck spasm" issues, but I think he has more ego and anger management issues.
You know how I feel about Hank's contract and how I think he ducks big games in the regular season. I even commented on twitter, @NYCTheMiC , that I was surprised that Hank was starting against a non-playoff team, in Pittsburgh, on the first half of a back-to-back, rather than sitting out Pittsburgh and playing against the best team in hockey, you know, the same team you're chasing in the standings, the Washington Capitals. I really thought the Rangers should bring their best to the game against Washington, as it would be a true test of their character and show the organization where the Rangers stand.
With the Lundqvist "neck spasms", Raanta got the call tonight. Raanta, who has been on fire as of late, came out and played another huge game for the BlueShirts.
Before continuing on Raanta and the bullshit goal that was allowed against him, how about Rangers goaltending coach, Benoit Allaire? The Rangers are gonna have to tell this guy to slow the F down. Is/was Henrik Lundqvist a great goaltender? Sure is/was. However, how much of his game was enhanced by having Allaire by his side all these years?
Just look at Allaire under the Coach Vigneault era. Cam Talbot went from a relative unknown (except by me!) back-up goalie making $550,000 per season. Now Cam is the starting goalie, of what should be an up and coming organization, in the Edmonton Oilers and now making $4.5M a season.
MacKenzie Skapski, a complete unknown, was a 21 year old goaltender last season, starting only because of the Lundqvist injury & injuries to the goalies on the Hartford Wolfpack. Allaire worked with him, and Skapski, in the NHL, now sports a 2-0 record and has only given up 1 goal in 120 minutes.
The way Raanta has been playing as of late, is there any reason to think Raanta remains here after next season? At 26 years old and with the numbers he's putting up, some team (Hello Arizona) will give him a crack to start.
The Benoit Allaire factor is another reason I think Hank is overpaid. The guy is a goalie guru and can mold anyone. With Allaire under the Rangers umbrella, there is no reason to have the highest paid goalie in the league under your employ. The money should be spread out to the offense.
And really, there should be some sort of assistant coach award at the end of the season. Allaire is just another unsung hero in the NHL.
Now onto the biggest piece of bullshit I've seen since the last time Toronto fucked the Rangers…
With the Rangers sporting a 2-0 lead in the second period, the Rangers were playing some mighty fine hockey. However, the game took a huge turn, when during a scrum in the net, the NHL officials in Toronto, gave Jay Beagle a goal, despite the puck never crossing the goal line via multiple TV camera reviews.
Watch this yourself:

As you can see, the puck never crossed the goal line via instant replay. Keep in mind, the play on the ice was never ruled a goal. In addition, you just had a ref standing there, watching the play like a fan rather than as an official.
After a 5 minute delay, the officials at this game, received word from Toronto, that the puck did cross the goal line and this was a goal. How did Toronto come to that conclusion? By some secret grassy knoll camera feed that was not available to NHL fans. WHAT THE FUCK?
Not even because it was my team here, but how can you have a goal be allowed or denied via a camera angle that no one sees? What other sport pulls this bullshit? If you followed me on twitter, I was going bat-shit crazy about this call.  I'm going to try to limit the four letter words, but really, what the fuck?
I have the NHL network/Game Center App. I watched replays not only through the Rangers feed, the MSG network, but also the Capitals feed. NOT ONCE, DID I SEE OR ANYONE ELSE SEE FOR THAT MATTER, INCLUDING CAPS FANS, THE PUCK CROSS THE GOAL LINE.
In the worst case scenario, say the puck did cross the line, via the NHL's super-duper top secret James Bond camera. WHY NOT RELEASE THE FOOTAGE?
As a fan of the NHL, I invest tens of thousands of dollars a season, in going to games, buying merch, buying the NHL package, etc. As a fan of the product, aren't I entitled to footage of a goal? Toronto obviously saw something in their Inspector Gadget Batcave camera. WHY NOT SHOW US THIS? We are paying customers of a product. We are investing our time. Many of us work jobs, although based on the Richter conversations last night, many of us have to go to middle school  the next day. This is our escape from reality. This is our stress relief (Ok maybe not that!) This is how we enjoy life.
As a fan/customer/consumer, the NHL has really dropped the ball puck in the review department. It is utter bullshit, no matter who you root for, that we aren't allowed access or footage to these secret cameras. Why not release the footage? End the debate. I guess the NHL has to photoshop the puck going over the goal line and that takes time.
Bottom line, bullshit call. MAJOR PROPS to Steve Valiquette, of the MSG Network, for calling out this disgrace, both via his twitter @Vallys_View and on the MSG Network during intermission. Watching this play be called a goal was like having WWE referees decide the outcome.
H-O-R-S-E-S-H-I-T!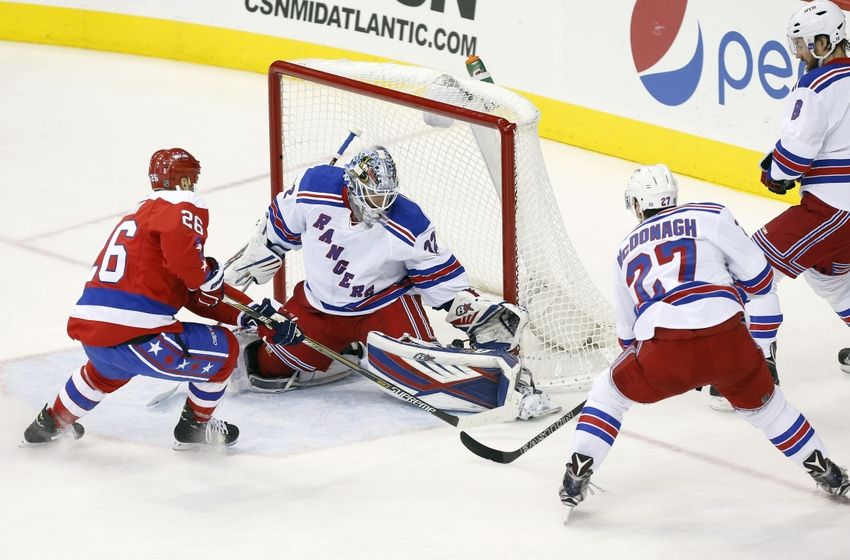 Horrible scoring decision aside, Raanta was absolutely fantastic. Keep in mind, Raanta got killed the last time he played the Capitals. However, tonight, with Lundqvist out, and Hellberg sitting on the bench for a possible mop-up duty role, Raanta beat the best team in the NHL with a fabulous performance.
Raanta was tested early and as usual, for a Rangers goaltender, had to stop a lot of shots from point blank range. Even with the referees against them, Raanta held tight, making 32 saves on 34 shots. The two goals Raanta allowed weren't on him either. The first goal was the BS call. The second goal was a breakaway powerplay goal with no defender in sight. Raanta made a bunch of big saves, including with less than 2 minutes to go, when the Caps rolled out their 6 on 5 offense, with Caps netminder, Holtby, on the bench.
I get this a lot on twitter/facebook. Because I'm known as the Cam Talbot guy, people automatically assume I want Raanta to start every game. Can I put this to rest for the 3047803674786378364th time here again? I was a fan of Talbot because I followed his career on the Wolfpack. I never rooted for Raanta until this season. I'm not calling for Raanta to be the starter like I was with Talbot last year. Hank has to start come playoff time.
That said, by the way Raanta has been playing, I can see him going the Talbot route and getting a starter job next season.
Also, what's the biggest difference between Raanta & Lundqvist? Raanta has a Cup. You can't be a king without a crown and Raanta has it. (Yes, I'm being half sarcastic here, I know Raanta's role on that Blackhawk Cup team last season.) Is it time for KING Raanta to supplant Lundqvist? I'd love to bust your balls and say yes, but obviously this is Hank's kingdom and we're just not winning Cups in it. Hopefully that changes as Flag Day in June rolls around.
Let's go to the boxscore, courtesy of ESPN.com. As always, my comments are in italics:
1st Period Summary

Time
Team
Scoring Detail
NYR
WSH
5:47

Jesper Fast (9)
Assists: Dan Girardi, Ryan McDonagh

This was a goal via determination. McDonagh kept the puck alive and fired it in Holtby's direction. Girardi took a wack at it, Fast found it and put it past Holtby. Huge goal, as the Caps play alot different without the lead.

1
0
16:37

Keith Yandle (5) (Power Play)
Assists: Derick Brassard, Derek Stepan

I'm a fan of Yandle, just not a fan of trading Duclair to get him. The stupid Yandle trade rumors were just that – stupid. How does Yandle not being on this team better the Rangers chances at a Cup? It doesn't. Yandle, perhaps the best offensive defenseman the Rangers have seen since Brian Leetch, buried a deep shot on a rare successful Rangers PP. Of course, before the PPG, the Rangers missed an open net and Stepan hit his 7678965674456th post of the season.

2
0
Time
Team
Penalty Detail
8:00

Marc Staal: 2 Minutes for Tripping
11:02

Jay Beagle: 2 Minutes for Roughing
11:02

J.T. Miller: 2 Minutes for Roughing
15:33

Karl Alzner: 2 Minutes for Tripping

2nd Period Summary

Time
Team
Scoring Detail
NYR
WSH
10:58

Jay Beagle (7)
Unassisted

This was the bullshit goal that should've never been allowed. This changed the game. Luckily, the team, unlike Lundqvist last night, held their composure. I was going fucking nuts when this goal was allowed. Credit to the Rangers for moving past this and continuing to play.

2
1
19:20

T.J. Oshie (19) (Power Play)
Unassisted

The Rangers were in cap hell and have been in cap hell for some time. Seeing Oshie on the Caps is a killer. Oshie scored late into the second, via the PP, when he had a wide open look at Raanta. At this point, with the Rangers having everything against them, you would've been happy just to see the team get to OT and at least get one point.

2
2
Time
Team
Penalty Detail
18:19

Tanner Glass: 2 Minutes for Slashing

3rd Period Summary

Time
Team
Scoring Detail
NYR
WSH
0:17

Derek Stepan (15)
Assist: Ryan McDonagh

Before I could tweet out "Let's Go Rangers" before the start of the third period, Stepan put one by Holtby in a fluke-ish looking goal. Hell, I'll take it. Due to the strong performance by Raanta, it wound up being the game winner. Stepan had an up-and-down game all night, as most of his shots were going wide like Scott Norwood. It was good to see him get a goal here.

3
2
Time
Team
Penalty Detail
0:56

Justin Williams: 2 Minutes for Slashing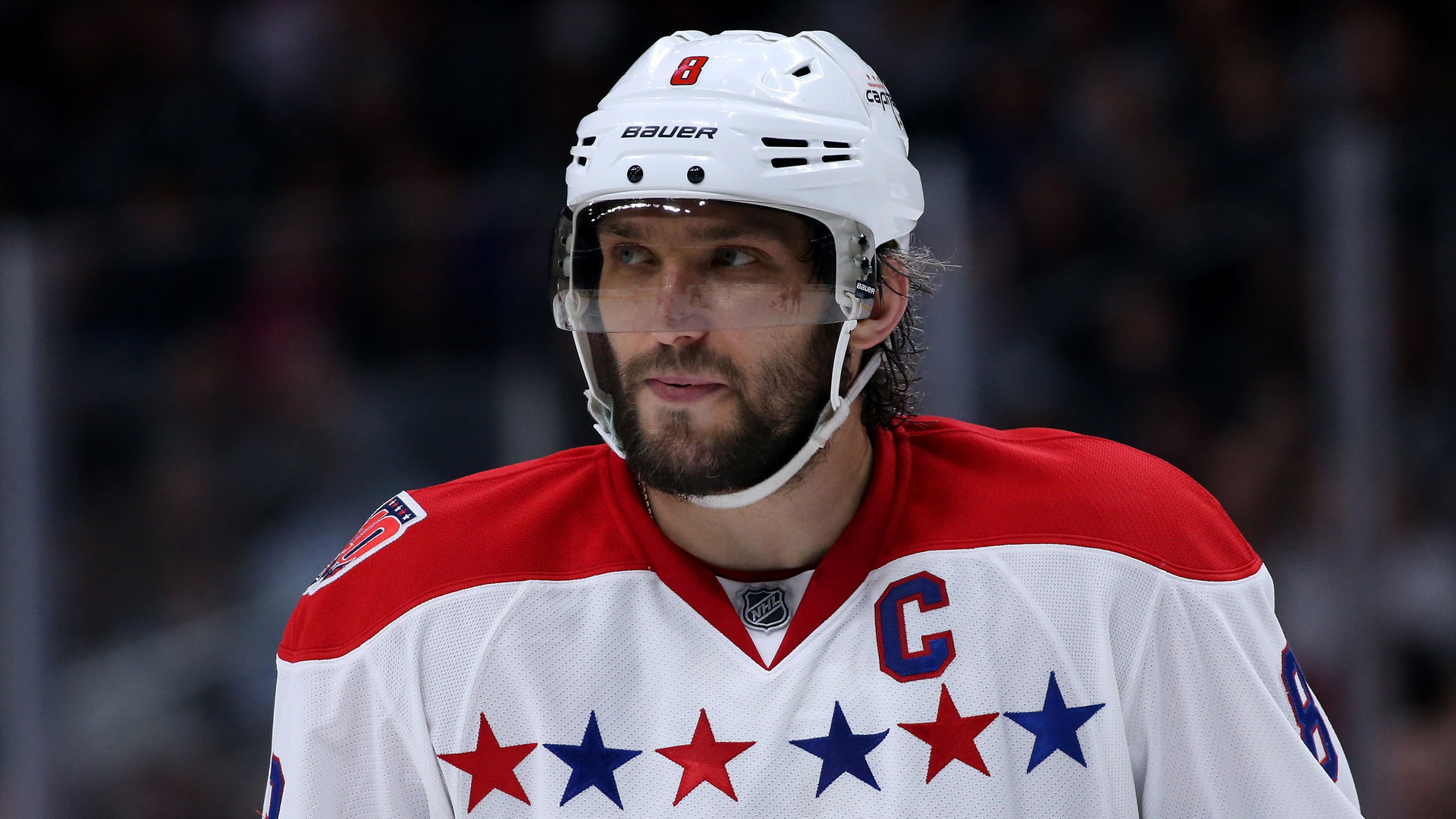 I'm on record already. I still think the Caps vs Hawks are your Cup Finals. I hope I'm wrong. I really want a Rangers Stanley Cup before my liver kicks out. I'm a fan of the game and a realistic fan at that. I don't hate the Capitals or Ovechkin. I respect Ovi's career and I think he's the greatest player in hockey today. The Capitals are a classy organization. I hate the Pens and Crosby. I hate the Islanders and their fans. I hate Philly and everything about it, except for Tony Luke's Cheesesteaks! However, I don't have a negative thing to say about the Caps.
That said, you have to be ignorant not to realize the the road to the Cup, in the Eastern Conference, will go through Washington. Can the Rangers beat them? History says yes, although this Caps team isn't the same Caps team of seasons past. I don't even know if this is the same Rangers team as Ranger squads of the past. They are just so inconsistent this year.
What gives you hope and optimism, as a Rangers fan, is that the Rangers beat the Caps at their best tonight, despite their two highest paid players not on the ice. Rick Nash, remember him, is still out. Again, why didn't the Rangers LITR Nash? After all, who cares if Nash plays again this season? The Rangers have been better without him and it's all about the playoffs. Rangers really fucked up not trying to add another piece, ala the Blackhawks.
Also not on the ice tonight was Henrik Lundqvist, who probably would've flipped over the whole entire fucking Verizon Center if that Beagle goal stood against him.
The Rangers beat the best team in hockey, at their best, with their two top paid players not there. Take into consideration that Eric Staal, the Rangers latest toy, is still gelling with his team and is nowhere near at 100% comfortable with the teams systems and plays.
Can the Rangers beat the Caps in a best-of-7 series? Time will tell. However, the Rangers will most likely have to defeat the Islanders, the same Islanders that have won 5 straight against Lundqvist, but can't beat Cam Talbot whenever he starts.
In other words, these upcoming playoffs will take more years off my life than my daily Parliament Light pack & Labatt Blue Light 12 pack diet. (It's all light stuff, see- it's truly a diet!)
I've mentioned how great Raanta was tonight. Here are a couple more quick shots:
The Rangers PP actually scored a goal tonight. They looked good for stretches.
Derek Stepan has to solve his shooting problems. It will be amazing if he has kids because he can't shoot straight. Too many of his shots go wide or just hit the post. He really needs to straighten shit out.
The Rangers PK also improved tonight. They stopped Washington's killer PP, the best in the league on their first attempt. If it wasn't for Stepan missing the net by 37734 feet on a short handed attempt, the Caps don't get a breakaway on Raanta during the PP. The PK also limited Ovi, who only had one shot on the PP.
While on Ovi and the Caps PP, I would not want to be in front of one of his shots without a kevlar vest and a bed mattress strapped in front of me. We saw him break Klein's arm last year. That puck hits you harder than a tequila shot at 4AM.
Holtby can be beat. The key to beating Holtby? Constant shots. You can't try to find the perfect shot on Holtby. You gotta look for rebounds, deflections and try to catch him off-guard.
While Zucc won't appear on the stat sheet, he had a strong game and was particularly good on the forecheck.
Eric Staal had a few defensive plays but the Rangers need his offense to kick up.
McIlrath was on the bench tonight, as the newly named "M. Staal" returned from the flu.
Speaking of the flu, Jesper Fast, a recent survivor, had a strong game and notched the first goal.
While the Rangers won, a lot of guys were inconsistent. Brassard has to shoot the puck more.
Remember when Lindberg had a shot at the Calder Trophy? He's not playing bad, but his star has faded a bit.
We haven't screamed MILLER TIME in a while. JT has been getting more physical with his play and getting into fights & post-play theatrics. Wonder if it affects his offense.
Nothing against Dan Boyle personally, but I really don't see why he's starting over McIlrath at this point in time.
Tanner Glass, yes that Tanner Glass, had another strong game, especially defensively.
Obviously I'm biased, but excellent job covering this game by the MSG Network. Vally was especially strong. I'm biased towards goaltenders, but he was spot on all night. I always looked at Vally, prior his MSG career, as some unknown back-up. His opinions and commentary have been a strong addition to the MSG broadcast. The MSG staff did a good job scouting & hiring him. He did a great job calling out the NHL on the BS Beagle goal tonight.
Speaking of the MSG broadcast, Anson Carter was a snore tonight. Would've loved having the opinionated Ron Duguay on the panel tonight.
Speaking of the MSG broadcast part II: I love how the panel were openly rooting for the Rangers. A lot of Ranger beat writers on twitter don't do that and at times, are openly negative about the team and kinda have a "nose-in-the-air-attitude" about the games. They openly tell you they don't care who wins or loses, it's just their job to cover the game. I get that. I read/watch everything Ranger related, so that's why I appreciate the MSG guys because, as a fan, I feel they are speaking more direct to me and want the same things as me, for this team.
While dishing out compliments, Bill Pidto, John Giannone & Sam Rosen are the best at what they do. Giannone especially, is working above his pay grade. He should have McGuire's job. I say this, having the NHL package, and watching how other teams handle their telecast. Trust me, Giannone is one of the best in the biz.
I would rather hear Maloney or Albert than Micheleti these days. I'm biased though, I still miss Sam and JD. (I'm sure 75% of you don't know who JD is either, based on the Richter comments I got on my last blog!) Micheleti just comes off so robotic at times. Maybe it's also because he doesn't have the NY history like Maloney or Albert have too. I don't know. I don't think Micheleti is bad or anything, I just think he fits better as a national broadcaster for NHL on NBC than he does for the local NY market.
As a result of the win, the Rangers opened up a lead over their rivals at the second seed in the Metro division. The Rangers are also, point-wise, the second best team in the NHL. For all the ups and downs this season, that's pretty amazing.
One team who would like to bump the Rangers for that second seed are the NY Islanders, who if the season ended today, would face the Rangers in the first round of the playoffs. As much as most Ranger fans hate the Islanders, I still wouldn't want to see them in the playoffs. They seem to have Lundqvist figured out.
The Rangers host one of the worst franchises in the league, this Sunday at home at 5PM. I would expect a low scoring close battle between the Rangers and their neighbors that play games in the worst arena in the NHL.
Beating a team, that sleeps on the couch in their own arena, would open up some space to clinching a playoff spot for the Rangers. Hank should start this game. It's time to get the Islander monkey off his back, and end this 5 game losing streak.
The biggest problem for the Rangers this season is you never know what team will show up. It seems like they play better when they are mad. Hopefully someone pisses on their skates before the game and it gets them riled up. Far too often, these Rangers have been consistently inconsistent. The Rangers need to keep their eye on the prize and play fired up all the time.
UFC tonight! Let's go McGregor!
I'll try to be back Sunday night with a NYR/NYI recap.
Until then,
as always,
LET'S GO RANGERS
Sean McCaffrey
BULLSMC@aol.com
@NYCTHEMIC on the tweet tweet