This is gonna be a fun one!
What's up everyone and welcome to another blog here on BlueCollarBlueShirts.com. The Rangers just finished declawing (feline puns, get it?) the Florida Panthers, winning 5-2. For the Rangers, as I said last night, this was essentially a home game. Give credit where credit is due, the Rangers finally won a "home game" on the road!
Throughout this game, Ranger shirts outnumbered Panther gear at a rate of something like 100:1. Sunrise is a tourist destination for Ranger fans, especially in the winter months. With tourists and a ton of NY transplants, these games in Sunrise are always Ranger blue. Even on TV, the crowd was cheering every Ranger goal, booing Panther goals, doing the "POTVIN SUCKS" whistles (Which was funny, because Potvin was in the house, since he works for the Panthers in the broadcast booth) and of course, belting out LET'S GO RANGERS chants.
These poor sunbelt teams, any games against a major market, especially against teams like the Rangers, Bruins, Canadiens, Blackhawks, Red Wings or Maple Leafs (Yea, your Original 6 teams), turn into away games. The Original 6 fans travel well and the Rangers rewarded their fans tonight.
While Lundqvist recorded some personal milestones tonight (More on him later), the talk of tonight was a one Mr. Tanner Glass. In case you missed my blog last night on the return of Glass, you can check it out here:
Going into this trip, I told you that I thought the Rangers could sweep these four road games. After tonight, it's two up and two down, with bottom feeding teams like Carolina & Detroit up next. In other words, the Rangers got by the tougher two teams and in my opinion, should handle the Candy Canes and Dead Wings, with ease. Bold words? Perhaps, but I'm also on record on saying that I think this team could make it to the Eastern Conference Finals.
Tonight's 5-2 victory over the Panthers was a win the Rangers needed. Was it a perfect win? Far from it, as the PP remains anemic, guys can't finish on a breakaway, Nash is playing horseshoes (coming close) and Stepan couldn't get laid if he was in a whorehouse with a fistful of $100 bills.
However, in what good playoff teams do, the Rangers found ways to beat a bad and struggling team. They got offense from their fourth line. The goaltending was on point. (Yes, that's a compliment for a man I refuse to call a King!) They hustled. They created opportunities. That said, this team does have work to do and I really hope they can figure out this fucking power play before the puck drops for the playoffs.
I wonder, is it just me that roots for Jagr in these games too? Jagr had a good look at Hank, that Hank stopped. I wouldn't have mind if Jagr scored, I just love rooting for the guy. That said, there were a few times where his skill erosion was evident tonight.
Speaking of ex-Rangers, Keith Yandle was really a non-factor. He did seem friendly with his ex-teammates, chatting them up in between breaks.
There is a lot I want to talk about tonight and I know this is already the longest Ranger blog on the internet, so let's get right into it. First, as always, the official box score from ESPN.com:

H. Lundqvist (Rangers – G): Saves: 43, Save Pct.: .956


T. Glass (Rangers – LW): Goals: 1, Assists: 1



C. Kreider (Rangers – LW): Goals: 1, Assists: 0
1st Period Summary

Time
Team
Scoring Detail
NYR
FLA
9:25

Chris Kreider (25)
Assists: Steven Kampfer, Mats Zuccarello
1
0
13:00

Tanner Glass (1)
Assists: Oscar Lindberg, J.T. Miller
2
0
Time
Team
Penalty Detail
4:54

Jussi Jokinen: 2 Minutes for Slashing
13:32

Jussi Jokinen: 2 Minutes for Slashing
16:24

Nick Holden: 2 Minutes for High-sticking

2nd Period Summary

Time
Team
Scoring Detail
NYR
FLA
4:06

Kevin Hayes (16)
Assist: Brady Skjei
3
0
11:20

Thomas Vanek (16)
Assists: Reilly Smith, Vincent Trocheck
3
1
13:14

Nick Holden (10)
Assists: Oscar Lindberg, Tanner Glass
4
1
Time
Team
Penalty Detail
8:37

Alex Petrovic: 2 Minutes for Slashing
13:30

Brady Skjei: 2 Minutes for Tripping
17:50

Chris Kreider: 2 Minutes for Roughing

3rd Period Summary

Time
Team
Scoring Detail
NYR
FLA
16:34

Aaron Ekblad (10) (Power Play)
Assists: Vincent Trocheck, Jussi Jokinen
4
2
18:15

Pavel Buchnevich (8)
Assist: Rick Nash
5
2
Time
Team
Penalty Detail
3:01

Marc Staal: 2 Minutes for Holding the Stick
6:41

Keith Yandle: 2 Minutes for Tripping
15:05

Brandon Pirri: 2 Minutes for Interference
Goaltending Summary
New York Rangers Goaltending

Player
SA
GA
Saves
SV%
TOI
PIM
H. Lundqvist
45
2
43
.956
59:41
0
Going into this game, I thought the Rangers should've started Raanta. I thought he should've been rewarded for the shutout and because the Rangers were coming off 3 home losses. After all, wasn't the strategy to rest Hank for the playoffs? If Hank had a bad game tonight, I would imagine this blog and Rangers social media, would have a different tone. That said, Hank played well. I don't think he was challenged as much as Raanta last night, but you work with what you're given and Lundqvist made a few key saves in this game. Good for him, but as I always say, for what he's paid, it should be the case every night.
As far as the line-up changes, the Rangers ran out the same lines & D-pairings as last night. Only change was Lundqvist in for Raanta.
The Rangers dominated this game in all three periods. In the continuing trend, the Rangers out-shot the Panthers in the first period, but would get massacred in the shots on goal stat in the second and third periods. However, not all the Panther shots were of high quality. Still, they count as SOG. To me, the Rangers never took a shift off and busted their ass. Is this the "Tanner Glass Effect" or AV rallying the troops? I can't tell you. What I can tell you is that the blueshirts, after playing 24 hours previous, didn't look tired and they wanted this win.
I talked about the Rangers lack of scoring last night. Just as a refresher, chew on these stats: (These stats do not include tonight's win vs FLA)
In the last 15 periods (and one OT), the Rangers have scored only 6 goals. In their last four games, they've only scored a goal a game.
The PP  is now 0-22, 1-36 in their last 13 games and 3-55 in their last 19 games. They have scored 3 powerplay goals since January 19th
While the PP went 0-4 tonight, the Rangers went back to their tricks, from earlier in the season, that saw them post 5 goals a game. I talked about this last night too. The Rangers need to crash the net, look for the deflection and the rebound. What did they do tonight? Their first two goals came off a deflection and a rebound!
With the Rangers out-skating the Cats, the Rangers were able to provide the offensive pressure that was missing in so many of these last few recent games. At the half-way mark of the first period, it paid off. Mats "Good things happen when he has the puck" Zuccarello had the puck near the boards, found Kampfer about 20-25 feet from the net, and Kampfer blasted it. Kreider deftly deflected it and boom 1-0 good guys.
Four minutes after Kreider's deflection goal, TANNER "MOTHER FUCKIN" GLASS scored. There's so many things you can say about the goal from Glass such as:
He has more goals in two games than the Rangers powerplay in their last 26 attempts
He has more goals than Derek Stepan does in two months
He has more goals than Nash does in the last week
He's the leading scorer of the week
It just doesn't end.
I've been an advocate for Glass since the preseason. That said, I know many fans are in awe. While I wasn't expecting goals from Glass, because he's there to be physical, be a nagging forechecker and create turnovers, the two points he logged tonight were just a bonus.
However, this made me laugh:
.@TGlass15 goal is much better with titanic music pic.twitter.com/0W5FanTIby

— Wob™ (@Zherdev_) March 8, 2017
If appreciating Tanner Glass goals to the "Titanic" theme is wrong, I don't want to be right!
The Rangers, who had a 2-0 lead, could've increased it, but these fucks just can't finish on breakaways unless it's Grabner, Zibanejad or Glass on them! Both Nash and Holden would fail miserably in the first period. Kreider would miss another in the second.
Hayes would make the breakaway stat 1-4, when he scored early into the second period, to put the Rangers up 3-0. He made his move to the net as fast as "The Undertaker"  takes to get to a wrestling ring during his entrance, but hey, a goal is a goal.
Thomas Vanek would add a goal later in the second period. Just one of those plays where there was a lot of hard work, he wound up with the puck and easily beat Lundqvist. 3-1 good guys.
However, not even two minutes later, Nick Holden would make it 4-1. This was all Tanner Glass, yet again. Glass had the puck, got it to Lindberg and Lindberg fed Holden for the goal. What was huge was that Glass screened Florida goalie, James Reimer. It was a perfect screen too, because a Florida defender was trying to push Glass into Reimer for an interference call. However, Glass kept Reimer screened and avoided contact after the hit. Florida would waste their timeout on a challenge and the goal was good. Glass would finish his night with 2 out of 3 boxes checked for a Gordie Howe hat trick. If you count his fight from last night, he has one in a 5 period span!
With the Rangers up 4-1, Florida switched goalies, as Reto Berra came in. Of note, starting goalie, Roberto Luongo remains out with an injury. Too bad. We didn't get to see the two oldest goalies without a Stanley Cup do battle tonight!
With a three goal lead heading into the third period, all the Rangers had to do was play their game and skate the final 20 minutes out. While the Panthers out-shot the Rangers 22-8 in the third period, you never felt the lead was in jeopardy. Ekblad would score a PP goal with less than four minutes left in the game. Florida pulled their goalie for the extra skater. The commie, Pavel Buchnevich, got the empty netter to finish this game and the Rangers won 5-2. While on Buchnevich, maybe he can use his Russian connections to hack into this Rangers PP and make it successful.
For Pavel, he took a big hit and was hurting a bit. It was nice to see Rick Nash give up a chance to score a goal, as he gave the puck to Pavel for the easy one. That's some good team chemistry right there. That said, Nash, and Stepan for that matter, need to score goals. Something has to give. Stepan missed a wide open look during a PP. Nash got stoned on another breakaway. Something has to change.
The Rangers PP was a failure yet again. Seriously, when this team is healthy, what's the point of Brandon Pirri? I would play Puempel over him now. With this PP looking like melting dog shit on a sidewalk on a hot summer day, why not give Glass a shot on it? I mean really, it's not like anything else is working.
Speaking of the PP, Bill Pidto asked my question on the AV show:
While Grabner is out right now, this question was asked before Grabner's injury. AV basically gave a non-answer, saying he's happy with Grabner on the PK but it's under consideration. Kind of a nothing answer, considering Nash, Hayes & Miller get PK and PP time. You're telling me Grabner can't handle the load? But hey, thanks to @BillPidto for even asking the question. He's the first person to ask AV about this!
Eventually, Fast & Grabner will be back to reclaim their spots. Barring any injuries, you will have Glass, Puempel, Lindberg and Pirri fighting for spots on the fourth line. Don't expect Glass to be an offensive machine. This was probably a rarity for him. That said, I do expect Glass to break his ass out there, create chances on the forecheck, and create turnovers. He brings an intangible that none of the other fourth line guys do. I want him on my team. If everyone is healthy, I'm benching Pump, Lindy and Pirri in favor of Glass & Fast and whoever AV puts on the fourth line (Vesey or Buchnevich, most likely.) Time will tell on that one.
Lundqvist had a solid game, recording 43 saves on 45 shots. The save number is high, and while not all the shots were of high quality, he made them. That said, I don't sway from my opinion. I still think Raanta is the better option this year.
The Rangers released this after the game:
With his 404th career win #NYR Henrik Lundqvist:

Has sole possession of 10th place on the NHL's all-time wins list

Passed Brodeur for the most wins by a goaltender in his first 12 seasons in NHL history!

Is the first goaltender in NHL history to earn 30 or more wins in 11 of his first 12 seasons!
Check out these stats from Quanthockey.com. Of note, tonight's game wasn't recorded in the stats:
What these stats leave out is that Lundqvist has 77 wins as a result of overtime and shootouts, something that many goalies on the list didn't have the luxury of having. This is kinda of an asterisk stat if you ask me.
Lundqvist, now tenth all time on this fugazi All-Time Win list also is creeping up on another milestone.
Lundqvist is now 50 wins away from having the most wins in NHL history without a Stanley Cup. Watch out CuJo! However, it's worth noting Luongo is on this same list, so Hank will be chasing him for a bit. I'm sure this race will be like Sosa/McGwire in 1998!
Lundqvist should catch Glen Hall this year, barring any meltdowns or injuries, for 9th all time.
After the game, Lundqvist said he has to enjoy the milestones. He would bring up the Cup as a secondary thing. As much as I want to see the Rangers win a Cup, I just don't see it with this diva egomaniac. I hope to be proven wrong this season, but I wouldn't bet money on it.
The Rangers emailed their season ticket subscribers today, letting them know of a price increase for the playoffs and for next season.  Season tickets for next season went up anywhere from 20%-100%, depending where your seats are. Playoff seats in some sections have also gone up as high as 64% for this Spring. Where's all this money going? For Dolan's plans to buy the Islanders a new barn?
One of my friends, who has a handicap, has a season seat that is $103 per game. NYR is jacking that seat up to $200 next season. So not only is it a hassle for him to get to the game, he now has to pay nearly double (100%) more for the same seat. And why?
Listen, when the Yankees jacked prices years ago, at least they were fucking winning. Speaking of the Yankees, if Joe Micheletti ever compares Lundswiss to Jeter again, Sam Rosen should backhand the Hank semen out of Joe's teeth. Lundqvist is like his friend Matt Harvey or Carmelo Anthony. A good player, but not a WINNER. Jeter is one of the greatest Yankees ever and one of the greatest players of his generation. Lundqvist is a diva who is more concerned about what cups to add to his China collection than winning a Stanley Cup.
The Rangers, at this point, should just deal with corporations exclusively and tell the fans to go fuck themselves. Or maybe they can sell officially licensed (Gotta make that buck) NYR hats that say "ATM" for their fans.
Many Ranger fans took to social media today to complain about the prices and how they are forced to give up their seats. It truly is a shame. As I said a million times, I just don't know where NYR expects to get their fans in 20 years, since kids/families can't afford to go. Being born in the 80's, I'm glad I got to see the tail end of when hockey was cheap. I know it's a business, but slowly & surely, the Rangers are running off their hardcore fans from M$G. That's why every game sounds like a fucking funeral.
While the Rangers will always be set financially, because of their location in the biggest city, this is a turnoff for the league. Other franchises obviously can't do this. As a customer of the Rangers, this is a cold reality that the owner does not give a fuck about the diehards. However, we've known that for a long time. It just sucks that you're already hooked and not gonna give up your Ranger fix.
I'll just say, if you want to go to games for cheap, check out my Stubhub blog and how to work the market. The last 5 seasons, as a result of being a little bit more comfortable financially in life, I was able to go to 35+ home games a year.  This year, I might hit 15. I've been saving my money for road trips, as I find other arenas around the league are better than MSG, the Rangers are a better road team and I have fun traveling & working on my "NHL Arena" bucket list.
It may be the "World's Most Famous Arena", but it's also one of the worst arenas in the league in every facet. It's over priced, a lot of obstructed view seats, lack of bathrooms, lack of beer selection and a 200 level rotunda that looks like extras from the "Walking Dead." The Rock in Newark, of all places, is a much better venue for hockey. Don't even get me started on the dumpster known as Barclays. That building is a living abortion.
In closing on this subject, I feel bad for the season subscribers who just can't be a money tree for this team anymore. It's sad that this franchise just doesn't give a fuck. They know the corporations will take the seats that the subscribers walk away from.
As you know, for the last three seasons, I've been pushing for Frank Boucher to have his number retired in the MSG rafters. In fact, here's an updated blog on this subject:
Don't Let History Be Forgotten! Time for The Rangers to Finally Honor The Greatest Ranger Ever, Frank Boucher
I'm happy to report that relatives of Frank Boucher have randomly found this site and have reached out to me. While my connections with the "powers-to-be" are limited, I do have a friend with connections who is for the cause. The family of Boucher, while not demanding or pressuring anyone, would also like to see this honor bestowed for Mr. Boucher. I'm trying to put the family in contact with people who may be able to make moves to give this belated honor to Boucher.
I've been told that a few of the reasons the Rangers ignore Boucher is because there are no living relatives campaigning for the cause and that it's been so long, that they figure everyone has forgotten. Well this fan has not forgotten. I hope this is the first of many updates on the road to making Boucher's #7 in the rafters a reality.
I'll provide more details as they come in. It's time to right a wrong.
Updated NHL Standings:
| | |
| --- | --- |
| | Capitals |

| | |
| --- | --- |
| | Blue Jackets |

| | |
| --- | --- |
| | Penguins |

| | |
| --- | --- |
| | Rangers |

| | |
| --- | --- |
| | Islanders |
The Rangers remain the first wild card, although they are in a virtual tie with Pittsburgh. However, the Rangers have played three more games than the Penguins. Columbus remains the second seed, with two more points and two less games played than the Rangers. The Islanders remain the second wild card, but that race is going to come down right to the final week of the season, with the Leafs, Panthers, Bolts & Flyers, all jockeying for the right to get crushed by the Caps in the first round.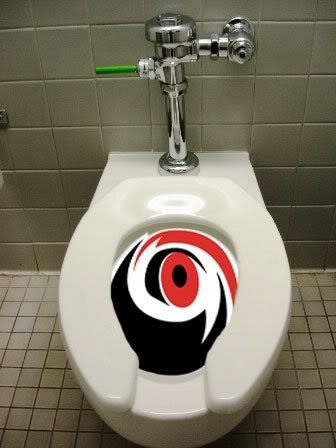 Up next for the Rangers is a Metro division game with the second to last place Carolina Hurricanes. Following that game, the Rangers have two days off and then will play Detroit on Sunday.
I have an early flight Friday morning, as I'm heading to Detroit/Windsor for the game. I'm actually even going to see Artie Lange on Friday night.
Luckily, Thursday's game is a 7PM, as opposed to a 7:30PM start. I'll try to get something quick up after that game, but it probably won't be as long as these manifestos usually tend to run!
I'm excited to see the last Ranger game ever at the Joe. If anyone has ever been there and has any good drinking/eating/entertainment spots, feel free to contact me.
Until next time and as always…
LET'S GO RANGERS
Sean McCaffrey
BULLSMC@aol.com
@NYCTHEMIC on the tweet tweet