Welcome everyone to another blog here on BlueCollarBlueShirts.com. This was a late game and I got work tomorrow. In other words, let's make it quick.
The Rangers were humiliated by the Pittsburgh Penguins in game one of their opening quarterfinal match-up, with a score of 5-2. With the loss, the Rangers have now lost four straight games to the Penguins in this 2016 calendar year.
What hurts the most about this loss, is not just that it was a playoff game, but the fact that the Rangers were dumbfounded and anemic when it came to burying the puck against third string goalie, Jeff Zatkoff. That's right, Jeff "Who the fuck is he?" Zatkoff.
Zatkoff, like any other unknown goalie in the world, was turned into Patrick Roy by the NY Rangers. Just like how the Yankees can turn any new rookie unknown pitcher into Cy Young, the Rangers have this uncanny ability to make any bum goalie into the second coming of George Vezina. You can grab a bum from Penn Station, give him a Penguins jersey & the Rangers still wouldn't be able to put one in the net.
There are many stories coming out of this game. The biggest story was the injury to Henrik Lundqvist. With under a minute left in the first period, Marc "I'M NOT SCARED" Staal, high sticked Lundqvist through his mask and into Hank's eye. With the way this game was going and with these horrible referees, I'm surprised the refs didn't call a two minute penalty on Staal for high sticking.
Anyway, Lundqvist was hurt and needed medical attention. The Penguin fans booed during this delay. For some reason, that set Rangers twitter afire. Are you to tell me, if Syd Crosby wasn't hurt at MSG, and there was a delay, that MSG wouldn't boo him out of the building? It's the same principle. Both Crosby & Lundqvist are crybabies. Of course Penguin fans are gonna boo Lundqvist, just like Ranger fans boo Crosby at MSG.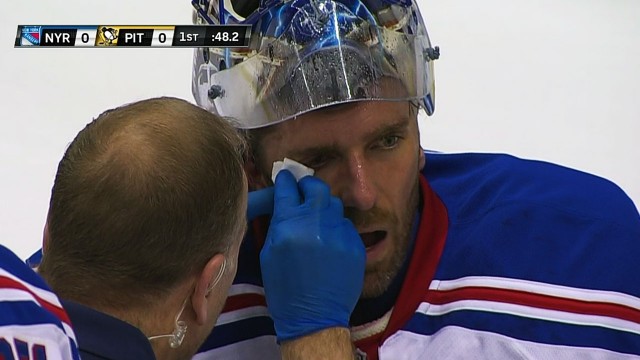 Despite a crazy first period, where the Rangers dominated the puck possession and fired 12 decent shots, 3rd string goalie Jeff Zatkoff posted a shutout. Lundqvist didn't have as much work on his end, but when he was tested, made a few saves and then made the game hard on himself with his horrible puck possession skill set.
I talked about this the last time the Penguins beat the Rangers. Carl Hagelin has his fellow Swede scouted. By the way, how great was that Etem for Hagelin trade? Who could've predicted that trade would be a total failure? Oh right, I did. And how ironic is it, that Hagelin is burning the Rangers time and time again?
Seriously, Lundqvist is so fucking bad with the puck and Hagelin knows it. Twice in the first period, Hank did his lazy crappy pass, and Hagelin was either there to intercept it or was there on the forecheck to keep the puck in the zone. Hagelin did the same thing in the last meeting between these teams and it translated into a Kessel goal. Hagelin was all over the ice tonight. I don't know if he has a chip on his shoulder, but he had a great time. The announcers were constantly saying his name, because he was involved in every play during every shift he had. Great job Senile Slats. Emerson Etem has sure been a beast this year! Sather, along with Dan Boyle & Rick Nash, should go behind a barn somewhere and get "Old Yeller'd".
Let's make it clear – Hagelin did not want to leave this team. Sather traded him away for a scrub in Emerson Etem like a thief in the night. I really hope someone pisses in Sather's prune juice.
So with under a minute to go, Marc "I AINT AFRAID OF NO PLAYOFF GHOSTS" Staal high sticks Hank in the eye. What is it with the Rangers and friendly fire? This is not Call of Duty. Friendly fire has brutal consequences.
Ramsey then tries to fix up Lundqvist. There was about a 2-3 minute delay here. Lundqvist goes back out there, and twenty seconds later, gives up the ugliest and softest looking goal you'll ever see. 20 minutes of game time later, Crosby would score on a wide open breakaway. I'm telling you, if these games were contested under 19 minute periods, the Rangers would be the best team in the history of the NHL. Not only do they injure each other more than any other team, they give up more goals in the last minute of a period than any team I've ever seen.
Whether Lundqvist's eye was swelling or he was embarrassed about giving up an easy goal, Antti Raanta came in to start the second period and would go on to finish the game. Big bad Jeff Zatkoff, making $525,000 a season, compared to Henrik Lundqvist's $8.5M a season, continued to play strong in the second period and kept his shutout alive.
Let me revisit my Talbot point again here. This is why you don't pay a goalie $8.5M a season and another stunning example of why Lundqvist is overpaid. Talbot was due to make $550,000 this season. If you got rid of King Contract, you would have $8M to play with, cap-wise. Washington had money and they signed Justin Williams & TJ Oshie. That has seemed to work out well for them. The Rangers were held scoreless for the majority of the game by a third stringer making $525,000. Simply put, you need SCORING in the playoffs. Chicago & LA score goals and have solid goaltenders, but not overpaid goaltenders.
So Lundqvist goes out with the eye injury. Who knows what his deal is. I assume he'll be back for Game 2, as I think this was just a swelling issue. With the way the NHL allows teams to talk about injuries, I'm sure he will just be listed with "an upper-body injury" anyway.
This game was a classic Ranger playoff game. They couldn't score. They got a ton of scoring chances, but came up empty-handed time and time again.
Before this game, a few Rangers got mouthy and gave you the same old bullshit quotes. Marc Staal "wasn't scared" and knew "what it takes to win." Rick Nash said "I know I have to and will play better." Eric Staal said "I'm the missing piece for this team." Instead, these three Canadians were just as disappointing as the Canadian franchises in the NHL.
Marc Staal was a horror show, injuring his own goalie, missing a wide open net and being burnt all over the ice.
Rick Nash missed a wide open net, shot the puck like Scott Norwood kicking a FG in the Superbowl and couldn't convert on man advantage breakaways.
Eric Staal was the best of the three, but took a stupid penalty that led to a Pittsburgh PPG.
Simply put, more talk and bravado from the Rangers and no results on the ice from it. Rick Nash is the biggest joke in the league at this point. As much as I dog Lundqvist for his horrible contract, no one in the NHL has a worse contract for such little production like Rick Nash. The guy just doesn't score goals.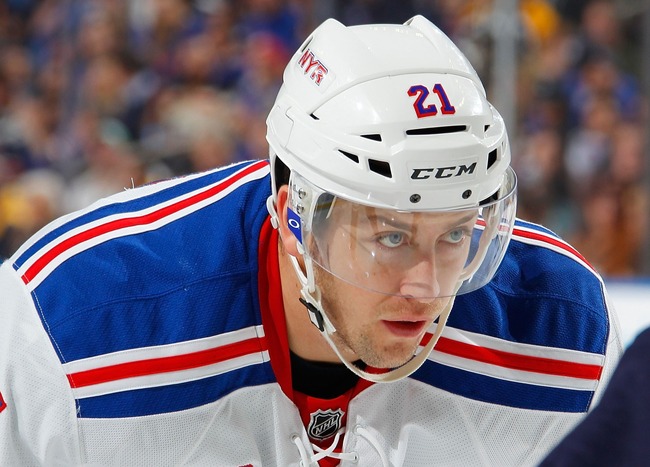 With Raanta in net for the second, the Rangers continued to fail at scoring goals. They even had powerplays that came up empty handed. Just like the first period, the Penguins scored late in the second to make it a 2-0 lead entering the third.
The Rangers got a break in the third period, when they got a 5 vs 3 PP. To make things better, one of the penalties was 4 minute double minor (Hagelin, highsticking). The Rangers were able to get a slam dunk goal from Stepan early, but would give up a short-handed goal, after Nash missed an easy shot and slow-as-shit Boyle couldn't tap the puck into an empty net. So what could've been a 2-2 game, swinging the momentum, turned into a 3-1 game. It was all downhill from there.
In fact, let's get into the official box score, courtesy of ESPN. My notes are in italics, as usual:
1st Period Summary

Time
Team
Scoring Detail
NYR
PIT
19:42

Patric Hornqvist (1)
Assists: Conor Sheary, Kris Letang

Soft goal and a bad goal for Lundqvist to allow. Marc Staal was right in the middle of it, as he continued his horrible play.

0
1
Time
Team
Penalty Detail
5:19

Viktor Stalberg: 2 Minutes for Hooking Justin Schultz
10:47

Viktor Stalberg: 2 Minutes for Illegal check to the head Ian Cole
12:59

Eric Fehr: 2 Minutes for Unsportsmanlike Conduct of Henrik Lundqvist

2nd Period Summary

Time
Team
Scoring Detail
NYR
PIT
18:56

Sidney Crosby (1)
Assist: Patric Hornqvist

Breakaway goal. Amazing how Crosby converts on breakways but Rick Nash can't.

0
2
Time
Team
Penalty Detail
0:09

Chris Kreider: 2 Minutes for Interference of Kris Letang
10:02

Dominic Moore: 2 Minutes for Holding Tom Kuhnhackl
11:46

Trevor Daley: 2 Minutes for Tripping Rick Nash

3rd Period Summary

Time
Team
Scoring Detail
NYR
PIT
3:10

Derek Stepan (1) (Power Play)
Assists: Rick Nash, Derick Brassard

Slam dunk goal on a 5 vs 3 PP.

1
2
5:31

Tom Kuhnhackl (1) (Shorthanded)
Assists: Nick Bonino, Kris Letang

This occurred after Nash wiffed on a puck and Boyle couldn't get to it. 2 on 1 the other way. This was after the Rangers missed a 2 on 1 with Nash/Brassard and a 3 on one with Stalberg.

1
3
8:02

Patric Hornqvist (2) (Power Play)
Assists: Phil Kessel, Sidney Crosby

Easy wide open shot on the PP for Hornqvist. The only "qvist" that showed up in this game.

1
4
10:11

Derek Stepan (2)
Assists: Dan Boyle, Mats Zuccarello

An out-of-nowhere goal, but too little too late. Stepan went top shelf.

2
4
17:10

Patric Hornqvist (3) (Empty Net)
Assists: Sidney Crosby, Trevor Daley

An empty netter for the hat trick. Rangers turned the puck over in the offensive zone to set this up.

2
5
Time
Team
Penalty Detail
2:08

Carl Hagelin: 4 Minute Double Minor for High sticking Kevin Hayes
2:08

Ian Cole: 2 Minutes for Roughing Eric Staal
7:35

Eric Staal: 2 Minutes for Goalkeeper Interference Jeff Zatkoff
There isn't much good to talk about when you lose a playoff game 5-2. If you want to find any silver linings in this game, you can say that Brady Skjei, playing for McDonagh, had a good game, especially defensively. Stepan scored goals, but one was on a 5 vs 3 PP and the other was meaningless. Tanner Glass & the fourth line had another good outing. Glass even took a puck to the face, got stitched up, and came back. He's been great ever since coming back.
The negatives outweighed the positives, obviously, in this game. The Lundqvist injury is no good. The Rangers not being able to score on a third stringer is infuriating. Brassard losing every faceoff to Crosby was maddening. The referees ruined this game.
Speaking of the refs, how about these stats:
The Rangers were 2-8 to Pittsburgh's 6-2 with these refs on the ice, this season.
The Penguins moved to 5-0 in a game this season, whenever Tim Peel is working.
The officiating was horrible. You just know these refs are going to swing a series, if not the Cup itself when it's all said and done. They called touch penalties. They called Stalberg for one before the puck even dropped. They called another on Stalberg, but took 5 minutes to figure it out once the puck was blown dead. Both plays were clean plays and not penalties. The refs even called a penalty on Eric Fehr for a snow shower on Lundqvist. It was bad both ways.
The refs were also inconsistent, just like the Rangers, when it came to calling the game both ways. There was a play where the Rangers were driving to the net. The net was barely touched, but the play was blown dead. Eric Staal was called for a penalty after he was pushed into the goalie by a Penguin. When the Penguins knocked the Rangers net loose, nothing was called. When a Penguin, I believe fat Phil Kessel, made contact with Raanta on a scoring play, nothing was called or stopped.  If you're gonna call one thing on one team, you gotta call it on the other. That didn't happen here.
In the end, the horrible powerplays given to both teams wound up not playing a factor into the final score. The Rangers being inept to score goals was the factor.
As I type this, I haven't seen the Rangers press conference after the game. I'm sure they are saying the same old cliches. "It was a tough loss, but we learned from it." "We have to get better." "We know what we need to do." Well, time is running up for the same old song and dance. Talk is cheap motherfucker.
I seen many Ranger fans tear apart Vigneault on twitter during the game. I don't know how. He's been one of the most successful coaches in Rangers history. It's not his fault guys don't score. Were the Rangers in a position to win this game? They sure were. They just didn't execute. AV can't put the puck in the net.
I'm on record as saying Penguins in 6. I thought the Rangers would lose this game, although I also thought Fleury would be playing.
I think the Rangers win Game 2 and go to MSG tied up. I really hope they do, because I don't want to be watching baseball in April.
Oh, and where are all the people who said how important was to win Game 82? Winning to play Pittsburgh was just pure stupidity, as I've said all along. Another thing now is that Pittsburgh, for their playoff run, doesn't have to rush Fleury back from concussion, when a third string goalie can handle the anemic Rangers offense.
I've had enough of this game and need to move on. See you Saturday.
LET'S GO RANGERS
Sean McCaffrey
BULLSMC@aol.com
@NYCTHEMIC on twitter