What's up everyone and welcome to another blog here on DOINOW.com. This blog has always been a working man, for the working man, type of deal here, so sorry for the lack of daily updates. It's not about getting hits here, so I'm commenting about all the top stories in this one posting. This is just a hobby for shits and kicks, as we talk about the team we all love, even if my fandom can be a tad extreme and over-the-top at times!
As always, you can follow my live reaction to news on twitter @NYCTHEMIC and you can check out all the previous blogs on the right hand of the site. Tons to get into, so here we go.
It's been a busy week for the Rangers and for the NHL in general. Immediately following the NHL draft and trades during the draft, the NHL started off July with the start of free agency. This crop of free agents wasn't as big of a market as in recent years, with the biggest splash being made by the Pittsburgh Penguins, as they acquired Phil Kessel.
I hate to always be so doom and gloom, but as a Rangers fan, I'm concerned. The Stanley Cup is the hardest championship to win in sports. We all know that. The Rangers had three really good shots at it (2012, 2014, 2015) and came up empty all three times. You don't get these opportunities every year. Ask the Buffalo Bills. Ask the Philadelphia Eagles. Ask the NY Knicks. At some point in time, the job has to get done. I'll spare you my Lundqvist contract diatribe, you know the spiel by now, but yeah, the King needs a crown. He may have lost his best shot at it.
When you look at the Metropolitan division, it's really scary. The Islanders are a young team that should mature past the first round this season. The Penguins might have the top line in hockey. The Capitals are beefing up, adding Justin Williams and TJ Oshie. When they got healthy at the end of the season, the Blue Jackets went on a torrid tear. The Flyers have made some moves to help their corps. The Canes seem like a team that's improving. Oh, and the Devils suck. (Since I just wrote that, expect them to win the Cup this year.)
When you take a look at the Atlantic Division, it could be a murderer's row there, with Tampa Bay and Montreal leading the way. Detroit is always in the mix, although losing Babcock could put the Wings out of the playoffs this year. Buffalo has transformed themselves through the draft and FA. The Panthers were getting hot towards the end of the season. Ottawa is a team on the rise. The Maple Leafs will be reinvigorated. And Boston, well, I don't know what the hell they are doing.
At the start of every season, every team wants to play for the Cup. Some teams will exceed expectations. Some will fail to achieve. It's the nature of the beast. I just hope the Rangers are there, as I feel this could be a letdown year. To me, the team looks worse on paper, right now, than they did during Game 7 of the ECF. Playoffs aren't guaranteed. Talk to last year's President Trophy Winners, the Bruins or last year's Cup Winner, the LA Kings. Anything can happen, and I can't lie, as a Ranger fan, I'm worried.

In a week where Glen Sather announced he was stepping down, as a fan of the sport, the biggest news to me was the retirement of Martin St. Louis. I'm a Marty guy. As sport fans, we sometimes root for guys on other teams, out of appreciation. MSL was that guy for me when he was in Tampa. I've always talked about him glowingly here on these blogs. I'll never forget what he meant for this 2014 team.
What drives me nuts when arguing with people on twitter or facebook, is everyone talking about Hank in that 2014 run. N-Word please. The guy dropped 3 games to the Flyers. Was down 3-1 to the Penguins. If you don't think MSL changed that second round and put the Rangers over-the-top, to win that series in 7, you're fucking nuts. No ifs, ands or buts. MSL was the hero of that series. I'll never forget that period of time for as long as I live. Thank you Marty.
Of course, you now have people saying the Rangers got ripped off in the Callahan/MSL swap. I always said, the Rangers should've never dealt the picks, but MSL for Cally again, I would do that straight trade 10/10 times. MSL brought a fire to this team that Cally just didn't have. Yes, I know, Cally was the captain, but MSL just had those intangibles. He made guys better. We are talking a first-ballot Hall of Famer vs Callahan.
There were rumors before MSL announced his retirement that he might latch on with the Devils. I'm glad he retires a Ranger. He is a victim of the salary cap. He probably could've gave the Rangers another year, but the money wouldn't happen. Marty was a great player, who unfortunately looked slow in the playoffs. I would've liked to see him get a chance to redeem himself this year, but sports are business. This salary cap gives me heartburn every day.
While his stint in NY was short, MSL left an imprint here. If Hank doesn't blow those multiple two goal leads to the Kings, who knows, the Rangers could've got their elusive cup. MSL, who lives in the area, will be coaching the hockey teams of his sons. Maybe he will be coaching the Wolfpack at some point in his life. MSL loves the game and was a great teacher. Just talk to guys like Hags, Zucc, Hayes, etc, they all credit Marty with helping their careers.
For those who didn't see it, here was the official press release on the retirement of a legend, Martin St. Louis:
(Press release taken from BLUESHIRTSUNITED.COM, the official site of the NYR)
Martin St. Louis, who totaled 391 goals and 642 assists for 1,033 points in 1134 regular season games spread over 16 National Hockey League seasons, announced his retirement from professional hockey today. St. Louis, who played right wing for the Calgary Flames (1998-2000), the Tampa Bay Lightning (2000-14), and the New York Rangers (2014-15), leaves the game having been named to seven NHL All-Star Games, while earning All NHL Second Team honors four times and All NHL First Team honors once.
"I have been blessed to play for 16 years in the NHL; it has been an amazing ride," said St. Louis in making the announcement. "I would like to thank the Tampa Bay Lightning and New York Rangers organizations and owners for providing me the opportunity to play the sport I love for so many years. I could have never played for so long or accomplished all that I have without the unwavering love and support from my wife, Heather, our three sons, Ryan, Lucas, and Mason, and my parents.
"I have had the good fortune of working with some incredible players and trainers throughout my career who I am grateful to also call good friends. I am also thankful to all of the fans who have supported me through the years; it has meant so much to me. I have dedicated my life to being the best player I could be and now want to turn more of my focus to my three boys. I look forward to this next chapter of my life and the time I will have with my family."
St. Louis, who started his NHL career as an undrafted free agent with the Calgary Flames in 1998, had his best year in 2003-04, leading the Tampa Bay Lightning to the Stanley Cup, while leading the NHL with 94 points in 82 games to win the Art Ross Trophy. He also won the Hart Memorial Trophy as the NHL's Most Valuable Player, and the Lester B. Pearson Award as the National Hockey League Players Association's Most Outstanding Player that same season.
He totaled eleven 20-goal seasons and seven 30-goal seasons en route to his 391 career goals and he totaled 80 or more points in six of his 16 seasons played, posting a career high 102 points in 2006-07. St. Louis played 80 or more games nine times in his career, playing in all 82 regular season games possible in seven of eight seasons from 2002-03 through 2010-11.
St. Louis won two Art Ross Trophies as the league's leading scorer (2003-04 and 2012-13) and he won three Lady Byng Memorial Trophies (2009-10, 2010-11, 2012-13) for his "sportsmanship and gentlemanly play combined with a high standard of playing ability." He also led the league in assists in 2003-04 (56) and 2012-13 (43 in 48 games played).
A native of Laval, Quebec, St. Louis played college hockey for the University of Vermont, leading the Catamounts to the NCAA Frozen Four in 1996 while earning All America status in three of those years (1994-95 through 1996-97).
Internationally, St. Louis has played with Team Canada on several occasions. He was a member of the team that won the 2004 World Cup of Hockey and is a two-time silver medalist at the World Championships; he was named a tournament all-star after leading the 2009 event in scoring with 15 points. A two-time Olympian (2006, '14), St. Louis was a member of Canada's gold medal-winning team at the 2014 Winter Games.
He and his wife Heather, reside in Connecticut with their three sons Ryan (12), Lucas (10) and Mason (7), all of whom are aspiring hockey players themselves.
Marty wasn't the only Ranger to announce his retirement. After not fielding a winner for 15 years, Glen Sather announced he was stepping down as General Manager, but would remain team president. Long time assistant, Jeff Gorton will now take over as the GM of the NYR.
First the press release, again from BLUESHIRTSUNITED.com:
New York Rangers President Glen Sather announced today that Jeff Gorton has been named the 11th General Manager in franchise history and Jim Schoenfeld has been named Senior Vice President and Assistant General Manager and General Manager of the Hartford Wolf Pack. Sather will retain his role as President, a position which he has held since June 1, 2000.
"Jeff has been an integral part of our success since joining the Rangers, and he has earned the respect of colleagues throughout the hockey community," Sather said. "He is well prepared for and extremely deserving of this opportunity.
"Jim has played a pivotal role in several areas during his tenure with the Rangers," Sather said. "He is a valuable member of our staff and he will continue to benefit the organization at both the NHL and AHL levels."
Gorton, 46, has been a member of the Rangers organization for the past eight seasons and served as the team's Assistant General Manager over the last four seasons. He joined the Rangers in 2007 as a professional scout, and served three seasons as Assistant Director, Player Personnel before becoming the team's Assistant General Manager.
During Gorton's tenure with the Rangers, he has played a key role in the selection of current Blueshirts Derek Stepan, Chris Kreider, Jesper Fast, and J.T. Miller in the NHL Entry Draft. Gorton was vital in the Rangers' acquisitions of Ryan McDonagh, Rick Nash, Derick Brassard, and Keith Yandle through trades, as well as the signing of free agents Kevin Hayes and Mats Zuccarello.
I talked about Glen Sather in the last blog. Now that his career as GM is officially over, bottom line, he FAILED. No other GM in sports lasted 15 years without fielding a winner. If Dolan cared about the NYR like he cared about the Knicks, Sather would've been gone a long time ago. Even more scary, Isiah Thomas, GM of the Liberty, has the most experience as GM in MSG.
How fitting that Sather, in one of his final big moves, deals Cam Talbot, who could've been a better fit for NYR than Lundqvist (When you factor in cap hit, age, wear/tear, etc), to the Oilers.
In my previous blog, I also questioned what Sather was doing. Is he trying to win now or win later? The Hags deal doesn't make sense, when you look at the Yandle and MSL deals. In fact, let's look at the Rangers moves this past week. In my opinion, they have a great shot at winning the Calder Cup this year.
RECENT TRANSACTIONS:
– JUNE 27:
| | |
| --- | --- |
| | Traded F Carl Hagelin and the 2015 second- (No. 59) and fourth-round (No. 179) draft picks to Anaheim for F Emerson Etem and a 2015 second-round (No. 41) draft pick. Acquired G Antti Raanta from Chicago for F Ryan Haggerty.Traded a 2015 second-round (No. 57) to Washington for their 2015 third- (No. 62) and fourth-round (No. 113) draft picks. |
– JULY 2:
Acquired G Magnus Hellberg from the Nashville Predators for a sixth-round pick in the 2017 NHL Entry Draft.Signed D Raphael Diaz and Fs Jayson Megna and Matt Lindblad.Agreed to terms with F Viktor Stalberg and F Brian Gibbons.

Named Jeff Gorton general manager and Jim Schoenfeld senior vice president/assistant general manager and general manager of Hartford (AHL).
– JULY 3:
| | |
| --- | --- |
| | Announced the retirement of RW Martin St. Louis.Agreed to terms with G Brandon Halverson on an entry-level contract. |
– JULY 4:
| | |
| --- | --- |
| July 4, 2015 | Agreed to terms with F Luke Adam. |
So really, what have the Rangers done? They got rid of team and fan favorite, Carl Hagelin, for a poor man's Hagelin in Emerson Etem. Total cap move.
The Rangers dealt a starting goalie in Cam Talbot and replaced him with someone weaker in Raanta.
After Matt Hunwick signed with Toronto, the Rangers added Diaz to be the 7th D, unless Klein or Yandle are dealt, and he becomes the 6th D-man. That move is basically a wash, although you did get more scoring out of Hunwick.
The Rangers signed Halverson, who will be playing in the juniors. Even if he does ever get called up, how long will he last? Hank is here for 6 more years. If Halverson, some how, some way, played and did well this season, Ranger fans will pull another Talbot scenario, and dream of who they can get for him, while Hank sits Cupless.
Viktor Stalberg was the Rangers biggest acquistion in the last two weeks. However, the Rangers lost so much, that do you really think Stalberg is the missing piece in a Cup team? Yes, I know Zucc was hurt this postseason, but every team goes through their injuries, bumps and bruises.
With about $10M left to spend, the money should go to re-signing Derek Stepan, JT Miller and Jesper Fast.
I said it above, but really, I'm nervous about this team's chances. The core is another year older. They have logged a lot of miles these last few postseasons. This isn't baseball, where you can rest guys in a DH position. You don't put your back-ups in during the fourth quarter. Maybe I'm a pessimist, but yea, I can't sit here and be RAH RAH about this squad, at the present moment. I hope I'm dead wrong, come June this year.
To follow up on my last blog, and to answer emails/tweets, no, this will not become an Oilers blog! However, I will be watching their games all season long. Sure the Oilers D isn't as great as the Rangers D, but we'll do a Talbot vs Lundqvist watch, for shits and kicks. The Oilers could be competing for a Cup in 2-3 years. It's just the benefit of sucking for so long. See Blackhawks, Chicago.
On Talbot, his parting comments: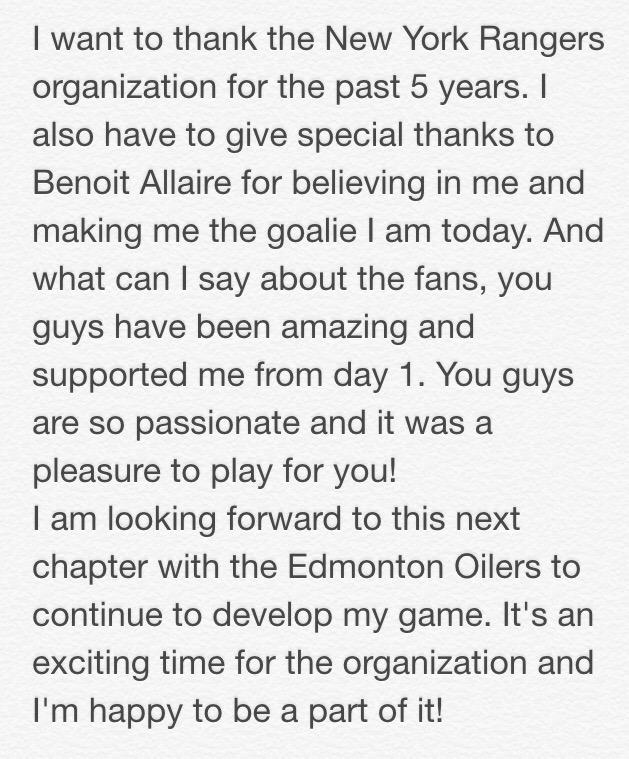 Talbot has yet to comment if he wanted out of NY to be a starter, but one has to assume that. We all know that I'm the Talbot guy, and yes, deep down, I feel that trading Talbot was the wrong move. We will never truly know what would've happened if he stayed on as starter.
Death of MSG blog coming this summer!
As this off-season continues, I'll try to get a weekly blog, recapping all the moves. We're less than 90 days away.
Forever & always,
LET'S GO RANGERS.
Thanks for reading
Sean McCaffrey
BULLSMC@aol.com
@NYCTHEMIC on twitter