What's up everyone and welcome to another blog here on BlueCollarBlueShirts.com. The Rangers, who find themselves linked to coaching changes & trade rumors, may have staved off some personnel and management moves, at least for another day, as they defeated the Las Vegas Golden Knights, 6-4, at M$G, on Halloween Night. However, don't let the score fool you, as the Rangers were under twenty minutes away from a complete catastrophe.
What was funny about this game, that going into it, I saw a lot of Ranger fans hoping for a loss. I'm not talking about fly-by-night fans either, I'm talking season ticket holders and other diehards. They were hoping NYR would lose, because it would most likely signal the end of the AV era. While I do think the team may benefit from a coaching change, albeit temporarily, I can not root for the Rangers to lose, especially when talking about games in October.
For me, the only time I have ever rooted for the Rangers to lose was at the end of the 2015-2016 season. It was the last day of the season, and if you read my blogs from that time (where you can see me say this stuff then), I wanted the Rangers to lose the last game of the season because of playoff positioning. If the Rangers lost to Detroit on that day (NYR won), then they would've played the Florida Panthers & the Atlantic bracket in the first round. Instead, the Rangers won and drew Pittsburgh. As you know, Pittsburgh raped the Rangers in that series. The Islanders would go on to beat Florida in the first round, before succumbing to the Tampa Bay Lightning.
As what has been on-going trend for this blog, time is of the essence here. I'm not going to recap it all, but if you check my twitter @NYCTHEMIC, I had a hellacious time, when it came to returning home from Montreal. The weather in NY & Montreal made it impossible for me to return home Sunday morning. Instead, I got home Monday afternoon, after wasting a whole day in the Montreal airport. Making matters worse, there were no flights out of Montreal to NY, on Monday, which I could get on, so I was flown to Toronto, so I could catch a flight to NY from there.
In other words, I lost more than 24 hours of my life in an airport, rather than getting things I needed to get done. To make time even a bigger issue, I'm going to Tampa, Florida tomorrow. (Wednesday night.) I have several close friends in Tampa and will be attending the Rangers/Bolts and Rangers/Panthers games, before returning home on Sunday. (I hope.)
I still have a 4:30am alarm clock for work tomorrow (less than 6 hours away as I write these words), still need to finish laundry and still need to pack, so let's get this show on the road.
As I type these words to you, the Rangers are celebrating like wild men, after their 6-4 victory over the Golden Knights. I don't care if this sounds like a "Debbie Downer" thing, because quite frankly, I am disgusted. Going into this game, here was what was on deck:
The Golden Knights traveled cross country.
The Golden Knights played last night.
The Golden Knights lost their third different starting goalie of the season due to injury. (Fleury & Subban were injured previously and Dansk was hurt last night.)
The Golden Knights started Maxime Lagrace, who was making his first ever NHL start.
The Golden Knights back-up goalie was 19 year old Dylan Ferguson, who prior to tonight, never won an NHL jersey in an NHL game before.
For the desperate Rangers, they had two full days off after the shellacking in Montreal. They were at home. They were fresh, or at least should've been. They were playing for their jobs. They were playing for AV's job. They were playing for pride. (Allegedly.)
In other words, if there was ever a game the Rangers should've won hands down (Forget the team records, just look at the circumstances) this was the game.
I know I said last week that the Rangers wouldn't see an easier game on the schedule than the Coyotes of last week, but with all the Vegas injuries, this, on paper, was the most winnable game of the young season.
While the 6-4 game may suggest a solid victory for the Rangers, it was anything but. In all honesty, if the Rangers didn't draw a goalie making his first ever start, I don't know if the Rangers win this game tonight.
Before moving along, if you haven't caught up already, here are my most recent blogs:
---
NYR/ARI 10/26 Review: King Pavelec & The Rangers Win the Derek Stepan Cup; Leave The New York Arizona Coyotes Howling in Tears, "They Aren't Booing Him, They're Saying BOO!", The 1000 Game Virgin Rick Nash, AV Lives For Another Day, Why This Win Doesn't Change Anything, Montreal & More From M$G
---
NYR/SJS 10/23 Review: PURE ANGER, as Henrik Lundqvist & The Rangers Get Sharknado'd, Season Falling Apart, AV May Need To Start Chewing Gum At Home, Time for the Rangers to Get Ruff, Powerless Play, Ticket Prices Continue To Drop & More From the Absolute Worst Loss of the 2017-2018 NY Ranger Season
---
---
---
As you can tell from the pictures above, interest in this game wasn't high. I do want to make mention that I send out my condolences to anyone affected in the attack in NYC today. I don't want to talk about the attack at all, because as I said, time isn't on my side. Furthermore, how can I talk about the attack in NYC and this game at the same time? Sporting contests are supposed to be a distraction from the real world. When you really look at it, all the crap the Rangers are putting their fans through and all the crap they are displaying on ice, the Rangers are truly merely insignificant, when compared to what's going on in the world.
In other words, I don't want to trivialize what happened today, so I will just say, I hope they pump this asshole for intel, take down some bigger heads and torture this maligned creature until he draws his last breath. That's all I got to say about that, as I know you're not coming here for real life stuff. You're coming here for my astute ramblings on the Rangers.
That said (there's one), you can't blame what happened today, on why the Rangers played in front of a crowd that dressed up as empty seats for Halloween. The Rangers were begging fans to buy tickets for $55 24 hours before the attack in NYC. Stubhub had cheap tickets before the attack as well.
I've been tracking the ticketing all season. As stated numerous times, people are just turned off from the tier pricing and the Rangers pushed their fans too much.
Hockey has always been the lone sport that is better live than on television. In the Rangers case, it's always better live because you don't have to hear Micheletti. However, the Rangers are doing whatever they can to make you think otherwise. I mean, after all, check out this picture from tonight's game, courtesy of BCBS reader, @laand :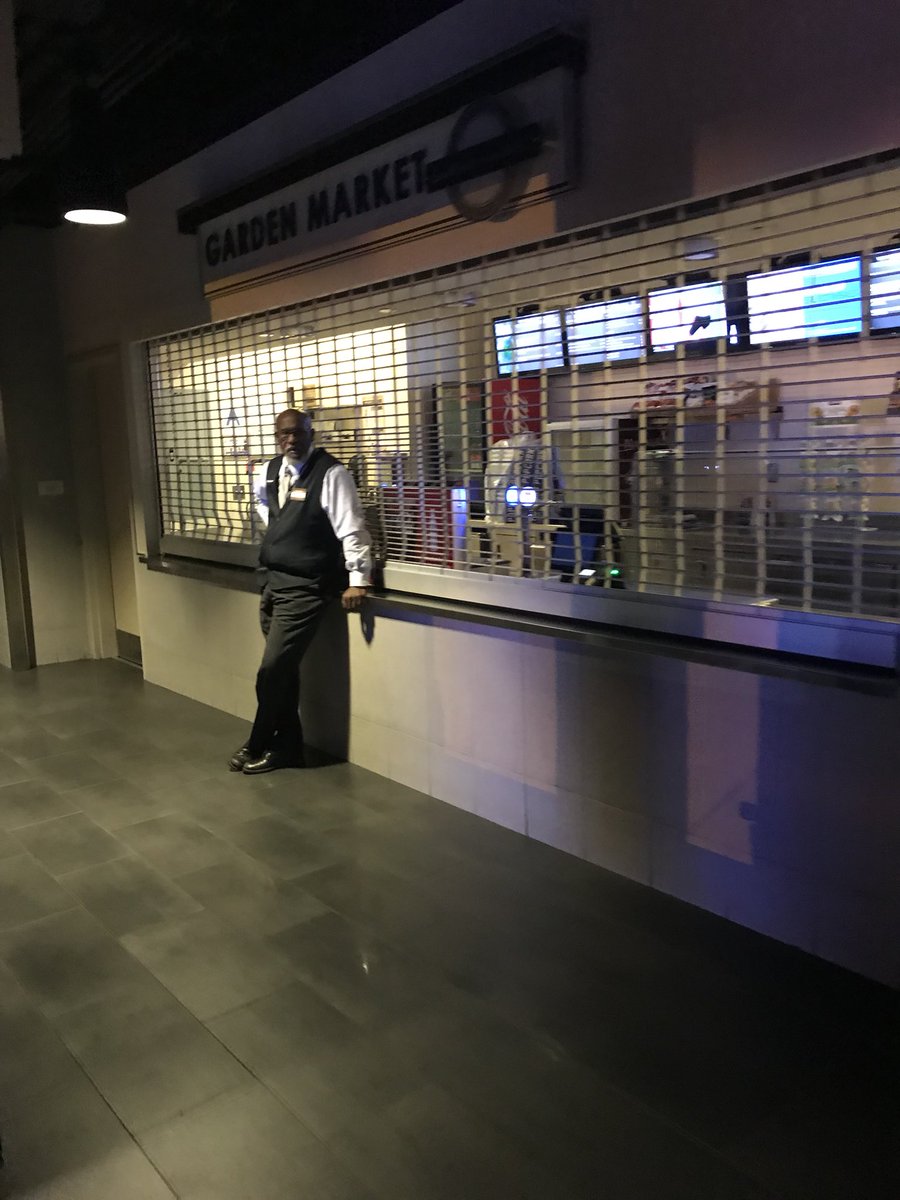 So not only have the Rangers raised their ticket prices for a product that has been its most inferior in the last five years, they are also closing down beer stands all over M$G on a daily basis. Seriously – why spend $100+ (and by the time you factor in transportation & concessions, you're hitting $200) a game, to watch a bad product under unfriendly conditions?
Bathroom lines are the worst in the league. As someone who has been to more than half of the NHL arenas, no other venue is worse than M$G, when it comes to waiting in line to take a piss. The Rangers solution to quicken bathroom line time? Stop selling beer!
Even before all this crap (just check the archives) I said that I would be saving my M$G money to attend more games on the road this season. I'm glad I had the foresight to back away from the Garden a bit, as they have sucked a lot of the fun out of the fan experience. The biggest problem is you have people in suits making decisions for blue collar fans, without considering any blue collar fan input at all. Then again, M$G doesn't want the blue collar folk anyway. They want the sushi eating, merlot drinking corporate fuckers, who will pay their high prices for tickets, whether they attend the game or not.
Due to time (I feel like a broken record now), this isn't going to be my normal game review blog. I'm just going to hit some of the major things and get out. However, here's the official box score from ESPN.com:
1st Period Summary

Time
Team
Scoring Detail
VGS
NYR
2:45

Jimmy Vesey (2)
Assists: David Desharnais, Ryan McDonagh
0
1
5:22

Oscar Lindberg (5)
Assists: Alex Tuch, Deryk Engelland
1
1
19:21

Reilly Smith (3)
Assists: Jonathan Marchessault, Colin Miller
2
1
Time
Team
Penalty Detail
16:43

Alex Tuch: 2 Minutes for Hooking

2nd Period Summary

Time
Team
Scoring Detail
VGS
NYR
1:29

Mats Zuccarello (3)
Assists: Rick Nash, Kevin Hayes
2
2
7:06

Reilly Smith (4)
Assists: Jonathan Marchessault, William Karlsson
3
2
18:59

David Perron (4)
Unassisted
4
2
Time
Team
Penalty Detail
8:27

Brady Skjei: 2 Minutes for Delaying Game – Puck over Glass
11:23

Jonathan Marchessault: 2 Minutes for Hooking
14:20

Boo Nieves: 2 Minutes for High-sticking
18:59

Kevin Hayes: Penalty Shot Awarded for Hooking on Breakaway

3rd Period Summary

Time
Team
Scoring Detail
VGS
NYR
5:31

Chris Kreider (3) (Power Play)
Assists: Mika Zibanejad, Mats Zuccarello
4
3
9:26

Pavel Buchnevich (5)
Assist: Mika Zibanejad
4
4
14:11

Mika Zibanejad (8) (Power Play)
Assists: Kevin Shattenkirk, Pavel Buchnevich
4
5
18:46

Michael Grabner (4)
Assist: Jesper Fast
4
6
Time
Team
Penalty Detail
2:21

Michael Grabner: 2 Minutes for Goalkeeper Interference
4:51

David Perron: 2 Minutes for Tripping
4:51

David Perron: 2 Minutes for Tripping
13:17

Colin Miller: 2 Minutes for Slashing
Goaltending Summary
Vegas Golden Knights Goaltending

Player
SA
GA
Saves
SV%
TOI
PIM
M. Lagace
37
5
32
.865
59:28
0

New York Rangers Goaltending

Player
SA
GA
Saves
SV%
TOI
PIM
H. Lundqvist
34
4
30
.882
59:17
0
For those of you, like me, who keep track, Steve Valiquette had the night off, presumably to do the Halloween thing with his kids. Ron Duguay was back and was rocking a suit that only Duguay or Walt Frazier could pull off:
I really enjoy when Duguay gets more face time on these broadcasts, because he's the best straight shooter the Rangers have on the MSG Networks. He is like the anti-Micheletti. Right off the top of the broadcast, Duguay blazed through all the bullet points and didn't feed us any line of shit. The Rangers had to win this game, they needed to pepper a new goalie with shots and they needed Lundqvist to do his job. By the end of the game, you could tick off those boxes, but you'd have to do it with the confidence of using a pencil, rather than a permanent Sharpie marker.
The Rangers did win this game, but the problems that plagued the Rangers were prevalent in this game as well. If the Rangers were up against a real NHL caliber goalie, I don't think they would've won this game. The Rangers got lucky in the third period, as fifth stringer (Technically a fourth stringer, but if you want to count Calvin Pickard, who was traded, Lagace is a fifth stringer.) Maxime Lagace finally broke down. There was a period of time, especially during the second intermission, when you could see smoke out of the ears and obscenities out of the mouth, of every person in RANGERSTOWN.
Did the Rangers win this game? Yes, but barely. This wasn't impressive at all.
Did the Rangers pepper and try to take advantage of a new goalie? Yes, but it didn't happen until midway of the second period.
Did Lundqvist play well? Kinda, but he still gave up four goals, gave up fat ass rebounds and continued to cry like a spanked child.
If you want the quick and dirty truth, this game was akin to putting cake frosting on a turd. It might look good temporarily, but at the end of the day, it's still a vile piece of shit.
For the optimists, there was good news – the special teams showed up tonight, going 3-3 on the PK and 2-5 on the PP.  The PP goals were especially big, as it cut the Vegas lead in half in the third period and would also produce the game winning goal.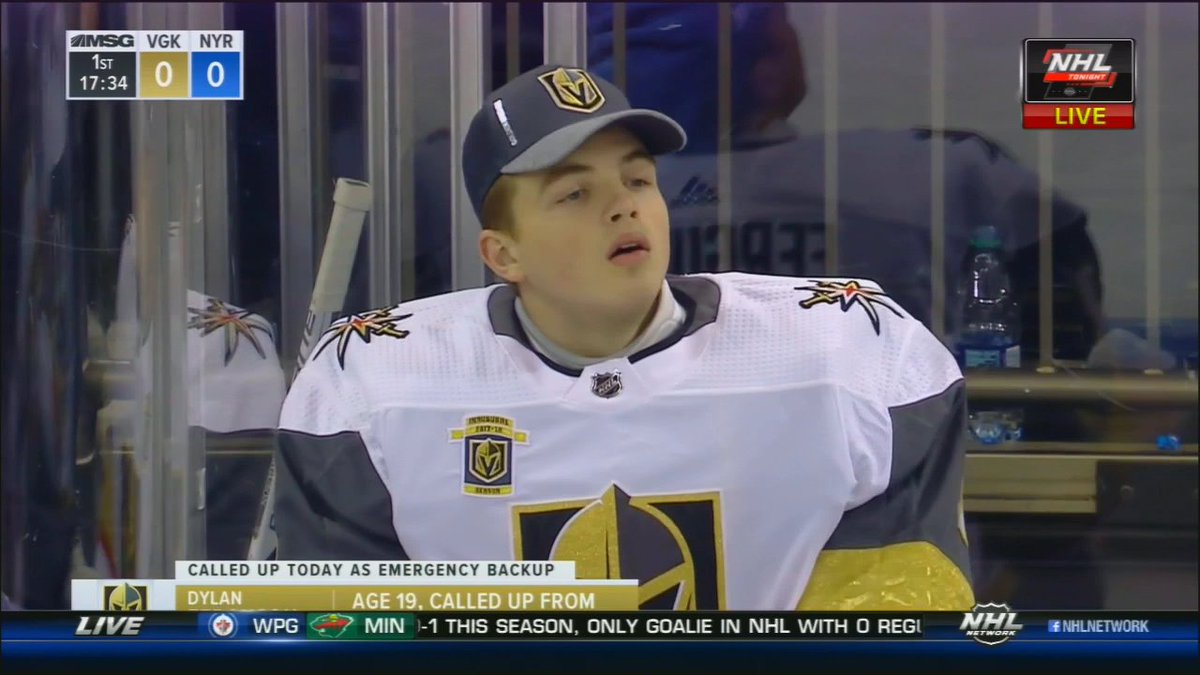 For the Rangers, this was another tale of their "consistently inconsistent" style of play. They started off hot, fell apart for the next 30+ minutes and were the benefactors of a tired Vegas team, that took too many penalties, in the third period. Again, if Vegas had a real goalie, instead of breathing a sigh of relief, the story would be "ALAIN VIGNEAULT MUST GO!"
Of course, if you haven't heard, Larry Brooks, of the NY Post, was reporting that if the Rangers were to lose tonight, then AV would be fired after this game. What drives me insane, is not one reporter from the hockey media, asked AV or anyone in Rangers management about these rumors. Again, as I've said numerous times on this blog, reporters won't ask the tough questions because they are a dime a dozen, aren't paid well and jobs are limited. They are scared to lose contacts, thus losing their job. I guess you can't blame them, but still, it means the team is stronger than the media during any sign of adversity.
The Rangers got off to a quick start, as David Desharnais (who has been a solid pick-up during the team's bad start this season) made an excellent pass, from behind the goal line, to Jimmy Vesey. Vesey, left all alone, easily deposited the puck into the net, from Lagace's doorstep. 1-0 good guys. However, after that goal, the Rangers lost their momentum.
While Lundqvist would make several decent saves in this game, the goals that were scored on him, came off his inability to freeze the puck. Sure, some fans will blame the NYR defense for everything (But won't blame the opposing defense for NYR goals, funny how that works) but Hank has to stop giving up these juicy rebounds. If it wasn't for a rookie goalie making his first start, then Lundqvist would've added another 4+ GAA loss to his record this season.
Two minutes after Vesey scored, Oscar Lindberg got the first rebound goal, because of course, if anyone was going to score tonight at M$G, it was going to be an ex-Ranger. Steve Kampfer, making a rare start, got the wrath of Lundqvist's evil eyes. It looks like Lundqvist had some words too for Kampfer.
It's funny, I talked about how Kampfer hasn't been playing for a while. I'm sure with Lundqvist screaming at him like a spoiled brat, it won't help Kampfer's minutes in the future.
1-1 after five minutes in the first.
The Rangers would fail to regain the lead in the first period, despite numerous 3 on 2's and Rick Nash one-on-ones. It's amazing how Jekyll and Hyde these Blueshirts can be.
In what has been a constant trend for Lundqvist, Vegas would take a 2-1 lead, in the final minute of the period, off the stick of Reilly Smith, who happens to be Brendan Smith's brother. Imagine if Jimmy Hayes played for Vegas? Sam Rosen would cum talking about all the brothers in the game. 2-1, bad guys, after twenty minutes. Lundqvist looked furious, as VGK had a 14-9 shot advantage.
Just like the first minute of the game, the Rangers came out hot to start the second. After strong play, Zuccarello would score, making the game 2-2. Zucc is another Ranger that really needs to step it up, as there are far too many times in these games, where you have to wonder if he's even on the ice.
Oh and worth mentioning – JOE MICHELETTI WAS COMPLETELY UNBEARABLE TONIGHT. Seriously. I think he was going to dress up as a Henrik Lundqvist groupie for Halloween, but consumed all his Swedish semen at his house before he went to work. He was TERRIBLE tonight. I even saw diehard Lundqvist supporters, on twitter, say that they couldn't tolerate Micheletti tonight.
Listen, it's one thing to be a homer, but it's another to just make things up and call a different game than what the fans are seeing. Micheletti even said "WHAT A GREAT SAVE BY LUNDQVIST", while Lundqvist was looking in the back of his net to see if he stopped a puck. Micheletti would ignore the solid work put in by Lagace in the second period (He made 17 saves on 18 shots in the second period) but would revel in the glory of his Swedish Superman. It's amazing Micheletti could even get words out of his mouth with all that Swedish sausage down his throat. As someone who isn't Lundqvist's biggest fan, I think Micheletti makes me dislike Lundqvist even more.
Micheletti would shut the fuck up a bit when Reilly Smith scored again, to give the VGK a 3-2 lead. Micheletti would then try to blame everyone but Lundqvist for that goal. It's funny, on the second Smith goal, if you're looking to blame anyone besides Lundqvist, the target would be Ryan McDonagh. However, unlike when Lundqvist threw his hissy fit at Kampfer, he kept his mouth quiet with McDonagh, despite McDonagh's gaffe being much larger than Kampfer's mistake. Funny how that works. Lundqvist the bully? I guess you can't be a bully if people like Micheletti would happily give Hank his lunch money and then beg for a wedgie & a swirlie afterwards!
With VGK up 3-2, there was Lundqvist to give up another end of the period goal. This time, Kevin Hayes hooked David Perron on a breakaway, with 1:01 left in the second. Perron would score on the ensuing penalty shot. 4-2 bad guys.
After two periods played, VGK held onto their two goal lead. To say that RANGERSTOWN was a tire fire would be an understatement. It really looked like AV chewed his last piece of gum behind the Rangers bench.
However, the Rangers rode lady luck into the third period. Vegas, who protected their goalie for most of the game, also saw Lagace make 25 saves on 27 shots, through two periods. If it wasn't for the third period, you could argue Lagace had a better game than the overpaid and overrated Lundqvist.
That said (there you go again) Vegas fell apart in the third period. Whether it was two games in two nights or trying to be strong defensively for their rookie goalie, Vegas got sloppy and took two brutal penalties, one of which was a double minor. With those six minutes of penalty time, VGK played 30% of the third period with a man down. They would also give up two goals on those three powerplays, which were committed off two different infractions.
Kreider would score the first PPG, making the score 4-3 bad guys.  Four minutes later, Pavel Buchnevich tied the game at 4 a piece. Five minutes after the commie goal, Zibanejad would add the game winning goal, a power play goal, giving the Rangers a 5-4 lead. With two minutes to go, and a face off in the Rangers defensive end, Vegas pulled Lagace. Fast would block a shot attempt and Grabner would benefit, as he added an empty netter with 1:46 remaining to seal the deal, with a Rangers 6-4 victory.
I know I sound so down on the team here, but while it's nice the Rangers came back to win, had a decent PP and finished the game off before VGK could do anything with their 6 vs 5, this win doesn't indicate anything to me, outside of that Vegas had a snowball chance in hell of winning this game. The Rangers almost defied the odds. This win should've came easy. It didn't. You saw Lundqvist have his hissy fits. You saw the Rangers get lost in space. You saw AV look like he was about to book a vacation to Costa Rica.
If anything, this win just buys another day, but in no shape or form, does this mean a turnaround is on the horizon. However, optimists can look at the standings and still make a case, despite the Rangers being in last place. In fact, check out the standings yourself:
Making this win even more infuriating, and really I don't want to be angry or down on the team after a win, was Joe Micheletti tonguing Hank's asshole until his tongue turned a full shade of brown. The guy gave up four goals, beat on a penalty shot, saved by the post/crossbar several times and gave up bad rebounds all game. The way Micheletti was talking, you would think Lundqvist had a performance like Willis Reed in Game 7 of the 1970 NBA Finals.
I think my jadedness and realism won't let me enjoy this win. I know what it was. It was luck. You left this game wiping the sweat off your brow and saying "whew", rather than pumping your chest out and doing a Bill Goldberg, by saying "WHO'S NEXT?"
That said (last one), if the Rangers really want to impress me and get me in the GOLDERRRRRRRRRRRRG "WHO'S NEXT?" mode, it will be a strong win over their next opponent, a team that has been a Rangers killer in recent years, the Tampa Bay Lightning. If the Rangers can beat the Bolts, it would also be their first two game win streak of the season.
As stated above, I'll be at both games in the state of Florida this week. I'm doing the Stubhub trick, and wow, as of right now, I can sit in free booze/free cigars/free food seats for under $100. On another note – anyone see that game between the two Florida teams, in Sunrise, from Monday? It looked like there were under 10 fans there! And you thought the Barclays couldn't draw!
I'm sorry to short change you here, from one of my normal 8000 word affairs tonight, but real life beckons.
I'd also like to thank the dozens of you that I was going back and forth with on Sunday, during my flight issues from Montreal. It was fun talking with you and it was somewhat a stress relaxer. It also made the time go by faster.
I am still sitting on the Sean Avery book review, as I've read the book, and I want to write something up about it. Maybe I can do that on the flight to Tampa tomorrow night.
I should be able to get a Tampa/NYR review up late Thursday night. Not so sure about the Florida/NYR game on Saturday night, as I have an early flight back to NY Sunday morning. We'll see.
Keep it here on BlueCollarBlueShirts.com for more and as always, thanks for reading and….
"LET'S GO RANGERS"
Sean McCaffrey
BULLSMC@aol.com
@NYCTHEMIC on twitter