What's up everyone and welcome to another blog here on BlueCollarBlueShirts.com. As you read these words, I'm sitting at the Montréal–Pierre Elliott Trudeau International Airport, feeling the effects of about 7697836478638463876496386 Molson Canadians & Labatt 50's. Despite a 3 day drinking binge that would make Artie Lange blush, the Rangers currently look worse than my liver.
As I anxiously await for the "DESTINATION JFK NOW BOARDING" message, I just keep going through last nights game in my head. The Rangers, the victims of a 5-4 loss to the Montreal Canadiens, are in a perpetual state of peril. Despite my pleas, suggestions and predictions of stating that this team needs a complete rebuild, the Rangers continue to define insanity, and believe they can win a Stanley Cup with these pieces.
Speaking of that last sentence, how many times have you heard the Rangers, the media or even ex-alternate captain, Derek Stepan himself, say, "The Rangers have all the pieces to make a Cup run." The "having the pieces" line is as meaningless and as worthless as the "we had good looks tonight." The majority of NHL teams, before any season, believe they have the pieces for a Cup run. Some teams realize they do not, and embrace a full rebuild for the future. Unfortunately for Ranger fans, the brass at MSG continue to keep their heads in the sand and not accept reality – this team is FINISHED.
Today's blog will be different than my usual style of a game recap, because for starters I was at the game. Secondly, I'm trying to get this blog done before I board. I figure this blog would be more entertaining if I shared my experiences, while in Montreal. However, before getting there, here are my last few game recaps, in case you missed them:
NYR/ARI 10/26 Review: King Pavelec & The Rangers Win the Derek Stepan Cup; Leave The New York Arizona Coyotes Howling in Tears, "They Aren't Booing Him, They're Saying BOO!", The 1000 Game Virgin Rick Nash, AV Lives For Another Day, Why This Win Doesn't Change Anything, Montreal & More From M$G
---
NYR/SJS 10/23 Review: PURE ANGER, as Henrik Lundqvist & The Rangers Get Sharknado'd, Season Falling Apart, AV May Need To Start Chewing Gum At Home, Time for the Rangers to Get Ruff, Powerless Play, Ticket Prices Continue To Drop & More From the Absolute Worst Loss of the 2017-2018 NY Ranger Season
---
---
---
---
This was one of my more enjoyable trips to Montreal, until the Rangers shit all over it. By the end of the game, I felt like the toilet that a 400 pound Inuit was sitting on, after devouring 5 pounds of poutine. (That is a true story, as I was taking a piss during the second intermission, there was a large native grunting and groaning, while passing what must've been one hell of a turd. I didn't hang around to check, but I'm not sure if the Rangers defense passed through his colon.)
Having been to Montreal numerous times, my friends & I have a feel for the place. Don't believe the stereotypes – the French Canadians have always been friendly to us. There is no real cultural divide to speak of, at least in my personal experiences. There may be a language barrier at times, as we use different words to describe the same thing, but for the most part, you can carry a conversation with anyone here.
When you read this blog, you have to understand that I enjoy dabbling when it comes to drinking and gambling. However, there's much more to do in Montreal than sit in bars or casinos. There's also strip clubs! (If you didn't know, Montreal is the strip club capital of the world.)
I'm not just saying this in case my girlfriend sees these words, because I doubt she would care anyway, but I really have no interest in strip clubs. I mean, I get why other people may like to go, but when you break it down, at the end of the day, you're just paying money to get a hard-on. As someone from the wrestling business, I just feel like strip club patrons are "marks".
While I do know /understand that high end strip clubs are sometimes a place that a celebrity wants to be seen at or somewhere where a big business deal can be sealed, for me, paying money for expensive drinks or for some woman to sweat glitter & regret on you, isn't in my wheelhouse.  That said (there's one) if you love strip clubs, Montreal is full of them.
Oh, and I've been told that Montreal (Old Montreal specifically), is known for their churches & other religious regalia. For priests, they treat their churches like strip clubs whenever they have the altar boys around. (Can't wait for someone to whine about that joke. Waaaa, lighten up, it's a joke.)
Here's a couple of pictures from where I spent my time:
Going into this game with the last place Habs, coach Alain Vigneault ruffled feathers with his "goalies need to stop the puck" line, while announcing that he would be giving back-up goalie, Ondrej Pavelec, the start.
Let me make it clear here, because some of you still haven't grasped my sense of humor, nor know when I'm joking or not.
I was always a Cam Talbot fan and tracked his career while under the Rangers payroll. When the Rangers finally had enough of Biron & Biron retired, I was eagerly waiting Talbot to get his shot. Previously, I did not care about Hank's back-up, because prior to 2014, it never was an issue. You also have to realize that the salary cap, after the 2012 lockout, also changed/tightened roster management as well. That was always my biggest bone of contention with Lundswiss. I'm not going to rehash everything else, you can read my previous blogs over the years for that.
When Talbot left and became a starter elsewhere, I wasn't a fan of Raanta coming in. Not that I had anything against Raanta. What I'm trying to say, it's not like I was following the back-up goalie situation in Chicago. Raanta would eventually grow on me with his strong play, but I can't say I followed his career like I did with Talbot.
When I say KING PAVELEC, I am joking. If you read my blogs from over the summer, I said I did not like the Pavelec signing at all and it's a mistake. I know many of you just read twitter and skim through some of these blogs, because it's hard for some people to buckle down and read anything longer than 140 characters (The eventual 280 characters is going to rock some worlds), but please understand, when I say "KING PAVELEC", I am saying it in jest.
When I say "KING (Insert Name Here)", it's my not-so-subtle jab at KING HENRIK. If a Cupless goalie can call himself a King, then anyone can call themselves a King!
However, despite giving up 5 goals on the score sheet, I don't think Pavelec looked so bad here tonight. I know that will rile up Ranger fans, since we all know that I would tear Hank up after a 5 goal game, but KING PAVELEC isn't the highest paid goalie in the league either. Maybe I'll just blame Marc Staal and Nick Holden for every goal, like diehard Lundswiss fans do! Then again, I wouldn't be wrong for doing that, when talking about this game specifically.
Borgata Ray & I were joined by Ray's two friends from work for this trip. They aren't hockey die-hards, but they wanted to experience Montreal & the activities it has to offer. Ray's friends were impressed how the whole arena 100% stood up for both national anthems. Even more impressive, was how the French Canadian speaking crowd sang the American National Anthem in English and then sang along to the Canadian National Anthem in French.
I'm telling you, even if people won't admit it, blue collar folks like me, who are huge sport fanatics, have just had it with the NFL and all their kneeling. The NFL has disgusted more people with their bullshit than the Rangers defense.
Before jumping in with my thoughts on this game and the team, let me give you the official box score from ESPN.com:
1st Period Summary

Time
Team
Scoring Detail
NYR
MTL
7:51

Paul Byron (3)
Assist: Jonathan Drouin
0
1
11:09

Alex Galchenyuk (3) (Power Play)
Assists: Brendan Gallagher, Phillip Danault
0
2
13:15

Phillip Danault (2)
Assists: Andrew Shaw, Shea Weber
0
3
Time
Team
Penalty Detail
9:52

Mats Zuccarello: 2 Minutes for Slashing
14:18

Kevin Shattenkirk: 4 Minute Double Minor for High sticking

2nd Period Summary

Time
Team
Scoring Detail
NYR
MTL
2:21

Pavel Buchnevich (4) (Power Play)
Assists: Kevin Shattenkirk, J.T. Miller
1
3
12:20

Rick Nash (2)
Assists: J.T. Miller, Mika Zibanejad
2
3
14:38

Max Pacioretty (3)
Assists: Shea Weber, Phillip Danault
2
4
Time
Team
Penalty Detail
2:15

Artturi Lehkonen: 2 Minutes for Interference
5:45

Chris Kreider: 2 Minutes for Roughing
14:52

Chris Kreider: 2 Minutes for Roughing
14:52

Brendan Gallagher: 2 Minutes for Roughing
19:27

Karl Alzner: 2 Minutes for Holding

3rd Period Summary

Time
Team
Scoring Detail
NYR
MTL
2:25

Mika Zibanejad (7)
Assists: Ryan McDonagh, Rick Nash
3
4
7:00

Brady Skjei (2)
Assists: Kevin Shattenkirk, David Desharnais
4
4
9:37

Phillip Danault (3)
Assists: Brandon Davidson, Andrew Shaw
4
5
Time
Team
Penalty Detail
3:32

Paul Byron: 2 Minutes for Tripping
10:07

Mats Zuccarello: 2 Minutes for Tripping
14:12

Kevin Shattenkirk: 2 Minutes for Hooking
15:13

Andrew Shaw: 2 Minutes for Holding the Stick
Goaltending Summary
New York Rangers Goaltending

Player
SA
GA
Saves
SV%
TOI
PIM
O. Pavelec
43
5
38
.884
58:31
0

Montreal Canadiens Goaltending

Player
SA
GA
Saves
SV%
TOI
PIM
C. Price
26
4
22
.846
60:00
0
All the good and fun feelings about seeing my team on the road quickly faded from puck drop. The Rangers were just horrible. They were outplayed, out-hustled and looked like a shell of the team that once took this Canadiens team down last April.
It's amazing to think, with the changes to the rosters of both cubs, the Rangers didn't even muster up 1/100th of the effort they had with the Canadiens that they had in that first round match-up last Spring. Making even matters worse, the Canadiens are the worst team in the East.
I mean, I get you're not going to get playoff intensity in a game in October. However, the Rangers blew a chance at their first two game win streak all season. At some point, you gotta play for something, right?
I have been in Montreal since Thursday and spent Thursday & Friday night around the bars. Hab fans were furious. You think NYR social media is bad? You should've took a glance at Hab's social media before this victory over the pathetic Rangers. While Ranger fans are a dedicated and passionate fanbase, it doesn't even compare to the Montreal fanbase. Please keep in mind when I say this, the Canadiens are all Montreal has. There is no NFL, MLB or NBA team. There is no competing NHL team in the same market. It's Go Habs or Go Home. For the Rangers, they experienced just that, as the Habs went and the Rangers hung their heads, like a bad dog, as the final horn blew in this one.
Stop me if you have heard this before – the Rangers didn't play a full 60 minutes. This was another example, on an already teetering pile of examples, of the Rangers having one of their zombie walks in the first period. As Ranger fans, it's no longer acceptable. If I can drink 676998686896 beers and be amped and ready to go for this game, how come the Rangers can't be ready for their job too?
And really – it's not like Montreal is playing lights out hockey. You know the expression, "the better team won." Well, you might be able to say that about every team that plays the Rangers this season, outside of Arizona. Then again, the hollow victory over the Desert Dogs was a win over a third string goalie. Immediately after lighting up poor Adin Hill (who also allowed many soft goals), Hill was sent back down to the minors and the Yotes traded for a goalie, in the name of Scott Wedgewood, of the New Jersey Devils. Who knows – if Antti Raanta is healthy, do the Rangers get their unimpressive victory this past Thursday night?
As I feel like I always need to preface myself with – I've always been a supporter of Alain Vigneault. However, really, it's at the point where after all these sleepy, crappy, pathetic and mind-numbing first periods, when do you say enough is enough? Sure, you can't just single out AV either. The players have a job to do too. There are many days where I don't want to go to work either, but I roll out of bed & do what I got to do. I do my sleeping during my lunch break. If the Rangers are lethargic, sleep in between intermissions, not when you have paying fans seeing you perform.
Again, I don't want to rehash myself, but this losing would be OK, if the team accepted a complete rebuild. That means trading or buying out Lundswiss. Ditto Marc Staal. It means trading Rick Nash to a contender. It could also apply to Zuccarello and McDonagh. It's time for the Rangers to get young again, and while it will be sad to see some of your favorites go, what's more important, the back of the jersey or the front of the jersey?
I just don't see the Rangers embracing a full rebuild because management & the owner have been fools ever since Neil Smith was fired. Four Cups in 90 years is the Rangers stamp on futility. The other reason the Rangers may not embrace a rebuild is because of another story I've been talking about all season – the disgusting tier pricing and ticket price hike, It's hard to justify a full rebuild when you're jacking tickets up by 100% in some sections.
However, what the Rangers should know, is that Ranger fans are smart. Most fans recognize that these Rangers are like the Emile Francis Rangers. They had their run, and they did everything but win a Cup. It sucks, but facts are facts. You can either keep throwing shit a the wall and see what sticks, or you can embrace a new direction.
It's tough to single any one out in the first period for the Rangers failure to compete. As has been the case for the majority of the first periods this season, the only player that showed up was the goalie, this time in Ondrej Pavelec. However, even KING PAVELEC couldn't make a miracle.
You can look at every defenseman on this team and outright blame them for every goal that happened tonight, especially in the first. There was no defense played. As I watched the clock wind down on the scoreboard, I just watched Montreal take shot after shot. I am not exaggerating when I say this – Montreal had the puck 97% of the first period, and that might even be a low number.
The Rangers, always culprits of making the extra fancy pass, could not clear the puck. Montreal skaters were blowing by the Rangers with such finesse & with a soft ease, that it looked like the bag from "American Beauty", dancing around in the wind. (Is that a dated movie reference for you people?)
Nick Holden, who once looked like he knew what he was doing, seemed to have the best seat in the house for multiple goals. I really was expecting him to rip off his Rangers jersey and reveal a Habs jersey underneath, just like an nWo member. (Another dated reference, this time from pro wrestling!)
Marc Staal was no better. Again, the Rangers bought out Dan Girardi instead of Marc Staal, who was never the same after his injuries. Truthfully speaking, if Marc Staal didn't have a contract with the Rangers, would any NHL team employ him? Maybe Arizona? What does that say!
The first period featured turnover after turnover, and the Rangers had more "turn over please" than an Asian Massage Parlor. They looked like they never played the game before.
The only person who may have taken any joy in any of this? This guy:
How many times, over the last four seasons, have we seen Larry Brooks or a wannabe Larry Brooks, talk about the Rangers controversy in net? Where I am telling you that Lundqvist and that contract needs to be moved, the media's narrative is that "Lundqvist is slumping, will turn it around, but for now, the Rangers should go with the back-up goalie." AV even threw some shade at Lundqvist for not stopping pucks.
Where I firmly believe the Rangers are a better team if they had Talbot or Raanta over Lundqvist (And most certainly a Talbot/Raanta duo is better than a Lundqvist/Pavelec pairing), those are now sadly just pipe dreams for me. Unless Lundqvist accepts that his best chance at a Cup is pulling a Ray Bourque, sadly, he will see more games like the one he watched from the bench tonight, if he continues to wear the diagonal Rangers letters on his chest
If anyone breathed a sigh of relief during this game, it's Lundqvist. While Pavelec was good (38 saves on 43 shots), he didn't get to that higher level that Talbot and Raanta once did, in similar games from past seasons. But to blame Pavelec for this game would be foolish. The Canadiens were peppering him all night, while the Rangers themselves,  watched like us spectators in the crowd.
The only reason I mention this, is because while Pavelec was suitable, he didn't do anything far superior than Lundqvist did, unlike a Talbot or a Raanta. I bring this up, because just as I predicted and said that Pavelec should start over Lundqvist for this game, I think Lundqvist gets the start Tuesday against the hottest team in the league, and who would've thought that, in the Vegas Golden Knights. I firmly believe that if Pavelec had a great effort tonight and won this horribly played game, then AV would've rode Pavelec against Vegas.
Let's just hope this – on Tuesday night, Halloween night, the Rangers dress up like the 1994 Rangers and not as the OFFICIALLY LICENSED Rangers doormats.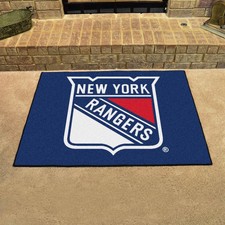 Scary, but a thought worth pondering – are the Rangers the team that other teams start licking their chops over? Just like how the Rangers needed Arizona to get a much needed win, other teams are now looking at the Rangers as an easy two points.
Oh, and with the Rangers giving positive firsts to their opponents all season, at the end of the first period, the Habs had their first lead, after the first period, all season. That's RANGER HOCKEY.
I'm already 4000 words in and just got this nice piece of information:
I know I have talked more about the team and experiences than the actual game itself, because as stated, this was going to be a different type of blog anyway. What more is there to say?
The team flat out sucked in the first period. Hab fans, in my section, all remarked, with glee, "This is the best the Habs have been all season!"
I can't stress enough how bad the defense was. Holden, Staal and Shattenkirk, all stood out as having "F" games.
Paul Byron, the struggling & trade-bait Alex Galchenyuk and Philip Danault were all beneficiaries, of the terrible Rangers, of the first period. I should mention, while the defense was completely atrocious, it's not like the offense did anything either with the limited time they had with the puck. It was cross ice passes to nowhere and a dump & turnover game.
At the end of one and with a 19-2 shot advantage, Habs 3 – Rangers 0.
Best part of the first period? For me, it was when the beer man wouldn't walk to my side of the section and took my order from the opposite end of my row. I passed a $20 bill for a beer. He passed a beer and change. I passed a tip. I said, wait, that was a loonie and not a toonie. I passed another tip. This whole ordeal took about 5 minutes and annoyed some people. That was the highlight of the first period.
In the second period, the Rangers yawned and woke up a bit. Pavel Buchnevich scored a powerplay goal, seconds into the PP. For Carey Price, who is also having a terrible year (funny how that works with high price goalies) was beat. Then again, maybe he wasn't expecting any offense from the lifeless Rangers. I really can't share enough how bad the Rangers were in the first. Joe Michletti's Henrik Lundqvist sex doll has more life!
As the Rangers tried to cut into the three goal lead, Rick Nash finally scored a goal. That tells you how much Carey Price is struggling this year. After walking around with a heavy shart in the pants, the Rangers still were able to hang in there with a bad Canadiens team.  However, a few minutes after the Nash goal, Canadiens captain, Max Pacioretty, was all alone as he beat Pavelec to make the score 4-2. That would be your score after two periods.
In the third period, Zibanejad would score his team high seventh goal of the season, at the two minute mark. With the goal, the game reverted back to a one goal game. Canadien fans, who were chippy and chirping twenty plus minutes ago, quickly got quiet.
The hush fell over the crowd when Brady Skjei tied the game at the 7 minute mark of the contest, making the game 4-4. I couldn't believe what I was watching. How did this team erase a three goal lead, then a two goal lead? Where were these guys all game? Is it in the Rangers handbook that they must play from behind all game?
However, the idea that Pavelec and the Rangers were going to pull this game out of their ass quickly was shot to shit. Just a little two minutes after the Skjei goal, big bad Philip Danault, gave the Habs a 5-4 lead. If there was any goal that perhaps Pavelec could've stopped, from my vantage point and without the benefit of replay, this looked like one of them.
However, the Rangers had 11 minutes to muster another comeback. They had no more comebacks in them, and looked spent. The Rangers spent a lot of time in this game killing off PP's, as the PK went 1-6. The Rangers continued to have an anemic PP, despite the commie's goal, as the PP unit finished 1-4. Even AV's Anthony DeAngelo couldn't save this Rangers PP.
Making matters worse, is when the Rangers finally pulled Pavelec for the extra skater, they kept taking these wild as fuck wide shots and committed icings. My friends, that's not what good hockey teams do. 5-4 is your final. While the score suggests a close game, it was anything but. Even worse, the Rangers found an off-night Carey Price & scored four goals and still could not win.
If you're looking for the bottom line – the Rangers first period was inexcusable.
At 3-7-2, the Rangers are quickly playing themselves out of this season. If Montreal picks up a point on Monday, against Ottawa, the Rangers will be the worst team in the Eastern Conference. If playing in the Metropolitan division isn't hard enough, the Rangers are going to need to play lights out hockey, and mostly on the road, to gain ground. I just don't see it happening. I have accepted it's time to rebuild and it's a question of when the Rangers do the same.
As of right now, I don't know when I'll get back to NY, since the weather is terrible here and terrible in NY. I've had two flights canceled and I'm trying to prevent myself from partaking in some last authentic Canadian beers, as I do need to pay attention of what's going on with my flight!
I plan on doing a Sean Avery book review sometime this week. If I'm forced to stay another night in Montreal, I'll do that review later today.
Rangers try to cool down the Vegas Golden Knights on Tuesday. Expect a ton of bad gambling and Halloween jokes from me in that blog!
Wanna see the definition of the word "sick"? Despite all the losing and now having two flights canceled on me, I still plan on going to Florida for NYR vs TB & NYR vs FLA. I'm going down with the sickness (Oh, ah, ah, ah, ah!) There's your last reference from the late 90's-early 2000's!
See you Tuesday (Hopefully).
As always…
Let's Go Rangers
Sean McCaffrey
BULLSMC@aol.com
@NYCTHEMIC on twitter