What's up everyone and welcome to another blog here on BlueCollarBlueShirts.com. I hope you pardon the silly pun in this headline, but when the Rangers sent out an email today saying "Can The Rangers Turn Over a New Leaf?", I couldn't resist to mock it!
I can't go long as usual tonight, as I got a 4:30AM alarm and a 12 hour work day ahead of me. I'm going to have to finish this blog faster than Michael Grabner on a breakaway! As much as I'd love to talk about Auston Matthews and crew, I gotta do a rush-job, at least by my standards. This blog is damn near 3500 words!
The Rangers, on their longest losing streak of the season, at three games, rebounded in Toronto on Thursday night, defeating the Toronto Maple Leafs 5-2. For the Rangers, this was their first win since their bye week concluded.
Obviously, the story before the game was how would Henrik Lundswiss play? Tonight, he was passable. He wasn't great, he wasn't bad, he was average, which pretty much sums up his play since signing that horrendous team-unfriendly contract, which makes him the highest paid goalie in the NHL.
Even with the win tonight, stats like this are inexcusable for the highest paid goalie in the league:
In fact, Lundwiss has been the worst goalie in the NHL in 2017, as he has the worst save percentage and GAA since the start of the new year. He will never be worth $8.5M, he will never be the best goalie in the league despite being the highest paid and until the Rangers get rid of his contract, I just don't see how this team wins a Cup with him.
Many fans will rant and rave about Lundswiss having an average game tonight and try to sell something that isn't there. Joe Michelletti is one of those people. I'm surprised he hasn't rented out a pump and dump hourly motel for himself and his Lundswiss blow-up doll. Seriously. On the first shot of the game, the Leafs took a shot from the centerline, which is about a 100′ shot. Michelletti, with pure giddy and glee said, "WHAT A GREAT TOUGH SAVE BY LUNDQVIST!" Are you fucking kidding me? That just shows you how bad Lundqvist has been, where the announcers are raving over 100′ saves.
The whole MSG Network coddled Lundqvist with kid gloves tonight. No one has the balls to outright say Lundqvist has a horrible contract and this play is not acceptable for $8.5M a year. The only one who goes against the grain a bit is Ron Duguay, but every time he does, you can see Steve Valiquette's face start turning into different shades of red.
What you could also tell about Lundqvist is that the word is out on him. During this season, especially recently, he has been prone to long shots for goals (or he will mismanage the puck, leaving a soaring member of the opposite team to look for a rebound), has had a weak five hole and has been open for business on the wraparound. Toronto tried all three of these things against Hank. To Hank's credit, he stopped it, but he didn't look confident. It kinda seemed like right place, at the right time type of thing.
Another thing that has been consistent in Hank's career is how bad he is with his puck handling. He made countless turnovers tonight. He's better off staying in his own net.
The most ardent of Lundqvist fans will say "he's back", despite having 4 bad games for every one decent game. What those fans will also ignore was how good the Rangers defense was tonight. No matter what the Rangers defense does, some fans will blame them for everything. As I said on twitter, I'm going to start using the Rangers defense excuse for all my walks in life. I'm late to work? It's not my fault, it's the Rangers defense. I forgot your birthday? It's not my fault, it's the Rangers defense. I spilled beer on you? It's not my fault, it's the Rangers defense. I clogged your toilet and hightailed it out of there? It's not my fault, it's the Rangers defense.
Lundqvist gave up two goals tonight, so of course, those two goals are the fault of the Rangers defense, even if Andersen stopped similar shots on his end. Of course, by blaming the Rangers defense, that means they get no credit for being there in tough situations and giving Hank a ton of easy saves to make tonight. I don't have the shot blocking stats & I don't have the time to look them up, but the Rangers blocked a ton of shots tonight, especially with the lead in the third period.
I always find it funny how some people will blame the Rangers defense for everything, but don't use that excuse when the Rangers score. Michael Grabner scored tonight all on his own, to hell with Toronto's defense!
The Rangers, MSG, the broadcasters, some media and the fans all coddle Lundqvist. They talk about his past. That's what it is – THE PAST. He's been fucking terrible and an overpaid mess this whole season. We've seen it already – you can't win a Cup with a top 5 paid goalie in today's cap era NHL. Talbot & Raanta were better goalies when they were here and they were better for much less money.
Here's the biggest problem – Hank can have a decent game tonight and the Rangers are ready to throw him a fucking parade. You're only lying to yourself. You think other teams will coddle him? You think other teams care about his silly "King" nickname? Of course not. Come the playoffs, when the Penguins are putting 5 past him left and right, remember this blog. You need to toughen this guy up.
So many people are quick to say it's a team game, but I only see one player getting to play excuse-free hockey and never accountable for anything. Even giving him the Broadway Hat is like giving this little crybaby his own "participation" award like it's a pee-wee Saturday morning soccer game. Speaking of being a crybaby, crybaby Hank was back tonight. With a 3-2 lead, Matt Martin was blatantly tripped by Oscar Lindberg. Easy call. Hank started flipping out about the call, which to me, looked like he was not confident about giving Toronto a power play. He threw another one of his bitch-fits. He should've been hit with an unsportsmanlike penalty for crying like Sidney Crosby. At least in Crosby's case, he can carry a team and win a Cup or two.
When it comes to the Rangers or any team in general, it's about the front of the jersey winning, not the back. If the Rangers want to be the team that tries everything so Lundqvist can "Ray Bourque" it here, that's great. However, they won't get a Cup with him. If the Rangers want to focus on the team and not one player's needs, they will have a better shot at the cup.
Again, I'm pressed for time, so here's the official box score from ESPN with my thoughts:
1st Period Summary

Time
Team
Scoring Detail
NYR
TOR
6:42

Brady Skjei (2)
Assists: Mats Zuccarello, Chris Kreider
1
0
10:16

Tyler Bozak (11)
Assists: James van Riemsdyk, Mitch Marner
1
1
14:44

Pavel Buchnevich (6)
Assists: Rick Nash, Brady Skjei
2
1
Time
Team
Penalty Detail
4:22

Connor Carrick: 2 Minutes for Slashing Michael Grabner
16:28

Chris Kreider: 2 Minutes for Holding Nazem Kadri

2nd Period Summary

Time
Team
Scoring Detail
NYR
TOR
9:02

J.T. Miller (15)
Assists: Adam Clendening, Kevin Hayes
3
1
16:02

Zach Hyman (6) (Shorthanded)
Unassisted
3
2
Time
Team
Penalty Detail
11:21

Frank Corrado: 2 Minutes for Hooking Kevin Hayes
14:12

Frank Corrado: 2 Minutes for Slashing Michael Grabner

3rd Period Summary

Time
Team
Scoring Detail
NYR
TOR
14:57

Michael Grabner (20) (Shorthanded)
Assists: Kevin Hayes, Nick Holden
4
2
17:03

Michael Grabner (21) (Empty Net)
Unassisted
5
2
Time
Team
Penalty Detail
4:12

Matt Hunwick: 2 Minutes for Delaying the game
13:52

Oscar Lindberg: 2 Minutes for Tripping Matt Martin
19:24

Matt Martin: 2 Minutes for Slashing Adam Clendening
19:24

Adam Clendening: 2 Minutes for Slashing Matt Martin
Goaltending Summary
New York Rangers Goaltending

Player
SA
GA
Saves
SV%
TOI
PIM
H. Lundqvist
25
2
23
.920
60:00
0

Toronto Maple Leafs Goaltending

Player
SA
GA
Saves
SV%
TOI
PIM
F. Andersen
40
4
36
.900
59:35
0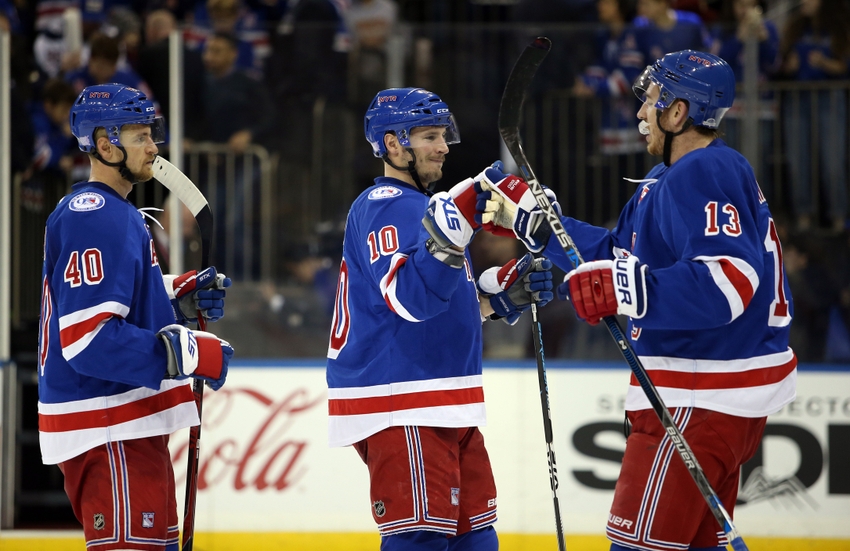 Going into this game, I thought the Rangers would stay back a bit and get away from their aggressive offensive game. Instead, the Rangers played aggressive offense and aggressive defense. What a concept!
The Leafs were out-shot in every period. Give Frederik Andersen credit – he played great and made some huge saves. He stopped a point blank, right in front of the net, shot from Zuccarello and saved some big shots on multiple odd-man rushes. The Leafs would have their time with the puck, but Dan Girardi played one of his best games of the season. McDonagh was great as always. Holden was strong. The biggest liabilities on the defense tonight were Klein & Clendening, the latter who is still playing for the injured Marc Staal (Concussion.)
Many Ranger fans are now quick to dump on Kevin Klein. I just don't think he was the same player he was after having his arm broken from a 100+ MPH slapper from Alex Ovechkin. I don't think he's the tire fire that some make him out to be, but the people who bury him the most are die-hard Hank fans who need an excuse to blame someone for Hank's short-comings.
Toronto tested Hank early with a long shot and seemed to play the scouting report more than their game. They should've stuck to their game. After all, Toronto beat them doing that in MSG just under a week ago.
After being denied an easy goal by a great save by Andersen, Zuccarello made a Martin St. Louisesque pass to Brady Skjei, who buried the puck for the first goal of the game.
It's funny. Zuccarello, arguably the biggest fan favorite on this team, is now getting trashed by some media and by some fans for not scoring goals. The guy only is all over the place, seems like he averages 2 assists a game and never takes a shift off. However, Lundqvist is losing a lot recently. I guess it's because Zuccarello isn't scoring 10 goals a game! Incredible.
Hank, as usual, coughed up the lead. It's to be expected at this point, as Bozak tipped one in. 1-1.
Before the first period could end, Pavel Buchnevich scored on a similar play from Tuesday night. Buchnevich had an easy goal from the left of Andersen. Wide open net. Instead, he screwed up and missed. However, the crazy commie didn't give up on the play. He stuck with it and after a fracas in front of the net, got his stick on the puck and pushed it past the goal line. This play would be reviewed for a kick, but it was stick, so good goal. Buchnevich's reaction? A stone cold face.
All three top lines are playing great right now. Whether it's Nash/Buchnevich/Z-Bad or Kreider/Stepan/Zucc or Miller/Grabs/Hayes, all three lines are capable of multi-point games. However, for Buchnevich, it sucks he's not playing with Kreider, just because Kreider is the only other guy on the team to speak the language of Putin. Trust me, the older you get, the harder it is to learn a new language. It's not gonna come easy for 89.
The Rangers took a 2-1 lead to the locker room after the first period. The MSG guys were raving about Hank despite only making 8 saves and only one of them being a save that was really difficult. Again, the MO is to make sure to handle the fragile goalie with bubble wrap.
The Miller/Grabner/Hayes line had what felt like 7284758026784526342 chances to score goals tonight. They blew several opportunities. It was nice to see Miller score on a breakaway from Hayes. 3-1 good guys.
Never one to be shy to make a game close, Lundqvist allowed Zach Hyman to score a short-handed goal. Rangers twitter was quick to blame Clendening for this one. Fans also said it was time to get rid of Clendening too. It's amazing how much they raved about him when he scored goals though! The Lundqvist defenders are out of control. It's mostly younger people who don't remember the Rangers without Lundqvist. Sometimes I wonder if they would rather see Lundqvist win a Cup somewhere else than see the Rangers win one without him.
With a 3-2 lead and a period left to play, the Rangers tightened up defensively. Toronto came out hot, but the Rangers defense was there to play.  While Miller gets the GWG of this game, Michael Grabner put the nail in the coffin on a short handed breakaway. (Ranger fans didn't blame Toronto's defensemen during this goal!) With a little more than 3 to go, Leafs coach Mike Babcock pulled Andersen, but Grabner, like Carl Hagelin years ago, used his speed to force a turnover and find the empty net. 5-2 Rangers, your final.
I'm not trying to get political here, but Obama made history today by pardoning the most amount of people by any United States President. That's a fact, and however you feel about that is fine. In a game where the Rangers scored 5 goals and played great defense all game, Ranger fans gave Lundqvist a pardon. I just don't get it. One decent game and fans have the Rangers winning the Cup. I'm glad to know that there are fans out there that think like me. Four Cups in Ninety Years! Some of these Ranger fans have a Yankees fan mouth with a Jets fan history. So much for keeping perspective and living in reality!
Couple of Ranger Thoughts:
Jesper Fast did not play. He is injured. Lindberg returned to the line up, skating with Vesey and Pirri. Like Ron Duguay, I would rather Glass for the 12th forward spot. He just brings something else to this team that Lindberg can not. The three top lines are skating well. You just need a different mix. Steak is good. Lobster is good. Veal is good. You just can't have the same thing every night. You need some mash potatoes, a shrimp cocktail or a salad once in a while too. You need a full menu to win a Cup.
Staal is still out with a concussion. The NHL is not going to fool around with concussions, especially with rumblings of a lawsuit, a new book by Sean Avery talking about concussions, the new John Scott book talking about concussions and Derek Boogard's father speaking out against the league.
Matt Puempel is also recovering from a concussion and skating with the team again. I just don't see where he fits into this line up when everyone is healthy.
I thought Zuccarello & Grabner were the best players for the Rangers tonight. They were balls to the wall every shift. Former Ranger, Matt Hunwick also played great tonight for Toronto. I thought he had a strong game.
Still no word on what Raanta's injury is.
With the Rangers not playing again until Sunday in Detroit for a 12:30 matinee (Before the NFL Championship games), followed by a Monday night tilt with LA at home, I can see Hank playing both those games. After that, it's Philly on Wednesday, then the All Star break. Since the highest paid goalie in the league hasn't made an ASG since signing his deal, that means 5 days off again. I can see Hank playing the rest of the games before the ASG, with Hellberg only there to clean up Hank's messes.
As we approach the ASG, can you believe Grabner leads the team with 21 goals? He's not even on the PP unit. That should change.
It's tough to say who is the best player on the team right now. Despite being a playoff team (And let's hope they finish with a WC & cross over to the Atlantic in the playoff seeding), it's hard to pick out one guy that is that much superior to the others. Gun to my head, I would say Ryan McDonagh by default, although you could make a case for other players and not be wrong.
From ArizonaSports.com:
Anthony Duclair's struggles haven't ceased, and the Arizona Coyotes announced Thursday they have demoted the forward to their AHL team in Tucson.

"Anthony is a good young player," said Coyotes general manager John Chayka in a statement. "Unfortunately, he has struggled this season. We felt this was a good time to send him to Tucson to work on a few things and hopefully regain his scoring touch. We hope to have him rejoin our team soon."

The move comes after the Coyotes fell 6-3 on Wednesday to Winnipeg, a game in which Duclair recorded a plus-minus of minus-3. It was just the second time three goals had been scored against Arizona with him on the ice this season.

Duclair, 21, has three goals and six assists in 41 games played this year. The nine points totaled is far off pace from the 44 — 20 goals and 24 assists — he put together in 81 games last season, good enough for fourth-best on the Coyotes. The second-year pro has seen his average time on ice decrease from 14:23 last year to 13:52 this year.

Duclair has found opportunities with 58 shots on goal this season but has converted just 5.2 percent compared to 19 percent of those chances a year ago.

In December, Coyotes coach Dave Tippett said Duclair needed to "compete harder" after he was a healthy scratch for a game against Nashville.
I've said it a ton of times on this blog, Duclair is the victim of playing for a pathetic and sorry-ass franchise. Losing breeds losing. If Duclair played for a winner, I think he would be a better hockey player. He needs to get the fuck off of a team that draws 6 fans a game. I think Montreal or Edmonton would be a good fit for him.
I know Ranger fans would want him back, but he really doesn't fit onto this team anymore.
As far as the Yandle for Duke trade? I still think it was a bad trade. Who knows how Duclair would've developed on a winning team with a strong system. It's hard to be motivated playing in front of 6 fans who howl like assholes, especially on a team whose number 1 goal is to be just at the salary cap floor every season.
I just hope he gets out of there sooner than later. Like the Arizona heat, the Coyotes will suck the life out of you.
I gotta put a bow on this, as it's time to pass out before waking up earlier than a kid on Christmas. I'm almost done with John Scott's new autobiography, so I hope to have a review of that soon.
I'll try to be back on Sunday after Detroit, but it might be rough with the NFL games.
Since I won't be back until after the conference championship games, I leave you with these predictions:
Patriots 38 – Steelers – 25
Falcons 30 – Packers 28
As always,
LET'S GO RANGERS
Sean McCaffrey
BULLSMC@aol.com
@NYCTHEMIC on the twitter machine