What's up everyone and welcome to another blog here on BlueCollarBlueShirts.com. Web site traffic is up, which I'm to assume is due to the terrible play of Lundswiss. Everyone knows me as the guy who has been burying Hank's contract for three straight seasons now. I'm not one of those fans booing Hank at MSG on Tuesday night, in the Rangers 7-6 loss to the Dallas Stars. I've been saying Hank is overrated and overpaid for years now. It's just funny how many people argued with me and said I was crazy when I said Hank's contract sucked. Now everyone is on the bandwagon. Go down with the ship you chose! It's too late to jump on my bandwagon now! IN CAM TALBOT WE TRUST!
The downward spiral of King Contract continued at MSG on Tuesday night. After embarrassing the memory of Steven McDonald on Friday against Toronto, Lundswiss gave up 5 goals in two periods to the Montreal Canadiens on Saturday. Lundswiss followed up his performances against Canadian teams by giving up a touchdown & the kick in 40 minutes to the Dallas Stars.
Before continuing, here's the Mike Francesa "BOTTOM LOYNE" – When you score four goals against Carey Price in Montreal and score 6 goals at home against a terrible Dallas Stars team, there is no excuse to lose. NONE.
These losses are 90% on Lundswiss and 10% on Alain Vigneault. While I would put the Montreal loss solely on Lundswiss, because Raanta was hurt and left after shutting out the Canadiens after one period on Saturday, I give Coach Alain Vigneault some of the blame for this 7-6 loss to the Stars. I've said repeatedly on this blog (and really check the archives for three seasons of blogs on this site, as I know I got a lot of new readers recently) I'm not an anti-AV guy. I like AV. I think he's been a great coach here in NY.
I talked about this in my last blog, but how much of Henrik's game was masked by playing under the shot-blocking Tortorella? How much help did he get from Benoit Allaire? Lundswiss, a 7th round pick, looked like a stud. However, as we would see with Talbot and Raanta, working with Allaire improved their games drastically too. AV is a more offensive minded coach, which the Rangers needed after years of low scoring games and a putrid power play.
However, for tonight, I have to criticize Alain Vigneault, who I never talk negatively about. He watched and chewed his gum furiously, as Lundswiss gave up 7 goals to a horrible hockey team. What did he need to see after the first period, where Hank gave up 3 goals? What did he need to see after goal 4? Goal 5? Goal 6? By allowing Lundswiss to stay in there and try to figure things out, he put the team second and put his horrible goaltender's feelings first. I know rookie Magnus Hellberg is a call-up for the injured Raanta, but you could see this was another Lundswiss tire fire. It couldn't get any worse with Hellberg in there. In fact, when AV finally made the switch, the Rangers played their best hockey of the game.
The Rangers lost this game by one goal, a 7-6 game. I wonder if Hank will change his "Give me two goals and I got this" (and later, "We have to win the 3-2 games.) quote  to "Give me a touchdown and a field goal, and we got this!"
AV should've pulled Hank after the first period. All the signs for another Lundswiss shit show were there. AV has to put the team first, not his overpaid and overrated broken down Swedish goalie. Losing a game where you score 6 goals is just inexcusable.
That said, when Hank gave up 7, AV did go to Hellberg for the third period. No one knew that the Rangers would make a comeback, but that said, why go to Hellberg then? You're putting a rookie, getting his first NHL minutes, into a horrible position. Lundswiss is the one who said, "I want more action." Let him take his lumps. It's not the job of a rookie, making the league minimum, to take a beating because the highest paid goalie in hockey is a fucking embarrassment. I was happy to see that Hellberg played well. Just another goalie in these last three years to have better stats and play better than Lundswiss.
This was a turning point game in the Rangers season. Yes, Lundswiss has been torched before, but for the first time ever, the Garden faithful at MSG booed Lundswiss out of the building. They gave him Bronx cheers on pedestrian saves. I've been doing this blog for three seasons now. Hearing MSG boo the shit out of Lundswiss was music to my ears. It was vindication for everything I've been saying. People who blocked me on twitter are now messaging me saying I was right. It's tough to be a pioneer. But hey, people also thought Galileo was wrong when he said the earth was round. It takes people time to come around.
I was not in the building tonight when the Garden booed Lundswiss for the first time. To be honest, I was offered a free ticket in the 400's tonight & turned it down. I'm sitting on $500 worth of Stubhub gift cards. My friend from work let me know how cheap tickets were tonight. However, I just can't spend my money on Ranger games when Lundswiss is starting, unless it's a road game. I rather see a new city and meet new people & see new things, than waste my money watching Lundswiss shit the bed in the Garden.
This blog is called BlueCollarBlueShirts. While I'm comfortable in life (Have my own home, able to enjoy things in life and have a decent job) I'm not a guy making high 6 figures or anywhere close to making 7 figures. I don't think many of us are. While I do budget about 90% of my recreation money on the Rangers and sporting events in general, I just can't keep spending hard earned money to be proven right. I don't want to spend money to watch the Rangers lose. I do support this team, win or lose, but M$G is not a cheap night out. That is my issue with Steve Valiquette tonight.
Let me preface this with I enjoy the work of Steve Valiquette and Ron Duguay. I follow them on twitter. They are both very interactive with fans and they follow me & many other fans, which as a fan, is pretty cool. We all know what Ron Duguay did for the Rangers and his accomplishments. He earned his media job with the team. He is my favorite local team broadcaster today because he always tells it like it is.
When Valiquette first hit the scene, my first reaction was "Who?" I barely remembered his Rangers career, which really isn't a shot at him, it's just how dominant Lundqvist was at the time & an indication of what 20+ years of beer drinking will do to the mind. Vally was in and out with the team (Spent a lot of time with Hartford) and made about 40 or so starts for the Rangers. I don't think many Ranger fans knew what to expect when he joined the MSG Network. However, as time went on, he became a huge asset to the team and always has great takes. Even if you don't agree with him, he always makes strong points to back his opinions.
As someone who enjoys the goaltenders (We all know how much of a Talbot fan I am, but if this blog was around in the 90's, you would know how much of a mark I was for Mike Richter), I really enjoy what Vally brings to the broadcasts. However, for the first time, we saw a huge difference between Ron Duguay (my favorite broadcaster) & Vally.
Vally looked like he was about to cry when talking about Ranger fans booing Lundswiss. While it's been evident and mentioned before, for the first time, Vally was speaking as if he was still a teammate of Lundswiss. Vally was ready to throw that jersey on and go to war for the guy. You never forget your teammate bonds and it came out of Vally tonight.
For Ron Duguay, he was more critical of the Rangers. He criticized them as a broadcaster while Vally talked like he was still on the team & trying to defend his friends. I understand it, but what irked me a bit, was Vally telling fans they were wrong to boo Lundwiss.
What Vally may not know (but I think Duguay does) is that Ranger tickets are not cheap at M$G. Some of us are fortunate and can attend multiple games a season. That's not the case for the majority of Ranger fans. Some fans go to one game a season. Some fans try taking their families for what essentially adds up to a mortgage payment for the night. Just imagine you're one of these people, not making $50,000+ a year. A night out at M$G is extremely frustrating after those two periods tonight.
Many fans sacrifice sleep and their money to attend games. If you bought a ticket, it gives you a right to express your opinion, as long as you're not an asshole cursing in front of little kids, starting physical fights (like that game vs Toronto, where some kid cheapshotted another Rangers fan) or throwing things at the ice (besides a hat during a hat-trick.) If fans want to boo, they have every right to.
However, if Hank won a Cup and wasn't a disgusting Cap hit, would the fans boo? Probably not. I've been a Yankee fan my entire life, and can't remember Jeter ever getting booed while at the plate. Sure, there were boos when the Yankees were losing, but never was Jeter "Bronx Jeered". Jeter won multiple World Series and put the team on his back through his leadership. Jeter is the lone exception in recent memory though. Even Eli Manning, winner of two Superbowls, hears boos from time to time.
When you play in NY, fans expect a winner. It's why Melo is consistently booed at Knicks games. It's why Jet fans boo at every game. NY sport fans are smart. They know the ins and outs. Sports talk radio blew up because it started in NY. Many forget, before WFAN, there was no such thing as a 24/7 sports radio station. NY fans want a winner and won't settle for anything less. Maybe that's the Steinbrenner in all of us.
Ranger fans want to boo Lundswiss for being an albatross to the Rangers cap, then it's their right. I also think it's a goalie thing and being a teammate of Hank's, as Vally never called out Ranger fans for booing Girardi or Staal. Ranger fans at MSG are paying customers of entertainment. If you buy a ticket, you have the right to express your opinion in a peaceful manner.
We've seen many times this season, because of the horrid play of Lundswiss, where Duguay holds Hank more accountable than Vally does. It's definitely because of the position the men played during their careers. That said, Duguay is also rough on the skaters when they don't show up, just as Vally is. Vally needs to hold his friend a little more accountable than he has.
You can't keep blaming the Rangers defense for every goal allowed by Hank. Raanta plays with the same defense and has far superior numbers, just as Talbot did when he was here. Hank is paid the most in the league to be the best goalie. If he can't make the saves like a top goalie, it's time for the Rangers to really think about the next four years. I mean, just look at this:
Hank's numbers since signing his new deal:
2016-2017: 2.89 GAA, .902 SV%
2015-2016: 2.48 GAA, .920 SV%
2014-2015: 2.25 GAA, .922 SV%
2013-2014: 2.36 GAA, .920 SV%
Hank still has 4 more seasons after this one making the most money at the league. He is the biggest cap hit on the team at $8.5M, and at 13% of the Rangers cap.
As he's aged, the numbers of Hank have regressed drastically. Now look at his 2017 calendar year: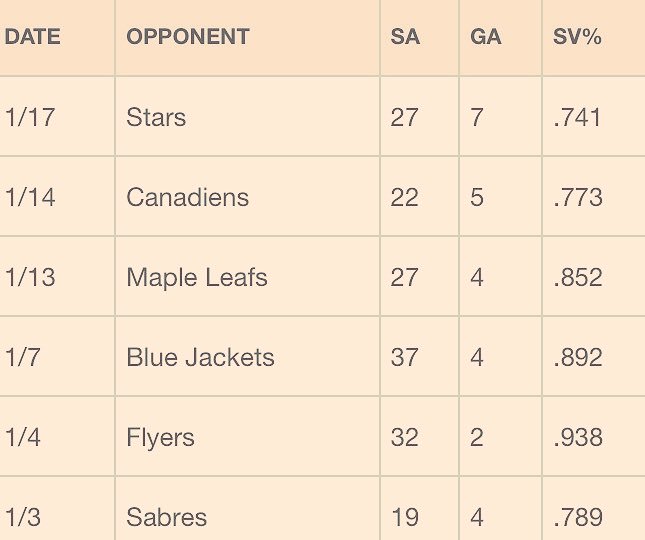 That 1/4 game against the Flyers was "vintage" Lundqvist. However, Lundqvist makes the most money in the league so we are not looking for vintage. He's being paid like he's in his prime and we're just not getting that. He's also getting blown out by bad teams. As I've been saying all season, how the hell is King Nothing going to beat a playoff team in a best of 7 series?
There were many story-lines heading into tonight's game. The biggest for me, was the return of Mika Zibanejad. After his line-mates from earlier in the season, Rick Nash & Pavel Buchnevich returned after the bye week, it was Z-Bad's turn to return to the line-up. Z-Bad skated great tonight. You would've never known he had a broken leg, as he scored two goals tonight. His line had a great game on the score sheet, as Pavel Buchnevich had a goal and two assists and Rick Nash logged two assists as well.
The Rangers have the firepower to blow out teams. We saw that earlier in the season. We might see a fun battle between the Kreider/Stepan/Zuccarello line vs the Buchnevich/Zibanejad/Nash line. With Hayes/Grabner/Miller line able to put up the points too, the Rangers can get goals from anyone on a given night. Tonight, despite struggling early, the Rangers put up 6 goals. It was just unfortunate that King Contract decided to give up a touchdown and the extra point. Again, this loss is solely on Lundswiss and AV. You can blame the defense if you want, but no NHL defense is perfect. Hank is paid to bail them out and AV has to pull him when he's a liability.
Another angle for tonight's game was Cody Eakin in MSG. If you recall, he is the one who obliterated Lundswiss on a hit, which he received a four game suspension for. I'm of the opinion of several ex-players. Lundswiss bobbled the puck on the play and Eakin didn't hit him intentionally. If Lundswiss played the puck cleanly and Eakin hit him, then I would say it was dirty. It was just one of those plays. It wasn't like the Simmonds hit on McDonagh last year.
It was funny or sad, that not one Ranger defended Hank after he got crushed against Eakin earlier in the season. That kinda sums up the whole season really. The Rangers play their worst games with Hank in net. Even tonight, after Lundqvist was done giving up 7 goals in 40 minutes, the Rangers found the fountain of youth and were revitalized for the third period. They almost came back to win. Just imagine if Hank could keep the game to a manageable 5 goals allowed!
I said this from day one and will say it again, especially since Ron Duguay backed my opinion – this team is missing Tanner Glass. They don't have that leadership, that fire or that grit. The have a bunch of finesse guys. We all know that the enforcer is phased out. Glass was more than that. He was just one of those veterans who was great in the intangible department. Some fans will still cry for McIlrath, but I think we all know that deep down, he is just not an everyday caliber NHL defenseman.
Kreider would scrap with Eakin and it was a pathetic fight. Even CM Punk had a better UFC fight than this little school yard scrap. Again, I didn't think Eakin hit Hank on purpose. There was no real animosity as there was for Simmonds, especially since Simmonds is playing on a team that is a Rangers rival. Kreider fell on Eakin, and that was it for the night. Kreider must've also dinged himself up, as he went to the locker room, which is the last thing you need. You don't need your top point producers scrapping with players who aren't on their level.
Another minor development was who would be scratched with the team finally fully healthy offensively. I thought Lindberg would be the odd man out and he was. I don't think he's been that great this season. Yes he's coming off a surgery, but on this Rangers team, he's just a body right now. If this team is to stay healthy, I would expect many more nights in the press box for him.
The last major story-line in tonight's game was how would Hank rebound after the game in Montreal. I think you know how that turned out.
Here's the ESPN boxscore. From the no-shit department, full credit to ESPN.com:
1st Period Summary

Time
Team
Scoring Detail
DAL
NYR
0:27

Derek Stepan (11)
Assists: Chris Kreider, Mats Zuccarello
0
1
12:34

Patrick Eaves (16) (Power Play)
Assists: Jamie Benn, Tyler Seguin
1
1
12:46

Patrick Sharp (3)
Assist: Radek Faksa
2
1
17:54

Jamie Benn (11)
Assists: Cody Eakin, Patrick Eaves
3
1
Time
Team
Penalty Detail
12:16

Chris Kreider: 2 Minutes for Interference

2nd Period Summary

Time
Team
Scoring Detail
DAL
NYR
4:32

Antoine Roussel (7)
Assist: Lauri Korpikoski
4
1
9:56

Mika Zibanejad (6)
Assists: Rick Nash, Pavel Buchnevich
4
2
12:06

Pavel Buchnevich (5)
Assists: Kevin Klein, Adam Clendening
4
3
12:54

Patrick Sharp (4)
Assists: Devin Shore, Radek Faksa
5
3
15:53

Adam Cracknell (5)
Assists: Lauri Korpikoski, Jiri Hudler
6
3
17:40

Cody Eakin (1)
Assists: Patrick Eaves, Jamie Benn
7
3
Time
Team
Penalty Detail
1:52

Cody Eakin: 5 Minute Major for Fighting
1:52

Chris Kreider: 5 Minute Major for Fighting

3rd Period Summary

Time
Team
Scoring Detail
DAL
NYR
3:11

Chris Kreider (18) (Power Play)
Assists: Derek Stepan, Mats Zuccarello
7
4
5:31

Derek Stepan (12)
Assists: Ryan McDonagh, Mats Zuccarello
7
5
7:26

Mika Zibanejad (7)
Assists: Rick Nash, Pavel Buchnevich
7
6
Time
Team
Penalty Detail
1:52

Tyler Seguin: 2 Minutes for Hooking
4:16

Patrick Sharp: 2 Minutes for Cross checking
4:16

Nick Holden: 2 Minutes for Roughing
19:47

Esa Lindell: 2 Minutes for Interference
Goaltending Summary
Dallas Stars Goaltending

Player
SA
GA
Saves
SV%
TOI
PIM
K. Lehtonen
12
0
12
1.000
12:34
0
A. Niemi
28
6
22
.786
47:26
0

New York Rangers Goaltending

Player
SA
GA
Saves
SV%
TOI
PIM
H. Lundqvist
27
7
20
.741
40:00
0
M. Hellberg
4
0
4
1.000
18:32
0
In the interest of time (I'm already 3000+ words in), I'm not going to recap every goal. 13 goals scored will do that to a person!
The Rangers started the game off hot, with Stepan scoring on a hard work wrap around goal. The goal came on the first shot of the game, which usually happens against Lundswiss.  However, the Stars, who are HORRIBLE by the way, came back with three straight goals. Lundswiss just had no answer for any of it. I would've pulled him after the first period, because the Stars are that bad and I thought the Rangers could come back down by 2. I could see this was another one of those games for Hank.
In the second period, Kreider & Eakin had their love tap fight. While on Kreider, this was the second dumbest penalty he took, as he took a penalty in the first period for skating into Niemi, negating a Nick Holden goal. Kreider gonna Kreider. Kreider was also the first Ranger, since Dubinsky, in 2010, to record a Gordie Howe Hat Trick. (Goal/Assist/Fight.)
The Stars would go up 4-1 early into the period and Lundswiss looked as deflated as a Tom Brady football. However, the Rangers fought back and made it 4-3 with goals from the returning Buchnevich and Zibanejad. It looked like the Rangers would finally turn the corner and get the lead back against a bad team.
However, Lundswiss is gonna Lundswiss and not even a minute later, he gave Dallas their insurance goal back. 5-3 Stars. The wheels just fell off at that point, as Cracknell and Lundqvist's new enemy, Eakin, made the score 7-3 after two periods. Lundswiss and MSG just looked mortified. Hellberg took the net over for the third period. The third period would be played in front of a half empty building, as Ranger fans decided to trade the third period for a good night's rest.
With Magnus Hellberg getting his first NHL minutes, the Rangers would make this game 7-6 in a quick 4 minute span, with goals from Stepan, Kreider and Zibanejad. These were quick, out of nowhere type of goals too. After being down by four goals to start the third, somehow, the Rangers found themselves down by one with more than 12 minutes left to go. I know I did, and I'm sure many others did too, I thought the Rangers would tie it.
Give credit to Hellberg. He was thrown into a bad situation. He made 3 huge saves, none bigger than a two on one right in front of him. It's a goal if Lundswiss was in net. Ranger fans seemed confused on what to chant. We all know the "HEN-RIK" chant. We've heard the "TAL-BOT" and "RAAN-TA" chants as well. Whether we get a "MAG-NUS" or "HELL-BERG" chant, that remains to be seen. I would just like to suggest HELL-BERRRRRRRRG chants, to the tune of Bill Goldberg. In case you're not familiar, this is what I'm talking about:
What makes this even funnier for me, is that I know a security guard who works at MSG. It would be funny watching him knock on the Rangers locker room door, and out comes Hellberg to start a period. At least some of you people reading this are wrestling fans and get the reference.
After the Rangers made it 7-6, Dallas took a time out and replaced goalie Antii Niemi with Kari Lehtonen. Lehtonen did his job, going 12-12 on shots faced. The Rangers really put the pressure on, but to Lehtonen's credit, he was able to survive. Esa Lindell would interfere with Rick Nash with 12 seconds left, giving the Rangers a 6 vs 4 opportunity with a faceoff in the defensive zone of Dallas. The Rangers frantically tried to put the puck past Lehtonen, but it just felt the Rangers would need 15 more seconds to do it. Lehtonen survived. The Stars win 7-6.
Many are calling this the worst loss of the Rangers season. I don't know if I necessarily agree with that. I understand why some people are saying that. For the first time this season, the Rangers lost their 3rd game in a row. The Rangers scored 6 goals in a loss. Lundswiss was embarrassed. The Rangers lost to a bad team. I just feel that losing to a division rival is worse, like the Islanders or Penguins. Every time the Rangers get smoked by Pittsburgh, it's just a sense of reality since you will most likely have to go through Pittsburgh to win a Cup.
From the NY Times:
The Islanders fired Coach Jack Capuano on Tuesday, halfway through a disappointing season.

Capuano will be replaced on an interim basis by Doug Weight, one of his assistants, who is also the team's assistant general manager.

Capuano has the second-most wins in franchise history, with 227, behind Al Arbour. He led the team to three playoff appearances in the past four years and two 100-point seasons. His final game was Monday's 4-0 victory over the Bruins in Boston.

"We need to turn this ship around," General Manager Garth Snow said. "I don't know that Jack fell short of expectations. When you're a head coach in this league, sometimes you're a victim of different circumstances."

The Islanders (17-17-8), who are in last place in the Eastern Conference, have been inconsistent this season after adding the free agents Andrew Ladd and Jason Chimera, who have not met expectations. Two weeks ago, the starting goalie, Jaroslav Halak, was sent to the minors, even though he is owed more than $7 million.

Snow, who has been the general manager since 2006, will have the chance to search for a permanent coach while Weight guides the team, starting with Thursday's home game against Dallas.

"I don't imagine system-wise we will change too much," Snow said. "A tweak here and there that Doug may want to implement. At the end of the day, sometimes a new voice in the room can be a difference, a little bit of a spark for a team. We're trying to create that, and we'll see where it goes."

Capuano coached the Islanders' American Hockey League team in Bridgeport, Conn., before taking over for Scott Gordon behind the bench on Nov. 15, 2010.

The Islanders have struggled to find the right pieces to build around their superstar forward John Tavares, who can become a free agent after next season.

Snow took responsibility for the myriad personnel decisions he has made since the end of last season, when the Islanders won their first playoff series in 23 years with a first-round victory over Florida.

They let the longtime Islanders Kyle Okposo, Frans Nielsen and Matt Martin leave via free agency. They signed the former Islander P. A. Parenteau to play alongside Tavares, only to waive Parenteau days before the season started. Ladd, who is the team's highest-paid player, making $8 million, has scored only eight goals.

"Obviously, I'm not hiding from the fact that it starts with me," Snow said. "One hundred percent."

Despite having one playoff series win to show for his 10-plus seasons as general manger, Snow said he was not fearing for his job under the new owners Jon Ledecky and Scott Malkin.

"I don't even worry about that," Snow said. "I just worry about what I have to do on a day-to-day basis. As managers, we can't control anything else than what we do on a day-to-day basis."
As Ranger fans, we always have an interest in the Islanders, even if it's just to root for their misery. I just wanted to comment, as I did on twitter, that I feel this was a bad firing. Capuano led the Islanders to the playoffs last year and for the first time since the early '90's, had the Islanders advance past the first round.
It's not Capuano's fault that Snow made terrible decisions during the off-season, in large part because of the horrible NHL salary cap. The Islanders are a joke, as we all know. They play in the worst arena in the NHL. They have new ownership. They are already looking for a new venue, despite not even playing two full seasons in the new one. They have personnel issues. To fire Cap after a 4-0 shutout against Boston seems like bad timing. It's a testament to Cap that he was the second longest tenured coach in NYC sports before his firing. Guess who is the new second longest tenured coach in NYC sports – Alain Vigneault. (First being Joe Girardi of the Yankees.)
The Islanders roster and failure is 100% on Garth Snow. With the new Islanders owner attending the Isles recent road-trip, I'm surprised firing the coach was the move made. How much time is Snow afforded? If I'm the Islanders, I would can Snow and see if Neil Smith is interested in the job. What a story that would be. Imagine if Smith was to go back and replace the idiot that took his spot after a month long tenure?
As Ranger fans, we all want the Islanders to fail. However, the wrong person is being blamed for this recent Islanders failure.
For those wondering, here's what Hank had to say after tonight's game, credit to SNY Sports:
Henrik Lundqvist spoke on MSG after the Rangers loss to Dallas and said:

On his struggles and how to figure it out, "it's hard stuff. I feel like it's embarrassing, frustrating and disappointing at the same time. Spent the last 24 hours working hard and correcting my game and having a pretty good start and then the first period, a couple of misplays where they made us pay. Most goals are scored right in front so as a goalie you need to be more aware. Bottom line is that I need to find another level. It's not good enough. When you are looking for confidence and a good feeling you are hoping for a game where there is a lot of structure and shots are more from the outside. That is not the case right now, it's a lot of opportunities right in front and I need to find a way to get going. It's hard. You try to do all the right things but it's not paying off."
On the wraparound goal, "I thought he was on the other side of the post and when I went that way. He surprised me and that is a big goal. No question. Awareness is one thing that I need to do better but again a lot of the plays happen right in front and it's something that me and the defensemen need to figure out to not give up as many goals. I don't think they are all my goals, but I think that as a team and personally when a goals start coming that maybe you overthink it a little bit but it's my job to give the group confidence and let them play the game and when I am not coming up with the saves I think we start running around a bit and start making it tougher on ourselves and for me, but it starts with me coming up with the saves."
On the defense and structure, "I think it's a combo of the mental aspect, if you are not in the right place then you start making technical mistakes. Sometimes the game can help you with structure but the last couple of games have been a lot of chances with bouncing around in front and you try to be in a good place but you are not. You just need to keep working hard. I'm working as hard as I can right now in practice, try to prepare mentally and I think I just need some good momentum going my way."
Is this one of your toughest stretches, "it's definitely a low point. Right before the break, two wins there, played really well in Philly. I feel that the season so far, parts of it have been really good and definitely feel there are games I need to be better. This year we are a team that knows it can score and I think we are going for that a bit more than we have in the past and it will have an impact on how we play sometimes. In the end I just need to focus on my game sometimes. It might be a 5-4 or 4-3 game than the 2-1 you prefer as a goalie, but sometimes you look at the game and see all the goals. When you feel that structure and everything is happening and you know what to expect it's easier to play."
On his confidence, "a few games ago I felt that I was playing pretty good, had a couple of wins going on break. Come back here and it's not the start we wanted coming back from that break. My only thing is to focus on myself and work as hard as I can and try to be positive. Whenever I get a start, if I play the next one, we will see, just make the most of it. Try to be as good as I can and get the momentum going my way and start earning some bounces. There is a lot of bounces, the rebounds kicks out and and hit something and it goes back in. You earn it by being on your toes."
Alain Vigneault has already announced Hank as the starter for Thursday, in an attempt to quell any goalie controversy. I wonder if Raanta would've got the start if he wasn't hurt.
The Rangers have four more games before the All-Star break. They have Toronto on Thursday, Detroit on Sunday, LA on Monday and the Flyers on Wednesday. These are all winnable games, but so was tonight, but Lundswiss happened.
That Detroit game on Sunday is a killer. Scheduling a game during Conference Championship NFL Sunday is brutal. Going to be a long day of sports!
The problem with this team is that they are going to keep going with Lundswiss. Even if he has another "vintage" game, he has these types of games all the time. I just feel that come playoff time, we will be hearing/watching the same old shit. Four Cups in 90 years man. It's time to move on from Hank and thank him for his service. It's just not working anymore.
Depending on my work schedule, I'll be back after the Toronto game on Thursday. Until then, try not to be like Lundswiss and hold your head up high. This is still a playoff team.
Win or lose, as always…
LET'S GO RANGERS
Sean McCaffrey
BULLSMC@aol.com
@NYCTHEMIC on the twitter gimmick