What's up everyone and welcome to another blog here on BlueCollarBlueShirts.com. In case you weren't checking out anything hockey related during the NHL All Star break (After all, that NHL ASG wasn't hockey, that game was just brutal), here's a blog I posted over the weekend:
It's funny that I posted that blog Sunday night/Monday morning. I already have to add something else to it. Here's something else I would do as owner of NYR: AIR EVERY GAME ON A MSG HD CHANNEL!
Seriously, I went to go turn on the pregame show at 6:30pm, as I genuinely enjoy hearing Ron Duguay, Steve Valiquette, Al Trautwig and company preview the game. This is what I got in return, courtesy of #NYRonMSG3:
Seriously Dolan? You own Cablevision. You own MSG Networks. You own the Rangers. What you don't own is the Islanders, a team that's been kicked out of two buildings in three years! How do the Islanders get the HD channel and a pregame show over the RANGERS?
I get that the Knicks are a bigger ratings draw and brings in more advertising money than the hockey clubs. That said, the Knicks and Islanders are not playoff teams. (Well for the Islanders, at least not yet.) The Rangers are. There is no excuse to have the Islanders featured above the Rangers, EVER, especially when you own everything!
The broadcast eventually came in at 7PM. I had to watch Shannon "WHO ARE YOU AGAIN?" Hogan & a goalie that even got a worse contract than Lundqvist, Rick Dipietro, talk the Islanders from 6:30-7:00pm. Yuck!
If I ever win the lotto and buy out Dolan, (I like how I said this like it will happen tomorrow!)  there will be changes. I will MAKE THE RANGERS GREAT AGAIN!
After their third and final winter break of the season, the Rangers finish the season with 33 games left and 66 points up for grabs. After tonight, it's down to 32 games and the Rangers are still looking for their first post-break points.
I feel like a broken record. I don't know if Hank sucks on purpose just to give me material for this blog, but I feel like I've written this story about 304728927894728974390 times these last three seasons. What more can I say? He's overpaid. Overrated. Full of excuses. He's also ranked 42 in the league in save percentage & GAA, despite being paid the highest amount of money in the league.
This is what drives me nuts. He has another terrible game, where he's yanked before the half-way mark. Steve Valiquette, who to his own admission, is biased for his ex-teammate (And I get that and respect that) starts making excuses for Hank after the game. Ditto Joe "I can't say anything critical or honest" Micheletti.
Vally said, and to paraphrase him, "Hank just needs more time to get into a flow. The breaks don't help. He will rebound." I'm sorry – you're not paid the most in the league to go through these daily struggles. Hank has this team in a hole more times than not. Enough with the fucking excuses already! HE IS THE HIGHEST PAID GOALTENDER IN THE NHL. The NHL cap is tighter than a Jew's wallet .(Oh relax, it's a joke! America needs to stop being offended by everything!) I just go back to what I've been saying for three years – "you can't win a Stanley Cup with a top 5 paid goalie in this cap era NHL."
Another thing I've been saying all season is that Hank has been beasting and feasting on some bad teams. He has avoided a lot of tough games this season. He's even lost to a bunch of bad teams too! However, after giving up 4+ goals a game for a solid stretch there and even ruining my Montreal trip, Hank rolled off three wins, against such "powerhouses" as the Toronto Maple Leafs, Detroit Red Wings & LA Kings. None of those three teams were a playoff team when Hank played them.
After those three wins, Lundqvist faced a division rival and playoff team, the Philadelphia Flyers. He loses that game, although even I, the conductor of the "Trade Hank" train, can't blame him for that one. That said, Steve Mason outplayed him. Tonight, Lundqvist faced another playoff team & division rival, this time in the second place Columbus Blue Jackets. Hank doesn't even make it to the 10 minute mark of the second period.
This is what concerns me and I've been saying it all season, just check the archives on the right hand of the side if you need evidence – you're not winning a cup with Lundqvist. He has been TERRIBLE against top teams. Even if you look at his best games of the season, do you really see this guy beating the Penguins in a best of 7 series?
Call it age, regression, not having Torts shotblocking/defense system to protect him or whatever, the bottom line is Hank isn't that goalie that you remember. He's borderline average in today's NHL. His stats are terrible. You can blame the defense all you want, but Raanta has been far superior, with the same defense.
Ranger fans (usually the young ones who live with their parents) can wish death threats on me all they want for thinking that Hank has got to go. The fact is father time has caught up to Hank, like it does with any athlete. I've talked about this before too – Don Mattingly was the first athlete that I ever was emotionally invested in. It killed me when his time was up. I get what those Ranger fans are experiencing, but it's time to admit that Hank is overpaid and is not the guy who can steal games anymore. If anything, the team needs to bail him out, just like he bailed out this team years ago.
Here's the official box score, from ESPN.com, followed by my thoughts and anger:
1st Period Summary

Time
Team
Scoring Detail
CBJ
NYR
3:53

Seth Jones (8)
Assist: William Karlsson
1
0
Time
Team
Penalty Detail
0:11

Brandon Dubinsky: 2 Minutes for Hooking
19:37

Scott Harrington: 2 Minutes for Unsportsmanlike Conduct
19:37

Chris Kreider: 2 Minutes for Holding

2nd Period Summary

Time
Team
Scoring Detail
CBJ
NYR
1:06

Brandon Saad (17)
Assists: Alexander Wennberg, Jack Johnson
2
0
3:42

Alexander Wennberg (9)
Assists: Ryan Murray, Zach Werenski
3
0
12:52

Seth Jones (9)
Assists: Scott Hartnell, Sam Gagner
4
0
16:04

Nick Foligno (18)
Assists: Alexander Wennberg, Brandon Saad
5
0
Time
Team
Penalty Detail
2:03

Josh Anderson: 2 Minutes for Cross checking
2:03

Mats Zuccarello: 2 Minutes for Roughing

3rd Period Summary

Time
Team
Scoring Detail
CBJ
NYR
1:49

Matt Calvert (7)
Assists: Zach Werenski, Josh Anderson
6
0
2:51

Jimmy Vesey (12)
Assist: Rick Nash
6
1
5:01

Michael Grabner (22)
Assists: Brady Skjei, J.T. Miller
6
2
6:12

Chris Kreider (19)
Assist: Mika Zibanejad
6
3
18:53

Kevin Klein (1)
Assists: Nick Holden, Derek Stepan
6
4
Time
Team
Penalty Detail
No penalties this period
Goaltending Summary
Columbus Blue Jackets Goaltending

Player
SA
GA
Saves
SV%
TOI
PIM
J. Korpisalo
37
4
33
.892
60:00
0

New York Rangers Goaltending

Player
SA
GA
Saves
SV%
TOI
PIM
H. Lundqvist
16
3
13
.813
23:38
0
A. Raanta
10
3
7
.700
33:16
0
Couple of things before getting to the game at hand:
Kevin Hayes is still out with a lower body injury. During his time off, the Rangers have really missed him and his knack to get to the net. The Rangers have had trouble scoring goals. Yes, they got 4 goals tonight, when the game was really over, but the Rangers have missed him.
Jesper Fast & Marc Staal returned to the line up. Clendening & Lindberg took their seats in the press box. If the Rangers are going to make a trade for a defenseman, which everyone knows they need, I see Lindberg being in that package.
Antti Raanta is back. No word on what his specific injury was. Hellberg is back with the Wolfpack.
Of interest, Dylan McIlrath was waived by the Florida Panthers today. In a different era of the NHL, he would've made more money & get more ice time. He's a victim of today's NHL moving away from the enforcer and players just being more talented.
For everyone who says "THE KING IS BACK", after the Rangers bully up a bad team, Henrik Lundqvist has a game like he did tonight ,against a playoff team, to bring everyone back to earth. What really stings for the Rangers, is that John Tortorella benched Vezina candidate, Sergei Bobrovsky, in favor of his back up, Joonas Korpisalo. For Korp, it was his 5th game of the season. I haven't really scoured to find out, but I'm assuming Torts went with Korp over his Vezina candidate because Bobrovsky played in the All Star Game on Sunday.
I often wonder when it comes to these games, if Torts realizes that Hank is overrated too. I wonder if Torts thinks he can beat the Rangers & Hank even with his back-up. After all, these same Blue Jackets put four goals past Hank on 1/7, before the Rangers made a miraculous comeback on Curtis McElhinney. After that game, McElhinney was waived and went off to Toronto.
Just think about it, Columbus has put 7 goals past Hank in 4 1/2 periods. Columbus is 1-1 in the last two games with the Rangers, without Bobrovsky. You never know, but it's hard to envision the Rangers win that 1/7 game if Bobrovsky played. Do you really see Hank beating this team in a best of 7 series when Bobrovsky will be playing?
Just like that 1/7 game, Lundqvist had the Rangers in a 3 goal hole before the half way point of the game. NYR fans can point to the defense all they want. You're only hurting yourself if you ignore a cheaper goalie is outplaying Lundqvist and Lundqvist just isn't making the saves he used to.
Seth Jones opened the scoring, on the first shot for Columbus. Another nasty trend for Hank, as he's been giving up goals on the first or second shot of many games this season. This goal was a 70′ shot. Joe Micheletti blamed screens on this one. I'm waiting for the day that Joe Micheletti blames the lights being in Hank's eyes on a goal!
Was Hank screened on this? Yes. This is what NHL teams do. That is why he is paid the most in the league to track the puck. Every other goalie goes through this.
The Rangers outplayed the Blue Jackets in the first period, but Korp made some timely saves. He was good in that first period, what can you say. It's just another bad trend for the Rangers – they make other goalies have highlight reel games at MSG.
Zibanejad had a game where he could've had a hat trick, but missed one open net, refused to shoot when right in front of the goalie (Even if you don't score, you could get a rebound) and Korp saved another. The way this game went, it could've changed the momentum.
The Rangers were all over the Blue Jackets, but CBJ had better goaltending and took the first period 1-0.
While the Rangers didn't score in the first period, they didn't look bad either. Korp made big saves. It's what you expect your highest paid goaltender to do for you.
The Bluejackets would run Lundqvist out of the game early into the second period. Brandon Saad scored on Hank's short side. The play started as a two on one, but Holden got back and textbook covered his man. Saad couldn't make the pass and he had a tough angle shot to make. It was a save we saw Korp make throughout the game. However, for the highest paid goalie, he was baffled and easily beat.
The Jackets would score two minutes later, this time after Alexander Wennberg slammed home a juicy rebound. Something you didn't hear people talk about during the game was the bad rebounds Hank was giving up. This was just the one that turned into a goal.
For the first time this season, AV pulled Lundqvist after giving up only three goals. The recently extended AV usually waits for Hank to give up his normal four goals before pulling him. Whether the leash is tightened on Hank remains to be seen. I'm sure Hank will have another game like this soon and we'll find out.
Antti Raanta came in, as Hank took his throne on the bench. For Raanta, he had a tough outing too. Yea, you can blame the defense, and while Raanta is paid $7.5M less than Lundqvist, we've seen him make saves on some of the shots he faced throughout the game.
I'm not gonna Micheletti you with excuses for goals (Funny how Joe had his excuse rolodex for every Lundqvist goal, but had no excuses when Raanta gave up one) but for Raanta, figure this:
He's coming back off an injury
He's thrown into this game cold
The Rangers are playing like shit
His wife is due to give birth at any moment, so his head is most likely elsewhere
Raanta did not play well tonight, but I don't blame him for this loss. This was Hank's game to win or lose, and lose Hank did. I wonder if AV just pulled Hank to protect his horrible numbers or if he thought Raanta gave the Rangers the best chance to win. If AV thinks Raanta gives the Rangers the best chance to win, he really needs to make decision about who starts in the playoffs. Are we going to afford Hank the luxury of giving up 3 goals in less than 30 minutes before asking Raanta and the Rangers to win it?
Seth Jones would get his second goal of the game, pushing the score to 4-0 when Hartnell found Jones in front of Raanta. Foligno tapped in a rebound to make it 5-0 as the period came to a close.
Despite all the bad games I've seen over the years, when watching on TV, I always stick with the game. I won't lie, if I was at the game, had work at 6AM, worked all day, had a few or 12 beers at the game and had to be up at 4:30AM for a 6AM start at work, I would catch the next train out of Penn during a game like this. However, on TV, I always stick with it. Then again, I got two TVs in my man cave, so I do have options!
Remembering a game where the Rangers were down 4-0 after two periods and came back to win 5-4 vs the Wild several seasons ago, I was hoping the Rangers would make a game of it. Instead, Matt Calvert scored two minutes in. 6-0 Torts & The Jackets.
Then, for whatever reason, the Rangers woke up. Jimmy Vesey got a puck luck goal that was truly amazing. Korp was great all game, but for whatever reason, unraveled and gave up a terrible goal here. 6-1. Grabner, after being stoned on a breakaway, kept with it and sticked one by Korp. 6-2. Zibanejad found Kreider open in front of the net. Kreider kicked the puck off his skate, put it on his stick and boom now it was 6-3 with 13 minutes left. Unfortunately, that's where the good times ended.
Down 6-3 with three minutes to go, AV pulled Raanta. Klein, who was terrible defensively all game, scored, with a minute to go. 6-4 CBJ and that score would stick. The optimist fans will say "Oh the Rangers made a game of it" or "if they could only play like this all game" but the fact is they lost and their starting goalie failed the team again.
You can blame some rust for this loss, but Korp barely plays and CBJ didn't look rusty. The Rangers just failed their fans tonight.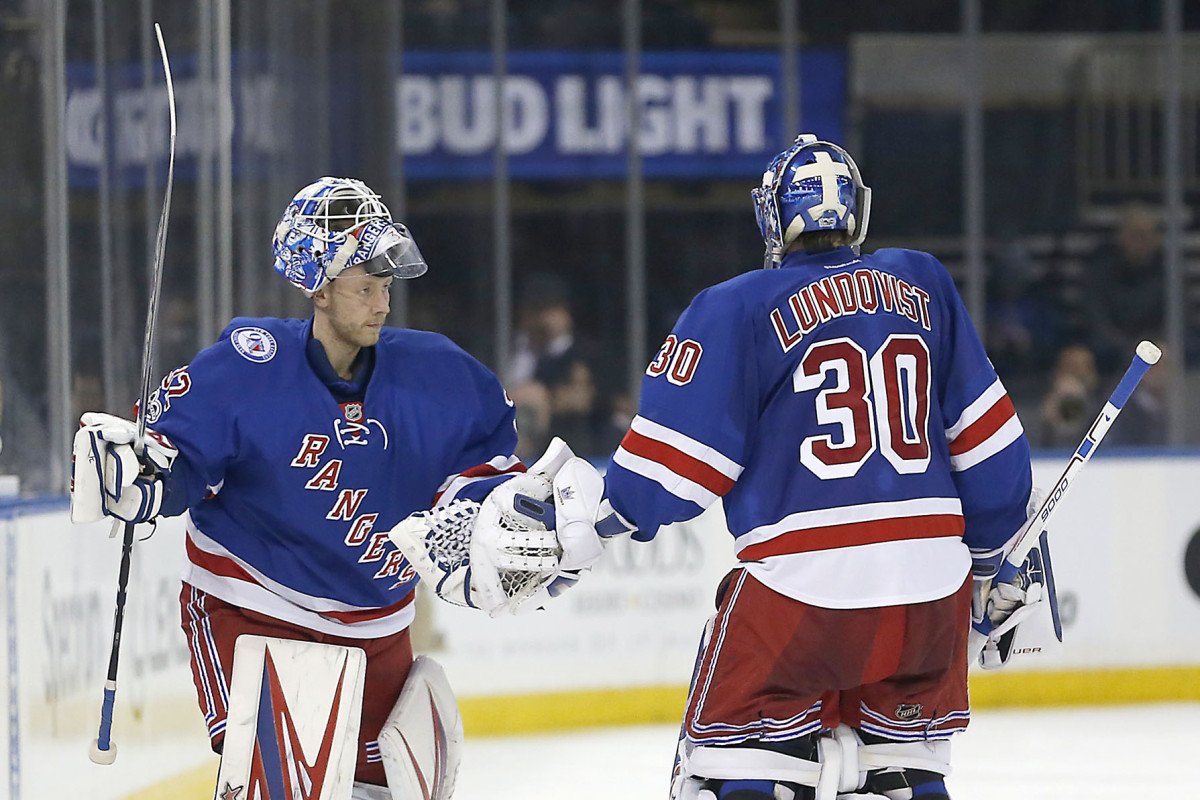 After games like this, I enjoy the MSG Post Game show, to hear what everyone has to say. It's usually the same shit and it goes like this:
Lundqvist: "WE WE WE WE WE WE WE WE WE have to play better."
Random Ranger, usually McDonagh, Stepan or Zucc: "We have to protect Hank."
Coach AV: "WHERE IS MY GOD DAMN FUCKING GUM?"
If you missed it, here's what Hank said after the game:
"As a group we responded really well in the third and the intensity and energy we had is something…when we do have it we are a good team. It starts with me and especially that third goal bothers me. Back to work tomorrow, get better, improve…alright? Thank you."
At least he took some blame, but he said "WE" more times than taking accountability for himself. I would pay money for a member of the press to ask Hank, "Do you think you're overpaid and overrated?"
This was also a short press conference, as after he said "Thank you", he immediately got up and left. Despite his many shortcomings this season, he usually answers all questions. It looks like this game got to him as he was ready to get out of town.
NYR interviewer and sometimes broadcaster, John Giannone, tweeted about this subject:
For 12 yrs, @HLundqvist30 has been THE most accommodating, cooperative athlete I've ever covered. He's entitled to tonight's interview (1/2)

— John Giannone (@jaygeemsg) February 1, 2017
(2/2) Henrik's emotions were raw. His words were honest. His postgame actions telling. He didn't hide. He spoke. I appreciate all of that.

— John Giannone (@jaygeemsg) February 1, 2017
As much as I'd like to blow this up into something bigger than it isn't, I gotta go with John Giannone from the projects in Boonton. He's there, I'm not. I'll give Hank the benefit of the doubt on this.
The Rangers head to Buffalo on Thursday night. Does AV go with his goalie who needs to be coddled or does he let Raanta get a start? Let's put it this way – not many goalies are living off their reputation like Lundqvist has this season. Any other goalie, even a Cup winning goalie like Fleury, would've been benched for the hotter hand by now. When does AV make that call?
From the Associated Press, released yesterday:
NEW YORK (AP) Alain Vigneault didn't have to think long about whether he wanted an extension with the New York Rangers. So it was all settled pretty quickly.

Vigneault and the Rangers announced a new two-year deal Tuesday that runs through the 2019-20 season.

"It was a pretty easy decision as far as you're a coach and you want to have a chance and you got a first-class organization," the 55-year-old Vigneault said.

Vigneault was under contract through next season under the five-year deal he signed in June 2013.

He said general manager Jeff Gorton initially brought up the topic of an extension last summer because he didn't want the coach going into a lame-duck season. Talks began about a month ago.

"Rangers, Original Six (team), you don't get much better than this," Vigneault said. "When we go on the road there's a cult (following) there. It's a lot like when I was with the (Montreal Canadiens). I know I need to continue to get better and that's what I'm trying to do."

Vigneault, who coached his 1,100th game last week, is 175-97-23 with the Rangers. In addition to Montreal, he also previously coached the Vancouver Canucks. Vigneault led New York to the Stanley Cup Final in 2014 in his first season with the team, as well as the Eastern Conference finals in 2015 when he was a finalist for coach of the year after leading the Rangers to the Presidents' Trophy.

After a third-place finish in the Metropolitan Division and first-round exit in the playoffs last season, New York made some roster changes and brought in some speed, led by free-agent acquisition Michael Grabner, and youth with rookies Jimmy Vesey, Brady Skjei and Pavel Buchnevich and newcomers Brandon Pirri and Mika Zibanejad.

After getting off to a strong start, the Rangers have slipped to fourth in the Metropolitan at 31-17-1 They hold the East's top wild-card spot and trail third-place Pittsburgh by two points.

"I feel that with the young kids that we're bringing in – whatever you want to call it, the retooling – I believe that we can win and compete in a very tough league," Vigneault said. "If you look at some of the things we have done, a lot of people wouldn't have expected us to be where we are."
As much as I'm anti Hank's contract on this site, I am a pro AV guy. I know many people of the Rangers fanbase are conflicted about both topics. Before attacking people of the same fanbase, I urge you to check out Kevin Delury's latest blog at: http://broadwayboozeshirts.blogspot.com/2017/01/stop-giving-sht-how-other-rangers-fans.html
I try to read everything from the Rangers fanbase, even the people who don't agree with me. I'm like that with everything, whether it be about politics, religion, sports or whatever. I always like to get everyone's side and see how others think. I think Kevin did a great job of making the point I've said countless times – "we all want the same thing, a Rangers Stanley Cup, but we all have different ideas on how to get it." For me, I don't think Lundqvist & his contract is the answer. Others do. I think AV can lead this team to a Cup, others don't.
I have no beefs with AV. Who knows, when it's all said and done, he could have the most wins by a coach in Rangers history. He's had a good track record, take this in:
Year One: Stanley Cup Finals.
Year Two: President's Trophy and a 7 game ECF loss.
Year Three: First round exit in the playoffs.
Year Four: Currently a playoff team.
Do you remember those late 1990's teams? Those Ranger teams that missed the playoffs year-after-year? AV has been good at his job. I would put more blame on the team and Lundqvist, than the coach. After all, Hank blew every two goal lead he had in the SCF, gave up back-to-back TD's in the ECF and was owned by Penguins last season. If anything, AV's loyalty to Hank has hurt him. AV has this team in a position to win. I trust in AV. I know many Ranger fans want a shake-up, but really, who else is out there? Jack Capuano? Emilio Estevez? To me, AV has been great.
From Bloomberg.com, the first outlet to report this story yesterday:
After two years and countless complaints, Brooklyn's Barclays Center has concluded it's no longer worth it to host the New York Islanders.

The arena, which is already home to the NBA's Nets and one of the world's top-grossing concert venues, would make more money without the National Hockey League team, according to people familiar with the facility's financials.

Russian billionaire Mikhail Prokhorov, who owns the building and the Nets, has since November been seeking an investor to take a stake in both. As of earlier this month, a financial projection shared with potential investors showed the Islanders won't contribute any revenue after the 2018-19 season — a clear signal that the team won't play there, the people said.

Barclays Center wouldn't speak to the future of the Islanders. Tim Leiweke, co-founder of Oak View Group, which has been advising the hockey team in talks with the arena, declined to comment, as did a spokesman for Islanders owners Jonathan Ledecky and Scott Malkin.

The team's tenure in Brooklyn has been rocky from the start. Average attendance has fallen to 12,828, third-worst in the NHL. Fans have complained about poor sight lines, and players say the ice is sub-par.

What's more, the Barclays-Islanders agreement is unusual, in that the arena pays the team an average of $53.5 million a year in exchange for control of business operations, which includes revenue from ticket and suite sales.

The lease can be terminated by either the Islanders or arena management. If the team cancels, it can leave after next season. If Barclays Center nixes the deal, then the Islanders' tenancy would end after the 2018-19 season. Then the question becomes: Where will the Islanders play?

In July, Bloomberg News reported that Ledecky and Malkin were considering building a new arena adjacent to Citi Field in Queens. Prokhorov now owns the team's former home, the Nassau Veterans Memorial Coliseum, but the owners paid a hefty premium for the team in 2014 based on the pending move to New York City. They have shown no interest in returning to Long Island.
I'm already 4200+ words deep as I enter this topic & starting to lose steam. This topic really deserves its own blog. Then again, the joke that is the NY Islanders should be its own book, but with the third worst attendance in the league (They only drew 11,000 fans tonight against the Capitals), would anyone even buy the book?
Here's my biggest beef – I hear people saying the Islanders need a new venue, whether it be in Belmont or Flushing. What kind of businessman would do that? The Islanders don't make money! With the Rock, Barclays, MSG and the new NMC (which isn't built for an NHL franchise right now) how could a fifth arena in the tri-state area support itself? You think a concert, WWE, UFC, monster trucks or whatever else would go to a new Islander venue when better venues are available? The Islanders don't draw. How in the hell would a new venue make a profit?
As much as we all love the NYR vs NYI rivalry, the fact is the Islanders are very low in interest on the NY sports depth chart. The Yankees, Mets, Giants, Jets, Knicks, Rangers, Devils, Nets and even NYFC (soccer) get more press and are better attended than the Islanders. All those franchises make more money than the Islanders too. While it will be sad to see the rivalry come to an end, the best business move is to move the team to a place that will give a shit.
Markets like Quebec, Seattle or Portland would be better suited for a team that's been in the hole for a while. The Islanders will always have the early 80's, but those memories are nearly 40 years old. You can't live in the past forever, and unfortunately for the few Islander hardcore fans that are still left, it may be time to explore new ventures. Shit, maybe the Islanders can split rink time in Hartford with the Wolfpack!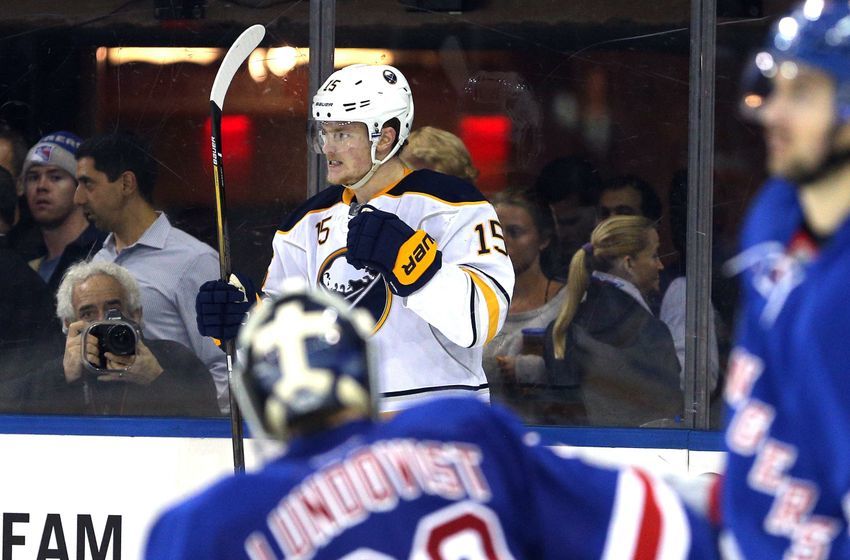 The Rangers return to action Thursday night, with a game with the last place Buffalo Sabres. AV has a decision to make here. Do you go with Hank, hoping that Buffalo will be as bad as their record or do you go with the goalie who gives you the best chance to win, in Raanta?
The problem here for Hank, is to me, this is a lose-lose situation. If he wins, great, you beat a last place team. Do it against a team that matters. If he loses, there will be even more pressure and doubts about him. Starting Raanta here is the safe bet, if you want to avoid negative press.
One thing that all Ranger fans can agree on – this team doesn't make it easy!
See ya Thursday night.
As always, LET'S GO RANGERS!
Sean McCaffrey
BULLSMC@aol.com
@NYCTHEMIC on tweeter