NOTE: THIS IS PART TWO OF A MONSTROUS DOUBLE BLOG. FOR PART ONE, VISIT:
---
For a franchise that's been around for 91+ seasons, despite the lack of Stanley Cup victories, the Rangers have a rich history when it comes to goaltending. When you do a comprehensive look at all the men who defended the net for the Rangers, there aren't that many seasons where the Rangers weren't represented well in net. In fact, when you take the time to look at league goaltending stats, starting with the season that the Rangers were introduced in, which was the 1926-1927 season, and ending with the present day, more times than not, Ranger goalies have fared well, when compared to the competition.
I do feel I must preface this Mike Richter vs Henrik Lundqvist debate with statements I've made previously on this blog. If you didn't read my Terry Sawchuck  or Patrick Roy book reviews, let me quickly summarize here. It's impossible to compare goalies (and players too for that matter) from different eras or generations. The variables and the game constantly changes. Even when looking at Richter vs Lundqvist, so much has even changed in the 15-20 years from when Richter was in his prime, to when Lundqvist was in his prime.
Furthermore, Henrik Lundqvist's career isn't over yet. One Henrik Lundqvist Stanley Cup victory and this debate would be rendered as kaput.
When comparing great players from different generations, no matter the sport, when it comes down to it, the bottom line is that there really is no wrong answer. Who was the better winger, Gordie Howe or Alex Ovechkin? It's impossible to answer that debate, as you can't go wrong with either guy. However, that said, sport debates, once used to consume time in watering holes all over the world, have now found their place in the age of the internet & in the social media era.
The main issue with the sports debates of today, is that most of the time, they are bickered about with such righteous decisiveness through 180 characters on social media. Even worse, the people debating any given "Player vs Player" or "Team vs Team" topic, like a generation with their music, usually side with the player from their generation. These sport debates, which are sometimes held by kids without faces on their social media handle, usually conclude with profanity and with a hearty, "YOO ARE STOOPID!" When I read these debates, I long for the days where a trivial summer baseball game would be on the TV at the bar and you would debate for hours about random sports topics with civility. Alas, those days are now considered to be retro.
And for the record – there is no debate done more to death on social media than "Jordan vs Lebron." The worst part about these debates is that I've never seen anyone discuss how the NBA game has changed from those generations and how the two players couldn't be any more different. And like Henrik Lundqvist, the career of Lebron James is still on-going. However, let's not get sidetracked with the redundant Jordan vs Lebron talk.
As talked about in the Patrick Roy book review (blog linked above) – who is the greatest goaltender of all time? It's a question without a definitive answer. Some may say Patrick Roy. Some may say Martin Brodeur. Some may say Terry Sawchuk. Some may even say Ken Dryden. When comparing these level of players, there's just no wrong answer. It's just a debate in the name of fun and this is my intention with this deep look at Mike Richter vs Henrik Lundqvist. You can't go wrong with either guy, but when pressed to it, who do you want between the pipes in a Stanley Cup Game 7? That's the question I will answer in this blog.
As talked about above, the Rangers have cast a litany of great goalies over the years. Lorne Chabot, despite a short tenure, helped the Rangers along the way during their Cup run of 1928. However, Chabot would get injured in that SCF, and the 44 year old Rangers coach & general manager, Lester Patrick, took over for a SCF game and actually won!
After Chabot moved on, the Rangers found stability with John Ross Roach in net. He would be succeeded by Andy Aitkenhead, who won the Stanley Cup with the Blueshirts in 1933. Starting with the 1934-1935 season and lasting until the 1940-1941 season, the Rangers had Davey Kerr in net. When Kerr retired in 1941, up to that period of time, many original Ranger fans considered him the greatest goalie that the Rangers ever had. Some may still plead his case to his day, but obviously with time, Kerr's accomplishments are forgotten. Not a surprise given this organization, a organization that still refuses to honor Frank Boucher and Bill Cook, here in the present day.
(And yes, I know I always call out the Rangers for ignoring their past, but when you go to any other Original 6 venue, the history of each franchise is proudly represented all over the arena. For some reason, the Rangers refuse to ignore anything before the days of the GAG line.)
When Kerr retired, the Rangers tried out Jim Henry, Jimmy Franks, Bill Beveridge and Ken McAuley in net. It wasn't until the 1945-1946 season that Chuck Rayner came along. Rayner wound up as the starting goalie for the Rangers for the next seven seasons and brought stability back to the position. In between injuries and the ilk, Rayner shared time with another famous name in Rangers lure, "The Cat" himself, a one Emile Francis, who ironically like Boucher, Cook and Kerr before him, is a forgotten name in the rafters of Madison Square Garden.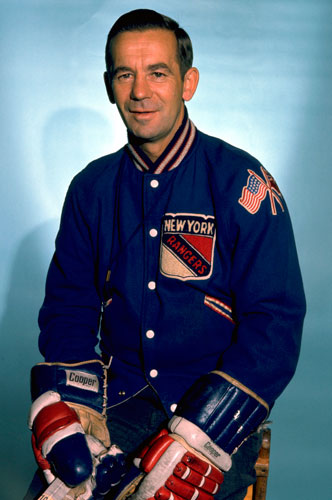 When Chuck Rayner moved on from the NHL, the Rangers employed a future Hall of Fame duo, in Johnny Bower and Gump Worsley. Of course, the Rangers being the Rangers, the club would move on from both of these men. Both Bower and Worsley would later on go on to win multiple Stanley Cups in Canada, with Bower being a rock in Toronto and Worsely reaping the benefits of the Montreal machine of the late 1960's.
Prior to their Stanley Cup successes elsewhere, Worsley would beat out Bower for the starting goalie job of the New York Rangers. Worsley would become the Rangers starting goalie for 9 seasons. Worsley's impressive tenure was from the 1952-1953 to 1962-1963 seasons. (Of note, during the 1953-1954 season, Worsley was returned to the WHL Vancouver Canucks over wanting a $500 pay raise. And you think I bitch about Henrik Lundqvist making too much money!)
When Worsley's Rangers career ended, all because he was talking about a players union, (he would be traded to Montreal for suggesting such talk) he made his case as "the greatest Rangers goalie of all time." The only problem with Worsley's Rangers career were the terrible Ranger teams from that era, as they were a team still reeling from losing players after World War II.
Worsley would depart the Rangers with the most games played as a goalie in Rangers history, playing in 581 games. Previously, Chuck Rayner was number one, with 377 games played. (Both Henrik Lundqvist and Mike Richter would eventually surpass Worsley, as Lundqvist has played 805+ games for the Rangers and Richter retired with 666 games played.)
Furthermore, Worsley, despite those terrible post World War II years (American franchises were hurt worse than Canada during World War II, due to the antiquated draft rules. From 1942-1960, only Toronto, Montreal and Detroit won the Stanley Cup. Detroit had an advantage over Chicago, Boston and New York, because the city is 5 minutes from the Canadian border, thus helping them in drafts.) left the Rangers as the all time leader in wins, with 204 wins, surpassing Kerr's 157 wins. Again, as time moved on, both Lundqvist (431+) and Mike Richter (301) would reach the top of the list.
I know this is supposed to be about Richter vs Lundqvist, and we'll get there, but when I go on one of my history rants, it's for a reason. I want to you to appreciate the great goaltending the Rangers had before either of these two were even born. Furthermore, I hope these blogs encourage other Ranger fans to seek out Ranger history. The Rangers do such a poor job promoting their history, that most younger fans of today think the Rangers were created when Rod Gilbert decided to start a hockey team, 1994 happened and Henrik Lundqvist is the greatest Ranger of all time. As someone who loves history and this team, those thoughts drive me up a wall!
Arguably, during Worsley's run on Broadway, Davey Kerr would've been on any fan's Mount Rushmore of New York Rangers. When Worsley was traded, Worsley threw his hat into the mix as the greatest goalie in the history of the Rangers. I could just picture many saloons up and down Madison Ave, with Ranger fans verbally battling while debating the topic of "Who's the Greatest Goalie in Rangers history?" After all, like today's current incarnation of Rangers, the Rangers weren't that good during this period of time. What else would there be to talk about?
Even better, when thinking about this hypothetical debate, like perhaps the Giacomin fans of today, who enter Giacomin's name in present day Richter vs Lundqvist debates, you would have a passionate part of the bar piping up in defense of Chuck Rayner.
And not for nothing, if I could ever venture back in time, I would love to hear a Worsley vs Kerr debate, from any random NYC bar! Listening to these fans decide the greatest goalie in the history of Rangers, over 12 ounce curls of Schlitz, would've truly been something!
Worsley, for my money, was the most interesting and humorous goalie in the history of the franchise. If you can bear with me, as I prolong the inevitable Lundqvist vs Richter debate, here are two of his most famous exchanges with the media:
Worsely, as a young man and early into his career with the post World War II Rangers, had to face anywhere from 40-50 shots a night. Keep in mind, Worsley didn't wear a mask during this era. Worsley, after one game, was asked, "Which team (in the league) gives you the most trouble?" His reply – "The New York Rangers." Tell me you can't see Henrik Lundqvist saying the same thing today!
For the overweight fans, that have a penchant for alcohol, yours truly included, how about this one:
Phil Watson, coach of the Rangers at the time, blamed beer on Worsley's play. Watson went on to say that Worsley had a "beer belly." (Best part of this story is knowing that people used the term "beer belly" in the 1950's.) Worsley promptly responded to the scribes with this classic gem, "Just goes to show you what he knows. I only drink Johnnie Walker Red."
If there was ever a goalie that this blogger would've loved to seen and talked to, it was a one Lorne "Gump" Worsley.
And yes, expect me to buy this Gump Worsley book after my next financial windfall of winning at bar room "Quick Draw"!
Worsley tangent aside, after Worsley retired, the Rangers turned to a future Hall of Famer, in Jacques Plante. At that time, Plante had 6 Stanley Cup victories and Vezinas on his resume. (He would win his 7th Vezina, a shared Vezina, with Glenn Hall in 1969 with St. Louis.) Plante, who ironically Worsley wasn't a fan of, would only last two years with the Rangers. When Plante left in 1965, it opened the door for one of the greatest Rangers of all time, in Eddie Giacomin.
The age of the people reading these blogs varies, but I do know these blogs reach a much older audience than other Ranger fan blogs. After all, for older readers, would you rather read about experiences, personalities and other random minutiae or would you rather read charts and calculator printouts that someone eloquently made in their mother's basement?
If you never saw Eddie Giacomin play, (I obviously didn't) don't go by the black and white print that you'll find on Giacomin – talk to the people who actually saw him. To this day, my mother, who is in her 60's and shared Ranger season tix with my father for years, considers Eddie Giacomin to be her favorite Ranger of all time. The love affair that young people of today have with Henrik Lundqvist, is comparable to the way Ranger fans of a previous generation viewed Eddie Giacomin.
Eddie Giacomin, or "EDDIE! EDDIE! EDDIE!" as he was familiarly known as, was with the Rangers from 1965-1966 until 1975-1976. With Eddie in net, the Rangers had nine separate playoff runs, the most disheartening being in 1972 when the Rangers lost in the SCF to the Boston Bruins.
When Giacomin was dealt/waived to the Detroit Redwings in 1975, a true end of an era lingered among the Garden faithful. For ten years, Rangers fans cried, celebrated and lived vicariously through a one Edward Giacomin. However, heartbreak was plenty with the Rangers during this time, as the Mets, Jets and yes, even the Knicks, won world championships. The Rangers, the Giants & the Yankees were the only three teams not to win a championship in NY during the Giacomin era. However, at that time, the Yankees & Giants were winners before and had reached the final game several times over. The Rangers only had the '72 Cup loss as the peak of that era and hadn't won a Cup since 1940.
By the time Giacomin had the Redwing on his chest, Giacomin was the All-Time Leader in Wins as a Rangers goalie, with 267 wins, surpassing both Rayner (123), Kerr (157) and Worsley (204). If you were making your Mount Rushmore of the New York Rangers in 1975, Eddie Giacomin was a no-brainer candidate for your mountain. Again, I know fans will bring up Rod Gilbert, but talk to anyone who was a fan at that time. Eddie was the guy.
Of note, it would be remiss if I didn't mention that one of the greatest goalies of all time, in Terry Sawchuk, backed up Giacomin in the 1969-1970 season. However, Sawchuk was such a freaking mess at this point, on and of the ice, that he didn't do anything of significance during his limited time on Broadway.
Like anything in sports, all good things must come to an end. The Rangers, after going all-in with the GAG line (Hadfield/Gilbert/Ratelle), plus employing the second best defenseman in the league, in Brad Park, who was only second to one of the greatest players of all time in Bobby Orr and having one of the best goalies in the league, in Eddie Giacomin, the bottom line was that they just couldn't win.
In another era, perhaps the Giacomin Rangers could've won a Cup. However, and I'm not trying to make excuses, the Giacomin era featured two different dominating Montreal Canadian teams, one that won every Cup at the end of the 1960's and the other that won every Cup at the end of the 1970's. The Rangers would lose in 1972 to the Orr & Esposito Bruins and had to deal with the Broadstreet Bullies of the mid-1970's.
General Manager Emile Francis, in 1975 and on his last life with the Rangers, was the one who removed Giacomin from the Rangers. He would later make the Esposito trade, which sent other fan favorites, in Brad Park and Jean Ratelle, to Boston. Francis, who thought the Rangers run was over, wanted to rebuild. Francis thought that it was time to feature John Davidson. However, by the time John Davidson came into his own, the Cat was neutered from the club and John Ferguson (credited/shamed for altering the sacred jersey of the Rangers) took over.
By the time the 1976-1977 season rolled around, the familiar faces of the Rangers were gone. Not only was Eddie Giacomin gone, but so was his partner Gilles Villemure, who was previously shipped to the Chicago Blackhawks. A new era had dawned on the Rangers. Little did fans know at that time, another Cup berth awaited the Blueshirts.
After Giacomin was waived and moved to Detroit in 1975, John Davidson was given the starting goalie job. What hurt JD the most was his constant struggle with injuries, as the loony Gilles Gratton and Wayne Thomas would play more games than JD prior to the Stanley Cup run of 1979.
Davidson would be the starter of the Rangers from 1975-1976 to 1980-1981. Unfortunately, after the Stanley Cup Final loss in 1979, to the Montreal Canadiens, and the ensuing troublesome 1979-1980 season, John Davidson was never the same again. Injuries to his knees would reel him in.
During JD's brief career as the man in net for the Rangers, he quickly endured himself to Ranger fans of that era. It was no easy feat replacing Eddie Giacomin. For a modern day reference, it was like Didi Gregorious replacing Derek Jeter. An unlikely Cup appearance in 1979 made him beloved by Ranger fans.  However, for as much as JD was revered and respected from the Blueshirt brethren, his career was short-lived.
The Rangers were forced to scramble to find someone to replace JD in 1980-1981. That job fell to Doug Soetaert, who, to his credit, had a fan base behind him. However, that said, he wasn't JD, and he sure as hell wasn't Eddie.
In the early 1980's, the dark era for the Rangers and their fans (FUCK THE ISLANDERS) the Rangers tried out Eddie Mio, Steve Weeks and Glen Hanlon. All three goalies found mediocre success. However, during the 1983-1984 season, the Rangers took a chance on a little known John Vanbiesbrouck. Things were looking up again.
From 1984-1985, until 1992-1993, "The Beezer", John Vanbiesbrouck, was the starting goalie for the New York Rangers. Of note, my first childhood memories of the Rangers were with Beezer, and his young understudy, Mike Richter, in net.
Beezer's best year as a Ranger was his second year as a starter, as he won the Vezina Trophy and helped the Rangers reach the Conference Finals, in an eventual loss to the Montreal Canadiens, the same Montreal Canadiens that won the Stanley Cup in 1986. As you go through the annals of Rangers history, it seems that the Habs were always there for the dagger.
The Beezer era was like many other great Ranger goalie eras – several deep runs, a few playoff missed seasons, and as many who preceded him, no Stanley Cup victory.
A separate blog would be a debate among the two greatest American goalies the Rangers ever had, in Beezer and Richter. However, that's for a different time.
The biggest knock on Beezer's career was that unlike other Ranger goalies that came here or played here and moved on, was that Beezer wasn't able to get that Stanley Cup victory on his resume.
During Beezer's tenure with NYR, the biggest thing working against him was his age, as Mike Richter, taken 28th overall in the 1985 draft, developed faster than anyone could've thought. Beezer was three years older than Richter, but with the 1993 expansion draft coming up and this being a business that thrives on young men (Not in a Catholic Church way) the Rangers wisely decided to move forward with Richter and cut bait on Beezer.
I want to to be clear here, the Rangers didn't get rid of Beezer because of any type of production issue.  Beezer was a victim of someone younger & cheaper giving the team similar production. I know, a foreign concept considering how the Rangers treat Lundqvist today.
Again, a blog for another time, would be to deeply investigate the impact of Mike Richter's career on John Vanbiesbrouck. Was it right place, right time for Richter? Perhaps. When it comes to Richter vs Beezer, at that time, the biggest factor was age. Richter was 3 years younger. With Beezer being older, that gave Richter time to get Olympic hockey under his belt. With Beezer being older, that gave the Rangers the out to move Beezer. With Beezer being older, that means it was Richter, not Beezer, who was able to stand tall during the 1994 SCF and the 1996 WCOH. One could argue that the procreation year between these two American goalies, considered two of the greatest American goalies of all-time, decided their fates.
The emergence of a younger Mike Richter and not anything John Vanbiesbrouck did, led to Mike Richter finally becoming the number 1, undisputed, starting goalie for the New York Rangers. In his first season as the full-time starting goalie of the New York Rangers, Mike Richter won the Stanley Cup. Beezer fans can argue that Beezer may have won the Cup if he remained with the Rangers. I'm not here to choose a position on that topic. All I will say is that the argument has validity. After all, at the very least, Beezer was better than Healy.
When Mike Richter became the flag-bearer in net for the Rangers, he would remain the starting goalie from 1993-1994 until his injury abbreviated 2002-2003 season. Richter's peak would be from 1993-1994 through 1999-2000. Aside from the Rangers 1994 SCF win, he would also be the MVP in the 1996 WCOH tournament.
For Mike Richter, his career was stripped from him at a relatively young age. While he would officially retire at 36 years old in 2003, for all intents and purposes, his career was on the downward slope at 33 years old. Richter battled knee and back injuries. However, concussions and a skull fracture, ultimately decided Richter's fate, and he was forced to hang up the pads in 2003.
When Richter was forced to retire, Mike Dunham would become the Rangers starting goalie for two straight seasons. It wasn't pretty. Even uglier, was the NHL lockout of 2004-2005. However, what Ranger fans didn't know at the time, was that a new generational goalie was on the way.
For the 2005-2006 season, the Rangers invested in Kevin Weekes as their starting goalie. However, Weekes would get injured and a little known 7th round draft pick would take over, in a one Henrik Lundqvist. Upon his first start, Lundqvist never looked back. As we approach the 2018-2019 season, Henrik Lundqvist remains the face and soul of the New York Rangers, for better or for worse. Lundqvist on the Rangers, in the present day, is a topic I've talked about to death on this blog and not one to revisit for this blog. I'm sure I'll say plenty about Lundqvist, as usual, once the 2018-2019 season commences.
During the course of 13 seasons (the 2018-2019 season being his 14th) Henrik Lundqvist has been the man for the Rangers. Again, this blog isn't about my current thoughts about Lundqvist, it's about his career overall. As it stands today, Henrik Lundqvist has been the longest tenured starting goalie in the history of the New York Rangers. With that time we've seen great successes. We've also seen failures.
When I started this blog, I said it was difficult and impossible to compare goalies from different eras. Please keep that in your mind as you press forward on this blog.
Let me be fair off puck drop here. I am 36 years old. My first Ranger memories are with Mike Richter. I can remember 1994 and I can remember the 1996 WCOH. As I write this blog, I recently re-watched the 1994 Stanley Cup run and the 1996 World Cup of Hockey gold medal series. Because of my strong feelings about wanting Lundqvist out of NY today, I tried to balance the scales and re-watched the 2007 and 2012 playoffs.
As talked about, when comparing Mike Richter vs Henrik Lundqvist, whenever you compare two players from different generations, it's just impossible. We will never know how the other would've fared in a different era. Would Lundqvist, in his prime, win a Cup with the 1994 Rangers? Maybe. Would Richter, in his prime, win a Cup with the 2014 Rangers? Maybe. However, we will just never know.
If you explore deeper, how would've either of these men do in the era of no goalie masks? Would Lundqvist risk his face as a goalie? Would Richter's career end before it got started? All I'm really trying to hammer home here is that it's impossible to compare players from different eras. However, it is the summer time as I write this and the purpose of this blog is to encourage debate.
When you dissect Richter vs Lundqvist, one must consider the eras they played in. Also, for argument's sake, this is a tough topic to discuss with any true resolution, as Lundqvist is still playing as of this writing. It would be easier to revisit this topic once Hank's career is over.
After all, who knows, like Mark Messier in 1997-1998 and through his last days of the 2003-2004 season, perhaps Henrik Lundqvist has played his last playoff game. Then again, if you have the eyes of a cock-eyed optimist, perhaps Lundqvist has an Alex Ovechkin moment in his future, although I personally doubt the Soft Swede could party with the Cup like the White Russian.
The NHL game continually changes and evolves from generation-to-generation. After all, it wasn't until 1959 where the goalie mask, in its infancy, was introduced. A decade later, in the 1970's, the mask/cage combo was born. As time goes on, including the present day, more technology will be implemented to the mask, which gives newer goaltenders an advantage. While both goalies wore a mask, would Richter have lasted longer if he had one of the modern masks of today? Furthermore, how would've Richter fared with all the extra padding that Lundqvist is able to wear today? How would've Lundqvist done without all the bulk in Richter's day?
As of this writing, here in July of 2018, Henrik Lundqvist has a regular season career record of 431-275, a GAA of .237 and a save percentage of .919. Of note, in Hank's most recent years, all of his numbers have taken a steady hit. Take a look for yourself, courtesy of Wikipedia.com:
2005–06
New York Rangers
NHL
53
30
12
—
9
1,485
3,111
116
2
2.24
.922
2006–07
New York Rangers
NHL
70
37
22
—
8
1,927
4,108
160
5
2.34
.917
2007–08
New York Rangers
NHL
72
37
24
—
10
1,823
4,304
160
10
2.23
.912
2008–09
New York Rangers
NHL
70
38
25
—
7
2,007
4,153
168
4
2.43
.916
2009–10
New York Rangers
NHL
73
35
27
—
10
2,109
4,204
167
4
2.38
.921
2010–11
New York Rangers
NHL
68
36
27
—
5
1,965
4,007
152
11
2.28
.923
2011–12
New York Rangers
NHL
62
39
18
—
5
1,753
3,754
123
8
1.97
.930
2012–13
New York Rangers
NHL
43
24
16
—
3
1,190
2,575
88
2
2.05
.926
2013–14
New York Rangers
NHL
63
33
24
—
5
1,810
3,655
144
5
2.36
.920
2014–15
New York Rangers
NHL
46
30
13
—
3
1,329
2,743
103
5
2.25
.922
2015–16
New York Rangers
NHL
65
35
21
—
7
1,944
3,773
156
4
2.48
.920
2016–17
New York Rangers
NHL
57
31
20
—
4
1,650
3,241
148
2
2.74
.910
2017–18
New York Rangers
NHL
63
26
26
—
7
2,036
3,503
174
2
2.98
.915
NHL totals
805
431
275
—
83
23,028
47,131
1,859
63
2.37
.919
As you can see, from the time the Rangers traded Cam Talbot, who could've been the starting goalie of the Rangers, Hank's win totals have decreased. His losses have increased. His GAA average nearly climbed to 3.00 this past season. His save percentage of this past season is lower than most of his previous seasons.
On the flip side, here are Richter's regular season stats, and again, courtesy of Wikipedia.com:
1989–90
New York Rangers
NHL
23
12
5
5
1,320
66
0
3.00
.904
1989–90
Flint Spirits
IHL
13
7
4
2
782
49
0
3.76
—
1990–91
New York Rangers
NHL
45
21
13
7
2,596
135
0
3.12
.903
1991–92
New York Rangers
NHL
41
23
12
2
2,298
119
3
3.11
.901
1992–93
New York Rangers
NHL
38
13
19
3
2,105
134
1
3.82
.886
1992–93
Binghamton Rangers
AHL
5
4
0
1
305
6
0
1.18
.964
1993–94
New York Rangers
NHL
68
42
12
6
3,710
159
5
2.57
.910
1994–95
New York Rangers
NHL
35
14
17
2
1,993
97
2
2.92
.890
1995–96
New York Rangers
NHL
41
24
13
3
2,396
107
3
2.68
.912
1996–97
New York Rangers
NHL
61
33
22
6
3,598
161
4
2.68
.917
1997–98
New York Rangers
NHL
72
21
31
15
4,143
184
0
2.66
.903
1998–99
New York Rangers
NHL
68
27
30
8
3,878
170
4
2.63
.910
1999–00
New York Rangers
NHL
61
22
31
8
3,622
173
0
2.87
.905
2000–01
New York Rangers
NHL
45
20
21
3
2,635
144
0
3.28
.893
2001–02
New York Rangers
NHL
55
24
26
4
3,195
157
2
2.95
.906
2002–03
New York Rangers
NHL
13
5
6
1
694
34
0
2.94
.897
NHL totals
666
301
258
73
38,183
1,840
24
2.89
.904
If you go by the black and white of a what basically equates to a baseball card, Henrik Lundqvist has Mike Richter beat hands down. However, again, their eras were completely different.
Here are some things to consider, regular season wise, if you're leaning on the Richter side of things:
— Mike Richter played in the no tie era, Henrik Lundqvist did not.
— Henrik Lundqvist now plays in a 31 team league, and for the majority of his career, played in a 30 team league. For most of Richter's career, he played in a 24-26 team league. In other words, with five more teams, Henrik Lundqvist played in a more watered down era of talent.
—Mike Richter played against a higher quality of NHL player, where Henrik Lundqvist did not have to worry about guys like Mario Lemieux, Wayne Gretzky, etc, on any given night.
— With the influx of new teams, Lundqvist does not have to play the same amount of rivalry/high pressure games that Richter had to.
— Rules did not favor the goaltenders in Richter's era. There was no offside replay to disallow goals. Goalie interference wasn't called left and right.
— Richter played in the dead puck/trapezoid era, which one of the Rangers biggest rivals, the NJ Devils, took advantage of more than any other team. The Devils would win 3 Cups in Richter's era and would also appear in another SCF. (To be fair, the Devils third Cup came in the same season that Richter only played 13 games in, due to career ending injuries.)
— Richter never played under a defensive system like Lundqvist did. In Richter's time, his best defenseman, Brian Leetch, was considered more of an offensive threat than anything else. There never was a focus on building around a goalie or shot blocking, which Lundqvist had for many seasons.
— Richter didn't have the luxury of 2o pounds of extra padding that Lundqvist wears today.
— Richter also didn't have the luxury of the in-depth video review process, that many hockey players have today.
— Mike Richter was never the focus of the team. Despite Richter's greatness, the team never built around Mike Richter. During Richter's tenure, he was somewhat taken for granted, as the team built around Mark Messier or Brian Leetch.
When talking regular season, in the case of Henrik Lundqvist, the following are strong talking points:
— Henrik Lundqvist never had a defenseman like Brian Leetch or Jeff Beukeboom. He never had a winger like Adam Graves. He never came close to having a player in front of him like Mark Messier, or for that matter, a late-in-his-career Wayne Gretzky.
— Despite Jaromir Jagr's 54 goals in the 2005-2006 season, Mike Richter was the benefactor of more offensive teams, thus helping him win games.
— Lundqvist plays in the most intense division in the NHL.
— Lundqvist won a Vezina, Mike Richter did not.
— Lundqvist, during his prime, was able to steal more games than Richter was able to in his career.
— Because of the extra teams in the NHL, it's harder to secure a playoff berth.
— Ranger teams weren't as strong as they were in Richter's time. You can argue that the Rangers waited too long to put their strongest team around Lundqvist.
— Lundqvist has been more durable and has been able to avoid any major injuries.
— Lundqvist has better baseball card numbers in an era that tries to promote more offensive oriented games.
When you look at the biggest accolades of Mike Richter and Henrik Lundqvist, there are only three series/games to talk about. The 1994 SCF, the 1996 WCOH and the 2006 Olympics. Of course, Mike Richter won the Stanley Cup with his lone chance at the Cup. Lundqvist had two good chances at the Cup & came up short both times. A quick gander, if I may:
— Mike Richter won back-to-back Game 7 series to win the Stanley Cup Final. Lundqvist's best effort at the SCF saw him choke multiple two goal leads and saw his team lose in 5 games in 2014. And to be fair, while Richter was great in 1994, Lundqvist had Rick Nash as his star forward in 2014, not Mark Messier.
— If you consider the 2014 Rangers to have had a Cinderella run, the 2015 Rangers were the opposite. Despite a lack of offensive production in Game 7 of their 2015 ECF, Lundqvist gave up back-to-back touchdowns in Games 2 & 3. Even worse, the Rangers scored five goals in Game 3 and Lundqvist gave up the game winning goal, in OT, after a shot from the blue line. If Lundqvist could win a game where his team scored five goals, there never would've been a Game 7. (For argument's sake, Lundqvist also lost another ECF, in 2012, to the New Jersey Devils. However, like the 2014 Rangers, not many predicted the Rangers making it that far to begin with.)
— Mike Richter won one of the biggest international tournaments of all-time, featuring the greatest collection of talent under one roof, when Team USA beat Team Canada & he was named the MVP of the 1996 WCOH.
— In Henrik Lundqvist's greatest career win, as a member of the 2006 Olympic Gold Medal team, his countrymen threw games for Olympic seeding. In all of Mike Richter's career, Team USA never lost on purpose, nor tried to "tank" to get favorable match-ups. According to former NHL Hart Trophy winner and 2-time Cup winner, Peter Forsberg, Team Sweden tanked and lost on purpose to Slovakia, so they wouldn't have to play a powerhouse like Canada or Russia in the knockout stages.
— When it comes to the Rangers, Mike Richter won the Stanley Cup. Henrik Lundqvist has not, as of this writing.
— As mentioned previously, in the 1994 Eastern Conference Final, Mike Richter was able to beat the Devils & Marty Brodeur.. In 2012, Lundqvist lost to the Devils and to a much older Marty Brodeur.
Now, for the black & white fans, here are the playoff stats of Richter & Lundqvist:
(All information from Wikipedia.com)
Mike Richter:
1988–89
New York Rangers
NHL
1
0
1
58
4
0
4.14
.867
1989–90
New York Rangers
NHL
6
3
2
330
19
0
3.45
.896
1990–91
New York Rangers
NHL
6
2
4
313
14
1
2.68
.923
1991–92
New York Rangers
NHL
7
4
2
412
24
1
3.50
.894
1993–94
New York Rangers
NHL
23
16
7
1,417
49
4
2.07
.921
1994–95
New York Rangers
NHL
7
2
5
384
23
0
3.59
.878
1995–96
New York Rangers
NHL
11
5
6
662
36
0
3.26
.883
1996–97
New York Rangers
NHL
15
9
6
939
33
3
2.11
.932
NHL totals
76
41
33
4,515
202
9
2.68
.909
Henrik Lundqvist:
2005–06
New York Rangers
NHL
3
0
3
177
13
0
4.41
.835
2006–07
New York Rangers
NHL
10
6
4
637
22
1
2.07
.924
2007–08
New York Rangers
NHL
10
5
5
608
26
1
2.57
.909
2008–09
New York Rangers
NHL
7
3
4
380
19
1
3.00
.908
2009–10
New York Rangers
NHL
—
—
—
—
—
—
—
—
2010–11
New York Rangers
NHL
5
1
4
346
13
0
2.25
.917
2011–12
New York Rangers
NHL
20
10
10
1251
38
3
1.82
.931
2012–13
New York Rangers
NHL
12
5
7
756
27
3
2.14
.934
2013–14
New York Rangers
NHL
25
13
11
1516
54
1
2.14
.927
2014–15
New York Rangers
NHL
19
11
8
1166
41
0
2.11
.928
2015–16
New York Rangers
NHL
5
1
3
205
15
0
4.39
.867
2016–17
New York Rangers
NHL
12
6
6
775
29
1
2.25
.927
NHL totals
128
61
65
7817
297
10
2.28
.922
If you just read the cold hard facts, Mike Richter, although not having as much playoff time as Lundqvist, has a better W/L record, at 41-33. Lundqvist doesn't even have a winning record, at 61-65. Again, keep in mind, the first round of the playoffs is easier in the Lundqvist era, with teams being watered down a bit from the Richter era. That said, Lundqvist has a better save percentage and GAA. What's more important to a team, WINS or goaltender stats?
One of the biggest variables in the Lundqvist vs Richter era debate is the salary cap. When Mike Richter played, there was no salary cap. However, since Lundqvist started his career in the NHL, he missed a season due to the 2004-2005 lockout (Then again, who knows if he would've played) and had the 2012-2013 season abridged. When it comes to Richter, the 1994-1995 season was shortened to 48 games, but there was no hard salary cap installed.
I've talked about this 873897528745892789572897458925748927452524 times on this blog, for the last few years of Henrik Lundqvist's career, he hasn't been worth the money. Cam Talbot and Antti Raanta were both better value goalies for the money. When talking about Mike Richter, this isn't even a talking point, as he didn't play in the salary cap era. The Rangers could've spent a billion bucks per season if they wanted to. In Hank's era, the salary cap has hurt his team & his chances at a Cup, as the NHL strives for league-wide parity.
Of note, the hottest league in sports today, if you believe it or not, is the NBA. The NBA is a league of dynasties. For whatever reason, the NHL keeps their teams on a shoe-string budget and welcomes a different team winning a Cup every year and punishes that team immediately after for winning, with their insane cap rules.
Put it this way – the Rangers, in the 1997 off-season, WITHOUT SALARY CAP RESTRICTIONS, didn't think a 36 year old Mark Messier was worth $20M for 3 seasons. At a little over $6M a season, the Rangers balked and Messier would up in Vancouver, thus ending the Messier & Gretzky reunion – a guaranteed sell out, every night, at M$G.
And listen, I'm not going to run down Messier's achievements. You know should know them. Bluntly, he's the greatest captain in the history of sports.
In the current day, a 36 year old Henrik Lundqvist (will be 37 when the 2019 playoffs start) is an $8.5M cap hit, which takes him to the 2020-2021 season. Inflation isn't that much of a difference from 1997 to 2018. Imagine letting the man who led you to your first Cup in 54 years walk, IN THE NON-SALARY CAP ERA, yet have no problems paying a goaltender, until he's nearly 40 years old, $8.5M. Even worse, for the majority of Lundqvist's contract, he was the highest paid goalie in a league where goaltenders weren't the focus of Stanley Cup winning teams. Centers, Mark Messier's position, were!
I don't mean to go on a Rangers fucked up by not paying Messier tangent, but seriously, put that into perspective!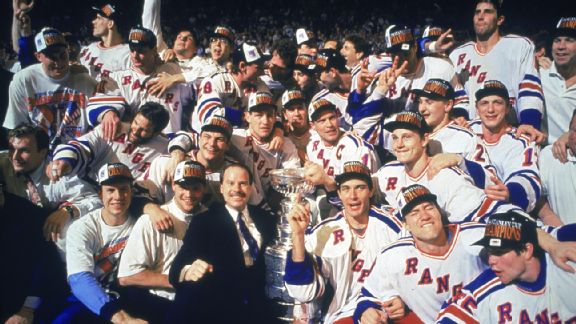 Here is where the Richter vs Lundqvist debate really picks up steam. Under the conditions/no salary cap 1993-1994 season, would Henrik Lundqvist win a Cup with those Rangers? With Lundqvist, do the Rangers repeat in 1995? The answer – who knows?
For my money, based on what we've seen from both goalies, when it comes to big games, when it comes to putting your balls out there and when it comes to handling pressure, when it comes to Mike Richter and Henrik Lundqvist, I would call on Mike Richter to start a Game 7 Stanley Cup Final game for me, 10/10 times. Yes, I'm biased towards American players and yes, Lundqvist's most recent antics hurts his once elite stock in my eyes, but every time you needed Richter to win that big game, he was there.
With Richter, sure, he wasn't perfect. He also wasn't slamming his stick, showing the other team how rattled he was nor was he screaming at his defensemen for every cough & fart. Lundqvist, if a game starts turning the tide against the Rangers, is more liable to crack than Richter.
To press forward, during Mike Richter's career, Glenn Healy, Richter's greatest back-up, could never replace him. Even in Richter's later years, Dan Blackburn, Dan Cloutier, Kirk McLean and Mike Dunham couldn't replace him.
When it comes to Lundqvist, who is approaching 37 and has avoided the serious and chronic injuries that Richter had to endure, we've already seen it twice – there have been goalies who could've took Hank's spot. Look no further than Cam Talbot (Huge part of NYR's 2015 Presidents' Trophy and the current starting goalie of the Edmonton Oilers) and Antti Raanta (would've been a Vezina candidate last season if it wasn't for an injury and is now the starting goalie of the Arizona Coyotes.)
During Richter's time – NO ONE COULD REPLACE HIM. During Lundqvist's time, we've already seen two goalies who could've, and for much cheaper, which is more pertinent and drastic now than ever, in the salary cap era.
Yes, the NHL has changed. Yes, the rules have changed.  Yes, the way to win a Cup has changed. However, when you break it down to the core, when Mike Richter was in his prime, the Rangers never had a goalie who could've stepped in and helped the team to a Cup. In the Rangers best regular season with Lundqvist, the 2014-2015 incarnation, Cam Talbot played ten less games than Lunqvist, and posted a better save percentage and GAA. He also had an equal amount of shutouts.
As a starter, Mike Richter never had a Cam Talbot or an Antti Raanta. For as good as Healy was, he wasn't someone who could start full time. However, as much as someone like me, someone sick of Lundqvist's current diva behavior, I must admit, that speaks more to the era than anything else.
Despite there being 62 goalie jobs in the NHL, while you have elite goaltenders in the current NHL, the drop-off or disparity among 1 to 62 isn't as deep as you'd think. In today's NHL, for the first time since the Original 6 era, both goaltenders on any given team, are able to start and win games. During Richter's era, that wasn't exactly the case.
As talked about repeatedly, Lundqvist's biggest fault, concerning his lack of a Stanley Cup win, may be that he plays in the cap era, which is a glass ceiling that's tough to break through. Critics, such as myself, realize that you can get better goaltending elsewhere, and for less money. In this recent salary cap era, not one Top 5 paid goalie has won a Stanley Cup. Teams win Cups based on strong play down the middle, or in the case of the most recent Cup winner, with a future HOF elite winger.
The most recent team to win a Cup with a goalie stealing the whole tournament was when Jonathan Quick (another American) and the Kings won the Cup in 2012, prior to the most recent NHL lockout. At the time, Quick was the 30th highest paid goalie in the league.
In the 1993-1994 season, Mike Richter made what Cam Talbot made in the 2014-2015 season – $1M. Compared to Lundqvist, if you're judging Richter vs Lundqvist based on salary value alone, Richter is better than Lundqvist, hands down.
During their careers, both Richter and Lundqvist had to play for ornery coaches. Richter had to deal with "Iron" Mike Keenan, the same Keenan who didn't mind benching Brian Leetch in the 1994 ECF. Obviously Keenan's tenure wasn't long in NY, as he was one and done. Of note, Keenan had no problem flip-flopping Richter & Healy when he saw fit too.
When it comes to Lundqvist, during his prime, another one-of-a-kind coach, in John Tortorella, paced the Rangers bench. Lundqvist, perhaps driven by ego or stupidity, wanted Tortorella out of NY. This was the same Tortorella who devised a shot blocking, defense first scheme for his elite goalie. However, Tortorella was deemed "too hard" on his snowflake players and against the wishes of James Dolan, the Rangers were forced to part ways.
During Lundqvist's most recent contract negotiations, he made it clear that if Tortorella was coming back, then Lundqvist wasn't coming back. The team kowtowed to their goaltender, and despite the wishes of team owner James Dolan, the guy who signs the checks, Torts was jettisoned out of town.
Since the departure of Tortorella, Torts has gone on to win another Jack Adams (coach of the year) award. In those same five years, Lundqvist has never sniffed a Vezina award, nor has he been considered "elite" in the eyes of people who watch the entire league. More ironically, Torts saw another goaltender, under his watch, win a Vezina.
More recently, after Coach Alain Vigneault said that Lundqvist had to be more responsible, AV immediately became firing squad material. Three months after wanting better production from the highest paid goalie in the league, AV, who just signed a two-year contract extension, found himself fired. I wonder if Dolan will ask Hank to cover AV's severance pay?
During Richter's run on Broadway, he never got a coach fired and always accepted personal responsibility, credit and blame, no matter what the outcome of a game was.
When you talk about Henrik Lundqvist, fans (myself definitely included here) have to try to remember the good times. However, in this Richter vs Lundqvist debate, one can not ignore the recent crybaby and diva antics of Henrik Lundqvist.
When Mike Richter was with the Rangers, you never had to coddle him. You didn't have to make excuses for him. Richter also manned up during the bad times. You can't say the same about Lundqvist, during Lundqvist's most recent years.
Without even getting into the incident earlier in his career, where Lundqvist physically bruised up an innocent Icelander girl, in most recent times, Ranger fans have been subjected to the following:
— Non stop crying, where in press conferences after games, Lundqvist will blame his teammates in losses (WE, WE, WE) and will take all the credit for wins. (ME, ME, ME.)
— Squirting water bottles at players like a child.
— Flipping nets and taking penalties when frustrated.
— Slamming his stick after bad goals allowed, thus showing the other team he's rattled and unfocused.
— Screaming at his own teammates on the ice. The last two teammates Lundqvist berated/argued with on the ice are no longer with the Rangers. (Derek Stepan & JT Miller.)
— Blaming coach's for losses.
— Skating to the bench to pop off after a bad goal allowed while the other team cracks up at him.
— Allowing his frustrations to break his concentration, thus leading the league in most goals allowed in the beginning of a period and at the end of a period during the 2017-2018 season.
While we will never truly know until time passes and when most of these players retire, you have to wonder if Lundqvist, in his later years, (Sean Avery from Lundqvist's earlier years raves about him)  is even liked, off the ice, by his teammates. You never see him hanging out his teammates away from games anymore. He even passed up being on the team plane a few times. And no, Lundqvist wasn't the person behind the camera in this picture above.
If you read any book, watch any interview or talk to any NHL player that's ever won a Stanley Cup, they all talk about chemistry, friendship and having life-long friendships with their teammates. It doesn't matter who it is, whether it was Gordie Howe, Bobby Orr, Phil Esposito, Mark Messier, Wayne Gretzky, etc, they all say the same.
Granted, goalies are a rare cat. After all, you're signing up to take 100 MPH slap shots at you on a daily basis. Again, just think of those animal goalies from a previous generation that didn't wear masks. To quote Gump Worsley, "my face is my mask."
Lundqvist supporters, when it comes to the picture above, will point out how Lundqvist is older and has a family. Newsflash, so do most of these guys. If Hall of Famer & Stanley Cup winner Martin St. Louis can make the time to make every team flight, then Lundqvist can too. I just don't think the same level of camaraderie, that Richter enjoyed with his teammates, is there with Lundqvist and his most recent teammates. After all, with Lundqvist blaming his teammates in the press after losses, who wants to be around the guy?
While being a "dick" or off-putting isn't as important when it comes to what you do between the pipes, when comparing Richter vs Lundqvist, I think Richter has the easy edge when it comes to team chemistry and being a team player.
As we get to the end of this massive look at Richter vs Lundqvist, it's fair to say that Lundqvist has the individual hardware and all of the team records, whether it be Wins, Games Played, Saves, etc. Aside from his Vezina, are his team records the result of being durable and being able to last? Furthermore, would've Richter, who had all the team records before Lundqvist came along, still have these team records if he didn't have to split time with Beezer early in his career & if he didn't get injured? We'll never know.
What we do know, as Lundqvist approaches Year 14, is that Richter has had the team success. If you talk to any athlete, winning a championship is more important than any individual accomplishment. Let's be honest, if Richter doesn't have the Cup or if Lundqvist won a Cup, we wouldn't even be having this Richter vs Lundqvist discussion. If Lundqvist is ever able to win the Stanley Cup with the Rangers, Lundqvist is the hands-down winner of such a debate.
So after 8500 words, I go back to my original question that was posed at the top of this blog. "Who do you want between the pipes in a Stanley Cup Game 7?" When it comes down to it, Mike Richter, in his prime, was more clutch during the biggest pressure moments of his career, than Henrik Lundqvist ever was.
You can make the argument that Lundqvist was/is better than Richter. As mentioned numerous times, there is no wrong answer and the eras are so different. If I had to choose a goalie to build a regular season around, the 2011-2012 Lundqvist might be my guy. However, if I needed a goalie to win the biggest game of my life, I'm giving number 35, Mike Richter, the nod. You just can't argue with Mike Richter's clutch ability to win the biggest games of his career, whether it's the 1994 SCF or being the MVP of the 1996 WCOH.
Yes, I'm fully aware the younger generation of Ranger fans will be up in arms about my opinion on Richter, but when have I ever cared about pleasing people?
Until Henrik Lundqvist is able to win a Stanley Cup with the Rangers, something I don't foresee ever happening, Mike Richter deserves the goalie spot on the Rangers Mount Rushmore. He's given you the memory that can never be erased.
---
That wraps it up for this tremendously long double blog, here on BlueCollarBlueShirts.com. I hope you stuck through all of this and look forward to hearing your side of Richter vs Lundqvist.
As far as what's next, I have a few books to review and seeking out the next game for the Delorean.
When it comes to the current Rangers, I'm waiting for something big to happen. I'm not going to bore you with Kevin Hayes contract/corsi talk or waste time on imaginary lines for 2018-2019. That stuff is fruitless.
As always, thanks for reading and….
"LET'S GO RANGERS!"
Sean McCaffrey
BULLSMC@aol.com
@NYCTHEMIC on twitter