What's up everyone and welcome to another manifesto here on BlueCollarBlueShirts.com. As you know by now, these blogs aren't for people with ADD, so if you have a short attention span, feel free to read this in spurts!
Once again, we are entering the Delorean and going back in time, this time to September 14th, 1996, to revisit Game 3 of the 1996 World Cup of Hockey tournament. This will be the first Delorean blog where we will be looking at a non-Ranger game. However, this game was full of big name Rangers, as you had Mark Messier & Adam Graves on one side, representing Team Canada and Mike Richter & Brian Leetch on the other side, representing Team USA.
I will give you the complete rosters in a little bit, but to just get your feet wet here, you also had Senile Sather as the head coach of Team Canada, eventual Rangers Theo Fleury, Brendan Shanahan & Eric Lindros on Team Canada, and of course, the greatest player of all time, (who was Rangers bound for the 1996-1997 season) in Wayne Gretzky, sporting the maple leaf on his chest. In addition, Pat Verbeek, off his 1995-1996 Rangers stint, also lined up to support his fellow mother canuckers.
On the Team USA side, with Ranger ties, you had ex-Rangers, Tony Amonte and Doug Weight, sporting the red, white and blue.  Eventual Rangers, Pat LaFontaine, Kevin Hatcher and Mathieu Schnieder, also sported the USA letters on their chest.
In other words, in one of the biggest hockey games of all time, you had a ton of Hall of Famers, all with Ranger ties, doing battle, all in the name of nationalism & patriotism. When you truly look at this game, you can make the argument that this game featured the greatest collection of talent, to ever play a competitive game, all under one roof. It's an argument that I will expand on as we move along here.
When you look at this period of time, in 1996, the NHL had a murky relationship with the International Olympic Committee (IOC) and the International Ice Hockey Federation (IIHF). It's not that the NHL was looking for an issue with either, but they were very protective of their property, with the word "property" meaning the NHL players.
Anytime you have an international tournament, franchises/owners who have large contracts with players participating in these said tournaments, get edgy & nervous. It's understandable. You don't want to lose one of your best players because of a tournament. You don't get compensated if your property gets hurt and it's not like you can find someone to replace your property.
Going into this 1996 WCOH, Brian Leetch & Mike Richter had Olympic experience, as both were on Team USA during the 1988 games, before they were NHL players. Due to the rules of not allowing NHL players in the Olympics, this WCOH game featured Leetch & Richter vs Messier & Graves for the first time, since the days of the Rangers vs the Oilers in the early 90's. Obviously, post 1994, Ranger fans were more interested in the performances of Leetch, Richter, Graves and Messier in 1996, than they were in 1990.
In a Best of 3 series, to determine international hockey supremacy, for the first time since the "Miracle on Ice" win of 1980, Team USA would win the biggest international game of the year. When it was all said and done, KING (Kings have crowns) Mike Richter was named MVP of the tournament. When you look at the talent Mike Richter beat out for MVP, you could say this was his biggest career milestone, other than the 1994 Stanley Cup.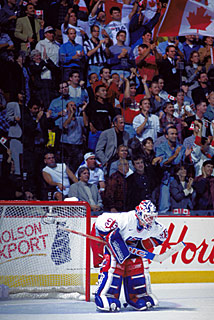 Before moving along and giving you some background of this series, in case you're new here or forgot how these Delorean blogs work, check out my previous Delorean/flashback blogs to get the idea:
---
---
---
---
---
---
---
---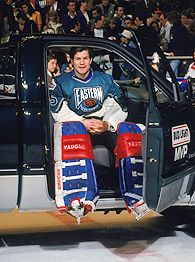 If you're one of the newer fans of the Rangers franchise and all you know is Henrik Lundqvist, it's a damn shame that you never got to see Mike Richter play. For the younger fans reading this blog, who consider the frost-tipped goalie as your king and currently foaming at the mouth when you saw "RICHTER VS LUNDQVIST" in the headline, scroll down to the end. However, I hope you read this entire blog. Maybe you'll learn something or even better, maybe I will encourage you to go out and seek out hockey history. After all, that is the whole point of these Delorean blogs anyway.
To me, the 1996 World Cup of Hockey Gold Medal series featured the greatest collection of players under one roof, playing in a game that meant something. With full-time NHL players not allowed in Olympic play (up to this point in time), and the IIHF World Championships being considered a "scrub tournament" by some Canadian players (Phil Esposito felt this way and said so in his autobiography. Furthermore the IIHF tournament takes place during the NHL SCF playoffs, thus meaning not every elite player is available) this World Cup of Hockey tournament in 1996 featured the best of the best from this era. (With some noticeable exceptions, which I'll get to below.)
Aside from the NHL owners not thrilled about risking the health of their players in Olympic play, the Olympics took place during the NHL season, meaning an extra grind for teams with playoff hopes. Due to IOC laws, full-time NHLers were also banned from the Olympic games. This would eventually change after the 1992 NBA Dream Team, as the NBA exploded in popularity after Team USA, with legends like Michael Jordan, Magic Johnson and Larry Bird, took home the gold.
Ironically, it was Gary Bettman, then with the NBA during the original Dream Team run, that wanted the NHL to participate in the Olympics. He wisely thought that if the NHL players competed in the Olympics, it would bring world-wide recognition to his new league. However, it wouldn't be until 1998 (Nagano, Japan) that full time NHLers competed in the Olympics, and since then, the league has flip-flopped on the idea of allowing their players participate in the Olympics, with the NHL recently banning their players from the 2018 games.
When the World Cup of Hockey was created, under Bettman, this event (and the two WCOH tournaments subsequently held in 2004 and 2016) was thought to help bring world-wide exposure back to the NHL. The World Cup of Hockey was born out of the ashes of the Canada Cup tournament, which was the NHL's answer to the IOC banning NHLers from the Olympics.  Just like its Canada Cup predecessor, the World Cup of Hockey tournament took place during the NHL off-season.
As much fun as it is to slam Gary Bettman, Bettman, seeing the NBA Dream Team's positive effects for the global branding of the NBA, would rebrand the Canada Cup into the World Cup of Hockey. Rather than having a regional name for the tournament, the NHL & Bettman went with a world-wide name for the new tournament. To me, this decision was wise and a no-brainer. I mean, what sounds bigger to you – "THE WORLD" or "CANADA"?  It also didn't help that previous Canada Cup tournaments were criticized for having biased Canadian officials that officiated Team Canada games.
The Canada Cup, which featured six nations, saw its offspring bear 8 teams competing for the World Cup of Hockey. In the first ever WCOH tournament, here in 1996, the nations involved were the USA, Canada, Russia, Czech Republic, Finland, Sweden and the two newcomers, Germany and Slovakia.
The tournament was truly global, as the eight teams were split up into two different brackets, with four teams playing in Europe and the other four teams playing in North America. Six of the countries would host a WCOH game, with Russia and Slovakia as the two countries to not host a tournament game.
The North American bracket featured Canada, the USA, Slovakia and Russia. As you can tell, that explains why Russia & Slovakia didn't have a WCOH game in their country, as they were competing across America and Canada. The other bracket featured Finland, Sweden, Germany and the Czech Republic. Including seeding games, the tournament was contested from August 26th – September 14th.
The tournament saw Slovakia and the Czech Republic get knocked out during the knockout stage. Due to their 3-0 records, Team USA and Sweden received byes to the semifinal. Canada would breeze by Germany in the quarterfinal, winning 4-1. Russia would stomp Finland, 5-0.
In the semifinals, America eliminated their pesky perennial rivals, in Russia, with a score of 5-2. In the other bracket, the Canadians eked by the Swedes, winning 3-2. This set up America vs Canada, for the gold medal, in the best of three series.
Going into this game, it was a foregone conclusion, that despite Team USA beating Canada earlier in the tournament, that Canada would prevail in a Best of 3 series. At least that's what Canadians thought. As Theo Fleury said, "In Canada, we don't play for second place." When Team Canada won Game 1, in Philadephia, by the score of 4-3, in OT, it looked likely that the Canadians would prove their hockey dominance again, as the final two games of the series would be played in Montreal. On a sidebar, just imagine being on St. Catherine's Street after Team USA stunned Canada in Game 3?
When I say, in my opinion, this was game featured the most amount of talent ever in a meaningful game, take a look at the rosters. The following roster information comes from Wikipedia.com:
TEAM CANADA
Coaches
Players
| Position | Name | Birthplace | 1995–96 team |
| --- | --- | --- | --- |
| D | Rob Blake | Simcoe, Ontario | Los Angeles Kings |
| F | Rod Brind'Amour | Ottawa, Ontario | Philadelphia Flyers |
| G | Martin Brodeur | Montreal, Quebec | New Jersey Devils |
| D | Paul Coffey – A | Weston, Ontario | Detroit Red Wings |
| D | Sylvain Côté | Quebec City, Quebec | Washington Capitals |
| F | Vincent Damphousse | Montreal, Quebec | Montreal Canadiens |
| D | Éric Desjardins | Rouyn-Noranda, Quebec | Philadelphia Flyers |
| F | Theoren Fleury | Oxbow, Saskatchewan | Calgary Flames |
| D | Adam Foote | Toronto, Ontario | Colorado Avalanche |
| F | Adam Graves | Tecumseh, Ontario | New York Rangers |
| F | Wayne Gretzky – C | Brantford, Ontario | St. Louis Blues |
| G | Curtis Joseph | Keswick, Ontario | Edmonton Oilers |
| D | Ed Jovanovski | Windsor, Ontario | Florida Panthers |
| F | Claude Lemieux | Buckingham, Quebec | Colorado Avalanche |
| F | Trevor Linden | Medicine Hat, Alberta | Vancouver Canucks |
| F | Eric Lindros – A | London, Ontario | Philadelphia Flyers |
| F | Mark Messier – A | Edmonton, Alberta | New York Rangers |
| D | Scott Niedermayer | Edmonton, Alberta | New Jersey Devils |
| D | Lyle Odelein | Quill Lake, Saskatchewan | Montreal Canadiens |
| F | Keith Primeau | Toronto, Ontario | Detroit Red Wings |
| G | Bill Ranford | Brandon, Manitoba | Boston Bruins |
| F | Joe Sakic | Burnaby, British Columbia | Colorado Avalanche |
| F | Brendan Shanahan | Etobicoke, Ontario | Hartford Whalers |
| D | Scott Stevens | Kitchener, Ontario | New Jersey Devils |
| F | Pat Verbeek | Sarnia, Ontario | New York Rangers |
| F | Steve Yzerman – A | Cranbrook, British Columbia | Detroit Red Wings |
TEAM USA
Coaches
Players
| Position | Name | Birthplace | 1995–96 team |
| --- | --- | --- | --- |
| F | Tony Amonte | Hingham, Massachusetts | Chicago Blackhawks |
| G | Jim Carey | Dorchester, Massachusetts | Washington Capitals |
| D | Shawn Chambers | Sterling Heights, Michigan | New Jersey Devils |
| D | Chris Chelios | Chicago, Illinois | Chicago Blackhawks |
| F | Adam Deadmarsh | Trail, British Columbia, Canada | Colorado Avalanche |
| F | Bill Guerin | Wilbraham, Massachusetts | New Jersey Devils |
| D | Derian Hatcher | Sterling Heights, Michigan | Dallas Stars |
| D | Kevin Hatcher | Detroit, Michigan | Dallas Stars |
| G | Guy Hebert | Troy, New York | Mighty Ducks of Anaheim |
| D | Phil Housley | Saint Paul, Minnesota | New Jersey Devils |
| F | Brett Hull | Belleville, Ontario, Canada | St. Louis Blues |
| F | Steve Konowalchuk | Salt Lake City, Utah | Washington Capitals |
| F | Pat LaFontaine | St. Louis, Missouri | Buffalo Sabres |
| F | John LeClair | St. Albans, Vermont | Philadelphia Flyers |
| D | Brian Leetch – C | Corpus Christi, Texas | New York Rangers |
| F | Shawn McEachern | Waltham, Massachusetts | Boston Bruins |
| F | Mike Modano | Livonia, Michigan | Dallas Stars |
| F | Joel Otto – A | Elk River, Minnesota | Philadelphia Flyers |
| G | Mike Richter | Abington, Pennsylvania | New York Rangers |
| F | Brian Rolston | Flint, Michigan | New Jersey Devils |
| D | Mathieu Schneider | New York, New York | Toronto Maple Leafs |
| F | Bryan Smolinski | Toledo, Ohio | Pittsburgh Penguins |
| D | Gary Suter | Madison, Wisconsin | Chicago Blackhawks |
| F | Keith Tkachuk – A | Melrose, Massachusetts | Winnipeg Jets |
| F | Doug Weight | Warren, Michigan | Edmonton Oilers |
| F | Scott Young | Clinton, Massachusetts | Colorado Avalanche |
When you look at these rosters, there are some noticeable omissions, from an already stacked Team Canada roster. Both Ray Bourque and Mario Lemieux didn't want to play in the tournament, citing family reasons. Patrick Roy, who wanted to be the starting goalie and already had an adversarial relationship with Team Canada, also wasn't there. Keep in mind, the Roy snub was probably the worst of all, as Roy just came off winning the Stanley Cup with Colorado in 1996.
When you look at Team USA, you really had the best Americans all suited up. There was no omission on their roster that could compare to Super Mario, Bourque or Roy. The Americans just didn't have the same talent pool to select from as Team Canada did.
The biggest wild card in all of this? Brett Hull.
Brett Hull, was a dual citizen, as he was born in Ontario, but spent his formative years in Chicago, as his father Bobby Hull skated for the Chicago Blackhawks. As a dual citizen, Hull was eligible to represent Team USA or Team Canada. Instead of making a decision himself, Team Canada made it for him, when Team Canada snubbed Brett from the 1986 IIHF World Championships. However, Team USA welcomed Brett with open arms, and from that point in 1986, Brett Hull always wore the Team USA jersey.
How big was Brett Hull? In the 1996 WCOH, Hull would lead all scorers in the tournament, finishing with 7 goals and 4 assists in 7 games. If you take Hull away from Team USA, USA would've been in trouble. If you take Hull away from USA and put him with Canada, USA wouldn't have stood a chance. It was the Hull snub of 1986 that helped Team USA a decade later.
Brett Hull, no stranger to controversy, was a huge asset to Team USA both on and off the ice. When Team USA was getting booed in Canada, Hull welcomed the boos and riled up the crowd. Hull thrived in the controversy and was able to bear the brunt of hostile crowds. Hull, who Canadian fans felt spurned them, despite Team Canada giving him the "get outta here" hand wave first, was even booed in Canada when the Americans beat the Russians.
For those not familiar with international hockey history, the Russians, not the Americans, have been Canada's biggest rivals. For Canadian fans to cheer the Russians, that really says something. It just goes to show you how much the Canadian fans were upset with Hull, despite Hull being the innocent party in this situation.
As talked about in prior blogs, the Delorean blogs are my favorite blogs to do. As a fan of American history and sports history, doing these blogs is either a fun trip down memory lane or a learning experience. I have found that this blog resonates with older fans, so doing these old school game reviews connects well with my reading audience.
When I was looking for an old game to watch (And if you're reading Mike Jurkowski, I'm going to have to hit up your DVD collection again) this 1996 WCOH Game 3 felt like fate. I had several reader emails and tweets, asking me to give this game my special BCBS spin, as let's face it, you can't find these types of blogs anywhere else.
I was hesitant at first to re-watch this game, because after all, it's not a Rangers game and this is a Rangers fan site. However, on July 4th, while unwinding after a great day with family, I flipped on the NHL Network as I always do, and found them airing a documentary on the World Cup of Hockey tournament. Between readers asking me to cover this game and while screaming "USA! USA! USA!" from my couch, while watching this documentary, I knew I had to watch this game again. If I'm going to make a non-Rangers game exception here, what better game to give the Delorean blog treatment to, than a Team USA win?
Quick aside – if anyone has any Rangers vs Seals footage, especially the game where the Rangers beat the Seals 12-1, please contact me at BULLSMC@aol.com or hitting me up on twitter @NYCTHEMIC. As you'll see by a future book blog, I just read a 500+ page book on the Seals and dying to see a full game from them.
Like the previous Delorean blog I did, linked at the top of this blog, I was alive for this game. When Team USA and Team Canada went for the Gold in 1996, I was 14 years old and entering high school. Going into this blog, I re-watched this entire Gold medal series.
Before re-watching this series, my memories of this series was Mike Richter, Brett Hull and John LeClair being beasts. I remembered Hull was a scoring machine, but with this game now 22 years old, I couldn't remember how all those goals were scored. I didn't remember individual plays really, outside of the fantastic second period Richter had. Of course, this image was remembered: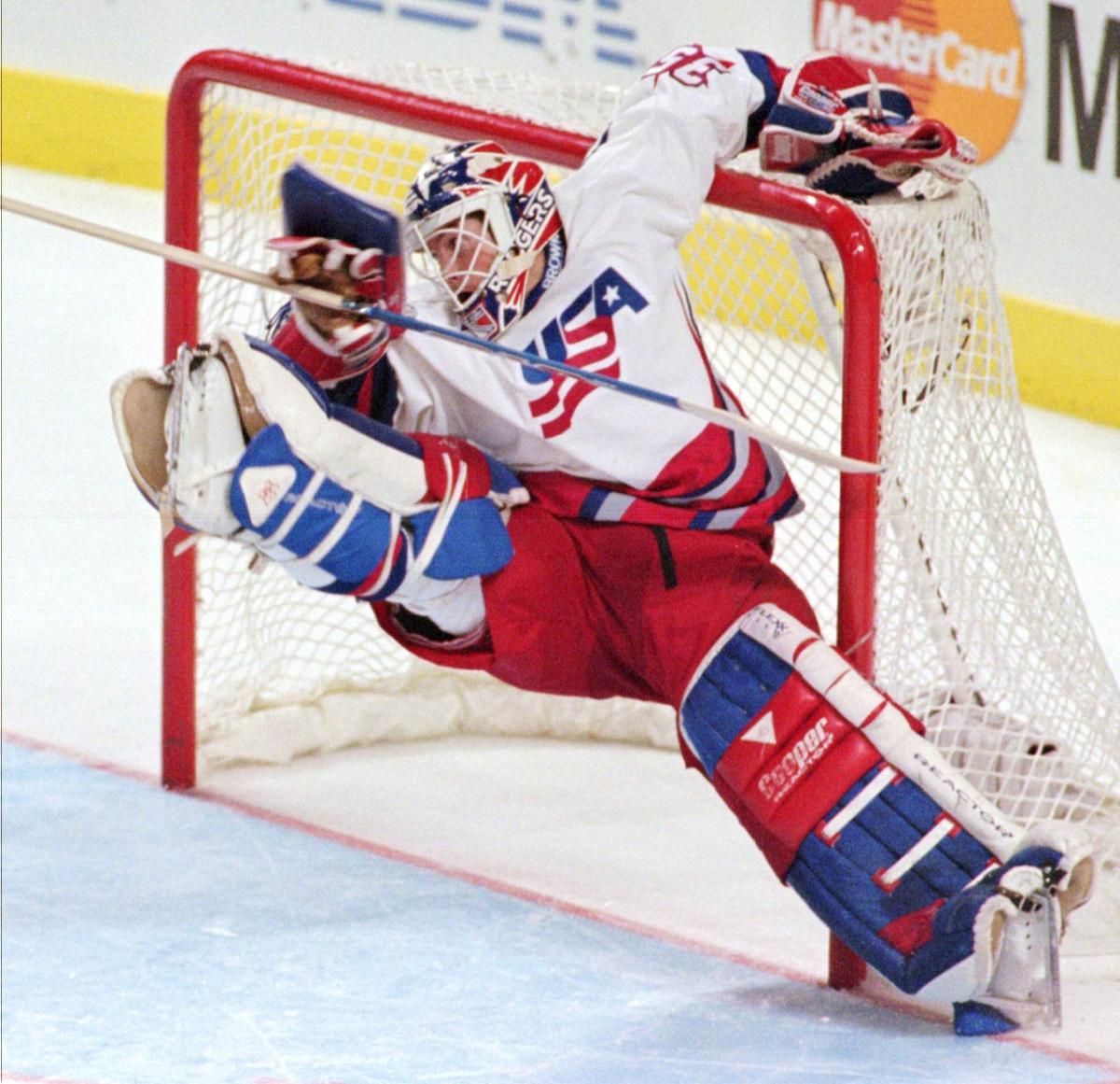 What is great about this era of time,  (2018) is that via the world being smaller with all the streaming, social media and all that other happy horseshit, is that you can see any game or play, anywhere in the world, as it happens. Back in 1996, it wasn't exactly like that. A great Mike Richter save, today, would go viral and have 250,000 views an hour after it happened. In today's era, you're slammed with highlights, non-stop, as opposed to back then, when you saw the highlight, but it wasn't aired to the point of redundancy.
Going back in time, and being able to see this game again, now at 36 years old, with a better understanding of the history of the importance of the game and with a better knowledge of the game and players involved, it's truly a treat. For those who want to re-live this era of time and for those who weren't alive when it happened, here's the game in its entirety:
This era of time is quite special, as back in the day, if you missed a Rangers game live, it was tough to find a replay. Now, you can find anything on Twitter or Youtube in seconds. If there's anything great about this snowflake society we live in, it's the fact that technology and the access to any clip, of anything, is available in less than 2 seconds.
4000+ words and I haven't even gotten to the game yet. I guess that's what makes this blog unique and hated by the ADD generation!
As always on these Delorean blogs, let's take a look at the world in 1996.
The following information comes from ThePeopleHistory.com
Cost of Living 1996
How Much things cost in 1996
Yearly Inflation Rate USA 2.93%
Year End Close Dow Jones Industrial Average 6448
Interest Rates Year End Federal Reserve 8.25%
Average Cost of new house $118,200.00
Average Income per year $36,300.00
Average Monthly Rent $554.00
Cost of a gallon of Gas $1.22
US Postage Stamp 32 cents
Average cost of new car $16,300.00
Loaf of Bread $1.15
Minimum Hourly Wage Raised To $5.15
It's amazing how much easier it was to live, just 22 years ago. All you needed was an AOL CD-ROM and a $50,000 a year salary, and you were set for life.
You probably won't believe this, but when I saw that "Loungin'" was on the charts in September of 1996, I instantly remembered all the lyrics. This was one of the hot songs of my high school parking lot, MTV and various "Walkman's".
Here's Billboard's Top 10 Songs of 9/14/1996:
"Macarena" by Los Del Rio. You may have heard of this one.
"I Love You Always Forever" by Donna Lewis. I don't remember this one.
"Twisted" by Keith Sweat. No clue what this was.
"Loungin" by LL Cool J. This was when LL Cool J was killing it with this and "Doin' It"
"Change The World" by Eric Clapton. This was from a John Travolta Scientologist propaganda movie.
"C'mon N' Ride It (The Train)" by Quad City DJ's. I unfortunately remember this one.
"It's All Coming Back To Me" by Celine Dion. Most people my age would remember this one.
"You're Making Me High/Let It Flow" by Toni Braxton. To this day, I don't think I know what Toni Braxton sounds like.
"I Can't Sleep Baby" by R. Kelly. This was before he publicly pissed on women.
"You Learn" by Alanis Morissette. This is when she got famous for crying about Uncle Joey on "Full House."
When it comes to movies, "Bulletproof" with Adam Sandler, was the number one movie in America. Never saw it. Of note, "A Very Brady Sequel" was 9th, making $2.6M at the box office.
And, to quote Triple H, who would be part of the WWF's Degeneration X just a year later in 1997, "ARE YOU READY?" Let's take my 36 year old self, back to 9/14/1996, for Game 3 of the World Cup of Hockey!
NOTE: AS ALWAYS DURING THESE "DELOREAN" (FLASHBACK GAME REVIEW) BLOGS, I AM PRETENDING THAT I AM 36 YEARS OLD HERE ON 9/14/1996 AND WRITING THIS IMMEDIATELY AFTER THE GAME ENDED. IN REALITY, I WAS A 14 YEAR OLD SNOT NOSED PUNK, GOING THROUGH THE RIGORS OF HIGH SCHOOL. ALSO WORTH MENTIONING, UNLIKE PREVIOUS DELOREAN BLOGS, I DON'T HAVE TO PRETEND THAT THE INTERNET DOESN'T EXIST!
What's up everyone and welcome to another blog here on BlueCollarBlueShirts.com, your number one source for Ranger blogs, here on the AOL Grandstand Message Boards. By the way, did you see that interview that Neil Smith did on the AOL Grandstand? Me neither! Wake up Rangers, the AOL Grandstand is where it's at and it would be great if you were more interactive here. I gotta sit through this and can't even get any Rangers info here on the Grandstand:
On Saturday, September 14th, 1996, Team USA accomplished its biggest feat since the "Miracle on Ice" of 1980. They won Gold in an international hockey tournament. Even better, Team USA beat the greatest hockey players in the world to win this gold medal, unlike the Miracle on Ice team that didn't beat NHLers.
You have to wonder, after Team USA's 5-2, Game 3 win over Team Canada, if this win will motivate & inspire a new generation of hockey players? After all, some players on this Team USA roster were inspired by the 1980 USA team. I mean, who knows, maybe this tournament will be so successful, that some kid in sunny Arizona will want to play hockey.
You also have to wonder if the Olympic committee, after seeing this tournament, will try to work a resolution with the NHL for the 1998 Nagano games. If there is one thing everyone an agree on, the competition here, in the 1996 WCOH, has been far superior than anything from any Olympic game.
As far as reasonable talk here, let me get this out of my system first: "USA! USA! USA!"
As you know by reading my Game 1 and Game 2 reviews of this tournament, hockey isn't America's specialty. If you want to talk about basketball or football, America will crush you. We'll even put up a fight in baseball. However, in hockey, which is the national sport of Canada, it's tough for America to knock off our northern neighbor. Well, that was the thought, before America stuck their foot on Canada's neck, beating Team Canada in games 2 & 3 with back-to-back 5-2 scores.
For USA Hockey, this WCOH victory is a monumental moment. For Canada, this is a sorry state of affairs which will lead to a lot of second questioning. The two biggest questions, with 20/20 hindsight, are "where were you Super Mario?" and "why the hell would Team Canada not invite Patrick Roy on their roster? At the end of the day, perhaps Team Canada and people like Ray Bourque & Mario Lemieux, just thought that this would be another easy waltz and a golden moment for their nation. Needless to say, Mike Richter and Brett Hull had other plans.
Let's be honest – this World Cup of Hockey tournament didn't get major play or talk here in America. It was a blip on the radar. In Canada, it's the only sports subject Canadians could talk about. While Canadians were breaking down WCOH lines, American fans were more concerned about the NFL preseason and about the upcoming baseball playoffs. Speaking of- mark my words right now: THE YANKEES WILL WIN THE WORLD SERIES. That's right, I said it!
I found a link, using the AOL keywords, which brought me to a story of Canadian bars looking more depressed than Seattle. This loss was that painful to Canadian fans. Here, in the States, it felt ho-hum that America won. I was really hoping for more media coverage and fanfare. I guess people would still rather talk about the 72-10 championship Chicago Bulls or Week 3 of the NFL season.
For Team USA, they defeated their toughest opponents ever, in international play, in this Game 3. While the final score reads 5-2, this game was much closer than the black & white suggests. With Stanley Cup Champion Mike Richter in net, the Canadians could never run away with this game, no matter how many shots they put on net. The backbone of Team USA would get the MVP after the tournament.
Before getting into the game review itself, here's the box score, courtesy of TheIHLC.com:
BOXSCORE
1st Period
02:49 – 
PEN – Chelios, interference
07:37 – 
PEN – Lemieux, interference
10:29 – 
PEN – Damphousse, holding
11:18 –
 PP GOAL – Hull (Leetch, Weight)
2nd Period
25:08 – 
PEN – Lindros, high sticking
28:38 – 
PEN – Guerin, cross checking
30:16 – 
PEN – Chelios, slashing
30:42 – 
PEN – Fleury, roughing
30:42 – 
PEN – D. Hatcher, roughing
34:14 – 
PEN – Shsnahan, interference
38:05 – 
PEN – Foote, slashing double minor
38:05 – 
PEN – Tkachuk, slashing major + 10 min. misconduct
38:32 – 
PEN – Otto, roughing
38:32 – 
PEN – Stevens, roughing
39:13 – 
PEN – D. Hatcher, roughing
39:54 –
 PP GOAL – Lindros (Coffey, Gretzky)

3rd Period
43:29 – 
 PEN – Coffey, high sticking
43:29 – 
 PEN – Guerin, high sticking
52:50 –
 GOAL – Foote
56:42 –
 GOAL – Hull (Leetch)
57:25 –
 GOAL – Amonte (D. Hatcher, Smolinski)
59:18 –
 EN GOAL – D. Hatcher
59:43 –
 GOAL – Deadmarsh

GOALTENDERS
W:
 Richter (35-37)
L: 
 Joseph (20-25)
SHOTS ON GOAL

 5+9+11 = 25

 10+22+5 = 37
ROSTERS

 Goaltenders: Guy Hebert, Mike Richter. Defence: Chris Chelios, Derian Hatcher, Kevin Hatcher, Brian Leetch (C), Mathieu Schneider, Gary Suter. Forwards: Tony Amonte, Adam Deadmarsh, Bill Guerin, Brett Hull, Pat LaFontaine, John LeClair, Mike Modano, Joel Otto, Bryan Smolinski, Keith Tkachuk, Doug Weight, Scott Young.
 Goaltenders: Martin Brodeur, Curtis Joseph. Defence: Paul Coffey, Éric Desjardins, Adam Foote, Scott Niedermayer, Lyle Odelein, Scott Stevens. Forwards: Rod Brind'Amour, Vincent Damphousse, Theoren Fleury, Adam Graves, Wayne Gretzky (C), Claude Lemieux, Trevor Linden, Eric Lindros, Mark Messier, Joe Sakic, Brendan Shanahan, Steve Yzerman.
Powered by the remarkable performance of Mike Richter (35 saves on 37 shots) and Brett Hull's two goals, Team USA vanquished Team Canada to win this game 5-2. While the score may suggest a blowout, Team Canada put up a hell of a fight, before Team USA ran away with it.
I could only imagine what the scene in Montreal is right now. After all, Canada escaped Philly with an overtime Game 1 win. Game 2 was played in front of a rowdy environment. Then, in Game 2, Team USA made short work of Canada, winning 5-2. Team USA posted the same tally on Team Canada in Game 3, leaving Canada to cry in their poutine and maple syrup.
Finally, after much ballyhoo, let's get into the game itself.
Right off the bat, let me say this – this the most physical international game/series you'll ever see. Unlike those soft Swedes and the dainty Olympic rules, this whole tournament was played under NHL rules, which meant the hitting, the cheap shots and the pure ruthless aggression, was on display, like never before. I don't think you'll ever see another international game as physical as this one, again. Keep in mind, all these guys have the NHL season ahead of them, yet they were kicking the crap out of each other on the ice.
USA 🇺🇸 pic.twitter.com/NGgR1vYlmK

— BlueCollarBlueShirts (@NYCTheMiC) July 7, 2018
Emotions were running high before puck drop, as Canadian fans even booed the American national anthem.
These are the types of games you wish you could be at, as the crowd here was more electric than a toaster in a bathtub. Emrick and JD warned Canadian fans that Team Canada must keep an eye on Brett Hull. Canada did, as they watched him score two goals and dominate this game!
Speaking of Emrick, does anyone speak as fast and as eloquent as Emrick? His commentary comes as fast as the Micromachine's man, but he flows as effortlessly as LL Cool J.
As an example of the physical play, here's Bill Guerin making Paul Coffey grinds:
Guerin makes Coffey grinds pic.twitter.com/eGPyLZxgYm

— BlueCollarBlueShirts (@NYCTheMiC) July 7, 2018

On Canada's first PP of the game, Richter stood tall, stopping all comers, including denying two Canada rebounds.
Gretzky had several chances to set up goals early in the first period, but each opportunity came up just short. What didn't come up short was the checking, as each team finished off their man like they were an Asian Masage Parlor looking to make ends meet.
Team USA, who was without a shot in the first 8 minutes of the game, would get a PP after dirty Claude Lemieux made his presence known:
Wings fans would agree, Lemieux has always been dirty pic.twitter.com/Uks5m0Aws2

— BlueCollarBlueShirts (@NYCTheMiC) July 7, 2018
LeClair would land some body on his own, crushing Rob Brind'Amour on the USA PP.
Mike Richter would be forced to make big short handed saves. Here's one of them from the first period:
Kings gonna king pic.twitter.com/qBzCZzA5Zf

— BlueCollarBlueShirts (@NYCTheMiC) July 7, 2018

Vincent Damphousse would be called for holding after the ten minute mark. On Team USA's second PPG of the game, Brett Hull and Brian Leetch put Team USA on the board to break up the nil-nil score:
Leetch with the pass, but this is all Hull pic.twitter.com/ijO9Ska22b

— BlueCollarBlueShirts (@NYCTheMiC) July 7, 2018
1-0, Good Guys!
Yes, I'm a Rangers fan, but I gotta admit, while Leetch got the assist, this goal is all Hull. CuJo had no chance on this Darryl Strawberryesque blast.
Canada, feeling the pressure, came back with more physicality and relied on the dump and chase. Team USA was ready for them at every corner. Lindros, trying to use his size, was routinely embarrassed by Brian Leetch.
Later in the first period, Joel Otto almost put the red, white and blue up 2-0, but luckily for CuJo and the Canucks, Otto only got the wrong side of the iron.
After a pressure cooker of a first period, 1-0 Team USA.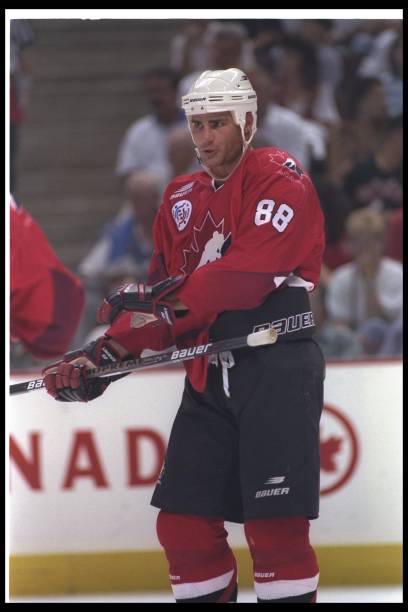 The second period was the Mike Richter show, as he made 21 saves on 22 shots. Unfortunately, the only goal allowed came with only seconds remaining in the second period.
The second period was a hellacious period for an already liberal referee crew, as they were forced to call 11 penalties. They could've called 30 penalties if they wanted to. Just take a look at the box score. Team Canada, tried to take the Americans out of the game, but Team USA held their composure.
Team USA would put Team Canada on 5 vs 3 PP and for some reason, Glen Sather switched goalies, putting Brodeur in for CuJo. Odd move. But hey, this gave us Richter vs Brodeur.
While on the 5 vs 3 Team Canada PP, frustration and tempers flared, as Richter was able to keep Canada off the board:
All this talent and Richter stands tall on a 5 v 3 pic.twitter.com/LsN0Irpko5

— BlueCollarBlueShirts (@NYCTheMiC) July 7, 2018

Team Canada had a 20 shots on goal lead on Team USA after the second period. If it wasn't for Mike Richter, this game could've got ugly for the Americans. Richter's rebound control was like nothing you've ever seen. At one point, Team Canada was outshooting Team USA 28-8.
Richter was so dominant, that he was able to draw multiple penalties, as Team Canada kept crashing the net and Richter himself. However, with the PP's, Team USA couldn't make Canada pay.
With under two minutes to go, the refs missed a few penalties, but then looked for penalties via replay. WTF? These refs missed the penalties, the players went to the bench and then the referees decided to wake up. Brutal officiating.
Even worse, since this call went against the Americans, this "search-for-a-penalty" replay took Keith Tkachuk out of the game, thus giving Team Canada a PP. Yes, Tkachuk deserved to be penalized, but I've never seen the referees stop play and look at a replay to call a penalty before. This was BIASED officiating. You just can't call penalties after replay and with players on the bench. Granted, these are penalties:
Replay penalties??? pic.twitter.com/G0KIdFJOiH

— BlueCollarBlueShirts (@NYCTheMiC) July 7, 2018
The anger was overflowing here, but I've never seen penalties called after the fact. This is why people said the Canada Cup officiating was biased.
Right after this, Otto and Stevens were both boxed for roughing. The referees, at this point, had completely lost control of the game. You didn't know what was going to be called and when the referees were going to decide to call ticky tack bullshit.
After another bullshit penalty, this time called on Derian Hatcher, Team Canada finally scored on their 78967868768796896th powerplay. I'm not even going to share the Lindros goal, which came with six seconds left in the second period, as I don't want to give these referees anymore coverage.
After forty minutes, and with bragging rights on the line, the score was USA 1, Referees 1.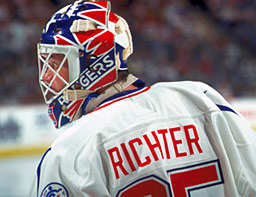 In the third period, Team USA waited ten minutes before having enough of Team Canada's and the refs's bullshit.
Three minutes into the period, Guerin, and the returning Paul Coffey, were both boxed for high sticking. Those would be the last penalties of the game.
Team USA, after letting Richter getting peppered in the second period, took control of this game. Canada would only see 5 shots on goal in this third. Unfortunately, one of those shots went in, as Adam Foote gave Team Canada a lead, with under 8 minutes to go in the game. Fortunately for us American fans, this would be the last Canadian goal of the game.
And for the record, with only 7:10 remaining, 2-1 bad guys, courtesy of the Foote goal.
With the Canadians up 2-1 and with the clock ticking under the five minute mark, the Americans had to wake up. And wake up they did.
With 3:18 remaining in the third, Brett Hull, because who else, tied the game:
Leetch and Hull again! pic.twitter.com/viHgqz7DW2

— BlueCollarBlueShirts (@NYCTheMiC) July 7, 2018

And how about Brian Leetch, picking up another assist? Gotta put the puck on net because good things happen! USA! USA! USA!
2-2 game. At this point, it was a next goal wins type of game.
With 2:35 remaining in the game, Tony Amonte put the dagger straight into the maple leaf:
Amonte gets one by CuJo!!! #usa pic.twitter.com/MPmLNrkMuS

— BlueCollarBlueShirts (@NYCTheMiC) July 7, 2018
Goodnight Irene! 3-2 good guys!
With little time remaining, the Montreal crowd was stunned. Even more stunned were Emrick and JD, who tried to jinx Richter on air. Like Canada's attempt at winning this game, it didn't work. It's funny too, I can understand why JD was rooting for Canada, but I don't get why the American Mike Emrick was. Is he like Brett Hull, and looking for dual citizenship too?
Richter, who did keep Canada off the board, saw his American team get under the one minute mark. Team Canada pulled CuJo, but it was for naught, as Derian Hatcher sealed the deal, and scored the empty net goal. 4-2, good guys. Game over. Even bigger, Gretzky just missed the tying goal on the rush previous.
Then again, maybe it wasn't game over. With 17 seconds remaining, Adam Deadmarsh gave Team Canada the feeling of a prostate exam, connecting to score this goal, to give the Americans a 5-2 lead and more importantly, the 5-2 victory!
Here's Deadmarsh:
See ya Canada pic.twitter.com/CROJha2vwH

— BlueCollarBlueShirts (@NYCTheMiC) July 7, 2018
5-2, your final. TEAM USA WINS!
While relishing in the Team USA win, all I gotta wonder is this – what is Patrick Roy, Ray Bourque and Mario Lemieux feeling like right now?
Of note, give credit to Mark Messier. He sought out Mike Richter right away on the handshake line. Pure class from the greatest Captain in all of sports.
All in all, when this game is remembered years from now, it will be right up there with "The Miracle on Ice".
I hope you enjoyed this special World Cup of Hockey blog, here on the BlueCollarBlueShirts.com. Now, let's hope BIG BLUE  takes care of business tomorrow, when they take on the Redskins. Dave Brown will lead us to the promised land!
And for those wondering, my 1996-1997 NHL Preview blog will be posted next week. For those looking for a quick taste, my 1997 Stanley Cup Final prediction is the Rangers over the Redwings in 6! See ya then!
---
And we're back from 1996 and returned safely, here in the year 2018.
To this day, USA Hockey has never won a gold medal in international play, since this 1996 WCOH. Whether it was the Olympics, the IIHF Worlds or two other WCOH tournaments, the best Team USA ever did was finish with the silver. Team USA is currently in a major funk, as they finished in 7th place during the 2018 Olympics (No NHL players) and in 4th place during the 2014 Olympics. (With NHL players.)
Hockey is Canada's sport. It's also the preferred sport in some European countries, in addition to Russia. In America, hockey is the fourth biggest pro sport, that is, if you don't count MMA, college basketball or college football. Even the WWE draws bigger TV ratings & is now a multi-billion dollar operation. However, despite hockey being the little brother in the sports landscape of America, America has fielded an Olympic hockey team for nearly 100 years. (2020 will be the centennial.) In all that time, America only has 2 Olympic Gold medals, 2 IIHF Gold medals and this World Cup of Hockey win.
When you break down the talent involved in every international game that America has ever been in, I don't see how any win was bigger. This 1996 WCOH Team USA win was Team USA's toughest out, in the history of their gold medal wins.  Yea, I know the feedback will be about 1980 and I get that. However, to me, the 1996 WCOH win was the crown jewel for Team USA.
It's easy to get nostalgic about Lake Placid, the Cold War, beating up Vladislav Tretiak and all that, but the bottom line is this – the 1980 Olympics didn't feature the best of the best in the world. The 1980's tournament didn't feature the best American or Canadian hockey players either. If anything the 1980 win, looking at it through 2018 eyes, was more about beating the Russians during the Cold War, than planting your flag in the land of hockey dominance. This 1996 tournament was USA proving they were the better hockey team, with no political strings attached.
Some of you may read this and try to come up with an international game that you think rivals the star power of this 1996 WCOH gold medal series. I welcome that and await your feedback.  I'll be here.
Now, for shits & kicks during this summer-time break, let's get into what many of you clicked this link to read about – Mike Richter vs Henrik Lundqvist!
NOTE: Due to feedback received from my last blog, where some readers said the page loaded slowly due to all the media involved, for the first time ever, I have to add a second page here. You know me, I never look for artificial site hits by breaking up my 10,000 word blogs into multiple pages, but due to the media on this page, I had to make this two pages! A rarity here on BlueCollarBlueShirts.com!
If you're not interested in the Mike Richter vs Henrik Lundqvist debate, I bid you adieu and I thank you for reading. For page 2 of this blog, featuring an in-depth look at Mike Richter vs Henrik Lundqvist click below:
Sean McCaffrey
BULLSMC@aol.com
@NYCTHEMIC on twitter