What's up everyone and welcome to another blog here on BlueCollarBlueShirts.com. This is going to be a short one tonight, but I promise a bunch of content before the playoffs start. I'm even doing a guest spot on the "Hudson Valley Hockey Podcast" this week, so I'll plug that once that is online.
I opted to skip recapping NYR's loss to Ottawa on Saturday afternoon, because after all, it was a meaningless game. The only thing that was worth mentioning in that game, is that Lundqvist has to stop shots like the one Brassard put past him.
We all know that goalies don't exactly play each other head-to-head, the teams in front of them do. However, when you're going up against a guy like Carey Price, a soft goal allowed by Lundqvist could change the final result of the game. I'll talk more about this in my "NY RANGERS 2016-2017 REPORT CARD & PLAYOFF PREVIEW" blog, which I'm hoping to have ready either Monday night or Tuesday morning.
As far as tonight's blog, the Rangers defeated the Pittsburgh Penguins 3-2, at MSG. With Alain Vigneault deciding to rest Henrik Lundqvist (who was always scheduled to sit this game) & Antti Raanta (had a minor knee injury, where if he had to play, he could've, but AV decided to not risk it), AV turned to Wolfpack goalie, Magnus Hellberg, to close the season. For the first time in a long time, a Swedish goalie finally beat the Pittsburgh Penguins!
This game was meaningless for both teams, with the main goal being to get out of this game injury-free. However, I attended this game, because while the play on the ice really didn't mean anything in the big picture, I wanted to see the Steven McDonald Award Ceremony.
Earlier in the day, team captain Ryan McDonagh was named the Team MVP. I have no qualms about that. He deserves it. I'll talk more about this in my Rangers Report Card blog, but I thought McDonagh was the best Ranger all year. It's good to see your captain win a team award like this.
In the other award handed out earlier in the day, Jesper Fast won the "Player's Player Award", given to the player who is thought to be the best teammate. I'm not high on Fast like everyone else is. I just don't see how Fast wins this over Zuccarello. I mean, in essence, this is the same type of award as the Steve McDonald Award. Whatever, it's a nice pat on the back for Fast.
In a classy ceremony presented by the Rangers & the McDonald family, Mats Zuccarello was named the Steve McDonald Extra Effort Award winner. While the Rangers have several team based awards, this may be the award valued most. Certainly with the passing of Steve McDonald earlier this year, this award was something every Ranger wanted.
While my pick for this award would've been Antii Raanta, I have no problems with Zuccarello. I know I have mentioned this before, but it gets lost in the shuffle with you guys, because of everything else I write, but Zucc has been my favorite Ranger on this team for the last two years. He reminds me of Jeter a bit – beloved by men and women alike. Men respect and love his hustle & strong play, while women enjoy his play and his looks. It still surprises me that he doesn't have an "A" on his sweater.
This was a very wide open field this year. Is that good or bad? Depends on how you look at it. For a playoff team, the Rangers had many contributors to the teams success. No one really stood head and shoulders above anyone else. While I thought Raanta should've got it (He had a similar season to Talbot's 2015, when Talbot won it), Zucc led the team in points & assists. You could've also made a case for McDonagh, Grabner, Miller, Hayes, Kreider, Fast and even Holden to a degree. The one person you couldn't make a case for – the highest paid player on the team, Henrik Lundqvist. Funny how that works out.
For those wondering, here's a list of all the winners of this now prestigious team award, courtesy of Wikipedia:
If you visit the Rangers social media pages or the official website, the team has posted videos of the ceremony, the Steve McDonald tribute video and other cool things from this night. I got work early tomorrow or I'd throw you the links here. I thought Conor McDonald, the son of Steve, did a good job with his short speech. This couldn't have been easy for Conor & his family. While I'm glad this award lives on, it's gotta be tough for Conor to be reminded of his father's passing.
I was also told from my friend Joe, who is a Penguins fan, that the Penguin telecast aired the entire ceremony. The Penguin announcers also praised the prestige of the award. The Penguins and their staff all stayed on ice for this ceremony & showed respect to the McDonald family. Say what you want about the Penguins, but they could've hung out in the locker room for this. They were out there stick-tapping and clapping just as hard as the 18,000+ wearing Rangers gear.
All in all, this was a classy ceremony. I wouldn't have expected anything less. While we all give this franchise shit at times, most of it deserved, especially when it comes to the fan experience at M$G, the ineptness of James Dolan, being tortured by Micheletti, etc, when the Rangers do positive things, they usually knock it out of the park, such as their Garden of Dreams work & this ceremony tonight.
RIP Steve McDonald & I'm glad to see this award live on in your memory.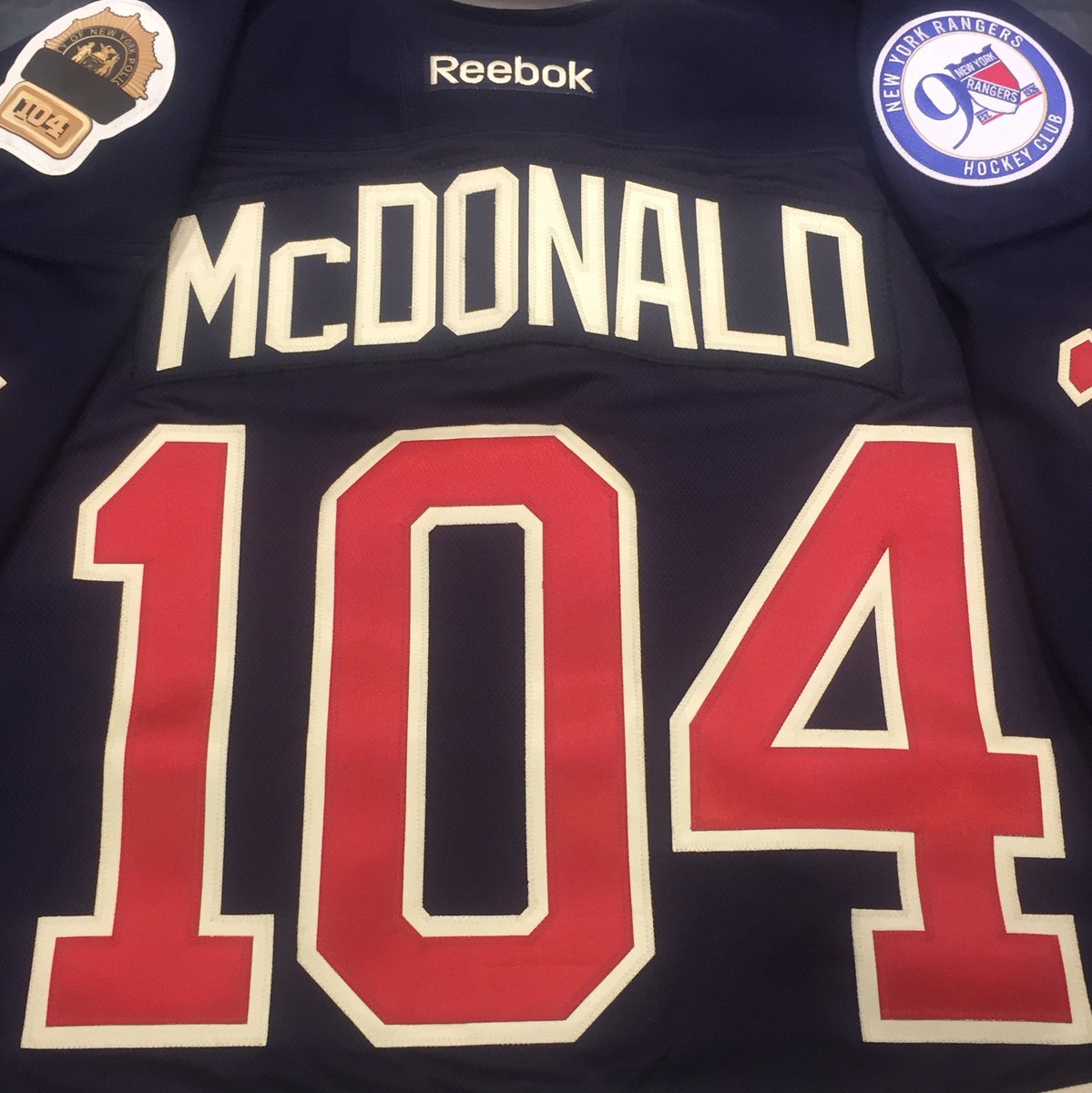 The game on Saturday afternoon in Ottawa was a mess. You couldn't analyze it because half the team didn't play. I saw some people doing the "one and done" talk after the game. If you're gonna say that, at least say it after a game of worth. By tomorrow, you will forget that game ever happened.
As far as tonight's game, while I didn't think this game meant anything, I did want to see the Rangers play well for several reasons:
It was McDonald night and I really wanted to see a win for the occasion.
The Rangers have lost a bunch of games lately. Lundqvist was 1-5 in his return, his only win against a non-playoff team, in the Flyers. I do think there is something to "limping into the playoffs." I'm aware the full team didn't play for some of these games, but still, you don't want to be beaten and battered like Rihanna going into the tournament.
All this shaking and baking from AV with his lines had to produce a positive result.
Selfishly, I wanted to use my "FINALLY, A SWEDISH GOALIE BEAT THE PENGUINS" tag line!
Let's go to the ESPN boxscore:
1st Period Summary

Time
Team
Scoring Detail
PIT
NYR
9:16

Nick Bonino (18)
Assists: Dominik Simon, Phil Kessel
1
0
13:54

Ryan McDonagh (6)
Assist: Michael Grabner
1
1
18:31

Derek Stepan (17) (Power Play)
Assists: Ryan McDonagh, Mika Zibanejad
1
2
Time
Team
Penalty Detail
18:17

Jean-Sebastien Dea: 2 Minutes for Hooking

2nd Period Summary

Time
Team
Scoring Detail
PIT
NYR
13:38

Carter Rowney (3)
Unassisted
2
2
Time
Team
Penalty Detail
No penalties this period

3rd Period Summary

Time
Team
Scoring Detail
PIT
NYR
7:23

Jimmy Vesey (16)
Assist: Mika Zibanejad
2
3
Time
Team
Penalty Detail
No penalties this period
Goaltending Summary
Pittsburgh Penguins Goaltending

Player
SA
GA
Saves
SV%
TOI
PIM
T. Jarry
25
3
22
.880
58:45
0

New York Rangers Goaltending

Player
SA
GA
Saves
SV%
TOI
PIM
M. Hellberg
24
2
22
.917
59:59
0
This game had no impact on the standings or playoff seeding, so both teams started their AHL goalie & weren't with all their starters. Here's the scratch list:
Pittsburgh Penguins Scratches

Player
Detail
C. Ruhwedel
Scratched
S. Crosby
Scratched
J. Schultz
Scratched
J. Guentzel
Scratched
M. Cullen
Scratched
I. Cole
Scratched
M. Murray
Scratched
C. Sheary
Scratched
T. Daley
Scratched
C. Kunitz
Lower Body Injury
E. Malkin
Shoulder
B. Rust
Scratched
New York Rangers Scratches
Player
Detail
M. Puempel
Scratched
K. Hayes
Scratched
J. Fast
Undisclosed
C. Kreider
Scratched
A. Clendening
Scratched
S. Kampfer
Scratched
B. Smith
Scratched
A. Raanta
Scratched
Tristan Jarry vs Magnus Hellberg was your goalie match up tonight. I thought both goalies played well for the most part, considering the hand they were dealt. Jarry absolutely robbed Tanner Glass on an easy tip in. Hellberg stopped a Penguin breakaway. It's rare to see Swedish Ranger goalies do that these days.
I haven't been following Jarry all year, but for tonight, he was ok. For Hellberg, he's been up and down with the Wolfpack all season. It's hard to really judge him, because the Wolfpack's defense is atrocious. Do you remember when Halverson was supposed to be the successor to Lundqvist? I don't see that happening any time soon, especially with the Rangers feeling more comfortable with Hellberg. Personally, I wish Skapski got the shot tonight, but he's had a rough season since his return from injury. He's been bounced between the Swamp Rabbits & Wolfpack all year. His starts from two seasons ago seem like a lifetime ago now. He will always be the Ginger Buffalo Killer to me.
As far as the thrown together lines, I did like the chemistry between Grabner and Zuccarello. Do we see it in the playoffs? Perhaps, but only if the team needs a shake up. Grabner's speed makes everyone's stretch passes look good. Zucc sets up his teammates better than anyone on the team. I'm surprised AV didn't experiment with this idea sooner.
I attended this game with another wise-ass, glass half-empty fan, someone you may know on the twitter machine, a one @scottyhockey. I remarked to him at the 5 minute mark of the game, when the Rangers had 3 shots, because after all, the Rangers only had 2 shots after 11 minutes the game before. The Rangers would only log 3 more shots for the rest of the period, but fortunately, two of them went for goals.
Nick Bonino, a member of the Cup winning "HBK" line from last year, scored the first goal of the game, 10 minutes in. Bonino got by Vesey and put a rebound by Hellberg. This happened after Hellberg previously stoned a Penguin on a breakaway. Luckily for the Rangers, this wouldn't be a momentum killer.
Ryan McDonagh would score the Rangers first goal of the game, near the 14 minute mark. This goal was similar to the goal Brassard got by Lundqvist on Saturday. McDonagh took a pass from Grabner, skated a bit and wristed, what looked to be a pedestrian shot, right by Jarry. 1-1.
With less than two minutes remaining in the first period, Jean-Sebastien Dea was banged for hooking. 14 seconds into the power play, Derek Stepan scored a PPG from the point. We all know about Stepan's struggles this season. I was even mocked by the previously aforementioned Scott, for thinking Stepan would score earlier in the period. To say that Ranger fans have been underwhelmed by Stepan this season would be an understatement. All I can say, is I hope this is a sign of things to come.
After one period, Rangers 2, bad guys 1. Both goals came from Americans, so USA USA USA to that.
While the Pens doubled up the Rangers on shots in the first period, the Rangers would out-shoot the Pens for the rest of the game, albeit, not by much.
Carter "WHO?" Rowney would tie the game up in the second period, with seven minutes remaining. If you don't know, MSG doesn't really give you replays of the other team scoring. Since I'm pressed for time and didn't watch the MSG in 60 replay yet, I forget who turned the puck over. I want to say Klein. Anyway, Rowner made the Rangers pay for the turnover as he matched McDonagh with a wrister of his own. 2-2.
With the game deadlocked at two going into the third period, all I wanted to see was the best scoring third period team in the NHL do their thing and get the win for McDonald. The Harvard Kid, Jimmy Vesey would do just that, as he scored what would be the game winning goal, with some swift stick work, seven minutes into the period.
The Rangers would go on to win the game and do their annual "Shirts off our back" ceremony, where they give their jerseys to a select few. I have heard numerous stories on how people are selected for this. It's "whatever" to me, I'm just glad it goes to kids. I bailed on this ceremony live, because the LIRR sucks and I would trust Lundqvist to get a shutout against Pittsburgh more than I would trust the LIRR to get their shit together.
There were also many "B" celebrities in MSG tonight, as MSG made sure to focus on each one. The only funny joke I could come up with, is when they featured Matthew Rhys of "The Americans" (I guess his TV & real life wife, Keri Russell, was at home with their newborn) is that I thought he was only there to scout Buchnevich. Get it? Commie humor. Blah.
As a result of all games played, we now know the playoff match-ups. As I write these words, there has been no schedule released, but I'm under the assumption that Game 1 of NYR vs Montreal is on Wednesday.
Here's what we got in the playoffs, with my quick take on each series:
Chicago vs Nashville – I don't see how Nashville upsets Chicago at all. This should be all Hawks.
Minnesota vs St. Louis – I could see this going either way. What Minnesota will show up? I think Minnesota takes it, just because they have the better goalie.
Anaheim vs Calgary – I'm going with the upset here. I think the Flames torch the Ducks.
Edmonton vs San Jose – Like I'm going to pick against McDavid & Talbot. I see an Oil Spill destroying the aquatic life in San Jose.
Washington vs Toronto – If this goes more than 5 games, I'll be shocked. I think the Caps wipe their ass with the Leafs.
Boston vs Ottawa – I think Boston wins because Ottawa fell apart down the stretch a bit. I also think Boston is more hungry, especially with many veterans on the team.
Columbus vs Pittsburgh – the loser of this series will be bitching about the format either way. It's tough to bet against the Pens and until they are beat, they are my pick here.
Our Rangers vs the Habs – I'll do a full playoff preview about this series in my next blog. In short, I'm going with my heart & taking the Rangers in 7. However, AV must be willing to pull Hank for Raanta in this series.
Before putting a bow on this, a big CONGRATULATIONS to Cam Talbot. Not only did he set the Oiler franchise record for wins with 42, he finished the NHL season with the most wins in the league. Not bad for a guy that 95% of Ranger fans said "Talbot will never be a starter." Blow me.
Oh and a huge farewell to the NY ISLANDERS! How Garth Snow remains employed, is beyond me.
I'll talk more about this in the Report Card, but kudos to GM Jeff Gorton on building a contender. He was saddled with bad Sather mistakes & bad contracts, but made key pick-ups and has this team in it. Up to the boys and AV now.
As far as tonight's Rangers win, if this is the last feel-good moment of the season, at least they went out with class and style. I hope to be writing about this team in June. My birthday is June 13th. I hope the Rangers give me the best birthday gift possible. Crazier things have happened.
I'll plug my podcast appearance once it's in the can and I'll have my Report Card & deeper look at NYR/MTL before Wednesday.
16 more wins to go.
Let's Go Rangers.
Sean McCaffrey
BULLSMC@aol.com
@NYCTHEMIC on the tweeter.