NOTE: This blog on Ryan Callahan is being posted on 6/23/19 and is the second half of two blogs posted today. You can find the original 6/23 blog here:
On June 20th, the Tampa Bay Lightning sent out the following press release:
TAMPA BAY – The Tampa Bay Lightning announced plans to place forward Ryan Callahan on long-term injury reserve with degenerative disc disease of the lumbar spine, vice president and general manager Julien BriseBois announced today.
Callahan, 34, skated in 52 games with the Lightning during the 2018-19 season, collecting seven goals and 17 points to go along with 14 penalty minutes. The Rochester, New York native has appeared in 757 career NHL games with the Bolts and New York Rangers, recording 186 goals and 386 points.
Later on in the day, the Tampa Bay Lightning website, at TampaBayLightning.com , released an interview with Ryan Callahan. Here it is in its entirety:
On Thursday, Tampa Bay Lightning general manager Julien BriseBois announced Lightning right wing Ryan Callahan would be placed on long-term injury reserve with degenerative disc disease of the lumbar spine. The injury is one Callahan dealt with all season and even back before the season began but still managed to register seven goals, 10 assists and 17 points in 54 games, including a pair of playoff contests, in 2018-19.

In an exclusive interview with TampaBayLightning.com, Callahan talks about receiving the news, what this means for his playing career and what the next step is to his recovery.
Has your back been bothering you for a while or is this something that's popped up since the season ended?
Callahan: "I kind of knew. I've been dealing with some back issues for a couple years now, this year being the worst that it's ever been, obviously missing some games with it, leaving some games with it. I've kind of been battling it all year. Didn't know to what extent and after the season I went and saw a couple specialists and after talking to them, it wasn't easy to hear what they thought was going on and most likely won't be able to play. It was definitely tough to hear that."

What exactly is your injury? Is it something doctors has been able to pinpoint?
Callahan: "Yeah, it's a lower-back injury. It's a degenerative disc disease is what I have, and unfortunately there doesn't even seem to be anything they can do immediately to fix the problem. And that's never easy to hear when you're speaking to a couple doctors and all of them agree on the same thing. Just knowing what I went through this year with the pain of it, dealing with it day to day, kind of not knowing how it was going to react in games, I wouldn't be able to go through another year like that without having something done to it."

Is this career ending or is this something you can take a year or two off and come back from?
Callahan: "I don't think a year off or two years off is going to help it to be honest with you. From what the doctors have said and the way I feel, it doesn't look like I'm going to be able to come back."

How long have you back been hindering your ability to play?
Callahan: "It's been a couple years in the making, and I think this year it just got to a point where it was almost unbearable at times. We tried a couple different things during the year to help it, and it helped it a little bit to where I could get into the game and play. But even throughout the year, it was always in the back of my head every game I played that this thing could go on me and spasm on me and flare up and I could be out, which happened to me in a couple of games. And then there are some games I didn't play because of it. It ended up being a day-to-day thing to be honest with you. It depended on how I woke up in the morning and how I felt. I'm sure talking to the doctors too they agreed the contact and the physical game, the banging, the unpredictable movements of hockey aren't conducive for it. It's tough. It definitely is."

What's the next step for you now?
Callahan: "I don't know. Taking some time to process everything, enjoying my family, summertime, obviously time off. I definitely don't know what the next chapter is but it's a little bit too early to think about that right now. I'm just trying to enjoy the family and kind of process everything that's going on."

Were you fully intending to play next season whether it was with the Lightning or another team? Had you been contemplating retirement going into this offseason with all the injuries you've had to deal with the last few seasons?
Callahan: "Zero percent. If it wasn't for my back, I'd be playing next year, as you said, wherever that may be. I wanted to be with the Lightning, but we both could tell there's some cap situations going on there. But, no, I wanted to play. I feel good. My body feels really good other than my back, especially at the end of the year there the way I played when I came in. Mentally, physically, I felt great other than my back. If it wasn't for that, I definitely would have been playing next year and to be honest with you hopefully a couple years after that. I still love the game, still love playing. And the biggest thing is I want to win a championship. I think that's the hardest thing now is realizing that dream or that chance is probably gone. It's not the way you want to go out, but at the end of the day, you've got to look at your family, your life after hockey too. It seems like this has to be done. It's unfortunate for sure."

Do you need to have surgery during the summer or is it something you can rehab?
Callahan: "I'm constantly doing rehab with it just to feel good day to day. I'm lucky enough to where it's not at the point where I need surgery. There's a fusion that they can do for you, but with the ability I have right now with it and how I feel day to day, I'm not at that point yet, especially at my age too, to the point where they would have to fuse it. It's just a rehab, day-to-day. I've got my exercises I do almost every day, and thankfully I've had no issues with it since the end of the year because of that. Obviously, I'll be a little sore here, a little sore there but day-to-day, I don't notice it at all. I think it's lucky that it didn't get to the point where it got so bad I needed the surgery or it affected me every single day just being with my family and hanging out."

The doctors feel like with the rehab your back can return to as close to normal as possible?
Callahan: "Yeah, exactly. Obviously over time, things might get a little bit worse here and there. They feel like everything should be normal with doing the actual exercises, keeping my core strong, things like that. I should be fine, so it's definitely a positive."
I've mentioned on past blogs that I'm working on a book, a book that sings the praises of the unheralded heroes of the Rangers. When you look at Ryan Callahan, it's hard to say he was "unheralded", but you can argue that he was under-appreciated.
The end of Ryan Callahan's career with the Rangers is well known. The circumstances of Callahan's departure with the Rangers in 2014 is now a common-place transaction throughout the league. Henrik Lundqvist aside, this is no longer a league of loyalty. This is a league where the salary cap hit is on the back of the trading card too. You can no longer talk hockey without talking the salary cap. The salary cap is one of the worst things to have ever happened to hockey. Today, the fans, the media and the teams all waste precious moments of their life talking about the salaries earned, rather than the play on the ice. In a way, the salary cap hit is as pertinent of a stat as points logged.
In the case of Ryan Callahan, he was never going to be a flashy player that was going to give you a 30 goal or 100 point season. Instead, Callahan was going to be a leader by example, sacrificing his body in front of 100 MPH pucks, giving and receiving big hits and getting to the undesirable areas of the ice. For Ranger fans, he was their new modern day warrior and someone who had no problem putting the team on his back. Unfortunately, because of his physical style of play, it is a back injury/disease that looks to have ultimately ended the career of "Captain Cally."
It's tough talking about Ryan Callahan without talking about the salary cap. In a different era, who knows, Ryan Callahan may still be a Ranger today.
After the second NHL lock-out in a ten-year span, the salary cap got stricter and tighter than ever before. Ultimately, that would signal the end of Callahan's run in New York. While the name on the front of the jersey should always mean more than the name on the back of the jersey, it's undeniable – as fans, we get emotionally attached to players. For many Ranger fans, Ryan Callahan was their guy.
In the 90+ year history of the Rangers franchise, they have employed numerous captains. When you break it all down, Ryan Callahan was one of the greatest captains in franchise history. In fact, when trying to make a Top 5 Captain's list in Rangers history, the five names that immediately come to my head are Mark Messier, Bill Cook, Art Coulter, Vic Hadfield and Ryan Callahan. (I'd also throw in an honorable mention for Jaromir Jagr.)
Ryan Callahan always had a leadership quality about him. He was a captain throughout his career. Before the Rangers, he was the captain of the OHL Guelph Storm. When Chris Drury retired in 2011, the same Chris Drury who was perhaps one of the worst captains in team history, the Rangers didn't have to look far to find their next captain. Alternate captain Ryan Callahan was the no-brainer choice. Jumping ahead a bit, I wouldn't mind seeing Callahan replace Drury in Drury's current role with the organization too!
Over the course of eight years and seven plus seasons with the Rangers, Ryan Callahan was the consummate professional. He gave it all he had during every shift. He was a leader for the club on and off the ice. He would also help the team reach the Eastern Conference Final in 2012, the first time the Rangers got that far since the days of Messier, Graves, Leetch and Richter.
After Jaromir Jagr's run with the Rangers, Ryan Callahan would become one of the biggest faces of the post-dark era of Rangers, where the team didn't qualify for the playoffs during the seasons of 1997-1998 to 2005-2006.
However, and again as seen throughout the league, Ryan Callahan's tenure with the Rangers would be cut short, due to the NHL salary cap.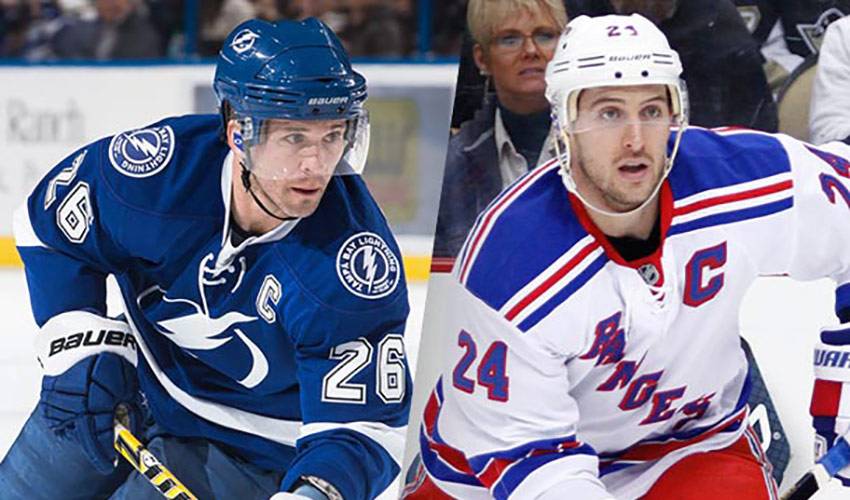 When it comes to Rangers history, Martin St. Louis and Ryan Callahan will forever be linked. As talked about thousands of times on this blog, I would've had no problem with this trade if it were a straight swap. Instead, Senile Sather also traded away two first round picks, which kept the Rangers away from the first round of the NHL draft for some time.
The reason of Ryan Callahan's departure from the Rangers was solely because of money. With Callahan about to become a free agent after the 2013-2014 season, Ryan Callahan wanted $39M for six years, while the Rangers offer was $36M for the same amount of years. At the end of the day, the club and Callahan were $500,000 apart per season. Neither would budge, and the trade for Martin St. Louis was made.
If you're trying to defend Ryan Callahan, in regards to his contract negotiations in 2014, it's a tough battle to litigate. Was Ryan Callahan worth that money and those years? Without being callous, the answer is no. After all, I'm writing about him today, in what looks to be his soon-to-be eventual retirement. Furthermore, the league was changing during Callahan's end with the Rangers and it wasn't changing in favor of Callahan's style of play either.
And not to throw salt on the wound here, Tampa has been looking to trade Callahan for over a year now. As was evident in the interview quoted above, Tampa may have traded Callahan this off-season, providing he was healthy.
It's tough to play the hypothetical game and predict what would've happened if moves weren't made. That said, I don't think a Ryan Callahan led Rangers team goes to the Stanley Cup Final in 2014. I don't think the club wins the Presidents' Trophy in 2015 either. Again, I have no way of proving this, it's just a gut feeling and an opinion.
Martin St. Louis didn't connect with the Rangers right away. He had a slow start when he first got here. However, after the passing of his mother during the semi-final series with Pittsburgh, Martin St. Louis became the hottest Ranger on the club and helped propel the team to the Stanley Cup Final in 2014. Does Cally lead the Rangers to the Cup if he stayed that season? Do the Rangers win it? We'll never know.
I will say this, so you know where I'm coming from – I was a huge fan of Callahan. However, it was very easy to forget him after all the great work MSL did here during his short tenure on Broadway. When Callahan was dealt, the Rangers had their most successful seasons since 1994. While MSL did falter in the 2015 playoffs, it's hard to erase that emotion and feeling of the 2014 playoffs.
In short, while Cally's contributions to the Rangers can never be forgotten, it's not like Ranger fans missed him after he was dealt either. The club went on to have two deep playoff runs after trading him.
It didn't take much time for Ryan Callahan to become part of the fabric in Tampa. However, do you know what was the saddest thing about Callahan's contract in extension in Tampa? He signed for six years, at $5.8M a season. In other words, he got $34.8M overall, which was less than the $36M over the same six years that the Rangers offered him. Again, who knows what would've happened if Callahan re-signed with the Rangers. It is what it is.
After the Rangers failure to win the Cup in 2014, they would see Ryan Callahan in the second biggest series of the "Henrik Lundqvist Era" of Rangers, as the Bolts and Rangers did battle in the 2015 ECF. The Rangers, who gave the money and years to a failing goalie, rather than investing in Callahan, saw Tampa have the last laugh, as Tampa bested the Rangers in seven games. It was a series the Rangers should've won, but King Nothing gave up back-to-back touchdowns in the series. Those losses would lead to Tampa's series victory, in seven games.
The Bolts would ultimately lose in the SCF that year, being bested by the Blackhawks. In the next season, the 2015-2016 season, and after a year with the team, the Bolts named Callahan as their alternate captain. It would be a title Callahan would hold for the rest of this playing days in Tampa.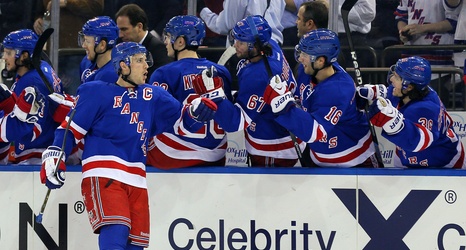 Before this news about Callahan's condition came out, there were rumors about a Rangers reunion during the past 12-15 months. Tampa needed to shed salary. The Rangers and TB have been trading partners. The Rangers had the room to accommodate and truthfully, needed a locker room leader, especially with guys like Ryan McDonagh and Derek Stepan traded away. It's painfully obvious –  Kreider will never be that guy that 21, 24 and 27 once were.
With a Rangers reunion now impossible, at least as a player, when you look at Ryan Callahan, you have to remember the good times. The shot blocks. The hat tricks. The hits. The fiery speeches. That will to win. The ability to put his health on the back-burner of his mind. The guy would've took a rocket ship to the chest if needed.
During Callahan's time here, he was one of the most beloved Rangers of his era. It's tough to say that Callahan was was a fan favorite on the level of Mark Messier, Brian Leetch, Ed Giacomin, Ron Duguay or Lundqvist, but he was right there with the Barry Becks', Brandon Dubinsky's, Brad Parks' and John Van Biesbrouck's of the world.
On the ice, when I think of Ryan Callahan's career with the Rangers, I smile fondly. However, he's also one of the first victims of "salary cap shedding" by the Rangers. In Callahan's tenure in Tampa, the Bolts never won the Cup, despite having very stacked teams. While he was never the number 1 guy in Tampa, he did give Tampa that veteran edge. However, it seemed like he was out of his prime the day the Rangers dealt him to Tampa too.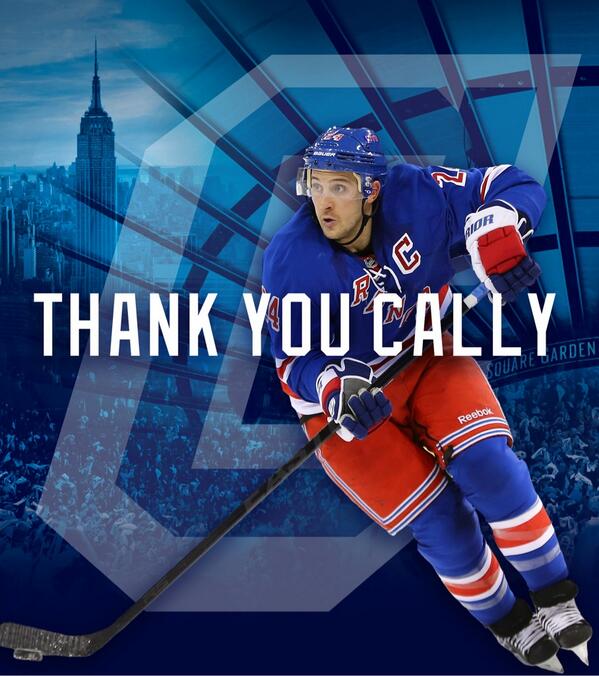 When I think of Ryan Callahan's time with the Rangers, I remember the warrior. I remember the grit. I remember him being the heart and soul of the team. I remember the 2012 run. I remember the guy who was able to become a mediator between the hard-to-get-along with John Tortorella. I remember the guy who gave it his all in every game. I remember the Garden being adorn with #24 jerseys. Ironically, as I write these words, the number #24 will most likely be peppered all over the Garden again, when perhaps a new eventual Ranger captain, in Kaapo Kakko, takes the ice for the Blueshirts.
While I've made the joke of "Callahan hurt his back from carrying Lundqvist all those years" on social media, the fact is, Callahan did sacrifice his body, which led to this soon-to-be retirement from hockey.
Of the 186 career goals scored by Callahan, 132 of them were scored as a Ranger. Not too shabby!
"Once a Ranger, forever a Ranger." While Callahan's number will never be retired by the Rangers, Callahan's efforts and contributions to the club will never be forgotten.
THANK YOU RYAN CALLAHAN FOR THE MEMORIES. May you enjoy the success in the next chapter in your life.
Thanks for reading and again, thank you Cally!
And as always…
"LET'S GO RANGERS!"
Sean McCaffrey
BULLSMC@aol.com
@NYCTHEMIC on tweeter