Greetings and salutations everyone and welcome to another blog here on BlueCollarBlueShirts.com. Let's get the plugs out of the way first.
In case you missed them, here are my last few blogs:
---
---
---
---
---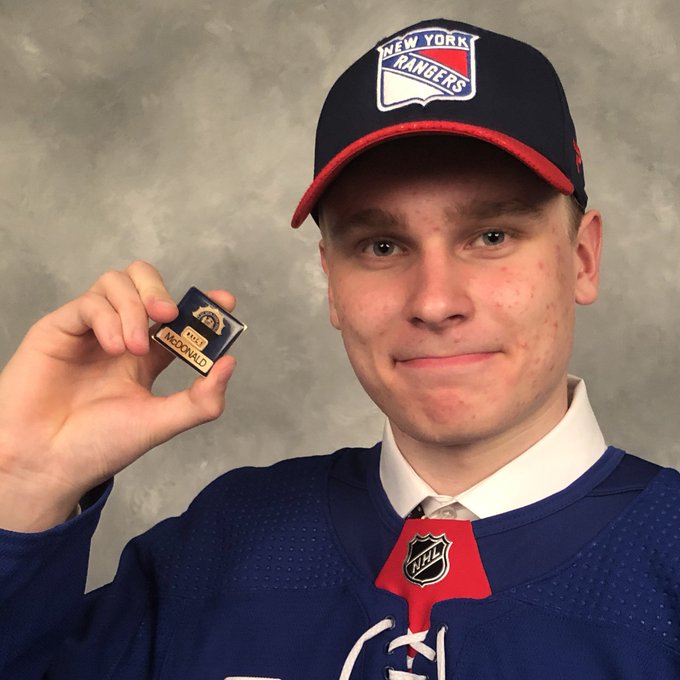 With the plugs out of the way, for the first time on this blog, let me say this for the first time ever – Kaapo Kakko is officially a member of the New York Rangers!
Let me soak that in one more time.
KAAPO KAKKO IS OFFICIALLY A MEMBER OF THE NEW YORK RANGERS!
When watching the first round of the NHL draft on Friday night, once Kakko officially became a Ranger, I found myself breathing a sigh of relief, rather than doing the fake & forced happy dance that fans at the official New York Rangers draft watch party were doing. After all, we all knew this was coming for some time.
Oh and speaking of the official New York Rangers draft watch party, which was held at MSG on Friday night, the Rangers kicked the fans out of the building right after the Rangers drafted Kakko. That was hilarious to me. Whether the Garden didn't want to pay union costs to keep the building open or if they had to set up for an event on Saturday, I just don't know how you hold a draft party and then kick people out of your home after the second pick of the draft was made.
Yes, for us Ranger fans, this draft was all about Kakko. However, no one at that watch party and perhaps even the Rangers themselves, knew if they were going to strike another deal. The Rangers could've traded some of their picks, players or assets to get another first round pick. You just don't know. Furthermore, as you can imagine, Ranger fans are hockey fans, and they probably wanted to see the whole draft play out.
Every time this organization takes a positive step forward with these fan events, they find a way to take two steps back. SAD!
I don't want to come off negative out the gate here, because in reality, these are great and exciting times for the Rangers. I would say this is the most exciting time to be a Rangers fan since the 2014 playoffs. (To me, the 2014 playoffs was the Cinderella run for the Rangers. I was much more disappointed after the 2015 playoffs, as that was the year the Rangers had their best chance at the Cup since 1994.)
If you're a young or old Rangers fan, it doesn't matter. You should know the history of the Rangers, especially at the draft. I said at the top of this blog that when the Rangers selected Kakko, I had a sigh of relief. After all, to quote Jim Schmeideberg of "Blueshirt Underground Radio", in regards to the NHL draft, "The Rangers always think they are the smartest men in the room." In the Sather era, it wouldn't be so out of left-field for the Rangers to pass on Kakko and draft someone else.
While Mr. Schmeideberg has made this comment repeatedly at the expense of the Rangers, this time, Schmeideberg was right again. However this time, it was because the Rangers were actually the smartest men in the room. Only Glen Sather left under his own devices could louse this one up. For the first time in a while, the Rangers have one of the smartest men in the room and his name is Jeff Gorton.
I'm telling you – the more I see of Jeff Gorton, the more I like him.
After the Devils did the predictable, and took Jack Hughes with their number 1 overall selection, Jeff Gorton wasted no time.
Of course, the league doesn't want anyone stealing anyone's thunder, so it's not like Gorton could've bum-rushed the stage and pushed the Devils off of it. We had to get the Hughes interview where they asked Hughes the same question in 896786707896 different ways. Then we had to get the interview with the mother of Hughes, the interview with the elementary school teacher of Hughes, the interview with the deli butcher of Hughes and the interview with the the mail-man of Hughes. After we got the interview with the favorite Ninja Turtle of Hughes, the draft was then allowed to continue.
And really, if they are going to do all these interviews, the NHL and their affiliates should be interviewing the dermatologists of these players. More on that to come.
Back to Gorton. Once the Hughes parade was over, Jeff Gorton and his team took the stage. Unlike every other team that had to read a love poem to the city of Vancouver and tickle the balls of the city afterwards, Jeff Gorton bypassed that garbage.
Once Gorton was "legally" allowed to have the stage, he did the Vince McMahon march right to the podium:
Gorton wasted no time. There were no flowery words to say. Gorton got right to the point. "The New York Rangers select Kaapo Kakko".
In case you missed it, here's Gorton swinging his big dick, acting like a boss and taking care of business like a beast:
After over two months of talk, it's official – Kakko is a Ranger.
Here's what the Rangers are putting out there about Kakko. The following comes from NewYorkRangers.com:
VANCOUVER — It has been exactly 73 days since New York won the lottery and drew the second overall pick in the 2019 NHL Draft. On Friday night in Vancouver, the Rangers finally got their guy. 

On Friday, the Rangers selected Finnish forward Kaapo Kakko out of Liiga's TPS, and after 73 days of waiting, General Manager Jeff Gorton could finally let himself truly, honestly think about what a future with Kaapo Kakko looks like for his hockey club. 

"We got a chance at a special player," Gorton said. "We all saw what he did over the course of the season. We saw that he's won a few championships and excelled at every one of them. It's an exciting day for us. To win the lottery almost seems like months ago, and here we are today to finally call the name. It's just an exciting day."
When he heard his name called by Gorton, Kakko was nervous and anxious and knew in the very back of his mind that he has never even stepped foot in the city that will soon become his new home. But as pulled on a Blueshirt for the very first time in front of a crowd of NHL personnel and fans at Rogers Arena, it just felt right.  

"It's such a good feeling," Kakko said, "and so nice to be a part of the New York Rangers." 

Following the very first draft selection of his tenure as Rangers president, John Davidson did not mince words when reflecting on the caliber of player he had acquired. 

"The Rangers got themselves a strong part of the foundation going forward," he said. "A young man that has a lot of character, a young man that's got a great future ahead of him, and I just really couldn't be more excited about where we're sitting right now."

The 6-foot-2, 194-pound Kakko's reputation precedes him as he prepares to embark upon the next stage of his playing career. Earlier this year, at just 18 years old, he became the youngest player in the history of the sport to win successive gold medals at the IIHF World Junior Championship, the U-18 Championship and the IIHF World Championship. 

Throughout the 2018-19 season, he established himself as one of the premier prospects in his draft class as he tallied 22 goals with Liiga, the most goals scored by any player under the age of 18 in the history of Finland's top league. The previous record-holder? Aleksander Barkov. At season's end, he fittingly was named Liiga's Rookie of the Year.

But it was in May, at the Men's World Championship in Slovakia, that Kakko truly established himself as a star. He scored highlight reel goal after highlight reel goal against professionals – many an NHL star among them – during Finland's improbable run toward the gold medal. 

"He doesn't really have a weakness," Davidson said. "He can play wing and he can play center, which is always a good thing. He can score. He can be a playmaker. A lot of times, when you get both a very skilled player that has size that has speed, you go, 'Whoa, this is pretty good. We've got a heck of a player here.' A lot of times when you study players, you look for weaknesses, and you don't see a weakness here, especially with the No. 2 pick. This is pretty exciting."

The Rangers have been watching Kakko for a long time. They knew they were getting a special player on Friday night. Finally, it's official: Kakko has arrived. 

"He does a lot of things well," Gorton said. "He creates space for himself with his body. He's able to use his body to shield players and find himself a little extra time, which other guys aren't able to do. He can make plays really quickly and identify where they are, and he's a threat to score from far out, which is unique in this day and age. So there's a lot he can do, and in the corners, I think he likes contact. Once you hit him, he rolls off you and it feels like he has you and he's got you beat with a step to the net. He's got a lot of little plays like that that are fun to watch."

Undeniable skill aside, there's something else the Rangers brass loves about Kakko, something that can't be taught: His swagger. He's just a kid who loves the game, and nothing makes him happier than showing off what he can do – never to the point of conceit, though. It's as though he simply gets a kick out of putting on a show. 

"This guy – he's got confidence," Gorton said. "He's so strong. Those goal-scorers, they want to score. You can see it in their determination when they're playing. You just can't take your eyes off him when he's playing. It's an exciting opportunity for our fans to see a guy like that."

Gorton and the Rangers know what they're getting in Kakko: an extremely skilled, physically mature, raw talent. But still, they will be cautious to avoid rushing him toward the next step. He is still just 18 years old. He is still moving to a new country, a new home, as a kid. 

Patience is a virtue that will be a prerequisite in Kakko's development, ready as he may seem to make the leap to the next level.

"We still have to be careful and do things right here with anybody that we draft or sign or who comes in," Davidson said. "You don't want to put players in a position where they take too many steps backwards. We want them to get better and better and better. There's a chance he'll play, for sure, but we have to wait, calm down and let this all happen. 

"Don't forget, he's young. He's young. Let's not jump ahead of ourselves too far. Let's let things fall into place."

Over the course of the last week, Kakko has gotten quite familiar with the Rangers front office, particularly with the help of Finnish scout Mikko Eloranta, who has been tracking Kakko's exploits for years and traveled to see him in Finland three times this past season. 

After that group called Kakko's name on Friday night, he shook each of their hands as they all offered words of congratulations and encouragement.

As for what they said?  

"I don't remember," Kakko said with a smile, adding that the nerves and the excitement may have interfered a bit. 

When the draft ends, Kakko will make the trek to New York for the very first time to take part in the Rangers' development camp. He doesn't know quite what to expect from his new city, but he does know one thing about it.

"I think it's a little bit bigger than Turku," he said of his hometown on the southwest coast of Finland. "But I think from everything that I hear, it's good and so nice. A big city."

Though familiarizing himself with New York might take some time, it should take considerably less for Kakko to familiarize himself with the Rangers roster. He already counts goaltender Alexandar Georgiev – who played for TPS from 2014-17 – among his acquaintances, and he has long admired the work of Vezina winner Henrik Lundqvist, center Mika Zibanejad and 2017 first-round draft pick Filip Chytil. 

"Of course I know the players," Kakko said, "and it's such a good team." 

With Friday's first round behind them, the Rangers' work in Vancouver is far from over. On Saturday, they will make seven additional selections in Rounds 2-7 of the draft. After that comes development camp, then free agency, and then the 2019-20 campaign ticks closer and closer. 

But at least for one night, they will let themselves enjoy the fact that a significant component of their future is, at long last, in place.

"I would love to see him be a cornerstone for us," Davidson said. "There's something special about this. When you talk to him, he's very even. He knows he's good. He has a chance to be really, really, really good, but I don't want to sit here and say he's the best we've ever had in New York in the history of the Rangers. You don't do that to young people. You let them come in there, and he's going to show his way. 

"He's going to be a really, really good player."
I'm telling you right now fellow Ranger fans – mark this week down in your calendars. For the first time in history, and most certainly in the history of Ranger fans in the social media era, every fan agrees with a trade and every fan agrees with the Rangers first selection in a draft! Even more insane, both of these events happened within a weeks' time!
With Jacob Trouba added to the roster earlier this week and with Kakko now official, you can now see the light at the end of the tunnel just a little bit more clearly. While I wouldn't say this is the end of the rebuild, to me, the Rangers are past the half-way point. Amazingly, they are already seeing fruits for their labor. Of course, it didn't hurt to get lucky and land the second overall pick in the draft, but hey, why NOT the Rangers? How many top picks will the Oilers, the Sabres and the Devils get? It's about time the Rangers got some luck and that luck turned into Kaapo Kakko.
I'm telling you, with all these moves that Gorton has made, we're now entering a new World order of the New York Rangers. Now only if the Rangers would lay out Lundqvist and spray paint "nWo NYR" on his back!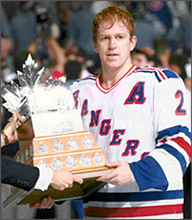 There has been nothing but positive reaction to the selection of Kaapo Kakko. And again, WHY NOT? Ranger fans deserve this. It's not like they've been sucking forever and been a perennial player at these drafts.
I've heard both newer fans, and long-time fans alike, equate the selection of Kakko to the Rangers selection of Brian Leetch, whom the Rangers selected with their first round pick at the 1986 NHL draft. I can't talk about the excitement of drafting Leetch from first-hand experience here, as I was only four years old when Leetch was drafted. That said, from the fans I talked to who lived it, there was a huge buzz.
I also want to add here, in this social media age, we get instant reaction to every event. You didn't have that when Leetch was drafted. I don't even think that draft was televised back then. However, who cares about Leetch right now, we got Kakko!
I'm not going to say to pump the brakes here with these Leetch comparisons, because I do believe Ranger fans should be excited right now. There's no reason to shit on that. Who knows, maybe Kakko becomes the leader Mark Messier was when he was here. Maybe Kakko goes on to have a career that puts his jersey in the rafters of MSG. I don't know what the future holds for him. All I can do is root for Kakko and hope for the best.
Of course, Leetch is one of the greatest Rangers ever and if you want to be excited and compare this selection to Leetch, have your fun. In fact, while I won't jump on that train just yet, I'm hoping that train arrives.
This selection of Kakko is huge. It really can be a franchise changer.
I will say, what scares me, is that I was very excited about the Rangers draft from 20 years ago, when they took Brendl and Lundmark in the first round of the 1999 draft. I don't think I have to tell you how that worked out. That said, from my research and hearing these draft experts talk, Kakko is much better than Brendl and Lundmark. I hope they are right. Then again, Kakko couldn't be any worse!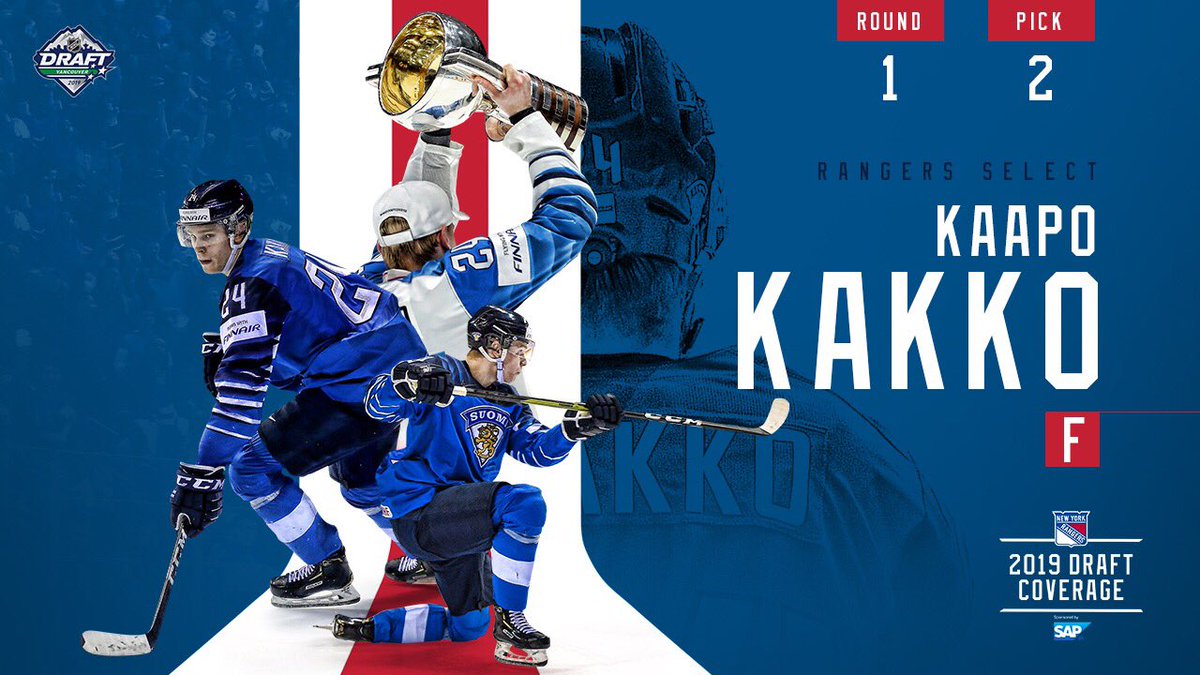 On the flip-side of things, there is going to be a ton of pressure on Kakko. Ranger fans are looking for their new "Messiah", pardon the pun. Ranger fans want that elite player. Ranger fans deserve to have that elite forward, a forward they haven't really had since Jagr's run on Broadway.
Larry Brooks wrote an article in the New York Post, saying that Kakko may start the season in Hartford. John Davidson said that could be a possibility. However, those are two people who are invested with the Rangers and are trying not to pump too much air into the balloon.
In reality, Kakko is only 18 years old. He can't even pregame and have a belt at the "Molly Wee". He doesn't have a full grasp of the English language. He's never played in America. New York is a unique animal. It could take some time to fully acclimate here.
I don't think I'm talking out of turn here, but as of this writing, Lias Andersson has been underwhelming and is trending down. Not everyone can make it in New York. While I think Kakko has more upside and potential than Anderson, I don't think you can just snap your fingers and think that Kakko is going to win the Calder Trophy, much less the Hart Trophy.
I think as Ranger fans, we should expect Kakko to start the season in New York. The Hartford Wolfpack is a franchise that is in a slimy state of disarray. There is no point muddying up Kakko's good name in Shartford. I rather see Kakko with the big club and go through the good and bad times with him. You just don't draft someone number two overall, just for him to play for a bad minor league club.
Ranger fans, even the ones in the Cult and believe a 37 year old, $8.5M STONE COLD LOSER (I only use that term because it made me laugh hysterically when Trump uses it in his tweets) can win a Cup, get it. I believe Ranger fans know that Kakko isn't going to light the league on fire on day one. It's going to take time. There will be a feeling out process. At the same token, I also believe that Kakko in Hartford would be a mistake. Ranger fans will accept Kakko's maturation process.
Plus, for a franchise like the Rangers that has had season ticket sales fall off (which is the result of the Rangers jacking up prices that regular Joe's & families can no longer afford) it would only behoove the Rangers to have their shiniest new toy on MSG ice. Business-wise, what's better – the crown jewel playing in front of people playing five-to-six figures for season seats, or for the future of this franchise playing in front of fans that are only there for the free beer and hotdogs in Hartford? Dolan may not know how to win a championship, but he knows business.
Let's step away from the Kakko talk for a minute, to look at the rest of the Rangers draft selections.
Here's the complete rundown of the players the Rangers selected:
Here's what the Rangers are saying about their draft picks, courtesy of NewYorkRangers.com:

VANCOUVER — With the second overall pick in the 2019 NHL Draft, the Rangers knew they were assured of getting a great player. That much was a well-known commodity.

On Friday night in Vancouver, they acquired that player in Kaapo Kakko, who is intended to be a franchise cornerstone for years to come.

But on Day 2 of this year's draft, they made seven additional selections, most of them a bit more under-the-radar than Kakko but many of whom could still become marquee players down the line.
"Unfortunately, with seven rounds, we can't get seven Kakkos, so we know that," said General Manager Jeff Gorton with a smile. "But listen, each time, we were dialed in on a player and felt good about where we took him. Our table's excited. Maybe the buzz isn't there like it is in the first round with the stage and all that, but we really feel like we got some skill, some size, some skating – all of that – and look forward to the development camp to see some of these guys on the ice."

In Rounds 2-7, the Rangers selected three defensemen and four forwards, all of whom have the potential to provide significant depth far into the future.

"I think you build through defense and down the middle, and we recognize that – up the middle and on the back end and obviously in goal – so we're trying to take as many shots at that as possible," Gorton said. "At the end of the day, if they all turn out and are good players, we'll have some value to trade around the league. You always take the best player. We don't have 30 positions to fill. We have just a few. So we're trying to just get as much as we can depth-wise, and we'll see how it turns out."

Here's what you need to know about the seven players acquired by New York on Day 2 of this year's draft.

MATTHEW ROBERTSON 

Draft Position: Second round, 49th overall

Height & Weight: 6-foot-3, 200

Position: D

Current Team: Edmonton Oil Kings/WHL

His Own NHL Comparison: Cam Fowler or Victor Hedman

The Rangers' first of three second-round selections was a defenseman they had valued much higher than the No. 49 slot in which they ultimately acquired him. A shutdown defensive defenseman, Robertson loves to chip in offensively where he can, but – in his own words – his bread and butter is playing against and stifling opponents' top players.

"I think we had him really high," Gorton said, "and so when he was still there [at No. 49], I think we were excited by that.

"His size, his skating, hockey sense – he's got a little bit of everything. He's had a real good career in junior, and he's just kind of hitting his peak there, so I think there's a lot more room to grow and there's some real upside. So that's exciting."

In parts of three seasons with the WHL's Edmonton Oil Kings, Robertson tallied 58 points in 126 games. He said he knows the Rangers are developing considerable depth on the back end, but over the course of the next few years, as he looks to improve upon his aggressiveness and his physicality, he looks forward to some healthy competition and proving he belongs in a Blueshirt.

"I think there's lots of work to be done in order for me to play there," Robertson said, "but Iots of time to work on that in the future."

–

KARL HENRIKSSON 

Draft Position: Second round, 58th overall

Height & Weight: 5-foot-9, 176

Position: C

Current Team: Frolunda HC/SHL

Henriksson – who plays for Former Ranger and current Frolunda HC General Manager Fredrik Sjostrom in Sweden's SuperElit – is a player who brings three key intangibles to the table: skill, speed and skating. An offensive-minded center, he tallied 49 points in 46 total games this season for Frolunda's J-20 team. His 36 assists and plus-35 rating both led SuperElit.

At the 2019 U-18 World Championship, Henriksson led Sweden to a gold medal with three goals and six assists.

–

ZAC JONES

Draft Position: Second round, 68th overall

Height & Weight: 5-foot-10, 175

Position: D

Current Team: Tri-City Storm/USHL

His Own NHL Comparison: Torey Krug

If there is one thing that Zac Jones certainly does not lack, it is personality.

Before the 18-year-old left the media room on Saturday to meet with the Rangers brass, he made sure to stop by the scrum of former Tri-City teammate-turned-Flyers-prospect Ronnie Attard to ask a couple of burning questions – but mostly to simply congratulate his buddy and former D partner on being drafted shortly after he himself was taken by the Rangers.

"I'm so proud of him," Jones said. "We bonded from Day 1. Day 1, we came in, we were like, 'We're going to be the best D-pair in the league,' and that's what we said, and we tried to go out and do it, and it worked out pretty well for us, I'd say."

That's the other thing about Jones: He seems to be the quintessential team player.

The puck-moving defenseman, whose lineage extends to Binghamton, N.Y., said his family back home was thrilled to see him selected by the Blueshirts.

"All my family back home is pretty pumped about this right now," he said. "I can't wait to be a Ranger. I'm excited for it."

As for his own reaction to hearing his name called?

"I just blacked out for as second there," he said. "No emotions there. No words to describe how incredible this feeling is right now."

A self-described offensive threat, Jones loves running point on the power play, feeding pucks, skating and, as he said, "I love getting to the blue line and making moves." Though he wouldn't describe himself as exceptionally physical, he believes there's time for him to get bigger and stronger as he embarks on his NCAA career at UMass-Amherst. In the meantime, he'll keep working on being a solid two-way defenseman with a scoring touch.

For now, he's in no rush.

"My whole life, I've been a marathon, not a sprint type of player," Jones said. "So whatever happens, happens."

–

HUNTER SKINNER

Draft Position: Fourth round, 112th overall

Height & Weight: 6-foot-2, 176

Position: D

Current Team: Lincoln Stars/USHL

His Own NHL Comparison: John Klingberg

Skinner, the third and final blueliner selected by the Rangers at this year's draft, is another solid defensive defenseman whose biggest attribute is his intensity and hockey sense.

"But I like to put the puck in the back of the net," he added. "So I'll bring my offensive game. I love to skate the puck up the ice and just create plays overall."

Coming off a USHL season in which he established career highs in games played (52), goals (5), assists (19) and points (24), he will spend next season either in the OHL or back with the Stars.

–

LEEVI AALTONEN 

Draft Position: Fifth round, 130th overall

Height & Weight: 5-foot-9, 177

Position: LW

Current Team: KalPa/Liiga

Aaltonen was the second Finnish winger selected by the Rangers at this year's draft. The other, incidentally, is someone he played with on multiple Finnish national teams.

"I know Kakko," Aaltonen said of his countryman and fellow Ranger. "We're friends."

Aaltonen's friendship with Kakko is certainly not why the Rangers selected him in the fifth round of this year's draft. But it does present some upside.

"I think that's a little something to do with it," Gorton said. "But at the same time, you're trying to draft and you're trying to get the best players. When you like a player and then you jump up and you draft him, I don't think it's a tiebreaker to say, 'This will make Kakko happy.' But you know that it's always nice to have some people that speak your language and make you feel comfortable. They know each other, so that doesn't hurt."

The other thing that doesn't hurt is Aaltonen's skating ability: He's been described as one of the strongest pure skaters in his draft class. This season, in 29 games with Liiga's KalPa, he registered 12 goals and 24 assists for 36 points. In 2018, he suited up alongside Kakko at World Juniors.

Now, once again, he's proud to be wearing the same sweater as his Finnish friend.

"Unbelievable feeing – maybe best day of my life," he said. "Very excited to be a Ranger.

–

ADAM EDSTROM 

Draft Position: Sixth round, 161st overall

Height & Weight: 6-foot-6, 209

Position: C/W

Current Team: Mora IK/SHL

At 6-foot-6, Edstrom figures to be a force to be reckoned with up front, and he proved it this year with Sweden's Mora. With a winning combination of physicality and skill, Edstrom totaled 17 points in 35 total games split between the SHL club and the J-20 club in SuperElit.

–

ERIC CICCOLINI

Draft Position: Seventh round, 205th overall

Height & Weight: 5-foot-11, 170

Position: RW

Current Team: Toronto Junior Canadiens/OJHL

It's almost as though Ciccolini was fated to be a Ranger.

After a long day of waiting for his name to be called, he finally heard it during Saturday's seventh round – and by the team that once employed his grandfather, Sam Ciccolini, as a scout, no less.

"it's a coincidence I was able to get drafted to the Rangers," Ciccolini said. "It's a pretty big honor, and I'm sure he is really happy about that, too."

A winger with high-end skill who loves to watch current Rangers center Mika Zibanejad, Ciccolini notched 62 points (27 goals, 35 assists) this season. That was enough to get him the B.J. Monro Memorial Trophy, awarded annually to the OHA's top prospect.

Ciccolini knows he has to get bigger and stronger before he's ready to make the jump to the next level, and he's hoping to do some of that at the University of Michigan, where he has committed to playing next season. In the meantime, he'll keep using his speed at both ends of the ice to establish himself as an impact player.

When it comes to the rest of the Rangers draft picks, I really don't have much to add personally. I've never seen them play. I can only go by what the experts say, and even then, who knows where their biases may lay?
I will say this, I have more trust in Jeff Gorton than I did with Senile Sather. If he feels good about the draft, then I feel good about the draft.
For me to talk about any of these other players, I would just be regurgitating what others have said. That's why I just reprinted the Rangers press release for you. I'll never lie to you on these blogs! My time is limited as is. Outside of watching CZAR IGOR SKA games in the KHL, the Olympics and the IIHF, I don't watch any international games. I may watch clips from time-to-time, but I can't tell you I know anything about Matthew Robertson, outside of the fact that he's a Trump guy!
Oh and for the new readers of this blog – I don't care who any player votes for or supports politically. All I care about is if they can help the Rangers win. The only reason Tim found this stuff out is because there are Ranger fans to this day, who hate Tony DeAngelo and Brendan Lemieux, just because they voted for Trump. Tim was mocking them here. Most of these fans that whine about Trump-voting players have mental problems, see therapists, have hepatitis and are deranged. That said, they do make enough noise on social media, in an attempt to disparage the good names of Tony DeMAGAngelo and Brendan Lemieux. SAD!
Anyhoo!
From what I read from the experts who follow these kids, they all thought the Rangers hit a home-run at the draft. That's good to hear. As I always say at this time of year, you can't really judge a draft until 3-5 years have passed. No one knows what will happen in the future.
What I do want to talk about here is Pierre McGuire. Listen, the guy loves hockey. He knows the game. He knows the players. I don't think anyone in the world loves their job as much as he does. That said, he was going on and on about how he's been watching some player since he was eight years old. To me, that's Catholic priest shit. It's just very creepy.
What this also told me, and I talked about this in my last blog when discussing goaltenders, is that kids are being evaluated at a much younger age. I'm not too far removed from this new generation. I'm 37 years old, so while I'm more than twice the age of these players being drafted, I'm not a fossil either. I just remember when I played sports as a kid. There were no scouts, agents or anyone of that ilk there. I'm not even talking about myself here, I'm talking about all my teammates and opposition.
In high school, our team won the New York State lacrosse championship in my junior and senior year. That was the first time I ever heard of college scouts attending games and this is when I was 16 or 17 years old. Fast-forward to today, and you got Pierre McGuire and a bunch of creepy fucks watching 8 year olds play hockey. It's just what it is.
It's just a shame, as kids are being robbed of their youth. It's bad enough that you got little league dads pounding each other over 9AM tee-ball games. It's like Randy Marsh from "South Park" come to life. Not only do these kids have to worry about these dingbat parents, these kids now have the pressure of having to perform a kid's game, at a kid's level, for their adult future. It is what it is and I get it, but to me, it's SAD.
And let me be clear here – Pierre McGuire isn't the only male in his 50's at these games. It's just where sports are going. Everyone wants that inside track, that inside edge, or whatever else you want to call it. These sportsmen want to foster relationship with the kids and their parents at an early age. Sports are business, childhood be damned.
Going into this draft, we knew that the Rangers and Devils rivalry would be re-ignited. After all, after the brawl from March 19th, 2012 and the 2012 playoffs, there hasn't been much juice here. This rivalry kind of got stagnant once Tortorella left and Brodeur moved on.
However, now, here in 2019, this rivalry may eventually hit or surpass the peak that this rivalry once saw during the mid-90's. You have Jack Hughes and Kappo Kakko as the future of the franchises. Then, on Saturday, June 22nd, the Devils counter-punched the news of the Rangers trading for Jacob Trouba: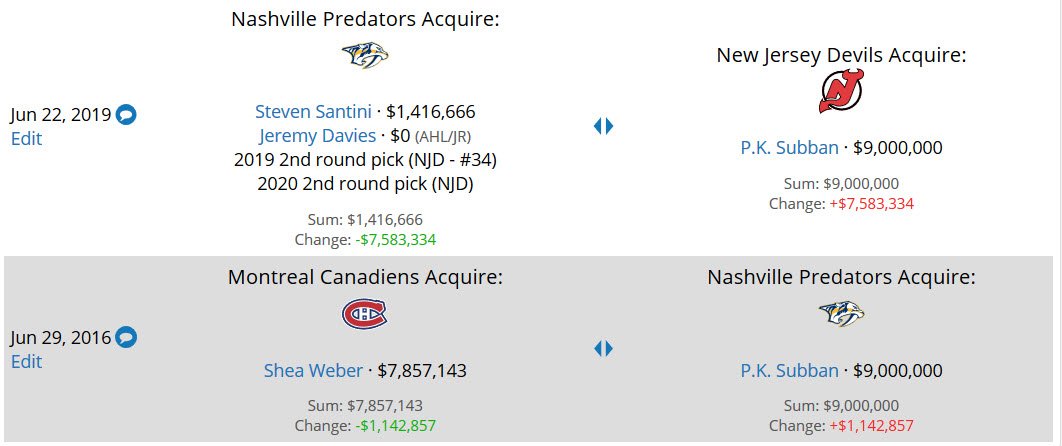 PK Subban is now a New Jersey Devil. Wow.
When I first heard the news, I had the same reaction as many people – the Ranger/Devil rivalry is going to get better. This is good for the game. Furthermore, the Devils are getting a great player who has a great track record when it comes to community service. While the Devils don't get much press in the metropolitan area, with both Hughes and Subban, that should change a bit. I wouldn't be surprised to see a paper like the NY Post dedicate a reporter to cover the Devils on a full-time basis now.
After initial reports that Taylor Hall was looking to leave the Devils, it looks like he may have changed his attitude:
@PKSubban1 call me back

— Taylor Hall (@hallsy09) June 23, 2019
Unless Hall is tweeting Subban to tell him to get out of NJ before he even plays a game there, it looks like Hall is interested in staying in Newark.
When you look at Taylor Hall on the Devils, who won a Hart Trophy (Should've been McDavid's, but because the Devils made the playoffs that season and the Oilers did not, Hall got the nod) the Rangers need Mika Zibanejad to have a bigger career year than the one he just had.
If this was a three vs three NBA JAM game or a regular season NHL overtime game, the Rangers are going with Zibanejad/Kakko/Trouba vs the Devils squad of Hall/Hughes/Subban. That's some heavyweight tilt there. Of course, what could give the Rangers the edge here, is if they moved on from Lundqvist, because no Devils goalie is touching THE KING OF KINGS in Alexandar Georgiev or CZAR IGOR.
Speaking of Hank and the Devils, did you guys see this:
When NBC Sports messed up and announced that Lundqvist was going to the Devils (Keep in mind, we all knew this was fake news, as Hughes and Kakko were already drafted at this point) my social media accounts blew up.
Let me tell you here – I HAD NOTHING TO DO WITH THIS! I don't have hacking skills like this! Shit, I don't have any hacking skills at all!
Seriously speaking here, no one has found out why NBC put this graphic up. Did someone mess with them? Was this trade rumored?
It's a shame this trade didn't happen. It would've been fun watching the Rangers light up the Devils for 7 goals a game.
In some other trade news, JT Miller is going to the Canucks, which essentially was a salary-dump trade for the Bolts.
I have to say this here. It just amazes me how the Cult of Lundqvist will talk about the money of everyone else, talk about buy-outs and salary-dumps, but will ignore all of that when it comes to Lundswiss. Even funnier, the same fans going on and on about Kakko's IIHF performance, are the same ones who ignore how Lundswiss was the absolute drizzling shits in the same tournament. SAD!
I think with a young team, JT Miller will have a chance to shine in Vancouver. I hope all the best for him.
Before getting to Ryan Callahan, I wanted to talk about the NHL blowing a chance at getting a major sponsor!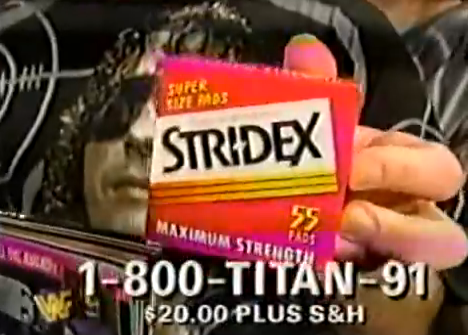 When watching the NHL draft on Friday and Saturday, I was alarmed about the amount of acne and pimples I saw from all of these players. This includes Kakko himself.
Let me be clear here – I don't care about this, I'm just commenting on this for the jokes. As a male who once had acne issues himself and was no stranger to Stridex pads and accutane, I feel I have the right to comment on this. I was once an 18 year old boy too! (Then again, in this age of liberal retardation, I guess anyone can identify as an 18 year old male.)
Off puck drop, the reason these kids have so much acne is easy to answer. For starters, they are young and going through puberty. Secondly, they are under so much pressure and have so much nerves, that they are more liable to break out badly than other males at their age. This is Kelly Kapowski 101. (Yes, another 1990's reference.)
I am not pimple-shaming anyone here, as acne happens. The best thing about acne – it goes away as you age. Plus, with the money these guys are making, they have better access to medication than me trying to "Oxy-cute'em" in 1997.
All I'm saying here is this – you have a lot of young people watching this draft, a draft full of faces that you can play connect-the-dot with. If I was in the NHL marketing or ad sales department, I would reach out to Noxema, Oxy, Stridex, Proactiv and whoever else makes acne medication. Think of the commercials. Think of the tie-in! Think of Kakko replacing Jessica Simpson as a spokesperson!
And let's face it – there is no shame in the NHL ad game. These fucks were advertising MY SHINEY HINEY during the Stanley Cup playoffs last year!
Okay, maybe this is all the wrestling promoter in me and maybe this is another example of me going off the rails here, but I will tell you this – no other blogger would spend a 1000 words on this topic!
One last thing about the draft and then it's Callahan time.
Did you see this tweet from TDA? Check it out:
Ok so after being traded 2 drafts in a row I've now made it through 2 straight. 🤙🤙🎊🎈

— Tony DeAngelo (@TonyDee07) June 22, 2019
This guy is the best. Always good to see guys with a sense of humor.
Listen, you know the mantra I give to you on these blogs – "10,000 words, no ads, one click." However, I just did a whole rant on pimple meds and spent a lot of time on the draft. Ryan Callahan deserves to have his own column. I rarely do this, but because I think Callahan deserves his own blog and for the sake of prosperity, I'm forcing you to click another link. I'm not trying to artificially boost site traffic here, and I do think you know that I'm better than that. However, I do think we can all agree that Ryan Callahan deserves his own space.
For my thoughts and opinions on the Ryan Callahan story, please click the following link:
As always, thanks for reading and good times are ahead.
LET'S GO RANGERS!
Sean McCaffrey
BULLSMC@aol.com
@NYCTHEMIC on the tweeter machine