Greetings and salutations everyone. This update won't be a full-length blog after last night's manifesto. I just wanted to share something with you guys that the Rangers announced on Thursday 9/23.
As you may know by now, especially if you've read my prior blogs (and my new book too), I've brought up the topic of statues around the league, where every Original Six franchise sans the Rangers have statues of their greats. To expand even further, even newer teams like the Tampa Bay Lightning have statues, where that organization has three statues in all.
For whatever reason, the Rangers refuse to give the bronzing treatment to any one player or person. If there was ever a Rangers candidate for such an honor, there's not many men out there better than Rod Gilbert. (I'd also champion for Adam Graves here too and for reasons explained previously.)
While Rod Gilbert was the first-ever Ranger to have his jersey number retired by the organization, the Rangers announced on Thursday that they plan on carrying on Gilbert's legacy in new and different ways, starting with the 2021-22 season and moving forward after that.
The following press release was issued by the New York Rangers and you can find the press release from its original source by visiting https://www.nhl.com/rangers/news/rangers-announce-plans-to-honor-mr-ranger-rod-gilbert/c-326275102
Here's the official press release:
The New York Rangers shared today their plans to honor Rangers legend and all-time leading scorer Rod Gilbert throughout the 2021-22 season and beyond.

Rangers Home Opener Against The Dallas Stars – October 14
For the Rangers home opener this season, both the date and opponent have a significant connection to Gilbert's career. October 14, 2021 marks the 42-year anniversary of when Gilbert became the first Rangers player ever to have his jersey number retired (October 14, 1979). And on March 9, 1977, Gilbert was honored by the Rangers as an active player with "Rod Gilbert Night" – and the Blueshirts' opponent was the Minnesota North Stars. Gilbert scored a goal and tallied an assist in that game, which was a 6-4 Rangers win.

During pre-game warmups on October 14, Rangers players will wear the white warm-up jerseys traditionally worn in the 60's and 70's, emblazoned with "Gilbert" and No. 7 on the back. Each player will sign their jersey, which will then be auctioned to support the Garden of Dreams Foundation, a non-profit organization that brings life-changing opportunities to young people in need. Rod was a long-time supporter of this charitable organization, devoting endless energy to its efforts, including as a board member. In addition to this, several elements of the Rangers' pre-game ceremonies will recognize Rod's career achievements and include members of the Gilbert family.
Rod #7 Gilbert Patch
Throughout the entire 2021-22 season, Rangers jerseys will feature Gilbert's No. 7 patch.

The Rod Gilbert "Mr. Ranger" Award
The Rangers have created the Rod Gilbert "Mr. Ranger" Award, which will be presented annually, beginning with the 2021-22 season. The award will recognize the Rangers player "who best honors Rod's legacy by exemplifying leadership qualities both on and off the ice, and making a significant humanitarian contribution to his community." This is the first time the Rangers have created an award since 1988, when the organization introduced the Steven McDonald Extra Effort Award and the Lars-Erik Sjoberg Award.

---
As far as this news goes, as you'd imagine, I'm happy to hear it. Rod Gilbert, even after his passing, continues to raise money for charity, including for the "Garden of Dreams". I am sure these pregame jerseys will go for a pretty penny, and more importantly – to a good cause too.
When it comes to the #7 patch that the Rangers will wear all season, that's a nice touch as well. It wouldn't surprise me to see the Rangers sell these patches too, where once again, these profits will go to the "Garden of Dreams" or another charity.
To me, the biggest news was the final item talked about in the press release, where the Rangers have now founded the Rod Gilbert "Mr. Ranger" Award, an award that's described as "who best honors Rod's legacy by exemplifying leadership qualities both on and off the ice, and making a significant humanitarian contribution to his community."
This new award seems to be a replacement to the previously defunct "Ceil Saidel Memorial Award". If you don't know who Ceil Saidel was, she was a Rangers season-ticket holder, who was brutally murdered in May of 1994 by a crack-smoking drug addict. Saidel, who was 67 years old at the time of the murder, was a long-time member of the former New York Rangers fan club and beloved by her fellow Ranger fans.
After missing several playoff games, fans were worried about Saidel's absence. Four days later, the police found the 5 foot tall and 100 pound senior citizen woman strangled to death.
Once news of what happened to Saidel broke, the Rangers, led by Adam Graves, took it upon themselves to put a bouquet of flowers at her seat in the old 230 section of Madison Square Garden. Graves, along with other Ranger fans, kept Saidel on their minds after the 1994 Stanley Cup win.
In the season that followed, the fan club created the Ceil Saidel award, which was given out to a Ranger "for their dedication to the organization on and off the ice." As you'd expect, Graves won the award in its first year of inception and would win it six more times after first winning it. In all, Graves won the award in seven consecutive seasons, with his streak being snapped after Glen Sather foolishly traded Graves away.
In 2010, following the disbandment of the old Rangers fan club, the Ceil Saidel Award ceased to exist. Now, eleven years later, the Rangers will give out an award, under Rod Gilbert's name, that pretty much was what the Ceil Saidel Award used to be.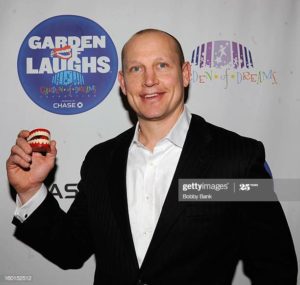 I don't know if "interesting" is the right word, but for a lack of a better word here, it will be interesting to see who wins the Rod Gilbert "Mr. Ranger" award once the 2021-2022 regular season is complete. With so many new faces in town, anyone can win this award, including players such as Adam Fox, Ryan Reaves and Jacob Trouba. A familiar face in Chris Kreider could also be a candidate.
What I like about the Rangers resurrecting the old Ceil Saidel award under Gilbert's name, is that it puts an emphasis on giving back to the community. While these players aren't looking for pats on the backs or for praise for their charity work, this award is a reminder that there is more to life than just hockey too.
RIP to both Ceil Saidel and Rod Gilbert.
---
I'll be back over the weekend.
Sean McCaffrey
BULLSMC@aol.com
@NYCTHEMIC on Twitter