Greetings and salutations everyone and welcome to another blog here on BlueCollarBlueShirts.com. The sun is doing down earlier-and-earlier with each passing day, which can only mean one thing of importance – hockey is almost back.
That's right, as I write these words early Thursday morning, we are now nearly 72 hours away from the Rangers playing their first of six preseason games, as the Rangers host the nomadic Islanders at M$G this Sunday night.
On Wednesday 9/22, and after Tuesday's conclusion of the Rangers developmental camp, the varsity squad came together as a unit for the first time in preparation for the 2021-2022 NHL season. Joining the Rangers roster were some of the players from the developmental camp. In fact, here's a full list of everyone that's currently at the Rangers training facility right now:
As expected, not only is Nils Lundkvist at training camp, but so is the MVP of the developmental camp in forward Will Cuylle. However, while Lundkvist could always be sent to the AHL if things don't work out initially, the same option won't be afforded to Cuylle.
Due to a silly arbitration/CBA rule, players who are currently under the age of twenty years old are only eligible to play for AHL teams, providing that they played at least twenty games in the AHL last season. Of course, with the AHL schedule being drastically reduced last season, where some AHL teams didn't even play and where the Hartford Wolfpack played in only a three-team division; none of this is fair or makes much sense – especially if your name is Will Cuylle.
Despite a strong developmental camp, due to the players currently on the Rangers roster, it's tough to envision the 19 year old Will Cuylle making the cut and finding himself on the main roster. That said, I'm not saying to rule this scenario out completely. I'm just saying I wouldn't bet on Cuylle to be in the Rangers line-up come opening night.
In what's a more probable scenario and after getting a taste of Rangers training camp & some preseason games under his belt too; Cuylle will most likely return to Windsor, Ontario and then play for his OHL Windsor Spitfires team. And really, that's not a bad thing either, as it's beneficial for Cuylle to get first line minutes and repetitions, rather than watching the Rangers from the press box on most nights. That said, of course, in a perfect world rid of NHL salary cap tomfoolery and wacky arbitration agreements – Cuylle would start his 2021-2022 season in Hartford with the Wolfpack. Unfortunately, and as you may have heard – the world isn't perfect.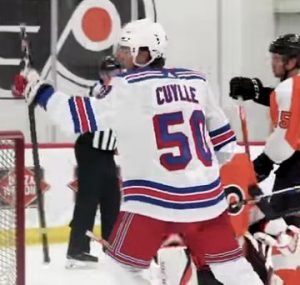 A lot of positivity took place in Rangerstown, USA on Wednesday, as not only did the Rangers gather together for the first time this season in Westchester, but new Rangers head coach Gerard Gallant also held his first in-person press conference since being named as head coach of the team too.
If you recall, and prior to Wednesday's press conference; Gallant held his first press conference earlier this summer on Zoom, during a stream which featured a WiFi strength and production quality of a Rangers developmental camp game or a Taliban hostage video. During tonight's blog, I will share the video of Gallant's press conference from Wednesday and share some thoughts too.
Elsewhere during tonight's manifesto, I have my annual "Trolling New Jersey Devils Season Ticket Agents" segment, as once again, and as it goes every year, I was contacted by the Devils earlier this week, where like an annoying person calling you about your car warranty, they begged me to buy tickets from them. Despite me telling them every year that I'm a Rangers fan and not interested, for the life of me, I can't get off of their mailing/cold call list. Even the former Columbia Music House from the 1990's, and the rest of those 20 CD's for 99 cent companies, were less annoying than the Devils are today.
Aside from Gallant and the Devils, I also have an update on former Rangers centerman Walt Tkaczuk, and a good one at that. As you'll soon see below – Walt Tkaczuk is currently reading my newly released "The New York Rangers Rink of Honor and the Rafters of Madison Square Garden" book. What's that you ask? You want a plug for that book? Well, who am I to deny you of that?!?!
At this time, let me give you my quick spiel about the book and then move on.
As mentioned last blog, the book is now available in hardcover, in paperback and in Kindle formats. To purchase a copy of the book, visit this link:
https://www.amazon.com/Rangers-Rafters-Madison-Square-Garden-ebook/dp/B09CM5N2WD
For those still looking for signed paperback versions of the book, I have 28 copies left for sale for $25 (includes shipping price) through me directly. Here is all the information on that:
---
And before getting into the regular PLUGS segment and before getting into the meat and potatoes of tonight's blog, once again, thanks to all who have purchased a copy. The reviews are starting to slowly trickle in and I'm glad this book has resonated well with you guys.
Let's now get the PLUGS segment out of the way and then get into everything else.
Say it with me – here are my last few blogs in case you missed them:
---
---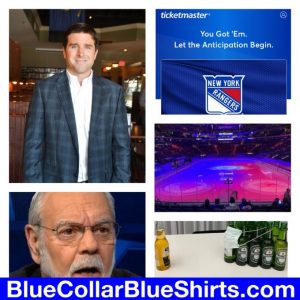 ---
As mentioned already, on Wednesday 9/22, Gerard Gallant did a Q&A session with the NYR media during Rangers media day. Outside of Gallant's press conference from media day, many members of the Rangers posed for pictures and did silly videos for the Rangers social media channels. I'll share one of those videos later on in this blog. I promise it won't be "Toxic". (Yes, that's a Brittney Spears reference!)
Very often, Ranger fans, including myself, get down on the team when it comes to the organization sharing information. Just look at my last blog, when discussing the way the Rangers produced/aired their developmental camp scrimmage games with the Flyers.
However, what the Rangers have done a good job with lately, is the way they've shared these press conferences and media sessions on the internet. While of course, you'd like to be able to watch these things live, at least the Rangers upload these videos to YouTube and in a timely fashion. In fact, about an hour after Gallant wrapped up with the media, the Rangers posted the entire video online and across multiple platforms at that.
Like I always say whenever recapping one of these press conferences, I think you're better off watching the video yourself and formulating your own opinion first, then reading what I have to say about it. I can tell you what was said, but when it comes to these major press conference/interviews/whatever, I think you'll get a better grasp of what happened and what was said if you listen to it for yourself, especially when it comes to little things like the tone being used and the inflection of one's voice.
With that in mind, here's the video, followed by my thoughts/recap of what Gallant said below:
---
I had a few takeaways from what Gallant said and how he said it, where some of my reaction is silly and where some of it is serious.
When it comes to the silly stuff, not once did Gallant say the word "SWAGGER". Gallant also never muttered the phrase "IN THE NATIONAL HOCKEY LEAGUE" either. Of course, I only say this, because it felt like former Rangers head coach David Quinn always said these two things in every interview he ever did with the Rangers, as if he was Joe Micheletti using the word "FABULOUS".
Staying on the topic of David Quinn here for a second, you can already see the differences between Gallant and DQ during this press conference as well. While I have written about this before, DQ was very involved with his players. I don't think that's a bad or good thing. I just think that's what DQ thought he needed to do, especially with a young roster at the time. In addition, it's also probably the only way DQ knows how to operate, considering he came out of the college ranks. (For what it's worth, in a recent interview with Mark Rosenman, DQ said he would change his approach, in the event he gets another job in the NHL as a head coach.)
As Gallant has previously said to Larry Brooks of the New York Post, he's not hands-on with his players, as Gallant mentioned last month that he's only talked to one Ranger at that point in time. That player was Adam Fox and Gallant only called Fox to congratulate him on winning the Norris Trophy.
When it comes to getting to know his new players, Gallant responded to the following question of "what have you been doing in getting to know your players?" with:
"Not a lot. They circle in and come for their skates, the odd-guy walks by and picks up his lunch and says 'hello coach' and you get to meet guys a little bit, but I'm not spending a whole lot of time with them right now. They are doing their thing, we are doing our things as coaches to get ready and it's nice to just casually meet them."
As you may recall, when DQ was first hired, he was calling everyone and even flew overseas to Europe to meet his players face-to-face. Gallant, a seasoned veteran, and not only as a former player but also as a head coach, has a different approach than DQ. From an outsider-looking-in perspective, it looks like Gallant will delegate responsibilities to his assistant coaches and then make decisions without looking for input from his players. That said, while Gallant may not be chummy with his players, he also made a profound statement about the current captain vacancy too.
---
From the files of the "Never-Ending Saga of Who the Next Rangers Captain Should Be", Gallant touched on this topic too, when he said:
"I think it's real important, there is no doubt. I don't know for sure right now is going to happen, but if I was a betting man – I think we are going to have a captain day one. Day one, NHL regular season. It could be before that, I don't know. It's a priority, but we are getting ready for camp, meeting the players, [etc]. If I was betting – we will have a captain.

Captains are important to your team, but 23 guys [NHL roster] are more important to me. Some teams don't have captains. Vegas we didn't have one. We were an expansion team, that is the way we went and I think it made a lot of guys buy-in and [gave us] a lot of good leaders. Whoever gets the "C" on our hockey team isn't going to be alone – we need everybody to be a leader. For my type of team, it's 23 guys being ready, whether you are 18-years old or 40-years old, everybody has to take a big part of it. That is when you take your steps, when you have 23 guys buying in and the boys knew it was from 23 players, not from two."
As mentioned 2087842784728378945724273 zillion times already on this site, my pick for captain would be Adam Fox. And as talked about last blog, Artemi Panarin has taken himself out of the running. Mika Zibanejad, Chris Kreider and Jacob Trouba, are also favorites for the title as team captain, with Trouba seemingly being the odds-on favorite to get the "C" as of this writing.
I know I've talked about this before, but it's worth repeating. I see many fans online burying David Quinn for not having a captain during his stay in NYC and people using what Gallant said today as a knock on DQ. I don't think that's fair, because the two coaches had different conditions/circumstances, where really, it's night-and-day & apples-and-oranges when discussing DQ vs Gallant.
For all the flak some Ranger fans give DQ, and especially while on the topic of team captain, DQ was tasked to oversee a rebuild. Gallant is being tasked to win now. While DQ could've went with Chris Kreider as team captain last season, due to Kreider's status as the longest-tenured Ranger; for whatever reason, that's not the way it worked out. And as you may know, last season was pretty much a "Murphy's Law" season, where anything that could go wrong, both on-and-off the ice, did go wrong. When you throw in the pandemic into the mix too, I still contend that DQ deserved one more year, but that's neither here or there. What's done is done.
When it comes to what Gallant said, you also have to know his history. Gallant played in the NHL, where DQ was robbed of playing in the NHL due to his Christmas Disease (hemophilia). Gallant is more experienced than DQ, as both a player and as a head coach. In other words, Gallant knows the value of having a team captain and also knows what it's like not to have one, as Gallant described himself when talking about his days in Vegas.
As you probably know by now, the last NHL franchise to win a Stanley Cup without a team captain were the Boston Bruins teams of the early 1970's, as the Bruins won two Stanley Cups during this time without a captain, when the Bruins did so in 1970 and in 1972.
Of course, at that time, the Bruins also had the greatest scorer of that era in Phil Esposito and one of the greatest defenseman of all-time, if not the greatest, in Bobby Orr. Sure, perhaps Panarin and Fox could do what Esposito and Orr once did, but at the risk of slighting the current Rangers, I don't think Panarin, and certainly not Fox, are what Esposito and Orr were. That said, that's not to say that Panarin and Fox could grow into these roles, because after all – Panarin was a Hart Trophy Finalist two seasons ago and Fox won the Norris Trophy last season.
In any event and as Gallant pretty much told us on Wednesday – the Rangers will have a captain this season, where really, it's been long overdue and needed.
---
If you're a regular reader of these blogs or follow me on social media, you know I can't stand the "PROPOZED LINEZ" stuff, especially when people come up with these scenarios in the middle of the summer. However, we are now close to the start of the preseason, and most likely by Game 5 of the preseason, we'll have a better feel of what Gallant will go with on opening night. And to reiterate something else I always say on this site – I'm going to trust the coach's lines here. After all, he's there and around these guys 24/7 and I'm just typing this blog up with a beer in my hand. Unlike other fans, I can freely admit that Gallant knows more about hockey than I do!
It's funny when you listen to the media ask Gallant about his lines, because 99% of the time, it are the younger members of the NYR beat asking these stupid questions, as they try to satisfy the younger fan base to who they cater to. For example, you never hear Larry Brooks asking about lines and trying to interject his fantasy scenarios onto a coach, where sometimes, you do get that vibe from the younger and less successful writers on the beat.
When it comes to the lines and who slots where, all of that stuff will figure itself out during the preseason. If there were a few telling quotes from Gallant about this topic, it were these:
On Panarin and Mika playing on the same line – "It's too early to say. I want to see them. I don't want one line that is going to stack up and the other lines aren't as strong, I think we can put together some line combos and everything works with that, but I'm not set with any one line right now."
On the Rangers abundance of left-wingers and the idea of flipping Alexis Lafreniere to the right side – "I haven't talked to him, no. As long as he likes it over there, he will get an opportunity to play over there, maybe yeah, he's a young kid. We want those kids playing a lot of hockey. I don't care if you are 18 or 35 years old, come and play, show up and show you deserve the ice time and you will get it. It's all about what they want to do and we talk about taking another step as a team, it's not just the young kids – it's about everybody taking another step to get to where we want to get."
If there's anything I want to see for my own personal enjoyment, it would be seeing Barclay Goodrow, Sammy Blais or Ryan Reaves in the top six – just so I could see these chart boys and analytic nerds go nuts! After all, these people are still crying about "The Russian Wayne Gretzky" himself, in Pavel Buchnevich!
As far as my line suggestions, I don't have any. I just hope whatever Gallant does, he sticks with it, before breaking up lines two minutes into a game, as DQ often did. In Gallant We Trust!
---
When it comes to anything else that was truly newsworthy, Gallant talked about his coaching staff and their responsibilities, when he said the following:
"Mike Kelly is going to be doing the PP, Gord Murphy will do the PK and myself and Jim Midgely will assist them both. It's not one thing where one guy goes over there and does all the work. We are there every day. There are four of us in one big office and we discuss everything as a group. If the PK and PP doesn't go well we aren't going to blame that one guy."
As you'd expect, Gallant also received many softball questions during all of this and gave answers that you'd expect him to give. After all, when Gallant is asked, "what do you think about Nils Lundkvist?" or "what do you think about Ryan Reaves?", what do you think Gallant is going to say – "they can blow me"? Of course, Gallant praised every player on the roster and as he should've.
All in all, Gallant seemed to be in good spirits and it's going to be fun to see how this season plays out. I really believe this team will make the playoffs.
If there is anything that shocks me a bit (I'm not complaining, I'm just saying), it's that the Rangers will have two practices, and BOOM, it's preseason time. You'd think the NHL would give teams more time at camp before having preseason games. That said, at least every team in the league is playing under these conditions and this isn't just exclusive to the Rangers.
As far as Sunday, and the first three preseason games in general go, as usual, expect a few veterans to play with the kids, as Gallant takes a look at the Rangers pipeline and then makes his cuts afterwards.
Next!
---
On Wednesday, I received a picture from Walt Tkaczuk posing with my new book. I also had a chance to relay a story to him regarding the past and wanted to see if he remembered it.
Many years ago, as in nearly half a century ago, my dad worked in the MSG box office, where one of his responsibilities was giving out comp tickets to the wives of the Rangers. (Keep in mind, we're talking about the 1970's here, so there was no mobile ticketing or any of that jazz.) Over time, some female fans figured out that if you went to the box office and said you were the wife of so-and-so, they'd be able to get free tickets too. To combat this, it was Walt Tkaczuk's wife Valerie who came up with a solution, a solution that was pretty simple at that.
Rather than the wives providing their full name, it was Valerie Tkaczuk, Walt's wife, who suggested that the wives be given their tickets under their maiden name. This worked out perfectly and there were never any issues again regarding the wives of the players getting their free/comp tickets. It's also why, nearly fifty years later, that my dad still remembers the name of "Valerie Kelford", with Kelford being Mrs. Tkaczuk's maiden name.
I was also told that Tkaczuk plans on reading my entire book and will not just skip ahead to his chapter and call it a day! I was also asked by Tkaczuk why I didn't include Dean Prentice in the book, but luckily I had a good answer for that, and a multi-pronged answer as well. When it comes to Prentice and others, there is an "omission" section in the book, where Prentice is mentioned. In addition, with the book at a whopping 540 pages, I still have about 50 or so names left for a Volume 2 – a Volume 2 that I hope to write AFTER the Rangers win their fifth Stanley Cup!
(And of note: I'm 200+ pages deep into my next book – "The Best & Worst Trades in New York Rangers History (And Everything In-Between)". Working title! I also must add, those 200 pages only cover 1926-1946, so if this book surpasses 500 pages (I think this book might take 900+ pages to complete), I may break the book up into volumes to help save on printing costs. However, it's still way too early before even thinking of publishing this book!)
From doing the book and this website, I'm often relayed stories from members of the Rangers alumni and their families. The stories that I like best are the ones where these retired players are still hanging out with their ex-teammates and long after their playing days.
I was told that prior to the passing of former Rangers captain Bob Nevin and Dean Prentice, that the pair used to hang out with Walt Tkaczuk regularly and spent time at the golf course that Tkaczuk currently owns in St. Marys, Ontario. Here's a picture of the trio from 2017:
I shared the two pictures of Tkaczuk on Twitter, where I received a ton of responses. Many old-time fans told me that Tkaczuk was one of their favorite players, and in some cases, that Tkaczuk was their favorite player of all-time. (I know Tkaczuk is my buddy Ricky Otazu's favorite player of all-time.)
In the future, I'll see if I can get Tkaczuk to do an interview or do a "Where Are They Now?" type of deal for this site, because as you may know, and as mentioned in the book – Tkaczuk is one of the members of the NYR alumni that has slipped through the cracks a bit. While he's not looking to travel right now due to the pandemic; very rarely have you seen him at NYR alumni gatherings in NYC.
Moving on, some silliness and immaturity. Only on this site and on these blogs can you get a serious update on the alumni and then a stupid segment following it!
---
Over the last several years on this site, I have shared email transcripts or have relayed to you my telephone conversations with season ticket representatives of the New Jersey Devils. You see, and as you may know, if you ever buy a ticket for a Rangers road game, you're automatically put on an email list and sometimes put on a cold-call list too.
For what it's worth, the Devils aren't the only team who contact me annually, in their attempt to get me to buy season tickets. I've been to something like 25 NHL arenas, and around this time of year, I routinely get emails from all of these teams, where they ask me to buy season tickets. I should also note here, that I used to get bombarded by the Islanders too, but they have finally removed me from all of their emailing and cold-calling lists. Perhaps after this recent exchange that I'm about to share with you, I'll now be removed from the Devils rotary too!
Before sharing everything with you, and especially because we now live in a "qualifying statement" world, where you have to present anything that could be a tad bit controversial before presenting it; I understand that these season ticket agents are only doing their jobs. I am just having fun here. I have had other Ranger fans tell me that they curse these people out, talk about the plentiful sex that they have with the mothers of these agents and other stuff from the realm of vulgarity. That's them. For me, I try to be comedic with it and as long as the agent wants to play along and volley exchanges, I try to keep it entertaining.
In other words, it's my aim here to get a laugh out of you and not be cruel to these guys who are just doing their jobs. That said, if you work for the Devils and continue to email me relentlessly, I'm going to have my fun too!
---
To protect the innocent here, I'm going to omit this agent's last name, email address and phone number. After all, I don't want want people going after this guy since he's only doing his job.
On Monday, I received the following email:
Hi Sean,

My name is Vaughn S. with the front office of the New Jersey Devils, and I am excited to introduce myself as your personal contact moving forward with the Devils! My job is to be your resource for the team and enhance your experiences when coming out to the arena now that fans returned to the Rock!!

The New Jersey Devils future is extremely bright with Jack Hughes, Nico Hischier, and Mackenzie Blackwood! We would love for you to be a part of the run and what the future holds!

What time would work best for us to talk about how I can help you out for Devils games next season?

Vaughn S.

vaughns@xxxx.com

973 982 XXXX

---
I responded with:
Hello Mr. S.–

I am a Rangers fan and every year I get the same email from someone in your organization. The only tickets I'm interested in are the ones when the Rangers come to the Rock to whip the Devils.

LGR

Thank you,

Sean

---
Vaughn immediately got back to me with this:
Hi Sean,

Sorry to hear that you're a Rangers fan but if you ever get tired of paying MSG prices and want to catch one of the Devils/Rangers games this season (or both), feel free to reach out! I'll be happy to help.

Best,
Vaughn.

---
Always wanting the last word and with a desire to up the ante after Vaughn's "sorry to hear that you're a Rangers fan" comment, I replied with:
Vaughn-

Fortunately, I have a well paying job, and a job that pays better than say working as a cold caller for a Mickey Mouse hockey organization, thus allowing me to be able to afford the insane prices at M$G.

Should you ever wish for a job that doesn't require you to be the equivalent of an online Jehovah's Witness, where not only do you beg for money but ask for conversion too – I hear Monster.com and ZipRecruiter.com are doing amazing things these days.

To quote a songstress from my generation, when it comes to NYR games at The Pebble, "isn't it ironic" that the most expensive Devils tickets of the season are the games where the Devils host the Rangers? "Don't you think?"

Lastly, feel free to send me your prices for both games where the Rangers will once again sweep the Devils on the road again.

Respectfully,

Sean

PS: LGR
---
Vaughn came back with:
Sean,

Glad to hear, I'm sure you've had some great experiences. To give you an idea of pricing, if you're looking for just 2 seats to those Rangers games, we offer loft seats for $325 per seat. If you have a group of 4-9, we offer restaurant seating for $333 per seat and club seats for $445 per. A group of 10 or more would have a larger selection of seats, but I'd imagine you'd want one of the best seats in the house.

Just let me know,
Vaughn.

---
As I was sitting on my toilet (our cell phones have to be full of bacteria, because we all play with our phones when on the throne, whether you admit to it or not), and waiting for nature to do its thing, I came back with:
Hey Vaughn-

You should see if you can get a 15 minute set at the Chuckle Hut or at the Laugh Factory. Tickets at M$G are actually cheaper than the junk you're selling and I don't need to wear a flak jacket either like I have to do in Hockeytown, USA aka Newark, NJ.

Good luck on a successful comedy career,

Sean

---
Vaughn immediately responded with:
Sean,

Appreciate that. Love to make people's days. Good talking to you and best of luck.

Go Devs.

Vaughn

---
Again, call it an ego or whatever, but wanting the last word, I gave Vaughn one more response before ending our exchange:
Vaughn –

All the best, but LGR!

Sean

---
The preceding segment was presented by a Junior High School. Yes, this was all puerile, but hey, I thought some of you might get a laugh out of this, just like this guy:
Quick update on the smiling Ryan Reaves here – I've been told that he plans on really getting involved in the community and will also explore some business opportunities, including introducing a new line of beer from his brewery. As I've said in the past, he can use my "Blueshirt Bluewery" name if he wants! Just give me a free six-pack!
Continuing the silliness, and in more stuff out of Rangers media day, the Rangers shared the following clip on social media on Wednesday:
Welp we feel old. 😂 pic.twitter.com/HPmkYYQYXe

— New York Rangers (@NYRangers) September 22, 2021
Really Alexis Lafreniere? You don't know who Brittney Spears is!?!?
Listen, I get it. Lafreniere is a young man, and a Canadian one at that, but how does he not know who Brittney Spears is? After all, to compare, Marilyn Monroe died twenty years before I was born, but I'm well aware of who she was!
And to pile on here, Brittney Spears is in the news every day, doing whatever she's doing with her father and the money that she's not able to get access to. It's not like Spears faded away into the sunset like a one-hit wonder, as she is still mainstream news to this very day!
Then again, perhaps Lafreniere is on Team Christina Aguilera and this was his slight on Spears!
Switching gears here, one story to make you wonder and a serious story too.
---
I don't want to get into a deep discussion about COVID-19 and all of the never-ending arguments that pop-up as a result of it. However, I want to make mention of some recent stories going around throughout the NHL regarding players and getting vaccinated.
The NHL has announced that they will fine/suspend players if they aren't vaccinated and unable to play in games. Currently, Tyler Bertuzzi of Detroit is in the media's cross-hairs, as Bertuzzi refuses to get vaccinated. In turn, under current Canadian law, Bertuzzi is not legally able to enter Canada.
And real quick, and as talked about previously, I plan on going to Vancouver this season to see the Rangers play. The hoops you have to go through are insane. Not only do you have to be vaccinated (I am and I'm fine with that), but you also need to provide a 72-hour PCR test at your own expense, in addition to taking a rapid-test at the border. In addition, you also have to provide a "quarantine plan" to the Canadian border authorities, in the event that you get COVID-19 in Canada.
If there's anything that I'm not happy about, it's the fact that I have to pay something like $100 for the PCR test. If I'm already vaccinated and pass the rapid-test at the border, why do I need a PCR test too, a test that I have to pay for out of my own pocket? I get being safe and all that, but this all just seems like overkill to me.
All across the NHL media and from the NHL themselves, they are touting how the league is something like 99% vaccinated, where Bertuzzi is one of the rare exceptions. In addition, after releasing a coach who refused to get vaccinated, the Columbus Blue Jackets recently withdrew a PTO to Zac Rinaldo, since Rinaldo refuses to get vaccinated. So just like most employers across the nation, the NHL is also punishing people who refuse to get vaccinated. (Keep in mind, however you feel about this issue, the vaccine isn't for everyone and no one knows the medical history of others.)
Here's what I'm wondering. The NHL has made it clear that they are going after players who refuse to get vaccinated. However, what's the NHL doing about the NBA teams who share the same arenas as some of the NHL teams, including the Rangers themselves? The NBA is allowing their players to play without getting vaccinated and with no repercussions at all. For whatever reason, NHL players seem to support the vaccine while a large portion of NBA players are against the vaccine. Maybe it's because the NBA makes so much money with China? Hmmm!
As we all know by now, the vaccine isn't 100%. Even if you have the vaccine, you can still get sick. With that known, what happens in the event that a Ranger gets COVID because of a random Knick who has the virus? Is Bettman and the NHL doing anything with the NBA to eliminate all contact that NHL and NBA players sharing the same arena may have?
Just food for thought, as this seems like a topic that the media does not want to explore or talk about right now.
---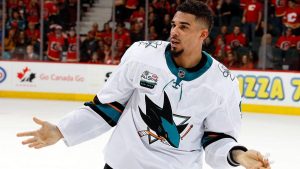 In our final topic before we wrap-up here, on Wednesday, the NHL announced that the investigation into Anna Kane's claims, where the soon-to-be former Mrs. Kane alleged that Evander Kane was gambling on his own NHL games last season, is now complete.
To read the NHL's entire statement, where they have cleared Evander Kane from all allegations, check out: https://www.nhl.com/news/sharks-kane-gambling-investigation-completed/c-326267762
As I said on this site when these allegations first came out, I thought this was a case of "hell hath no fury like a woman scorned." While I'm not defending Evander Kane at all, as I think he's a pretty terrible person (and if you really want to hear someone go off on what a poor person Kane is, check out John Scott's "Dropping The Gloves" podcast), I didn't think he was that stupid to bet on his own games. Plus, prior to her allegations, Mrs. Kane was complaining about what a piece of shit Evander was, as both a father and as a husband.
When Anna Kane made these allegations, it all came off like Mrs. Kane trying to ruin her husband. Now, if Evander wants, I'm sure he can sue her for slander and libel, although he'd be pretty much suing her for his own money. In other words, I don't think litigation is coming.
While Evander dodged a major bullet here, who knows what happens next? As you may know, it's been reported that Kane's Sharks teammates want nothing to do with him, despite Kane being one of their best players last season.
At the same time, even if the Sharks want to trade Kane, it's nearly impossible, as Kane still has four seasons left on a seven-year deal worth $49M overall ($7M AAV cap hit). In addition, the contract also carries a three-team no-trade clause too. With Kane's reputation being horrendous, it's hard to imagine a team looking to add him to their roster and not for that salary cap hit as well. All of this feels like it will be a long season for the Sharks and their fans.
UPDATE: as I was publishing this blog, the Sharks just announced that Kane will not be participating at the Sharks training camp. What a mess. Let's just hope he doesn't follow Gallant's advice, and bets on who the next captain of the Rangers will be!
---
If you haven't already, subscribe to this blog for the next update:
---
Up next: a few days of Rangers practice, the preseason and before you know it, the real thing will be here, as the Rangers open up their season on prime-time television in Washington. TNT couldn't have asked for a better game.
Until next time…
Stay FABULOUS my friends.
As always here, thanks for reading and…
LET'S GO RANGERS!
Sean McCaffrey
BULLSMC@aol.com
@NYCTHEMIC on Tweeter