I debated how to open this blog. Do I go right for the jugular or give you a quick little intro? Is it even worth talking about the individual games themselves or talk about the problems that happen every single game. The fury is definitely building up in Rangerstown. I thought in my last blog, available by clicking here I really addressed the Rangers issues, after their 7-3 dumpster fire against the Washington Capitals on December 20th. Since then, we've had the holidays, the New Year and watched both MetLife football teams shit the bed worse than a broken 100 pound colostomy bag.
If you read my last blog, there really hasn't been much changes. Here are the games that occurred, since I last left you:
12/22: Rangers 3 – Ducks 2
The Rangers won this game in OT. It was a much needed win to close out their last game at home before the Christmas break and New Year. However, the Rangers were leading 2-1, until King Contract let an easy one slip by to tie it up. Luckily, Zucc scored halfway into the OT to send everyone back to Penn Station with a smile on their face.
12/28: Rangers 3 – Predators 5
The Rangers got absolutely dominated here, and once again "KING" Lundqvist took his rightful throne on the bench. We also got this picture after that game:
12/30: Rangers 5 – Lightning 2
Don't let the final score fool you. The Rangers got two empty net goals. In what should come to no shock to you at all, Rick Nash got one of them! Hell of a way to pad the stats! Tampa looked extremely sloppy, haphazard and just out of it all game. This was a rare Ranger victory over the Lightning and Bishop. In fact, it was Bishop's first loss to the Rangers, EVER, in the regular season. While they won the game, I tweeted at the time, @NYCTHEMIC (which you can follow for on-going game commentary and jokes that only I find funny), that the Rangers just played a little less worse than Tampa. In no way did I think they turned it around.
1/2: Rangers 0 – Panthers 3
In the Rangers first game of the year, Panthers goalie, Roberto Luongo, the guy with the $4.5M cap hit, posted a 40 game shutout. By mid-way into the second period, Lundqvist already gave up 3 goals off 11 shots. KING!
I know I sound like a broken record here, so I'm going to add more about Lundqvist that I haven't brought up, before moving on. Make sure to check out the last few blogs, as I won't say the same stuff again here.
Lundqvist, who was playing the best he ever did since that magical 2012 season, has completely nosedived. Is he the lone culprit for the Rangers woes? No, of course not, but he's a big part of it.
To me, Glen Sather screwed this team a million ways to Sunday. I've talked about this aplenty on this site. I'm not going to go into all the horrible deals Sather made, like Redden, Gomez, Drury, etc, but let's analyze one of his biggest. When he decided to make Lundqvist the most expensive goalie in the NHL, he made this team a defensive team first. The Rangers strength would have to be through their defense, not offense. If you look around the league, the most successful teams are the offensive ones, like the Caps, like the Stars, like the Blackhawks, like the Panthers.
What does the NHL talk about during every off-season? How to increase scoring. Knowing that just shows you how boneheaded Sather is/was. We all know sports are a business. It's all about money and ratings. That applies for every sport, not just the NHL. Scoring is sexy and defense is boring for the average sports viewer. Football has tried to increase scoring, baseball has, basketball has and hockey has. We got the freakin' trapezoid now, because of how great Marty Brodeur was at shutting teams down.
When Sather decided to build from the goaltender out, it was a terrible decision. We've seen it. I've said it a million times here, you don't need a top goalie to win a Cup in the NHL. Not one top 5 paid goalie in the cap era has ever won a Stanley Cup. With the Rangers allotting 13% of payroll to a goalie, it was a horrible decision for the success of the team.
Now, was keeping Lundqvist a Ranger a smart deal? Of course. Lundqvist is a draw for the NY Rangers. It's a beneficial deal for both parties. The Rangers help the Lundqvist brand and Lundqvist creates money for the Rangers. However, I dismiss the theory that Sather needed to keep Lundqvist here, just because NY is a front runner town. We saw Yankee fans wear Met hats in October and saw Giant fans pulling for the Jets. Lundqvist or no Lundqvist, if the Rangers win a Cup, the building will be packed, people will be watching and people will be buying merchandise.
Bottom line, and you know I was the first to say it and still saying it now, Lundqvist's contract dooms the NY Rangers. When fans want to talk about Girardi, Staal and whoever else's contract, Lundqvist set the precedent by getting that ridiculous deal. Of course they want to be paid on scale versus Hank's contract.
So for $8.5M a year, the most expensive goalie in hockey and the man with no Cups, what does Lundqvist have to show for it thus far? After a great start, he's imploded. I'll provide the stats too, but even watching the games, he looks unsure of himself. He's overplaying pucks. Giving up too many rebounds. Constantly looking behind himself. Getting a ton of help from posts and his defense. I believe Klein and Staal each wacked a sure goal out of the net during this recent slump. The stats will show that Hank has been terrible and watching him for 60 minutes will confirm that for you.
For $8.5M a year, the most expensive goalie is posting these impressive numbers:
Lundqvist is 26th in the league with a 2.51 GAA. This was the same guy who once said, "Give me two goals and I got this."
Lundqvist is 20th in the league, with a .920 save percentage. It's been a lot worse the last month. It's amazing the drop in his play from where he was at the beginning of the season.
Lundqvist is 6th in losses in the league. Not very regal.
Lundqvist has given up the 3rd most goals in the league at 78. King? More like court jester.
Lundqvist is 14th in the league with shutouts, with two. For a team paying a guy to be the best player on the team, that is a low number. Multiple Cup Champion, Corey Crawford, leads the league with 5. Is Crawford that great, or is he getting help from a potent offense always dominating the puck possession as well? It's a mixture of both.
I know it's very hard to talk bad about a guy who has been the man for this team for so long, but numbers are numbers and facts are facts. I see more people starting to turn the corner on the Faux King. The voices are getting louder.
Bottom line, every top paid player in the NHL is delivering right now and doing so every night. Ovechkin. Perry. Tavares. Kane. Toews. Benn. Fucking Jaromir Jagr! Henrik Lundqvist does not deliver every night and usually leaves games before they are over. Making things worse for Ranger fans, not one team in the NHL would deal for Hank's contract. The Rangers could assume some cap responsibility in a trade, like how the Coyotes are doing with Yandle, but it would defeat the purpose. The Rangers are flat out fucked with Henrik Lundqvist's contract.
The Rangers are a mess. I explored trade opportunities in the last blog, so I'm going to stay away from that here. Due to the strict as a nun's asshole salary cap, you don't see as many NHL trades like you used to. You're not going to create the 1994 team with outside deals left and right.
So what can be done? I am reading blogs and social media postings suggesting Coach AV gets canned. Please. It's not his fault. His star goalie is not playing like a star like he's being paid to do. His guys aren't scoring. AV, even in his short tenure, has had more success than 95% of the coaches in NY Ranger history. They still have a playoff spot if the season ended today. This slide has nothing to do with AV.
For the Rangers to really improve, and it sounds cliche, they need to get better from within. What the fuck is Rick Nash doing? Sure, he's getting shots off and going to the net, but he's being paid to score goals. And not empty net ones. When you look at Rick Nash's salary and compare him to players making similar money, Nash isn't even on the same planet, let alone country, with his peers. I wouldn't call Nash a bust as a NY Ranger, but he isn't a success either.
The biggest failure for the Rangers this season is Chris Kreider. It pains me to write that, as much as it pains you to read that. We all want Kreider to do well. We've seen him grow within this organization. We went nuts when he scored that hat trick against the Tortorella led Vancouver Canucks two seasons ago. We celebrated his big playoff goals. We chuckle when we see Kreider skate into a goalie! However, there is no laughing or celebration with number 20 right now.
Kreider, once hyped and predicted to be a 40 goal scorer, 70 point type of guy, has 6 goals and 12 assists in 39 games. Let's not forget, he's also in a contract year. For a guy who could've potentially got a huge contract next season, if this keeps up, Kreider might be begging just to play in the NHL. He really needs to turn it around and fast. If he heats up in the playoffs, this will all be forgotten.
Just let that last sentence seep in, because it's the truth. For the Rangers, it's all about the playoffs. You know my mantra with this team is "playoffs, playoffs, playoffs." However if this team misses the playoffs, it's going to hell on earth at MSG. I don't think it will happen. I think the Rangers will make it, albeit not win the Cup this year. As I said at the beginning of the season, I think your Stanley Cup Finals will be the Caps vs the Hawks. Regardless, players in hockey are remembered for what they do in the playoffs, more-so than what they do in the regular season. It's why Martin St. Louis was forced to retire. It's why fans call Rick Nash the "A-Rod" of the Rangers. It's how a man like Mark Messier is considered a God amongst men, in NYC, despite having greater and earlier success a million miles and a few time zones away.
Dan Boyle. Tanner Glass. Those two names used to make Ranger fans cringe, myself included. We talked about Glass before here on these pages. He's been a new player since coming back to the team after his demotion to Hartford. Now I'm seeing what Coach AV has seen in him. Glass, who cleared waivers, meaning no NHL team wanted him, has been the player he was supposed to be when he was signed here last season.
What Glass does on the ice doesn't necessarily translate to the stat sheet. He's not scoring a plethora of goals, but what he's doing is making big hits, clearing the puck, standing up for his teammates, winning fights and just kicking ass for each shift he's on the ice. While some players don't play 100% every shift and look like they are in a dream state, Glass is giving you everything he has.
Tanner Glass was horrible for the Rangers last year. Just absolutely brutal. It's amazing he was allowed to return to this team this season. I thought he must've had weird sex photos of Coach AV. However, in his third real opportunity with this team, the third time has been a charm. He's doing so many little and big things on the ice that I'm actually looking forward to his shifts. I'm surprised the fan apparel T-Shirt companies aren't making Glass shirts. I guess they gotta milk Lundqvist for all he's worth. However, Glass is getting Broadway Hats and has been impressive. I am happy for the guy. Now if only the rest of the team had his determination right now. Maybe everyone should be demoted to the Wolfpack!
Dan "GET OFF THE FUCKING ICE!" Boyle (Copyrighted by JEFFREY) is another player enjoying success while the team struggles. I talked about this before. I don't think it would be that radical to try to convert him to a forward. See how it works out. What's the worst thing that happens? The team loses? They are doing that now anyway. Boyle is one of the better offensive players on the team. He's outscoring everyone on the fourth line. Why not give him a crack at it? We've seen success for other defensemen-turned-forwards in the latter stages of their career.
You know how much I despise Emerson Etem, as a player for the Rangers. Nothing personal against Mr. Etem, I'm sure he's a nice guy, but he sucks, not fit for this team and is questionable to even be in the NHL. I'll save you my Hagelin spiel, you've seen it before.
By giving Boyle a shot at forward, it would allow Dylan McIlrath to enter the line-up. You could also waive Etem. I doubt anyone would want him, but you could can some of his contract off of payroll. Really, what do the Rangers have to lose by trying this out? Boyle's greatest strengths, at this stage of his career, are on the offensive end. He's being beat way too many times and is often slow to the puck. He tries, don't get me wrong, but Father Time has a tight grasp around him. The Rangers need to get younger, and letting McIlrath play full-time is something that needs to be done. He's being wasted being scratched every night for weaker players at their position.
Using the word "I" and always referring you to check out past blogs seems egotistical on my part. I (there's that I again) know it. However, I'm trying to give you a reference and show you that I'm not blowing smoke up your ass. Everything I've said has happened. I mean, just look at the Caps. I said the Lundqvist deal kills the Rangers and Caps would go nuts in the off-season. Caps, after adding Oshie & Williams, are a Cup favorite right now, while the Rangers added Stoll (waived), Stalberg (scratched often) and Etem (scratched repeatedly and worst player on the team.)
Whether it be trades, player acquistions, saying Talbot would be fine last year, Lundqvist's contract, giving up picks, trading Duke, etc, etc, etc, for the most part, I've been dead on. It seriously drives me fucking nuts how much Sather has ruined this team. I want to see a Stanley Cup at MSG more than anyone, but I'm realistic too. I just don't see it happening with this current structure. No fan of any NY team wants to hear the word "rebuild" but the faster the Rangers accept that the window has been closed, and start to shake things up, the faster they will get to that Cup Trophy. I'm not saying the Rangers have to blow up the whole team, but you gotta get Lundqvist, Nash, and sadly, Girardi, out of here.
Between Girardi, Nash and Hank, you're committed to $21.8M in salary. The cap salary ceiling is $71.4M. 30% of team payroll goes to three guys who can easily be replaced. Look at it. Girardi and his $5.5 contract can be shitcanned and the Rangers wouldn't miss a beat. You got McIlrath and Skjei itching for a spot. Hank can be replaced by Raanta or really any other goalie in hockey. Hank isn't winning games on his own like he used to. You can get the same amount of wins for alot less money. And Rick Nash? LMAO! Granted, what teams would take these contracts? Who the fuck would give Rick Nash $7.8M right now?
Another player I've been dead on about is Kevin Hayes. Just check the archives on the right hand side of this blog. Hayes is not just in a sophomore slump, he's in a fucking season long motherfucking aneurysm. (Anyone know what movie I paraphrased right there? Hint, it's a Jim Carey movie.)
It's amazing how many asides I go on, but let me get off subject once again. The last few blogs were the most read and commented blogs in the history of this little blog. You know I'm not making any money on this, nor looking to. It's a hobby. It's a way to vent. It's therapy. And if I have fun talking hockey with new people along the way, it's a bonus. So when I say, "assuming you've been reading this blog for a while", I really am assuming that.
That said, you know I go to a ton of games, home and away. Shit, I just got back from Alberta to see this team stink up the joint like a sweaty Oprah Winfrey fart in a crowded elevator. Hockey is such a great sport live, as we all know. Sometimes I'm watching the puck. Sometimes I'm watching shift changes. Sometimes, I will just zone in on a player and appreciate the greatness, like a Jagr or an Ovi. Other times, I will watch a player that is extremely struggling and try to figure out why. That player for me has been Kevin Hayes.
I don't know how to solve Kevin Hayes. I don't think Coach AV does either. It seems AV's plan to get through to Hayes was to bury him in the media and scratch him.
What struck me funny off the bat is that AV says "What we're seeing now is not good enough." Then why the fuck is Emerson Etem in the line-up? Why is Lundqvist starting every game? Different strokes for different folks, I reckon.
However, AV is right. Hayes has been horrendous. He won't shoot the puck. He has more turnovers than Tony Romo & Mark Sanchez combined. He won't use his body to hit anyone or position himself closer to the net. He's really become a liability for this team. AV's approach here is obviously tough love. Will it work out? That remains to be seen, but I agree with the decision to bench Hayes. Glass was demoted and came back a new player. Will this rile Hayes up? I hope so, but only time will tell.
What really hurts this team is that along with Hayes, Kreider has been terrible, Lindberg has cooled off tremendously, Stepan isn't scoring, and Fast is barely noticeable. The young guns are shooting blanks like they had a vasectomy.
One real issue here though, if Hayes comes back and poops his pants, then what? Waived? Traded? The Hayes of the last month can't be on the ice if this team wants to win games. On the flipside, if Hayes comes back and is lighting lamps left and right, then what? Every player that shits the bed gets scratched and blasted in the media? AV is walking a fine line here. Still, as always, IN AV WE TRUST!
We all want the Rangers to hoist up that Stanley Cup again. However, I do believe the organization has to really assess themselves. Don't they look around at the rest of the league? When you're strength is goaltending, and some team with palm trees on their jerseys is shutting you out after 40 shots, you really got to start thinking. I truly believe Sather knew he screwed the team on the way out, which is why he quickly retired after foolishly dealing Duclair, Talbot & Hagelin.
Some non-Ranger stuff:
Thank you Tom Coughlin for your years as coach of the NY Giants. It's been real, but you gots to go.
Thank you Jets for being the same old Jets. Misery loves company. If the Giants can't be in the playoffs, I'm glad loud-mouthed Jet fans are silenced too. Jets are lucky they got that far anyway. One punch to Geno Smith's face changed their fortunes.
As Yankee/Ranger/Giant fan, I don't know how Islander/Jet/Met fans do this their whole life. I've been fortunate with 2/3 of my teams. Unfortunately, the team I really want to see win one the most has let me down more than the Catholic Church has let down morality. If the Rangers keep this slide up, I might have to substitute the "LGR" tweets for "LGP", as in Let's Go Playstation4!
I still think the Patriots and Seahawks see each other again in February.
Thanks to the people who asked about my girlfriend's cat, Mr. Fatman. He's back to normal and sleeping around with his pal:
Again, if you been following this blog, you know how much of a fan I am when it comes to 68. One of the top 5 players of all time and if he didn't lose those 5 seasons, he would be a 1000 goal scorer and have every scoring record. How great is that he was elected as captain for the NHL All-Star Game, after being snubbed a year ago? Of course Jagr doesn't want the distinction, nor play in the game. Since the NHL is doing the three vs three tournament (which is going to be a nightmare for the goalies and their egos, thank god Messier that Lundqvist won't have to endure that mental damage) Jagr wants nothing to do with it.
At Jagr's age, even if he's banging 18 year old chicks (his twitter account is great), he doesn't want to be skating non stop for a 3 vs 3 showdown. Understandable. What the NHL should do, is honor him and do a little ceremony to celebrate one of the greatest players, EVER, in NHL history. Let him coach the team, or take one shift or something. If this was Gretzky, he would be getting the red carpet treatment. Jagr deserves the same..
Speaking of Jagr, I know there is this pic out there: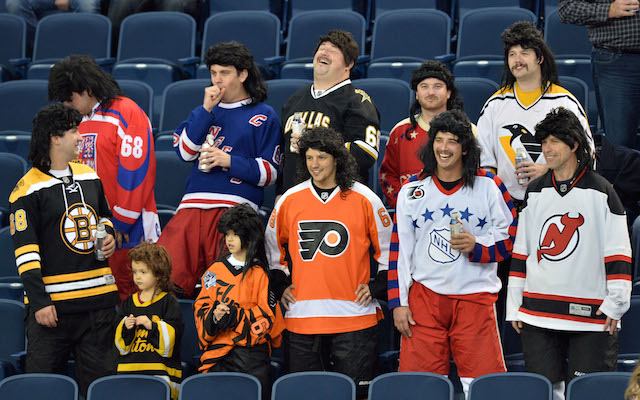 Does anyone have a photo collage of Jagr in every jersey he's ever worn? I'll tell you why in a future blog.
For a team needing some doormats, it doesn't get any simpler for the Blueshirts.
The Rangers host Dallas on Tuesday night, then get some time off before hosting Washington on Saturday, followed by a Marchand returning Boston on 1/11. Then the Rangers go to Barclay on 1/14 for what should be a tough time with the Brooklyn Hipsters and their silly SUV in the front row. The Rangers are slipping in the standings. They currently have the three seed and if this keeps up, would drop to a wild card team by next week. Something has to give.
I fully expect the Rangers to get their doors blown off on Tuesday against one of the best teams in the NHL. After that, the Rangers have 3 full days off, before the matinee with the Caps. Those three days will be crucial. This team needs to figure shit out. Or else we will be looking forward to pitchers and catchers coming back in April.
Happy belated New Year and all that jazz. May 2016 be the year the King gets his Crown and more importantly, the Rangers get that elusive fifth Stanley Cup Trophy.
Depending on what goes on at work Tuesday night/Wednesday morning, I'll try to get a blog up after the Dallas game. If not, I'll be back next Monday. In the meantime, come talk shit with me on twitter!
LET'S GO RANGERS!
Sean McCaffrey
BULLSMC@aol.com
@NYCTHEMIC on the twitter machine.