What's up everyone and welcome to another blog here on BlueCollarBlueShirts.com. I wasn't able to recap the first two games of the Rangers season due to an extremely busy work week. On top of putting in 48 hours in a 72 hour span, I also came down with some sort of cold. It's been non-stop coughing, headaches and more diarrhea than what comes out of the mouth of an Islander fan. I'm currently on my self-prescribed medication of JP Wiser's whiskey, Ginger Ale, Halls Cough Drops & NyQuil. Ironically, I think that's what the homeless people outside of MSG are on too! Especially that guy telling us to "REPENT" on a daily basis.
Before getting into the Sharks game, I know I'm always on the negative side here on these blogs. It's hard not to be. 4 Cups in 90 years will jade you pretty quickly. The definition of insanity is doing the same thing over and over and expecting different results. That's how I feel the Rangers are with the contract of Henrik Lundqvist.
Put it this way- the Rangers are the only team in the NHL to have their goaltender as the highest paid player on the team. It's just nuts. As I been preaching all along, not one top 5 paid goalie in the new salary cap era has won a Cup. Not only is Lundqvist the highest paid player on the Rangers, he's the highest paid goalie in all of the NHL.
I don't know how many of you watch games around the league, but more and more, we are seeing on any given night, no name goalies, decent goalies, and goalies making 50%-75% less than what Cranky Hanky is making, outplaying Lundqvist. The Penguins won a Cup with a rookie making $600,000. You need scoring to win in the NHL. Building from the goaltender out is a sure-fire way to not win a Cup in this new NHL.
What's even sillier about making Lundqvist or any goalie your highest paid player on the team, is that the goalie doesn't play every night. With the Rangers saying Hank is only going to play 58-60 out of 82 games, it's fucking ridiculous to pay him that money, especially since he continues to choke and falter in the playoffs. Think about it, would any GM around the league trade their highest paid player for Lundqvist? Crosby for Hank? Yea right. Ovi for Hank? LMAO! Kane or Toews for Hank? Be serious. NOT ONE TEAM WOULD TRADE THEIR TOP SUPERSTAR FOR LUNDQVIST. What does that tell you?
Unless the Dallas Stars, who overpay for two mediocre goalies, are interested in trading for Lundqvist, the Rangers are stuck with the horrible contract of an aging goalie for the next 5 years. Perhaps they can get rid of him in the expansion draft. It's just insane to think you can win a Cup with this guy, but in the spirit of optimism, here's how the Rangers can win the 2016-2017 Stanley Cup: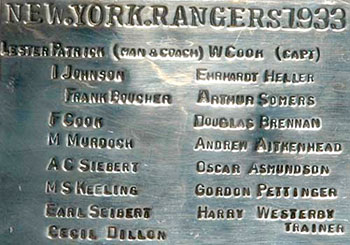 How The Rangers Win The Cup
Henrik Lundqvist plays the way he did in his prime. To me, Hank's prime was 2012. However, he wasn't able to carry his team to a Cup like Jonathan Quick (30th highest paid goalie at the time) did. As each season goes by, Lundqvist continues to get worse. He was benched more times last season than any other time in his career. He gave up 4 or more goals more times than any other time in his career. Like the 2015 ECF, he was giving up 5+ goals left and right in the 2016 playoffs. Again, the Rangers are screwed with this guy and his contract, so unless the Rangers are gonna put up 7 goals a game, like they did tonight, Hank needs to be a man, take some responsibility and play better. Bottom line – Lundqvist needs to play like the way he's being paid.
Rick Nash wakes the fuck up. Like Lundqvist, the Rangers are hurting with Nash's contract. It took him 5 years to get an "A" on his sweater, despite being a captain previously in Columbus and making the most money as a skater on the team. His Rangers career has been disappointing. He's another guy that has to play like the way he's being paid. For a guy who towers over guys who are 6 feet tall, he's softer than CM Punk in a UFC fight. Burns just manhandled him tonight. Nash has to use his size and show some aggression out there. Enough of the near misses. How many breakaways does Nash get that go nowhere? It's like he has butter on his blade at times. (Credit @Fixxser for that line!) Not only does he have to play well in the regular season, he needs to stop being a non-factor in the playoffs.
Chris Kreider & Mats Zuccarello have career years- so far, so good, in the short sample size we've seen thus far this season. CK & Zucc have now become guys with tenure on this team. These guys are either in their prime or on the cusp of being in their prime. They have played well and I can't say anything negative about these guys. Only thing I can say is that they need to continue to be shoot first, pass later. Kreider has just been a fucking possessed animal out there and more on him later. If CK & Zucc can continue to produce the points, the Rangers are a serious threat.
Rookies over-achieve – this is tough to expect or demand. Jimmy Vesey & Pavel Buchnevich are taking NHL roster spots from what normally would go to over-paid veterans on this Rangers team. I hate to admit this, but I'm as excited for Vesey & Buchnevich as I was for Gomez & Drury. I have a good feeling that the former will certainly out-perform the latter. You can't expect these two to be Connor McDavid & Auston Matthews out there, but if these guys can get going and smash all expectations, the Rangers become a force to be reckoned with.
Mika Zibanejad carries his weight – from what we've seen thus far, the Z-man has done just that. Mika replaces Brassard, who led the team in goals last season. Mika needs to replace that production and then some.
The Rangers fourth line produces – the Rangers can ill afford dead weight on this team.  What made that 2014 Cup run so successful was the Rangers were able to roll out four productive lines. I don't think we've seen the final Rangers fourth line yet. The trade deadline usually shakes things up. However, if any combination of Graber, Pirri, Jooris, Lindberg, Fast or even maybe Glass, can become a force to be reckoned with, it will greatly improve the Rangers shot at a Cup.
Marc Staal & Dan Girardi bounce back – it's no secret these two had horrible seasons last year. For Staal, he's never been the same since his eye injury, in March of 2013. Dan Girardi has been a warrior for the Rangers, and as a result, is always playing through injuries. These two are paid a lot of money as well and if their contracts weren't so iron-clad, I think they would've been moved by now. These two need to step up & the team can ill afford these guys to continue to slum it up.
Someone replaces Keith Yandle's offensive production –  I don't see what the Rangers see in Nick Holden at all. I can't believe he's above McIlrath in the depth chart. I see Adam Clendening having a better shot of contributing to the offense than Holden. Klein has had career years with the Rangers. He starts the season with an injury. He's been hurt a lot, some freak injuries along the way, these last two years. McDonagh has become a better offensive threat. He will need to continue in that role. Will Brady Skjei emerge into the superstar the Rangers think he can be?
Derek Stepan plays like an elite center. Stepan is another guy who makes a boat load of money, perhaps overpaid when you compare his contract to his peers around the league. The Rangers will need a career year out of 21, especially in the playoffs, to make a run out of it.


---

With the competition around the league (In my prediction blog, I got the Lightning winning it all) it's going to be extremely tough for this team to win a Cup. Anything can happen, which is why we watch. However, I wouldn't bet on it, although I'm hoping for it. We're only 3 games in, but you have to like what you've seen so far. Now onto tonight's Sharks/NYR I'm-glad-I-bet-the-over-fest.
The Rangers defeated the 2016 Western Conference Champions, the San Jose Sharks, with a final score of 7-4 on Monday night. That's pretty freaking impressive, when you consider the NY Jets lost 28-3 tonight. There were a few pregame notes to mention. Antti Raanta got the start over Henrik Lundqvist. It's the same old shit we've seen from Hank last year. He will play the easy games, but when the tough teams are on the schedule, it's a "scheduled off-day". Expect him to always play against the bottom of the barrel teams. Maybe it's a psychological thing from AV.
Kevin Klein remains out with injury. Dan Girardi was injured in the St. Louis game on Saturday, and is thought to be day-to-day. In what made many Ranger fans happy, Dylan McIlrath got the start. In what made Ranger fans sad, McIlrath got barely no ice-time in the third period, after being provoked into a roughing penalty towards the end of the second period. Pavel Buchnevich was suffering back spasms, so he was scratched from tonight's game. Josh Jooris filled the roster slot, going to the fourth line. Rick Nash replaced the Russian on the latest big line for the Rangers – the KBZ line, consisting of Kreider, Buchnevich and Zibanejad. It worked out, as Nash got his first goal of the season.
The story of this game starts and ends with the first star of the game, Chris Kreider. In a game where 11 goals were scored (2 empty netters), CK stood head and shoulders above everyone else. He was like Brock Lesnar out there, just physically outperforming everyone. CK tallied a goal & an assist, which means he's averaging a goal & an assist a game. That sure would be something if he can do that 79 more times on the season!
Not only was Kreider producing on offense, he was an uncaged animal on defense. I counted twice on TV (which means he could've done more, as TV doesn't show you everything when it comes to hockey) where he broke up potential scoring threats. He's been a player that makes everyone that plays with him better. It's like he's playing every game like the opponent is John Tortorella.
With 11 goals on the sheet, let me give you the boxscore, courtesy of ESPN.com. My comments on the goals are in italics.
1st Period Summary

Time
Team
Scoring Detail
SJ
NYR
12:06

Marc Staal (1)
Assists: Derek Stepan, Mats ZuccarelloChris Kreider was buzzing all over the place like an angry hornet, but it was Staal who smacked one by Martin Jones to kick off the scoring.
0
1
19:02

Logan Couture (2) (Power Play)
Assists: Joe Pavelski, Joe Thornton

Cheap ass goal on a 5 vs 2. Yes, a 5 vs 2. The Rangers were down 5 vs 3 on the PK. Burns took down the soft Nash and laid on top of him, then bolted down the ice. Raanta had no chance. The refs must've been the same crew doing the Giants/Ravens game on Sunday.

1
1
Time
Team
Penalty Detail
17:16

Mika Zibanejad: 2 Minutes for High-sticking
18:29

Jesper Fast: 2 Minutes for Hooking

2nd Period Summary

Time
Team
Scoring Detail
SJ
NYR
4:15

Rick Nash (1)
Assists: Ryan McDonagh, Chris Kreider

Nash gets his first goal of the season after capitalizing on a ton of offensive pressure and a carrom.

1
2
10:21

Chris Kreider (3) (Power Play)
Assists: Ryan McDonagh, Antti Raanta

Kreider continues his scoring, this time executing on the powerplay. He looks unstoppable out there.

1
3
Time
Team
Penalty Detail
5:16

Tomas Hertl: 2 Minutes for Interference
8:30

Brenden Dillon: 2 Minutes for Tripping
10:53

J.T. Miller: 2 Minutes for Hooking
17:25

Dylan McIlrath: 2 Minutes for Roughing
17:25

Dylan McIlrath: 2 Minutes for Roughing (Served by Chris Kreider)
17:25

Tomas Hertl: 2 Minutes for Roughing

3rd Period Summary

Time
Team
Scoring Detail
SJ
NYR
9:13

Brent Burns (2)
Assists: Joe Pavelski, Paul Martin

Burns just got one through and beat Raanta on a tough shot.

2
3
12:16

Kevin Hayes (1)
Assists: Jesper Fast, J.T. Miller

Some nice hands and swift passing by Jesper Fast set up Hayes to poke an easy one by Jones.

2
4
12:37

Jimmy Vesey (1)
Assists: Derek Stepan, Mats Zuccarello

Right place right time kind of goal for Vesey. He was left all alone, took a loose puck and got his first goal of his NHL career.

2
5
13:57

Brent Burns (3)
Assist: Joe Pavelski

At 5-2, you think the game would be over, but Burns bombed one to keep the game in reach.

3
5
15:31

Joe Pavelski (1)
Assists: Brent Burns, Tomas Hertl

The Rangers almost pulled an Islanders and blew the "dreaded three goal lead." Raanta should've had this one.

4
5
18:24

Mats Zuccarello (2)
Unassisted

An empty netter and a sign of relief. Glad to see Zucc get the goal.

4
6
19:53

Michael Grabner (2)
Unassisted

A very Carl Hagelin-esque goal here, as Grabner broke up the Sharks, took the loose puck and skated it home for the 11th and final goal of the game.

4
7
Time
Team
Penalty Detail
4:37

Joe Thornton: 2 Minutes for Interference
While personally, I would've given CK the Broadway Hat, I totally get why Vesey got it tonight. It's funny the reaction this picture created on twitter, as I read things such as "He scored his first goal and he may also break his virginity tonight too" to "He looks like his mom packs his lunch & cuts his sandwiches into triangles."
Don't let the babyface confuse you. If things work out right, Jimbo could become a stud for the Rangers for years to come. We, as Ranger fans, can only hope that this is the first goal of many for the Baker award winner.
I thought the Rangers played great tonight. 7 goals. How could you not think they played great? If there was any cause for concern, it was Raanta. Raanta played great for nearly 50 minutes, then had a mini-aneurysm back there, giving up 2 quick goals. Maybe he has been watching Lundqvist too much, as Hank is the KING of blowing two goal leads in the third period. I mean, Raanta was making great saves, even getting a "RAAN-TA" chant. Two minutes later, a 5-2 score became 5-4. Maybe it's a lack of focus and you think the game is already won. At any rate, I hope Raanta plays better in his next start.
Something to also look at, around the league we're seeing a ton of high scores. Sure, there are a ton of deflections and other weird goals, but it seems shooters are dominating the goaltenders. Maybe because it's early in the season. It will be a trend to watch as the season goes a long. Lundqvist, for the money, can not afford to continue to be a goalie with a 3.00+ GAA. It's inexcusable.
All in all, I enjoyed this offensive explosion. It gives you a reason to think this team has a shot at the Cup. Sure, it's only 3 games in, but if you can play like this tonight against the WCF champs, you can play like this every night. No excuses. LET'S GO RANGERS!
If anything came out of me not going to a home game, due to this bug/sickness/full blown AIDS/Oregon Trail disease, that I'm fighting through, it was watching the game on the MSG network.
You don't get many nights when something happens that is better than 7 goals. However, a one Mr. Steve Valiquette had an idea to trump a touchdown & an extra point. I share with you this:
Al Trautwig didn't find the hair joke funny pic.twitter.com/UADAroLlNx

— Chris (@CK_WRX) October 18, 2016
Watch out Vally! Trautwig might call your mom! http://deadspin.com/if-you-insult-al-trautwig-on-twitter-hell-call-your-m-1464105302
I literally have watched this 30 times and keep cracking up!
On tap for the Rangers – an original 6 match-up, Wednesday night, with the Redwings on NBC. I fucking hate these NBC games, because I can't stand their crew. I'm also not a fan of the 8:15PM puck drop either. NBC is a freaking mess. How are the Redwings and Rangers rivals, outside of being original 6 teams? You want to talk about idiocy? How does NBC not have one Oilers game this season? A brand new building and Connor McDavid? I'm sure we will have a million Chicago and Pittsburgh games though!
Depending on work and if I can kick this bug, I'll be back Wednesday night. LGR!
PS: Good luck to Cam & Kelly Talbot. They are expecting twins this Wednesday. If you follow me on social media, you know I watch every Oilers game. The last game was bad for Cam, but I'm thinking his head is elsewhere. The Oilers and Talbot will be fine. IN CAM WE TRUST.
PPS: In case you missed them, here are my must-read blogs previewing this season:
The New York Rangers 2016-2017 Preview: Where I Have Been, Thoughts on the Off-Season, What To Look For, Being Realistic About the Club in Year 90, Can Lundqvist Get His Cup, My Approach To Covering Hank This Year & Tons of Opinions About NYR
---
World Cup of Hockey Tournament Thoughts: Team Europe vs Canada Caps Off a Disappointing Tournament, USA Hockey, Why the WCH Failed in Front of Nearly Empty Arenas, Favorite NY Rangers, IIHF vs WCH & Much More From a Degenerate Who Saw Every Game
---
NHL 2016-2017 Predictions: Analyzing All 30 NHL Teams, Who Will Win The Cup, Who Makes The Playoffs & More
---
The Greedy New York Rangers Tell The Families To Go Broke, Think About The Kids, The Stubhub Trick, How The Devils Can Increase Their Fanbase & My Utter Disgust for James Dolan & NYR Ticket Prices
---
Why I'm Excited About The NY Ranger's Preseason in Two Names: Jimmy Vesey & Pavel Buchnevich
---
UPDATED- Don't Let History Be Forgotten! Time for The Rangers to Finally Honor The Greatest Ranger Ever, Frank Boucher
Let's Go Rangers!
Sean McCaffrey
BULLSMC@aol.com
@NYCTHEMIC on the tweet machine