What's up everyone and welcome to another blog here on BlueCollarBlueShirts.com. This will be shorter than usual, as I'm trying to plow through two books right now, Stan Fischler's "Rangers vs Islanders" & the new Wayne Gretzky autobiography. I'm still battling this cold/bug, so my plans for the week were thrown off. I originally planned to attend this game & the Gretzky book signing at the NHL store tomorrow, but I must make Sean Great Again, so I'll be home pounding Dayquil, Ginger Ale & JP Wiser whiskey. After watching this game and the debate, perhaps I should just pound a 40 oz bottle of NyQuil!
I have two TV's in my man cave, so once the debate started, I turned off the audio on the Rangers game. I don't think I missed much. Who gives a fuck what Pierre and Mike Milbury have to say anyway? I don't know if anyone else watched the debate too, but no matter which way you're leaning, there's one thing we can all agree on – too bad we aren't Canadian.
Speaking of being Canadian, congratulations to Cam & Kelly Talbot on the birth of their twins. The Goalbuster tweeted this out earlier today:
@kellytrain and I would like to introduce Landon Thomas and Sloane Colleen Talbot to the world! We couldn't be more in love with these two!! pic.twitter.com/oL5u1or8t1

— Cam Talbot (@ctalbot33) October 20, 2016
For Landon and Sloane – may they never live in a country where Hillary Clinton or Donald Trump is at the helm of it! May they also never have a team that pays a goalie the most in the league. Well actually, that might not be so bad for them, but you know what I mean. Damn, I despise Lundqvist's contract!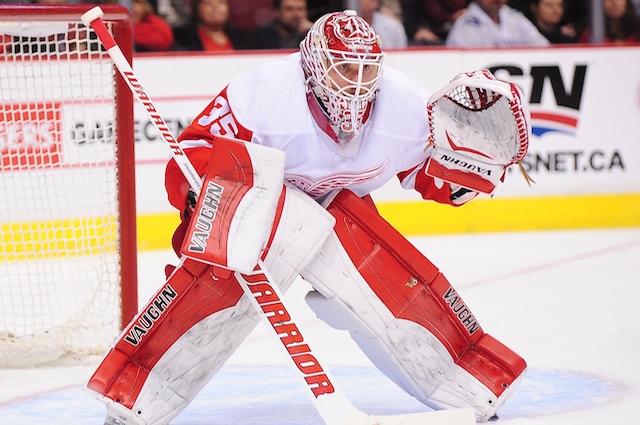 The Rangers lost 2-1 to the Detroit Red Wings on Wednesday night. Too bad they didn't lose to the Red Wings in the last game of the season last year. The Rangers may have gone further in the playoffs if they did, even if it only would be delaying the inevitable.
There's only two things to say about why the Rangers lost this game. The Rangers didn't convert on their bountiful of scoring chances and Jimmy Howard was better than Henrik Lundqvist. That's all.
It would be a stretch to say the Rangers played bad. They just didn't finish. They were buzzing around the net all night but after a goal in the first minute, Jimmy Howard stopped everything for the next 59 minutes. The difference in this game was Lundqvist getting out of net, passing a puck to a Red Wing and watching the game winning goal slide by. It was another example of why Lundqvist may be the worst goalie in the NHL when playing the puck. It's laughable at this point.
To the point I've been making for years, this is why Lundqvist is grossly overpaid. He can't play the puck and lately, is routinely outplayed by his counterpart. You just can't pay a goalie the most money on your team and expect to win.
Lundqvist fans will say he kept them in the game. Bollocks. You could get any other goalie to keep you in the game and use Hank's money to bolster your blue line and/or get a scorer. Insanity is doing the same thing over and over & expecting different results. I'll be head over heels if the Rangers can win a Cup, but games like this is evidence of why the Rangers most likely won't get it done.
If Hank, after a game off, is out played by Jimmy Howard, what does he think is going to happen in the playoffs? Lundqvist after the game accepted no responsibility as usual and blamed the team. Is this a guy you really want to play with? He's a ME ME ME guy and he's always been that way. Even Auston Matthews, after scoring 4 goals, took blame after turning over the puck and watching Ottawa score their fifth. Lundqvist could learn from Matthews humble & honest approach.
Coming off a game where the Rangers scored 7 goals, the Rangers were snake-bit all night & couldn't do much for 59 minutes, despite numerous powerplays, including a 5 vs 3 session. Here's the official box score from ESPN.com:
1st Period Summary

Time
Team
Scoring Detail
DET
NYR
1:09

Mika Zibanejad (2)
Assists: Ryan McDonagh, Chris Kreider
0
1
Time
Team
Penalty Detail
No penalties this period

2nd Period Summary

Time
Team
Scoring Detail
DET
NYR
6:15

Thomas Vanek (3) (Power Play)
Assists: Frans Nielsen, Mike Green
1
1
Time
Team
Penalty Detail
0:49

Mats Zuccarello: 2 Minutes for Tripping
4:29

Adam Clendening: 2 Minutes for Boarding
10:55

2 Minute Bench Penalty for Too Many Men on the Ice (Served by Dylan Larkin)
12:01

Luke Glendening: 2 Minutes for Hooking
13:54

Brendan Smith: 2 Minutes for Holding

3rd Period Summary

Time
Team
Scoring Detail
DET
NYR
0:59

Drew Miller (1)
Assist: Luke Glendening
2
1
Time
Team
Penalty Detail
5:15

Alexei Marchenko: 2 Minutes for Hooking
9:24

Chris Kreider: 2 Minutes for Roughing
10:02

J.T. Miller: 2 Minutes for High-sticking
Mika Zibanejad continued his strong play as part of the KBZ line (Although Nash filled in the role of Buchnevich, who was still out with back spasms) scoring the first goal, a deflection goal, a minute into the contest. The Rangers as a whole, looked good. There's no such thing as a good loss. I don't care what anyone says. Is losing in the Stanley Cup good? Does it make you feel good? Fuck no. A loss sucks. The two Ranger losses this year, to St. Louis & Detroit, both sucked. The Rangers had every opportunity to win both of those games.
Thomas Vanek, who feels like he's been on 83737473734 teams in the last 3 years, tied the game on a deflection goal of his own, a powerplay goal at that. Both teams employed their special teams all night, but couldn't get much going. The difference in this game came early into the third, where Lundqvist, as usual, misplayed a puck, passed it to Luke Glendening (Instead of Adam Clendening) & Glendening found Drew Miller for the easy goal.
Now you can say, the Rangers have to score more than 1 goal to win a game. Maybe. However, Hank is the highest paid goalie in the league. He can't be giving away goals. Playoff games are usually one goal tight contests. It's just really the same old shit. On the bright side, at least Hank didn't give up 5, which he's been prone to do in recent times.
When goaltending decides a game, the Rangers are paying the most in the league to win that battle. They didn't tonight and have lost many games like this. Howard finished with 32 saves on 33 shots, as opposed to Hank's 16 saves on 18 shots. Again, I get why Lundqvist fans love the guy. He was a rock for this organization for so long, but you can only bury your head in the sand for so long. The Rangers would be a better TEAM without Lundqvist & his contract in today's cap era NHL.
As far as the rest of the team, the Rangers blew many chances at goals. It was the same old shit for Rick Nash, who can get the goaltender one on one, but can never bury the puck past the netminder. It was the same old shit for Zuccarello, who plays so hard, but will always make the extra unnecessary pass, rather than shooting the puck. It was the same old shit for Kevin Hayes (Even if the announcers kept calling him Jimmy, his brother's name) who shows us his potential but leaves easy goals out there. It was the same old shit for Derek Stepan, who had another quiet game & not delivering for a guy making $6.5M a season but scoring like he's making $650,000. We've all seen this Rangers game before and it's frustrating when we see it.
Chris Kreider had his 1 goal, 1 assist, 2 points per game streak snapped, although he did log an assist on the Mika goal. I thought he continued to play well and is the Rangers Brock Lesnar out there.
Kevin Klein made his debut, which meant McIlrath went back to the bench. Klein was quiet as well tonight. It's a shame the way the Rangers have handled the McIlrath situation. My friend Rick Otazu has punched walls over it. Nick Holden should not be above McIlrath on the depth chart. If you're not gonna play the kid, trade him so he can win a Cup somewhere else.
I don't have anything else to say about tonight's game with the Wings. It was two points given away. If this becomes a trend for the Rangers, it will be a long year.
Up next for the Rangers are last year's President Trophy winning Washington Capitals. It's another game that features a goalie making less than Lundqvist but is better than Lundqvist. After all, Holtby won the Vezina last season. If you really dissect Lundqvist's contract like I do and compare it to goalies around the league, it's sickening. Maybe that's why I'm so sick right now.
Saturday should be a fun day of hockey. The Oilers and Jets play the outdoor Heritage game. I believe Friday night is the legends game, where we will see Gretzky, Messier, etc. When that's all over, we get NYR/WSH. Hopefully I kick the cold by then and can kick back and enjoy some Labatt Blue!
Back to "Rangers vs Islanders" by Stan Fischler.
As always, LET'S GO RANGERS
Sean McCaffrey
BULLSMC@aol.com
@NYCTHEMIC on the tweet tweet