What's up everyone and welcome to the latest manifesto here on BlueCollarBlueShirts.com! Once again apologies on the short Islander/Ranger blog. When you type up nearly 6000 words and your computer only saves 2000 of them, it will piss you off. I felt I had some good one-liners in that one too. Between the Rangers loss, losing a blog where I thought I made some good points with funny material and losing 75 minutes of my life, re-writing that blog just wasn't going to happen. However, hopefully I make it up here today.
As I type these words, it's 12:30AM on Monday morning, 12 hours after the puck dropped at the Garden, where the Rangers beat the top team in the league, the Washington Capitals, with a final of 2-1. For the Rangers, it's a win they should've had. The Rangers had everything going for them this game and a loss here would've been kinda pathetic.
Going into this game, here's what the Rangers had going for them:
Washington played less than 24 hours ago, losing 3-2 in a shootout to the Detroit Red Wings.
Washington started goalie Philipp Grubauer, instead of last year's Vezina winner, Braden Holtby.
Rangers had 2 full days off before this game.
Rangers were home.
The 12:30PM "Groggy Time" (If you notice, most 12 or 12:30PM games are very uninspired. It just feels you get a better quality of game at night. Maybe it's just me.) favored the Rangers since they slept in their own beds the night previous.
This game featured two of the top teams in the Metropolitan division. How strong has the Metro been these last few years? Not only did the Rangers go to the Stanley Cup Finals in 2014, they won the President's Trophy in 2015. The Capitals won the President's Trophy in 2016 and could very well win it in 2017. In fact, it could be another Metropolitan team, you know the 2016 Stanley Cup Champion Pittsburgh Penguins, that usurp the Capitals for the President's Trophy this season.
I've talked about this before and we all know what the NHL is going for with the current playoff format. They want strong division rivalries to kick off the Cup playoffs. The Stanley Cup playoffs is like nothing else. The NHL is not a ratings monster in America and the NHL is hoping to promote the sport through rivalries. Where the first round of the NBA playoffs is abysmal television, (and really, until the final two minutes of game 7, the whole NBA playoffs in this super-team era, is largely predictable and monotonous.) the first round of the Stanley Cup playoffs is exciting.
The NBA & NHL playoffs run during the same course of time, from April to June. You don't see many first round upsets in the NBA, if any. I think the last real upset I can remember is a Dikembe Mutombo Denver Nuggets team knocking off a good Seattle SuperSonics in 1994. I'm sure there have been others, but that was a huge one because it was a best of 5 series. Shortly thereafter, the NBA adopted the Best of 7 format for their first round, which lessened the odds for an 8 seed upset.
In the NHL, we see 8 seeds upset 1 seeds all the time. We saw the LA Kings, with Jonathan Quick dominating, win the Cup as an 8th seed in 2012. The NHL playoffs are just a whole different animal. Unfortunately for a Metropolitan team, just like last season, a good team will be bounced out of the first round because of the current playoff format, where the 2 & 3 seeds of each division, play each other in the first round.
Here's the latest NHL Standings:
| | |
| --- | --- |
| | Canadiens |

| | |
| --- | --- |
| | Senators |

| | |
| --- | --- |
| | Bruins |

| | |
| --- | --- |
| | Maple Leafs |

| | |
| --- | --- |
| | Panthers |

| | |
| --- | --- |
| | Sabres |

| | |
| --- | --- |
| | Lightning |

| | |
| --- | --- |
| | Red Wings |
| | |
| --- | --- |
| | Capitals |

| | |
| --- | --- |
| | Penguins |

| | |
| --- | --- |
| | Blue Jackets |

| | |
| --- | --- |
| | Rangers |

| | |
| --- | --- |
| | Islanders |

| | |
| --- | --- |
| | Flyers |

| | |
| --- | --- |
| | Devils |

| | |
| --- | --- |
| | Hurricanes |
For the Metropolitan division, there are 24 games left for the top teams. That's 48 points out there. There is a good chance you could have four teams all finish with 100+ points in the division. I don't know if that's a first time ever thing, nor do I really care, because NHL standings are kind of a joke, considering more than 50% of the league is over .500 because of the OT rules.
What is upsetting for a fan of a Metropolitan team is that for example, the fourth place Rangers have 77 points. That's 7 more points than the first place Atlantic Division Montreal Canadiens, who by the way, have played one more game than the Rangers. If all trends continue, you will most likely have the first Metropolitan wild card team finish with more than 10 points than the first place team in the Atlantic. There is a possibility that the second wild card team from the Metropolitan (I'm assuming both WC's will come from the Metro, just like last year) could even have 10+ more points than the Atlantic Division winner.
Obviously, like an offside call on a goal, many Ranger fans are up in arms and want the playoffs to go back to the traditional 1 seed vs 8 seed, 2 vs 7, etc format. Of course, if the Rangers were in third place in the Atlantic division right now, Ranger fans would have a different opinion of the playoffs.
What the NHL really has to examine is if it's worth losing a superior team in the first round of the playoffs because they are trying to sell rivalries and ratings. That's the main issue here. We've heard this argument made in the NBA before, because the Western Conference is far superior to the Eastern Conference. You have teams that are 10 games under .500 making the NBA playoffs in the East, while teams 8 games over .500 are missing out on the playoffs in the West.
The NFL rewards teams for excelling in the regular season with a bye week and in their seeding. The NBA and NHL does not do that. Are rivalries & ratings more important than the value of the regular season? Sadly, these decisions won't be discussed by you or or me. It will be discussed by Gary Bettman, ad executives and TV honchos. At the end of the day – that's what sports is all about anyway. Money.
I know, I know, I know – I'm like a broken record on this blog. Since I have gotten a ton of new readers (Based on web traffic), there are a few topics that I feel strongly on. They are, in no order:
The Rangers will never win a Cup with Lundqvist. Just check the archives, located on the right hand of the site for past blogs on that topic.
The Rangers must retire Frank Boucher's #7 and put him in the rafters. More on this topic again, at the end of this blog.
James Dolan is an asshole and Glen Sather is the worst GM in Rangers history. Pretty self explanatory here.
The Rangers screw their fans daily with high ticket prices at M$G and will be hard pressed to find a new generation of fans 20 years from now.
For more in-depth blogs on these subjects, here's a quick hit list. Pay attention to the "MAKE M$G Great Again" blog, since that will come up again in this blog:
The Rangers, celebrating "Family Day" at MSG had no tickets readily available for you know, families. I was laughing looking at Stubhub, where seats on the hard camera side of MSG were going for $700. Those seats largely remained empty for most of the game. But hey, it's all about families right!
I've talked about this topic in-depth and as you can see from the blogs linked above. I just don't know where the Rangers expect to get new fans in 20 years. It's bad enough that even a suit bought at Karako's isn't good enough for the bougias seats at M$G. I'm not a father (Which is why I have money to attend Ranger games!) but at this rate, with an asshole for an owner and insane ticket prices, I can see why that  Devils red is looking awfully appealing for people.
My Stubhub trick, which wouldn't apply for this game (Being a Sunday afternoon game and a game on a day where everyone has off the next day for President's Day) but how is M$G selling this game as "family day"? How can a family afford to go? I've said it before – I fully expect MLB attendance to stay steady, if not increase, 20 years from now. The NHL & NFL will see their live crowd audiences go down. The NFL can afford it. The NHL can not.
The best way to sell the NHL to a non-fan is with the live game experience. When people are priced out, the NHL is losing its best way to attract new customers.
I touched on this topic with my comments on MSG analyst Steve Valiquette before. Vally was mad that Ranger fans were booing Hank after another Hank shellacking, this time by the Dallas Stars. I get where Steve is coming from, but at the same time, not every fan attends every game. If you saved up all year to spend $200+, if not more, (And that doesn't include food/drink/trans) to get a shitty seat at the Garden and saw that game, you would be mad too. As long as you're not cursing in front of little kids or starting physical altercations with people because of their clothing (In this case, what jersey they are wearing, because nothing is more pathetic than seeing two grown men fight over millionaires, who are at the very least, cordial to each other off the ice), then people who pay for tickets, have the right to cheer or boo anyone they want.
While you do have players like Jarome Iginla and Shane Doan in this league, you can make a case that Henrik Lundqvist and Alex Ovechkin are the two greatest players in the NHL today, to not win a Stanley Cup. You can even make a case to say they are the two players that deserve a Cup the most.  Whenever you see these lists of the "Greatest of all time" or "Best ever at his position" it's hard to say Lundqvist or Ovi belong in a Top 20. Rating them in the Top 10 in any "All Time" list is just silly. This is America baby, you gotta win!
The problem with many of these silly lists/rankings is that they are written by products of this generation. Additionally, It's always hard to compare players from different eras. The game has changed and evolved, for better or for worse, over the years. We all know the changes, whether it be fighting being phased out, league expansion/less quality of competitive teams, the new OT rules, the padding/gear changes, the trapezoid, to even something as the forward pass or the ability to lift the puck when shooting at the goalie.
It's funny, you could make the argument that a player like Lundqvist wouldn't even be in the NHL in the old days, considering he was a 7th round draft pick. Who knows what happens if Kevin Weekes doesn't get hurt too? While I think when given a chance, Lundqvist and Ovi, in their primes, would stand out in any era, it's tough to call them an All-Time Great when they don't have the hardware to back it up.
While for my money, if I was a GM, I would prefer Ovi's all-around style of play to Sidney Crosby, the fact is, Sidney Crosby is the better player of the two and will be remembered that way, unless Ovi is able to rip off some Cup wins with the Caps. Not an easy task.
It's funny. Someone messaged me on twitter saying that if Lundqvist had better scorers in front of him, he'd easily have 3 Cups by now. It's so hard to win one Stanley Cup in today's NHL. To think that if a few roster changes were made, that you would have a dynasty, is silly. The three most successful franchises of the new salary cap era, the Penguins, Blackhawks and Kings have similar stories. They stunk for a period of time, got great talent through the draft, won their bets on their free agents and had a goalie that stood up to pressure when it mattered most. Say what you want about Lundqvist, but he folded horribly in his first 2 Stanley Cup games. Instead of coming back to MSG, up 2-0, Hank blew two 2-goal leads and the Rangers were never able to make it a series after that.
Lundqvist and Ovechkin have been the stars of their respective franchises. Both debuted in the league together after the lockout, in the 2005-2006 season. For the next 11 years, both have carried their franchises at times. For Lundqvist, he had a chance to play in a SCF and came up short. For Ovi, he's never made it out of the second round. Both have had to watch Sidney Crosby hoist two Cups, which is a disgusting feeling for anyone that doesn't support the black and yellow.
In today's (Well yesterday's, by the time you read this) game, it was a 2-1 win for the Rangers, in a battle of the last two teams to win the President's Trophy. How fitting it was played on President's Day Eve! You really can't go nuts about this win, just like you can't go too ape-shit about one loss. I do think the loss to the Islanders sucked, especially since Lundqvist can't win in that Barn at Barclays, but in the grand scheme of things, did it really matter? Probably not.
Bottom line is this game, while good to win it, wasn't an impressive win for the Rangers. The Rangers, who won the game by a goal, saw Lundqvist get bailed out by a post and Ryan McDonagh saving a shot. Ovechkin, perhaps the victim of bad ice, saw his stick "rubbering" on two different one timers. While Ovechkin would score on Hank, for the lone Caps goal, this was hardly either man's best game.
The Capitals and Rangers will both make the playoffs this year. However, when it's all said and done, their careers won't be judged on this one game. For both Ovi and Lundqvist, their careers will be judged on if they can win a Cup. If not, they will join the list of "never-was's". Talk to any athlete, it's always better to be John Elway than Dan Marino.
So 2700 words in, maybe it's time to talk the game now! Box score, as always, courtesy of ESPN.com:
1st Period Summary

Time
Team
Scoring Detail
WSH
NYR
7:49

Ryan McDonagh (3)
Assists: Rick Nash, Derek Stepan
0
1
Time
Team
Penalty Detail
8:19

Brooks Orpik: 2 Minutes for Holding
15:14

Brooks Orpik: 2 Minutes for Interference

2nd Period Summary

Time
Team
Scoring Detail
WSH
NYR
17:24

Alex Ovechkin (27) (Power Play)
Assists: Lars Eller, Evgeny Kuznetsov
1
1
Time
Team
Penalty Detail
2:09

Oscar Lindberg: 2 Minutes for High-sticking
15:43

Chris Kreider: 2 Minutes for Interference
19:09

Oscar Lindberg: 2 Minutes for Roughing
19:09

Brett Connolly: 2 Minutes for Roughing

3rd Period Summary

Time
Team
Scoring Detail
WSH
NYR
8:37

Mats Zuccarello (12)
Assists: Chris Kreider, Mika Zibanejad
1
2
Time
Team
Penalty Detail
No penalties this period
Goaltending Summary
Washington Capitals Goaltending

Player
SA
GA
Saves
SV%
TOI
PIM
P. Grubauer
30
2
28
.933
58:39
0

New York Rangers Goaltending

Player
SA
GA
Saves
SV%
TOI
PIM
H. Lundqvist
32
1
31
.969
60:00
0
While this Rangers 2-1 victory over the Caps had some life at points, I just felt it also had some cobwebs as well. For starters, the Rangers had a good first period, which even saw them out shoot the Caps 19-10. From there, the Caps out-shot the Rangers 11-4 in the second period and 11-7 in the third period. After the first period, there were plenty of times that it looked like the Rangers, and not the Capitals, played the day before.
You know I always gotta bring up the salary cap, because after all, this is what Gary Bettman wants us to discuss when talking about the value of players. Lundqvist did have a good game today, albeit with help from a goal post and his defense (amazing how the Rangers defense never gets credit in a game like this, but a diva goalie does. Go figure!) but look at the randomly used Philipp Grubauer of the Caps. Holtby plays something like 99% of all Caps games. (I may have exaggerated that stat, but it's not far off.) Grubauer basically came in cold and played extremely well.
For this season, Lundqvist is a $8.5M cap hit. Grubauer is a $600K cap hit. Sure, playing every day is different than a back-up, but we all know what Talbot is doing in Edmonton, what Matt Murray did last year and what Raanta has done for the Rangers this season. It's just another game like this that shows you that overpaying a goalie, especially an aging one, is a stupid mistake.
Grubauer played lights out in the first period. Not for nothing, it could've been 4-0 Rangers. Ryan McDonagh scored the first goal of the game, in a place where he's excelled from all season, in the slot. However, Grubauer previously stoned Kevin Hayes with a beautiful save and laughed off several near attempts by Oscar Lindberg.
The biggest play of the first period was a video reversal. Zibanejad scored a PPG, which you know had to set off bells because the Rangers never score PPG's these days. Turns out McDonagh was clearly offside. While McDonagh was offside 30 seconds before Z-Bad scored, Caps coach Barry Trotz used the rule book he was given. This was a textbook offside and the goal was erased from the game. As Donald Trump would call it, "it was a very fake goal."
The worst part about this shit wasn't the reversal. Upon review, it was a legit call and it just didn't play out in the Rangers favor this time. However, the worst part was that instead of seeing the play, the NBC cameras focused about 60 seconds on the faces of Vigneault and Trotz. It looked like they were having a Big League Chew gum chewing contest. MSG Networks has these replays immediately. For some reason, NBC didn't and we had to spend a minute on the coach's passionately chewing their gum.
I guess I should also mention that this was a NHL on NBC game, which meant no Joe Micheletti and Papa John pizza! The above picture cracks me up. This was taken at "Casino Night" on Friday. Casino Night is where rich fans get to gamble with Ranger players as dealers. However, taking pictures or asking for autographs is prohibited, because you see, for $1000+ to enter, they want you to bid on the right to take pictures and get autographs.
Let me state, "Casino Night" is for a good cause and it raises money for The Garden of Dreams. I don't hate on that at all. However, how about a "PABST BLUESHIRTS RIBBON NIGHT" at a local dive bar for regular fans? Pound a few brews with your favorite Rangers! All money from the Quickdraw Lotto machines goes to the Garden of Dreams. The night ends when someone puts Joe Micheletti's head through a "Joker Poker" machine or when Jimmy Vesey goes home with a 50 year old woman!
Back to the game.
After taking a 1-0 lead into the locker room after the first period, the Rangers looked lethargic a bit out there. They got dominated in the period, shot wise. Oh and to beat this dead horse too, the Rangers were 0-2 on the PP today. The third highest scorer in the NHL remains on the bench while the PP comes up empty at every turn. I'll save you my Michael Grabner diatribe, you've heard me go off on this on my last blog. Seriously though – how come not one person in the media questions AV about why Michael Grabner sits on the PP, while the PP shits the bed every freaking game?
Alexander Ovechkin would tie the game up, late into the second period with a PPG. Stop me if you've seen this before. Ovi got himself wide open by right face off circle and blasted a slapper. I know it's the flow of the game and we have the game in front of us rather than being on the ice, but the fact that Ovi is able to be open and take his shot on the PP for 11 straight years is an attestment to his greatness. 1-1 after two periods.
The third period had a playoff vibe to it, the dead crowd not withstanding. It was an intense period, but the Caps seemed to lose steam during the "Foxwoods Final Five" part of it. That's probably because they played last night.  The KZZ line scored the game winning goal, as Kreider found Zuccarello and to everyone's amazement, Zucc shot the puck rather than passing it! 2-1 good guys. The Caps would pull Grubauer and make a go of it, but time expired before they could tie it up. Sweating out the final minute because you can't find the empty net goal is always fun, if you have no skin in the game!
I thought both goalies played well and I know I'm not a Lundqvist guy, but Grubauer had a rougher go of it. I thought he really kept his team in the game, especially in the first period when it seemed like the Rangers could've put the game away. To his credit, Lundqvist did his job and made some key saves too. However, the biggest save of the game could be attributed to Ryan McDonagh, who ate a puck while Lundqvist was flopping around out of net. In a 2-1 game, the Captain, who also scored a goal, prevented a game tying goal. Not that these things matter, but Lundqvist, Grubauer and Zucc got the three stars of the game. I thought McDonagh deserved it more than Zucc, but again, it's not like a star of the game means anything.
While Zucc may not have the best numbers on the team, if everyone had his hustle and drive, it's tough to see these Rangers not winning every game. Ok, maybe that's another exaggeration, but you know what I mean. This guy does so much on the ice that doesn't make the score sheet/box score. He's become such a valuable asset to this team. Sure, it drives you nuts when he passes up shots for extra passes that go no where, but the guy is a team player and there is a reason why you see more of his jerseys in the stands than anyone else these days.
In conclusion on today's game, this was a good win for the Rangers, but to start pumping your chest out and think it means the Cup is silly. Enjoy it for what it is. The same fans that say the sky is falling when the Rangers lose to a crappy team are the same ones that scream "WE WANT THE CUP" after a win over the Caps or Pens. The playoffs are a whole new animal and that is when the Rangers will finally reveal themselves.
Plus, who knows what this roster will look like after the trade deadline? Pirri has been a healthy scratch ever since the team has been 100% healthy. Puempel got some time, but he's an odd man out. Clendening only plays when someone is hurt. That whole "Girardi needs rest thing" was just a theory and not something Alain Vigneault ever explored with this season. I think most NYR fans are in agreement – adding Shattenkirk would be nice, but not at a steep price. The Rangers have been on the wrong end of too many long term deals as it is. Plus, if you're going to overpay & give up a lot for Shattenkirk, what was the point of letting Yandle walk?
From NHL.com and trust me, it was a struggle to get this article for you because that site is pain in the ass to use:
The New York Rangers will retire the No. 19 worn by Hockey Hall of Fame center Jean Ratelle next season, they confirmed Saturday.

Ratelle, 76, was selected as one of the 100 Greatest NHL Players presented by Molson Canadian and wore his No. 19 Rangers sweater when he was introduced at the 2017 Honda NHL All-Star Game on Jan. 29 in Los Angeles.

The decision to retire Ratelle's number was first reported by the New York Post.

"To have your sweater retired is the greatest honor a player can receive. You can't ask for more than that," Ratelle told the Post. "I'm really looking forward to being back at the Garden. My family will be with me. I'm going to enjoy it."

Ratelle will be the ninth Rangers player to have his number retired. That group includes longtime linemate and boyhood friend Rod Gilbert. The third member of the "GAG Line," Vic Hadfield, also is expected to attend, the Post reported.

The Rangers have never taken No. 19 out of circulation. It has been worn by forward Jesper Fast since 2015-16.

Video: Jean Ratelle finished career sixth all-time in points

Ratelle made his debut with the Rangers as a 20-year-old on March 4, 1961, and had a goal and an assist in his first NHL game. His best season came in 1971-72, when he scored 43 goals and set a Rangers record with 109 points in 63 games before sustaining a broken ankle when he was hit by a shot from teammate Dale Rolfe on March 1, 1972. Ratelle returned for the Stanley Cup Final against the Boston Bruins but was hampered by the injury and managed one point in the six-game loss.

The Rangers traded Ratelle and defenseman Brad Park to the Bruins for center Phil Esposito and defenseman Carol Vadnais on Nov. 7, 1975. Ratelle had 450 points (155 goals, 295 assists) in 419 games with Boston; with the Rangers, he's second in goals (336), third in points (817) and assists (481), and sixth in games played (862).

Ratelle played in the Stanley Cup Final three times, with New York against Boston in 1972 and with the Bruins against the Montreal Canadiens in 1977 and 1978. He lost each time.

"Of course that's the biggest disappointment of my career," Ratelle said. "That's what you play for every year. I thought we were good enough in New York, but we just couldn't beat the Bruins or Canadiens."
Larry "My Newspaper Writes Offensive Headlines But Family Guy Humor Offends Me" Brooks wrote a great column on Ratelle's deserving honor. You can check out that article here: http://nypost.com/2017/02/18/rangers-will-put-jean-ratelles-number-in-rafters-where-it-belongs/
I wrote this last month, which must've obviously been the inspiration for this Ratelle announcement (I'm joking, so settle down):
I've been to five of the Original Six arenas. I've been to countless other arenas. For a team with a 90 year history, from looking at the rafters, you would think the Rangers only had a handful of decent players. In fact, you would think the Rangers didn't even have a good player until 1960! The Rangers have the least amount of numbers retired and players honored than any of the other Original 6 teams. What a joke. Don't we have pride?

While this 90th year of the Rangers and the 100th year of the NHL would've been perfect to do this, this is better done later than never. It's time to catch up and right some wrongs.

Over the course of a season, I would retire 5 numbers. It's sickening these numbers haven't been retired yet. Even as I write these words, I can see Steve McDonald and Henrik Lundqvist getting their spot in the rafters of MSG before any of these Ranger legends:

Frank Boucher #7

Bill Cook #5

Ron Greschner #4

Jean Ratelle #19

Vic Hadfield #11

Yes, I know Gilbert & Messier have their #7 and #11 jerseys retired, respectively, but we also have retired the number 9 twice. A wrong should be righted and these players should all be in the rafters. Shit, Frank Boucher should have the Chase Bridges named after him.

While Boucher and Cook are long dead and it might be hard to find relatives, I would find an ex-Ranger (Adam Graves is usually good at these types of things) to give a speech and get their jerseys up to the rafters. The other three men are all alive and deserve this distinction while they are still with us.

While you can't go overboard on retiring numbers, another thing I would create is a "Rink of Honor". Many NFL teams have a "Ring of Honor" for great players who excelled but weren't great enough to have their jerseys retired.  All you gotta do is paint some names & numbers instead of corporate logos around one section of MSG.

Some names that work here would be Lester Patrick, Nick Fotiu, Ron Duguay, Jaromir Jagr, Jeff Beukeboom, Lorne Chabot, Don Maloney, Phil Esposito, Brad Park, Bun Cook, Ching Johnson, Ryan McDonagh, Dan Girardi, James Patrick, Gump Worsley, John Vanbiesbrouck, John Davidson, Neil Smith, Sam Rosen and Steve McDonald.

It's about time the Rangers honor their past right and this would be at the top of my list.
I'm happy to see Ratelle get his day. It's deserved. I still say Boucher deserves it more, but at least someone is getting their justice, which is long overdue.
What kinda sucks is that Ratelle will be 77, when the Rangers send his jersey to the rafters. Obviously, the reason this has to be done next season, rather than this one, is for financial reasons. Why not honor him this season? Easily – every home game is sold out already. Do it next year, on a weekday night, against a bad non-playoff Western Conference team, and ensure a sell out. The guy is healthy right now. The financial greed is sickening. Why wait and risk him getting ill or something of that ilk? I'm glad it's happening, but in typical M$G fashion, it's not being done correctly. At least it's going to happen and who knows if Fast (the current #19) will be here when it happens.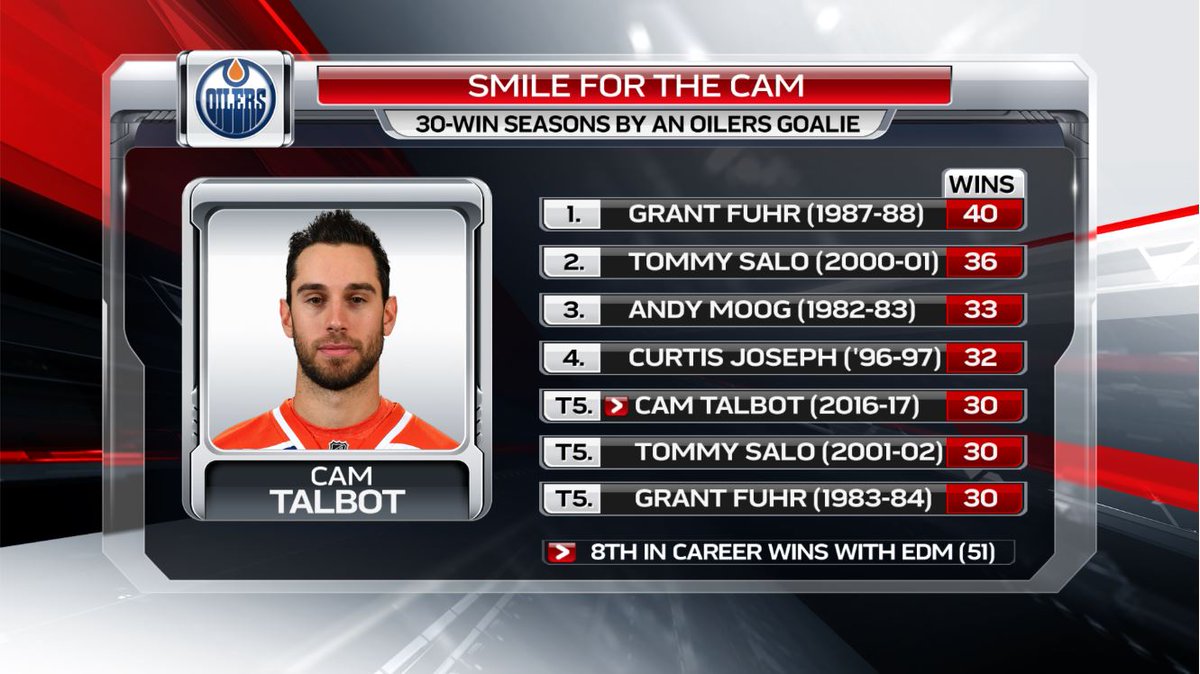 With 23 games left in the Oilers season, Cam Talbot needs 11 wins to set the record for most all time wins by an Oilers goalie. The Oilers, who have won 5 Cups in their franchise history, saw Fuhr win 40 in 1988. Again, keep in mind that this is the no-tie era, but I also keep in mind the hundreds and hundreds of you assholes who said that Cam Talbot could never be a starter in the NHL. I hate to say I told you so… no I don't! I TOLD YOU SO!
I will always wonder what would've happened if the Rangers kept Talbot and tried to deal Lundqvist while his stock was higher than it is today.
How ironic, you could argue that Raanta (1-0 OT win) and Talbot (38 saves, 1 Goal allowed) both had their most impressive games this season in Chicago. It's no easy feat to win there. I heard even Lundqvist found a nice hairdresser next to Giordano's!
vs

Canadiens

Thu, Feb 23

@

Maple Leafs

Sat, Feb 25

@

Devils

Sun, Feb 26

vs

Blue Jackets

Tue, Feb 28

vs

Capitals

Thu, Mar 2

@

Bruins

Sat, Mar 4

vs

Canadiens

Mon, Mar 6

@

Lightning

Tue, Mar 7

@

Panthers
As you can tell from the above, the Rangers have a tough stretch of games coming up. As we wind down the regular season, with nearly 75% of the season over, the Atlantic division will be the one to watch. Barring something insane, it's hard to see NYR, WSH, PITT and CBJ missing the playoffs. We all want that first wild card spot, but you can't play for that at this juncture. You hope it happens, but trying to figure out a win here or a loss there, is inane. Save that for the last week of the season.
For the Rangers, they continue to play the Eastern Conference in 12+ straight games.  They will see many playoff teams during this run, so it should keep the Rangers sharp as they head into the final stretch. Once Game 82 is played, none of these games will matter. We're only 6 weeks away from the real NHL season – the Stanley Cup playoffs.
Depending on work and all that good stuff, I should be back Tuesday night after the Montreal game. If you remember, during the last battle of these original 6 teams,  Raanta had a 1-0 shutout over Montreal, before he got hurt and Hank gave up 3 straight goals in less than 90 seconds. Let's hope for a different fate here.
As always,
Let's Go Rangers
Sean McCaffrey
BULLSMC@aol.com
@NYCTHEMIC on tweeter