What's up everyone and welcome to another blog here on BlueCollarBlueShirts.com. With a 4AM alarm going off for work tomorrow, let's get right into it.
In case you missed it, (How could you, I must've tweeted out a million plugs about it!) I posted three blogs on Monday. Here they are:
Now on to tonight's 5-2 loss to the New Jersey Devils.
If you're like me, you probably watched the game, checked out social media during the game and may have read a bunch of different opinions on tonight's game. Bottom line the referees decided the outcome of this game. For the second straight game in a row, the referees had a hard-on for the Rangers.
I hate being one of those homer fans that blame the referees for everything, but the facts are the facts. The refs almost cost the Rangers 2 points on Sunday night against the Wings. In tonight's game, the refs got the two points back.
What drives me nuts right now, is that I'm writing a blog about the fucking referees. People like me and you spend good money on these games. We invest 2.5-3 hours a night watching these games. We pay our money and invest our time into these games. We pay and invest to see the players decide the outcomes of these games. Nobody pays and invests their time into the referees.
The art of refereeing is a tough one, I'll grant you that. However, the refereeing has been so shoddy around the league, that it is getting unbearable. The NHL does not police their referees. Refs should be suspended and fined when they blatantly screw up and decide the outcome of a game. I understand missing a call here and there, it's human error, but you can't make these calls that swing games. Again, it's just not the Rangers. It's a problem league-wide. Just look at that Boston/Columbus game from Monday night. Both Torts & Julien were fuming at the zebras.
The referees decided to get TV time and become the focus of the game with one second left in the second period. At the 19:59 mark of the period, JT Miller & Sergey Kalinin got into a fight. Normal shit right? 5 minute off-setting penalties? Well this is the new NHL where the referees make up the rules as they go along.
And on an aside, imagine these current refs and rulebook in the glory of the days of the NHL? Whether you consider the Original 6 era, the Great Expansion era or the 80's as the glory days, bottom line, this is not the hockey anyone is accustomed too. Listen, I get rules to protect head injuries, in light of what we now know about CTE. But hockey is a man's game. When did this turn into the NBA where everything is called? Even the diving in the NHL, (Hello Blandisi) is at record levels.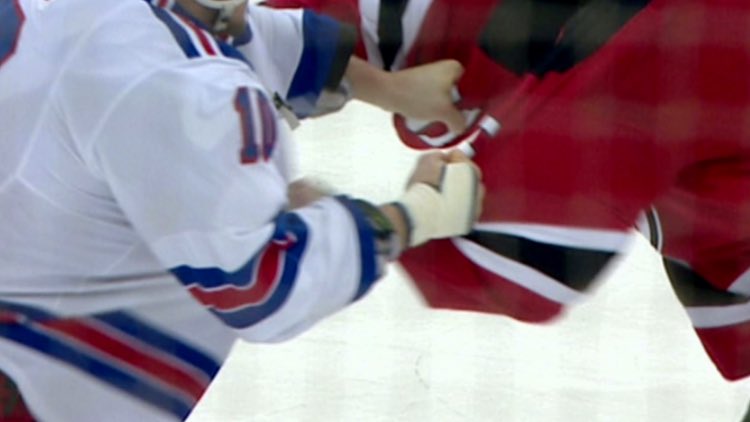 After Miller & Kalinin had their fight, a fight where Kalinin got beat and wanted no piece of Miller, even refusing to take his helmet off as Miller was undoing his, the refs called out the penalties. Both got the normal 5 minutes for fighting. Then, because of tape on Miller's right hand, BELOW THE KNUCKLE, mind you, Miller was slapped with a match penalty meaning he was ejected from the game and the Devils would start the third period off with a 4:59 PP.
I've been watching hockey all my life, except for a break after the 2004 lockout because I was so mad about the NHL fucking over the fans and was mad with the Rangers for dealing Leetch & Graves. I swear, there are more new penalties called in every game, around the league, than ever before.
Supposedly, you can't have tape on your hands if you cut someone up in a fight. So the refs are treating JT Miller like he's one of the fucking Hanson brothers from "Slap Shot". What does tape have to do with anything? It's not foil. It's not brass knucks. It's not concrete. It's not razor blades. It's athletic tape. What makes it all more infuriating is this picture:
So basically, because Miller won the fight, his team is the loser and the Devils get a 5 minute PP, in addition to the Rangers losing one of their best players. You're penalized for winning a fight now too! I've never heard of this rule before, but I read up on it after it was called. Whatever, it's in the rule book but Kalinin was wearing tape too. I'm sure Miller wasn't feeling 100% either after the fight.
Bottom line, in a one goal game, you can't throw the scale so off balance. While the Rangers would go on to kill the penalty, (I don't believe it either), the Rangers lost 5 minutes of game time where they could be trying to tie the game. A 20 minute period turns into a 15 minute period. From there on, the Devils just killed time, dumped the puck and made sure the Rangers couldn't skate into the zone with the puck. We've seen these defensive traps against the Rangers before when the Rangers are trailing in a close game in the third period.
Making matters even worse, the Rangers then get bagged for a questionable two minute tripping penalty, this time on Brassard. So to start the third period, the Devils had 7 minutes of PP time. By the time the Rangers got used to playing 5 on 5 again, there were 5 minutes left in the game. The whole third period they were just chasing the puck. Devils were fresh. The Rangers only made one real attempt at Schneider, a Stalberg shot, which Schneider saved with ease. Kalinin of all people, then goes down the other end, makes it 4-2 with little time left, to essentially seal the deal.
One word to describe this game – INFURIATING.
Here's the official box score from ESPN.com. As always my notes are in italics:
1st Period Summary

Time
Team
Scoring Detail
NYR
NJ
4:47

Tyler Kennedy (2)
Assists: Damon Severson, Sergey Kalinin

The puck took a bad bounce in front of Hayes and went right by Lundqvist. Just one of those goals that happen. Sucks that it happens from a guy who only had one goal all season prior to this.

0
1
8:17

Kevin Hayes (11)
Assist: Viktor Stalberg

Hayes makes up for screening Lundqvist and buried a juicy rebound past Schneider. Beautiful looking play, although not by design. Good things happen when you shoot the puck.

1
1
9:02

Dominic Moore (6)
Assists: Keith Yandle, Marek Hrivik

Hrivik gets his first NHL point! Hrivik got the puck to Yandle, who took a shot/pass, with Moore finding a loose puck and beating Schneider. The Rangers take a quick 2-1 lead. However, with the consistently inconsistent Lundqvist in net, you knew it was only a matter of time.

2
1
Time
Team
Penalty Detail
No penalties this period

2nd Period Summary

Time
Team
Scoring Detail
NYR
NJ
10:28

Kyle Palmieri (23) (Power Play)
Assists: Joseph Blandisi, Jacob Josefson

Palmieri was left all alone in front of the net. Lundqvist thought he saved the puck and was trying to get a stoppage, not realizing that Palmieri was celebrating the goal behind him.

2
2
18:06

Lee Stempniak (16)
Assists: Joseph Blandisi, Adam Larsson

If you didn't know Stempniak, an ex-Ranger wasn't going to score in this game, then this must've been your first Rangers game. Stempniak beats Lundqvist on a shot he should've had.

2
3
Time
Team
Penalty Detail
6:31

Dylan McIlrath: 2 Minutes for Roughing
6:31

Joseph Blandisi: 2 Minutes for Holding the Stick
9:37

Mats Zuccarello: 2 Minutes for Tripping
13:14

Joseph Blandisi: 2 Minutes for Embellishment
13:14

Dylan McIlrath: 2 Minutes for Interference
19:59

J.T. Miller: 5 Minute Major for Fighting (Served by Oscar Lindberg)
19:59

Sergey Kalinin: 5 Minute Major for Fighting
19:59

J.T. Miller: 10 Minute Match Penalty for Deliberate injury

3rd Period Summary

Time
Team
Scoring Detail
NYR
NJ
17:16

Sergey Kalinin (6)
Assists: Andy Greene, Adam HenriqueBreakaway goal for Kalinin to essentially end the game. More on Lundqvist below.
2
4
19:31

Adam Larsson (3)
UnassistedEmpty netter.
2
5
Time
Team
Penalty Detail
5:40

Derick Brassard: 2 Minutes for Tripping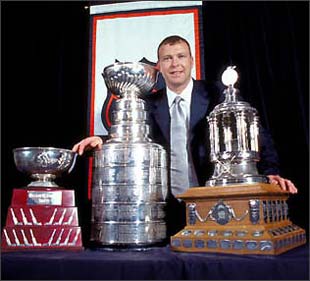 Not gonna go too much into it, because you've heard me rant about this endlessly here, but please stop tweeting me or emailing me saying "KING HENRIK!" You gotta win a crown to be a King. When he's on his game, Lundqvist is the best in the league. The problem is, he's not always on top of his game.
Do I expect him to have a shutout every game? No. However, I do expect him to make some jaw-stopping defying saves too, especially when the game is on the line. You can can blame the defense or the crappy PK. I understand that. At the same time, Lundqvist is being paid the most amount of money in the world to play goaltender. I expect him be the Gretzky of goaltending for the money he gets. If he can't be great every night, like the way Ovi, Kane, Benn & the other top players of this league are, then why is he getting so much dough?
Lundqvist even got a call tonight, early in the first period. Lundqvist looked like he stopped a shot and had it caught in his glove. The refs blew the whistle as the puck was flying around in front of him. So he does get reputation calls.
I never once said Lundqvist sucks on these pages. I just think he is overrated, overpaid and a product of playing in NY. With the way this team is being paid and has been constructed, the Rangers need to rely on him to live up to his salary, EVERY game.
In a perfect world, Brady Skjei & Dylan McIlrath become the next Dan Girardi & Ryan McDonagh for years to come. In a realistic world, Glen Sather (Fuck Jeff Gorton, Sather is still pulling all the strings and I got that on good authority from someone who would know and I'll leave it at that) will probably trade Skjei & McIlrath, along with a number 1 draft pick for Jarome Iginla.
What I've noticed about the call-ups this season, whether it be Megna, Skjei, McIlrath or Hvirik, is that they've all handled the professional game with ease. There have been some hairy moments, but these four are playing good hockey for the most part. I thought Skjei played a little conservative throughout two periods, but when he had to rush past the goal line for a puck, in the third period, he did so without issue.
I'm on record already saying as much as I want the Rangers to win a Cup, and granted anything can happen in the playoffs, I just think it's Washington's year. I know the history, but this is a different Caps team. The window looks closed to me on this Rangers core. If there is any optimism about that, it is that the rebuild shouldn't take too long. You just wish Sather didn't trade every fucking number 1 pick he had and Duclair over the last few seasons. I get trading the the picks to win now. And really, while I wouldn't have dealt two number 1's to get MSL, if the Rangers won the Cup in 2014, we wouldn't even be talking about this.
I'm also on record as saying you got to keep Yandle. The Rangers are going to the playoffs. It's not a lock, but barring a major meltdown, this team will be playing in the postseason. Anything can happen in the postseason. There is no reason to give up Yandle. If he walks, he walks. You still got Skjei and McIlrath for next year, plus $7M of cap money with Boyle out of here. THERE IS NO REASON TO TRADE YANDLE.
In fact, I would like to see the Rangers pull a Tampa Steve Yzerman and end all the speculation. Yzerman deaded the Stamkos speculation in a press release two weeks ago. It's time for the Rangers to do the same with Yandle. If anything, it's time to feature Yandle more, and put him on the first D pair and on the first PP unit.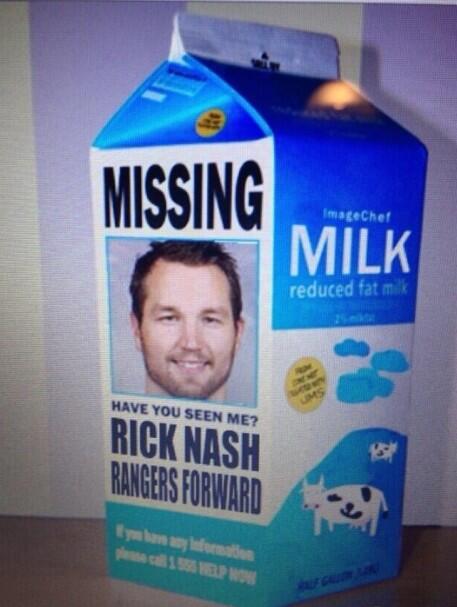 There is no real change on the status of Rick Nash. Nash, who hasn't played since the All Star Break has some sort of leg injury. The Rangers are playing better without him. Give Coach AV credit. He lost Lundqvist for a ton of games last year. Lost Stepan for a bunch of games. Lost McDonagh for a bunch of games. Now he's dealing without his highest paid forward, yet the Rangers have a firm hold on second place in the division.
I really think the Rangers would've been fine without Lundqvist if they went with Talbot. Throw Talbot's Edmonton numbers aside. It's two different teams. Edmonton has no defense whatsoever and their best player missed a large part of the season. Rangers are built to win now, Edmonton is built to win 2-3 years from now. If you kept Talbot, you would've had $7M of cap money this season to improve areas on the team. Again, I'm not saying Talbot is a better goalie than Lundqvist, I think he's better value in this salary cap era.
On that same line of thinking, the Rangers should try to move Nash. It's not like he's a factor in the playoffs anyway. Even if the Rangers could get 2 role players for Nash's money, it would be worth it. The Rangers need consistency right now and Rick Nash is anything but that.
The deadline is now a week away. Again, I would not move Yandle at all. I would try to get Nash & Staal out of here, because both are grossly overpaid. Staal for Jordan Eberle of the Oilers would be a good trade that would work cap-wise. I really think the Rangers wouldn't miss Staal and the McIlrath has improved enough to be an everyday defenseman in the NHL.
I'm not angry at the Rangers for this loss. The refs truly fucked them here. The only thing the refs got right was an embellishment call on that bitch Blandisi (who already has a rep for embellishing) for diving. However, McIlrath got a roughing call, so I don't get that. How do you rough someone up if they embellished the roughing? Fuck these refs.
I saw a lot of good things from the Rangers in this game. They had a great first period, had a helter-skelter second and had to play two teams in the third with a man down.
This is a game to forget. Plus, the Rangers were without McDonagh (head injury), Nash (leg injury) Kreider (He played, but he's mentally not there. Wouldn't be surprised to see him wearing the Boston "B" on his chest next season) and Staal (tweaked something, which is why Skjei played.)
The Rangers got production out of an improving Hayes, rookie Marek Hvirik and saw fire from McIlrath & Miller. The young guns are handling the load, even while at a disadvantage.
The Rangers try to reverse their fortunes on Thursday, the beginning of two tough road games. The Rangers take on the Blues, who they dominated at MSG earlier this season. They then travel to Dallas on Saturday, which should be a real test for the Blueshirts.
By this time next week, we'll finally know what the Rangers did at the deadline and officially enter the playoff push mode.
Time for bed/work!
Fuck the refs!
As always,
Let's Go Rangers
Sean McCaffrey
BULLSMC@aol.com
@NYCTHEMIC on the twitter machine