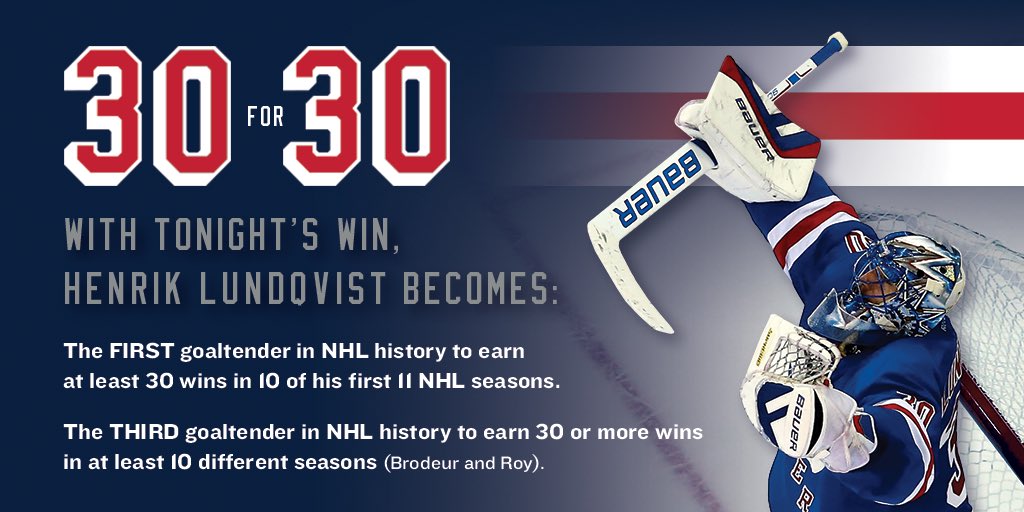 Welcome everyone to another blog here on BlueCollarBlueShirts.com. It's late, due to this game being played in the central time zone, so let's get right into it. As I start this blog at 11PM, I got to be up at 4AM, so just want to get a few words out there before bed!
The Rangers defeated the St. Louis Blues 2-1 on Thursday night. This was a game that could've went either way. As a Rangers fan, you felt like you were being set up for another crushing loss, but despite defensive lapses and no real special teams to talk about, the Rangers eked out a win on the road.
The story of the game was Rangers netminder Henrik Lundqvist, who finished with 35 saves on 36 shots. The lone goal he gave up came on the front end of a double minor, on Dan Girardi. It was another one of those games where Lundqvist looked like his old self. Bottom line, he needs to play like this in the playoffs, EVERY GAME, for the Rangers to have shot of hoisting the Stanley Cup. A great win in February is meaningless and will be forgotten about if Lundqvist is blowing two goal leads left and right, and giving up touchdowns again in the playoffs.
However, for Henrik Lundqvist, he remains the best player on the ice for the Rangers. You know how I feel about his contract, but if he can play consistently like this every game, the Rangers may be the biggest threat, to what seems like a waltz to the Cup finals, for the dominant Washington Capitals.
And yes, I'm aware of the Caps history in the playoffs, but they are a different team from seasons past. They even have the most points and wins than any other team, at this point in time, than any other team in NHL history. They're impressive.
For as great as Lundqvist was in this game, the Rangers special teams were on the complete opposite end of the spectrum. The Rangers special teams have been a problem all season. While the Rangers PP has been anemic since the 1994 season ended, the Rangers PK has never been this bad.  They surrendered another goal, and very quickly at that, in this game.
The Rangers went 0-2 on the PP tonight and couldn't even muster a shot. It was hard to tell who was on the PP. The Rangers PK of late is basically let the other team come into your zone, do whatever the fuck they want and hope Lundqvist is somehow able to make either a clean save or kick the puck to the corner.
The fix for the Rangers PP is an easy one. SHOOT THE PUCK. For the second straight game, the Rangers had a paltry number of attempts at the net. I believe it was the Great One, number 99, a Mr. Wayne Gretzky who said, "You miss 100% of the shots you don't take." The Rangers are doing a hell of a job missing shots then!
Even if you don't have the best angle in the world, maybe you catch a goalie off guard, get a deflection, get a rebound, force a penalty, get the goalie rattled, etc. Sitting around and passing until it turns into a turnover or an offside doesn't seem to be working.
On the PK, the Rangers just look lost. I don't know what the fix is for that, except that they should've never traded Carl Hagelin!  They need speed out there. Having Dan Boyle and Marc Staal just chasing guys around and flailing their sticks around doesn't seem to work. At this point, the Rangers might as well throw John Giannone on the ice during the PK.
Like previous seasons in the playoffs, if this continues, special teams will be another reason why the Rangers don't win a Cup this year.
The Rangers got the first goal of this game, 13 minutes into the first period off the stick of the ever-so-deft Tanner Glass. Ok, it was a deflection goal and a borderline high stick at that. Still, Tanner Glass has more goals since the All-Star Break than Rick Nash!
I've said it before, and I'll say it again, Glass is making the most of his minutes since being booted to the Wolfpack at the start of this season. His play is the reason why Etem was shipped out so early and Megna is still in the AHL.
I know a lot of fans like to hate Glass, especially because of how bad he was last season, but he's really turned the corner. I still would've preferred to have kept the man who wore 15 before him, in Derek Dorsett, but there's that pesky salary cap again. I hope the salary cap gets AIDS! I really hate how money runs everything in sports. I understand and get why, I just hate it. The salary cap promotes parity and punishes teams for doing things right. That's why I kinda smiled when Chicago picked up Andrew Ladd from Winnipeg. They've lost a lot in recent years, but still play the cap game right, something Glen Sather could never figure out.
Speaking of Senile Slats, I was at the game in Edmonton when he was honored. He's someone else that's overrated. It's not hard to win games when you have no salary cap and have Gretzky, Messier, Lowe, Anderson, Fuhr, so on and so forth. 15+ years, in NY, a tough town and he still has a job. Unfuckingbelieveable.
Sorry to rush a bit, but I gotta be up early! Let's get to the box score.
As always, my notes are in italics:
1st Period Summary

Time
Team
Scoring Detail
NYR
STL
13:14

Tanner Glass (2)
Assist: Dan GirardiThe Glassman snaked one here, as he barely tipped a shot from Dan Girardi. I wouldn't call it a lucky goal, but Jake Allen looked lost on the shot.1-0 the good guys.
1
0
Time
Team
Penalty Detail
No penalties this period

2nd Period Summary

Time
Team
Scoring Detail
NYR
STL
14:23

Troy Brouwer (12) (Power Play)
Assists: Paul Stastny, Jay BouwmeesterThe Blues had a good rush & forecheck going, Dan Girardi gets caught for a double minor. I don't see why it was a double minor, but this is the new era of NHL referees where anything goes on any given night. Brouwer pushed one by, right in front of Lundqvist. The Rangers defense looked inept at trying to stall this PP attempt. No way was this Lundqvist's fault, but if he made a glove save before the PP, Girardi doesn't get banged for the penalty. Lots of rebounds from Lundqvist tonight.
1
1
Time
Team
Penalty Detail
3:17

David Backes: 2 Minutes for Goalkeeper Interference
13:28

Dan Girardi: 4 Minute Double Minor for High sticking

3rd Period Summary

Time
Team
Scoring Detail
NYR
STL
4:18

Chris Kreider (12)
Assists: Oscar Lindberg, Kevin HayesAs someone on twitter said, I believe @angryvbk "This goal was the most Rangerest thing ever." McDonagh turns over the puck. The Blues skate for an open breakaway. They fuck it up. Hayes gets the puck to Lindberg. Lindberg finds a streaking Kreider and Kreider buries it for what winds up being the game winning goal. A huge Hank save in the crunch and Kreider scores? Go figure!
2
1
Time
Team
Penalty Detail
5:21

Dmitrij Jaskin: 2 Minutes for Interference
9:21

Oscar Lindberg: 2 Minutes for Hooking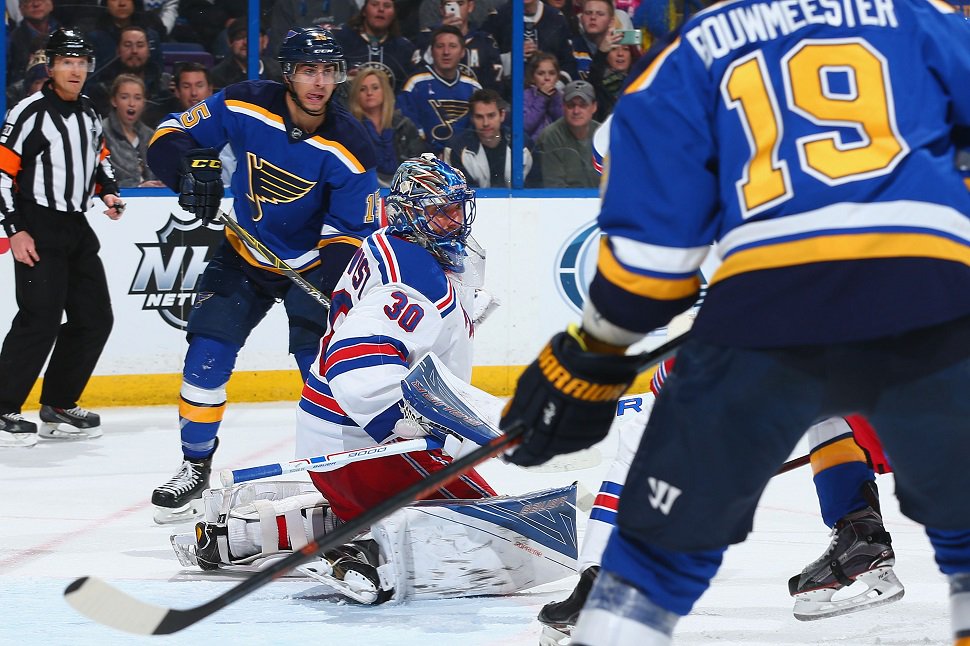 Few random thoughts and musings:
My friend is someone in charge of the Brian Leetch autograph signing, that was held tonight. He told me Leetch could pound beer like the best of them. As someone in the same boat, I love Brian Leetch even more! I bet Lundqvist is drinking wine spritzers with umbrellas after games, while Leetch is knocking back Molson Canadian's!
Yes, I'm a silly little blogger doing this for free and out of passion for the Rangers. However, I have acquired a few sources along the way. I talked previously about Kreider having "mental" issues and that this is most likely his last season as a Ranger. I'm being told by someone who would know, that he is having some sort of relationship issue, of the romantic kind. It would explain his disappointing season, if that is true. I'm just telling you what I heard, don't know the validity of it either way.
Lots of talk about what to do with Rick Nash. If they put Nash on the Long Term Injured Reserve, the Rangers would add more money to the cap and get Nash back for the playoffs, providing Nash could return. That opens up a chance to get a bigger star to help this team. It is what the Blackhawks have been doing to in recent seasons. Look at it this way. Do the Rangers have a playoff berth? Most likely yes. Does it really matter where you finish? In hockey, not so much. We've seen plenty of 8 seeds win it all.  The Rangers are playing mighty well without Nash. Might be worth entertaining the notion of shutting Nash down for the rest of the season and picking up some stars with the extra money.
I do not want Eric Staal at all. He's the latest name being brandied about by Ranger fans. He only has 10 fucking goals and makes more money than Rick Nash. The Rangers need solid role players of the veteran variety. Not mega millionaires whose best days are behind them.  I wouldn't mind Jordan Eberle though.
| | |
| --- | --- |
| | Capitals |

| | |
| --- | --- |
| | Rangers |

| | |
| --- | --- |
| | Islanders |

| | |
| --- | --- |
| | Penguins |

| | |
| --- | --- |
| | Devils |

| | |
| --- | --- |
| | Hurricanes |

| | |
| --- | --- |
| | Flyers |

| | |
| --- | --- |
| | Blue Jackets |
With the win, the Rangers keep their hold on second place in the standings. If the season ended today, they would play the Islanders, a team  Lundqvist is 0-5 in his last 5 with. NYR won't catch the Caps, so the Rangers better get some scouts at the basketball arena in Barclay.
So the Rangers get a big two points on the road against a great team. Just a few more random thoughts about the game itself:
Stalberg needs to bury that puck during the empty net situation. Hagelin was great at that. You gotta close the fucking game and end the stress.
I was surprised Blues Coach Ken Hitchcock wasn't fired after last season. Watching him at home at MSG, when the Rangers blew the Blues out and watching him tonight all I could think was that he looked like a lost senior citizen with dementia. He doesn't even look like he knows where he is, you know, like a 30 year old NFLer with CTE. He's gotta be a goner if the Blues are an early exit this season.
Zuccarello showed fire in this game. I don't think there is any other Ranger more universally loved, respected and appreciated than Zucc.
Brassard and Stepan had another one of their consistent inconsistent games. Just a non-factor. Rangers need these guys to step up, every game.
Hrivik played well for a guy that was sick. Really enjoying what I'm seeing from the Wolfpack call-ups this season.
Even with the goal tonight, I wouldn't mind if the Rangers moved  Kreider. Was Tortorella right about him?
McDonagh looked good in his first game back. He saved a goal in this game but also made a brutal turnover. The Rangers need the captain healthy for the playoff push. Yes my alter-ego is Captain Obvious!
Every time I saw the word or typed the word "St. Louis" it made me miss Martin St. Louis a bit. Bad playoff run last year aside, he was a great Ranger in his limited run here. Still think he could've played this year if the Rangers asked him to. The 2014 run doesn't happen without him. His line mates miss him this season too. He was one of the best pure passers I've ever seen. A definite HOFer.
Winning a game like this against a good team are wins that good teams pick up. With all the bullshit the Rangers have endured and for as bad as they've been at times and in the special teams department, the Rangers are still a good team and a threat in the playoffs.
Just how bad is the Rick Nash injury? We're not getting updates. Then again, you rarely do in hockey.
Tweeting along with readers and non-readers of this blog during games is always entertaining. Love getting the wide array of opinions on this squad.
Tough to see Dylan McIlrath on the bench tonight.
Lundqvist and Kreider were the two Ranger stars of the game. Before his goal, Kreider was horrible all game. That star should've went to the Glass man!
Sorry for the brevity here tonight, but real life beckons. Rangers return Saturday afternoon for a showdown with the Dallas Stars, in Dallas, at 4PM. This could be a good litmus test for the Rangers as Dallas has been one of the best teams in the NHL all season. I should be back with a blog about that game too.
Until then,
LET'S GO RANGERS
Sean McCaffrey
BULLSMC@aol.com
@NYCTHEMIC on the twitter