What's up Ranger fans and welcome to another blog here on BlueCollarBlueShirts.com. With a 4AM alarm clock in my future, let's get right into it!
The trade deadline has come and gone and as a result, the Rangers landed Carolina captain Eric Staal. If you haven't heard about 197937893473897 times by now, Eric Staal is the brother of Rangers alternate captain, Marc Staal. As a result of the trade, Marc Staal's jersey has changed: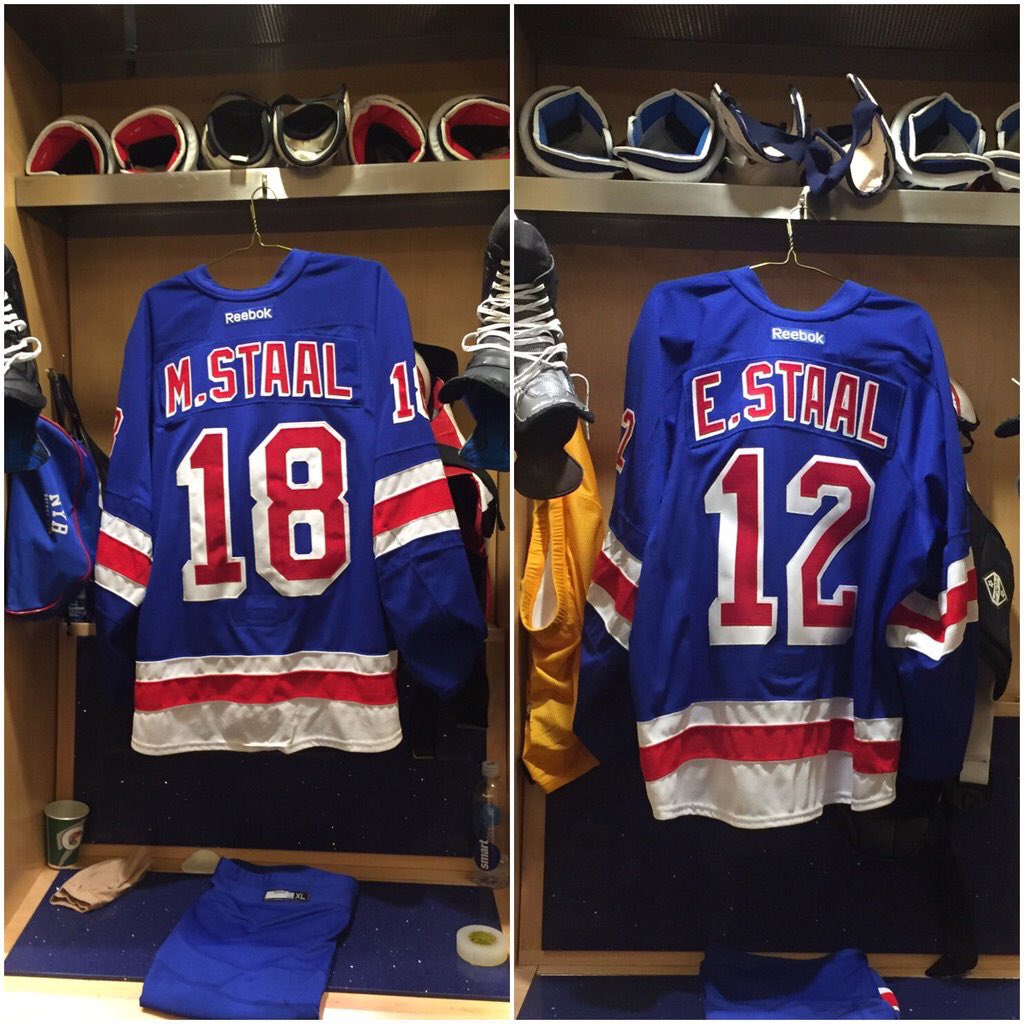 If you have been following me on twitter @NYCTHEMIC, you know my thoughts on the trade. I think it was a good trade for the Rangers. They didn't give up much, just two second round picks and a prospect. They didn't give up the same bounty they gave up when they traded for Yandle last season or Martin St. Louis the year before. It was a responsible trade.
As far as Eric Staal himself, his best days are behind him. Can he help this team? I hope so. Best case scenario, he gets used to the team and heats up in the playoffs like MSL in 2014. Worst case scenario, he continues to produce the way he has been all season, like Chris Kreider.
I still think Hawks vs Caps is your Stanley Cup Final. Apparently Vegas does too, based on the odds after the NHL trade deadline. Still, I'm hoping the Rangers can catch lightning in a bottle and everything works their way. All I want is one Stanley Cup in my adult lifetime! For fans who are now 21 years old, the legal drinking age, they haven't seen a Cup at all. It's been long enough. It's time for Henrik to finally become King and get his crown that is long overdue.
We all know Eric Staal's accomplishments. If you don't, go google them. The biggest accomplishments in his career are winning a Stanley Cup & being the Cane's captain. If you watch his press conference, which is available on BlueShirtsUnited.com, I thought he said all the right things. Where MSL had Richards to help him get accustomed to NY, Eric has his brother Marc to get him ready.
You will hear many people say that Staal averages a point per game in the playoffs. Just remember, the last time the Hurricanes were in the playoffs were 6 years ago, so keep that into consideration.
Staal tonight played well. You can't expect him to score 754 goals a game, but he did a lot of things I liked. He crashed the net. He won faceoffs. He moved the puck well. You can't just snap your fingers and hope that magic happens overnight. These 20 games should help him get used to AV's system and his teammates. Hopefully, come playoff time, he's ready to go.
For the Rangers, the Canes are eating half of Staal's salary, which allowed the trade. As far as next season, both Staal & the Rangers said, and to paraphrase, "let's finish this season first." Man, I just hope a Cup comes at the end of it!
The Rangers made another trade before the deadline, swapping Wolfpack Captain Ryan Bourque for Caps AHLer Chris Brown. No, it's not the same Chris Brown that cowardly kicked Rihanna's ass. Bourque never got a shot with the Rangers. I was even surprised the Rangers & Capitals are making deals with each other, considering their history & where they are in the standings.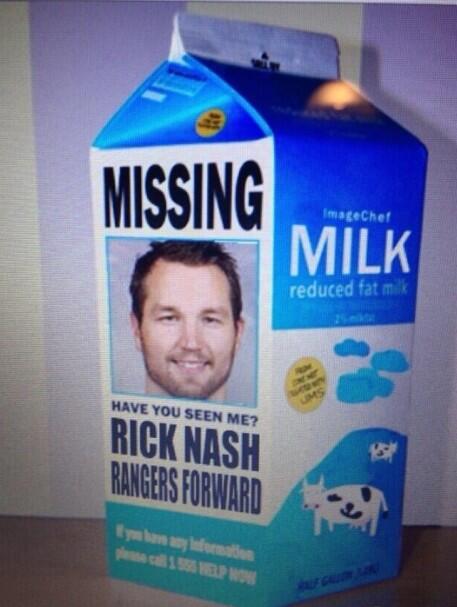 I had this conversation with MSG analysts Stephen Valiquette & Ron Duguay on twitter, as well as of a bunch of Ranger fans. Why didn't the Rangers long term injury reserve Nash, and try to get another big name or two role players? I'm befuddled by this. The Rangers are playing better without Nash.
While on that, give credit to Coach Vigneault. AV lost Lundqvist last year. What happened? Cam Talbot was absolutely phenomenal and helped the Rangers get the President's Trophy. Ryan McDonagh has missed a bunch of games this season. Ditto Derek Stepan. The Rangers just won without them. Now, the highest paid forward on the team, Rick Nash, has missed a ton of games and the Rangers are playing their best hockey since the beginning of the season.
No matter what adversity, no matter what injury, Coach AV always has this team in a position to win. He only has 2+ seasons here, but he is already a Top 5 coach in Rangers history. Bring home the Cup and you can argue he's one of the best.
Back to Nash. With the Rangers playing great and adding Staal, I don't know why the Rangers didn't take a page out of the Blackhawks playbook, you know, a team that has won 3 cups in the last 6 years. The Blackhawks LITR'd Kane last year and beefed up their squad with the available cap money. I really thought the Rangers should've done the same here. Let Nash rest for the rest of the regular season & hope he rips it up in the playoffs.
The Caps, Blackhawks, Ducks, Panthers & Kings all restocked and reloaded for the playoff push. While I like the Staal trade, is it enough for the Rangers to get over the hump? Of course I'm rooting for it, but realistically, it's hard to envision. I really would've liked to see the Rangers make a run at Eberle or Hall from Edmonton or Hartnell or Atkinson from Columbus.
While I'm always over critical at times on this site, it's because I've seen this all before. Younger fans aren't used to the heartbreak. The older fans know the deal. All we want is a Cup. I don't think the Rangers put themselves in the best position to win a Cup by not LITRing Nash. Who cares how they finish in the regular season? This team right now, and as it's been for the last 4 years, is a WIN NOW team. They should've added more help for the playoff push, and I hope I don't have to reference this blog in the spring. Prove me wrong Gorton!
I didn't have enough time to do a Dallas/Rangers blog, but this game was somewhat the same. The Rangers played a tight game and found a way to win late. They've been doing that a lot recently. That's a sign of a good team. Good teams find a way to win games. The Rangers had two tough games on the road and took down both the Blues & the Stars.
What had me nervous tonight was that the Rangers allowed a non-playoff team, in the Columbus Blue Jackets, to hang around so long. I don't think the Rangers should be sweating out these games against non-playoff times, but alas, it is the New York Rangers way of doing things.
What's been really concerning as of late, is the Rangers paltry attempt at shots per game. It's like the whole team is Barry Beck'd. I've said it a million times here. SHOOT THE PUCK. Good things happen when you shoot. Maybe you get the goalie off-guard. Maybe you get a deflection. Maybe you force the other team into taking a penalty. Maybe you get a rebound. However, you miss 100% of the shots you don't take (Thank you for that line Wayne Gretzky) and the Rangers are leaving a lot of shots on the table.
Let's get into the official box score, courtesy of ESPN. By the way, how horrible is NHL.com? It's like I designed that site now. It is just brutal, like the Rangers special teams at times!
As always, my comments are in italics:
1st Period Summary

Time
Team
Scoring Detail
CBJ
NYR
17:41

Mats Zuccarello (21)
Assist: Dan Boyle

Zuccarello got the pass from behind the net from Boyle. Zucc pulled a video game play, went for a wrap around, shot from behind the goal line and the puck hit off Bluejacket goalie, Joonas Korpisalo and trickled past the goal line. Bad goal to allow by Korpisalo, who played a tremendous game. I thought Steve Valiquette did a great job breaking down the goal during the intermission break. Korpisalo basically didn't get low enough, nor tightened himself up for the shot.

0
1
Time
Team
Penalty Detail
No penalties this period

2nd Period Summary

Time
Team
Scoring Detail
CBJ
NYR
No scoring this period
0
1
Time
Team
Penalty Detail
10:35

Jared Boll: 5 Minute Major for Fighting
10:35

Dylan McIlrath: 5 Minute Major for Fighting

3rd Period Summary

Time
Team
Scoring Detail
CBJ
NYR
3:46

Cam Atkinson (20)
Unassisted

FUCKING BRUTAL. Girardi coughed up a terrible turnover. Shades of the 2014 Cup all over again. Atkinson, who I thought the Rangers should've tried to deal for, had an easy breakaway. Raanta made the first save, but Atkinson got his own rebound and pushed it by Raanta.

1
1
17:12

Derek Stepan (14) (Shorthanded)
Assist: Ryan McDonagh

Derek Stepan, who is not playing the way he's being paid, got the Rangers second short-handed goal of the season. Stepan marched down the ice, played around a bit and tapped one by. With less than 3 minutes to go, this was a huge goal for the Rangers. It wound up being the game winning goal!

.

1
2
Time
Team
Penalty Detail
5:56

Brandon Dubinsky: 2 Minutes for Delaying Game – Puck over Glass
15:19

Marc Staal: 2 Minutes for Tripping
While Raanta has posted shutouts and has made more saves in a game, before for the Rangers, I thought this was his best game of the season. The reason I believe that is because the other games Raanta won, the Rangers offense was clicking. His shutout game, a 4-0 win over the Sharks, the game was in the bag. He made 35 saves against Toronto in his last start. However, quite frankly, Toronto sucks and is tanking.
Tonight, Raanta only got two goals in support. Raanta made 26 saves, with the lone goal coming after a breakaway/turnover. He kept the Rangers close in a one goal game for the entire 60 minutes. He stopped previous breakaways and made a beautiful save on Jones. He flashed the glove. He used the stick. He used the body. He passed the puck well. This was as complete of a game you could get from a goalie. After struggling a bit in January, Raanta has locked down and has played well.
I'm surprised Raanta even started this game. I know Hank needs to rest for the playoffs, so I thought Raanta would get either the Penguins or Capitals game, when the Rangers have them back to back on Thursday & Friday. I don't know if that means Hank takes both those games, or if Raanta gets another one or not, but in either event, I'm confident Raanta will play well. I'm hoping Hank at least gets the call against the Caps, so we can see what the Rangers got for real.
Both goalies played very well tonight. As someone who is a fan of watching great goaltending, this was fun to watch, after the fact, because the Rangers won! Ranger bias aside, this was excellent to enjoy.
As a result of the 2-1 win, the Rangers open up a 7 point lead, with 3 extra games played, over the third place NY Islanders. The Rangers most likely won't catch the Caps for first place. It is important the Rangers maintain the second place standing, as it would guarantee a home ice in the first round. The Islanders are a tough team for the Rangers, with Lundqvist being 0-5 in his last 5 against NYI. Quick stat, Talbot is 3-0 against the Islanders!
This was a hairy game for the Rangers. They didn't shoot often. The first period saw the Rangers get a fluky Zuccy goal. The second period was a drag, with the biggest action coming when McIlrath, who played forward, got into a fight. I'm surprised, with Jesper Fast out with the flu, that McIlrath was made a forward. I would think Dan Boyle would fit better for that role. The third period was fast paced, and luckily it worked out in the Rangers favor.
The Rangers, winners of three straight tight games, have picked up a huge 6 points in the standings. However, these games have all been to the wire. Good teams win close games. The Rangers are a good team. How good are they? We'll find out when the playoffs start!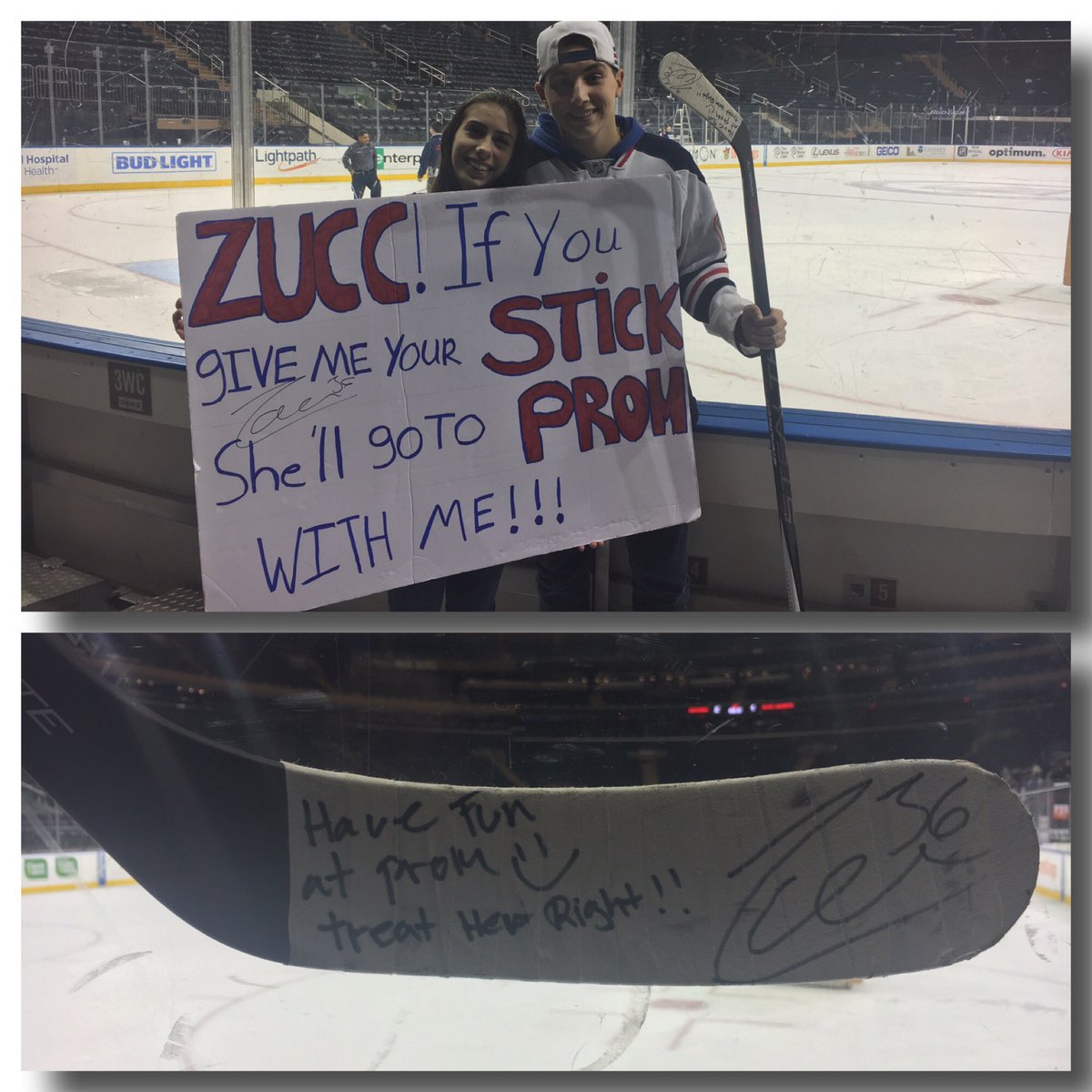 I'm not a religious person. In fact, I'm far from it. However, I do believe in karma. The Rangers scored a ton of karma points tonight. First, on her birthday, BlueCollarBlueShirts.com follower, @bricola11 on her 16th birthday, was able to get downstairs, take pictures with the Rangers & even got a puck!
Following the Kristaps Porzingas prom deal (and like another follower said, @angry_VBK, how many more of these prom deals will we see at MSG?) a Ranger fan had a new twist. As the above picture shows you, Zuccarello made the day of two Ranger fans.
I love positive stories in sports. What a great story, as Zucc gave up an autographed stick to a lucky high school couple. He just made two Ranger fans for life with this gesture. I don't mean to be biased or anything, but these stories always happen in hockey, when you compare to the other 3 major sports. Pure class from the New York Rangers.
The Rangers will have two days off, which should help Eric Staal acclimate to his new environment. After that quick break, the Rangers will hit the road to take on the Penguins on Thursday & the Caps on Friday. They then host the Islanders on Sunday. All three teams are vying for the playoffs. The Rangers will really have their mettle tested in these three games, but it's a good litmus test for a club with Cup aspirations.
I got a 4am alarm in my future, so it's time to cut this short and tell you thanks for reading!
As always,
LET'S GO RANGERS
Sean McCaffrey
BULLSMC@aol.com
@NYCTHEMIC on the tweet tweet