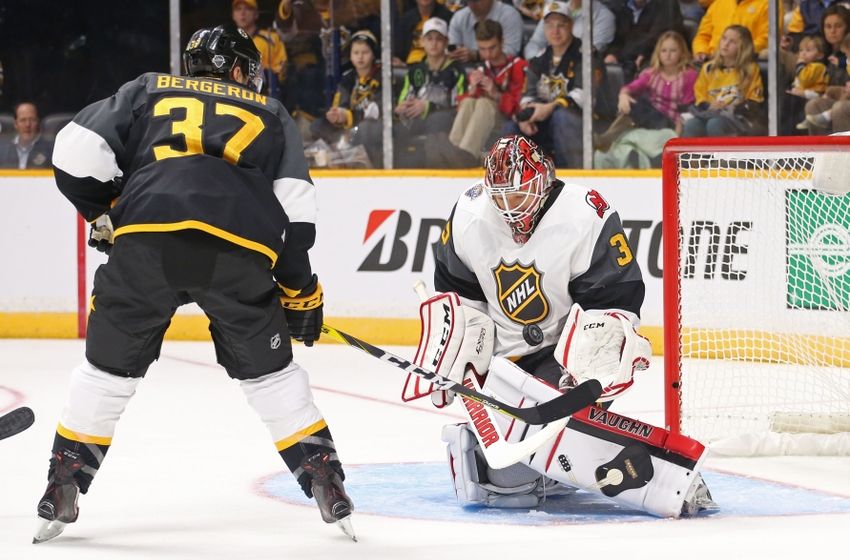 "Lock your windows, close your doors." – The Notorious BIG on the 2015-2016Rangers
No usual intro. If you don't know what the usual intro is because you're new here, just check the archives, located on the right hand of the site.
The window for the Rangers Stanley Cup hopes is officially slammed down, locked and boarded up. Sure, anything can happen in the playoffs and you don't want to overreact to a loss, but after a disgusting 3-2 loss to the NJ Devils on Tuesday night, how can anyone expect this team to hang with the Washington Capitals? Sure, the Rangers have had the Caps number in recent seasons in the playoffs, but these aren't the same Capitals, and this sure as hell, aren't the same Rangers we've seen in Alain Vigneault's tenure with the New York Rangers.
You can go back into the archives of this blog and everything I've been saying all along is somewhat prophetic. Sorry for the egotistical sentence there, but it's true. The Carl Hagelin trade was a mistake. Signing Lundqvist to the biggest contract for a goalie in the NHL was a mistake. Letting Stralman go and signing Boyle was a mistake. The Yandle trade was a mistake. Giving up two number 1 picks in the MSL/Cally deal was a mistake. Not playing McIlrath is a mistake. Giving Girardi and Staal no move clauses was a mistake. Trading Talbot for nothing was a mistake. Allowing the Capitals to sign Williams, Richards & Oshie, while the Rangers signed such big fish as Jarrett Stoll and Viktor Stalberg was a mistake. This whole fucking season is a mistake and James Dolan banking on Sather for the last 15 years is the biggest mistake of them all.
If you know me in the real life or just know this blog from social media, you know I'm a diehard Rangers fan. I easily spend over $10,000 a season on this team, via traveling to away games, attending 30+ home games, buying jerseys, buying merch and definitely buying beer for these games. Some Ranger fans are rah-rah all the time, but that's not me. I'm realistic. This team is done. Stick the fork in them. Maybe they make the playoffs, but even so, they aren't stopping the Caps.
I've been saying it ever since they gave Lundqvist that contract, it's too much for a goalie. Lundqvist can be Superman some nights, but is pretty average the majority of the time. In an NHL where the rules change to promote offense, teams need scorers, not goalies.The teams that win the Cup have great offenses. Just look at the Kings and the Blackhawks. Two of the best goalies in the last 5 years, Carey Price of Montreal and Henrik Lundqvist have no championship hardware to show for their work. With Lundqvist turning 34 in March, his best years are behind him and the team is committed to him for another 6 years, all while being the biggest cap hit for a goalie, in all of the NHL.
That said, it's not all on Lundqvist. The Rangers are in the bottom of the barrel of the league in special teams. The powerplay sucks. The penalty kill sucks. Do you know who was good on both of those squads last year? Carl Hagelin. Thank god Slats traded him for Emerson Etem!
The Rangers, who have played well enough when it's 5 vs 5, had another Long Island Rail Road trainwreck of a catastrophe with special teams tonight. I mean, when was the last time the Rangers had a decent powerplay? 1994?
The Rangers went 0-4 on the PP tonight and 0-2 on the PK. On the flipside, the Devils, chasing the Rangers for a playoff spot, went 2-2 on the PP and were 4-4 on the PK. It's the same story all season, the Rangers are just consistently inconsistent. With a ton of games left against divisional opponents, including these same Devils and 5 games with the Penguins, who are also chasing the Rangers, the Rangers playoff chances are in jeopardy. The Rangers are banking, figuratively and literally, on Henrik Lundqvist to bail them out. After all, the Rangers put all their money in defense and not offense. If Lundqvist can't deliver every night, the Rangers, just like the pre-Vigneault years, are toast.
You can look at the score and see it was a one goal loss for the Rangers. You may think I'm over-reacting, but the games are meant to be watched and not read about in the papers afterwards. This was a brutal loss for the Rangers. They could not capitalize on scoring chances. They had chances, time after time, to really put a number on the Devils. The Rangers couldn't even hit the net. Even Rangers Captain and 2016 All-Star, Ryan McDonagh, couldn't hit the net on an open breakaway. I bet you the answer to every MSG trivia question, Brian Leetch, could.
What alarms me, in one goal games like these, is that the guys you rely on every night, like Zuccarello and Stepan, the guys who got big contracts, seem to disappear. I can't even put Kevin Hayes or Chris Kreider in this category, because they "ghosted" long ago.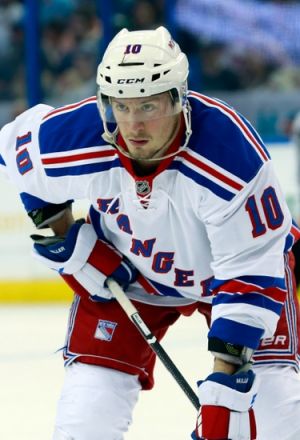 The lone bright spot, offensively for the Rangers, is pending free agent JT Miller. At the beginning of the season, you would think Kreider and Hayes would get the biggest contracts from the Rangers in the off-season. As of right now, that looks to be Miller's contract to lose. However, MILLER TIME isn't contagious for the Rangers. While MILLERTIME is running rampant for the Rangers, the rest of the team is drinking Natty Light. These Rangers sleep on open chances like they were given a drink from Bill Cosby.
Miller scored two goals, yet again for the Rangers. He also made what should've been a game tying assist to Dan Boyle, but of course Boyle, that offensive stud of a player, couldn't do anything with it. At least Slats let Stralman walk and kept McIlrath on the bench, so we could have that offensive powerhouse, Dan Boyle in the line-up every night.
I'm utterly disgusted. Here's the official box score from ESPN.com (NHL.com overhauled their site and is user unfriendly now) with my comments in italics:
1st Period Summary

Time
Team
Scoring Detail
NYR
NJ
13:31

J.T. Miller (14)
Assists: Derick Brassard, Jesper FastA tape-to-tape goal, as Brassard made a great pass and the hottest Ranger to date, JT Miller, buried a puck in front of an open net. Making the easy shots and finishing the job is important. Miller is doing just that. This gave the Rangers early momentum.
1
0
Time
Team
Penalty Detail
3:36

Adam Larsson: 2 Minutes for Hooking Chris Kreider
19:54

Derek Stepan: 2 Minutes for Hooking David Schlemko

2nd Period Summary

Time
Team
Scoring Detail
NYR
NJ
1:34

Lee Stempniak (15) (Power Play)
Assists: Eric Gelinas, Adam HenriqueLeave it to another ex-Ranger to burn the team, this time in Lee Stempniak who somehow has 15 goals this season. Lundqvist blows his first lead of the game, but this goal wasn't really on him.
1
1
Time
Team
Penalty Detail
8:15

Seth Helgeson: 2 Minutes for Illegal check to the head Daniel Paille
11:03

Kyle Palmieri: 2 Minutes for Roughing Viktor Stalberg

3rd Period Summary

Time
Team
Scoring Detail
NYR
NJ
2:06

J.T. Miller (15)
Assists: Keith Yandle, Dan BoyleJT Miller picked up his second of the night, after a rebound and a feed from Yandle on the rush. This was picture perfect and once again gave the Rangers the lead. My neighbor/good friend was watching the game with me. I swear to MILLER LITE beer that I said, "Lundqvist will give up a softie within 90 seconds." Truer words were never spoken.
2
1
3:13

Joseph Blandisi (2)
Assists: Andy Greene, Damon SeversonThe Cupless King Nothing gave up a softie here. Remember when he said "Give me two goals and I got this?" LMAO!
2
2
11:14

David Schlemko (5) (Power Play)
Assists: Lee Stempniak, Tyler KennedyWith 5 seconds left in the PP, Lundqvist let another one go through. Two blown leads, which seems to be the norm for the highest paid goalie, who also happens not to be an all-star, once again.
2
3
Time
Team
Penalty Detail
9:19

Oscar Lindberg: 2 Minutes for Interference of Jacob Josefson
11:59

Adam Larsson: 2 Minutes for Holding Dan Boyle
In the battle of the goalies, Cory Schneider, 5 years younger and $2.5M cheaper than his NY counterpart, made 31 saves off of 33 shots. This was not a cupcake game, as Schneider made a ton of great saves. The King without a crown, Henrik Lundqvist, finished with 22 saves on 25 shots. Can everyone finally agree with me now and shut me up and admit that Lundqvist is overpaid, overrated and a product of playing in NY?
There used to be another elite player in another league that called himself "King" that didn't have a championship. The name? Lebron James. I wonder if Lundqvist wishes he left to get his Cup/championship elsewhere, when he was still in his prime, like Lebron did. Lundqvist used to be one of the best goalies in the NHL. Perhaps the best. Age happens. He's not the best anymore. Not even top 5. I wonder if he regrets his decision to stay and not try to get a Cup elsewhere. He may be "Ray Bourquing" it towards the end of his career. As much as I talk the truth and not rah-rah Lundqvist on this blog, he really was one of the best at his position and had many crappy teams in front of him. It's a shame that he wasn't in his prime when the Rangers had their best years offensively.
If you're Coach Alain Vigneault, all you can say is "now what?" Unlike other Ranger fans, I don't blame him the team's struggles. He didn't choose this line-up. It's not his fault his team is playing under their potential both individually and team-wise.
There's no fix for this current roster unless the players start playing like how their paid. I've talked about it before. Can the Rangers get a Stamkos? Can the Rangers get the Sedins? Bottom line, the only way this team has a shot at doing anything in the playoffs is with outside help. It won't get done with the current roster, especially with the way they are playing now.
What really drives you nuts about this game is that this is a game the Rangers had. They out-shot the Devils. Played better than the Devils. Moved the puck well. Frankly, when it came to it, Schneider either made a big save or the Rangers didn't even come close to the net when they had open looks.
The same problems plague the Rangers. They don't skate the puck into the zone well and are constantly turning over the puck in their dump & chase game. Gun to my head, I still couldn't tell you why Kevin Hayes is out their in man advantage situations. The Rangers had 2 powerplays where they couldn't even muster a shot.
It's tough to blame one of the youngest Captains in Rangers history, Ryan McDonagh for the losses. However, there is just no fire on this team. There is no Mark Messier who gets pissed off. There's not much fight on this team. I know it's not the '80s anymore, but Danny Paille was crushed by a big hit in this game. Did the Rangers retaliate? Was there a fight? Of course not. I mean, it wasn't that long ago when these teams duked it out at a puck drop several years ago. Now, the Rangers are much obliged to be embarrassed on the ice. It's time to engage "The Undertaker" Dylan McIlrath on a full-time basis and show the NHL that the Rangers aren't the team to be fucked with.
I'm really fucking disgusted (sorry for the bad language, I don't do it often on these blogs, but when I do, I'm trying to illustrate a point) with this team right now. Let's talk about something positive before revisiting the Blueshirts.
This years All-Star Game was one of the funnest and best nights I've had ever had watching hockey. Basically, the opposite feeling I have watching the Rangers most nights! Social media was just amazing. In fact, if it wasn't for social media, the NHL would've never had its highest rated All-Star Games in years.
Unless you've been living underneath a rock or have your head up your ass, like your name is Mike Milbury, you are all familiar with the John Scott story. This blog, due to my busy work schedule, is up days after the game, so you already know what has transpired. John Scott was a write-in vote by the fans. The NHL then tried to make him sit the game out and even took a pot-shot at him by dragging his family into it. However, when it was all said and done, John Scott was bigger than Jesus and won the 2016 NHL All Star MVP.
I'm not going to recap the whole John Scott saga, because someone already has done so and did a much better job recapping it than anyone ever could. That person was John Scott himself. If you haven't already, check out http://www.theplayerstribune.com/a-guy-like-me/. That link takes you to John Scott's article where he talks about how this all went down and how he handled every hurdle. It's one of the best articles I've ever read by a player and really pulls at you emotionally. How can you not root for the guy?
The NHL, the least popular of the four major sports in America (and even UFC on FOX is doing better TV ratings) needed this John Fox story, whether they realized it or not. Living in NY, hockey rarely dominates the back pages of the newspapers. Mike Francesa hangs up on callers that try talking about it.
For the NHL, John Scott got the NHL mainstream attention and everyone chattering. More importantly, it did record ratings. The NHL All-Star Game delivered 1.17 overnight rating – the best number ever for an All Star Game on the terrible NBC Sports Network. More staggering is that the game was projected to do a .8 rating.
In comparison, last year's horrendously boring and terrible All Star Game did a .94 rating, meaning that this year's All Star Game was up 24% in the all important ratings.
Not only was John Scott a ratings hit, he was also a merchandise hit. His All-Star jerseys sold out. Fan made t-shirts sold out. All-Star game pucks and hats, with Scott's autograph are fetching up to $200 on eBay. Sure, those eBay prices will eventually come down and it doesn't mean everything will sell, but what it does mean is everyone wants a piece of John Scott.
As a lifelong suffering Rangers fan, you tend to be miserable and it's very easy to hate people. One of those people is Rangers owner James Dolan. The other is Rangers GM Glen Sather. I've discussed why in previous blogs, so you can check the archives on the right hand of the site, should your interest be piqued.
One person that fans from every team hate is NHL commissioner Gary Bettman. Can you believe this moron had his contract renewed? He is by far, the worst commissioner in sports history. That includes the racist Kenesaw Landis. That includes "there is no such thing as concussions" Roger Goodell. That includes "Shoot 'Em Up" Bud Selig. Under Bettman's watch, we've had 3 NHL lockouts. I've written about Bettman before, but man, that last lockout had me questioning watching hockey ever again. I just recovered from that '04-'05 lockout and "de-soured" about the whole thing, until Bettman watched the league fall apart for the third time on his watch during the '12-'13 season. I have no doubts about it, the NHL will have another lockout once the current CBA expires.
If you read John Scott's article or followed the news, in a nutshell, this is what Bettman did to Scott, after he was named the Captain for the Pacific division. Keep in mind – THESE ARE THE RULES THE NHL SET. THE NHL FANS VOTED FOR SCOTT. THE ALL STAR GAME IS AN EXHIBITION GAME. WHY NOT GIVE THE FANS WHAT THEY WANT?
The league owns the Phoenix Coyotes. Scott was immediately traded to Montreal & sent to the minors.
The league said Scott would not be eligible for the ASG due to the trade that THEY MADE! Fans revolted.
Scott was then named eligible for the game. The NHL pressured Scott to pass. Scott said no. The NHL then asked him "Would your daughters be proud of you?"
So not only did the NHL fuck with Scott's money, home and job, they also went personal and started asking about his kids. Typical lowball scumbag move by the NHL.
You know what's even sadder? When I tweeted at the official twitter account of the NHL, which is @NHL, saying "I'm proud of John Scott. Give the fans what they want. #FREEJOHNSCOTT" do you know what response I was given? I was BLOCKED! It really makes me question why I give up so much of my time and money to this league that obviously does not give a fuck about their fans.
As you may have heard, John Scott won the MVP of the All Star Game. Again, he was a write-in vote. The NHL tried to celebrate after the fact, but they were clueless for not having him in the voting in the first place.
I gained 100 new followers on twitter during this All Star Game from all different fanbases. Despite of our different team allegiances, we all agreed on one thing – it was great to root for John Scott. I know the knock on it – a player "more deserving" was omitted. However, what's wrong with a career NHLer and an unsung hero? Scott is like an offensive lineman, hard work, but no tv camera glory. It was refreshing to root for Scott.
Some fans are even talking about getting another grinder in the ASG for next year. I'd be shocked if the NHL doesn't amend their rules. Plus, even if the NHL kept the current system, it wouldn't be the same. The sequel is never as great as the first movie. And yes, this John Scott story has a Disney movie all over it!
Not everyone enjoyed the John Scott made-for-TV-movie special. Two of those douchebags were Pierre McGuire and Mike Milbury. I never wanted to slap someone in the face as much as I wanted to slap Mike & Pierre during this game. It's bad enough that Pierre looks like he's about to enter a house with Chris Hansen, from "Catch a Predator" inside. Just watching him on tv is creepy.
The lowlife Mike Milbury constantly threw digs at Scott, probably out of jealousy. Pierre had the audacity to berate and put down Scott's wife in a post-game interview. In return, there is now a 10,000 signature petition going around, asking NBC to fire McGuire & Milbury. I never even knew how Milbury was considered an "expert" anyway. He killed the Islanders worse than Hitler killed the Jews. (RELAX, I'M EXAGGERATING AND JOKING, IT'S NOT TOO SOON IS IT?) People are too sensitive these days, I miss the non PC America when people had a sense of humor!
Anyway, while John Scott gave us an All Star game we will never forget (and the NHL has to keep this format, this was a raving success), Pierre & Mike did their best to damper your enjoyment of it. These two assholes should be sent packing. John Giannone could easily replace Pierre. Nothing against John Giannone, but a dead Crackhead Bob from the "Howard Stern Show" could replace Pierre. Ditto Milbury.
Thank you to John Scott and my fellow NHL fans for giving me an emotional and excellent night of hockey. I will never forget it.
Just wanted to shout out a new book I read. "The Battle of Alberta", penned by sportswriter and Oiler fan, Mark Spector, was a fabulous piece of literature. The Rangers and Oilers have a weird history together, as the Rangers took every Oiler after their prime, for that 1994 run. The teams intertwine a lot since 1994, especially with Glen Sather. It's amazing how Glen Sather is an icon and a hero in Alberta, but a villain and completely inept in NY. However, how great was Sather really in Edmonton? After all, Gretzky, Messier, Coffey and Fuhr fell into his lap…
Mark Spector wrote a great book describing the rivalry between the Flames and the Oilers. Akin to the Rangers vs the Islanders, for most of you reading this blog, the Flames & Oiler battles of the 1980's were legendary. I will be 34 this year. Sure, I knew who Gretzky was as a kid, but I really never got to watch many of his games until he became a King. Spector does a great job recapping everything from the 1980's big world for the 2016 small world. Now, we can watch any game, any time, anywhere. In the 1980's, the peak of this Battle, you could only watch the games on TV if you lived in the region.
With the advent of YouTube, we can now revisit the stuff we missed as a kid or even as an adult. Spector talks in detail, with quotes from all the major players involved, about the Battle's biggest moments. As you read the book, you are jealous of the people who got to live and witness it. What a great time for hockey. What really comes out from author Mark Spector, is his love and passion for some of the best and most ferocious hockey ever.
Being born in 1982 and being able to remember games from 1990 and on, I didn't get to experience "The Battle of Alberta". I'm glad Spector did, as he painted a vivid memory of his youth and fandom for me. I deeply appreciated it and connected with his love for the Oilers and for "The Battle" in general.
As someone who got to visit Alberta, Canada last year, to watch the Rangers play the Oilers and Flames, I appreciated my trip even more. I saw games in buildings where legends left it all on the ice.
What really moved me in the book was Spector talking about the hockey I grew up on. No pussy shit. Everyone was held accountable. I miss the goons. I miss the tough guys. I miss the smaller goalies. I miss the wars hockey games used to be.
Today, there are no ties. Everyone gets a point. Fighting has been greatly diminished, perhaps because of CTE or because the league wants to move more to the Olympic style. The rivalries are there, but in the era of free agency, it isn't what it used to be. Is there any more true legit hatred for your cross town rival in today's NHL?
What made the "Battle of Alberta" so special was how successful each team was. With 6 Cups in a 10 year span between the two teams, and many playoff battles in-between, the ex-Atlanta Flames & a team swallowed up by the NHL, in the WHA demise, was hockey's fiercest and hottest rivalry. You may have not known it, but when you read Spector's "Battle of Alberta", you now appreciate it and wish you got to live it.
"The Battle of Alberta" is available on Amazon.com. Who knows if it's in book stores? Are there still book stores in America today? Ironically enough, I bought this book in a Calgary airport on my way back home from my Rangers vs Oilers/Flames trip!
If you're into great hockey, this book is definitely for you.
I thought loyal readers of this blog would appreciate this. Lundqvist posted a picture of himself vacationing during the All-Star break. I replied with "It must be nice having off every All-Star Break!" I guess "The King" doesn't like unruly subjects!
And again, for new and old readers alike, I don't hate Lundqvist. I'm just realistic. Again, I direct your attention to a blog I wrote at the end of last season: http://doinow.com/the-decade-long-saga-of-henrik-lundqvist-my-final-words-on-king-contract-why-lundqvist-is-overpaid-when-lundqvist-soured-me-will-the-rangers-ever-win-with-hank-and-his-cap-hit-examining-the-nhl/
I would love to see Lundqvist win a Cup, because that means the Rangers win a Cup. He deserves it after all the crappy teams he carried. However, my number 1 priority is seeing the Rangers win a Cup, not Lundqvist. I just think they can win a Cup if they shook up the roster. I think if the Rangers kept Talbot (or sign any goalie for less) and built up the offense, then the Rangers have a better crack at it. I mean, is Crawford from Chicago that great?
I just find it funny that Lundqvist and the NHL both blocked me on twitter. So much for having a spirited debate these days. No one has a backbone anymore in today's watered-down America.
What's next for the Rangers? What we do know is that Rick Nash is currently out with a bone bruise. I talked about Nash in the last blog. He's not scoring, but he's playing well. However, he's not playing the way he's being paid to be. Who knows how long he will be out for?
More concerning is Kevin Klein, who hurt his hand at the end of this game with the Devils. Klein has missed significant time in the last year with two injuries. His latest injury may open time for McIlrath, but every Ranger fan would rather see McIlrath on the ice in the place of Dan Boyle.
On tap for our Blueshirts are the Minnesota Wild, at home, on Thursday, followed by a matinee game in Philly on Saturday. The schedule is tough for the Rangers this month. It's time for the Rangers to knuckle up or watch their playoff spot go up in smoke. 8 points will be decided with the Penguins, who are rallying with new hire, yes you guessed it – Carl Hagelin. The Islanders, Devils and even Carolina are scratching for the Rangers playoff spot as well. A playoff spot for the Rangers, that once looked like a strong metal lock, looks like a loose piece of string for the NY Rangers. For your sake and mine, let's hope the Rangers make some moves and turn this around.
Depending on my crazy work schedule, which requires me to wake up in the middle of the night to get to work, I'll be back Thursday night, most likely crying about a loss to the Wild. On the bright side, Cam Talbot and the Oilers are flying high right now. With McDavid in the line-up and my man Talbot in net, the OIlers are looking to make a playoff push. Injuries have hurt that team, but anything can happen in the NHL, except for Lundqvist winning a Stanley Cup.
As always,
Win or lose,
LET'S GO RANGERS- there's no better sport to watch than the NHL. I just wish the NHL appreciated their fans more.
PS: I'm heading to Toronto to see the Rangers play in two weeks. Any good bar recommendations? I'm sure I'll need a few drinks after the game!
LGR!
Sean McCaffrey
BULLSMC@aol.com
@NYCTHEMIC on that twitter machine