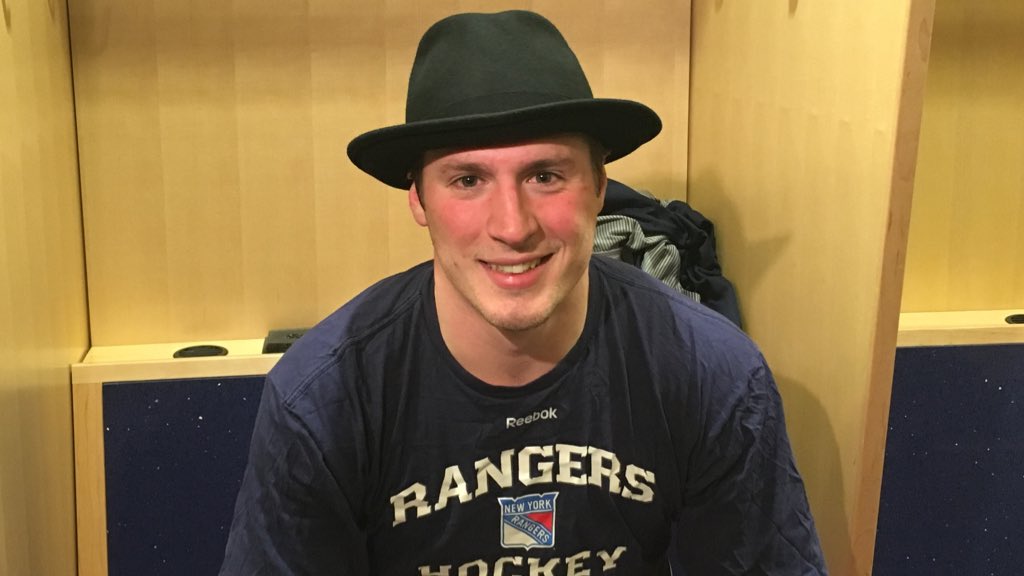 Before starting this blog, I would like to send my respect and thoughts to the New York Police Department. If you haven't seen the story already, two NYPD officers were shot in the projects in the Bronx tonight. You can read the story here: http://www.nydailynews.com/new-york/bronx/nypd-officers-shot-bronx-article-1.2520785
Like myself, I'm sure many of you either have family or friends in the NYPD. The NYPD is a thankless job, especially with the worst mayor in New York City history at the helm. We live in a city where if you're white, you're automatically a racist or wrong. No one will step up and call things for what it is – black males are statistically most likely to commit a crime and murder, out of any other race or sex.
With all the cop shootings in NYC, it's amazing the NYPD still goes into these shithole projects to police. You're putting your life in a criminal's hands every time you walk into one of these drug dens. When the mayor is quick to go after his cops and not the black criminal, you're setting a scary and dangerous precedent.
There is a difference between being a racist and a realist. To act like it's safe for a cop to enter the projects, which are populated mostly by black people dealing with poverty issues, it is simply not rational. America is a country that has always been behind in the times, whether it be race, women rights, sexual preferences, marijuana, etc and even had slavery up to 140 years ago. In 2016, we are seeing race wars. Everyone is stepping on egg shells.
White guilt is real and I understand giving people the benefit of the doubt, but you can't keep your head in the clouds. NYPD has become targets because of Deblasio. Black men are firing their guns at a higher rate at NYPD officers than ever before.
I am rambling a bit because I'm shaken up by this. I have many close friends who are in the NYPD and I can't even think about them losing their lives over bullshit that they had no part in. I can't think of a worse time to be a NYPD officer than right now. It is a dangerous job and the money isn't as great as compared to other departments in a 20 mile radius. (Long Island & NJ cops receive better pay.)
Thank you to our hard-working NYPD officers. Please be safe out there. You have to be alert every minute of every shift. My best wishes to the two officers involved in the shooting tonight.
For 55 minutes of this NY Rangers vs Minnesota Wild game tonight, I enjoyed/wanted to throw up another Rangers roller-coaster of a game. With a 3-2 lead and the Foxwoods Final 5 graphic on the screen, I found out about the officer shooting, so that kind of put me back into reality and made me remember I was just watching a game.
In my last blog, which you can find in the archives, located conveniently on the right hand of the site, I said the Rangers, with this current roster, had no shot in the playoffs. Yes, the Rangers won tonight, but still, in its current incarnation, I don't see the Rangers beating the Capitals in the playoffs. You can save me the Ovi vs Lundqvist playoff stuff, because these Capitals are the best version of the Capitals in years, while the Rangers are putting out their worst team in 5 seasons.
I've been working a lot of overtime at my real job and as I've said in the past, sometimes I'm pressed for time. Let's get right into the scoring recap, courtesy of ESPN.com, then talk the game.
As always, my comments are in italics:
1st Period Summary

Time
Team
Scoring Detail
MIN
NYR
2:09

Ryan Carter (5)
UnassistedBreakaway for Ryan Carter, as he lit up Lundqvist with not even 150 seconds expired into the game. Yes it was a breakaway, but why pay Lundqvist the most money in the NHL if he can't make big saves, especially against Ryan Carter?
1
0
7:57

Matt Dumba (6) (Power Play)
Assists: Mikael Granlund, Ryan SuterDumba scored with 5 seconds left on the PP. This was a weak goal that Hank should've stopped. However, there will be Ranger fans blaming everyone else, ignoring the fact that Hank is the the highest paid goalie in the NHL and is paid to make not only hard saves, but easy saves too.
2
0
Time
Team
Penalty Detail
6:08

Marc Staal: 2 Minutes for Interference
18:40

Viktor Stalberg: 2 Minutes for Hooking

2nd Period Summary

Time
Team
Scoring Detail
MIN
NYR
3:15

Ryan McDonagh (7)
Assists: Mats Zuccarello, Derek StepanThe Captain lit a fire under the team's ass, as he fought through traffic and willed the puck through. This was a huge momentum goal that woke up the crowd, when it looked like it would be another disaster on ice.
2
1
4:35

J.T. Miller (16)
Assists: Derick Brassard, Dan GirardiJT MVP? Certainly the best JT in all of NY, if you ask me! Miller sniped one past Dubnyk. I've said it the last few blogs now, Miller may wind up with the biggest contract out of all the Ranger's free agents.
2
2
Time
Team
Penalty Detail
6:01

Ryan Suter: 2 Minutes for High-sticking
9:01

Derek Stepan: 2 Minutes for High-sticking
10:58

Nino Niederreiter: 2 Minutes for Slashing

3rd Period Summary

Time
Team
Scoring Detail
MIN
NYR
5:46

Derick Brassard (18)
Assists: J.T. Miller, Ryan McDonaghAfter making a bunch of great passes on the PP, Miller found Brassard all alone in front of the net. Brassard easily beat Dubnyk and gave the Rangers the lead.
2
3
18:12

Chris Kreider (10)
Assist: Mats ZuccarelloAfter blowing about 3 opportunities at a goal, Kreider scored the Rick Nash goal to seal the deal. Kreider was heating up before the All-Star break but has seemed to revert back to the shell of his former self these last two games.
2
4
Time
Team
Penalty Detail
1:27

Marco Scandella: 2 Minutes for Interference
As far as your goalies, Devan Dubnyk finished with 26 saves on 29 shots. Henrik Lundqvist wound up with 16 saves on 18 shots. While Lundqvist gets the "W" here, for the second straight game, he was outplayed in net by a lesser paid goaltender. Seems like a common trend for him. Lundqvist isn't even posting shutouts at the rate he normally does either. For those counting, Cam Talbot, you know, the goalie involved with the Rangers getting the President's Trophy last season & making $7 million less than Lundqvist this season, finished with 36 saves on 38 shots in Edmonton's 7-2 win tonight.
This was a hell of a story of a game for the New York Rangers. After an ugly 3-2 loss to the Devils, a game the Rangers should've had, but lost due to inferior goaltending and no special team production whatsoever, the Rangers left off where they started.
The Wild, who have had some wild games against the Rangers in recent seasons (Remember the 5-4 Rangers win last season, when the Rangers were losing 4-0 in the third period, but rallied back with a game tying goal from Duclair and a game winner from Zuc?) had another crazy game with the blueshirts.
The Wild got off to a hot start, as Ryan Carter buried a puck easily against Lundqvist on a breakaway. The Wild then got a PPG from Dumba. 2-0 Wild at the end of the first period. You could just smell the doom and fear from your TV.
While I'm pointing out how Lundqvist is overpaid and no longer an elite goalie anymore, make no bones about it, the Rangers don't do themselves any favors either. The special teams, while better tonight, have a long way to go. The Rangers played better on the powerplay, but the result was the same – no goals. The Rangers did kill some penalties, after going 0-2 on Tuesday against the Devils. However, they did give up a PPG and looked shakier than Bill Cosby in front of a judge.
I've talked about team captain Ryan McDonagh before. I have no issues with his play. I know fans will harp on turnovers, but at this level, there will always be turnovers.The offensive skaters in the NHL are just that good for turnovers not to happen. I said in my Rangers All Star Break Report Record (Yes, you guessed it, archive of that blog is on the right hand side of the site!) that McDonagh needs to step up more as a captain. Granted, we don't know what goes on behind closed doors, but for Ranger fans who still remember Mark Messier and not Chris Drury, you remember your captain standing up and delivering when things were going bad.
McDonagh did just that tonight. With the Rangers reeling, McDonagh powered his way to the net and forced a puck past Dubnyk. That woke up not only blueshirt fans, but the players in the blueshirt jerseys as well. 80 seconds later, the hottest Ranger of them all right now, JT Miller, tied the game at 2. With the score at 2-2, I was kind of expecting Lundqvist to blow it a bit. However, he really never had a chance to, as the Rangers dominated the puck possession from this point on. Lundqvist did make several nice saves, but wasn't challenged as much as he usually is in these types of games.
I'm never afraid to call out Lundqvist if he has a bad game. The players on the Rangers never do, which kind of shocks me, as Lundqvist has no problems calling them out in the media. I do gotta say, Lundqvist played 40 minutes of great hockey and settled down after being lit up for two goals early. Still, with the money being paid and with the team in front of him, Lundqvist has to play like how he did in 2012 or just like how he was playing at the start of this season, for the Rangers to make any type of real run in the playoffs.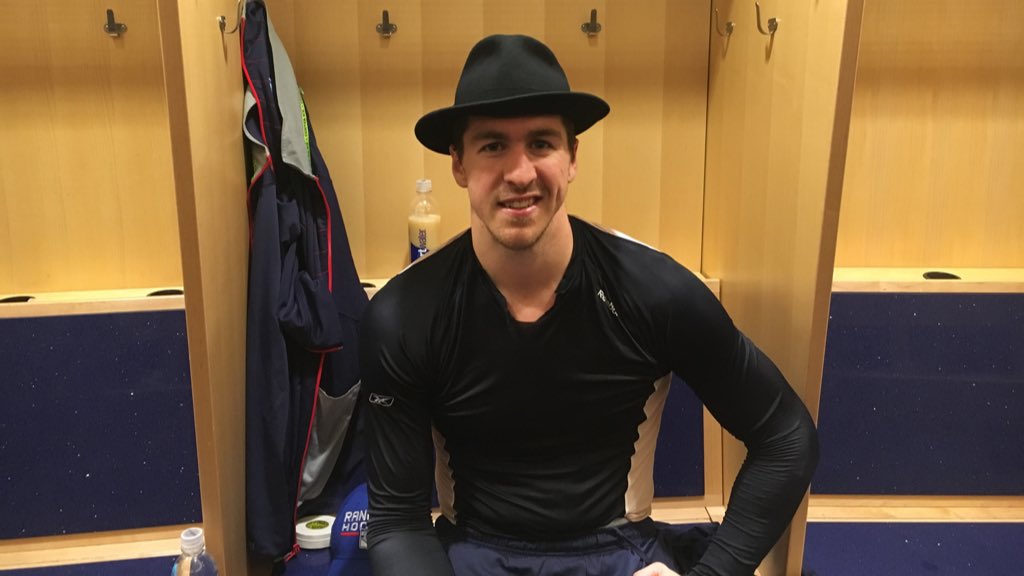 For the Rangers lone All-Star, captain Ryan McDonagh, he had another strong game. His first goal really awoke his team. However don't be fooled, JT Miller is playing the best hockey on the team right now. JT Miller made several passes in this game that reminded me of Martin St. Louis. Miller was feeding sticks left and right. Brassard capitalized on one pass and gave the Rangers the game winning goal. However, there were many passes that weren't turned into goals, because the Rangers weren't expecting the pass or couldn't handle the puck. That used to happen to MSL all the time. Miller, like MSL, is playing at such a high level right now. His teammates can't even catch up!
What bothers me, offensively, is the lack of production from big money man Derek Stepan. Chris Kreider, at this stage of the season, seems like a lost cause. He had two wide open looks at the net tonight and did nothing but turn the puck over. I don't expect much scoring from Dominic Moore, but he was also left pointless, despite having two easy looks at the net. Zuccarello, perhaps the biggest fan favorite of them all, is in a mini-slump too.
Oh, and for some reason that only AV knows why, Kevin Hayes still on the powerplay. Right now, I wouldn't even trust this guy on a zamboni or to sell cotton candy, nevermind even thinking of putting him on a fragile PP unit. Maybe Hayes is the one who buys AV's gum?
Couple away from the ice stories:
Rick Nash is still out with a bone bruise. It's not looking good, as he was expected to be back by now. While he doesn't score, the Rangers miss his presence on the ice.
Kevin Klein is out indefinitely with a broken thumb. Klein is an unsung hero for the Rangers. Losing him is a big loss.
With Klein out, Dylan McIlrath is back in the line-up. However, he's in for the wrong reasons and replacing the wrong guy. He should be replacing a healthy Dan Boyle every night.
With Klein's injury, the thinking is that Keith Yandle is now untradeable. I wouldn't bank on that, as I see Sather (don't be fooled, he's pulling Gorton's strings) trading Yandle/Miller/McIlrath for Jarome Iginla and a 5th round draft pick.
Tanner Glass was a healthy scratch tonight, as Jason Megna was promoted back to the main roster. The Rangers will remain only carrying 6 D-men. Megna, after a huge game after his call-up, has settled down a bit. So has Oscar Lindberg, who at one point, looked like a Calder candidate. Granted, it was very early in the season. At this rate, Connor McDavid, who missed a ton of games with an injury, might outscore him.
There is huge portion of the fanbase who are sick of Dan Girardi and Marc Staal. They are sicker over those two players than I am with Lundqvist's contract!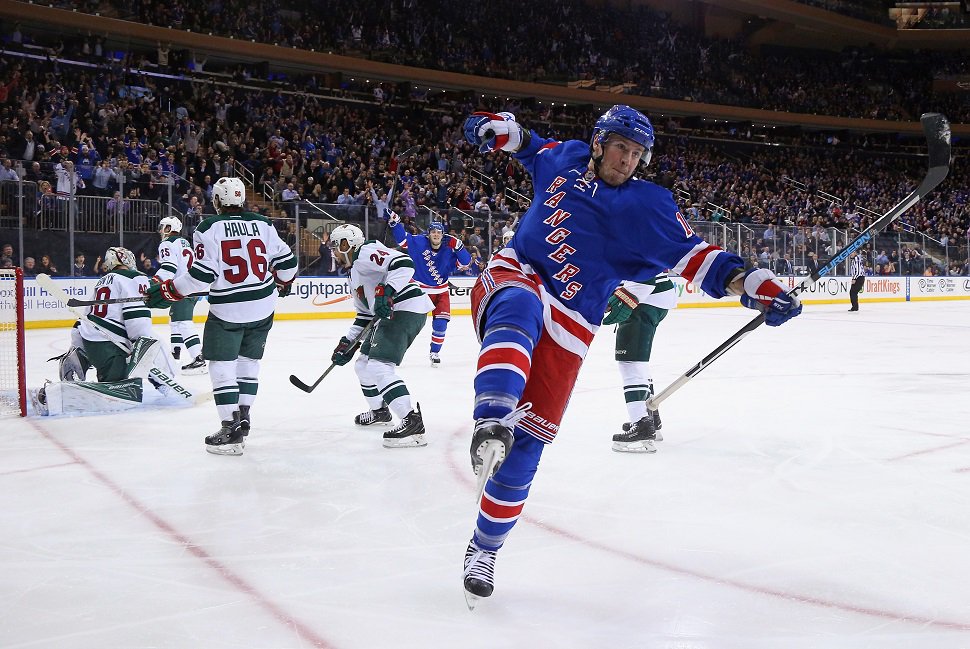 As a result of the 4-2 victory and the Islanders loss, the Rangers get some breathing room, as they hold second place in the division. I don't see the Rangers chasing the Capitals, so it's important to finish second and have home ice in the first round. The way things are shaking out, it may be Rangers vs Islanders in the first round.
Speaking of the Islanders, providing Cam Talbot is starting, I expect to see the Oilers vs Islanders, in the worst building in all of the NHL – the Barclay's, this Superbowl Sunday!
For the Rangers, this was a big game to win. It gave them some breathing room in the standings and they did what they were supposed to do against a weaker team – get two points. By in no way, mean or form is this Rangers team "fixed". There's plenty of work and tinkering that needs to go around on this Rangers roster.
However, the Rangers did show some light tonight. JT Miller is great. The PK got better. Lundqvist didn't let the game slip away from him. McIlrath made a huge hit in a one goal game, late into the third. The Rangers PP moved the puck more. The Rangers got leadership from their captain and didn't give up.
Sorry for the brevity of this blog, but I just did a 6000+ word blog on Tuesday, and yes you silly ass, every blog I've ever done is located on the right hand of the site!
Before playing "Closing Time", how about that Rogers Game Center Live app? With so many games ending around the same time, it was great to be able to watch every out of the market game in the last few minutes. Great for the hockey fan and gambler alike!
The Rangers travel to Philly & look to keep it all rolling, on Saturday for a matinee game. The team then returns on Monday night against the NJ Devils. From here on in, the schedule doesn't get any better.
Truth be told, the Rangers are a bubble playoff team and will have to handle business on their own. With so many divisional games on the calendar, the Rangers need to wake up and not let points slip by.
I'm on 3 hours sleep and got work. I'll probably be 350 feet up in the air, on the crane, by the time these words reach you.
I promise a better and more in-detailed blog on the Flyers game!
Thank you for reading
Sean "No Sleep Til This Blog is Finished" McCaffrey
@NYCTHEMIC on the twitter machine
BULLSMC@aol.com