What's up everyone and welcome to another blog here on BlueCollarBlueShirts.com. Time is of the essence here, as it usually is. The full-time job thing tends to get in the way! I noticed another blog site, the Full Tilt Ranger one, is shutting down for that very reason. These blogs that anyone does, whether you agree with them or don't, are done out of a passion for the subject. So if you're reading these words, thanks for taking time out of your day to read one fan's opinions and thoughts.
After taking down Minnesota at home on Thursday night 4-2 and sneaking by the Flyers Saturday afternoon 3-2 SO, the Rangers hosted the New Jersey Devils on Monday night. The Devils, already holding a 2-0 record against the Rangers this season, are making an attempt at one of the 3 Metropolitan seeds. While they won't catch the #1 seed, in the Washington Capitals, the Devils have a shot at the Rangers #2 seed and an even better shot at the #3 seed that the Penguins & Islanders are trading. In what's turning into a tight Metropolitan division, points are at a premium. As a result of tonight's first win against the Devils this season, 2-1, the Rangers gave themselves some cushion at the #2 seed. Still, this is no time to take the foot off the gas.
Before getting into tonight's 2-1 victory over the Devils, there were two major stories before the game. The Ryan McDonagh story trumps all, as this is now a league-wide story.
As we talked about/recapped in the last blog, the Rangers/Flyers game from Saturday, which you can read by clicking here, Simmonds was given a match penalty when he cheap-shotted Ryan McDonagh. McDonagh was out for the rest of the game.
Since my last blog, a few developments have occurred. Simmonds was allowed to play Sunday against the Capitals. He didn't receive what was thought to be, a one game automatic suspension for intent to injure. Making matters worse, during the dirty incident, Simmonds threw his stick, in the direction of the referee, which calls for another automatic game(s) suspension.
NHL Player Safety? Yea right. What another black mark on the skid mark career of Gary Bettman.
Coach Alain Vigneault addressed the media before the game and said this:
"What I didn't expect was the reaction from the league. An All-Star player gets sucker-punched, goes down. I wonder if that's (Sidney) Crosby, what happens? What are the consequences? And, on top of that, a player breaks his stick, throws it at the referees. In the rulebook, that's automatic. It's three games. Nothing happens. It's not even on the sheet after the game."
And the referee came to me and I said, 'Am I getting a power play here?' and he said, 'No, he's getting a game misconduct for throwing his stick at us,'" Vigneault continued. "And it's not on the sheet. I think maybe you guys (the media) should call the league and find out what happened because obviously we're getting different answers."
Vigneault is 100% dead on. This is a situation where you wish a Tortorella or even a Patrick Roy had to handle, as Vigneault isn't as animated or loud as they are. Still, AV's message got across. We all know if Crosby got hit like that, Simmonds would be playing the rest of his career in Siberia.
The NHL 100% fucked up and is guilty of not policing their own players. When Dylan McIlrath or someone else, beats the ever living piss out of Wayne Simmonds on Sunday night, I hope that Ranger is given the same pass Simmonds got. Better yet, watch the NHL wait to suspend Simmonds for that game so he doesn't have to get what's coming to him.
Bottom line, the NHL did nothing to Simmonds, despite his dirty play. They have to know the Rangers will retaliate on Sunday. The NHL thus is allowing this to fester & a possible brawl Sunday could lead to potential injuries. If someone gets hurt, it's on the NHL heads.
You have to know the Rangers won't take this sitting down. The NHL, especially the player safety department, are a bunch of hypocrites. I'm hoping they can somehow fight the urge to be hypocrites again and allow the Rangers the same lee-way they provided Mr. Simmonds this Sunday.
While an anticipated battle with the Flyers comes our way on Valentine's Day, another story affecting the whole league went down before tonight's game. The Winnipeg Jets gave 30 year old defenseman Dustin Byfuglien a five-year $38 million contract extension. That's a lot of money for another dirty player. Remember that cowardly cross check on JT Miller last season?
So now Byfuglien will be making $7.6M per season, starting next year. It's the third largest salary for a D-man. Montreal's PK Subban leads the league at $9M. Nashville Predator Shea Weber makes the second most, at $7.8M.
Byfuglien being wrapped up by the Jets means an elite defenseman won't be on the market not only at the trade deadline but not during the off-season either. What it means for the NY Rangers is that Keith Yandle's stock went up huge. With one less great defenseman available for 30 teams and in a contract year, Keith Yandle could write his own ticket this off-season. We all have heard the Yandle trade talk, but to me, the Rangers have to try to keep him.
As I've said before, I hated the Yandle trade because Duclair was involved. However, Yandle is here. If Yandle was traded in the thinking that he was the missing piece, then why would you dump him now? You might as well admit you don't want the Cup this season. The Rangers, despite not being as strong as they've been in previous seasons, are still a playoff team, and anything can happen in the playoffs.
Boyle is a goner this off-season. You can use his money, plus the money you're giving Yandle, to retain the services of Yandle. Even if Yandle walks, you just opened up nearly $7M in payroll, with McIlrath & Skjei waiting to become the next McDonagh/Girardi in the wings. It would be absolutely foolish to deal Yandle, barring a return of Steven Stamkos or someone of that caliber.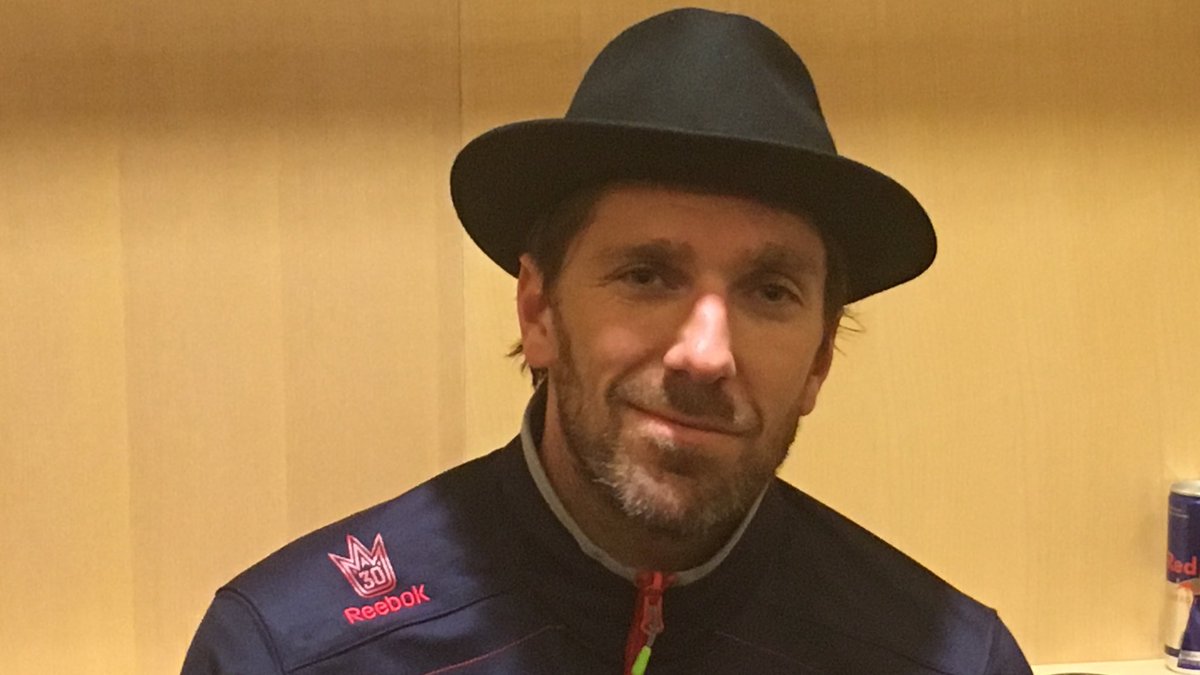 The Rangers, who won their third game straight, the first time since Thanksgiving time, played some of their best hockey in recent weeks. For the first time in a while, the Rangers played a near complete 60 minutes of consistent quality hockey. The lone mistake came with under three minutes to go, which led to a Travis Zajac short-handed goal.
I commented before the game on twitter, (@NYCTHEMIC) that hopefully with Ryan McDonagh out, it would light a spark under the asses of the Rangers. At the time of this writing, I haven't looked at the postgame quotebook, but whether it was the McDonagh injury or something else, the Rangers came out to play.
The Rangers dominated the possession of the puck and threw 37 shots on goal at Mr. Schneider. They hustled to loose pucks. They made hits. They avoided giving the Devils a power play. The Rangers did go 0-5 on their own PP, but at this point it's to be expected. The Rangers PP has sucked for nearly 20 years now. At least their consistent at that. At least the Rangers were able to take 10 minutes off the game clock. However, giving up a short-handed goal is completely inexcusable. That said, for 57+ minutes, the Rangers went full boar.
With the win, Henrik Lundqvist got his 365th career win, tying the sister-in-law marrying Marty Brodeur for most wins in his first 11 seasons. Listen, I'll give Henrik Lundqvist his due. He carried this team for a long time. Not so much recently, but for the first 8+ years of his career, it really was all him. However, the MSG Network needs to slow their roll a bit.
The MSG Network kept showing all these graphics comparing Marty vs Lundqvist. What they didn't compare was Stanley Cup wins. You know, that's kind of important. The MSG Network also failed to mention how the NHL changed the rules of the game, so Lundqvist has had more opportunities to record wins via overtime. For the majority of Brodeur's career, there were ties. Now, you either get a point for losing, or a win via the shoot-out or 5 minute OT. It's really tough to compare stats when the rules of the game change all the time.
I will say, the MSG Network does a great job of presenting these games. A new feature they've added is instead of a commercial break, they do a "brought to you by (insert sponsor here)" thing with Vally & Pidto talking about a play that just took place. It's a better way to kill a normal commercial break and usually informative.
With that said, here's the box score, courtesy of ESPN. My comments are in italics, as usual:
1st Period Summary

Time
Team
Scoring Detail
NJ
NYR
No scoring this period
0
0
Time
Team
Penalty Detail
2:42

Eric Gelinas: 2 Minutes for Slashing
3:04

Kevin Hayes: 10 Minute Misconduct
10:10

Stephen Gionta: 2 Minutes for Interference

2nd Period Summary

Time
Team
Scoring Detail
NJ
NYR
4:47

Kevin Klein (4)
Assists: Mats Zuccarello, Marc StaalAfter hustling down to the other end, Zuccarello circled around and found Klein cross ice. Klein put it up high and Schneider couldn't get an angle on it. More on Klein below.
0
1
Time
Team
Penalty Detail
6:51

Lee Stempniak: 2 Minutes for Cross checking
19:00

David Schlemko: 2 Minutes for Delaying Game – Puck over Glass

3rd Period Summary

Time
Team
Scoring Detail
NJ
NYR
4:37

J.T. Miller (17)
Assists: Derick Brassard, Jesper FastThe hottest Ranger of them all right now, JT Miller, did it again, this time finding Schneider's five hole. It wasn't an overwhelming goal, and probably something Schneider usually stops, but a goal is a goal. Good things happen when you shoot the puck.
0
2
17:43

Travis Zajac (8) (Shorthanded)
Assist: Adam HenriqueWith the game seemingly in hand, and with a 2-0 lead with under 3
1
2
Time
Team
Penalty Detail
17:21

Andy Greene: 2 Minutes for Hooking
This was a much better outing for the New York Rangers. Along with Ryan McDonagh on the injured list, Rick Nash missed another game, due to a bone bruise. With the Captain out and the highest paid skater on the club out, the Rangers really fought and played tough for 60 minutes against one of their biggest rivals.
With the anchor of this blueshirt defense, Ryan McDonagh out due to concussion symptoms, Kevin Klein, who has shown he can be offensively prolific at times and is a great lockdown defender, scored the first goal in this game. Klein, who had the best stretch of his career in 2014-2015 until he suffered a broken wing, courtesy of blocking an Ovechkin slap shot, has shown he can light the lamp. I always rag on Sather on this blog, but I'll give Sather credit here. Klein for Michael Del Zaster was one of the top 5 trades Sather ever made in his tenure.
JT Miller, who has taken Rick Nash's spot on the top line, continues his torrid scoring affair, notching his 17th goal of the season. He's one off of team leaders Derick Brassard & Mats Zuccarello, who each have 18 goals. You can see Miller's confidence growing in every shift.
Henrik Lundqvist, perhaps knowing the team in front of him would be in trouble a bit, held down the fort. However, the team, despite missing McDonagh & Nash played a great game and did a lot of little things right. Lundqvist made 27 saves on 28 shots, compared to Schneider's 35 saves on 37 shots. The Devils didn't get many quality looks at the net and the Rangers blocked a ton of shots during the game.
With all the money invested in Henrik Lundqvist, the Rangers will need him to be that 2012 Lundqvist come the playoffs. If he plays less than average to average, the team has no shot at all. We saw that every time the Rangers played Tampa last year.
The Rangers schedule, despite tough teams on deck, have a good schedule, rest wise. There is only one back-to-back this whole month. I'm assuming that's where we will see Raanta. Remember him? What a difference from last season where the back-up (and should've been playoff starter) Cam Talbot played out of his mind and helped bring the Rangers their first President's Trophy since the days of Mike Richter.
Kevin Hayes, who's been joked about on social media for playing like he's smoking pot out there, had another horrible game. Let me make clear that no one is saying Kevin Hayes smokes pot. Maybe he does. Who knows? The joke is just that he is so airheaded, forgetful and horrible, that people are saying maybe he's smoking pot before the games. I wonder if Coach AV is smoking joints before the game, because how else do you explain Kevin Hayes on the power play?
Kevin Hayes took a 10 minute game misconduct when, during play, he lifted up a Devils broken stick with his own stick and tossed it over the benches. So basically, according to the NHL, you get the same game misconduct for a cheap shot punch, as you do as clearing the ice. Excellent. At least it didn't lead to a powerplay, as Hayes sat in the box for 10 minutes. Amazing how the refs knew to put him in the box after that shit show fiasco in Philly on Saturday.
Anyway, once back in the game, Hayes couldn't get anything going. I've never seen a rookie regress so much. You got to wonder if it's rubbing off on fellow Bostonian, and another guy in a contract year, Chris Kreider. Keep Hayes away from Miller!
It's sad watching Hayes & Kreider do their Three Stooges impression every game. They can't get anything going right. Kreider is playing a tad better, but he's another one playing so bad that you can see John Tortorella's smile from here.
Sorry for the brevity of this blog, as we race to the finish line. Work beckons!
Up next for the Rangers is a dreaded 8PM game on the NBC Network on Wednesday night. That means Pierre McGuire & that cock bag Mike Milbury. I really wish the MSG crew could cover the game for the local market. The over-under of McGuire/Crosby interviews is 4. How you betting?
This will be the first of 4 games with the Penguins. The Rangers are catching the Penguins at the wrong time right now. Despite Malkin being out, Sidney Crosby is turning it around and playing his best hockey of the season. Let's not forget, that a blonde, wearing the number 62, wouldn't mind having a big game either.
In closing, I know from my interactions with people on twitter that there is a NHL/WWE crossover fanbase. Not a big one, but there is one. Much respect to Daniel Bryan on announcing his retirement. During my independent wrestling days, I met him a bunch of times, but it was just a hi and bye thing. Never ran in the same circles. He was friends with one of my friends, the wrestler known as Homicide. They had a bunch of great matches together, and they really had nothing in common outside of wrestling!
Bryan always marched to the beat of his own drummer. He really was the All-American underdog. How could you not root for the guy? Anyone that I know personally, that knew/knows him, have nothing but good things to say about him. His story is a great one, akin to John Scott. He's only 34, so I do see him not being able to resist the urge, and one day wrestling again. It's in his blood.
To be honest, the only reason Bryan is retiring is because of concussions and the scare of CTE. He wants a family. He wants a good life. He doesn't want to forget who he is. He doesn't want to have suicidal thoughts. He doesn't want to end up like the countless people who have died from CTE. Any fan wanting Bryan to wrestle is selfish. It sucks that he has this, but a man's life is more important than competing in spandex, especially for a company that handcuffed you every step of the way.
There's only one thing I could think of when I watched Daniel Bryan's retirement speech late Monday night –
"What a world we live in when the WWE takes concussions and CTE more serious than the NFL."
It's a shame, the Concussion movie didn't put a dent in the NFL machine. Not even 24 hours after the Super Bowl was over, LeSean McCoy was arrested for fighting with cops. Johnny Manziel is accused of beating the shit out of a woman. This won't affect the NFL at all, nor will it stop their sponsors from advertising. Leave it to pro wrestling to have more integrity than the prestigious NFL. Kudos to the Rangers for not rushing McDonagh to the ice until they are sure he is 100% cleared.
See ya Wednesday, maybe, all depends on the j-o-b.
LET'S GO RANGERS
Sean McCaffrey
BULLSMC@aol.com
@NYCTHEMIC on the tweet tweet