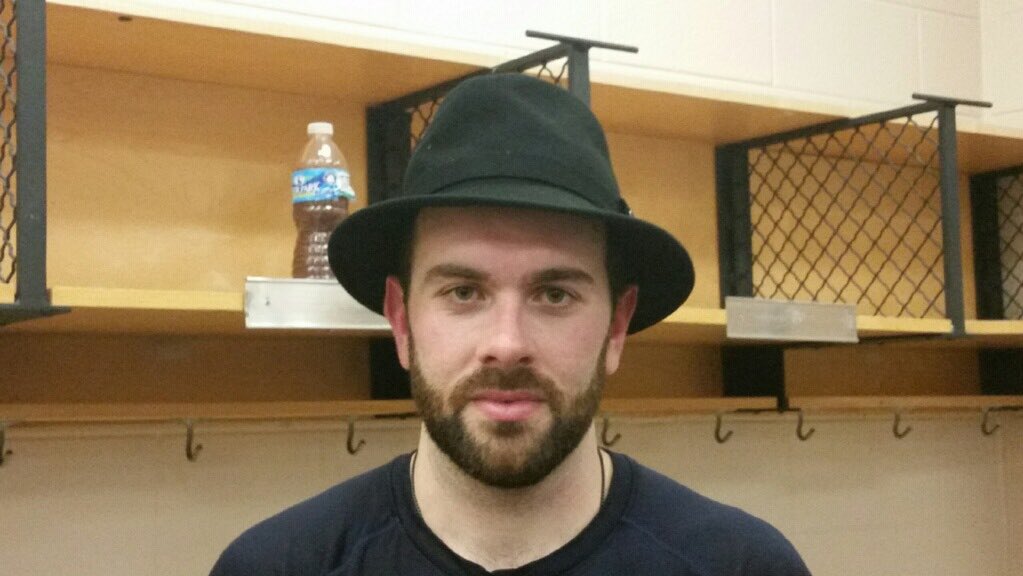 What's up everyone and welcome to another blog here on BlueCollarBlueShirts.com. It's Saturday afternoon and the Rangers have just defeated the Philadelphia Flyers by a score of 3-2 in a shootout. There's a lot to get into and I'm pressed for time, so no usual intro and away we go!
The Rangers have played uglier games than the shit-show on ice displayed today. That 3-0 loss to Ottawa comes to mind. I've been saying it all along here on this site, the Rangers are consistently inconsistent. Once again, the Rangers lived up to playing inconsistent during this matinee Metropolitan division showdown.
In the latest version of playing inconsistent, Henrik Lundqvist got on to a great start while the team in front of him looked flat and groggy. You have to wonder if they were out drinking the night before with the sloppy effort, especially in the first period. Lundqvist held the Flyers off for the entire period. On the other end of the ice, Flyer netminder Steve Mason did his job but also received gifts from the Rangers, especially when Chris Kreider couldn't put the puck into an empty net.
The second period deteriorated for the Rangers, as Lundqvist was forced to make 19 saves on 20 shots. I thought Lundqvist got some luck too, as the Flyers missed an empty net twice and there were times where Lundqvist saved the puck and he didn't know it. There was even a point where Lundqvist was freezing the puck, only to see that he didn't even have possession of the puck. Granted, great players put themselves in right positions to succeed, so Lundqvist held it down.
In what seems to be the norm these days, the word is out on the street about the Rangers. Just take a lead into the third period and stay back. Once again, the Flyers employed this strategy on the Rangers. After making the 19/20 saves in the second period, Lundqvist went 1/1 from the third period on, and that includes the 5 minute OT.
The Flyers got more conservative than an abortion center bombing Republican in the third period. The Rangers couldn't muster anything. They were log-jammed at every turn and had to keep dumping and chasing. They couldn't find any quality shots. With the referees of this game being flat-out atrocious (Coach AV, after the game, said the refs even apologized to him for an error), the Rangers didn't even get one of their worthless two minute time killers – the team calls it "power play", to at least open the ice up somewhat.
With the Flyers keeping men back the entire third period and not playing any offense, it looked like the Flyers would hold their one goal lead for the victory. I commented to my friend, whom I was watching the game with, that the only way the Rangers have a shot of winning is if they get a PP or when they pull Lundqvist. I thought Coach AV waited too long to pull Lundqvist, as Lundqvist left the net as the clock approached the one minute mark. Perhaps he did wait too long to pull him, as it seemed the Rangers would've had a good chance to knot up the game around the 2 minute mark. In either event, with the man advantage, Keith Yandle blasted a puck from long range and somehow someway, the puck diverted all traffic and wizzed by Steve Mason. 2-2, with 11 seconds left.
The Rangers would go on to win in OT, as Lundqvist stoned Giroux and Zuccarello & Stepan each beat Mason. A 3-2 Rangers victory looked impossible at the beginning of the third period, so the Rangers should feel like they escaped with a win. Still, it was a huge two points for the Blueshirts. A much needed two points at that.
What impressed me about the win, besides not giving up, was that the Rangers were able to keep up the chippy pace. Lindberg even got him some! However, the same cast of characters – Brassard, Zuccarello, Hayes, Stepan and Kreider are not playing well at all. Give Kevin Klein some credit, he was out there with a fractured thumb and really worked out there. I wish everyone on the team had his drive today.
At this point for the Rangers, they have no shot at catching the Capitals. The Rangers got help today when the Caps beat the Devils and the Islanders got demolished by the Red Wings. With teams breathing down the necks of the Rangers, this was a strong "it aint over, til it's over" win for the club.
Before getting into that piece of shit Wayne Simmonds, here's the official score sheet, courtesy of ESPN.com. As always, my notes are in italics:
1st Period Summary

Time
Team
Scoring Detail
NYR
PHI
No scoring this period
0
0
Time
Team
Penalty Detail
10:36

Wayne Simmonds: 10 Minute Match Penalty for Deliberate injury
10:36

Wayne Simmonds: 10 Minute Game Misconduct
10:36

Ryan McDonagh: 2 Minutes for Slashing (Served by Oscar Lindberg)
10:36

Ryan McDonagh: 2 Minutes for High-sticking (Served by Oscar Lindberg)
17:52

Viktor Stalberg: 2 Minutes for Tripping

2nd Period Summary

Time
Team
Scoring Detail
NYR
PHI
7:16

Shayne Gostisbehere (9) (Power Play)
Assists: Jakub Voracek, Claude GirouxThis power play goal came off a questionable hooking call on Dominic Moore. The refs didn't even make the call until the crowd started booing. This was very delayed. Gostisbehere beat Hank and there was nothing Hank could do to stop it. At this point in the game, you were even more furious about the Simmonds penalty and how the Rangers didn't make the Flyers pay for it on the score sheet.
0
1
Time
Team
Penalty Detail
0:46

Jesper Fast: 2 Minutes for Hooking
6:17

Dominic Moore: 2 Minutes for Hooking
12:49

Matt Read: 5 Minute Major for Fighting
12:49

Oscar Lindberg: 2 Minutes for Cross checking (Served by Kevin Hayes)
12:49

Oscar Lindberg: 5 Minute Major for Fighting
14:05

Scott Laughton: 2 Minutes for Hooking

3rd Period Summary

Time
Team
Scoring Detail
NYR
PHI
3:16

Chris Kreider (11)
Assists: Dan Girardi, Mats ZuccarelloIt was right place right time for Chris Kreider. Girardi bombed one from deep and Kreider was able to deflect it in. This looked to be a huge momentum goal for the Rangers until…
1
1
5:46

Ryan White (6)
Assists: Shayne Gostisbehere, Chris VandeVeldeRyan White got a softy by Lundqvist. For as great Lundqvist can be at times, he's very prone to giving up soft goals. Lundqvist must lead the league in giving up goals in under two minutes after his team scores. You see that happen time and time again. It's unexplainable and unforgiveable too. Lundqvist can't be beat by shitty shots.
1
2
19:47

Keith Yandle (4)
Assists: Jesper Fast, Dan BoyleAs talked about above, Yandle scored with Lundqvist on the bench. Pigs must've been flying after this goal. I mean really, the Rangers score with a man advantage? This took the wind out of the sails for the Filthadelphia Flyers.
2
2
Time
Team
Penalty Detail
No penalties this period

OT Summary

Time
Team
Scoring Detail
NYR
PHI
No scoring this period
2
2
Time
Team
Penalty Detail
4:14

Michael Del Zotto: 2 Minutes for Roughing
4:14

Keith Yandle: 2 Minutes for Holding

Shootout Summary

Team
Detail
NYR
PHI

Shootout attempt by Sam Gagner MISSES
0
0

Shootout GOAL scored by Mats Zuccarello on Steve Mason
1
0

Shootout attempt by Claude Giroux saved by Henrik Lundqvist
1
0

Shootout GOAL scored by Derek Stepan on Steve Mason

Stepan put the nail in the Flyers coffin after Lundqvist was able to prevent the Flyers from scoring. A cut and dry 2-0 win in the shootout. It is also nice to see Lundqvist playing better in these situations. Whether you hate the shootout or you like it, bottom line it is here. Goalies can decide two points.

2
0
With the 3-2 Rangers victory, it should be a reason to celebrate. It's a great way to kick off this Superbowl weekend. However, the Rangers, already dealing with injuries to Rick Nash & Kevin Klein, (the latter that played and grabbed Simmonds away from McDonagh,) had another scare.
Halfway through the first period, Wayne Simmonds, a long time Ranger agitator, checked Ryan McDonagh despite McDonagh not even having the puck. Somehow, Simmonds wasn't called for an interference penalty. As I said earlier in this blog, these refs were absolutely brutal today.
McDonagh, expecting the cheap shot from Simmonds, put his stick up and it caught Simmonds high. Simmonds, who has a reputation of being a dirty player responded by slashing McDonagh. Simmonds followed up his slash by punching Ryan McDonagh in the face.
You really need to see the video for yourself. Here it is. (I'm posting a video from YouTube, if this video is down, just go to youtube and search for Simmonds/McDonagh.)
Simmonds does have that dirty player rep. This video above proves he is dirty and a cheap shot artist. Simmonds play created a massive uproar on social media. From the Flyers side, they said Ryan McDonagh took a dive and was selling the hit. Did McDonagh go down easily? He sure did. However, was it a dive? Absolutely not. If it was a dive, Ryan McDonagh would've came back into the game. He obviously was hurt and shaken up. If he was putting on an acting performance, he would've been back on the ice, if not his next shift, at least at the start of the second period.
As a result of the play, McDonagh did not return to the game. After the game, it was announced that McDonagh was held out of the game due to "precautionary reasons." In this world of CTE, players safety will always come first, because these leagues don't want any more lawsuits. That's what it's all about. The NHL will tell you they care about their players, but will give out a bigger suspension for a guy with a concussion hitting a referee, rather than a player who blind side attacks another player or even the player that caused a concussion. Sometimes, a suspension isn't even given for dirty plays. Trust me, when it comes to players being woozy, they are being pulled out of games to prevent litigation years from now.
I can't attest to watching every Flyer game, but I know from watching Ranger/Flyer games and reading game recaps, there is no question Simmonds is a dirty player. I've seen him even spear guys in preseason games.
Just google Wayne Simmonds. The first hit is a website devoted to him and what a lovely little site it is. Wayne Simmonds Sucks Forum. Be advised, the site contains offensive language. I'm only linking it here because it is a "first page" google hit.
Now, how about checking out the "Images" tab of Google when you check for Wayne Simmonds. Here are some of the less offensive graphics that pop up:
If you go through google, you will also be linked to images using racial slurs to describe SImmonds. There's no reason to include them in this blog, but just trying to paint you the landscape as I eventually make my point.
Personally, when it comes to Simmonds, he's the player you love if he's on your team but fucking despise if he's wearing the other jersey. Just even go through the archives of this blog (located on the right hand part of the site) and check my Ranger/Flyer recaps. I say the same thing all the time, he's always good or close to a Gordie Howe hat trick every night. The guy fights, gets involved in the mix, scores goals and moves the puck well. Shit, I even have him on my NHL '16 HUT team! That said, I hate the fucking guy. However, if he ever becomes a Ranger, I'll be rooting for him every time he scores or slaps someone around!
Simmonds also happens to be black. Apparently, if you talk negatively about a black player, that's racist in PC America. Despite me doing numerous blogs or tweeting numerous negative comments about white players, it is racist if you say something negative about a black player.
I put a tweet out on twitter, @NYCTHEMIC about Simmonds, after his dirty play. I said:
"You can take the criminal out of the ghetto, but can't take the ghetto out of the criminal."
Obviously, Flyer fans went nuts and called me a racist. Listen, I'll save you the "I know black people, I'm even friends with them!" speech that you always hear white people making. I think the biggest problem is that no one in America can take a joke anymore. We created a PC America where everything is offensive.
I really urge readers of this blog and people just in general to check out the latest season of "South Park". The PC Principal story arc really nails what's going on in this country today. Chelsea Handler also did a great documentary, now on Netflix, discussing racism. It's well worth the hour of your time.
I would like to think I have a good sense of humor and a funny guy. It doesn't take much to make me laugh. There's a difference between being a racist and telling a joke. When I think racist, I'm thinking about someone killing another person over their race. I'm thinking about a person not hiring someone qualified because of their race. I'm thinking about a person enslaving someone based on their race. Hell, Martin Luther King and others gave their lives to fight racism and erase the "n-word" slur from American lexicon, only for American black people to use that word in every day life. The double-standard, white guilt and everyone being offended by everything in America has hurt this country.
Even TV – just watch TV from 20-30 years ago. In the land where Jerry Springer, Al Bundy, Howard Stern, and going back a bit further, Archie Bunker reigned supreme, it is nothing like TV today. Today everyone is scared to offend everyone. In today's world I don't think a "Married Like Children" could exist. I don't think a "Seinfeld" could exist. "All In The Family"? No shot in hell!
To me, calling someone an ethnic slur, no matter who it is or what is said, is not truly racist. Ignorant, yes, but racist? Not all the time. Unless you're affecting someone's life, whether it be professionally or personally, based on race, saying words doesn't deem you a racist. Is Chris Rock a racist for making jokes about white people? Is Ted Danson a racist for making jokes about black people? Is Jeff Ross a racist for making fun of all people?
I won't lie. I did see some Ranger fans use some racial slurs about Simmonds today. However, I've seen fans from all fanbases use racial slurs about Simmonds. Just do a google search. However, I've also seen those same fans trash white players too. I guess at the end of the day, there is no real word, like the n-word, which carries the same offensive weight to slam white people. Honky and cracker really doesn't cut it and can not compare. Still are all those fans racists? Some may be, but for the large part, they are ignorant and looking for the cheap reaction.
Somewhere in America, everything became offensive. I don't know how stand-up comedians do it today. The same people who said my tweet about Simmonds was racist, are the same people laughing at Comedy Central Roasts.
Again, I said: "You can take the criminal out of the ghetto, but can't take the ghetto out of the criminal."
If you punch someone in the face is that an assault? Yes. That is a criminal act. Is Philadelphia ghetto, sure is! I jokingly said, "I didn't even know Simmonds was black until you guys brought it up." Flyer fans didn't laugh at that one either.
It is also funny that none of my comments praising Simmonds were discussed. Or how I did a blog praising Subban from Montreal for all the charity work he does. Oh and let's not forget the countless blogs and millions of times on social media that I was irate about the Rangers benching and later trading Anthony Duclair.  We live in a society where everyone wants to jump on anything determined offensive.
Can you call me an asshole? Sure, I've been called an asshole plenty of times in life! However, I won't apologize for having a sense of humor, that may be too extreme for some. If I see something I don't like on social media, I don't send 27374373773 tweets about it. I just ignore it and my day keeps rolling!
Sorry for going so long on this subject. I could really go on longer about this, but I think I made my point. I really don't care what Flyer fans think about my tweet, but for readers of my blog, I felt they are owed an explanation. Especially since this blog and my twitter page is doing the best traffic it ever has.
Simmonds got a match penalty and will be suspended for at least one game as a result. People, obviously Flyer fans, are trying to say that McDonagh sold it. I wonder if these same people have ever watched a boxing or UFC fight or even been in a fight themselves? Sometimes you just catch someone the wrong way. Not every knockout shot is a round house. Sometimes when taking a hit, you just get hit in the wrong place and get caught off-guard, especially when you're cheap-shotted.
I don't know how many games Simmonds will be suspended for. If Dennis Wideman got 20 games for woozily checking a referee, Simmonds should at least get 10 for intentionally trying to injure a player, right? It's all about safety, right?
Listen, I'm not up for pussifying the NHL. I miss the days of the enforcers.  We all love a good fight. But there is a difference between having a fight, where two men square off and another to just punch guys in the face that aren't expecting it. Plus, the NHL polices themselves. They know who the fighters are. Gretzky didn't put up the dukes. McSorley did. This is not new news. It's just the way it is, and the game we love.
Keith Yandle scored what felt like a game winner with 11 seconds left in today's game, but it felt like a game winner. As we all know, his name is being tossed around as trade bait. My position has always been, I never wanted him here for Duclair (that's racist) & a number 1 pick in the first place. I understand the Cup push the Rangers were trying to make when they made the deal, but they gave up a lot to win now. Well the Rangers didn't win the Cup and now Duclair is having a great career in Arizona & who knows who the Coyotes will turn the Rangers #1 pick into.
However, Yandle is here. There's nothing I can do about the Duke trade. I think Yandle is a great player and deserves more time on the ice. I guess AV doesn't want two left sticks on his first D-pair, but Yandle needs to be out on the PP more often. He's also been playing pretty well defensively.
Unless the Rangers are getting Stamkos, trading Yandle tells me they are giving up on this year. They traded for him, under the thinking that it will get them a Cup. If they trade him away a year later, it says they do not care about the Cup this year. I hope 93 remains wearing the blueshirt sweater come March 1st.
How are you spending your Superbowl? For me, I will be pregaming for the Superbowl by attending, what used to be, a game of two perennial powerhouses in the NHL – the Oilers vs the Islanders at the worst building in all of the NHL.
If you've been following me for a while now, you know I'm the biggest Talbot fan on the planet. I still believe the Rangers should've kept him here and got rid of Lundqvist's contract by any means possible. It's not that I think Talbot is better than Lundqvist, I think he's a better value and with his contract, a better asset for a team to win a Cup in this salary cap era.
Of course, I flew out to Edmonton earlier this season to see the Oilers play the Rangers. Of course Cam did not play. I then attended the game where the Rangers hosted the Oilers. Of course, Cam did not play that game too. Now, the Oilers are coming off a back-to-back and Talbot played today and most likely won't play tomorrow. Of course, the Oilers are playing the Devils on Tuesday night, but tickets are a million bucks because of Brodeur night. I can't win!
Talbot in net or not tomorrow, I will have a great time getting to witness Connor McDavid for the first time. This kid will be a stud, I'm not telling you anything you don't already know. Look for me on TV, I'll be sitting behind the Islanders net in the front row. Bougias tickets cost less than a newspaper because the Islanders suck and because it's Superbowl Sunday! Maybe I'll see you there chanting LGR and ICWT!
In closing, after all the stuff I've written about in this blog, on a more serious note, RIP to David Wichs, the lone fatality in Friday's crane accident in NYC. Many of you know that I work on cranes. I've even posted pictures of my view, from the top of the crane I'm currently working on now, in this blog and on twitter. It is days like this when you think about the risk every day when you go to work. Just want to thank you guys, as there were about 30 of you, who reached out and checked in. This was a terrible tragedy and it really sucks that an innocent man lost his life over an accident.
Stuff like this and the NYPD shooting on Thursday night makes you really put things into perspective. Whatever our opinions are on the Rangers, there are bigger things out there. The Rangers are our escape from reality, and an entertaining one at that.
Depending on work, I'll try to be back Monday night for a Rangers/Devils recap.
Superbowl pick – Carolina 38 – Denver 10
Let's Go Rangers!
Sean McCaffrey
BULLSMC@aol.com
@NYCTHEMIC on twitter