What's up everyone and welcome to a quick mini-blog here on BLUECOLLARBLUESHIRTS.com. I'm working 7 days a week, 12 hour days right now, so this will be a shorter than usual entry here.
As far as the Tampa game on Thursday night, that ended the Rangers 9 game winning streak, sure, it would've been nice to win that game, but in reality it means nothing. I've been saying it all season. The Rangers are a "Cup or Bust" team. This isn't a team that is happy to just make the playoffs. The way the Rangers have played these last few seasons, they need that elusive Stanley Cup victory. Anything else is a disappointment. They are like the Steinbrenner late 70's or late 90's-early 00's Yankees without the championships. There are no "it was a good season" comments if the Rangers can't get it done.
The Rangers, after ripping off 9 straight wins in a variety of ways, lost to the Tampa Bay Lightning on Thursday night, by a score of 2-1. We all know what happened last year with the Lightning and the Rangers. You would've liked to see the Rangers make a mini-statement and win that game, but it wasn't meant to be. The way they lost was painful, as after Dominic Moore tied the score up late in the game, the Rangers gave up a short handed goal, with less than two minutes left, after a miscue by Ryan McDonagh. Can't win every game, but it was frustrating to see the Rangers lose that way and to that team. Still, it's about the playoffs, the Rangers are still in first place and it's all water under the bridge now.
After dropping a tough game to Tampa on Thursday, the Rangers visited "NY South", as they traveled to Sunrise, Florida to play the Florida Panthers. It was an essentially another home game for the Rangers. On an aside, it has to be a matter of time before the Panthers are no longer a team in the NHL. Whether they are contracted or move to Quebec, Vegas, Toronto, Seattle or wherever, hockey doesn't seem long for Sunrise, Florida.
I've written about Jagr numerous times on this blog. I have a few players, that aren't Rangers, that I always enjoy watching. Obviously Cam Talbot and Anthony Duclair are on that list. Jagr is at the top of that list, with Ovechkin. Just read this and let this sink in – if Jagr doesn't miss 5 years of NHL playing time, due to lockouts and being frustrated with the NHL, he would have every scoring record in NHL history. It's amazing he is not honored more nor talked about like the true legend he is. The man is a first ballot unanimous Hall of Famer.
I was joking on twitter before the game about how much I'd rather have Jagr right now, than Rick Nash. Hey, for the money, it probably isn't a bad deal. Whether I "reverse jinxed" Nash or not, I don't know, but whatever the case, Rick Nash finally woke up and had his best game of the season.
For the Rangers, the usual top three names showed up. Lundqvist, Zuccarello and McDonagh all had strong games. It was great to see Rick Nash finally explain why the Rangers pay him $7.8 million bucks a year. Granted, it's only a regular season game and this needs to happen in the playoffs, but it's Rick Nash's night tonight. Still, if Nash is missing in the playoffs, he will be considered a bust and you will hear the "A-Rod" comparisons.
It's funny, I've mentioned this before. Zuccarello deserves the "A" on his jersey, since the Rangers have one more "A" to give, ever since the Martin St. Louis retirement. I still wonder if Rick Nash, the highest paid skater on the team, is irked that he was not offered the "A". Don't forget, he was a captain for a long time in Columbus. You just want to see Nash put it all together, night in, night out.
Lundqvist had a crazy game in net. The Rangers, as a whole, played most of the game sloppy, taking 6 penalties and usually at the worst possible moments. The Rangers also gave the Panthers a 5 vs 3 in there too. Lundqvist would finish with 39 saves and played a strong game.
When you look at the final score in Florida, the Rangers winning 5-4 in OT, you would think Hank had an off night. The black and white stat sheet doesn't give Hank the justice with the colorful saves he made all night. It felt that 90% of the game was in the Rangers defensive zone. Hank made highlight reel save after highlight reel save. There was a moment where Hank looked banged up in the second period. Hank was able to continue and looked fine.
After giving up a 2 vs 1 breakaway goal and a PPG, the Rangers doubled the Panthers up 4-2. With three minutes remaining, Stalberg took a bad penalty. The Panthers pulled Luongo, giving the Panthers a 6 vs 4 advantage. The Rangers were trapped in their zone again and couldn't clear the puck for shit. The Panthers found the net on the PP, making the score 4-3, and Jagr scored 40 seconds later, with Luongo still pulled, making the score 4-4 with a little over a minute to go. As Ranger fans, this was an emotional rollercoaster, as the game looked over and quickly looked like it was going to be taken away.
Making matters worse, Dan Boyle tripped Reilly Smith, giving Smith a penalty shot. Hank stayed with Smith move-for-move and made the save to prolong the game.
When you watch this game, Hank put on a clinic, despite the four goals. You know I'm not a Hank defender by any stretch, but he has been playing better than the 2012 season, the season he won the Vezina. I don't know if he was banged up or not, or perhaps just exhausted from having the puck in front of him for what felt like 55 minutes, but you can see him breaking down a bit towards the end of the game and in OT. It seemed the Panthers had many pings and dings off the crossbar and posts.  The way this game went however, Ranger fans are lucky that the Panthers didn't put a touchdown and a FG on the board.
Mats Zuccarello, the current MVP of the Rangers, continued his hot streak, scoring a goal that gave the Rangers a 3-2 lead, assisting on Rick Nash's first two goals, and screening Luongo for Nash's OT game winner.
If Zucc can keep this up, he's going to be the Derek Jeter of this team. He's the guy every male loves, because he plays a gritty style, scores and takes no shit and he's the guy every girl loves because of his good looks. It's only a matter of time that you see Zucc's face on billboards, commercials and everything else, akin to Henrik Lundqvist.
You also have to love social media. Anytime Zucc does anything, your timeline/feed blows up with a million "ZUUUUUUUUUUUUUUUUUUUUC" posts. The guy can do no wrong. I know everyone calls Lundqvist "The King", but Zucc is King Midas right now.
The Rangers stayed in there and hung around with the Panthers. You would think the Rangers would handle the Panthers easily, but that's why the games are played on the ice and not on paper. Don't you hate that cliche?
Despite scoring five goals, I thought I saw more bad than good in this game. The Rangers could not clear the puck. The passing, aside from Zucc, wasn't that crisp. Brassard and Hayes refuse to shoot the puck and when they do, they airmail it. The team took too many penalties. Kreider can't score on a penalty shot in Florida. The Rangers committed too many turnovers.
The positive you can take away from this game is that your big guys showed up – Nash, Hank, Zucc and McDonagh. I'll be interested to see if Hank was just shot or banged up, as I'm writing this immediately after the game without seeing any postgame shows/articles.
Two points is two points, so I'll take it and chant "LET'S GO RANGERS!"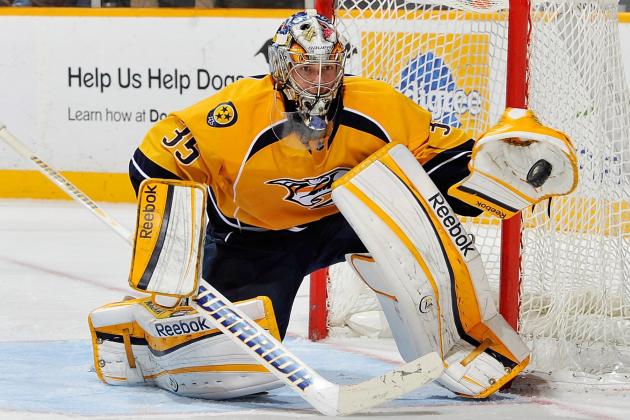 Up next for the first place and presidential Rangers is a match-up with the Nashville Predators, led by star goalie Pekka Rinne and one of the greatest defensemen in the league, Shea Weber. I don't know if we'll see Rinne vs Lundqvist. Again, we'll have to see if Hank was dinged up or not.
The Rangers have a busy Thanksgiving week schedule, with the Predators Monday at MSG, a visit from another Vezina goalie in Carey Price & the Montreal Canadiens on Wednesday, a 1pm matinee in Boston on Black Friday followed up with a visit from the Flyers on Saturday in MSG. I should be at all the MSG games this week, so look for pictures and blogs afterwards! You can also follow my thoughts and pics from the games live on twitter @NYCTHEMIC
Enjoy the rest of your weekend!
LET'S GO RANGERS!
Sean McCaffrey
BULLSMC@aol.com
@NYCTHEMIC