What's up everyone and welcome to another blog here on BLUECOLLARBLUESHIRTS.com. When I last appeared on these pages, the Rangers snapped a 9 game win streak, with a loss to their new rivals, the Tampa Bay Lightning. The Rangers followed up that game with a "Nash-trick", as Rick Nash had his best game of the season, when the Rangers beat the Florida Panthers.
As I've mentioned previously on this blog, and of course, you can read the archives by checking out the right hand of the site, due to my busy schedule at my job, it's tough for me to pump these things out like last year. Working near MSG, it's great that I'm able to do the Stubhub trick and sit close for next to nothing. Due to a real life situation, I wasn't able to go to the game against the Predators, but was able to make the games against the Canadiens & Flyers. Unfortunately, I wish I didn't spend my money on the latter two games.
Let's do a quick run down of the four games I've yet to recap, followed by the Report Card and my thoughts on the current situation and problems this team has right now.
Monday, 11/23
Rangers 3 – Predators 0:
This was arguably one of Lundqvist's best performances of his career, turning back 31 shots. In what looked like a goalie battle, the Rangers were able to get ahead from a Rick Nash goal, early into the second period. Stepan & Hayes added goals in the third period. What's shocking was the Predator's scoreless streak at the time, a streak the Rangers are currently experiencing. This was a great team win and you would think it would give the team momentum going into Montreal.
Wednesday, 11/25
Canadiens 5 – Rangers 1:
On Thanksgiving Eve, the Rangers had their turkey's stuffed by Montreal. After playing out of his head and playing better net than he did in his 2012 Vezina year, Lundqvist looked lost. Not that he got much help, as the Rangers could not move the puck. Even when reigning Vezina winner, Carey Price, went down and didn't come out for the third period, the Rangers allowed the Canadiens to tee off and just dominate them. Not only was it the worst Rangers loss of the season, but it was the worst loss they've had in some time.
Friday, 11/27
Bruins 4 – Rangers 3
Boston, a team that had a handle on the Rangers for some time, has been regressing as their stars age and as they trade to develop young talent. Still, they found a way to beat the Rangers last minute. The Rangers could not get the puck out of their zone. Lundqvist looked normal. The tying goal was a result of the Rangers not being able to clear the puck and being gassed. The Rangers not only lost this game, but lost Derek Stepan indefinitely, due to a cheap shot from Matt Beleskey. If there was any positive in this game, it was that Dylan McIlrath was on the ice when it happened. More on this game below.
Saturday 11/28
Flyers 3 – Rangers 0
This might've been even uglier than the loss to Montreal. At least you know Montreal is a playoff team with a great squad. The Flyers are pathetic, yet the Rangers had no problem being door mats for them. Raanta was left to fend for himself all game, as the Rangers once again could not move the puck. It's really an issue now. The Rangers gave Steve Mason an easy day and could not put the puck in the net, even when Mason left the net wide open for them. Again, the only positive in this game came from McIlrath, who made a big hit and followed it up by kicking Luke Schenn's ass.
With more than a quarter of the season over, let's take a look at the team this season and hand out some grades. Barring this recent slide, the Rangers are one of the top teams in the NHL and for most of the season, were in first place. Due to their loss to the Flyers on Saturday & the Capitals continuing their winning ways, the Rangers have slipped into second place.
As I've said on previous blogs, I wouldn't get too nuts about the standings. The only thing that matters is that the Rangers qualify for the Stanley Cup playoffs. With the way the Rangers have played thus far, according to Vegas, they have a 99.97% chance of making the playoffs this season. That's the only thing to worry about right now, as we haven't even hit December 1st yet.
Here's the Report Card, with more than 1/4 season down. I'll revisit this at the All Star Break.
Let's get the easy stuff out of the way first:
GOALIES
Henrik Lundqvist – A
Depending on how you enjoy hockey, along with Mats Zuccarello, he's one of the Rangers MVP candidates this season. He's off to the best start of his career. Everyone knows the positives about Hank. Two things though I have to say. He needs to stay in the net. Enough with the coming out and making these horrendous passes that become turnovers. Hank is a classic butterfly goalie, not Martin Brodeur. The other thing is for a guy called "King", he has let down his country in crunch time. A few of the Rangers minimal losses this season have come late into the third period (Tampa & Boston come into mind), via bad goals. He's still one of the top 3 goalies in the league, but due to his contract and body of work, the expectations are high for Hank.
Antti Raanta – A
The Rangers have hit a nice stretch when it comes to back-up goalies ever since Biron retired. Talbot had better numbers than Hank last year, and led the team to the President's Trophy. Skapski was unbeatable last year. Now here's Raanta, who has been lights out. With a 4-1 record, Raanta has been more than advertised. His one loss vs Philly wasn't his fault, as the Rangers not only shit the bed, they shit on the mattress, the box spring, the curtains and everywhere else in the room. You couldn't ask for anything more from 32. The Rangers will need Raanta to keep this up as the season goes on, as the goal is to have Lundqvist 100% for the playoffs.
DEFENSEMEN:
Ryan McDonagh – B+
Ryan has really stepped up his offensive game and on pace to score the most amount of goals in his career. He's always reliable when it comes to shutting down the other team. So why not the A? The Captain, too many times this season, has made a bad turnover that has turned into a breakaway the other way. His snafu in Tampa cost the Rangers at least the overtime point. Mac just needs to be more protective of the puck.
Dan Girardi – B-
One of the warriors on the Rangers, Dan has been blocking shots like Dikemebe Mutombo. You would like to see more out of him offensively. Like McDonagh, Dan needs to be more aware, especially when it comes to passing the puck. Girardi started off slow, lost his top pairing spot but has since come on stronger to regain the job back. I do agree with the majority though – he's overpaid.
Kevin Klein – A-
It might be unpopular to say, but Klein may be the best defenseman on the team right now. He has played a strong defensive game and I can't tell you how many times I've seen him prevent goals this season. Klein contributes to the offense and played so well, that he took Girardi's job for a bit there. He won't get any Norris mentions, but he is one of the most underrated defensemen in the entire NHL.
Marc Staal – B-
I feel every time I write about Staal, it's the same thing. He's overpaid too, because he is just a defensemen's defenseman. You get no offense out of him. At the same time, you're not screaming out his name, because he is barely beat nor making turnovers. He's one of the best defenders in the league and he's not going to change his game now, but it would be nice to see him accumulate some points.
Keith Yandle – B-
I may have some personal bias against Yandle, because I will never forgive Sather for that horrible trade to bring Yandle here! Think the Rangers could use Duclair's offense right now? Yandle is playing solidly, but for a guy who was brought here to be the best scoring defenseman the Rangers have ever had since Brian Leetch, well I'm not seeing it. Yandle hasn't been awful, but he hasn't been amazing either. I would like to see him, like most of these guys, shoot the puck more, rather than seeing the eye color of the goalie before taking a shot.
Dan Boyle – C+
I have still never understood why Senile Sather let Anton Stralman walk, to sign Dan Boyle for the same amount of money. The deal on Boyle thus far is simple – he's not the Dan Boyle of his prime. However, is the 2015 version of Dan Boyle better than the 2015 version of Dylan McIlrath? It's a tough question to answer. Boyle still shows you flashes of offensive brilliance, but also shows you what a liability he can be on defense on the next play. Boyle, who has been scratched in favor of McIlrath, is most likely sitting because the Rangers want old man Boyle ready for the playoffs. Boyle & McIlrath are so different, that against a smaller team, you may prefer Boyle's offense, but against a bigger team, you may want McIlrath and those fists out there.
Dylan McIlrath – C+
Dylan would've flourished in the old days of hockey. Let's face it, he's a goon. However, he's trying hard to shed the goon label, as he's been working with former Rangers great, Jeff Beukeboom on his game. He's better than he was, that's for sure. He has been beaten to the puck routinely by the opposition and is still looking for his first NHL point. However, he's not there to score. The way he defended Stepan is the reason why he's on the ice. The best is yet to come for the man they call "The Undertaker", but do you want Boyle on the bench in the playoffs?
FORWARDS:
Mats Zuccarello – A+
Just read the last few blogs here. The games where Zucc isn't in control of the puck are the games the Rangers are losing. When Zucc has the puck, the Rangers are winning games. Away from the scoring aspect of his game, he is the most feistiest Ranger on the ice. He's playing an excellent all-around game. You couldn't ask for anything more.
Rick Nash – B
Rick Nash will always be a mystery wrapped up in a riddle for the Rangers. Ranger fans want to cheer for him, but at times, he gives them no reason to. He's one of the few Rangers who is not afraid to shoot. When he gets it all together, he can dominate and change a game. You look at his salary and it makes you mad a bit. The Rangers need the Rick Nash that played in Columbus, not the one that shows up every few nights like a nostalgia act. He's not playing bad either, and usually leads the team in the Shots on Goal department each game, but he needs to be consistent in the putting the puck in the back of the net stat. He's quietly (Due to scoring multiple goals in games) tied for second on the team with 8 goals. In reality, Nash won't be judged on what happens in the regular season anyway. It's something to talk about now, but the only thing that his Ranger career will be judged on is what happens in the playoffs.
Derrick Brassard – B
Brassard has improved his faceoff game and has been another key contributor in the Rangers top line. The common knock on him is always the same – SHOOT THE PUCK! Too many times this season has Brassard, like most of these Rangers, opted to make the extra pass, which turns into a turnover, rather than just blasting away. Look at it this way, most of the time, these extra passes go nowhere. Even if the goalies stop your slapper, there's a chance for a rebound or a deflection. Look at how McDonagh has been doing with his bomb. He's produced a few goals off his stick, and has assisted on a few too. Brassard has been consistent, as he has been his entire Ranger run.
Derek Stepan- A-
Stepan has also been consistent at center. We are still awaiting the fate of Stepan, and I'll talk more about him in the section below. Stepan has been producing nicely on offense. As a member of the PP and PK, the Rangers are really going to miss his stick on the ice. Hopefully he gets back soon. Don't forget, this is the man who played with a broken jaw in the playoffs two years ago. He is one tough son of a bitch.
Kevin Hayes – C-
Sophomore jinx? Whatever it is, Hayes, who does have a few goals this season, is not playing up to his potential. Sometimes I want to strangle him and not just because he's a Red Sox fan! What drives me nuts about Hayes is that he will not shoot the puck. I've been to about 10-12 games this season and it's the same shit every time. I've seen him pass while being the lead man on a breakaway. I've seen him wide open in front of the net and pass behind him. He's always moving the puck backwards. AV needs to tell him to be a puck-hog or something. Maybe it's because he's one of the younger guys on the team, and prefers to defer, but he has raw talent and he needs to show it.
Chris Kreider – C+
Someone put out an APB on Kreider. Sure, he has few tallies this season, but man, we are all still waiting for the real CK to show up. Many paid writers, NHL scouts and the Rangers themselves had CK having a breakthrough season. CK is in a contract year and he's doing nothing to show the Rangers why he should get Zucc or even Stepan money right now. I think he'll put it all together eventually, but with 1/4 of the season over, you hope it comes sooner than later.
Oscar Lindberg – A
The rookie is making a case for the Calder Trophy, especially with Conor McDavid being injured. Oscar, playing on the third line, is tied with Nash for the most goals on the team, with 8. (Zucc leads the team with 10.) He's had a few defensive lapses, but for a rookie, Oscar is playing well beyond anyone's expectations.
JT Miller – C-
Miller is slumping as of late. Miller, who does have four goals, has been a horror show in the turnover department and just being beat by his man. I think he misses Carl Hagelin at times (we all do), as Hagelin's speed helped out Miller when they were on the same line. He needs to tighten up big time.
Viktor Stalberg – C
Stalberg seems just there to me. He's not playing bad and he's not playing great either. He's a grinder and doing his job well. At the same time, he's expendable. It would be nice to see more production, offensively, out of him.
Dominic Moore – C
Moore, a fan favorite, and who will ever forget his series ending goal against the Canadiens two years ago, has regressed a bit. One of the better Rangers on the draw, the Rangers are getting solid ice time out of Moore. Like Boyle, we've seen Moore scratched a few times. I would expect to see Moore scratched more often as the regular season starts winding up. The Rangers want one of their elder players ready for the playoff run.
Emerson Etem – F
What a fucking waste. When you see me go apeshit about player contracts, especially Hank's deal that puts the Rangers in cap hell until it expires, it's because of guys like Etem. Etem does not belong on this team. Carl Hagelin does. Etem was described as a poor man's Carl Hagelin when he got here. He's not even a poor man's 2014-2015 Emerson Etem right now. Hate to say it, but I would rather have Tanner Glass than Etem as the guy who's usually a healthy scratch. I think Glass gives you more punch than the minimal production we've seen out of Etem thus far.
Jarrett Stoll – C
Busted with cocaine prior to this season, maybe Stoll could use a toot to get his game going. Or maybe he's having constant sex with his girlfriend, Erin Andrews. That would explain why he looks so tired and flat-footed at times. The Rangers have enough guys who are interchangeable. it would be nice to see Stoll take advantage of this contract and parlay it into bigger and better things. It would benefit himself and the team nicely.
Jesper Fast – C
Jesper Fast came on strong last year and has shown glimpses of his game at a top level this season. However, he's still a young guy, perhaps learning on the job too much, as he's made some costly turnovers and has had some pretty bad defensive lapses. With only 3 goals and the lowest plus/minus (1) on the team, Fast needs to improve.
Overall, the Rangers are one of the better teams in hockey. However, there is tons of room for improvement, especially during this 3 game losing streak. This team has the tools to go all the way, but can they get it all going at the right time? We're ways away from that right now.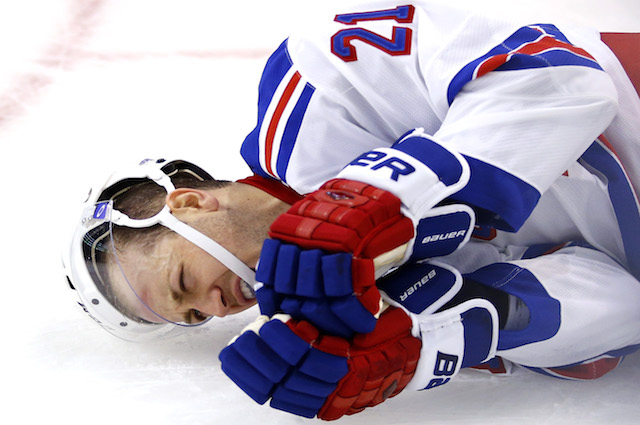 As you may have heard by now, Derek Stepan is out for an indefinite amount of time, as he heals from his rib injury. During Friday's game with Boston, Matt Beleskey viciously late hit Stepan into the boards. No penalty was called, nor will there be any disciplinary action. Just imagine if Beleskey hit Crosby like that! He would've been thrown out of the league.
I understand unfortunate injuries occur in hockey. It's a physical sport. It happens. However, the league has been so inconsistent with their rulings and what they deem clean and what they deem dirty. Everything should be called fairly across the board, but very rarely do we see that. Let's face it, the NHL employs the worst commissioner ever in the history of sports. Why should we expect standards when it comes to player safety now?
With the Rangers getting their asses kicked two out of three games and choking a game they should've won in Boston, this was not a good time for the Rangers to lose Derek Stepan. Of course, it's never a good time to see someone get hurt, but the timing of this injury sucks. I won't say it's the worst possible time, because the worst possible time is right before the playoffs, or during, but still, this is just a horrendous time to lose someone the caliber of Derek Stepan.
With Step out for a bit, Coach AV juggled his lines a bit. The result – Flyer goalie Steve Mason being credited with a shutout. We don't know how long it will take Stepan to recover from two broken ribs. We do know that he's a beast and will play as long as he's cleared. In the meantime, the Rangers can't trade for help because they have cap issues. There's the minors, but you also have $ issues there too. As I said in the report card, I would rather see Tanner Glass up with the team than see Emerson Etem. Maybe being sent down to Hartford would bring out a hungier Tanner Glass in MSG.
The Boston game had another incident. Brad Marchand kneed Lundqvist in the head after Lundqvist made a key save. Marchand got a goalie interference for his trouble. At the time, I thought Marchand should've been thrown out of the game. How do you purposely knee a defenseless goalie in the head and only get two minutes? With all the concussion talk and CTE stuff, we are just going to let players knee goalies in the head? Gotta love NHL player safety.
The story continues though. After the game, fat pig Boston Coach Claude Julien & Marchand accused Hank of taking a dive.
Let's go to the quotes:
Julien: "I think this was the second time — in preseason, Lundqvist did the same thing. I know he does some acting on the side, but I don't think it needs to be on the ice."
Marchand: "Lundqvist looked as if he were hit with a cement brick."
Ranger reaction:
Coach AV: "I mean, obviously everybody saw the knee to the head. The comments on Hank were very inappropriate. The way Hank conducts himself on the ice, away from the rink, off the ice, the example that he sets, who would you rather have as a son, Henrik Lundqvist or Brad Marchand?
I mean, for him to say things like that about Hank, totally wrong and probably Claude is getting a little older and needs to check his eyesight."
Lundqvist: "I thought it was kind of disrespectful the way he [Julien] said it. Diving has never been an option for me. I've never done it. I won't do it in the future either. I took a hard hit to the head and your reaction when you get hit from the side, where you didn't see anybody coming, of course you're going to go down. … It's just a natural reaction. … I don't have much more to really say about that."
While doing quotes, here's the latest on Stepan, from Coach AV:
"You know, was it a late hit? In our opinion it definitely was. Should we help Step moving forward to better protect himself moving forward? We're going to try to do that. That's the second time that that has happened. By the league not saying anything about the missed call on the ice or supplementary discipline, are they sending a message to the players? Very hard for me to comment on that without getting myself in trouble, my team in trouble and you never know how they see things and how things can unfold in the future, so you're better off biting your lip and teaching your players to better protect themselves and move on.I'm going to let the league decide and not going to comment on those situations. Very unfortunate that for the second time that Stepan has been injured and he's going to miss some time. We're just going to deal with it."
Just another reason for us Ranger fans to hate Boston. Get well soon Stepan.
So the New York Rangers, who looked like they would never lose again, have lost three straight games. You've probably read the papers or heard the talking heads on the MSG or NHL network and read/heard the same thing. The Rangers aren't as good as their record. They've beaten weaker teams and lay farts against the stronger teams. They don't play a full 60 minutes. They aren't very good 5 on 5.
I've read and heard all of that, and really, you can't argue. Still, a win is a win, no matter how ugly it looks. The Rangers were bound to come to earth eventually. I'm not as nutso about these losses as some fans or the media in general, because really, and I keep saying this to hammer it home, the only thing that matters is the playoffs.
Coach AV has been golden since his arrival. I trust he will figure this bump in the road out. The only real thing I would like to see the Rangers do is shoot more often. The extra pass is killing them. The common trend in all these losses is that the Rangers make an extra pass, turn the puck over, then they spend the rest of their shift playing defense. Once they get a clear, they can't even skate right into the zone, because they are so tired and have to change. What happens is the Rangers dump, the opponent gets the puck and the fresh guys spend their whole shift chasing the puck. Time of possession has not been in the Rangers favor at all. This is all stuff I'm sure AV is aware of already.
On tap for the Rangers, as they finish the month of November off, is a home game with Carolina on Monday. Hopefully the Hurricanes, who have been a doormat for the Rangers, are just the team the Rangers need to see. The Rangers, on Wednesday, then travel to the worst building in all of hockey, the Barclay Center, for a game with the pathetic Islanders. After fucking around with the fishsticks, the Rangers then close out the week with a game on Thursday, as they host the Colorado Avalanche.
For yours truly, I plan on attending all three games this week, so feel free to follow me on twitter @NYCTHEMIC for pictures, news and thoughts, if that is your fancy.
A week from Thursday, I head off to Alberta, Canada to see our boys play the Oilers and the Flames. Keep checking this blog for pics from that trip!
Keep your head up, this team will rebound!
LET'S GO RANGERS
Sean McCaffrey
BULLSMC@aol.com
@NYCTHEMIC on the twitter machine