Greetings and salutations everyone and welcome to another blog here on BlueCollarBlueShirts.com. Off of puck drop here, this blog may take a second or two to load, as it features over 100 pictures from my trip to Seattle.
I am posting this photo gallery blog about 24 hours before the Rangers play the Kraken on 10/31 at the Climate Pledge Arena. Once that game is complete, not only will I post a NYR/SEA game review, but I'll also share a bunch of pictures from my time inside of the NHL's latest barn.
With nothing to do on Saturday, October 30th, my buddies and I traveled all over Seattle, visiting various restaurants, the Space Needle, the Museum of Pop Culture and other sites. I have included all of my pictures from these places here. In addition, I have also included a few pictures from Friday night's expedition to "The Angry Beaver".
Just a few things before sharing all of these pictures:
— The Space Needle, the most famous landmark in Seattle, is pretty much the center of the city, with different things to do located nearby. I didn't go up-and-down the Space Needle, because I didn't see the point of paying $50 to get a birds-eye view of CHOP and/or CHAZ.
Plus, as someone who has worked on tower cranes in NYC (and as a non-drug user), spending money on getting high isn't my thing! And perhaps more importantly – I wasn't waiting an hour in line to pretty much get on an elevator. I can do that at my hotel for free!
— The Museum of Pop Culture was a nice little tourist attraction, as the museum, which primarily has rock n' roll exhibits, also has exhibits devoted to science fiction movies, horror movies, Disney movies, video games and other things that will make you say wow.
— It's funny, as we were going through the multi-floored museum, we went through a maze of exhibits, featuring "Lords of the Ring", "The Terminator", "Back to the Future", "Alien", Predator', "Shaun of the Dead" and other such exhibits. Somewhat buried in all of this, was Judy Garland's dress from "The Wizard of Oz", which you'd think would be the most valuable piece in the joint. Instead, it's very easy to miss.
(And yes, I know the red ruby slippers are the most valuable thing from that movie. In fact, I think those "kicks" are one of the most valued pieces in all of Hollywood memorabilia too, if not the most valued. That said, the dress from this movie felt like an after-thought at the Museum of Pop Culture, especially once passing a dozen or so severed heads from a bad show like "The Walking Dead".)
— As a 39 year old, who grew up with the "Sounds of Seattle" on 92.3 in New York, and enjoyed the grunge era of music, it was cool to see two huge exhibits dedicated to Nirvana and Pearl Jam. Also featured outside the museum is a statue of Chris Cornell of Soundgarden. Not featured? Alice in Chains, which is surprising, especially since there is some Courtney Love and Hole stuff.
— Along the way, on Friday night, my weary friends and I filled our bellies at "Ivar's Acres of Clams", Seattle's oldest and best seafood restaurant. On Saturday night, we went to the "Grill of Ipanema", one of the best Brazilian steakhouses of the city.
— As I write these words, I'm still digesting all the steak I had there. And if you've been to a rodizio before, you know how these restaurants are just night killers – as once finishing your meal, all you want to do is lay down, fart it out and go to bed! (And sometimes not in that order!)
Without further ado, as Frasier Crane once famously said, "Hello Seattle, I'm listening!"
(Update: I still haven't found Frasier or Niles on the streets of Seattle, but I have found many junkies – quite depressing. I'll get more into this Monday or Tuesday on this site, but needless to say, as someone who has been to over twenty NHL cities – Seattle is the worst in my opinion. (To be fair, I've never been to Winnipeg!) Tom Hanks and Meg Ryan once made this city seem so great too! What a shame!)
Here are the pics:
---
To read last night's blog, recapping the Rangers 4-0 in over the Blue Jackets, visit: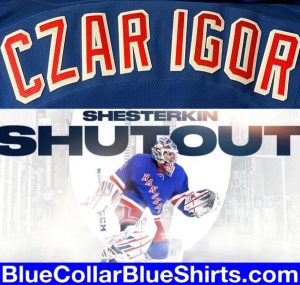 ---
If you haven't already, subscribe to this blog for the next update:
---
Up next for me – figuring out how to wake up early and watching NFL games at 10AM! I don't know how left-coasters do it. After the NFL slate, I'm off to the Climate Pledge Arena, where I'm predicting a 3-0 road win for the Ranger Road Warriors!
Until next time…
Stay FABULOUS my friends.
As always here, thanks for reading and…
LET'S GO RANGERS!
Sean McCaffrey
BULLSMC@aol.com
@NYCTHEMIC on Tweeter