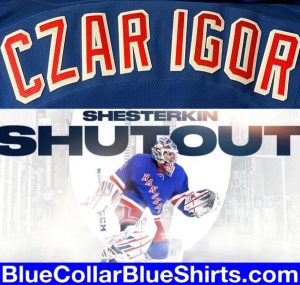 Greetings and salutations everyone and welcome to another blog here on BlueCollarBlueShirts.com. What a victory for the Rangers and what a shut-out victory for CZAR IGOR SHESTYORKIN!
Two things off of puck drop here.
As mentioned last blog, I'm currently in Seattle, in preparation for Sunday night's tilt between the Rangers and the Kraken. And come Sunday, if the Kraken come out as run down as this city of Seattle is – the Rangers should have light work on their hands.
And yes, and to be nice here, while I'm sure there are nice areas of Seattle (because after all, I've seen every episode of "Frasier" and I rarely saw bums littering and panhandling outside of "Cafe Nervosa"), but needless to say, it's tough to take two steps in this city without someone asking you for a cigarette or change. Maybe this is Seattle's way of making me feel welcome, because downtown Seattle is just like Manhattan – right down to their high-priced hockey tickets!
Do you know what's great for the Rangers, as they head into their Halloween contest with the Kraken? If the Rangers power-play continues to thrive (as it did on Friday night against the Blue Jackets) – the Rangers should plow through the Kraken, like a bulldozer powering through Seattle's CHAZ, where gas prices are now at $4.59 a gallon. (Not making this up.)
---
As stated at the top of this blog, I have two things to get out of my system, with the second thing being this:
— BlueCollarBlueShirts (@NYCTheMiC) October 29, 2021
That's right, I predicted this final score way before puck drop, and the Rangers and CZAR IGOR made a "Nostradamus" out of me, as they won this game – defeating the surging Columbus Blue Jackets 4-0.
(And while sometimes I do subscribe to the theory of "never let the truth get in the way of a good story"; to be fair, 999/1000 times – I always predict CZAR IGOR to pitch a shut-out. This was just the rare case where the Ranger skaters cooperated with my pregame diagnosis!)
---
As noted during my Rangers/Flames review from Monday, this blog will be a short one, as I was enjoying this particular game on the road and from a bar. In other words, I didn't take any real notes when watching. I'm writing this entire blog off of memory. What a professional! Elmer Ferguson Award here I come!
After the loss to the Flames, where I suspected (and where Gallant also confirmed my line of thinking), that the Rangers were perhaps a victim of their busy schedule – the Rangers returned on Friday night at M$G, knocking off the Blue Jackets for their first home win of the season.
For the Rangers (while a loss wouldn't have been the end of the world, as others may have led you to believe), this was absolutely their best win of the season.
Yes, Columbus is projected by many experts (and even fans, such as yours truly), to finish dead-last in the division, but going into this game, Columbus was 4-2-0, as opposed to the 4-2-1 third-place Rangers. With the Rangers needing to rebound after Monday night's dreary loss, the Rangers did just that, where once again, their RESOLVE was on full display.
---
While the game review segment of tonight's manifesto won't have the full play-by-play of the game as usual; needless to say, there were many heroes in this one, where once again CZAR IGOR shone bright, logging 31 saves in all, for his first shut-out win of the season.
As noted previously on this site, in Igor's three starts on the road this season, if it weren't for a temporary lapse in defense and/or puck-luck goals, Igor, who gave up one goal each of those starts – he would've had a shut-out already, if not three of them. Instead, on Friday night, he recorded his first shut-out of the season at home.
Even better? CZAR IGOR picks up this shut-out just eight games into the season, rather than at the end of the season, as he did during the 2020-21 campaign.
That said, while Igor was once again phenomenal tonight, this was the first game of the season where Igor was somewhat able to relax a bit, as the Rangers, sans the first five minutes of the game, where the Blue Jackets initially out-shot the Blueshirts 6-1 – the hometown heroes pretty much played a complete 60 minutes.
And yeah, if you want to be a stickler and talk about the first five minutes of the game – go ahead. However, keep in mind that the other team is paid to play too. In either event, the Rangers did their job, and did it well, and that's all you can ask for.
---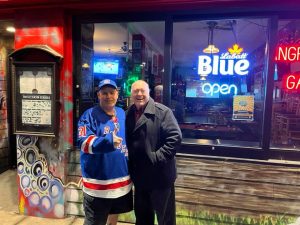 For fans who subscribe to the "eye-test" (and not analytics), like I do – the Rangers looked great tonight.
The black-and-white stats also suggest as much, even if the Rangers lost the face-off battle by a tally of 31-21. Ironically enough, and in something that is extremely unusual, in all of the Rangers wins this season, the team lost the battle at the circle. In all of their losses, the Rangers were the better team at the dot.
How do you explain this phenomena? Easy – CZAR IGOR, who has covered up a ton of Ranger mistakes this season, where only in this game, did the team back him up 100% of the way.
Elsewhere on the stat sheet, once again, the Rangers showed off their physical superiority, out-hitting their divisional rival to a tune of 26-11. More impressive? The Rangers special teams, units which were near flawless, where the Blueshirts went 2-3 on the power-play and 3-3 on the penalty kill.
Far too often this season, the Rangers have been on the wrong end of the special teams game, so it was great to see them overcome their previous struggles in this department.
---
While I love my road-trips (and being at a bar too), I kind of wish I watched this game at home so I could give you the full treatment here – especially after a shut-out victory. Then again, this blog will probably be longer and more detailed than any other recap you'll find out there – and that's with one or twenty drinks in me! (Those damn Molson buckets at "The Angry Beaver"!)
Away from the team stats and CZAR IGOR's performance, there was a lot to be happy about.
Chris Kreider, the alternate captain that should perhaps have the word "alternate" removed before the word captain; once again had a monster game, where he scored two power-plays goals. Both goals featured Kreider camping in front of the net, where he backhanded one shot for a goal and was in the right place & at the right time for another, as Adam Fox rifled a puck off of him.
In addition, CK20 also paced the team with shots on goal, with seven in all.
Adam Fox, who continues to amaze, picked up three assists in this game. As usual, Fox led all Ranger skaters in ice time, with 24:07 in all, where during that time, not only did he add three apples to his ledger – he was breaking up offensive chances out of the Blue Jackets too.
When it comes to the much talked about heralded Rangers offensive 1-2 punch, Mika Zibanejad and Artemi Panarin, while the two continue to struggle to score goals (and as they are paid to do), the super-duo picked up three assists combined, with "The Breadman" recording all three.
As noted last blog, while Mika does play well (especially on the penalty kill), and yes, while the Rangers power-play did pick up two PPG's in this win (a season high) – it is of my opinion that when the Rangers are on the power-play, that the Rangers need to focus on Panarin, the sniper, and ditch the Zibanejad doing his "Ovechkin from the Office" role-play act – an act that is just as bad and with diminishing results, just like Steve Valiquette on these broadcasts.
(And I'm sure that whole preceding sentence and paragraph was grammatically incorrect, but hey – it's late, I've been drinking and where else will you find such NYR insight?!?!?)
---
Going into this game, we did have some light news and notes.
Ryan Reaves (who received an injury during his first shift of Monday night's game against Calgary), is now on the injured reserved list. As a result, he'll miss at least seven days and then be re-evaluated. It should be mentioned that Reaves will travel with the team as he heals.
I really like what Reaves is doing here. Similar to Monday night (where rather than staying in the locker room with the trainers, he stayed on the bench to lend moral support), Reaves may be in the press box come puck drop, but he's with the team everywhere else.
I know I teased this previously on this site, but I did in fact finish Mark Messier's new autobiography on my flight to Seattle. (Review of that book on this site next week.) What Reaves is doing here receives high marks (at least out of me), as he's really being a team player and a leader, and his positive mentality should become contagious. Good job #75!
---
With Reaves on the IR, the Rangers were able to recall Kaapo Kakko on Friday (as expected), which meant that the Rangers didn't have to make a roster move, where most likely, Greg McKegg would've been sent back to the Hartford Wolfpack. In fact, not only did Kakko play during this victory, but so did McKegg. In turn, Julien Gauthier was made a healthy scratch.
Real quick here (as I don't want to go on too long about this), but as mentioned last blog, many members of the NYR media had their pitchforks and torches out for Alexis Lafreniere during the past three off-days. As a result to this stupid overreaction and clickbait headlines, Lafreniere scored his third goal of the season. With his third five-on-five goal of the season recorded in this game, he now leads all Rangers in this department.
For some reason, and I can't fathom why, I saw many fans throwing a bitch fit about Gauthier not being dressed tonight. You'd think these people would be happy about Kaako returning, but you'd be wrong. Welcome to Rangerstown, USA – where there's always something to cry about. Hell, some tears out of these fans rival, if not surpass, the rain/water totals in Seattle this week.
While Kakko did go pointless tonight, it wasn't for a lack of effort, as the Finnish native logged three shots on goal, where two of his shots, which took place in the first period, were of the highest of quality. CBJ goaltender, Elvis Merzlikins (more on him in a bit), was able to deny Kakko during these attempts, but all in all, Kakko played great in his return.
With Kakko back and Reaves out, here was Gallant's line-up for this game:
FIRST LINE: Kreider/Mika/Goodrow (Many fans were up-in-arms about Goodrow on the first line but he complemented his new line mates well.)
SECOND LINE: Panarin/Strome/Kakko (Panarin picked up three assists tonight, playing with his favorite centerman, including assisting on Strome's game winning goal, which was scored early into the first period.)
THIRD LINE: Lafreniere/Chytil/Blais (Some fans and many media members were upset about Lafreniere being down-shifted to the third line, but this move also worked out, with Lafreniere scoring a big goal late into the first period.)
FOURTH LINE: Rooney/McKegg/Hunt (This line also played superbly, where during many of their shifts, not only did they grind CBJ, but they also kept the puck in the Rangers offensive zone.)
Defensively, we had this:
FIRST PAIR: Lindgren/Fox (Best pair, and as usual.)
SECOND PAIR: Miller/Trouba (I thought that collectively, this was the best game these two have had all season.)
THIRD PAIR: Nemeth/Lundkvist (These two also had their best game of the season, where not only were both stellar defensively, Lundkvist also picked up an assist on Strome's game winning goal.)
And in net, and as mentioned, was CZAR IGOR.
---
Box Score time.
The following information and graphics come courtesy of the new world-wide leader in NHL coverage, ESPN.com:
SCORING:
PENALTIES:
TEAM STATS:
GOALIES:
| | | | | | | | | | | |
| --- | --- | --- | --- | --- | --- | --- | --- | --- | --- | --- |
| SA | GA | SV | SV% | ESSV | PPSV | SHSV | SOSA | SOS | TOI | PIM |
| 37 | 4 | 33 | .892 | 25 | 1 | 7 | 0 | 0 | 59:36 | 0 |
| | | | | | | | | | | |
| --- | --- | --- | --- | --- | --- | --- | --- | --- | --- | --- |
| SA | GA | SV | SV% | ESSV | PPSV | SHSV | SOSA | SOS | TOI | PIM |
| 31 | 0 | 31 | 1.000 | 28 | 1 | 2 | 0 | 0 | 60:00 | 0 |
---
While I did have volume for the game at the bar, like you at home, the audio was off by a few seconds, thus making things confusing. Fortunately, I didn't have to hear Vally on the pregame or post-game shows tonight, so I have no comments about his performance – outside of letting you know that many of you told me on social media that he once again was as brutal as a boil on your five-hole.
After a start that felt reminiscent to most games from this season, and where the Rangers were being out-shot 6-1, the Rangers recovered, tied the SOG category up and then took the lead, after Panarin hooked up with his favorite center:
Stromer! 🚨 pic.twitter.com/jnp9ubLTS9

— Rangers on MSG (@RangersMSGN) October 29, 2021
1-0, GOOD GUYS, at the 12:29 mark of the period. For the second time this season, the Rangers scored in the first period and had a lead.
3:02 later, it was Lafreniere's turn, as Fox set up the 20 year-old for this tally:
A little more from Laffy pic.twitter.com/N11hOqhQ3R

— Rangers on MSG (@RangersMSGN) October 29, 2021
2-0, GOOD GUYS!
It was with this goal, where the Rangers took over the game and never looked back. While the team didn't score in the second period (despite what felt like 897775667597 chances to do so), the Rangers kept their foot on the neck of the Blue Jackets and never let them come up for air.
The Rangers, as they'd later do towards the end of the second period, received a late power-play, another one of those "wrap-around period power-plays". The Rangers wouldn't score on this first attempt, but they'd score on the second attempt.
After twenty minutes, 2-0 for the home team.
---
The second period, which was scoreless, featured a lot of what we've seen out of the Rangers this season:
— Failure to convert on the power-play.
— Jacob Trouba playing at his best after someone ticks him off.
— Igor being a rock, although his number wasn't as called as frequently as it usually is.
— The Rangers not being able to score, despite long offensive zone shifts, where a goal would've changed the game. While not scoring in this second period didn't backfire or anything like that, the Rangers easily could've had a three goal period here, thus putting this game out of reach early.
While on the topic of blow-outs, if you listened to Mark Messier on Ron Duguay's "Up in the Blue Seats" podcast from Thursday, Messier talked about the importance of blow-outs and how it keeps team fresher during the course of the regular season.
And if you haven't heard it already, Messier's interview is well-worth going out of your way to listen to, as he talks a myriad of topics, including his displeasure of the Rangers not having a captain this season:
Mark Messier Talks Rangers, Captaincy, Broadcasting, New Book – Up In The Blue Seats: A NY Rangers Hockey Podcast from NY Post Sports | Podcast on Spotify https://t.co/kwKbDJeZ3H

— Ron Duguay (@RonDuguay10) October 28, 2021
And one last time, I apologize for the brevity of this blog and the blow-by-blow style of my recaps, but I'm in a hotel room typing this up on a shitty laptop. The regular style of these reviews will return once the Rangers cross the Canadian border next week! (I'd like to do more on the Messier interview here, but I'll save it for the book review blog.)
This is also my way of telling you that after forty minutes, we remained at 2-0 good guys. All that was left to do was close Columbus out – as the Rangers did.
---
With the smell of victory in the air, the Rangers would in fact go on to dine.
As I was bitching to Glenn about the Rangers power-play, with about three seconds remaining, Kreider backhanded a puck past Merzlikins for the PPG, just 1:19 into the period. 3-0, GOOD GUYS!
As the game progressed, and after the Rangers killed a few penalties themselves, Chris Kreider was caught jaw-jacking Merzlikins, even calling the Columbus goalie "a piece of shit". (His words, not mine!)
Right after this yammering, and at the 11:23 mark of the final stanza, this happened:
Let's do that hockey pic.twitter.com/VTTJ4JDDyZ

— Rangers on MSG (@RangersMSGN) October 30, 2021
4-0, GOOD GUYS and a PPG, his second of the game, for CK20.
While Kreider got the goal on record here, make no bones about it, this was Adam Fox at his best, as #23 fired a puck right at Kreider and got the puck to deflect off of #20 for the goal.
Up 4-0, and with eight minutes remaining, there was one left thing to do besides win – get Igor the shut-out.
As my stupid friend "BORGATA RAY" openly used the word "SHUT OUT" in the bar (where me and everyone else in a Rangers jersey admonished his dumb ass), Igor made a few more saves, including saves 28, 29, 30 and 31, with the 31st save, matching his jersey number, being his final save for the shut-out.
Of note, Columbus, down 4-0, and with the puck with 15 ticks remaining , didn't press the issue. Instead, with Merzlikins (who was previously trash-talked by Krieder) leading the way, the Blue Jackets sat with the puck in their own zone, watching the time expire. This was a nod-of-the-cap (or mask) from goaltender-to-goaltender, as Merzlikins preserved Igor's shut-out for him.
As a Rangers fan, this was great. If I was a Columbus fan, maybe I wouldn't be so happy about this classy act of sportsmanship. After all, when the Rangers are being shut-out (especially in 2-0 or 3-0 games), I've always campaigned the team to pull the goalie and try to get the extra attacker goal, if only as a morale thing and in an effort to give the team a confidence boost.
That said, I must thank Merzlikins, as he made Igor's job easy as the clock ran down, even if Igor didn't need such assistance!
---
Great win for the Rangers tonight, where yes again – this was the best win of this young season.
Few thoughts on the rest of the league before closing out:
— Tony DeAngelo, whose Carolina Hurricanes game was also featured at "The Angry Beaver", picked up his first ever "Gordie Howe Hat Trick" in the Canes 6-3 win over the down-and-out & dead-and-buried Chicago Black Marks.
I know some readers will hate me bringing up Tony DeAngelo's name all the time on this site – but yeah, I'll take him over Trouba any day of the week, twice on Sundays. And like the Canes did, I'd also take DeAngelo over Dougie Hamilton – especially at 1/9th the price.
— Joel Quenneville is out in Florida while Kevin Cheveldayoff keeps his job in Winnipeg. Refer to my last blog about all of this, which I'll soon plug below. That said, I'm surprised Chevy stays, especially with Coach Q. being forced to re-sign. I figured in this cancel culture world, everyone associated with this Beach incident would've been fully erased off of the board.
And while I understand all angles of this story – you can't tell me that Cheveldayoff didn't know anything.
In addition, and to reiterate this, before you jump down my throat – I understand that Coach Q. didn't handle this right. However, is it right that he was forced to resign, over an incident that happened over eleven years ago elsewhere – a CRIME that he had nothing to do with?
I guess what really bothers me the most, and as talked about last blog, is that Brad Aldrich, the CRIMINAL in all of this, got away with his CRIME scot-free – even if his name (and as expected) is removed from the Stanley Cup. Are the Blackhawks going to take his Cup ring away from him? Whatever the case, they can't take his memories and photos from all of those celebrations away – which is also sickening. Worse, and as mentioned last blog, the Blackhawks allowed Aldrich to victimize others.
— The Canes (7-0) and my new buddy Glenn's favorite team, the Capitals (5-0-3), are still without a regulation loss this season. The Rangers are chasing these two teams in the standings, but as you know – plenty of time remaining, and with all the head-to-head games remaining too – the Rangers own their own destiny.
---
Look Ma – I saved all of the plugs for the end of this blog.
Away we go!
The first plug of tonight's blog – the mandatory plug for my new book, "The New York Rangers Rink of Honor and the Rafters of Madison Square Garden". And let me say this – thank you to everyone who has bought one, as my Amazon sales have exceeded all expectations, where for a limited time (that damn Mark Messier who just released a book!), my book was number one on the Amazon hockey book sales charts.
As mentioned previously, the book is now available in hardcover, in paperback and in Kindle formats. To purchase a copy of the book, visit this link:
https://www.amazon.com/Rangers-Rafters-Madison-Square-Garden-ebook/dp/B09CM5N2WD
For those still looking for signed paperback versions of the book, I have 9 copies left for sale for $25 (includes shipping price) through me directly. Here is all the information on that:
---
Here are my last few blogs, including the one on the Blackhawks, in case you missed them:
---
---
---
---
Last but not least, our buddies over at "2 Guys 1 Cup" returned on Thursday with their latest podcast episode. To listen, click the play button below:
The Kravtsov/Drury drama continues, a breakdown of the first 4 games, our reactions to being in the building opening night, has Adam Fox actually gotten even better? #NYR https://t.co/qHXecKv9io

— 2 Guys 1 Cup (@2G1CRangers) October 20, 2021
---
If you haven't already, subscribe to this blog for the next update:
---
Up next for me – a trip to a Nirvana exhibit at some local museum here in Seattle, where afterwards, maybe I'll what this whole Space Needle thing is about.
FYI: I still haven't run into Frasier Crane or brother Niles yet!
After that, next up on this site will be a Seattle Kraken photo blog, followed by a 10/31 NYR v SEA game recap and a Mark Messier book review. However, for now, I'm off to bed, as I still try to comprehend how west-coasters watch major sporting events in the afternoon! My NFL Football Sunday is all out of sorts now!
Until next time…
Stay FABULOUS my friends.
As always here, thanks for reading and…
LET'S GO RANGERS!
Sean McCaffrey
BULLSMC@aol.com
@NYCTHEMIC on Tweeter