What's up everyone and welcome to another blog here on BlueCollarBlueShirts.com. Tonight, the Montreal Canadiens defeated the NY Rangers in OT, 4-3, to tie their first round best of seven series at 1-1. For the Rangers, it's a loss they may soon never forget. All you can hope for is they get over it and win three of the next five games. If you believe in a home ice advantage and with these Rangers, how could you, the Rangers have the home ice advantage in this now best of 5 affair.
If you're really looking to bottom line this game, this sucked. Lundqvist gave this team a chance to win, your top paid forward scored & played well (Rick Nash), but a bad defender & a terrible PP prevented the W.
In case you missed it, here's my Game 1 Review:
Tonight's Game 2 was a horrible loss for the Rangers, as they were 17 seconds from winning this game 3-2 and taking a 2-0 series lead to MSG. Once again, the Rangers played well for most of the game, got great goaltending, the fourth line was clicking and they finished their checks. However, the two things that hurt the Rangers in the first game – a terrible power play and Nick Holden, both reared their ugly heads into this one.
Before even getting into the meat and potatoes of this game, if Nick Holden plays in Game 3, I will be shocked. If anyone thinks Nick Holden deserves to start Game 3, you must also think Aaron Hernandez is innocent. Holden made three brutal turnovers in Game 1, but luckily for the Rangers, it didn't come back to bite them. Tonight, he was a train wreck. I know I have many wrestling fans that read this blog. To make a reference, I was kinda waiting for Holden to take off his Rangers jersey and reveal a Montreal Canadiens toilet seat logo underneath. If you're playing the blame game, this loss is on Holden. I would also give AV some blame for keeping Holden out there. I also give Lundqvist a fraction of the blame, not because he was terrible but because he acted like a diva all night.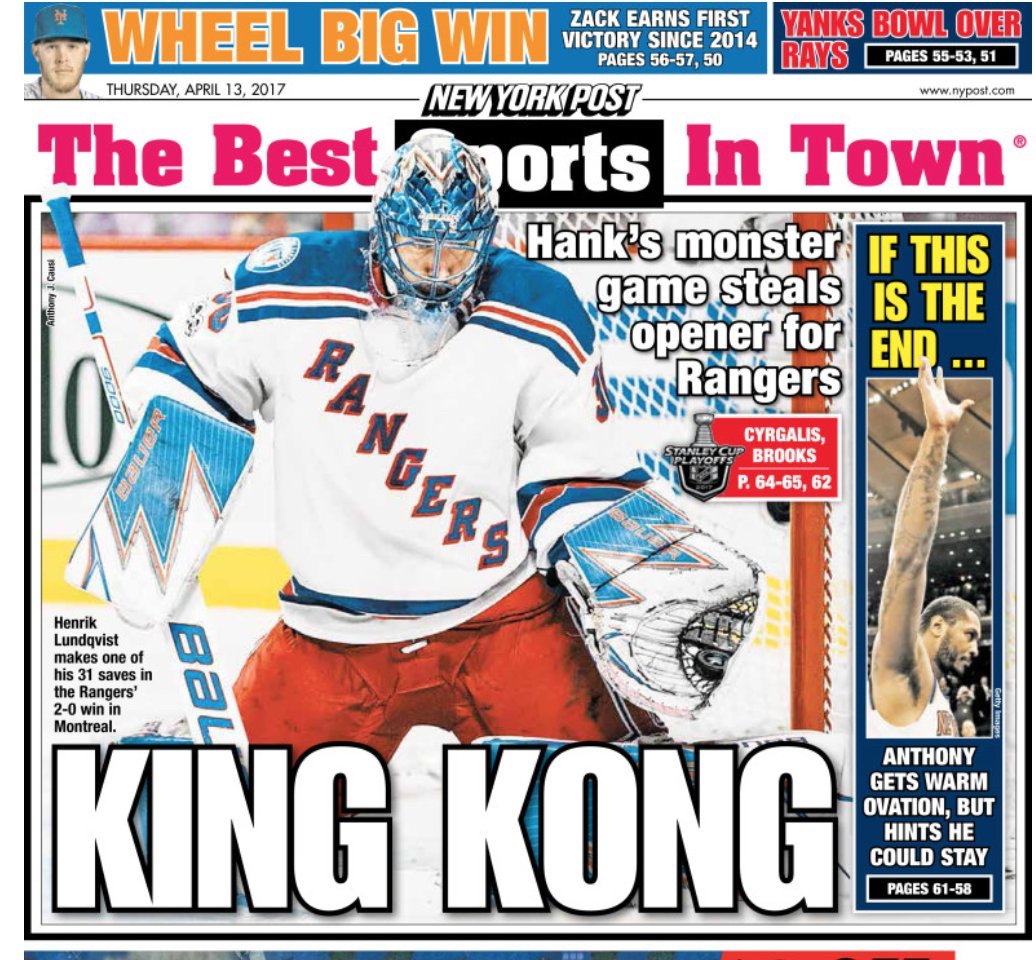 Here's the deal. Lundqvist made 54 saves tonight. How can you blame him for tonight's loss? You really can't. So separate blame from what I'm about to say here. Hank didn't look confident at all tonight and was back to doing his diva bitch boy fits. After every goal allowed, he was screaming at refs, screaming at his d-men, making faces & giving off body language that he was rattled. Whether you thought Hank or Raanta should've started this series doesn't matter. All I'm saying here is that I would love to play poker with Lundqvist. You always know what he's feeling.
Every time I've seen Raanta play this season, he's always exuded confidence. I don't get that same feeling with Hank. I also find it funny that when he has a shutout, everyone is saying "HANK CARRIED US, HANK WON THE GAME, HANK DID EVERYTHING!" When Lundqvist loses, it's always "THE DEFENSE SCREWED HIM. IT'S NOT HIS FAULT. HANK CAN'T DO IT ALL BY HIMSELF." It's either one or the other. These people are usually the same people that blame Dan Girardi for everything too.
In tonight's game, I don't blame Hank for this loss, but I do think his diva-boy behavior cost the Rangers a goal. For a starting goalie, I want him to look more confident in net. I've talked about the Raanta "bitch-please" glove saves when he's rolling. Tonight, Hank looked anything but confident. He was shakier than Michael J. Fox, which is impressive in a 54 save game.
For a lot of this game, Hank was on his belly, losing his stick, flopping around and leaving the net. Seriously, towards the end of the third period, Hank was by the boards trying to stop a Hab skater, leaving the net wide open. He is horrible playing the puck, so I don't get why he leaves the net so much. He made a bunch of good saves, but some of these shots could've been avoided if Hank played the puck cleanly on the first attempt. I think he made his work load harder than it had to be. Then again, Nick Holden was on a mission to get Hank up to 50 saves.
As a Ranger fan and as a sports fan, it's hard for me to root for crybaby athletes. Richter didn't do that. Messier didn't do that (He only cried after he won). Mattingly didn't do that. Jeter didn't do that. LT didn't do that. Strahan didn't do that. Graves didn't do that. Rivera didn't do that. Manning doesn't do that. Again, I'm not blaming Hank for the loss – it just infuriates me seeing him crying and throwing hissy fits when things aren't going his way. Newsflash: it's the playoffs. Every team is good. There are gonna be some hectic times. You gotta sack up. When you have two Cups like Crosby, then you can start bawling your eyes out. Until then, man up.
While Price would give up three goals tonight, at no point in this game did I think he was rattled or frustrated. I can't say the same thing about Lundqvist after a goal allowed.
I gotta say, listening to Micheletti give all the credit to Hank for game 1 was comical, while blaming the defense for everything in game 2. There's just no middle with Joe!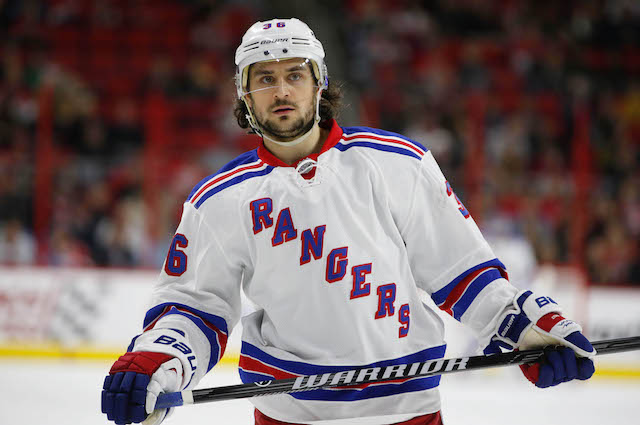 If you're a hockey fan, this was an entertaining and fun game to watch. If you're a Rangers fan, this was a nail-biting fuck fest. This should've been a 3-2 victory for the Rangers. The reffing was mind-boggling, once again. Seriously, how many games are the refs going to affect? They gave the Sharks 6 PP's against the Oilers in Game 1 of that series and gave the Ducks 8 PP's against the Flames in their Game 1. Just like Game 1 of this series, the refs let things go, then would start calling things randomly. There was no flow or consistency. Kind of like Lundqvist in net this season!
All jokes aside, the officiating in these playoff games have been dreadful. Teams are gonna be screwed. I'm just waiting for a Game 7 goal to be overturned because of an "offside" that occurred two minutes before the goal.
Let's get into it. As always, the box score comes courtesy of ESPN.com:
1st Period Summary

Time
Team
Scoring Detail
NYR
MTL
4:05

Jeff Petry (1)
Assists: Phillip Danault, Alexander Radulov
0
1
13:48

Michael Grabner (2)
Unassisted
1
1
15:42

Paul Byron (1)
Assists: Brendan Gallagher, Tomas Plekanec
1
2
Time
Team
Penalty Detail
No penalties this period

2nd Period Summary

Time
Team
Scoring Detail
NYR
MTL
9:58

Rick Nash (1)
Assists: Jimmy Vesey, Nick Holden
2
2
14:47

Mats Zuccarello (1)
Assists: Brendan Smith, Derek Stepan
3
2
Time
Team
Penalty Detail
4:51

Alexander Radulov: 2 Minutes for Slashing
7:05

J.T. Miller: 5 Minute Major for Fighting
7:05

Jordie Benn: 2 Minutes for Roughing
7:05

Mats Zuccarello: 2 Minutes for Roughing
7:05

Shea Weber: 5 Minute Major for Fighting
7:05

Mats Zuccarello: 2 Minutes for Roughing (Served by Chris Kreider)
11:30

Brady Skjei: 2 Minutes for Roughing
14:52

Jordie Benn: 2 Minutes for Interference
18:47

Alexander Radulov: 2 Minutes for High-sticking

3rd Period Summary

Time
Team
Scoring Detail
NYR
MTL
19:42

Tomas Plekanec (1)
Assists: Alexander Radulov, Alex Galchenyuk
3
3
Time
Team
Penalty Detail
0:57

Mats Zuccarello: 2 Minutes for Holding the Stick

OT Summary

Time
Team
Scoring Detail
NYR
MTL
18:34

Alexander Radulov (1)
Assists: Max Pacioretty, Shea Weber
3
4
Time
Team
Penalty Detail
2:15

Chris Kreider: 2 Minutes for Slashing
Goaltending Summary
New York Rangers Goaltending

Player
SA
GA
Saves
SV%
TOI
PIM
H. Lundqvist
58
4
54
.931
78:34
0

Montreal Canadiens Goaltending

Player
SA
GA
Saves
SV%
TOI
PIM
C. Price
38
3
35
.921
77:22
0
Team Statistical Comparison
Key:  NY Rangers   Montreal

Total Shots
 38
 58

PIM
 15
 13

Hits
 74
 55

Giveaways
 16
 15

Takeaways
 10
 5

Faceoffs Won
 39
Refs, Holden, Hank's bitch-fits & the loss aside, this was another exciting hockey game. With each team averaging 22 hits per game in the season, tonight, the two teams combined for 129 hits! The first period had over 50 hits alone. However, you gotta wonder if all that hitting burnt the Rangers out, as once this game went into OT, they were out of gas. They looked like me trying to race a Kenyan.
The first period started off innocently, with each team logging 9 shots. By the time the game was over, Montreal would have 58 shots to the Rangers 38 shots.
The Rangers started off aggressive enough, logging even a rare shot from Marc Staal. However, a turning point in this game was Hank leaving his stick hanging on the right side of the net. Brendan Gallagher skated right into it and snapped it. Hank was without his stick.
Of course, Hank was vocal about not having his stick. There were things the Rangers could've done here. They could've got him another stick from the bench. (Allowed, as long as the player with the goalie stick doesn't touch the puck.) They could've stopped play with an icing, shooting the puck into the netting, a hand pass, whatever. However, what happened was the puck went to the Canadiens D zone and the Rangers chased it. Hank was throwing his temper tantrum and not paying attention to the game on the ice. This was reminiscent of that game against Pittsburgh, when he just flipped the net like a diva. He didn't want to take a penalty here, or I'm sure he would've done that again.
While Hank was screaming his head off, the Rangers were trying to mount a play. The building in Montreal was so loud and once they saw Hank was stickless, they were even louder. I haven't seen any of the post game interviews, but I'm assuming the Rangers didn't hear Hank. You don't want to leave the goalie without his stick. That said, Hank was so focused on throwing his hissy fit, that his head was out of the game.
With Hank screaming to anyone who would listen, the Canadiens went on a rush. At the end of it, it was Jeff Petry Dish beating  Hank high. Yes, high. He could've stopped it, but I'll say this, without his stick, you do lose some balance. That said, I don't think Hank was 100% focused, because he was too busy crying about his broken stick, like a kid who loses the top of his ice cream cone on a hot summer day.
1-0 the French, four minutes into the first period.
For the next 9 minutes, it was a fast paced period. Both teams were flying and hitting. In fact, we didn't have our first commercial break until 13+ minutes of play. As much as we bitch about some things in the NHL, give it up for the NHL here, they don't allow TV/commercials to dictate their games. In fact, there are no commercials or stoppages in OT (Outside of a quick scrape after ten minutes.)
Lundqvist, who was rattled, eventually settled down. He would make a huge breakaway save on Byron and really, that could've been a game changing save. You don't want to go down 2-0 to Price. On the other end, Grabner would go on a breakaway and would score on Price, with 6 minutes remaining in the period. 1-1.
However, nearly a minute later, Byron got his revenge. With Holden having the best seat in the house, Byron beat Lundqvist point blank, from merely feet away. Listen, you can blame Holden for this, and he was at fault, but at the same time, this was a clear shot that Hank was out of position for and misplayed. Of course, Lundqvist made his serial killer face and was screaming at his teammates. So much for a team game.
2-1 bad guys to close an extremely "fast & furious" first period.
The second period started off hairy, but by the end of it, the Rangers would be hanging their heads high.
The Canadiens mauled the Rangers to start. Lundqvist was flipping and diving around his net. He was slow coming up on one, even putting his back to the play. Luckily for the Rangers, Girardi stopped a near Gallagher goal.
The most infuriating play of the game occurred in this period. With the Rangers failing on another PP, Steve Ott absolutely crushed Zucc with a dirty hit. I don't know if Ott has kids, nor care to look it up, but I wonder how he would feel if someone 100 pounds heavier & a foot taller, destroyed his son with a hit like that? This led to a brawl. At the end of it, Weber & Miller were tossed for 5 minutes. Zucc also got a penalty! HOW THE FUCK DOES ZUCC TAKE A ROUGHING PENALTY FOR BEING THE VICTIM OF A DIRTY HIT?
THIS IS NO HOMER BULLSHIT, ZUCC GOT CRUSHED BY OTT AND ZUCC IS BOXED? WHAT THE FUCK ARE THESE REFEREES ON? I would love to see an explanation for this. This made no sense and I'm still furious about this. I'm not saying the Rangers score on a PP, all I'm saying is that the reffing is so god damn bad. How are refs like this allowed to call these crucial games?
Rick Nash, of all people, would make the Habs pay, as he took a pass from Vesey and beat Price. 2-2 game. This was a huge momentum goal, because at this point, the Hab fans were going nuts.
After the Nash goal, Brady Skjei took a roughing call for moving Gallagher away from Lundqvist after a whistle. WHAT THE FUCK?
To recap: crushing a player with a hit is a penalty on the player who got hit. Protecting your goalie is a penalty. FUCK THESE REFS!
Seriously, this was a fucking disgrace. Sorry for so many f-bombs, but I'm really trying to illustrate a point here.
The Rangers would take a lead after more BS from the refs. This time, Brendan Smith was boarded. No call. Smith stayed with the play, got the puck to Stepan, got the puck back, blasted away and Zucc deflected the puck by Price. 3-2 good guys, but at this point it was the Rangers playing the Habs & the zebras.
The Rangers would eventually get two power play opportunities. As usual, they failed on both. Zibanejad was stick shy and really, you can't be. As I said at the top, everyone will blame Holden for this game, but you can't forget how terrible this Rangers PP was. One goal on this PP, that went 0-3, and the Rangers aren't sweating it out at the end of the third.
3-2 after two periods. Holden was interviewed by Giannone. Giannone's first question wasn't "WHAT THE FUCK?". I tuned out on the rest.
The Rangers started the third period on a PP, but did nothing with it. In other words, the usual.
It was funny how slow this third period moved compared to the insane first period. In hindsight, you could see the Rangers tiring out and it would come back to bite them.
With Lundqvist and Price playing remarkably on both ends, the game got chippy with ten minutes remaining. The Rangers "blue-balled" their fans after several near attempts. The Habs then went buck-wild. The Rangers were on defense for nearly two minutes and couldn't touch the puck. Eventually they got an icing, which was the best icing of the season. AV wisely used his timeout. With a one goal lead, no reason to allow tired players on the ice. The Rangers would fight, get the puck and make a sorely need change at around the 8 minute mark.
In one of the biggest plays of the game, Tanner FUCKING GLASS, absolutely TRUCKED Shea Weber. What a fucking hit this was. Speaking of, the fourth line dominated this game. They were on offense most of the time, made big hits and played crunch time minutes. I wanted Glass over Buchnevich this series, but I had no clue about how great the fourth line would be in this series. They have been a force in both games.
With the game under 5 minutes, Lundqvist either had a lapse of judgement or brass balls. I think the former. Lundqvist left the net and was playing Habs one on one. He lost his stick during all of this, AGAIN. Some how, he made a glove save to freeze the puck. Micheletti went on and on about what a great save this was. Are you fucking nuts? STAY IN NET WITH A ONE GOAL LEAD AND ONLY MINUTES REMAINING! The glove save was only made because he ignorantly left the net wide open.
As the game went into the final minute, Carey Price was pulled and the story of this game changed the ending I wanted to write.
With only 17 seconds remaining between a 2-0 series lead, Tomas Plekanec tied the game. Blame Holden here. Holden slashed and broke his own stick over Plekanec's lumber. Plekanec would deflect a shot from Radulov and beat Lundqvist. Not only did Holden break his own stick, he was also screening Hank on this.
Biggest question – with how bad Holden was all series and in this game, why was he on the ice at this point in the game? Even during the game, I was tweeting to double shift McDonagh. Simply put, AV or Beukeboom, whoever you want to blame, has to get the weak link off the ice. This is unacceptable.
Towards the end of the game, McDonagh and Girardi prevented a chance and the game went to OT.
 I can't lie. I find the Montreal goal song catchy. That said, I didn't need to hear it in OT. The way the Rangers played this OT period, you knew it would be "ALLEZ MONTREAL" time eventually.
In the OT, while the shots may say 13-8 Montreal, it might as well have been 100-0. The Rangers never had a chance. I noticed that leaving the ice after the third period, every Ranger had his head high, with only Lundqvist with his head sulking. I was nervous about Lundqvist in the OT, but it was the Rangers that betrayed him. The Rangers were gassed. They were as lifeless as Joe Micheletti's Lundqvist blow-up doll. Montreal was all over these guys.
The Rangers would kill an early penalty in the OT, and give credit to the Rangers PK, they were 4-4 tonight. If only the Rangers PP unit could deliver. Can we please give Grabner a chance please?
For some reason, AV stuck with Holden in the OT. If you're a fan of turnovers, you should get a Holden jersey. As someone commented on twitter, "Dan Boyle is no longer the worst Ranger to wear 22 in a playoff game."
Lundqvist was fantastic in the OT, while the Rangers were not. It eventually ended when Radulov poked a puck through Hank's legs with 90 seconds left in the OT. I don't blame Hank for this goal, because the Rangers collapsed. That said, if Hank closed his legs and got this game back to the locker room, I wonder if Montreal blew their load in this frame. I really question where was the Rangers drive in this period. There was no second wind at all.
Unfortunately for Lundqvist, he makes 54 saves and leaves a loser. If he still has any power with this team, Kevin Klein or Steve Kampfer play for Holden in Game 3.
Now with a shutout and a 54 save performance, I'm getting silly tweets like "RAANTA SUCKS" or "KING LUNDQVIST." Of course, some of it is trolling from the humanoids. That said, should've the Rangers started Raanta in these first two games? Who knows? What you can say, is that starting Lundqvist didn't back fire. I just don't appreciate the crybaby stuff when the game gets intense.
We will never know, or at least won't find out until long after Lundqvist retires, but I wonder if all his screaming and crying negatively affects the team in front of him? If your star goalie is so panicked and rattled, does that spread to the rest of the team? Seriously, he cries as much as a dog wanting your dinner, as you take your seat at the dinner table.
I will say, this OT was one of the worst periods of Ranger hockey all season. Yes, they gave it their all for 60 minutes, but this is the playoffs. You gotta go the extra mile and stay up to compete. After all, Montreal did.
Needless to say, I'm not happy about this loss. I should be writing about the 2-0 series lead and maybe talk about a potential sweep at home. Instead, Montreal stole the momentum of this series.
Listen Ranger fans, did you hear the Bell Center these last two games? It was so loud that the Rangers didn't even realize Hank was without a stick. It's up to the Ranger fans attending these next two games to match the energy and give the Rangers a home ice advantage. It's up to the Rangers to feed off the adrenaline from the crowd and make Montreal pay. The Rangers also gotta do something about this miserable PP.
What also worries me is how inconsistent Lundqvist has been this season. He's now had two solid games. Obviously, being a Ranger fan, I'm jaded. Can he keep this flow going? The Rangers must explode offensively, because you can't expect Lundqvist to win every one goal game. Holden also has to go.
Moving along to Game 3, which is stupidly on Easter Sunday night, pissing off many Ranger fans, the Rangers gotta get over this loss and not harp on the 17 seconds. Win Game 3 and the ball is back in your court.
Don't get me wrong, this was a tough loss. It's even tougher, because if the Rangers got blown out, you say "eh, we'll take the split." They were 17 seconds away from 2-0. However, you need to have a short memory here and move on. After all, did anyone predict the Rangers in 4? That said, this franchise has given you many "WHAT IF" moments, especially during the AV era.
Whether it's "WHAT IF?" after blowing two games in LA in 2014, "WHAT IF?" Talbot started & Zucc didn't get hurt in 2015 & "WHAT IF?" the Rangers didn't go all out to beat Detroit in the last game of the season, thus drawing Pittsburgh in the first round in 2016, you just don't want "WHAT IF?" the Rangers didn't blow Game 2 to Montreal in 2017.
Moving forward, congrats to Cam Talbot on logging his first ever playoff shutout in his second attempt! I am enjoying Ranger & Oiler fans pulling for each other. There is so much history between the two franchises and the teams really don't affect each other in the regular season, so it's nice to see a portion of the fanbases rooting each other on. Both teams now need 11 wins to make a NYR vs EDM SCF happen!
As of right now, I got tickets for Sunday night at M$G, which may be to my family's chagrin. Do I sell or do I go now? Find out Sunday night in my Game 3 blog!
As always, Let's Go Rangers
Sean McCaffrey
BULLSMC@aol.com
@NYCTHEMIC on the tweeter gimmick