NOTE: I am a fan who uses this blog outlet to vent. I'm not a "JOURNALIST". F-bombs, pictures of toilets and pure anger will appear in the following 5000+ words!
What's up everyone and welcome to another BlueCollarBlueShirts.com blog, where I will be recapping the funeral, also known as Game 3, that occurred at M$G tonight. The Rangers dropped a 3-1 decision to the Montreal Canadiens, at home, on Easter Sunday, giving the Canadiens a 2-1 edge in the best-of-7 series. While the score may read 3-1, it may as well have been 100-0. This was the worst the Rangers have looked all season. If there was one word to describe this game, the team, the fans, M$G and the effort from the Rangers, that word would be "PATHETIC".
For the Rangers, they still haven't scored an even strength goal at home since Game 2 of the 2015 ECF. They have now lost 6 straight home playoff games at M$G. In those six straight losses, they have been outscored 21-4.  While the Rangers did change some of their regular season trends in the playoffs for the better, such as Lundqvist breaking his cold snap & playing more physical, the Rangers continued to fail on the power play and fail at M$G.
In case you've missed a blog about this series, here's a recap of the first two games:
Before talking about this diarrhea that was called Game 3, let's talk about the Rangers & M$G.
The Rangers are using the tagline of "Calling All Blueshirts" for this year's playoff quest. Lest not forget, this is all presented to you by Chase. Heaven forbid I forget to plug the sponsor. It's not like MSG Networks doesn't have 789667567556778568565 plugs a broadcast. If there is anything consoling about tonight's loss, we didn't have to watch the MSG Networks crew promote and eat that crap known as Papajohn's Pizza.
While on this sponsor topic, I watch many broadcasts around the league, with the majority of the out of town games I watch being Oiler games. No one goes as OD as the Rangers do with their sponsors. Note to the sponsors: if you sponsor the Rangers or not, I'm still going to watch the team. None of your ads influence me to buy your products. Seriously, all these M$G sponsors have made "THE LIST". (Yes, I'm ripping off Chris Jericho right now.) Without further ado and since I'm due for a tangent, here's "THE LIST".
THE LIST
Tin Cup Whiskey – your ads about brokeback mountain cowboys sipping whiskey on a mountain top & rolling around naked on each other doesn't entice me. I'll stick to Gretzky Whisky, Canadian Club or Crown Royal.
Delta Airlines- the only way I will fly on your airlines is if it's the cheapest flight on Expedia. United can drag all the people they want off their planes. If their price is $5 cheaper than yours, I'm flying with them and taking my chances.
Bud Light- I think your beer is garbage. I'll stick with my Miller Lites, Labatt Blues, Molson Canadians, Carlsberg's & Grolsch's over your swill.
Chase – I'm nearly 35 years old and never had a credit card in my life. I'm happy with my debit card and not falling into the American trap of being in debt. The only debt I have is my mortgage & that's the only debt I ever plan on having.
Papa John's – no New Yorker would ever eat your pizza under their own volition. The only time a New Yorker would eat Papa John's is if they were tortured or stone cold drunk at 3AM & nothing else is open.
Hyundai – if a comparable car I want is a Nissan & it's cheaper, that's what I'm getting. Not one Ranger fan is watching the broadcasts for your bullshit off-road commercials. Get lost!
DraftKings- If I'm going to gamble on a game, I'm gonna bet with a bookie with real money, not your fantasy bullshit where no one ever truly gets a payout. Plus it's already been exposed that your company rigs games/line-ups. Fuck off!
SAP – I don't know one person who knows what you do or who you are. Fuck you too!
Foxwoods Casino – your casino blows. I'll go to AC over your joint any day of the week.
Party City – you are advertising to a demographic that is predominately 18-75 year old men. None of them are buying party hats, confetti or streamers. Get a life you fucking clowns.
Resorts Casino – if I wanted to get stabbed & robbed leaving a place, I would rather go to Vegas.
Dunkin Donuts – I don't drink coffee. For those who do, they know about you already! Your money is being wasted!
The tomb known as Madison Square Garden could've used a resurrection on Easter Sunday. It's been this way for a while, so to expect M$G to provide any acceptable decibel level would be silly.
I've ranted before about how bad M$G is on these blogs. Just check the archives on the right hand of the site or check out this blog that I dedicated to this topic by visiting:
Make no bones about it – the crowd at M$G was a joke tonight. You could hear the homeless people at Penn Station crying for change on the broadcast. You could hear people ordering sushi from section 106. You could hear the pitter-patter of footsteps, as Ranger fans made their way from the Delta Club to their seats, after 5 minutes expired in the second period. Quite simply, M$G is a shopping mall, with their own food court, first, with the athletic play in the venue coming in at a distant second priority.
The building was dead all night. It's not like the Rangers gave them much to cheer for anyway. However, long before this game went down as another pathetic home-ice effort, the crowd noise was non-existent.
I said on twitter at the beginning of the game, that I wonder why the Rangers didn't bring out John Amirante for the National Anthem. He usually ignites the crowd. I don't know if he was sick or what, but the Rangers went with a police officer to sing the anthem. I can't bitch about that. As long as it's not that kid doing the horrible Jimi Hendrix version of the anthem!
The police officer, okay in her own right, was very solemn when singing. I get it. That said, Amirante riles the crowd up, especially when he's waving that damn towel like a fucking maniac. I know as a Ranger fan, I feed off it, and I'm waving that damn free towel just as hard. Amirante certainly brings some juice, that's for sure.
It is sad and pathetic to see what M$G has become, but it is not like we didn't know this already. Pricing out "real fans" is an issue. That said, you can still hear some chants.
The saddest part in all of this is the loudest chants all night wasn't "LET'S GO RANGERS", "ZUUUUUUUUUC" or "HEN-RY", it was "POTVIN SUCKS." This is something I've covered in other blogs before. Let this fucking chant die already. I would venture to guess that 90% of the people in M$G tonight couldn't pick Potvin out of a police line-up, nor tell you the Ranger he injured, which sparked the chant. The chant is older than me, yet people faithfully belt it out, like it's a rite of passage.
When the Rangers are playing their worst hockey all season, chanting "POTVIN SUCKS",  you know a guy who has won 4 Cups, is pathetic, sad and reeks of envy.  This chant needs to go the way of the dodo. If you feel the need to do the whistle, can't you just say "<insert team here> sucks?" Let it go already man.
Speaking of the M$G crowd, another reason why I think it is so quiet is because everyone is playing with their phones. Everyone is facebooking, tweeting, instagramming, snapchatting, J-dating, whatever, and not 100% paying attention. Then again, you can blame the Rangers for this too, because they are promoting people to use social media accounts to talk about the game at an incessant rate. There is one thing to sit on your couch, blow farts into your cushions and "live-social media" a game, it's another thing to do it while you're there. I'm not telling people to turn off their phones, but I think this is just another reason why M$G is quiet.
Another thing that makes M$G pathetic is that the DJ/Organist/PA/whoever, is playing these cheesy Z-100 bubblegum pop songs. Get the fuck out. Everywhere else, arenas are playing heavy metal with boisterous bass drum sounds. That riles people up. Not bullshit you hear at a club with a $50 cover. Then again, I guess that fits the majority of the crowd at M$G these days.
Rather than using the scoreboard to promote "LET'S GO RANGERS" chants, M$G is focused on showing us who is there. Listen, I like "Feud" on FX & loved "Shawshank Redemption" but I don't give a fuck if Susan Sarandon or Tim Robbins is there. I don't care about that chef with the whacky hair either or whatever random football or baseball player is there. It's sad that celebrities get a better reaction than the team on ice.
Something else I noticed is security has been beefed up in the 200 and 400 levels. They give you nasty stares for getting loud. It's a turn-off. No one wants to risk being kicked out, so they sit on their hands.
If there is anything good about the sereneness & quiet as a library feel of M$G, it's that when Hank loses his stick, he doesn't have to yell for a new one. He can politely whisper to his teammates for a new one.
Let's get to this shit show on ice. As always, the ESPN.com boxscore:
1st Period Summary

Time
Team
Scoring Detail
MTL
NYR
No scoring this period
0
0
Time
Team
Penalty Detail
3:52

Jeff Petry: 2 Minutes for Hooking
15:29

Alex Galchenyuk: 2 Minutes for High-sticking

2nd Period Summary

Time
Team
Scoring Detail
MTL
NYR
17:37

Artturi Lehkonen (1) (Power Play)
Assists: Brendan Gallagher, Tomas Plekanec
1
0
Time
Team
Penalty Detail
16:05

J.T. Miller: 2 Minutes for Delaying the game

3rd Period Summary

Time
Team
Scoring Detail
MTL
NYR
7:42

Shea Weber (1) (Power Play)
Assists: Alex Galchenyuk, Alexander Radulov
2
0
15:35

Alexander Radulov (2)
Assist: Phillip Danault
3
0
17:04

Brady Skjei (1)
Assists: Kevin Klein, Mika Zibanejad
3
1
Time
Team
Penalty Detail
4:07

Mats Zuccarello: 4 Minute Double Minor for High sticking
9:10

Artturi Lehkonen: 2 Minutes for Interference
Goaltending Summary
Montreal Canadiens Goaltending

Player
SA
GA
Saves
SV%
TOI
PIM
C. Price
21
1
20
.952
60:00
0

New York Rangers Goaltending

Player
SA
GA
Saves
SV%
TOI
PIM
H. Lundqvist
29
3
26
.897
55:42
0
Team Statistical Comparison
Key:  Montreal   NY Rangers

Total Shots
 29
 21

Hits
 31
 41

Giveaways
 8
 21

Takeaways
 6
 7

Faceoffs Won
 31
 28
If you've been following me all season, you know this as a fact. I haven't missed a preseason game, a regular season game or a playoff game this year. That in mind, THIS WAS THE WORST RANGERS GAME OF THE SEASON. Yes, the Rangers got blown out here and there during the course of the year, but in some of those games, the other team was simply better. I don't think the Canadiens are vastly superior than the Rangers. In another wrestling reference, if you know about the Montreal Screwjob, this wasn't that. It was simply case of the Rangers screwing the Rangers & their fans.
If NYR management had any fucking balls, they would refund every fan or offer some sort of discount code for merch/tix/whatever after this loss. THIS EFFORT WAS UNACCEPTABLE.
I really didn't mind the losses to the Penguins or even the Bluejackets at the time, because those teams were better. This loss is just blasphemy.
Now some fans will blame Nick Holden and the Rangers not holding on for 17 seconds in Game 2. You can't think like that. Each game is independent of another. What you can blame is the anemic PP, which is now 0-10 for the series. However, AV is too loyal to a fault, so he will run out the same losers on every PP. Insanity is doing the same thing over and over and expecting different results. That is the Rangers PP. INSANE!
How many fucking times this year have I said put Grabner on the PP? When he plays on the 3 vs 3 in OT, he gets more scoring chances than anyone else. However, AV just chews his gum like a fucking jackass during the PP, with his second highest regular season goal scorer (and highest playoff goal scorer) on the bench. I don't care if you have to put the fourth line out there on the PP. I can't watch anymore of this cancerous PP and watching pucks fly into boards and into the netting.
It's at the point that if the Rangers played a full 60 minute game up 5 vs 3, I doubt they would even score.
To me, only four NY Rangers stood out and gave it their all tonight. Henrik Lundqvist was amazing all game, as he's been all series. Tanner Glass was a beast out there, landing bone-crushing hits while his fourth line provided the best scoring opportunities. The top D pair of McDonagh and Girardi were great defensively & did a good job of shutting Montreal down. Everyone else, P-U. Worst Ranger on the ice? Derek Stepan, winning 3 of 13 faceoffs & having another terrible offensive game. Too much money is spent on shitty numbers.
As far as the highest paid skater on the team in Rick Nash? I thought he was good defensively, but when will he, or Kreider for that matter, crash a net? When will they screen Price? What the fuck am I watching out there? I would rather see Glass on the PP, screening Price & taking the lumps & abuse, than watching these two diddle around. And for as great as Kevin Hayes was all season, he's been a non factor all series. But hey, he lost 20 pounds!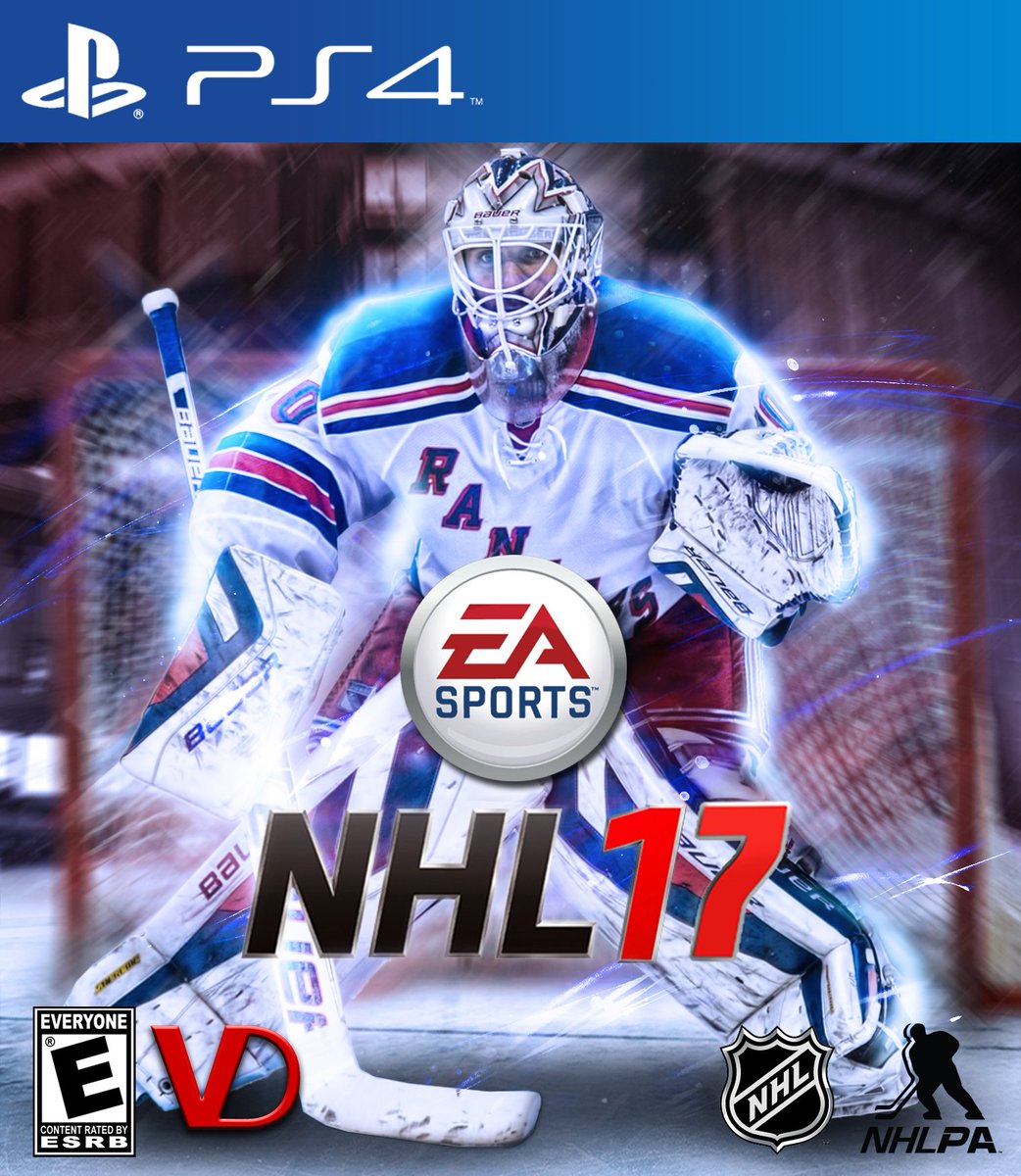 I'm not going to go deep in this analysis, because this is an easy game to describe. This was the Rangers of the pre-AV era. Lundqvist did everything he could and the team failed him. It was like a #ThrowbackThursday to the 2013 Boston playoff series. The Rangers PP sucked more dick than a cheap hooker making $50 the HAAAAAAAARD WAAAAAY. (Hi Tommy C!) Lundqvist had his third straight great game, two of them which were wasted because of Nick Holden in Game 2 & because of everyone else in Game 3.
Speaking of Nick "The Turnover" Holden, he was scratched tonight for Kevin Klein. Klein was alright, nothing special but at least he wasn't Nick Holden. However, that's like saying Mussolini wasn't bad, because he wasn't Hitler. (That's how you make a Hitler reference, a one Mr. Sean Spicer!)
For as great as games one and two were, for a hockey fan, this game had none of that. The hitting was almost absent. I wonder if all the extra hitting has taken a toll on the now black and blueshirts. There was no crisp passing. All this game was chip and chase, and the chase never saw a puck end up on a Ranger stick. Anytime the Rangers even dared to approach the blue line, the Habs were there to meet them.
What drives me absolutely bat shit is the Rangers on the PP, which was 0-3 tonight. With the Canadiens going 2-3, that was the difference in the game.
How many fucking times on this PP must we watch the Rangers be out-numbered? Just like the previous games, Nash entered the zone, one on four. Zucc entered the zone one on three. Listen if you have to change on a PP, then maybe you don't belong on the PP unit. You can't keep rushing to the bench because you were out there for 20 seconds and your pussy hurts. Get possession in the offensive zone, make your passes and if you have to change, then go to the bench. So much time is wasted with these changes and the Rangers being outnumbered on their own fucking powerplay!
Again, like I said at the top. I'm a fan, not a journalist. I apologize for my bad language, but sometimes you have to use it to stress a point.
I know I'm rambling a bit, but another thing that makes me want to punch everyone in the face, is the interviews where they say "We got to be better." "We will learn from this." "We will use this and move forward." All that shit. WHAT THE FUCK DID YOU DO TONIGHT? See who could tuck their cock between their ass cheeks  the fastest? DISGRACEFUL!
Listen, most of you know me as the guy who hates Lundqvist's contract. This guy has been amazing all series and now the Rangers decide to fail him. This is really like the Torts era all over again, except Torts would bench guys when they didn't give it their all.
Speaking of Lundqvist and his contract, if you're one of those fans that say "Lundqvist deserves better and should ask for a trade to contender" can you please realize the stupidity of that comment? I understand where you're coming from, but here's why you're kind of an idiot:
No contender will take Hank's horrible contract
No contender would make a goalie their highest paid player
No contender is going to overpay an aging goalie
If you want Lundqvist to win a Cup more than the Rangers, where is your loyalty? You should want Lundqvist out of here because his contract sucks & because he's overpaid. Need examples? See exhibit A Cam Talbot and exhibit B Antti Raanta.
I know this is coming from me, the guy who hates Hank's contract, despite how great he's been this postseason, but I still think the Rangers are better off without him. He had a terrible 2016-2017, no one can argue that. He's been 2012 at-the-top-of-his-game Lundqvist in these three playoff games. I am not denying that. He's been fantastic this postseason.
That said, who knows how Raanta would've done? I can tell you that Cam Talbot, as a starter, is 2-1 and his two wins are both shutouts. I thought he should've started in the 2015 playoffs. Now, you can't blame Hank for these two losses. I'm not suggesting that. I'm suggesting that for $8 million less, you could get deeper offensively. I would just build the team differently. While I hope to be proven wrong, I really can't envision a scenario where the Rangers win a Cup with Lundqvist. They are just not built strong enough, especially when your highest paid player is a guy who can't score.
The Rangers and Habs played an uneventful first period, where Lundqvist was the best Ranger on the ice. The Habs out-shot the Rangers 10-6, with Lundqvist making some perilous saves along the way. Price wasn't challenged much. I think Al Trautwig could've even made those saves. The Rangers even had two power plays in the period, registering a shot each. I'm gonna throw up.
During intermission, I suggested that the Rangers get Mark Messier's bald ass out here and have him give the locker room speech to rile this fucking team up. You know that it's not coming from McDonagh or AV anyway. Plus if Phil Jackson can run the Knicks & interfere, why not have the most famous Ranger of them all, Mark Messier, the person that embodies the word "captain", come out and fire these fuckers up?
That didn't happen though. What did happen, was this tweet, after this terrible game:
If i sell 5000 copies of #IceCapades by Tue i will sit behind @CanadiensMTL bench and get the entire team off their game. #SixthManAward

— Sean Avery (@imseanavery) April 17, 2017
Challenge accepted Sean Avery. I just pre-ordered your book. While I was gonna buy it anyway and wait to buy it towards the release date, here's your money 5 months ahead of your September release date. Let's see that Sean Avery, that destroyed one of the greatest goalies of all time, in Fat Marty Brodeur, right behind that Habs bench on Tuesday night.
Steve Ott watch: during the second period, Steve Ott tugged on Zucc's hair, pissing Zucc off. This was like Ott blocking Hank from his water bottle. This is Sean Avery shit 101. This is stuff that rattles people and Ott was under the skin of the Rangers all night.
The Habs closed the end of the second period with a powerplay goal from Artturi Lehkonen. Hank was beat, but this is coming from me, so it means something – "IT WASN'T HIS FAULT."  For real. The Rangers PK was pretty bad all night, but light years ahead of the PP.
Oh, I should also mention here that I had tickets for tonight's game. However, my friend couldn't go and I wanted to see my family, with everyone having a rare day off. I especially wanted to see my 14 month old niece, with her "MY FIRST RANGERS CAP" on. Selling these tickets was the best decision I ever made. Taking the LIRR home half-bombed and angry would make the LIRR experience much more miserable than normal!
In the third period, AV shook up his lines. I don't know what to make of it. On one hand, you needed to do something. On the other, you're now putting guys together that really have no chemistry with each other. Here's AV's third period lines:
Nash/Hayes/Zucc
Kreider/Stepan/Fast
Miller/Lindberg/Vesey
Grabner/Z-Bad/Glass
These lines went no where and were arguably worse than the crap we saw in the first two periods. If you're gonna shake anything up, I would like to see Zucc, arguably the best passer on the team, with Grabner, who has the most speed on the team. The other stuff is things I've said a thousand times. Fast is nothing more than a fourth liner. Punishing Z-Bad does nothing. Take him off the PP if you want to punish him. If you really wanted to punish a center by placing him on the fourth line, it should've been Stepan.
With the Habs up 1-0 and entering the third period, it would take a miracle for the Rangers to come back. Just like the Easter Bunny, Ranger miracles don't exist. Unless it's 1994.
Zuccarello would take a high sticking penalty, which was good for a double minor. Not the penalty you want to take when you're down by one. Not only are you on the PK for four minutes, you are basically losing four minutes to get a goal too.
The Rangers would kill the first half of the penalty. On the second half of the penalty, Nash went on a breakaway and two Habs defenders molested them like they were Bill Cosby and Jerry Sandusky. The result? No call. After violently butt-raping Nash, the Habs got the puck and Weber scored a PPG. More terrible officiating from the refs in this series.
With a little under 5 minutes remaining, Game 2 hero, Radulov put the icing on the cake, just completely undressing Henrik Lundqvist with a sweet one handed move. 3-0 Habs. This goal allowed is on Lundqvist. He was out of his jock, faster than Micheletti taking off his underwear when he gets to the hotel with his Hank blow-up doll.
Brady Skjei would add a meaningless Rangers goal, with the Rangers on the 6 vs 5, making it 3-1. It was funny, the Rangers were without Lundqvist for the final four minutes of the game and the Habs didn't score. The Rangers scored one goal. Hmmm…..
That shows you what type of team the Habs are and why this loss is so frustrating. The Habs couldn't score on an empty net for four minutes! Pathetic, pathetic, pathetic.
As far as Price vs Lundqvist watch, NYR barely challenged Price. Lundqvist had the harder night in net, yet again.
Of course, like any fan base after a loss, everyone wants the coach fired. Whether it's Barry Trotz in Washington or Joel Quenneville in Chicago, AV is now getting the "FIRE THE COACH" reactions from the fanbase. The only thing I negatively have to say about AV is that he needs to shake up the PP units & has to stop being loyal to the guys who are failing him on the PP.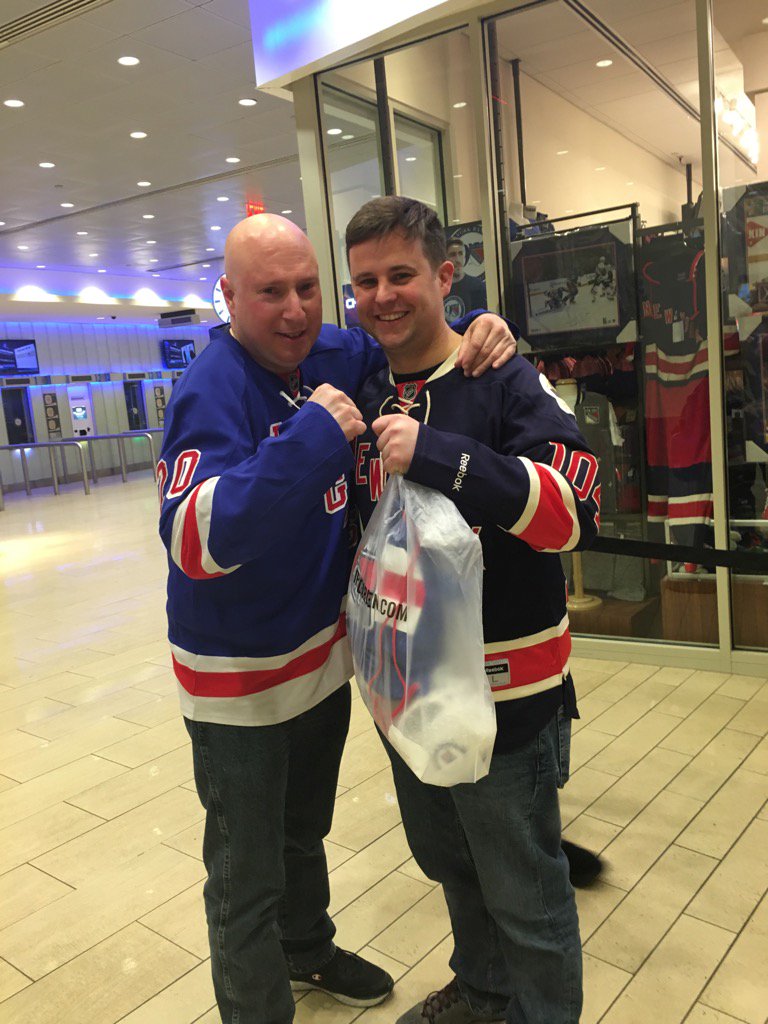 No one will ever accuse me of being the most positive, put a smile on your face always, type of Rangers fan. However, do you know who is that guy? Dancin Larry. I know some fans don't like him, but I like him. I treat people how they treat me and he's always been nice to me during the few times I've seen him at Ranger bars. The guy loves his team and is a diehard. I respect that. I know some people get on him and call him a jinx, but if you think a guy dancing around jinxes a team, I have bridge to sell you. The guy is passionate about the team during the bad and the good.
That said, to see Larry upset and furious after a game, kinda tells you all you need to know about this game. The guy always has the suck it up, get them next time, type of attitude. When Larry goes off the rails, you know the team is giving a piss-poor effort. You also have to consider that he's probably the most famous Rangers fan out there and even has people paying him to host parties, attend parties, etc. It's in his best interest to always stay positive. That said, if he's pissed off and willing to say it, you know the team was horrible. And tonight, the Rangers were.
This pure anger blog aside, the Rangers are now down 2-1. Listen, coming back 3-1 against a loaded Penguins team in 2014, would be a bigger feat if the Rangers drop to 3-1 on Tuesday, then win in 7 against these French mothercanuckers. What I'm trying to say is that I'm not giving up hope yet. I still think the Rangers are the better team and can pull this out. However, for that to happen, they have to win a home game. Whatever ju-ju, jinx, curse, vex, voodoo or whatever you want to call it, has to be exorcised. The Rangers have to win at home.
I don't know if you guys heard it, but Jeremy Roenick ripped the Rangers a new asshole after this game. He was being nice. The Rangers were a failure tonight. This was the worst 1-1 Game 3 effort in recent NHL history.
As I've said, what really concerns me going forward, is that Hank hasn't had many consistent streaks this season. He's now given you three straight great games. If he should have a letdown game in this series, who is gonna pick this team up? At this point now, the Rangers can only afford one bad Lundqvist game, or else it's time to split time on the golf course with the Islanders.
The Rangers will try to attempt to tie the series on Tuesday night. While you will be able to hear the cotton candy vendors, which litter the aisleways, scream out "COTTON CANDY", on TV, the Rangers must ignore their quiet home arena and pick up the W. If not, the Nick Holden Game 2 fiasco, will become the latest "WHAT IF?", in Rangers lure.
I'm 5000 words deep, so sorry to my Edmonton Oiler fans that read these blogs, but this will be short. Cam Talbot won his second ever playoff game tonight. He also posted his second ever playoff shutout tonight. As one of the biggest Talbot fans around, this is all bittersweet. I knew the Rangers should've kept him and moved on from Lundqvist. That said, I'm happy for his success with the ORANGE CRUSH and I'm happy to have met some cool Oiler fans along the way.
I don't want to get ahead of myself, because the Oilers are a young team and just getting their feet wet again in the playoffs, but with the way the west is playing out, and with the way Talbot & McDavid are playing, who knows….
For a young team like the Oilers, to win a 1-0 road game against the defending Western Conference Champions is impressive. I always knew Talbot and McDavid were for real. That said, the team around them are all stepping up. They certainly were more exciting to watch than the woeful Rangers tonight.
If it wasn't for more bad refereeing in Game 1, which saw the Sharks get 6 PP's, this could be a 3-0 series lead for the Oil. As it stands, it's 2-1 & the Oilers got a good of a shot as anyone in the West. It's been exciting to watch all year and I'm interested in seeing how it finishes. IN CAM WE TRUST.
Few parting shots:
Who would've thought after 2 games played, Tanner Glass would have more goals than the entire Chicago Blackhawks organization in these playoffs?
Bad luck of the draw for Columbus. They are down 3-0 to Pittsburgh. I would bet my annuity that Columbus doesn't win 4 straight. I said as the season was going along, that Columbus had to win the division or they would be a first round exit to either Washington or Pittsburgh.
How about those Maple Leafs? If they could beat the Capitals and really, they could be 2-0 right now, rather than 1-1, that would be their "Miracle on Ice".
The Wild are down 0-3 to St. Louis. St. Louis fired their coach and were sellers at the deadline this season. Go figure.
Brassard is scoring big goals for Ottawa. Zibanejad is doing his best to look like a Brooklyn Hipster.
Can Islander fans stop celebrating every Rangers loss like it's an Islanders Stanley Cup? Your team is a joke and you've been kicked out of two buildings in three years.
Maybe the Rangers can play their home games at "The Rock" in NJ? They seem to play better there anyway.
This has been a long one. See ya Tuesday night after Game 4. Try to breathe everyone.
As always,
LET'S GO RANGERS
Sean McCaffrey
BULLSMC@aol.com
@NYCTHEMIC on tweeter