What's up everyone and welcome to another blog here on BlueCollarBlueShirts.com. On Tuesday night at MSG, the Rangers won Game 4, 2-1, to even up their best of 7 series with the Montreal Canadiens at two wins a piece. While this game wasn't the textbook definition of the phrase "must-win", make no bones about it, the Rangers had to win this game. The Rangers, in the AV era, have come back from multiple 3-1 series deficits. However, after one of the worst playoff games of all time, in Game 3, the Rangers needed to come out, play well and knot this series at 2-2. For one night at least, it was mission accomplished.
In case you've missed my blogs about this series, you can check them out below:
While the final score tonight reads 2-1, in favor of the Rangers, make no bones about it, the Rangers blew many opportunities that could've made this game a done deal by the halfway mark of the third period. Brutal officiating didn't help matters either.
When the team wins, many things are overlooked. Tonight, two problems that plagued the Rangers all series were still prevalent. The powerplay still sucks. Luckily for the Rangers, Montreal couldn't do anything with their PP either. The other issue was Nick Holden, who may be having the worst playoff series out of any player in the NHL right now. Simply put, Holden is too much of a liability and can not be in this line-up right now.
As you can see, Holden played tonight, after being a healthy scratch in Game 3. Just like in Games 1 & 2, Holden constantly made bad turnovers in Game 4. He also was responsible for the lone goal Lundqvist allowed tonight, just as he helped Montreal score goals in Game 2. I can never figure out AV and his line changes. While his offensive lines were successful for one night, his second pair defenseman made this game hairier than it needed to be.
While Holden in the line-up hurt the Rangers tonight, the Rangers also scratched Tanner Glass, in favor of rookie Pavel Buchnevich. I didn't agree with this move. Glass has been the best forward in the series & has been great. I understand the Rangers are looking for offense, but with Glass out, they give up defense & a tough-nosed player to off-set Ott and Gallagher. Glass did nothing to deserve his benching, he was just the lowest man on the totem pole.
Speaking of AV and his lines, this is what he rolled out tonight:
OFFENSE
First Line: Kreider/Zibanejad/Buchnevich. They've had some success this year. More on Kreider to come.
Second Line: Vesey/Stepan/Nash. Arguably the best line of the game tonight.
Third Line: JT Miller/Kevin Hayes/Mats Zuccarello. A demotion for Zucc? Zucc is a top 6 forward. When Buch is in the line up, Zucc usually plays with Kreider/Zibanejad. I guess AV wanted to get the commie going with a guy who can speak Russian (Kreider) & Zibanejad.
Fourth Line: Grabner/Lindberg/Fast. Why Grabner is demoted to the fourth line, I don't know. The way AV treats Grabner in general is mind-boggling. Maybe Grabner wouldn't share his Bazooka Joe with AV.
DEFENSE
McDonagh/Girardi. The standard bearers. Both have had a good series & that continued here.
Staal/Holden. If I didn't shave my head already, I would be ripping my hair out.
Skjei/Smith. They should be the second pair right now.
Of course, Lundqvist, who seems to be exorcising the ghosts of his last two playoff series, was in net.
One last thing on Glass. Glass, like Lundqvist, isn't the reason the Rangers were in a 2-1 hole, going into this game. We all know that I'm not a fan of Hank's contract and wanted Raanta to start this series.
Before you start in and tell me how great Hank has been in this series, that doesn't mean Raanta isn't just as good or if better. It just means Hank is delivering. I'm happy to see it. I want the Rangers to win a Cup & contrary to popular opinion, I do want to see Lundqvist win it. I just think the team, as a whole, is better off without his contract. Cam Talbot has just been phenomenal since leaving here & for a lot less money. That's all.
That said, starting Raanta tonight, as a way "to shake things up", would've been a mistake. I wouldn't have agreed with that and I would've said that. It's the same reason why I would have not scratched Glass. He's played well and above his pay grade. Just wanted to say that & get that on the record here!
Before jumping right into it, there have been many players that have concerned me this series. Zibanejad has been terrible. Stepan hasn't been much better. Hayes hasn't shown us the greatness he showed in the regular season. However, most concerning to me is Chris Kreider. Where is this tough motherfucker? Where is his piss and venom? Please don't tell me he's scared of skating into Price again. He was tripped.
You know I love Zucc and think he has the most heart on the team. People ask me on twitter all the time, "I know you don't like Lundqvist & his contract, so is Raanta your current favorite player?" I always say Zucc is. I just love his spirit, drive and the fact that he will take a licking and keep on ticking. Kreider used to be like that too, but not in this series.
At the end of every whistle, Zucc is out there pushing people around and taking some cheap shots. Stuff like this doesn't show up in the box score, but no one out works Zucc. The guy is getting smashed and cheap-shotted about 67867896789 times a game, and he's right back there every damn time. Even Rick Nash is battling after whistles. Where is Kreider?
Kreider has been snake-bit all series, missing tip-ins, shooting wide and being afraid to lay a body. The Rangers really need him to step up. The Rangers must win 2 of their next 3 games. The Rangers need Kreider to become a difference maker in this series. Kreider has been as brutal as the refereeing in this series and the Rangers need that to change and quick.
BOX SCORE time! As always, credit to ESPN.com, since NHL.com is impossible to use!
1st Period Summary

Time
Team
Scoring Detail
MTL
NYR
11:39

Jesper Fast (1)
Unassisted
0
1
18:37

Torrey Mitchell (1)
Assists: Shea Weber, Alexander Radulov
1
1
Time
Team
Penalty Detail
13:25

Andrew Shaw: 2 Minutes for Tripping
14:21

Rick Nash: 2 Minutes for Goalkeeper Interference
15:59

Alexander Radulov: 2 Minutes for High-sticking
19:55

Ryan McDonagh: 2 Minutes for Slashing

2nd Period Summary

Time
Team
Scoring Detail
MTL
NYR
4:28

Rick Nash (2)
Assist: Ryan McDonagh
1
2
Time
Team
Penalty Detail
17:28

Derek Stepan: 2 Minutes for Hooking

3rd Period Summary

Time
Team
Scoring Detail
MTL
NYR
No scoring this period
1
2
Time
Team
Penalty Detail
No penalties this period
Goaltending Summary
Montreal Canadiens Goaltending

Player
SA
GA
Saves
SV%
TOI
PIM
C. Price
32
2
30
.938
58:31
0

New York Rangers Goaltending

Player
SA
GA
Saves
SV%
TOI
PIM
H. Lundqvist
24
1
23
.958
60:00
0
Team Statistical Comparison
Key:  Montreal   NY Rangers

Total Shots
 24
 32

PIM
 4
 6

Hits
 25
 43

Giveaways
 16
 15

Takeaways
 4
 13

Faceoffs Won
 37
 31

R. Nash (Rangers – LW): Goals: 1, Assists: 0


H. Lundqvist (Rangers – G): Saves: 23, Save Pct.: .958



C. Price (Canadiens – G): Saves: 30, Save Pct.: .938
While the Rangers did test Price at points in Game 1 & 2, the Rangers really brought the pressure in Game 4, after doing nothing in Game 3. For Lundqvist, it's tough to say if this was his easiest game of the series, but it was definitely much easier than Games 2 & 3.
Some of the talk before this game was like my Game 3 blog – talking about how quiet M$G was. In fact, one idiot wrote this:
I talked about in my Game 3 blog why I thought M$G was quiet. You can read that blog, by clicking the link at the top of this blog. That said, nothing really ever offends me. However, while I'm not offended, this NYRFULLTILT guy, is just an idiot. What makes me laugh, is this guy buried Talbot and called me a "fucking asshole" for saying the Rangers should've kept Talbot & traded Lundqvist. Yes I'm a "fucking asshole" for having an opinion that is not his. To this mentally challenged nitwit, blaming 9/11 for the Rangers lack of success is ok, suggesting that Hank has a bad contract is not ok!
Since posting this stupid tweet, this moron has back-pedaled and deleted the tweet. He is now on the apologizing tour because 99% of the Rangers fanbase lashed out at him, not because he saw what was wrong with what he tweeted. I wonder if he blames "The Japs" for no Ranger Cups during WWII or the "Charlies" for no Cups during Vietnam. Either way, this guy has always been an idiot and I hope he can realize that it is delusional to compare real life tragic events to sports.
If you want to relate 9/11 to sports, talk about the Yankees World Series run. How the NY Giants helped the community. Talk about Piazza's homerun. To blame a hockey team's failure to win a Cup on 9/11 is flat out wrong and dumb. It's a shame this guy is only apologizing because of the feedback he received, not because he saw the error of his ways.
Anyway, the point in all of this, is that "M$G is dead" was a story line going into this game. Whether it was Easter Sunday, a solemn National Anthem or the bad play on ice, NYR fans redeemed themselves in this game. You could hear people on TV say "DROP THE PUCK" after the anthem. I heard someone say "SHUT UP" during a Potvin Sucks chant whistle. "LET'S GO RANGERS" & "HEN-RY" chants bounced all over the Garden. I do gotta mention, that I did find it funny that a "HEN-RY" chant broke out after Girardi blocked a puck. Poor Dan, he will never get any credit for his good play.
Another NYPD officer did the Anthem tonight, and the singer was much better than the Game 3 singer, going for an uptempo rendition, rather than a solemn one. That was needed big time. It's the little things that matter.
The Rangers started this game on fire, controlling the puck and getting to Price early. However, aside from Rick Nash, no one was really crashing the net. That needs to change. While Price was tested tonight, people need to get into his face.
Sean Avery was at the game, after his tweet from Sunday night. However, M$G didn't run the story nor show him on camera. Missed opportunity in my book. I rather see the Avery story on the pregame show than Vally, Duguay & Trautwig reminding me of the lowlights from Game 3. I'll tell you what, NYR missed an opportunity to make this Avery thing "a thing", something that NYR could feed off for this playoff run.
For Montreal, Gallagher, Radulov the Drunk & Ott made their presence felt. The Rangers really need to hit these guys. How many times can Gallagher be up Hank's asshole, while the Rangers do nothing about it? I only saw Rick Nash go after Gallagher in this one.
On Nash, let's give it up to him. He had a monster of a game, on both ends of the ice. He was great defensively, would score the GWG & potentially could've had a hat trick. However, if every game winds up with Nash getting "The Broadway Hat", I got no issues with that either.
Holden, as mentioned was terrible. On his first play with the puck, he made a brutal turnover. Lundqvist would prevent a goal. Later in the period, Jesper Fast would go five hole on Price, giving the Rangers an early 1-0 lead. This was a huge goal, because really, the Rangers needed the lead. This crowd wants to explode and Fast gave them a reason to.
The Rangers would get their only powerplays in this period, going scoreless in both of them. They are now 0-12 in the series. This has to change. You are not winning a Cup by having a powerplay that never scores.
Nash would also take a penalty, as he looked to have scored on Price, but it was waved off as it was ruled that Nash kneed Price in the head. Price certainly embellished the knee, as he took a bump like a WWE wrestler. The knee barely touched Price, but there was Price rolling around like Ric Flair. I can't give Nash shit for this penalty because at least he was driving to the net. Fortunately for the Rangers, Montreal couldn't capitalize on their penalties either. If they did, it could've been the same result as game 3.
However, those pesky late period goals would come back to haunt the Rangers. During a line switch, where the Rangers got away with 6 men on the ice, Holden pulled a Holden, turning a 2 on 1 Montreal opportunity into a 2 on none attempt. Weber casually tossed the puck to Mitchell & he easily scored. 1-1. Lundqvist was too committed to Weber on the play, but when Holden has the best seats in the house for free, it its gonna lead to goals.
1-1 after 1.
Going into the second period, I thought AV should've just went with 5 defensemen for the rest of the game, you know, doing an addition by subtraction thing. That didn't happen.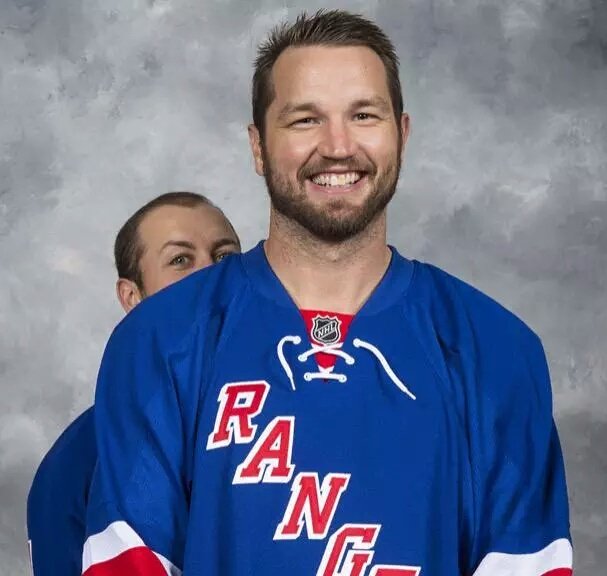 The second period was a strong period for the Rangers, as they doubled up on SOG, 12-6. Starting off the period on the PK, after a late first period slashing call on McDonagh, the Rangers were great on the PK, especially Michael "AV Hates Me" Grabner. Grabner made this play, where he got the puck and instead of firing it down the ice at a million miles an hour, he assessed the situation. I guess you can do that when you're faster than everyone else. Grabner got the puck, took his time and lolly-gagged the puck down the ice and made his change. I can't stress how perfect of a kill this was.
Then, four minutes into the period, Rick Nash showed up, AGAIN. We've all been hard on Nash over the years, and rightfully so. However, he's been great this entire series. If it wasn't for Holden in Game 2, Nash would've been remembered for scoring in that game too.
Don't be fooled. As I've said all season, when it comes to the big money contracts Nash & Hank have, it's what they do in the playoffs that will be remembered most. For the two highest paid players on the team, both Hank & Nash are delivering.
Nash would take a loose puck after a McDonagh shot and got it through the wickets of Carey Price. 2-1 Rangers. Who would've thought that would be the final score? Give credit to Carey Price, Lundqvist and the goal post for keeping this game at 2-1.
For real – it's not like the Rangers didn't have ample opportunities to extend their lead. Pucks were either "just there", guys went wide, the PP sucked, no one crashed the net, Price made good saves, etc. However, luckily enough, Lundqvist had another strong game. Remember when Lundqvist said "give me two goals and I got this?" That has been his mission statement all series.
With McDonagh and Girardi playing like a top pair all series, Nash & Lundqvist delivering is all any Ranger fan could want. That's why Sather gave these guys so much money. For one game, it worked. Do it 14 more times and I'll do the macarena.
The second period got chippy. Montreal would cheap shot Zucc after every whistle. No call. However, Stepan would be called for the worst hooking call you'll ever see. The call was even worse, considering that Brendan Smith got cross checked twice, even drawing blood on one of them, and nothing was called. When will the NHL hold their refs accountable?
Zibanejad continued to have a horrible series, after doing the normal "We got to be better, blah blah blah" shit after game 3. Like "STACKS" from "GOODFELLAS", if he keeps this up, he will be late to his own funeral.
Michael "WE'RE ON A PP, GO GET ME FUCKING GUM AND SIT YOUR ASS DOWN" Grabner also made a great play in the latter stages of the period, shooting the puck through a Canadien's defenders legs, only for Price to see it and make a close save. Once again, Grabner has a great game, but is relegated to the fourth line and gets no PP time, on a PP that is 0-12 and was terrible all season.
Derek Stepan, who would finish 5-18 on the faceoffs and was miserable on the PP, continues to get big minutes. Glass sits and Grabner gets no PP time though. I understand what Stepan has meant for this team over the years, but with the way his contract is written, NYR may look to trade him before his NMC clause kicks in.
2-1 after two periods. The longest twenty minutes of the season were on tap.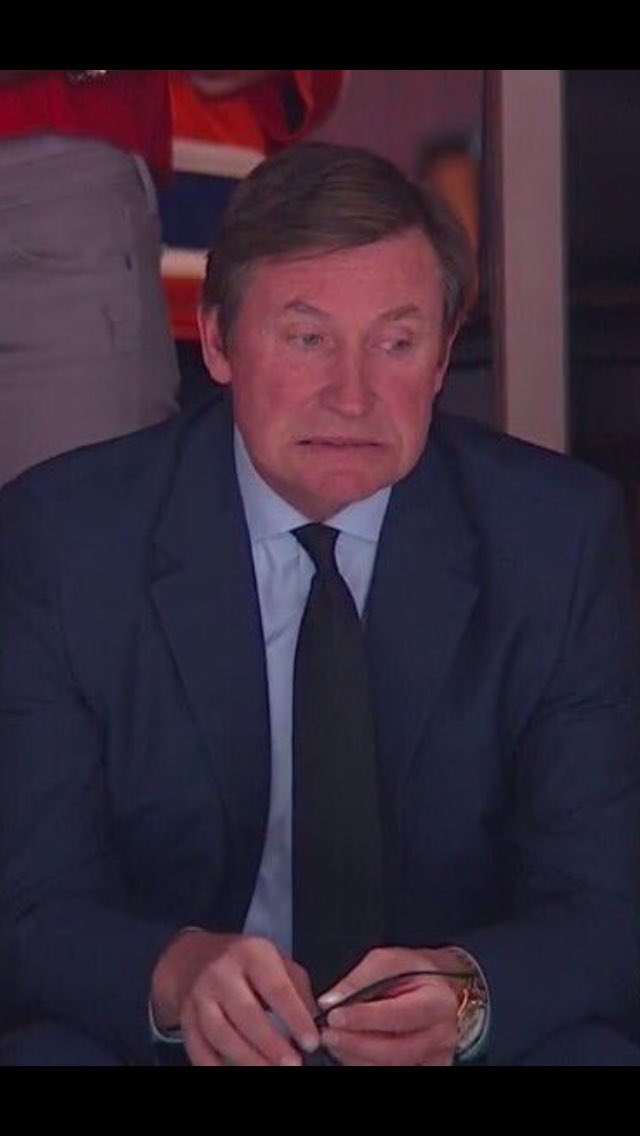 There was a lot of nervous energy going into the third period. It was funny, I watch these playoff games with my neighbor/friend, a one Mr. Tommy C., and while Vally was doing his breakdown, I said "watch, Vally has something silly to say." Why did I say that? Because Vally was smiling to himself & trying to contain laughter during his whole breakdown. Of course, after he was done, he took a shot at Trautwig, as Vally & Trautwig have the best straight man/fall guy routine in the NHL today! I'm gonna miss that once these games leave the MSG Networks!
Seriously, we've all done this. We all had a joke in the holster and ready to go & we are laughing just thinking of it. Vally showed his hand here for sure!
This third period was shart-inducing. As the Delta Club seats remained empty, as people still filled up on free food, Lundqvist was out there losing his stick, while McDonagh made a great play to prevent a point blank look for a Canadien. One can not overstate the importance of Ryan McDonagh this series. Eventually a "PING" sound was heard, but luckily for NYR, the puck took the wrong bounce for the Canadiens.
This third period was the equivalent of smoking a carton of Newports – it took days off your life. In a matter of minutes following the previous plays described, the Rangers went on a 3 vs 2 but couldn't get a shot off. Lundqvist would lose his stick again and wouldn't get a whistle as Montreal whacked away. McDonagh would be blatantly cross-checked, but no call. Again, I can not stress enough about how bad these refs were.
As the game whittled down under 10 minutes, the Rangers did the dump, kinda chase and make sure to meet the Habs at the blue line game. Montreal couldn't beat this strategy and with a goal separating the teams, kept going for long bomb passes that were turned into icings. I'll take that all day!
As the game went under two minutes, and after Smith was cross checked twice with no calls, you could feel the turtlehead leaving your gut and approaching your anus.
The only thing I could think, with the game going to 90 seconds remaining was "DO NOT LET HOLDEN ON THE ICE." He wouldn't be.
The other thing I thought was, with Montreal up 6 vs 5 (Price pulled), just take the icings. If you are shot, take the timeout after the icing. Just clear the puck and keep it away from Hank. That said, Weber still got a ping off, as the Garden gasped for air like someone in the iron lung ward.
Make no bones about it, the NHL playoffs are fucking exciting and the best playoffs in all of sports. Just last night, you had all four games go to OT. The NBA playoffs suck, especially when the majority of first round games are blowouts. That said, the last two minutes of this Rangers game felt like an NBA game, with all the icings and timeouts. Plus, with shaky refs, you didn't know what was going to happen.
Eventually, the time would expire and the Rangers would win this game. Just a thought, if you can't touch the puck & it's under 15 seconds, why not take a penalty to prevent an opportunity? Yes, it gives the other team a 6 vs 4 faceoff for a few seconds, but if you can win the faceoff, you win the game. I rather see a Ranger boxed than a Canadien get a perfect wide open look with 10 seconds to go. I know the cons against it, but seriously, do you want a perfect look at your goalie, or would you rather scramble, get your best defenders out there and prevent a perfect shot, all while having the clock on your side?
All that said, the Rangers win 2-1 and even up the series. This wasn't the last home game at M$G this season.
14 wins separate the Rangers from a Stanley Cup. To keep the dream alive, they must win two of the next three games. Game 5 isn't a must-win, but we all know the importance of this pivotal game. It could swing the series.
Looking ahead, the Rangers played great in Montreal. However, those games don't matter anymore. It's a best of 3 at this point.
AV is around these guys every day, so I don't kill him as bad as most fans do. That said, there is no fucking way Holden can play in Game 5 or really, the rest of this series. He's been outmatched and badly outplayed the whole way. If Klein is hurt, I rather see Kampfer for defense. I know some fans want Clendo, but I rather a strong defensive defenseman, than an offensive defenseman. That's me.
As far as Glass vs Buchnevich, I see the pros and cons for both of these guys. AV usually doesn't shake up the line-up after a win, so I assume the Russian starts. I'm not gonna sit here and shit on Stepan or Zibanejad, but really, the way this series is going, Glass deserves to start over them. That said, you're not gonna sit one of your top 2 centers.
Coaching leads to instant gratification or Monday morning quarterbacking. If NYR lost tonight, everyone would be screaming about Holden, the power play and how Glass should've played. The Rangers won, so the fourth line isn't as much of an issue as Holden is.
As far as the line shakeups, as I said before, AV doesn't tinker with his lines after wins. What he should tinker with though is that horrible PP.
Quick parting shots on the playoff series thus far:
Washington vs Toronto. How can you not pull for Toronto to win this? Let's Go Dart Man and the Leafs! Please check Caps twitter after a loss. It's nothing like NYR twitter! All the pressure is on the Caps to win it all this year. If Toronto wins Wednesday night, the hockey world is gonna be flipped upside down.
Pittsburgh vs Columbus. Columbus extends their stay for a game. I was hoping, when up 3-0, Pitt would just sweep the Jackets, with the thinking that Pitt would have playoff rust for the second round. I don't care how Washington finished, Pittsburgh is still the team to beat to me.
Ottawa vs Boston. How about that Brassard? Mika who? The refs have fucked this series up, giving the Senators a game 3 win.
Edmonton vs San Jose. It's tied up 2-2. Oilers got smoked tonight. Better off losing like that than in OT. Hopefully this motivates them in a Game 5. I still think EDM in 6.
Anaheim vs Calgary. Thanks for coming out Calgary. Elliot has been terrible in net for the Flames. Cost them the series.
St Louis vs Minnesota. I did not see St. Louis up 3-0 at this point. Go figure, St. Louis were sellers at the deadline too.
Nashville vs Chicago. Nashville is on the verge of sweeping the Hawks. No one predicted that. I'm happy for Nashville. Good to see hockey thriving in a new market. Who would've thought a Tennessee team would have a louder building than an Original 6 team?
See ya Thursday for another gut-wrenching experience.
As always,
LET'S GO RANGERS
Sean McCaffrey
BULLSMC@aol.com
@NYCTHEMIC on the tweeter