What's up everyone and welcome to another blog/manifesto, here on BlueCollarBlueShirts.com. It is August 3rd as I write these words, which means NFL preseason games will come and go & before we know it, NHL preseason games will take place too. As I talked about in my last blog, I am not a summer guy, so I'm looking forward to the Yankees challenging for a World Series, the Giants kicking off and the puck dropping in Madison Square Garden.
Fortunately for me, I'm a Yankees/Giants/Rangers fan, with an indifference towards the Knicks. I'm a bigger fan of MMA, boxing and wrestling than the NBA these days.  While some of you are diseased with the sickness of being Mets/Jets/Rangers fans, which means you haven't seen much success, at least I got the Giants & Yankees to offset all the failures from the Rangers.
Often, when I point out that it's tough to be a Rangers fan, because of the four Cups in 90+ years, I get into these silly social media debates with the well thought out response of "YOO R NOT A REEL RANGERZ FAN YOU GAY FAGGET!" I know that some of these people that read this blog or converse with me online are young, but there is a difference between reality and fantasy. Of course, I want to see the Rangers win the Cup every year. It just doesn't happen that way. In fact, it's only happened four times in nearly a century.  While I root for them to win, I have realistic expectations. Sometimes it's better to have low expectations so you don't get let down!
I'll get into one of these astute fans at the end of this blog, just for your amusement!
Before rocking and rolling, as always, in case you've been missing in action during this "cruel, cruel, summer", (I have no clue why I have Bananarama on my mind) here are some of my more recent blogs, for your reading enjoyment:
---
---
---
---
---
Since the end of July-beginning of August is the slowest period of the NHL year, I'm going to start off with the Ken Dryden "The Game" book review. If you're here just for the Blueshirts, scroll down until you see King No Cup's new pads.
When you make your Top 10 list of the greatest goalies to ever play the game, Ken Dryden is on that list. If he didn't have such a short career, which included 5 Vezinas & 6 Stanley Cup wins in 8 seasons played, who knows if he would've been considered the greatest of all-time? You can definitely argue that he could be in your Mount Rushmore of goalies. One thing we can all agree on – Henrik Lundswiss is not a Top 10 goalie of all time or even Top 10 in today's NHL! (Had to get that in there!)
While I'm not here to give you Ken Dryden's biography, in case you live in a world where you don't try to learn about people who lived before you, here's Dryden's highlights, taken from Wikipedia.com:
Dryden has received doctoral degrees from nine universities including University of Ottawa, Saint Mary's University and University of Winnipeg. His hockey awards and honours are numerous and include:
Conn Smythe Trophy winner in 1971.
Calder Memorial Trophy winner in 1972.
Played in 1972, 1975, 1976, 1977, 1978 NHL All-Star Games.
Selected to NHL First All-Star Team in 1973, 1976, 1977, 1978, 1979.
Selected to NHL Second All-Star Team in 1972.
Inducted into the Hockey Hall of Fame in 1983.
In 1998, he was ranked number 25 on The Hockey News' list of the 100 Greatest Hockey Players.
His number 29 was retired by the Montreal Canadiens on January 29, 2007.
His number 1 was retired by the Cornell Big Red on February 25, 2010 making him one of only two players to have his number retired by the Cornell hockey program, the other being Joe Nieuwendyk.
As talked about previously on this site, while working every day at the real job, I have time to read books on the train and during down time at work. I do wish I had time to watch some of these classic games that I got on DVD, but I got to do that on my own time. (For the record, the next time machine game review will be between the Rangers and the 1974 Broadstreet Bullies/Flyers.)
I get most of my books used on Amazon.com. Unless there is something I really want the day of the release (Such as the 99 Gretzky book, the Rangers vs Islanders Stan Fischler book, etc), I find it easier to sit back and wait until the price drops tremendously. Speaking of (You know I love my tangents), this fall features some great releases, as there are books on Sean Avery, The California Seals, Emile Francis, NHL 100 and Gilles Gratton. I already have that Sean Avery book pre-ordered!
If you're familiar with Amazon or really any website these days, all these sites track your internet activity and buying history. As I have 1000+ books at my house, with maybe 20% of them hockey related, I'm often suggested other hockey books to buy from Amazon. It's true – the robots are controlling the humans. It's like Terminator!
For a while, one book kept constantly popping up in my suggestions and that was "The Game" by Ken Dryden.
Going into this book, obviously I was aware of who Ken Dryden was/is. Outside of clips, I've never seen him play a full game. I've talked a lot about NHL history on this blog, so while I was aware that Dryden was an all-time great, I often wondered was it because the deck was in his favor? After all, the rights to players always favored Montreal and Toronto. The game of hockey was an infant in Montreal, and now, 100+ years later, that infant has traveled to all parts of the world, but make no mistake about it – Montreal is still home.
In what was a refreshing part of this book, Dryden actually talks about his success and why playing for Montreal made him look much better than his peers. That said, he also talked about the pressure of having to win in Montreal, as opposed to other markets during his time. Dryden also talks everything about the NHL, the Canadiens, and everything else hockey related during early 1979. The book, which is presented in the present tense, may feel weird looking back on 30+ years later, but it was a fun escape, as I "time-warped" to Dryden's era. As I've talked about repeatedly on this blog, I love history, whether it be American or sports related, so this book really appealed to me.
While Ken Dryden has an interesting life story/autobiography to write, this book isn't that. It's a book, from the greatest goalie of his time, observing the NHL, in all of its many facets. You're not going to hear about the guy at the malt shop that was nice to Dryden as a kid and gave him a pair of runners. This book is about a man about to retire, change his life and pondering his future. While a few games of the 1979 season are discussed in-depth, (The 300+ page book is broken down as a week in 1979) Dryden goes into his thoughts on the past, present and future of hockey, the media, his teammates, traveling, family, commercialization & many other topics.
While I knew about Dryden and the last Montreal Canadiens dynasty, I didn't know until researching about this book, that many people in the hockey world agree with Sports Illustrated, and consider this the best hockey book of all time. While this book wasn't the "Ball Four" of its time, it's a book that connects you at a human level. At times, it feels like you're at a gloomy bar, day drinking with Ken Dryden, as he talks life, as one hour goes into the next. While this book is about hockey, at times, you're getting the perspective of the world from the eyes of Ken Dryden.
This book, which Dryden started collecting notes for in 1979 and was originally published in 1983, was written by a 35 year old man. Being 35 years old myself in 2017, this book kinda hit home a bit and showed me the differences of the world today compared to Dryden's day. The world and life in general was different. While in America, the world will always be different after 9/11/01, for Dryden, in Canada (And eventually England) in 1983, Dryden comes off unique, aged and wise beyond his years. In fact, Dryden would make many predictions in this book, which all eventually happened over the course of time.
Is this the greatest hockey book of all-time? Like anything else, it's all subjective to your tastes. While everyone can agree that this was a well-written, deep and thought provoking book, it may be slow & DRY at times (no pun intended) to some American and/or non-Montreal Canadien fans.
I have read 100+ hockey books, maybe even more, and it's tough for me to pick out my favorite book. "Thin Ice" by Ratso Sloman  is up there. So is "When the Rangers Were Young" by Frank Boucher. I really enjoyed Conn Smythe's autobiography too. As an American and a Rangers fan, I enjoyed other books better than "The Game", but at the same time, "The Game" was much different than the other books I've read.
If you're not familiar, Dryden may be one of the smartest hockey players to ever play in the NHL. Dryden, who gave up one season of his prime to get his law degree, would eventually go on to become a politician, serving in Canada's Parliament, which is kinda like being a Senator in the United States.
I do believe, because of Dryden's playing career in Montreal, which really, is a different city than other parts of Canada because of the French background, this book can get confusing at times for people not familiar with Canadian history. While Dryden did play hockey for Cornell, in NY, he too, also speaks of the divide among English and French speaking Quebeckers. There were times during this book where I had to do a quick Google search on a word used or an event talked about, to get the full impact of what Dryden was saying. To me it's no question – if you're from Montreal or a Canadiens fan, this book is a must-read. You'll love this book, especially if you love learning about history.
With that all said, let's take a look at select passages from the book, with my comments below. For more excerpts from the book, check out my twitter @NYCTHEMIC.
---
When I finished this book, I really took a lot out of it. I really felt that I shared many of the opinions that the 35 year old Dryden had in 1983. What I don't think Dryden knew, was how accurate he would be, in predicting the future. Then again, maybe he did. He's a smart guy.
Dryden is easily one of the top goaltenders to play the game and despite all his accomplishments, the book isn't about his career, nor a boastful account of his time playing. It is from a man at the crossroads of his life.
Best hockey book of all time? That's up to the reader. However, regardless of where you rank this book, to me, it's a MUST READ.
"The Game: 30th Anniversary Edition" is currently on Amazon.com for $1.32. You know you've spent money on worse. Shit, that's two beer price hikes in Dryden's day!
I will say this, and I'm not trying to sound conceited, you really need to sit down and be invested in reading this book when you crack it open. This is not a beer and puck bunny type of book at all. It does get wordy at times and for Americans, there will be times where you will have to google some stuff to understand some of what Dryden is trying to convey. It also helps to know your history a bit too, because as while most of the stuff Dryden was saying I understood, for someone who doesn't know their history or players from the past, you could get lost.
Overall, this was a very enjoyable book and I'm glad Amazon suggested it to me. All hail King Dryden!
---
In case you've been living under a rock, if you haven't seen them already, Henrik Lundqvist sent this picture out on his social media accounts. I gotta say, I'm not really known to be a Lundqvist fan, (NO SHIT!) but even I have to admit – these pads are pretty awesome. I just wonder if his vaginal pad matches? As someone who loves NY, it's going to be sad to see goals going through his pads like illegal immigrants flowing into NYC!
All jokes aside, these pads are pretty fucking cool. It really shows you how slow things are when I saw this picture about 78967895678957547859566485667854646785568456845674 times all over social media.  I saw one fan tweet, "these pads will change his game for the better." Yea, because when I wear a different pair of pants to work, I'm all of a sudden better at my job too!
If anything is to be said – I really hope the Rangers bring the Liberty Head jerseys back. We all know that Adidas is not releasing any third jerseys this year, but maybe they can use the Liberty Head jersey for the "away" game at Citifield this upcoming season?
Speaking of Adidas, check out  this article, from the NY Post:
Adidas on Thursday announced the sale of CCM, its iconic hockey brand, for $110 million.

Birch Hill Equity Partners, a Canadian private equity firm, is buying the storied 118-year old company.
The deal confirms an exclusive story in The Post on July 20 about the expected deal.

Adidas is lending Birch Hill money equal to at least one-third of the purchase price, a source familiar with the situation said.

The seller financing was necessary after traditional lenders were not comfortable lending to CCM in a leveraged buyout since the Weston, Ontario, company has been losing money, the source said.

Reebok bought CCM, maker of hockey helmets and sticks, in 2004 for nearly $400 million, including debt. The next year, Adidas bought Reebok.

CCM's value, and its business, have fallen since then. Its market share of the hockey equipment business stands at roughly 35 percent. Rival Bauer has a roughly 50 percent share.

Adidas, with this merger agreement and the earlier sale of its TaylorMade golf division, is now close to exiting the hard goods space.

Adidas could not be reach for comment beyond its announcement.
Just so you can follow, here are the chain of events:
CCM, Reebok and Adidas were once all separate entities.
Reebok bought CCM in 2004.
Adidas bought Reebok, thus also acquiring CCM, in 2005.
Adidas takes over Reebok's contract to supply the NHL with new jerseys, hence new jerseys being released for the 2017-2018 season.
Adidas just sold CCM last week
I'm not going to lie – I'm a fucking sucker for merchandise and memorabilia. Even my fellow Ranger fan curmudgeon, known as @ScottyHockey on twitter, made fun of me for buying too much shit at a game this year. (He also made fun of me for standing up during a play, because I thought Derek Stepan would score on a breakaway!) While I have many Reebok Ranger jerseys (And Starter & CCM Ranger jerseys, which fit a teenage me years ago), I'm still going to buy an Adidas jersey for full retail price. (As stated previously, I'm all aboard the Shattenkirk train and what he did to sign here.)
That said, this is just the latest cash grab in the world of sports. Essentially, the same parent company is now making NHL jerseys, with a few tinkers to "warrant" a $200 retail price point. It's funny – NHL.com has been bombarding my email address with discounted Reebok jerseys all summer long, as they get ready to make the switch over to Adidas jerseys on the site.
It's times like this where I'm reminded that the Rangers (and the NHL) look at me as a CUSTOMER and not as a fan. Just the reality of today. Dryden could've seen this one coming!
---
From USAHOCKEY.com:
Three different U.S. players scored and both Logan Brown (St. Louis, Mo.) and Casey Mittelstadt (Eden Prairie, Minn.) had multi-point games for the second-straight night as Team USA earned a 3-2 victory over Sweden here today at the World Junior Summer Showcase.

"Tonight we saw a different kind of fight in our players," said Bob Motzko, head coach of the 2018 U.S. National Junior Team. "Having talent and skill is one thing, but having the will to grind out a win is an intangible our staff was excited to see. We'll enjoy tomorrow off and get ready for two great games to close out the Showcase.".

The U.S. returns to action Friday when it takes on Finland at 4 p.m. ET. That contest will be televised live on NHL Network.

Sweden opened the scoring with 3:53 remaining in the opening frame when Lias Andersson snuck a wrist shot past Keith Petruzzelli (Wilbraham, Mass.) from the top right circle.

Team USA evened the score 5:16 into the second stanza when Riley Tufte (Ham Lake, Minn.) fired a snap shot by Sweden's goaltender Filip Larsson. The play started when Mittelstadt sent the puck down low to Brown, who found Tufte alone in front of the net for the tying goal.

Kailer Yamamoto (Spokane, Wash.) gave the U.S. its first lead of the game when he found a rebound off an initial shot from Brown and one-timed it in at the 10:11 mark. Sweden netted the equalizer 2:18 later when Andersson tallied his second goal of the game.

With 5:50 remaining in the period, Quinn Hughes (Orlando, Fla.) scored on a long-ranged wrist shot from the blue line to give the U.S. a 3-2 lead while on the power play.

Petruzzelli stopped 15 of 16 shots he faced in 30:11 of action before Dylan St. Cyr (Northville, Mich.) made 21 saves in relief.
Why do I mention this otherwise uneventful World Junior Summer Showcase game? Lias Andersson, your New York Rangers first round draft pick, scored two goals in the game. This led me to thinking – is Andersson making the big club?
With the bulk of free agency over, although a few veterans will be signed as the season comes closer to starting, I sit here and wonder – is this it for the New York Rangers?
The Rangers had a chance after arbitration, to buy out Marc Staal. They passed on the option, mainly because of the huge dead weight money it would've cost the Rangers on the salary cap for 8+ seasons. As I've said all along, if you're gonna buy someone out, why not buy out the biggest liability – which is Marc Staal. In other words, if I was going to buy out anyone, it would've been Staal and not Girardi.
With Staal remaining with the club, unless trades are made, it puts the Rangers out of the Matt Duchene and Tyler Bozak trade sweepstakes.  Whether Colorado and Toronto, respectively, make moves with these players remains to be seen, but one thing is now known – without a trade that lowers the Rangers cap hit, the Rangers can not make a deal for either. In other words, the Rangers can't just trade picks for these guys, they would have to trade players with significant cap hits to make a deal work.
Going into this season, I just don't see how the Rangers are better than the team that choked against Ottawa. I don't see how, barring injuries to the Penguins, how they even get past Pittsburgh in a 7 game series. Granted, the trade deadline will shake up rosters for playoff teams, but as a Ranger fan, this is the first time in the AV era where I wonder if they even make the playoffs.
I'm aboard the Shatty train, and while the Shatty move helps the PP, it doesn't make the Rangers better defensively. The Rangers have traded two starting goalies, that both posted better stats than Lundswiss last season, over the last three seasons, in Talbot & Raanta. Now taking the back-up job is Pavelec, and unlike Talbot & Raanta, I don't see Pavelec carrying the load when Lundswiss goes through his normal bad stretch of games and injuries. Is Pavelec really going to get you 15+ wins? You better hope the Rangers PP is light years better than the crap you saw in the 2017 playoffs, because this team is going to have to win high scoring games.
If you look at teams that have won Cups in the salary cap era, while you will see that not one team with a Top 5 paid goalie has ever won a Cup, you will see that all the Cup winning teams were solid down the middle. Zibanejad, Hayes, Miller and Andersson, aren't exactly a murderer's row. In a best case scenario, you hope that you have a New York Yankees situation, where the young blood really steps up and smashes the expectations of everyone. Where the Yankees are really relying on rookies, Hayes & Miller have time under their belt and the pressure is on them to deliver. For Zibanejad, it's debatable if he's a number one center. He will have his chance to showcase himself this season in that role.
Also of note, David Desharnais is on the payroll, but who are you bumping? Sure, Hayes or Miller could go to the wing or Andersson doesn't make it, but as I always say – is this a team rebuilding or in a win now mode? You can't half rebuild a house and I feel the Rangers have been doing that the last two seasons. Of course, this goes hand-in-hand with my "Trade Lundqvist" rhetoric, but really, if the Rangers are trying to get younger and rebuild, why are we paying the most money in the league for a goalie that just doesn't have "it" or the mettle to win? Lundswiss will always blame people first, rather than standing on his head like the all-time greats and win a Cup.
Defensively, while McDonagh is still the man and Skjei will only get better, the defensive pair that was absolutely brutal in the playoffs, in Nick Holden and Marc Staal, still exist. While McDonagh & Shattenkirk will be your top pair, Skjei will team with Brendan Smith, who hopefully has a first two years Kevin Klein like season. Staal, because of the money, will be on the third pair with Holden and DeAngelo challenging for the final spot, unless someone else can make it out of camp. However, the Rangers are known to play their money guys, so while you may hear names like Sean Day or even Steven Kampfer, most likely, it's DeAngelo or Holden.
I ask you again, is this team better than the team that choked against Ottawa? Very rarely am I the optimist, but I didn't have high hopes for the Rangers in 2013-2014 (I never thought a Cup run was going to happen) nor did I think the Yankees would be in first place in August. All you can do is hope, but I admit, I am leery.
In my never-ending quest to see Jagr return to the Rangers, I am sad to report that in Day 34 of Free Agency, Jaromir Jagr is not a Ranger, nor part of any NHL team for the upcoming season. $1.5M/1 year, MAKE IT HAPPEN!
For all the hockey/sports books I read, I read many American history books (Usually on ex-presidents, with Andrew Jackson & anything John Adams vs Thomas Jefferson piquing my interest the most) and political books. Milo Yiannopoulos, for all his craziness, is someone I enjoy reading. His new book, "DANGEROUS" was a great read in my eyes.
The reason I mention Milo, is because he is perhaps the best and most famous internet troll of all time. I mean, the guy got banned from twitter for talking the truth about the untalented Leslie Jones. While I don't agree with everything Milo says, I respect his right to say it and I appreciate his first ballot HOF trolling.
Listen, we've all trolled on the internet, for many different reasons. I admit, my number one reason for trolling is usually out of boredom. Who do I troll? Usually Chelsea Handler or other anti-Trump celebrities, who turned political once Trump was elected. Usually, I respond to anti-Trump rhetoric on my LIRR train, as it's a way to kill time on ride home.
While I'm not trying to be political here, just a quick backstory, as I have been asked about my pro-Trump tweets from some readers. I voted for Obama twice, as I thought he was the best man for the job. I thought McCain was too old in 2008 and I was nervous about Palin as a successor. In 2012, I could never vote for a person who believes in magic underwear, like the Mormon Mitt Romney. In 2016, I voted Trump, because I believe strongly in America first and because of the hypocrisy & lies from the Clinton family. That said, I don't care who you voted for, everyone is entitled to believe in what they believe in, this is just me.
I also believe America is the greatest country in the world and I love where I live. Could things be better, especially here in NY? Sure. We have the worst mayor, in my opinion, in NYC history and that includes the early corruption days of the 1900's. Still, I love our right to talk shit whenever we want and our freedoms to express ourselves.
Maybe I'm too pro-America to a fault. While I've voted for the winner in the last three elections (I voted Kerry & Gore previously) as a student of American history and as someone who respects the office, I just don't like people burying the President relentlessly. Yes, we now live in the "FAKE NEWS" era, where "FAKE NEWS" is part of American lexicon, but I believe, no matter your political beliefs, that we should all support the President, no matter what. In fact, I respect people who have a strong opinion either way, because it means they care.
I just think it's lazy for weak comedians to talk shit about our President all day, especially when they talk out of the other side of their mouth about a supposed "bully epidemic". I get that's part of their job, but at the same time, I don't think they appreciate their right to talk freely without the fear of punishment. Try doing that in Syria, the Koreas, Venezuela, anywhere in the Middle East in general, etc. As someone who has watched SNL through good and the bad, this season was unbearable with 85% of the show dedicated to Trump.
That said – when I troll, it's partly out of boredom on the LIRR & because of my respect of the office of the President, no matter who sits in the Oval Office.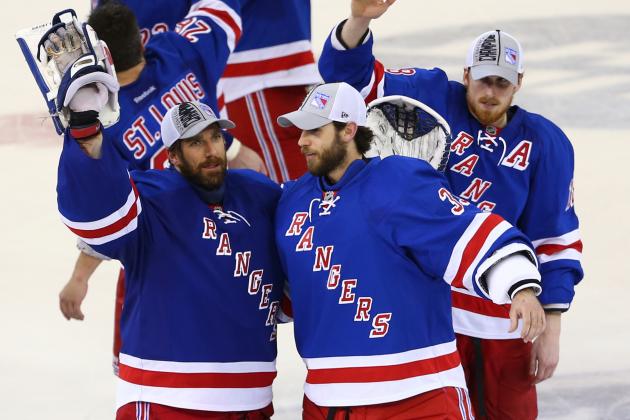 Perhaps because of my 10 years in the wrestling business, I have always embraced the role of a "heel". When I started this blog and sold my wrestling company and using my love of the Rangers to fill my writing void, I knew going in, that I would get a ton of heat for going against the grain. When I started my questioning of Henrik Lundqvist after the 2014 Cup loss, I would say I was vilified from 95% of Rangers social media. Shit, even Lundqvist blocked me on twitter immediately!
I do have to mention, during this time, I would get DM's/emails from random people, telling me stuff akin to "keep fighting the good fight", but they wouldn't say their opinion in an open forum. They just didn't want to deal with the backlash or trolling from fellow fans.
As time went on, like Galileo, all my theories were proven right. On a side note, how funny is it that people, TODAY, believe the Earth is flat? Can you believe that despite satellite images, that people 500+ years later, are still trying to say Galileo was wrong?
Like Galileo, and many other great thinkers of their time, as time goes on, I have gained more followers on my "The Rangers will never win with Lundqvist" talk. I'm not going to recap my opinions on Lundqvist – just read my past blogs on the archives of this site. However, if you're new, in short, I just don't think a team can win when their highest paid player is a goalie. You need to be smarter in this salary cap era. Now I see professional (paid) writers joining my bandwagon and about 78967896978696986 articles about "Can Lundqvist ever win a Cup?" I was just saying this stuff three years ago, while people are now starting to say it. I'm gonna pat myself on the back here – I can usually spot trends before most people do.
That said, because of my "controversial" opinions, I open myself to personal attacks and criticism from Ranger fans and trolls alike. I don't mind, because if I'm going to put myself out there, I have to expect to take it as well. And let me tell you, after 10 years promoting/booking wrestling, Lundswiss fans who live with their mother, can't even scratch the surface when it comes to trolling like wrestling fans can! Five years after leaving wrestling, I still have one fan trolling me about my decision to keep a world championship on one wrestler for 3+ years!
The point of this long diatribe, in an effort to fill space during a dead part in the NHL season? Someone sent me this today:
First off, while I've been trolled before, this troll tweet took time to do, which means you're really the focus of someone. Like Howard Stern, his haters were more in tune to what he was doing than his fans. I should say, this was made by someone who contributes to some Ranger site, where it's basically copy & paste news.  While I respect other bloggers out there (The Kevin Delury one is a blog that I enjoy), let's be honest, no one can write the manifestos I do, (for better or for worse) nor give you more original content. While on Kevin Delury, his blog about Ranger fans is really worth reading. You can read it at: http://thesportsdaily.com/ny-rangers-blog/stop-giving-a-sht-how-other-rangers-fans-root-for-the-blueshirts-seriously-stop/
Most Ranger blogs are short, either copy/paste news like they are breaking a story (the Joe Fortunato specialty) or take a news item and give you an opinion on it, as short as a tweet.
I'm not saying what I do is better or worse, I'm just saying, no one does what I do. I rather do my own thing, and what gives me the most fun, than do what everyone else does. If I really cared about site hits, I could break this blog up into four different entries.
To be honest, I don't read the blog of this guy who made this comic of me. My go-to Ranger blogs/writers are Jim Cerny (my favorite), the Rangers website, the MSG Networks website, Stan Fischler, the aforementioned Kevin Delury, Larry Brooks, Brett Crygalis, Kevin Weekes & others.
Speaking of Stan Fischler, can we all agree, he's closer to the end of his life than most and as dickish as that may sound, can the Rangers please use him on their broadcasts? Can we please have a FRANK BOUCHER IN THE RAFTERS NIGHT, with Stan (the only person alive who knew him well) hosting it? Can anyone in this fucking Rangers organization have any respect for its elders?
To be blunt, I really don't care about the opinions of people who still live at home with their parents and not only couldn't tell you who Frank Boucher was, but weren't even alive for the 1994 run. Again, I don't talk to teenagers in my "real life", so I really don't have any interest in talking to kids in my "social media life."
I also have no time for people who sit at home making pie charts and graphs & play with spreadsheets all day. This is the Blue Collar blog for the Blue Collar fan. I'm here for the beer and having a good time. I rather rant and rave or gloat & boast, with a beer and whiskey in my hand, after a game (and before & during), than taking out my T-Square and scientific calculator after a game. When you take shit out of your pocket protector to talk about a fucking hockey game, that's just not fun to me. Drinking beer and talking shit – that's the American way! That said, it's their right to make all these graphs and shit, but that's just not for me.
I should say – there have been many "haters", for lack of a better term, who have seen me in real life and either run the other away like a coward, or start talking to me, then reveal themselves. The common reaction – "you're a lot different than I thought you would be." Listen, I don't like Lundswiss, but it doesn't mean I root for the team any different than you do. If I didn't want to see this team win, I wouldn't spend 5 figures a year watching & supporting this team.
I want a Cup. I just don't subscribe to the theory that Lundswiss is the way to get it and I believe if this team was constructed differently, the Rangers would've already won a Cup in my adult lifetime.
Sure, it would be easier to sit here and write countless articles burying Nash, burying Girardi, burying AV, burying Staal and burying Stepan. That's what the majority of basement Ranger fans believe in. I do see the criticisms of the aforementioned players, but let me say this:
Nash wasn't bad this year. He's shed the "Carl Pavano" rep and is a great two way player. However, Ranger fans get on his contract, but ignore the contract of King Nothing.
Girardi was a warrior for this team. However, Ranger fans get on his contract, but ignore the contract of King Nothing. Of note, these same fans say you have to respect Lundqvist because he's been a rock for this franchise. What the fuck was Girardi?
Alain Vigneault, statistically, is already one of the Top 5, possibly 3 coaches in NY Rangers history. Fans get on him for losing, but ignore Lundqvist blowing every two goal lead he's ever had in the  AV era.
Marc Staal is consistently buried by Ranger fans. Okay, I'll give them that one.
Derek Stepan was buried by Ranger fans for his contract and not playing like a first line center. Ignored is Lundqvist being paid the most in the league to play goalie, despite having bottom half of the league numbers! Just a reminder: Cam Talbot was fourth in the Vezina this year and got Vezina votes as a back up in 2014-2015. Lundswiss didn't even get a vote. KING!
That said, while I understand why some Ranger fans don't like me and troll me, it is their right to do so. That's part of America baby!
However, what really upset me about this troll comic tweet about me was the following:
How do you not put tattoos on me? I mean a Cam Talbot or Raanta tattoo would be obvious, right?
I shave my head, so why do I have hair on my sides?
I also wear a hat everywhere, so you could've at least put a Talbot hat on me.
You also could've made a phone case with the Oilers logo on it.
How do you not put me in a "I LOVE TALBOT" shirt?
You should've taken a front tooth out – it is better for comedic effect.
And what bothered me the most – why do you block me, block the people that defend me and then tweet that? Your face is anonymous on the internet, at least have the balls to take some heat back! It's just another case of living in your mother's basement 101. If you're gonna troll, at least have the trollee have a chance to talk shit back! If you don't, what's the point? At least I give the anti-Trump people a chance to come back at me. That's the whole art of trolling. It's a shame that I even have to explain this!
You know it's a slow day/week/month, when I have devoted this much space to this, but fuck it, it's August and I hope this was entertaining. At least this was more entertaining than a troll tweet that didn't live up to its potential! Oh and PS, fuck Lundswiss!
As we approach the wrap of this blog, as 7000+ words is enough on a Wednesday night/Thursday morning, I'm really fearing goals going past Lundswiss and Pavelec, like Chris Kreider going through Pavelec here, during this upcoming season.
As far as what's next, due to this being the slowest part of the year, I'm continuing to plow through some books. I currently have biographies on Art Ross & Bernie Parent that I'm reading. I really need to etch out some time to do another Time Machine review, and go over a Flyers vs Rangers playoff game form 1974. I had a lot of fun doing the 1979 Rangers vs Islanders playoff game.
I doubt anything will happen, but if it does, such as Jagr to the Rangers, I'll come back immediately. If not, I'll be back next Wednesday with another riveting blog!
In closing, as always…
"LET'S GO RANGERS!"
Sean McCaffrey
BULLSMC@aol.com
@NYCTHEMIC on twitter