What's up everyone and welcome to another blog here on BlueCollarBlueShirts.com. Before getting into it, just want to throw out a RIP for David Bowie. My introduction with David Bowie came at four years old, and watching that movie "Labyrinth." I can even remember thinking that movie was a real story at the time. As I got older, I got into some of his music. If you remember, the Rangers usually pumped "Rebel Rebel" in the locker room after their 2014 post season wins. Unfortunately, I don't see the Rangers blasting "Heroes" in June of 2016 at MSG. RIP Stardust.
When I last left you, the Rangers just lost a heart-breaker to the Washington Capitals. Since then, the Rangers picked up a 2-1 win against the Boston Bruins on Monday night, before losing 3-1 to the Islanders on Thursday night. I was able to attend both games. If you like pictures and random observations from the games, then tickle your fancy and make sure to give me a follow @nycthemic on the twitter. I've said it a bunch of times, nothing beats an NHL game live. The only thing I missed, that I guess the TV cameras caught, on Thursday night vs the Islanders, was Tanner Glass giving the chicken-dance to Cal Clutterbuck. Here's the video:
You gotta love the Glassman!
The Rangers, who are consistently inconsistent, have picked up a new trend during this recent stretch of games. If Lundqvist isn't blown out and on the bench, he has a great game until the third period. That's when a softie goes in. On the flipside, while Lundqvist is playing well, the Rangers offense is like finding a sane Scientologist – non-existent.
In both the Boston 1 goal win, and what was essentially an Islander 1 goal loss (It was 3-1, but the third goal was an easy empty-netter) the Rangers played the same game. I thought neither Rask or Halak were challenged much by the Rangers offense. They just had to be there. Kind of like how people deem quarterbacks "game managers", which is another way of saying they are blah.
On the other end of the ice, I thought Lundqvist played two good games, but he keeps giving up these softies up. You know what I think about Lundqvist, but as time goes on and on, the more his softie-goals-allowed increase. That's right. I just created the Softie-Goals-Allowed (SGA) stat. If people can make up something called a Corsi, I'll make up my own stats too! Can't be leading the league in S.G.A. when you're the highest paid player and the biggest cap hit on the team.
Quite frankly, and I know I was the only one saying this two years ago and I see people jumping on the bandwagon now, you would have to be an idiot not to see this happening. Lundqvist is getting older, has a ton of miles on him and for many years, had a heavy work-load where he had to be the man. You see the same thing with the Rangers MSG co-tenant, the New York Knicks and Carmelo Anthony. Lundqvist and Anthony were elite players at one point, but they have regressed like any star athlete with age and time. That 2012 Lundqvist doesn't blow the Stanley Cup in 2014.
For people like me, who have to be up at 4:30AM for work the next day, let me tell you, Miller Lite is the best beer out there, if you're at a hockey game. Sure, you can stay sober, but where's the fun in that? Budweiser tastes like shit to me, Bud Light tastes too sweet and empty to me and Coors Light is beer-flavored water, but Miller Lite? That's the stuff right there. A perfect American union-made pilsner beer!
I've mentioned several times in these blogs that due to my real life job, it's tough for me to get these blogs up fast, so that's why I try to do something different here. You've seen the games and probably read 3773743734773474 blogs/newspaper articles with the game recaps. Instead, the main part of this blog will be about that shithole known as the Barclay Center, then we'll talk some Ranger hockey and look at the upcoming weekend.
I've been to 12 NHL arenas, current/defunct, in my life. 13 if you want to count this renovated MSG as a new arena. By far, the Barclays Center is the worst arena I've ever been to. Sure, the Nassau Coliseum was a fucking shithole, but I guess in a way, as a Long Island, NY native, it was our fucking shithole. Maybe I'm nostalgic for the building a bit. After all, in the 1990's me and my friends used to get autographs all the time there, knew everyone and what time some players left the Marriott and who would drive in. Borderline stalker, perhaps, but it was fun at that age.
It is funny now, when sometimes after games, I see grown men, all by themselves with stacks of shit for the players to sign. Hockey players will sign too, very rarely do you meet a player that is a dick about signing like you get with the other leagues. I mean, I wouldn't mind meeting/getting a pic/puck signed by Ryan McDonagh, but I'm not going to wait 2 hours after a game with a stack of shit for him to sign either.
Everyone and their mother saw the Islanders leaving the Nassau Coliseum after the Islanders got fucked by Nassau County red-tape bullshit politics. I hated seeing the Islanders leave, even if I liked joking about it to my Islander friends. The rivalry was always the Coliseum vs MSG. As a hockey fan, I hate what the Islanders did to their fans. Islander fans are not train people like Ranger fans. As Ranger fans, we are used to jumping on the train. It's what we do. The Islander fan base is younger than the Ranger fan base. The Islanders are way more family and kid friendly than bougias Wall Street MSG.
Islander fans like to come home from work, take a shit, shower, shave; pack up the kids or their buddies, and drive down to Nassau Coliseum. It was a good location, easy enough to reach by car, for their Suffolk County fans. Sure, the venue ran its course, like most things do, like Henrik Lundqvist, with age, but there was no reason for Wang's light tower project not to go through, outside of politicians.
Now Islander fans have to take the train, which it seems 90% of the old fan base said "fuck that", which is why the only sell-outs for the Islanders were the home opener and the first NYR/NYI game. The charm and lure of the old barn is gone. Ticket prices are higher and people are either priced out or said it's not worth it anymore. It's just not the same. At this point, Islander fans would've been better off with the team going to Kansas City.
I've been going to Ranger/Islander games my whole life. After Thursday night, I know I won't be going to Brooklyn anymore, unless I get a free ticket. For the Islander fan, I hope they get that new venue in Uniondale and move back in three years once the Islanders can opt-out. I fucking hate the Islanders and everything about them, but as a hockey fan, Islander fans are getting pounded worse than Zed raping Marsellus in "Pulp Fiction."
So I've told you Barclay sucks, but haven't told you why it sucks. Let me give you my Top 10.
TOP 10 REASONS WHY THE BARCLAY CENTER IS THE WORST ARENA IN THE NHL
The sight lines. Anyone who has been here will tell you that this is the worst arena to watch hockey in. Some seats are facing one way, while your head is facing another. Half the building offers "obstructed view" seats. For the money you will pay, why not just watch it at home, where the only obstruction is the beer can in your face? Who wants to watch a game where you have to jump up and down, squirm and wrench your neck to see anything? Plus, while you're doing that, the person in front of you is doing the same thing, so then you have to adjust to what he/she is doing too. In 2016, with all this technology we have, whoever designed this layout for the Islanders should be arrested for robbery and fraud.
The scoreboard is offside. Maybe Islander fans will say, "yea, but does that really matter?" Yes it does. At a game, when the scoreboard is offside it sometimes screws with your peripheral vision a bit. If you have OCD, this will drive you wild, because you can never be centered. It looks bush league and is completely amateur.
The dead space. The building has no clue what it's trying to go for. You have a section that looks like it came out of the "Midieval Castle" in Lyndhurst, NJ. We watching hockey or are we jousting? You got another section with just black and gray walls. Why? It looks like a fucking auto garage
The SUV in the front row. I don't even know what automaker is sponsoring that truck in the front row, nor do I care enough to google it to find out, but whatever the Islanders are being paid to have that thing there, it is not enough. The vehicle looks like it came off a used car lot to begin with. Is it worth losing out on ticket sales and creating potential new fans who could've sat in those seats? The car being there really looks like a minor league promotion, not a NATIONAL Hockey League event. I would rather see a statue of John Spano there than this.
The rap music. Enough already. I get it, you play in Brooklyn now. Not everything in Brooklyn is rap music. People appreciate other things. Listen, I like to see girls with fat asses too and wouldn't mind doing that "Big Pimping" and spending G's thing, but it doesn't fit with the family friendly Islander brand.
The Nets integration. I guess the rap music is part of that too, but from changing the color of the jerseys, all the Nets plugs, the venue making the Islanders looking a guest crashing on the couch, etc; the Barclay's is telling you that the Islanders are the red-headed step-child of the building. I've been to more Ranger games than I can remember, and a handful of Knick games, but at both events, I knew the Knicks and the Rangers owned this house. The Islanders are living in their mothers basement at the Barclay.
No more Icelander girls! I mean really? It was nice seeing the girls skate in between play and then ordering your meal from them at Hooters after the game. True story, a girl I knew in college, you know, the University of Nassau Community, was an Icelander girl/Hooter server/student. Don't know what she's doing today, since that was 15 years ago. If you're reading Christine, thank you for filling out my bowling score sheet. Which brings me to another true story. To get my degree from the highly esteemed University of Nassau Community, I had to go to summer school and get 6 physical education credits. My classes were karate, bowling 1 and bowling 2. My final exam for bowling 1, I just can't remember. Maybe it was returning your shoes to the clerk. Bowling 2 I remember. We had to fill out our own bowling score sheet without the use of the computer. For whatever reason, I kept fucking it up, so this Icelander/Hooter Girl/fellow alumni of mine, filled mine out for me. The things that you remember.
The whole e-ticketing system. I know this is league-wide, that you can't scan your Stubhub or SeatGeek tickets at the door. Maybe because I know I can go to the Hotel Pennsylvania across MSG or even Staples down the block to print tickets, but the Barclays fouled this all up. First off, the Office Max across the street won't let you print tickets. Why they refuse that money, I do not know. So what you have to do is go to a random black guy on the corner with a printer hooked up to a blue tooth, and pay him $5 a printout, versus the 30 cents charged everywhere else. I give the guy credit, it's a good idea to make money. He had a line longer than a Sonic restaurant opening. At the same time, the guy was giving people the wrong printouts too. The Barclays has a place where you can print Ticketmaster tickets inside. Why not include a Stubhub center too? It's easy money.
Concession stand prices. I know we are in NY and all, but the prices in Barclays were worse than MSG. The Barclays should not be the highest place in the league to get a hot dog and a beer. They are trying to draw people from the area to go to games. They want the Long Island fans to take the LIRR to the games. I'm fortunate where I have a decent income, where I can afford to spend a bit, but for a family, the Islanders have turned their back to you.
The atmosphere of the building. It just doesn't feel like you're at a hockey game. Even the truest pure blood Canadian would wonder if he was really watching a professional hockey game here. You're just distracted. The whole place looks minor league. It might even be less than minor league. I mean, they don't even give out the free t-shirts to the kids or anything. The Islanders even have a whole wall dedicated to something called DraftOps. I don't know what the fuck DraftOps is, I'm assuming it's like FanDuel or Draft Kings. While Draft Kings and FanDuel ads are annoying, at least I know what it is and know they are successful. DraftOps seems like the bootleg version, which I guess, really sums up the whole Barclay hockey experience.
While the Barclays Center is the worst place in hockey, and don't let me fool you, I know I'm not the only one to say this, nor write up about how much it blows, at least I got to meet ex-Ranger Captain and the voice of Rangers radio, Dave Maloney. I can't lie, I'm not that much familiar with Maloney's radio work, because I always watch the games live or on TV. I do like him on the MSG network and like how always speaks openly, even when I don't agree with him. The one thing that I disagreed with him on really, was last year when he called out Ranger fans for not being loud enough. I don't think he understands how bad MSG priced out the hardcore Ranger fan in favor of the suit and tie "I'm here to be seen" guy.
I'm sure the press hates doing Islander games. The commentators/press are in the 110 section next to fans. If I really wanted to, I could get behind anyone calling the game and scream "POTVIN SUCKS" and give the 8-second delay guy some work. I was the only one in my section to notice Maloney, so maybe that's why he took a picture. He did thank me for waiting to ask him at intermission. I guess some people have asked him during games there? Only in NY. It wasn't the time or place for it, but it would've been cool to pick his brain a bit. I just wanted to give Dave Maloney some positive buzz for being a nice guy and taking a pic during a game. Negative stories always get the most burn and always used for "click-bait", so I think when something cool/positive happens, it should get the same amount of space.
As I continue my most profane blog ever, and really, it's probably because of how the team is doing that's affecting my overuse of swearing, there's not much I can say about the team that I haven't said before. As I said at the top, the new trend is the defense/goalie is playing better and now the offense decides to be as lively as a pet rock.
As far as what scares me the most, and while it won't be for everyone else, it's Kevin Hayes & Chris Kreider, just because it's so unexpected. I don't think anyone predicted that they would both shit the bed and be horrible this season, especially in a contract year for both men. Both these players are costing themselves money this season.
I told you in my last blog that I have a source at MSG. That's all I can say. He told me that Chris Kreider isn't the same person as last year and there is something wrong with his head. Just the way he talks to people and acts around people. The exact quote I was given was that "he's just off, mentally, when talking to you." Take it for what it is. Maybe something is going on in his personal life or maybe his season-long shit-show is eating him up inside.
Kevin Hayes has been a walking disaster all season. It sucks, because I really like what Kreider & Hayes have done for this team, in their relatively short careers. But you gotta call a spade a spade here, they are not performing. I think it's time to either trade Hayes or send him to the Wolpack. Oscar Lindberg, a healthy scratch the last two games, should not be on the bench and have his growth stunted, to get Kevin Hayes going.
We are at that time of the year where more trades are happening, including the PACIFIC DIVISION ALL-STAR CAPTAIN, JOHN SCOTT! The Rangers gotta do something. This team, in the current incarnation we have today, has no fucking shot at the Cup. Yes, I know the playoffs are a different animal, but this team won't beat the Capitals, and who knows how they would do with anyone else in the first round.
Also want to mention, Talbot was 2-0 against the Islanders last year. Lundqvist is 0 for 5 in his last 5 starts against NYI. Lundqvist had horrible stats against the Lightning in the regular season last year, and was abused in the playoffs the same season. As it stands now, the Rangers would play the Islanders in the first round of the playoffs. Something to think about.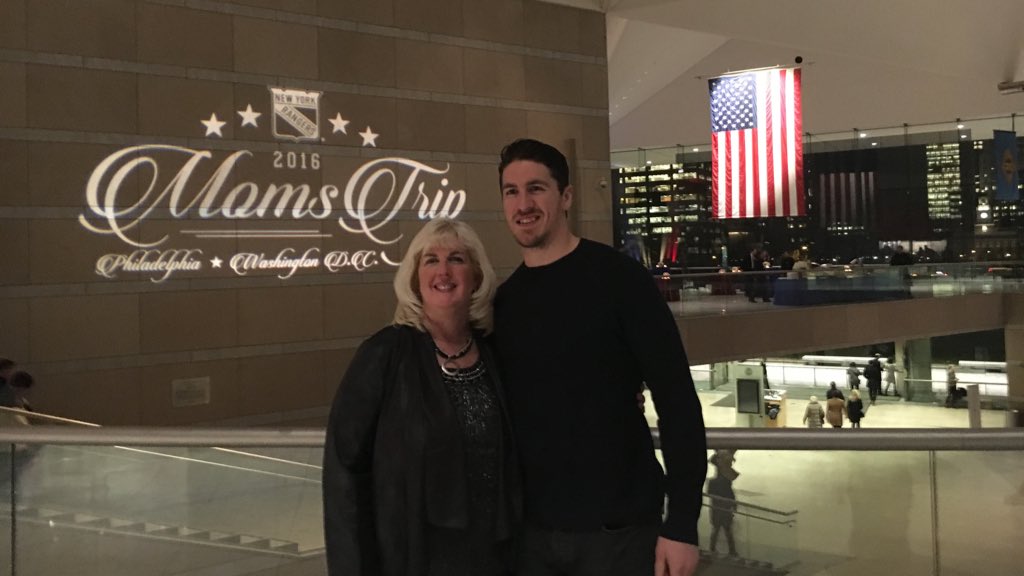 Every season, the Rangers do a road trip with either the fathers or mothers. Last year it was the fathers, and who could forget Rick Nash's dad's priceless mug. It's the same mug Ranger fans have on as Rick Nash continues his impressive near-goal streak.
I thought Coach AV had a funny quote about the moms trip. To paraphrase, he basically said with the fathers on the road, you have to watch out, but with the mothers, the players are better behaved! Likely story.
The Rangers Mothers Trip is this weekend, as the Rangers go to Philly tomorrow (or today, depending on when you see this) and then Washington on Sunday. At least the moms will be in the building, because the Rangers may have to go running and crying to their mommy's if they don't take any of the four points this weekend. Maybe the Rangers moms will un-ground the Rangers offense and let them out to play!
It's funny how Lundqvist will not play the division leading Capitals on Sunday, opting for the easier game in Philly on Saturday. Lundqvist is 1-2 this season against the Caps. You would think Lundqvist would rather get revenge against Ovi & the Caps than sit the game out. I hope Momma Lundqvist gets the wooden spoon out and teaches him to have some self respect! When it comes to avoiding Ovi, I'm not shocked. This isn't the first time Hank has chosen to play the easier opponent on a back-to-back. Raanta returns to net Sunday.
I gotta work Saturday morning, so it's time to put a bow on this. I'll try to have another blog after the Moms trip on Sunday.
Win or lose, as always, Let's Go Rangers!
Sean McCaffrey
BULLSMC@aol.com
@NYCTHEMIC on the twitter machine